Weed eaters with attachments transform your most basic lawn tool into a Swiss Army Knife. Yeah – I first experienced this with my Ryobi Expand It weed eater and have since tried and tested a bunch of these bad boys.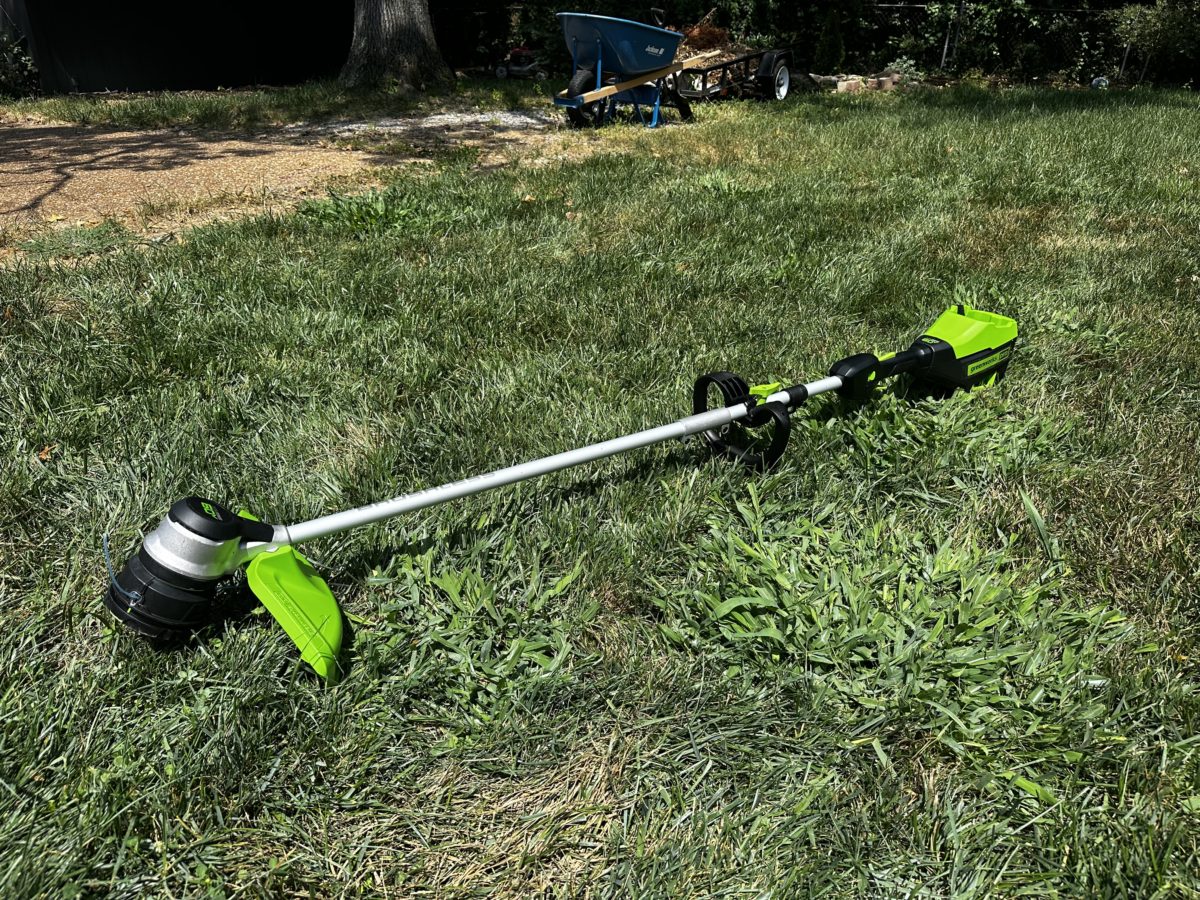 I've put a bunch of these battery powered weed eaters with attachments to the test and continue to come back to the one that's our favorite: the EGO Power+ multi-head system (although it has one big drawback).
But that's a bit of a spoiler because there are a ton of these battery-operated systems that work really well. There are definitely some considerations to keep in mind which I wish I would have known when I bought my first one of these.
So I'll do my best to fill you in. Here are my favorite weed eaters with attachments, ranked after some serious testing.
My list includes all the usual suspects that provide quality tools – with a few that really surprised us and one that really disappointed us. Let's get to it.
Honorable mention: The Greenworks Pro 60V 16 inch weed eater.
How I tested these weed eater attachment systems
I tested these weed eaters with attachments over the course of a few years. I started with my Ryobi Expand It attachment system, then tested out the EGO multi-head (my number one choice). Since then I've used the SKIL PWR CORE, and slowly gotten experience with each of the others.
I test a few things on each of these – mostly related to how comfortable it is to use, the number of attachments, whether or not my attachments are universal, the cutting swath, and finally the battery system.
All of these pass my testing with flying colors, which is why I put them on my list.
How to instantly improve your weed eater
Upgrade your weed eating game with the ultimate GrassKicker Weed Eater String! While weed eaters and lawn edgers are great tools, it's not complete without the right string. Our specially crafted line is designed to enhance your weed eater's performance and give you flawless edges around your yard and garden.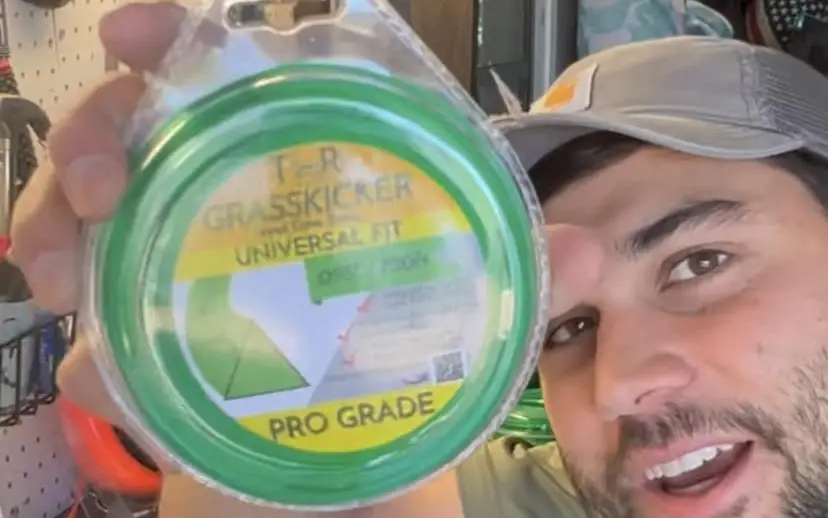 Don't settle for subpar string that breaks easily and leaves ragged edges. Our team has scoured the market and combined the best colors, shapes, thicknesses, and materials to create a superior line that cuts more cleanly and lasts longer.
With GrassKicker, you can take pride in your perfectly manicured lawn and make a lasting impression on your friends and family. And who knows, your envious neighbors might just start dropping by more often! Don't wait, elevate your weed eating game with GrassKicker Weed Eater String today! Click the link now to buy.
Best Battery Powered Weed Eaters with Attachments
When we were testing these tools, we accidentally used the best one first, so all the others didn't seem as good. It's kind of like going house hunting and going to the biggest, nicest house first. Either way, the rest were all fine tools but didn't hold a candle to the number one spot.
1.) EGO Power+ Multi-Head Weed Eater Attachment System
EGO's multi-head attachment system is a dang beast. If I could create one of these in a lab, this one would be it. And when we switched out the weed eater string to the GrassKicker string, it just became an absolute unit. Unfair.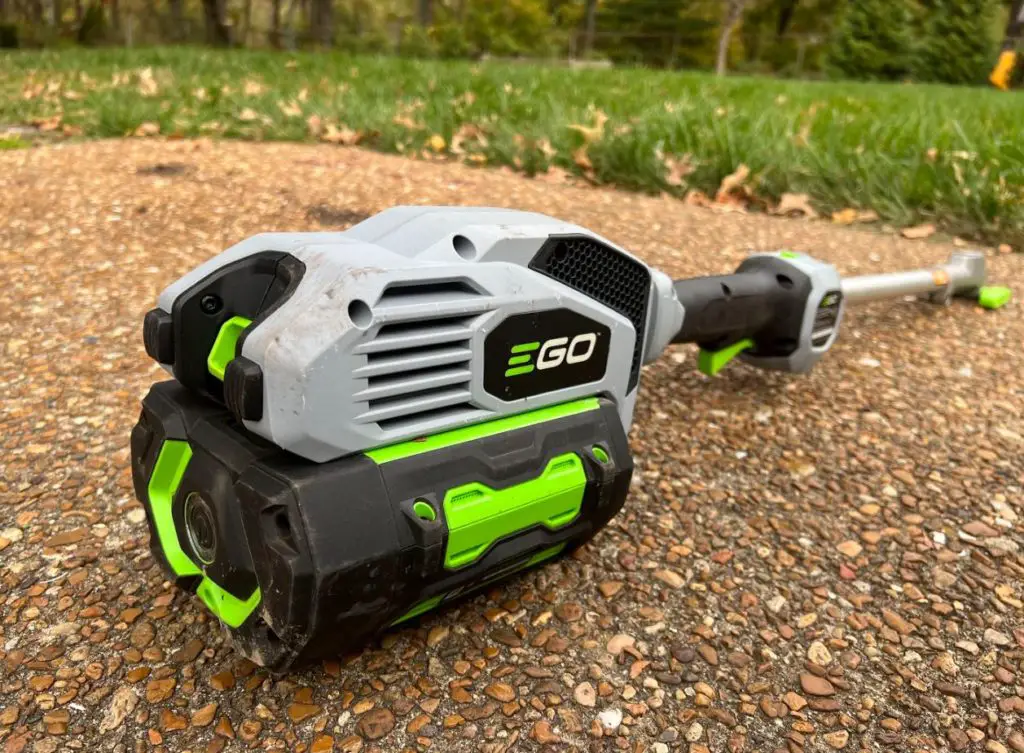 We made a full Youtube video highlighting the attachment system, but will profile it again here.  
It uses EGO's 56V battery system which can be used with ALL of their other tools
The weed eater attachment system has a brushless motor
It has molded grips which make it easy to use whether you have the weed eater or the pole saw attachment going
We dropped it a few times and scratched it up without a problem
We've put it through the absolute ringer, testing it's run time and durability very aggressively
Every attachment it comes with is a freak of nature – with the hedge trimmer attachment being our absolute favorite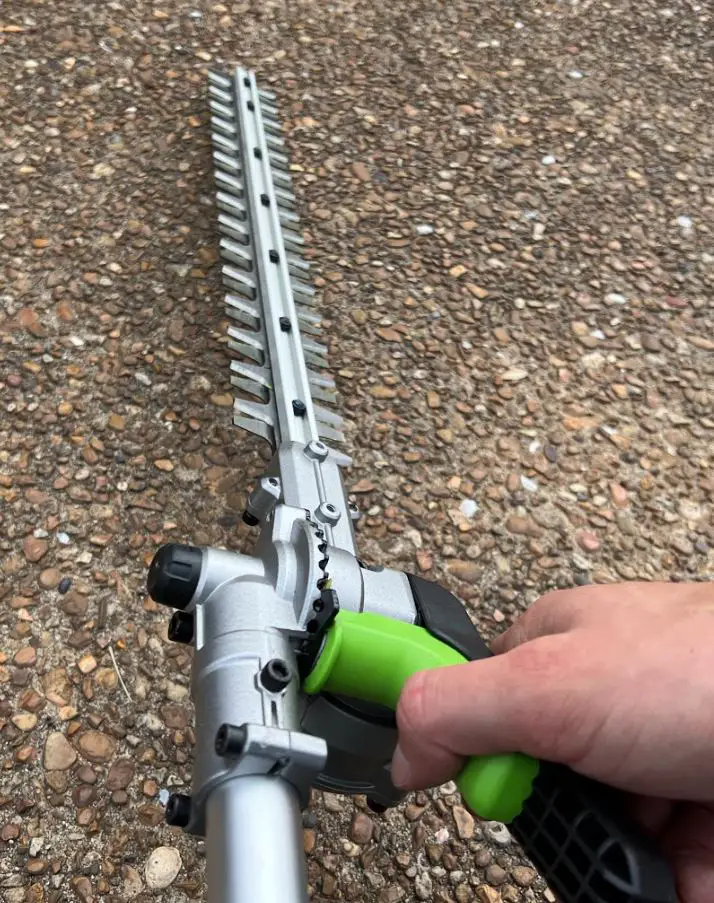 This one is a ridiculous standalone weed eater, but the attachments we bought were the edger, hedge trimmer, cultivator, snow shovel, and pole saw. All of them work insanely well and you would hardly think they were part of a universal system like this.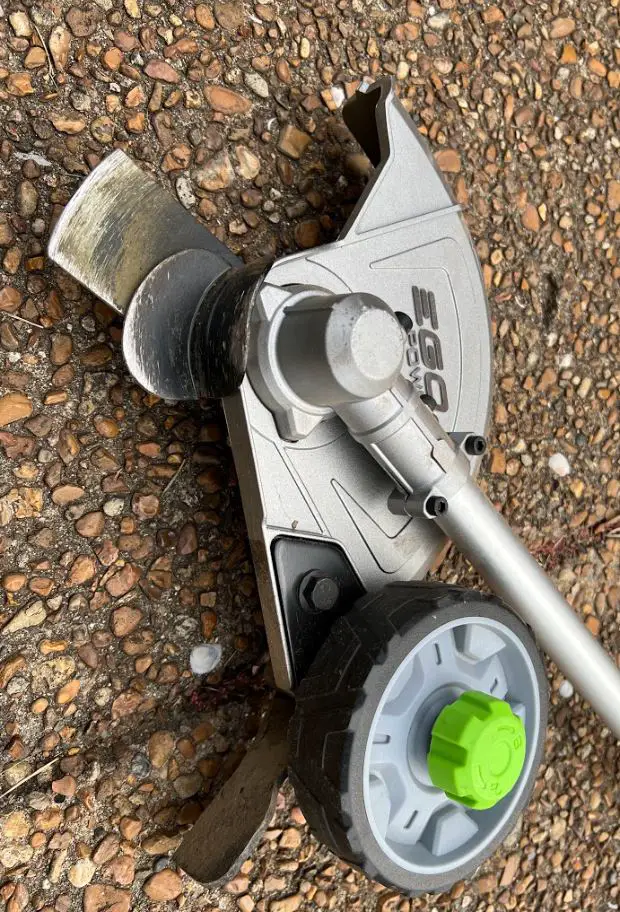 The only drawback / complaint about this weed eater attachment system is that the attachments ARE NOT universal. You have to buy EGO's attachments and they won't work anywhere else. It isn't the tools themselves, but how they attach to the power head. Bummer – but honestly if you buy this you will never desire another tool again.
We got ours with all the attachments on Amazon for a great price last year.
2.) Greenworks 40V 14" Brushless Weed Eater Attachment System
Greenworks is an underrated lawn tool brand. All of their tools are super high quality and legitimately well constructed. They did it again with their 40V brushless weed eater attachment system. 
This one has a lot of the same things I loved about the EGO product, including a brushless motor, super comfortable handles designed to additional attachments, and variable speed.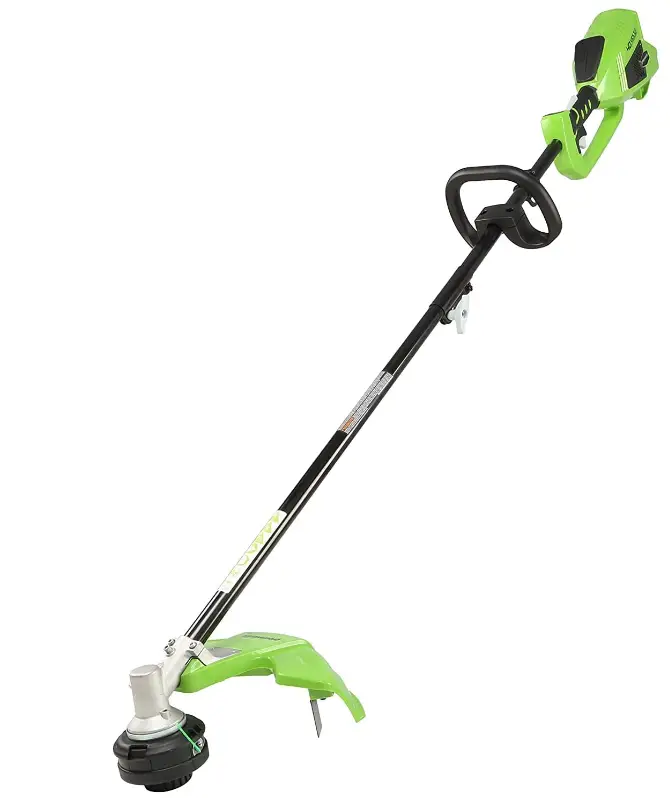 The weed eater attachment system has a loop handle around the trigger which makes it great for using as a hedge trimmer or pole saw without sacrificing any discomfort when used on the ground as a weed eater. There are both 14 inch and 16 inch varieties and I prefer the 16 inch  for the weed eater. A larger cutting swath means more power and a crisper looking lawn.
The downside from this Greenworks weed eater attachment system is that it's confusing as heck. It's difficult to find the attachments on the website, but we had some luck on Amazon. 
You can grab a hedge trimmer attachment, edger attachment, cyclone blower, cultivator, and disk blower, and pole saw attachment from what we could tell. 
This one is a really great tool if you can get the right attachments. It's available on Amazon for a ridiculously low price. Of course, we recommend trading out the weed eater string with GrassKicker right away to give it a big boost.
3.) Kobalt 24V Universal Connect Multi-Head Weed Eater Power System
Kobalt is a name that you see plastered all over Lowe's website. They have never been extremely popular, but it doesn't mean they don't make some ridiculous lawn tools. 
The Kobalt Universal Connect Power Head is one of those underrated, overlooked options because Lowe's stacks the shelves with EGO products. But don't overlook this one.
Kobalt's Connect System is a truly universal attachment system that has some serious perks. Here are a few things I like about it:
24V  MAX battery works with a ton of other Kobalt tools
A brushless motor, of course
An adjustable handle that can slide lower or higher
Rubber molded grips
Kobalt's weed eater attachment system offers some tools that you don't see anywhere else. Take for example their universal connect dethatcher attachment. That is really freaking cool. Although it may not be the most practical, running this dethatcher attachment over your yard once per year will help bring your yard back to life.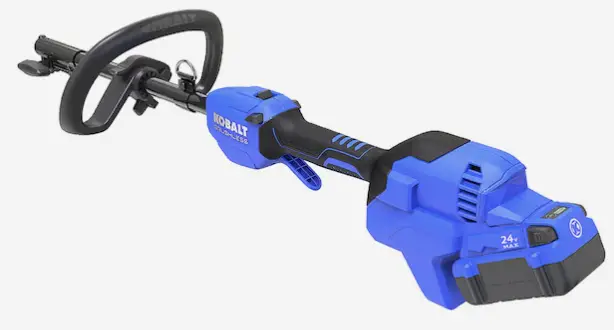 If you don't like the Kobalt attachments, heck, go grab some attachments from anyone else and use them instead.  But if you own any Kobalt products already, you will save big by using this power head system with your existing 24V MAX batteries.
You can grab this online at Lowe's – which is where we got it.
4.) Dewalt 60V Max Weed Eater Attachment System
We were surprised, too. Dewalt makes some seriously powerful lawn equipment and actually makes a nice handful of Dewalt weed eaters. It's low-key one of the best weed eater attachment systems but we ranked it so low because Dewalt's 60V Max lawn tool lineup is just not very deep. 
But it has all the amazing features that you would expect from a ridiculous weed eater. My favorite part is that it has up to a 17 inch cutting swath. This size cutting swath rivals most gas weed eaters. And remember my advice: get a good attachment system that first has a good weed eater. 
This weed eater with attachments has a brushless motor and universal attachment capabilities. Some of the attachments include:
Hedge trimmers
Pole saw
Brush Cutter
Edger
And a little blower
This is another one of those made-in-a-lab type of tools that is almost too good to be true. You can get it from Home Depot for a very good price.
5.) SKIL PWRCORE 40 Power System
SKIL's PWRCORE 40 System is a really cool, brand new tool that just came out on the market. We did a full length video and a full SKIL PWRCORE review, but were super impressed with this tool.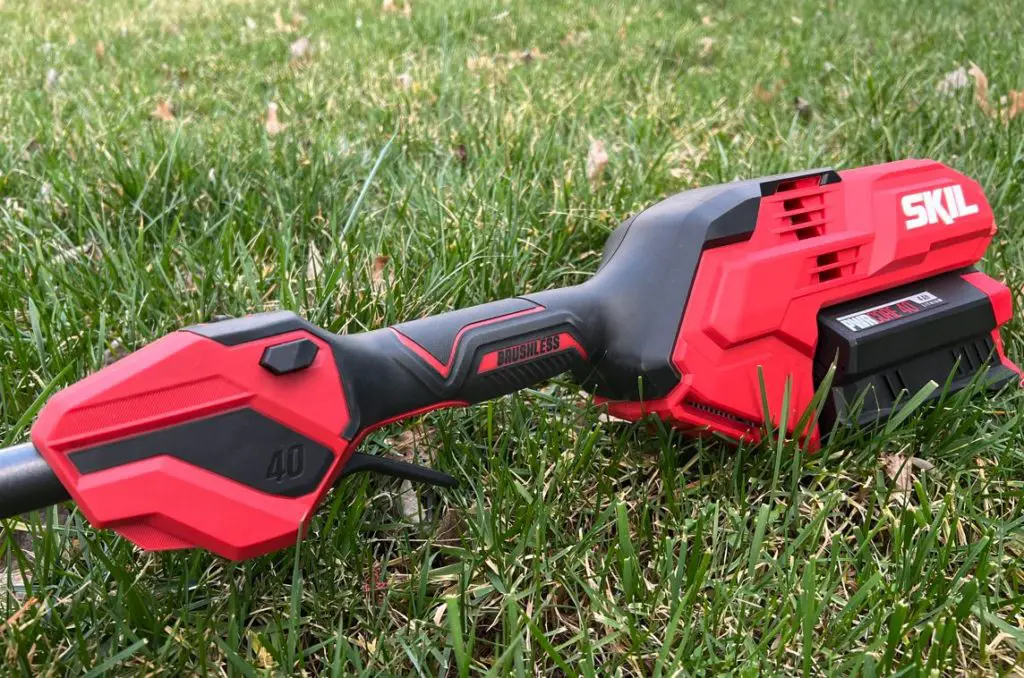 In particular, we liked that this Power Head had:
Brushless motor for long life
A PWRJUMP charger that rapidly charges the battery to 30%, then slows down
A huge cutting swath at 15-17 inches
Universal attachments
While this one didn't quite have the run time that it claimed, it is still a great option for those of us with smaller yards.
6.) Worx Nitro 40V Power Share String Trimmer Attachment System
This attachment system from Worx is probably their biggest and baddest lawn tool. They have a ton of smaller weed eaters that are more about convenience than power, like the Worx GT revolution.
The Nitro 40V Power Share system is made for pure power, though. It's got a 15 inch cutting swath which puts it on the higher end of battery power weed eaters. Worx' 40V Max system is a great battery line that you can use on their mower as well, making this one pretty useful for current Worx owners. 
From a cost perspective, this one is super competitive because all of the dang attachments are so cheap. And much to my surprise – this one also has a brushless motor. My previous experience and misconception with Worx was that they only had brushed products. Glad to see they've stepped up to the plate.
The attachments on this weed eater are super affordable compared to some of the others. Each attachment is around $100 – way cheaper than what you would get if you bought the tools independently. Oh, and they're all universal attachments as well. 
This one is a really high value purchase if you are looking for a good balance of quality and cost. Right now it's on a massive sale on Amazon that makes it even more competitive.
7.) Makita 18V LXT Couple Shaft Power Head
Makita makes really high quality equipment like their regular Makita weed eaters and Makita leaf blowers. But man, I can't figure out who their audience is. Their tools are SO expensive that if I had to pay for them, I might as well just pay someone to do my lawn. This is by far the most expensive power head, which is why it is so low on this list. 
But darn it if it isn't super high quality. A few really good things about this weed eater with attachments:
Makita's 18V line can be used on lawn tools and their handheld power tools, making this a better value if you save money on batteries
They of course have a brushless motor
Super high RPMs on their 3 speed settings
An insane amount of attachments. I mean insane!
To this last point, Makita has some baller attachments including both straight and curved shaft weed eaters, cultivators, several different hedge trimmer attachments, a blower, a sweeper, a pole saw, and more.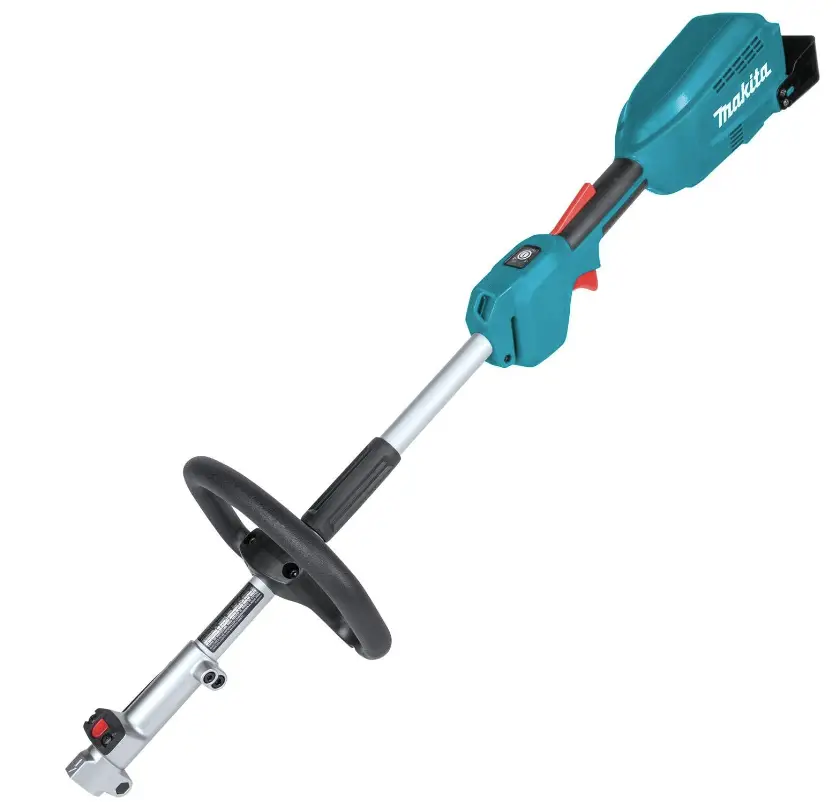 But again – all the attachments are expensive as heck. Super high quality, super high price – that's the Makita way. 
You can grab this one at Home Depot, or actually get it at a reasonable price on Amazon (check this often).
8.) Ryobi 40V Expand-It Attachment System
Last but also least is the Ryobi 40V Expand-it series. This is one of the first tools I owned and it disappointed me in some ways. I'm not saying it's for nobody, but it wasn't for me long-term. It is a great price, but not the weed eater attachment system worth investing in for more than a few years.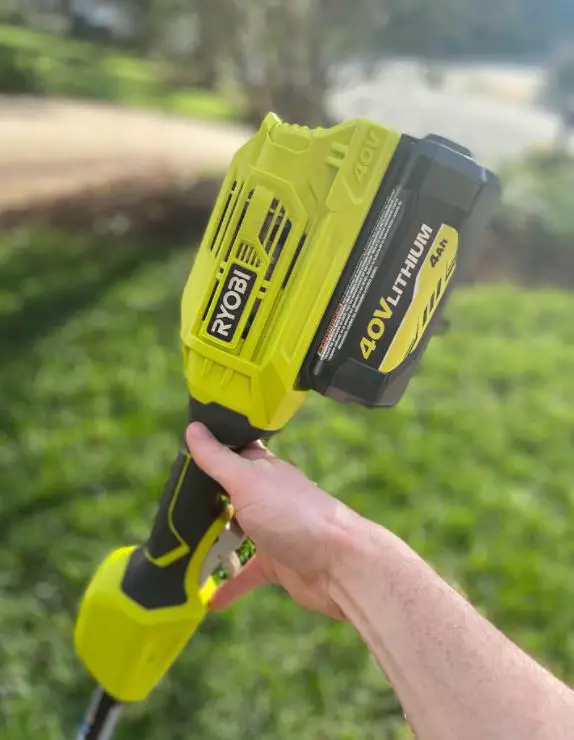 I will say that the weed eater attachment works very well, but the others have not lived up to the hype. I had a blower attachment with this that I replaced three times due to it breaking. Over the course of two years!
I like that this Ryobi weed eater with attachments has an easy way of storing and hanging the attachments, is relatively easy to use and lightweight, and has variable speed control. But it has a brushed motor that almost always felt overheated when I was using it.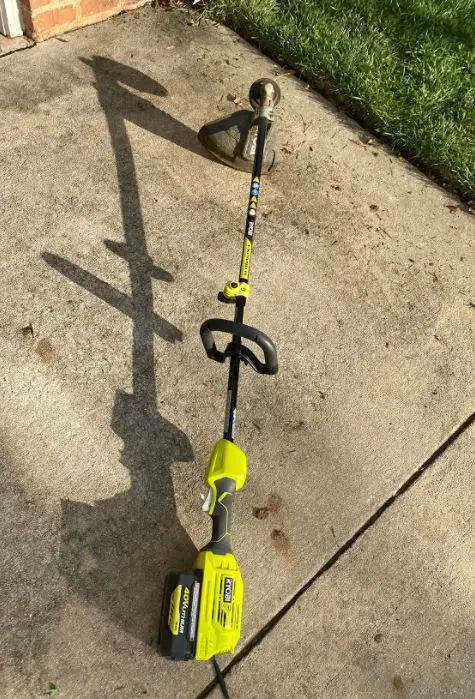 I bought this one when I was on a tighter budget and I think if that's you – this can be a good tool. But expect to outgrow it quickly and don't go overboard with the attachments. It's also on a fire sale over at Home Depot right now.
One last benefit so I don't completely scare you is that the 40V battery can be used on TONS of tools. I really like having it to use on my Ryobi 40V blower and Ryobi 40V mower as a back-up battery.  
Why we review lawn tools
The reason we started this website in the first place was because we had so much trouble trying to find reasonable, understandable, honest reviews for lawn equipment. And it's not cheap! After hours and hours of research, trying products and returning them, and messing up our yards – we started this site.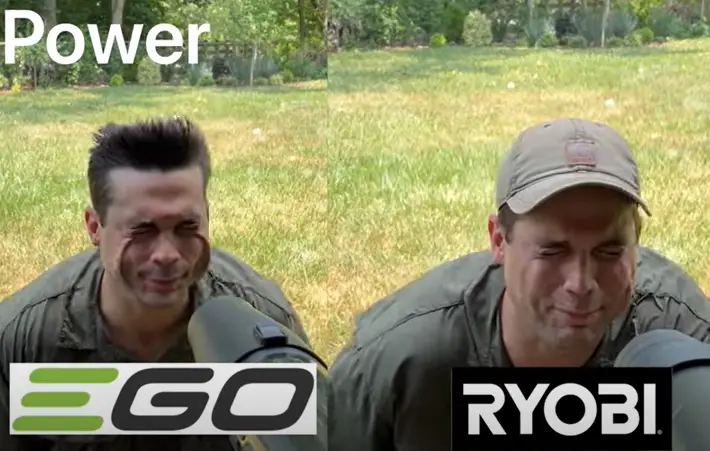 As guys who had to learn the hard way, we want you to know exactly what you are signing up for before you purchase a piece of equipment. That's why we are committed to providing honest, easy-to-understand reviews that mean something.
What to look for in a battery-powered attachment system
If I would have read this article a few years ago, I would have made a different decision and likely saved hundreds of dollars. But I learned the hard way and want to make sure you don't have to.
Here are the things I look for in a battery-powered attachment system:
A brushless motor
The first time around, I bought a brushed motor and I deeply regretted it a few months later. The main difference between brushed and brushless motors is how electricity is transferred from the battery to the motor. Brushed motors have a process that relies on friction. I quickly realized this when the palm of my hand was getting extremely hot while using the attachment system.
Brushless motors run cooler, more efficiently, provide more torque, and last longer. They are quickly becoming the gold standard in battery-powered lawn tools – but not everyone has caught up.
Universal attachments
Some of these weed eater attachment systems have the ability to take on any attachments. That's a benefit to those of us that are looking to save money or have an existing attachment system that's broken but the attachments work just fine. You can find attachments on Facebook marketplace or other second-hand stores for a way cheaper price. 
A high performing weed eater
Don't just buy a weed eater with attachments because it is attachment capable. Buy a battery-powered weed eater that freaking dominates and also has the ability to add attachments. 
Good attachments
If I don't mention this, I will get an email from one of you saying "you didn't say to buy one with good attachments" so here you go. Obviously you want an attachment system that can accommodate high performing attachments that you will actually use. Avoid bundles that give you attachments that aren't as good as the individual tools. The goal is to replace your other tools, not supplement them with an additional cost. 
How to turn your weed eater into a beast
Shameless plug here, but we were able to take our battery powered weed eater from "okay" to "absolute beast" by changing out the weed eater string. We tested dozens of different weed eater strings and each of them had 1-2 good characteristics, but none had the whole package.
So we made our own. Introducing GrassKicker weed eater string. It is the perfect thickness, shape, and color to absolutely shred whatever job you're doing while still fitting every weed eater on the market. You can grab it here:
Bottom Line: Weed Eaters with Attachments
Remember to keep in mind that we are looking for a brushless weed eater first and then attachments second. Get you a weed eater with attachments that is going to last a long time and replace the dinky old tools you inherited from your parents.