The Ryobi 40V weed eater was the first weed eater I ever owned, so it makes this product super easy to review.
In fact, I bought the Expand-It version with the blower and edger attachments. Ryobi has a series of 40V lawn equipment, most notably the tools I just mentioned here. Recently, Ryobi has gotten into the lawn mower game as well. 
The Ryobi 40V weed eater is a great trimmer but there are a few things you should know before buying.
Today we are going to review:
Why we review lawn tools
The reason we started this website in the first place was because we had so much trouble trying to find reasonable, understandable, honest reviews for lawn equipment. And it's not cheap! After hours and hours of research, trying products and returning them, and messing up our yards – we started this site.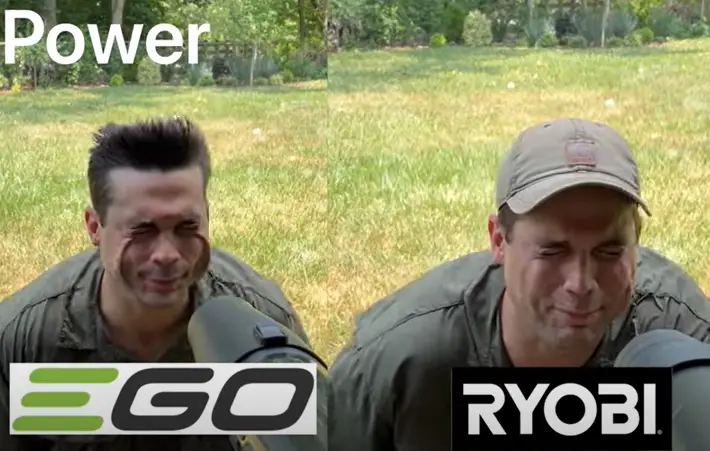 As people who had to learn the hard way, we want you to know exactly what you are signing up for before you purchase a piece of equipment. That's why we are committed to providing honest, easy-to-understand reviews that mean something.
How to instantly improve your weed eater
Upgrade your weed eating game with the ultimate GrassKicker Weed Eater String! While weed eaters and lawn edgers are great tools, it's not complete without the right string. Our specially crafted line is designed to enhance your weed eater's performance and give you flawless edges around your yard and garden.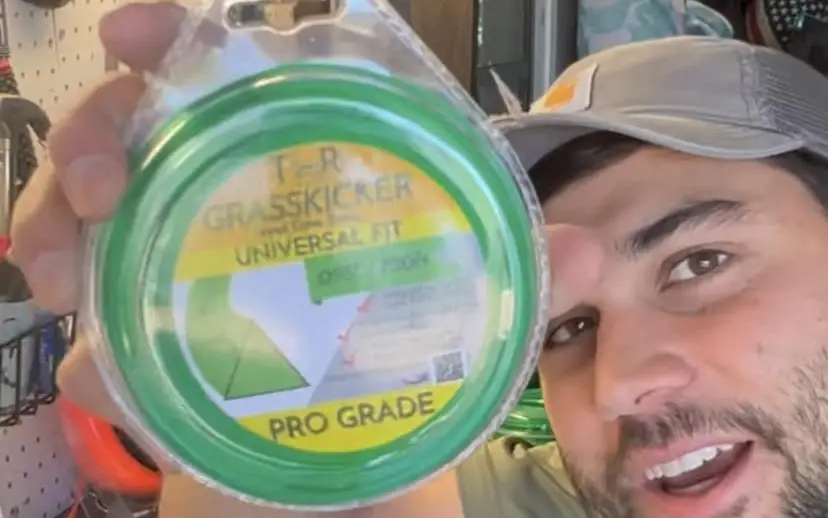 Don't settle for subpar string that breaks easily and leaves ragged edges. Our team has scoured the market and combined the best colors, shapes, thicknesses, and materials to create a superior line that cuts more cleanly and lasts longer.
With GrassKicker, you can take pride in your perfectly manicured lawn and make a lasting impression on your friends and family. And who knows, your envious neighbors might just start dropping by more often! Don't wait, elevate your weed eating game with GrassKicker Weed Eater String today! Click the link now to buy.
Why would I buy an electric weed eater?
There are a few reasons to check out an electric weed eater when picking out your next lawn and garden tool kit. As compared to gas-powered weed eaters, electric weed eaters tend to be easier to use and maintain. At the end of a long winter season, you may have to refuel your gas powered weed eater and crank it a few times before you can get it to start. With the Ryobi 40V weed eater and other electric weed eaters, you simply place the battery and you are ready to go. 
Another benefit to electric trimmers is maintenance. You will not have to do anything to maintain an electric trimmer other than change out the line. No oil change, no filter change, and no messy gasoline spills. 
If you are a Ryobi loyalist and have one of their mowers, then you can actually use this same 40 volt battery in both the mower and the trimmer. More on that later. 
Ryobi 40V weed eater parts
The diagram below shows all of the parts involved in the Ryobi 40V weed eater. As you can see, this product detaches just below the handle to allow for other attachments. 
To detach the attachments, simply untwist the knob and press the silver button to pull out the attachment. Likewise, to reattach another attachment, simply align the silver button with the hole and slide in. Twist the knob to tighten in place and you are ready to go.
As you can see, the bottom has a "Reel Easy" (ha) bump feed string head with a "speed" winder. When you get low on string, the head has a button that will push out a little bit more if tapped.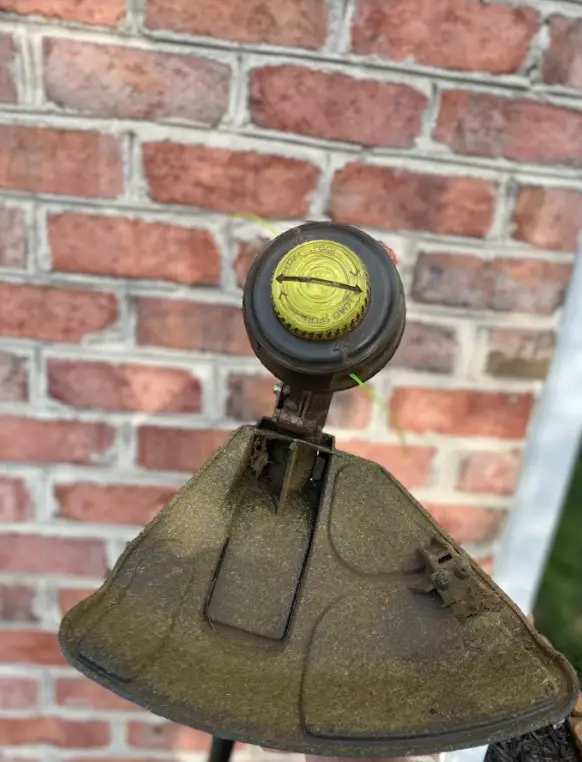 Ryobi 40V weed eater tool only
If you already have a Ryobi 40V battery, you can purchase this product "tool-only". A tool only product comes without the battery and is generally a lower price. This is great for those that have multiple Ryobi products, like the Ryobi mower.
Reviewing the Ryobi battery-powered weed eater
Let's take a look at all of the things you should consider before buying a new weed eater.
Power
The Ryobi 40V weed wacker has a modest amount of power. Honestly, I did not feel like the weed eater packed nearly the punch that its gas powered counterparts do.
Further, the electric weed eaters have to really "wind up" and get momentum before they reach their full speed. Because this tool isn't specifically designed for weed eaters, it has to be very adaptable in how it produces power.
There is a little rod that twists around inside the attachment which drives the speed of the head. Torque is applied all the way down the rod and you can tell a lot of energy gets lost in the process. 
If you are looking for a weed eater that can take on a big job, the Ryobi 40V weed eater simply is not your tool. For small yards and some light brushwork, this weed eater will do just fine. 
A step up in power from this weed eater is the EGO Multi-head tool with the string trimmer attachment is amazing.
Durability and usability
The Ryobi weed eater is one that has lasted surprisingly long. I have had mine for over three years and only replaced the line one time. It has consistently operated at full capacity and I have never had issues with breaking, slowing down, or otherwise. One thing I don't like about the handle of this particular weed eater is that it always feels like it is in the wrong spot. 
With the Ryobi 40V weed whacker having multiple attachment heads, it means you can really slide the attachment into the tool facing any direction. While this might seem convenient, it's really hard to tell which angle you should keep it at for the best trim job. When I use the weed eater, I feel like I am holding the trimmer at a weird angle and twisting my wrists or arms to make it go where I want it to go.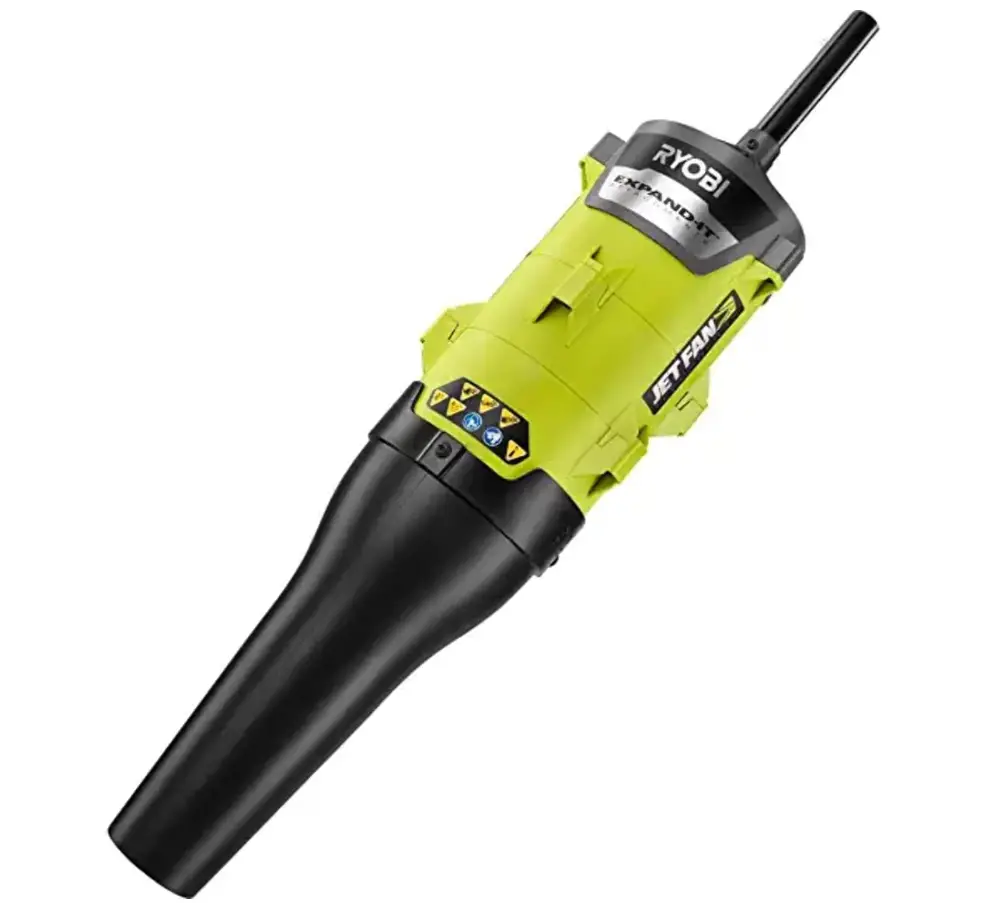 UPDATE: I took the guard off of this weed eater and it performs way better and is so much easier to use. Take it off and throw it out!
Comfort and feel
Another downside of this weed eater is the balance. Consider that this battery is also used on their 40V lawn mower, meaning it is quite heavy. The tool feels great, light, and balanced before I add the battery. Once the battery is added, you have to exert a lot of upward pressure on the back of the weed eater, making straight lines and other maneuvering very difficult. 
I know it sounds silly, but when you start to feel that burn in your shoulder and neck area from holding a weird position, you will regret not buying a better balanced product. I have not seen an available shoulder sling or other device that can help keep it aligned, either.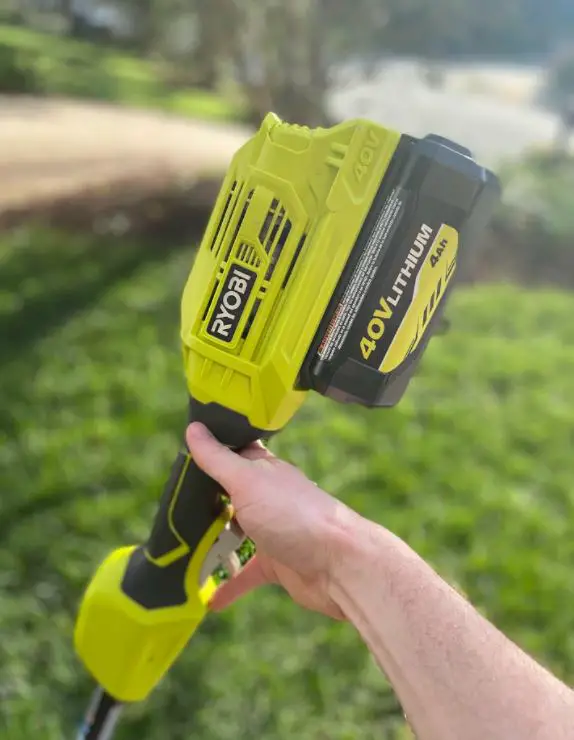 Maintenance and string replacement of the Ryobi electric weed eater
As mentioned previously, maintenance is not required at all on this product. You will have to replace the strings, however. Replacing the strings on this weed eater was one of the more infuriating moments of my life. I really struggled to figure it out on my own and had to make the below video on YouTube to get it right. 
Replacing strings on these is super frustrating because you have to very delicately weave it through while trying to maintain the bundled line from falling out and making a big slinky.
Battery life
The Ryobi 40V battery is also used for the mower, so you better hope that it lasts for a long time if you only use the weed eater. It does. The weed eater lasts a really long time in my experience.
When I have used this attachment, I usually start with the trimmer attachment, then switch to the edging attachment, then finish off with the blower. To my knowledge, I have only gone through the battery fully one time. The first day of the spring season, I edged my lawn for the first time of the year and dug up a lot of dirt. When finishing off with the mower, the battery died. 
For most small jobs and especially for the weed eater, you will not have any issues with getting your job completed.
The official review: Ryobi 40V weed eater
| | | |
| --- | --- | --- |
| Feature | Ryobi 40V weed eater | Gas powered weed eater |
| Difficulty to use | Less easy to maneuver | Easier to maneuver |
| Durability | Very durable | Very durable |
| Maintenance | Easiest to maintain | Less easy to maintain |
| Value | Medium value | High value |
| For lots <10,000 sq. ft | Highly recommended | Less recommended |
| For lots <1 acre | Recommended | Highly recommended |
| For lots >1 acre | Not recommended | Highly recommended |
To summarize our review, the Ryobi 40V weed eater is a good weed eater if you have a relatively small yard and/or small job. This weed eater is simply not very comfortable to use, but makes up for the lack of comfort with sheer convenience. The ability to just attach the battery and start on the job makes this super easy for those with not much land to cover.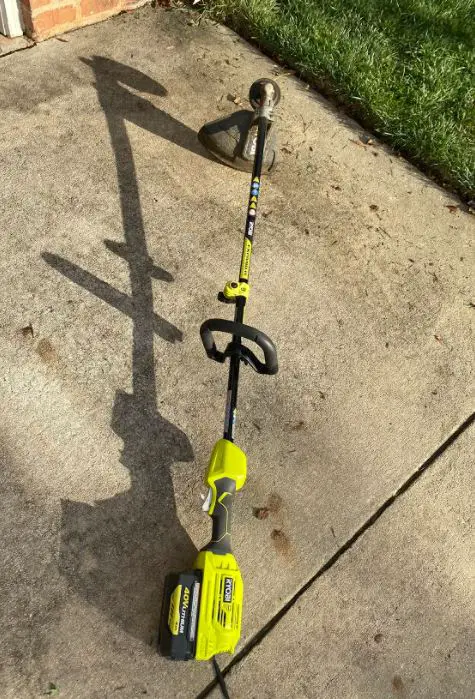 I recommend this weed eater due to the ability to leverage this battery with other Ryobi tools, its convenience and simplicity, and using the various attachments to have an all-in-one approach to taking care of your yard.
You can grab it with the battery on Amazon for a great price or at Home Depot (where it may actually be cheaper).
If you have a big yard or typically spend a lot of time trimming, I would check out one of the gas powered weed eaters.