Greenworks 60V 16 inch weed eater is a great combination of quality and affordability. Not only is this great for homeowners, but the cutting swath on this weed eater is right around the size a commercial landscaper would use. Not bad.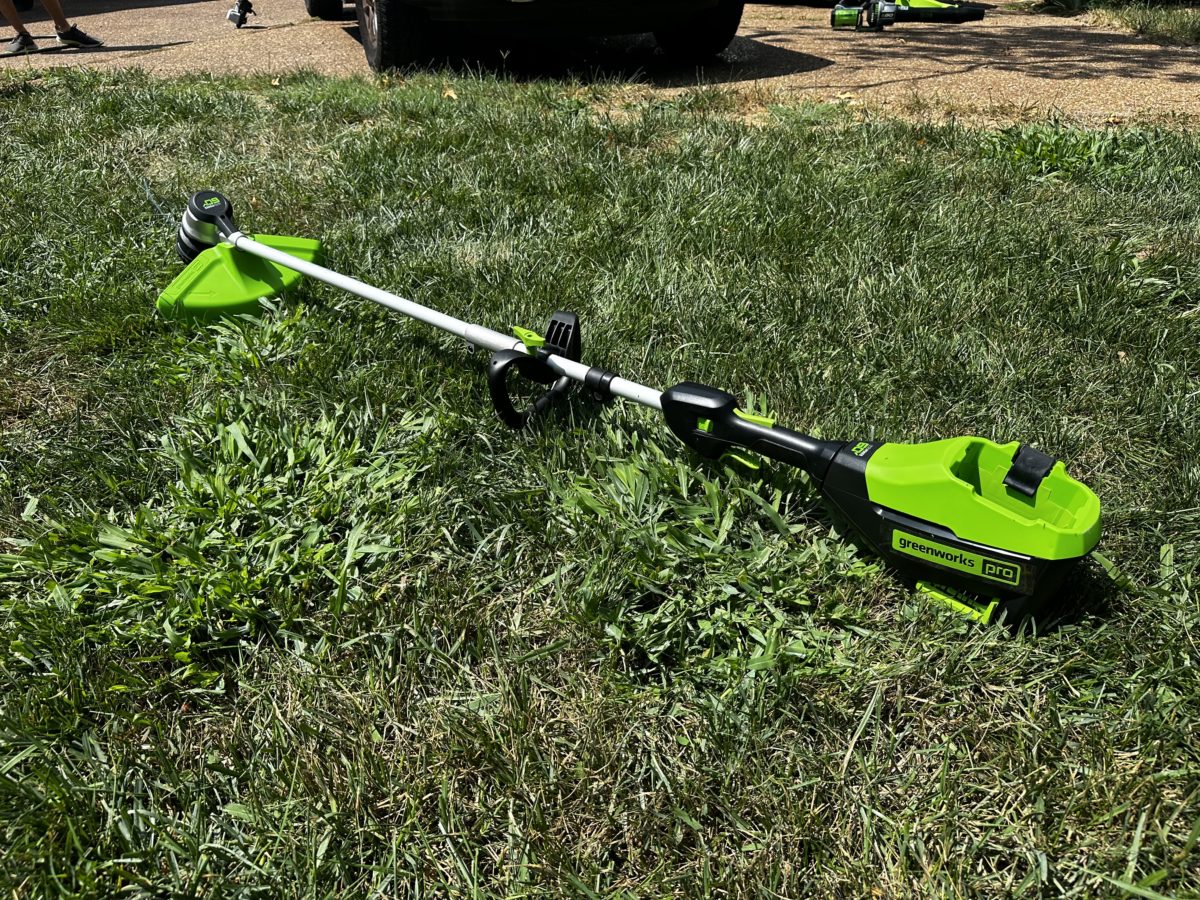 I've had the pleasure of using a ton of Greenworks tools and I'm a bit of a weed eater snob. So when I got my hands on the 60V 16 inch weed eater from Greenworks, I was excited to run it into the ground (literally). 
Here's what I looked at with this one:
My experience using battery powered weed eaters
I have used and written about a LOT of tools. In fact, I've done over 250 posts on this website and even more Youtube reviews using these tools. But I have a special place in my heart for battery powered weed eaters. Battery powered weed eaters are tools of finesse and are some of the most advanced tools in the electric world.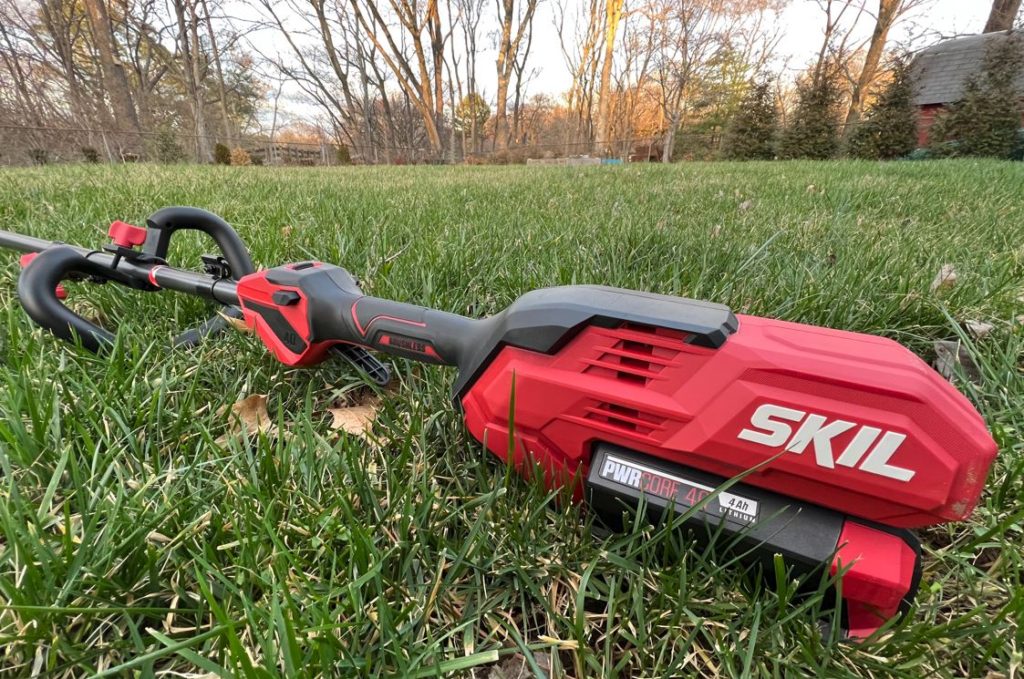 Needless to say, I've used a TON of these. Some of my favorites are listed here below, but I would estimate I've used battery powered weed eaters for well over 400 hours. That's a lot. 
Reviewing the Greenworks 60V 16 inch weed eater
Let me break down for you each of the elements I put to the test on this weed eater, what that actually means for you when you're using it, and some pros and cons of each feature. Here we go!
Greenworks 60V Power output and cutting swath
One thing I love about this Greenworks 60V weed eater is that the cutting swath (or width from one end of the string to the other) is 16 inches. After the 15 inch mark, you start getting into professional landscaper territory.
First off, that 16-inch cutting swath is a game-changer. Not only does the extra width allow you to do some mowing in tighter areas that can't be reached with a lawn tractor or zero turn mower, but allows you to do some serious edging. This not only speeds up the trimming process but also reduces the need to go over the same spot multiple times.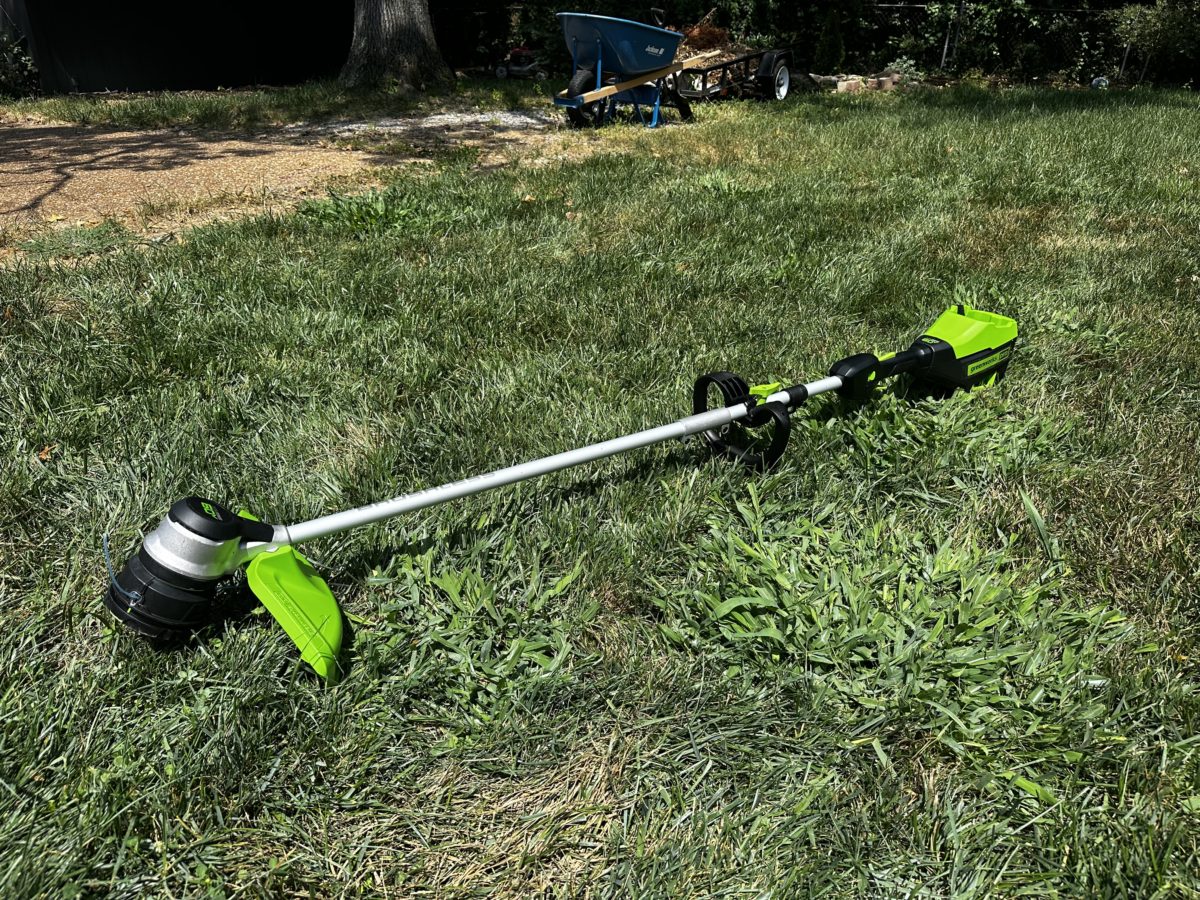 When I compare it to those budget models with smaller cutting swaths, usually around 12 inches or even less, you really notice the difference. With the smaller ones, you have to make more passes to get the same area done, and that can be annoying and require more work.
Plus, having that extra width can make a big difference when tackling larger yards or areas with a lot of edging. It's a breeze to maintain a neat and manicured look without spending all day doing it.
Attachment capabilities of Greenworks
Another thing I love about this string trimmer is that it has the ability to swap out attachments. I have the edger attachment and the weed eater attachment, but you can also get a pole saw and a hedge trimmer attachment. That makes this thing a pretty sweet multi-tool.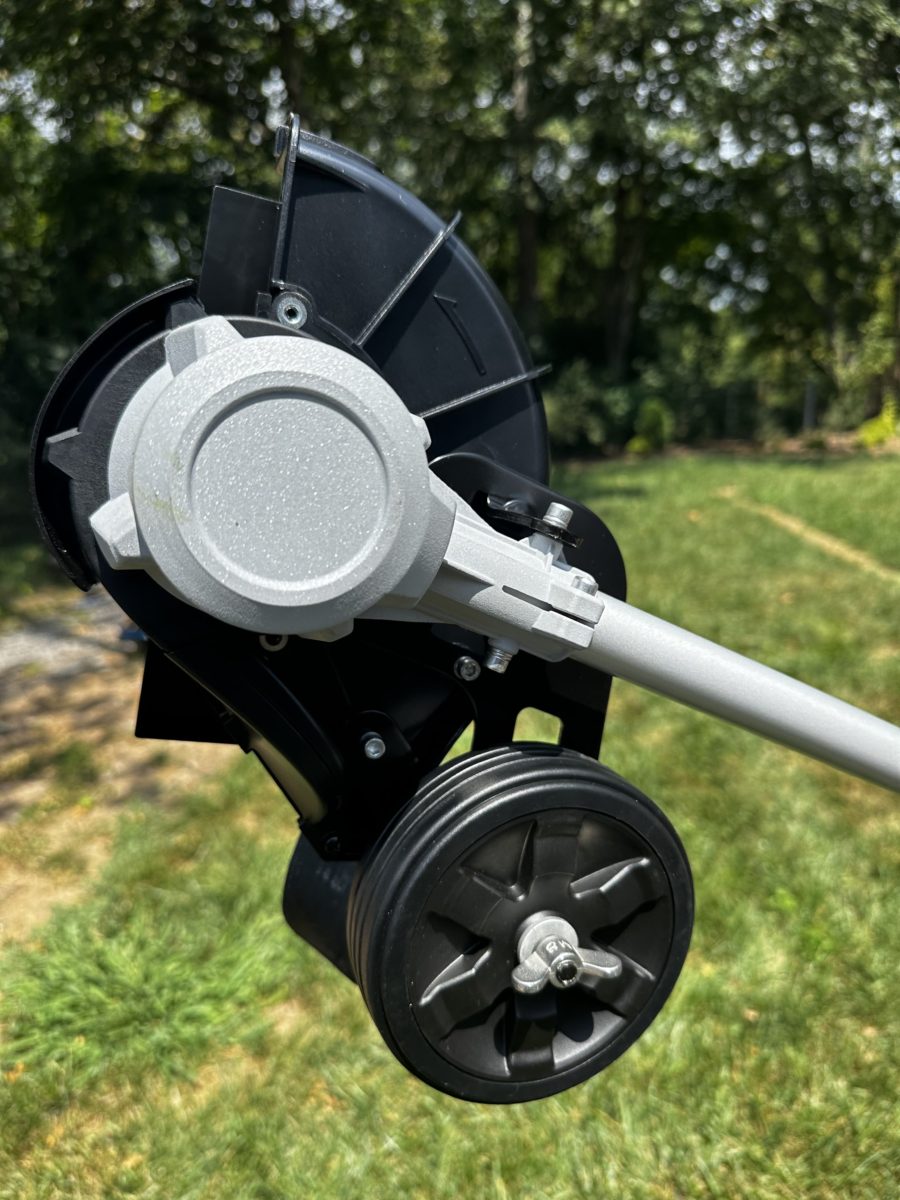 Durability of the Greenworks 60V 16 inch weed eater
When it comes to durability in the battery powered tool space, what you're really looking for is the efficiency and longevity provided by a brushless motor. Fortunately, this Greenworks 60V weed eater has a sweet brushless motor that is super durable.
A brushless weed eater offers several key advantages over its brushed counterpart. Firstly, it delivers greater efficiency and power, making it capable of handling tough yard tasks like thick weeds and overgrown grass without losing performance. Additionally, brushless motors have a longer lifespan due to fewer friction-impacted parts and require less maintenance. They generate less heat and operate quietly, meaning no more waking up your neighbors (ahem…MY NEIGHBORS).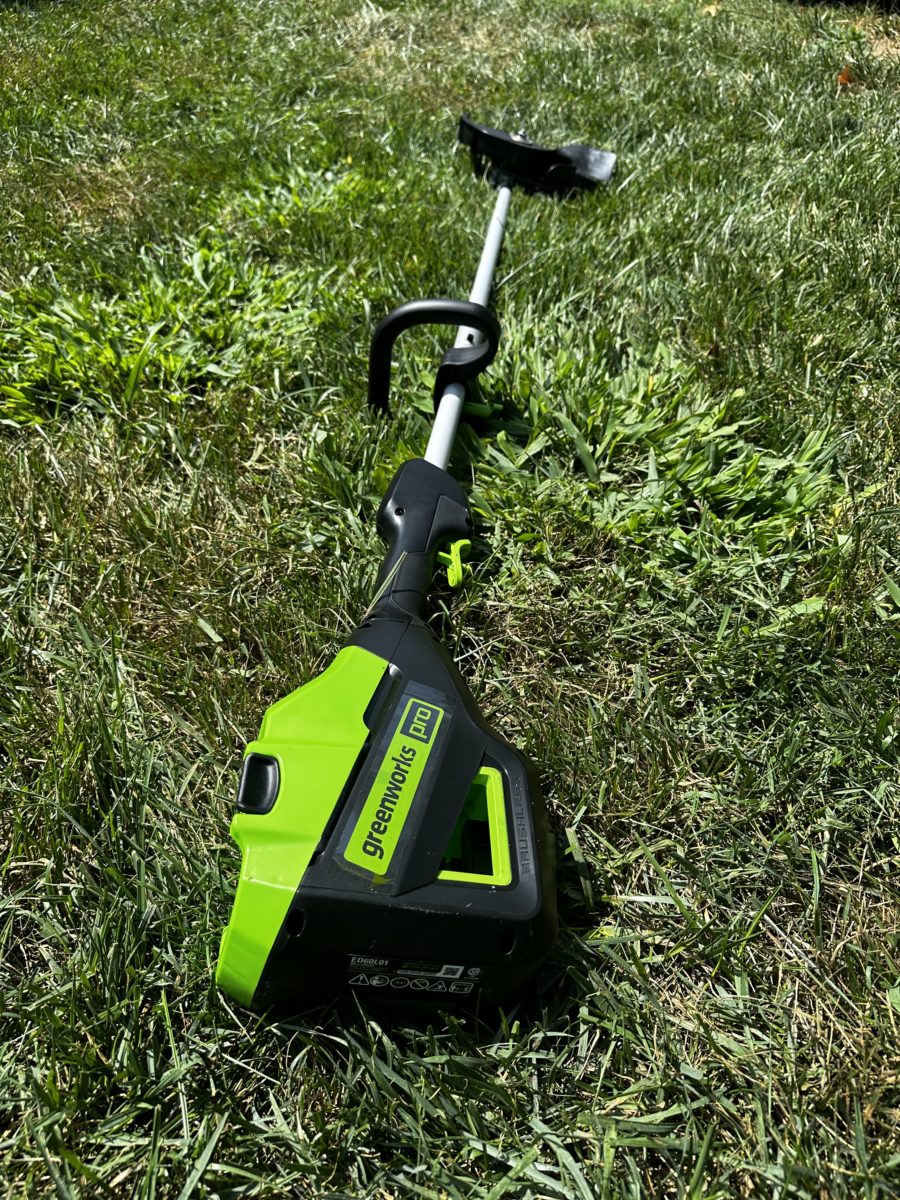 Greenwork has mastered brushless lawn equipment and raised the standard for everyone else in the industry. They even have a brushless electric pressure washer with a 10 year warranty….
The only change I would make on this weed eater is to swap out the weed eater string with a thicker, more durable string. We sell (in my opinion) the best weed eater string on the planet, straight on Amazon.
Cost and value
If you grab the tool-only version of the Greenworks 60V trimmer on Amazon, you can get it for an unreal price. This is the best way to go if you already have a 60V battery from any of the other 60V Greenworks tools.
If you don't already have a battery, then you can get the full kit and kaboodle from Tractor Supply Co (we have no affiliation) for a really good price as well.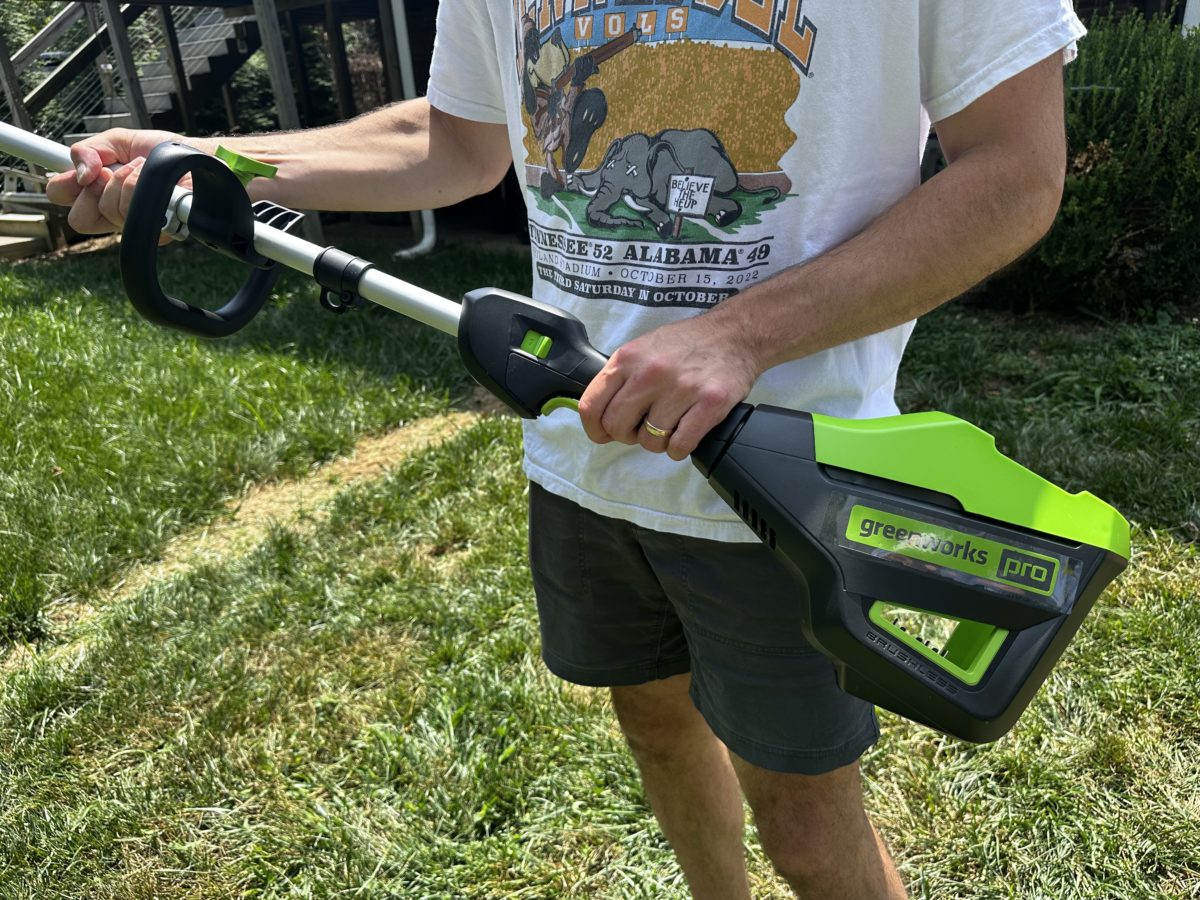 Overall – I think the Greenworks 60V weed eater is an incredible deal given that it has all the cutting power and durability you could want at a super competitive price.
Overall Review: Greenworks 60V 16 inch String Trimmer
I have to take my hat off to Greenworks here for producing a really high quality weed eater. The 60V line isn't their most popular, but it does have some super nice tools included. I like this weed eater because it is brushless, has a serious cutting swath, is easy to use, and is attachment-capable. I recommend grabbing it from Amazon or wherever else you can get it.
Why we created The Lawn Review
The reason we started the Lawn Review in the first place was because we had so much trouble trying to find reasonable, understandable, honest reviews for lawn equipment. And they aren't cheap! After hours and hours of research, trying products and returning them, and messing up our yards – we started this site.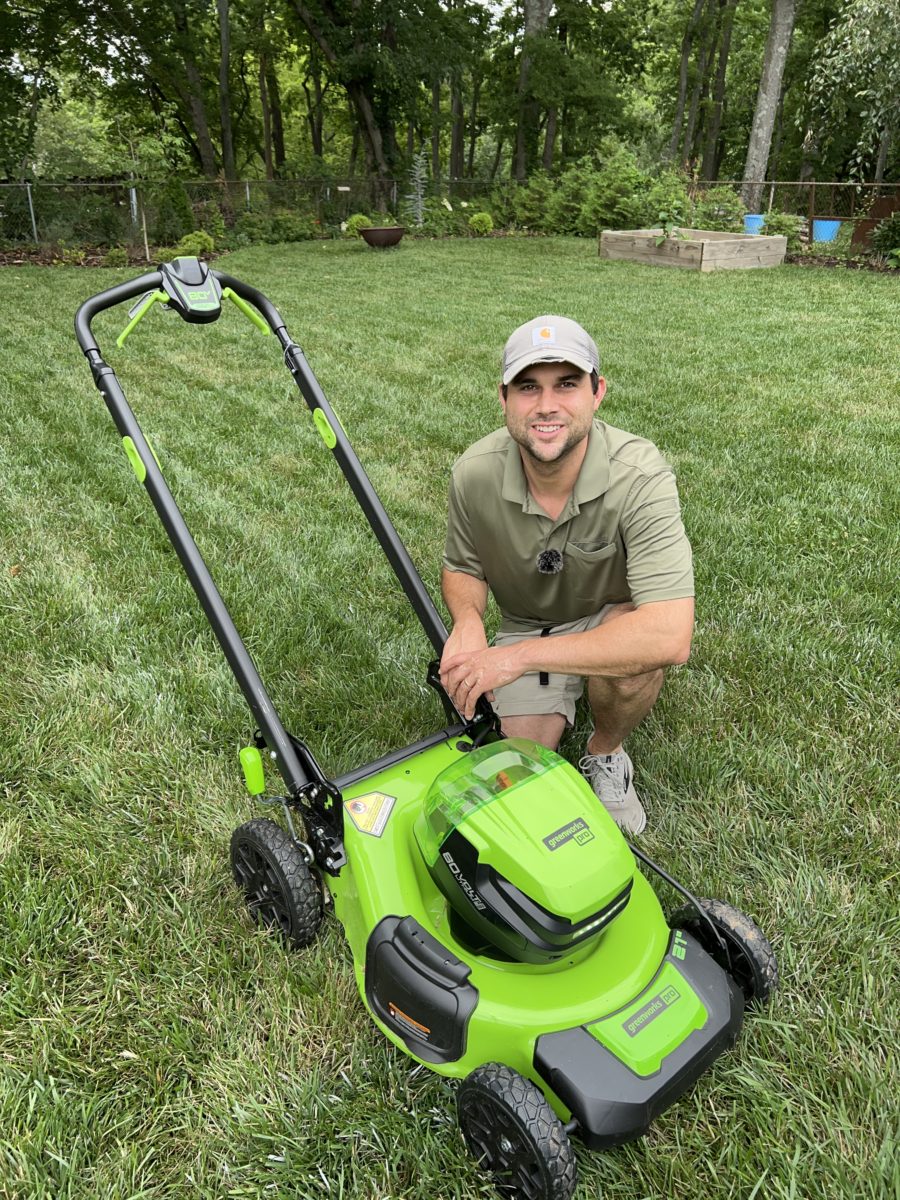 As people who had to learn the hard way, we want you to know exactly what you are signing up for before you purchase a piece of equipment. That's why we are committed to providing honest, easy-to-understand reviews that mean something. 
What to look for in a battery powered weed whacker
Cordless weed eaters come in all shapes and sizes. They aren't highly complicated pieces of equipment, but they do have a few nuances. Here is how I see it:
Feel – Obviously this is subjective, but feel is everything to me. I have had weed eaters in the past where the handle is off to the side, making me torque my shoulders and back. If you can, get as many adjustable pieces as possible to make this customizable. It doesn't seem like you use a weed eater for a long time, but the work is precision work that requires a steady hand and focus.
Motor – brushless motors are king here. They are longer lasting and more durable. Regular brushed motors are fine, too. The key difference here is that brushless motors use magnets, instead of friction, to power the motor. This means less heat, more durability, and a longer life. Brushed motors will still do the job, however they tend to have a shorter life. Brushless motors are relatively new, so if you have had an electric tool back in the day, it was probably brushed.
Interchangeable batteries – Get a dang tool that has batteries that you can use with other batteries. C'mon people – save money by doing this! You don't have to keep buying new battery sets. There are a lot of tool companies that have batteries that work with a ton of different tools. But some of these companies have a bunch of different battery types. Be careful!
Curved vs Straight shaft – I always, always, always prefer straight shafts. They are so much easier to use and control and are much longer than curved shafts. Curved shafts are good for clearing out a small piece of land unable to be mowed. But if you want to actually do some good trimming and edging, a straight shaft is much better. Curved shafts are difficult to maneuver and to create a straight line for edging.