The EGO 56V vs Ryobi 40V electric lawn mower is the clash of the titans.
In one corner, the stocky, sturdy, heavy-hitting Mike Tyson of mowers – the EGO 56V SelectCut Self-propelled mower.
In the other corner, floating like a butterfly and stinging like a bee, the Muhammad Ali of mowers – the Ryobi 40V self-propelled lawn mower. 
This battle is a true fight to the finish.
Let's break down the winner below.
Comparisons:
Also – check out the comparison of Ryobi's 40V HP to Milwaukee's M18 mower for a premium mower comparison.
Why we review lawn tools
The reason we started this website in the first place was because we had so much trouble trying to find reasonable, understandable, honest reviews for lawn equipment. And it's not cheap! After hours and hours of research, trying products and returning them, and messing up our yards – we started this site.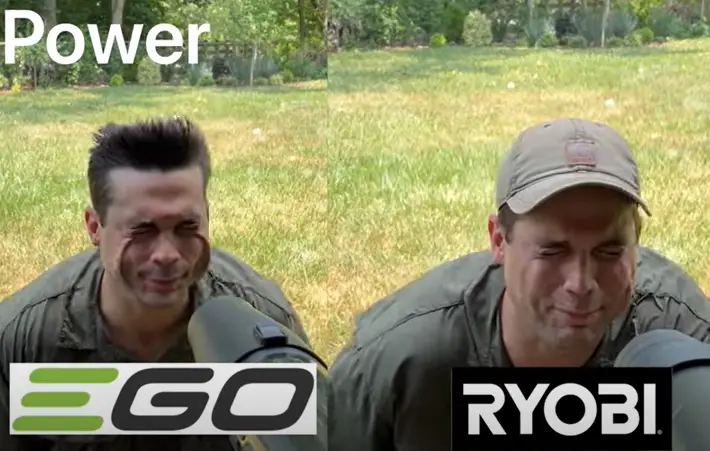 As people who had to learn the hard way, we want you to know exactly what you are signing up for before you purchase a piece of equipment. That's why we are committed to providing honest, easy-to-understand reviews that mean something. 
What to look for in an electric lawn mower 
When looking to purchase an electric lawn mower, you need to make sure you understand what things matter. You will get hit with a lot of technical specifications and marketing tactics. Totally forget them and focus on the things that impact you. Below are my recommendations:
Brand quality
Quality is going to be super important here. Everyone is in the electric mower game these days and there are a ton of junky mowers out there. Avoid anything from a weird brand on Amazon that takes 9 years to ship. It is probably being 3D printed in a Laotian bathroom. Go for brands that have consistent quality and focus on the details, not just flashy colors.
Metal where it matters. 
Most electric mowers are plastic-y. Probably to reduce the weight of the mower so that the battery can get you further, but it feels cheap. Make sure to get metal where it matters – namely the deck. The deck is the part that covers the blades. Don't get plastic here – a rock can rip through it.
Battery interoperability.
 A ten dollar word used here, but really just make sure to buy a mower with a battery that is compatible with other electric tools. Ryobi has this, so does Dewalt, and so do some of the Greenworks products. This will save you garage clutter and plug space.
Self-propelled or not
I actually don't like the self-propelled feature as much as others.. It doesn't help you that much and it can drain the battery some. Older people and those with hills seem to love them, though.
We've done a full review of the Ryobi 40V mower and also listed out the best Ryobi mowers – where we ranked this one number one.
EGO 56V vs Ryobi 40V mower: Comparison of benefits
Two of the hottest mowers on the market square off today. Let's check out how these differ so that you can make an informed decision before ponying up some cash.
For a full breakdown of EGO's mowers, check our our post highlighting all the different EGO Select Cut and Select Cut XP features.
Battery Life
So much to talk about when it comes to battery life. First, if you haven't already, you should check out our battery guide for commonly asked questions among the biggest lawn tool battery brands.
But today we are here to talk about the EGO 56V vs Ryobi 40V mower batteries. In its simplest form, the EGO 56V *ON AVERAGE* has about 15 minutes more battery life than the Ryobi 40V mower. 60 minutes on the EGO 56V whereas the Ryobi 40V runs for about 45 minutes (in case you couldn't do math).
There are major factors here that influence battery life in mowers. The first is the density of the grass – obviously more density of grass is going to require more output and a slower pace. The next major factor is blade height – same issue as grass density.
The last major consideration is the self propelled function. We felt that the self-propelled function on the EGO 56V was STRONGER than the Ryobi 40V. And the battery lasts longer. 
The winner of this category: the EGO 56V mower.
Storability
I know you're already sick of me saying this but the Ryobi 40V and EGO 56V mower store folded in half in basically a completely identical way.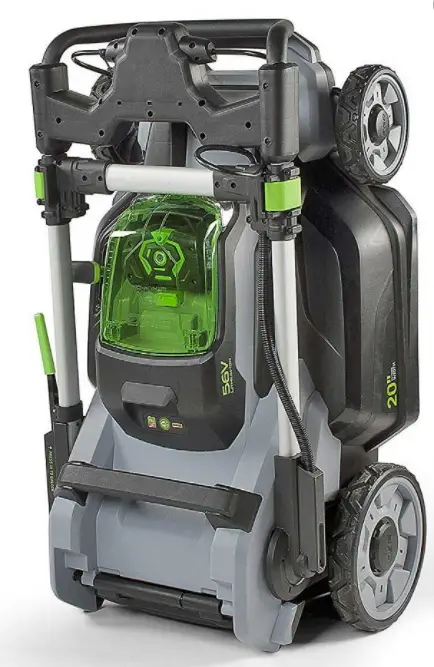 So it's a tie, right?
WRONG!
The EGO mower has a simple snap that you lift, telescope the poles inward, then fold over. The Ryobi 40V has a few other points that you have to tinker with before folding in half.
This is one of those things you just can't do with a gas mower. You try folding it in half and you will end up with oil all over the engine and the floor of your garage. Another huge benefit to both of these mowers.
But the winner of this category? The EGO 56V mower.
Mowing Experience
This is a really dense topic, so let's break it into chunks.
Mower Deck
The first thing I looked at with both of these mowers was the deck. First eye test for me is whether or not one was metal. Nope, both are plastic.
Second eye test was width. The Ryobi comes in at 20 inches whereas the EGO 56V mower is 21 inches. Advantage: EGO (unless you have a smaller yard).
The last deck portion I looked at was the height adjustment. They are the exact same on both mowers.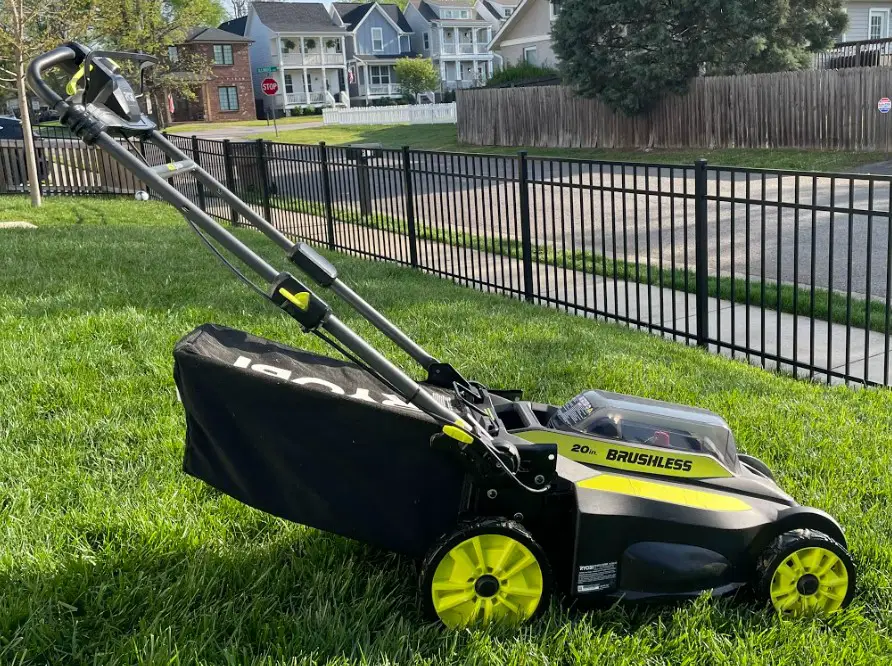 Maneuverability
The second thing I looked at with both of these mowers was maneuverability. Maneuverability is huge and this one was pretty clear. 
The Ryobi 40V mower is extremely lightweight. It is so easy to maneuver around corners because you can lift it and reset it without trouble. The EGO mower, however, is a lot heavier and bulkier, making it more difficult to maneuver.
Self-propelled function
Next, the self-propelled functions were brought under the microscope with these mowers. The EGO 56V mower's self-propelled function is like a Ferrari. It lurches you forward and does way more of the work than the Ryobi. The Ryobi's self-propelled function was a bit delayed and slightly weaker.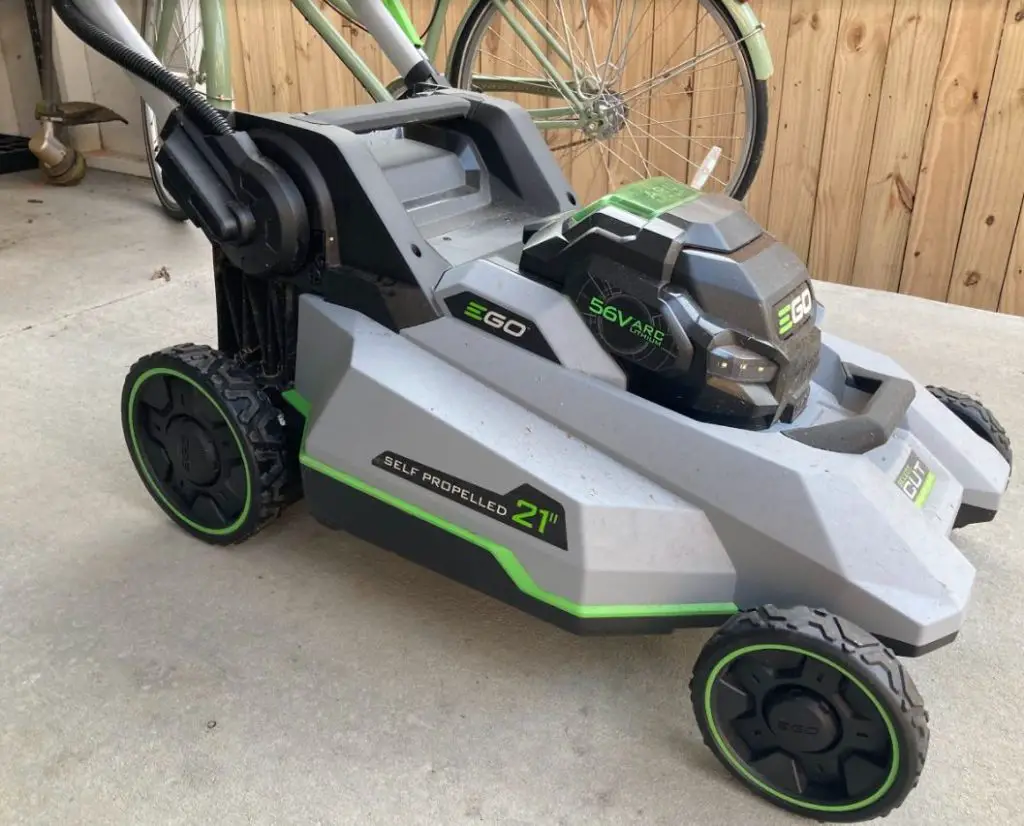 Sound
The EGO is WAY louder than the Ryobi. About all we have to say about that.
Overall experience
This is a tough one. On one hand, you have a super lightweight mower that is quiet and easy to maneuver with the Ryobi 40V mower. On the other, you have a heavier, sturdier mower that has a beast of a self-propelled function but is louder.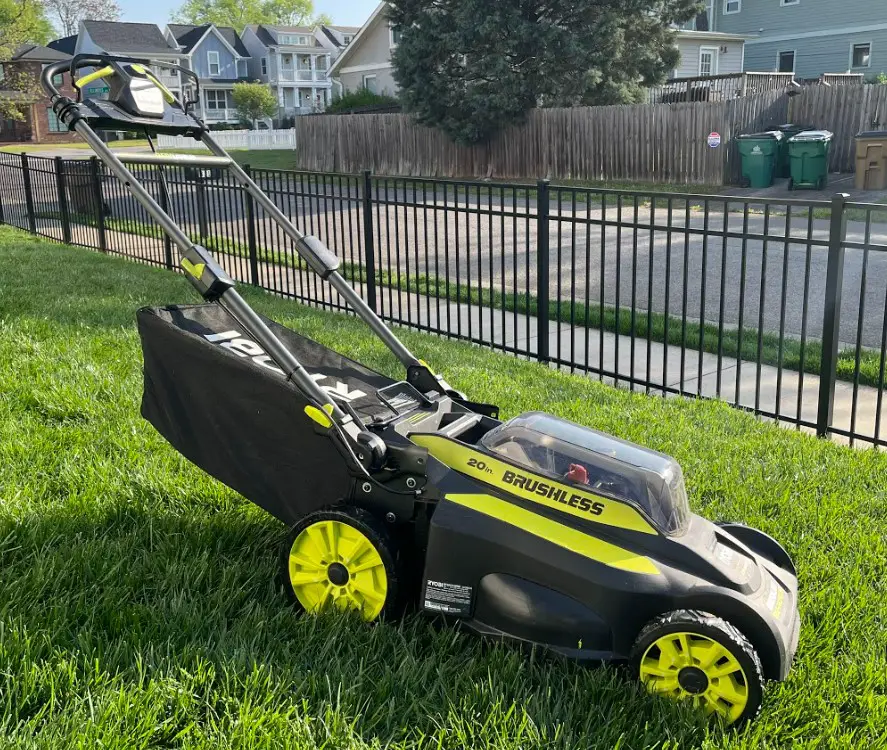 Both have tradeoffs and can be great in their own ways. It's a tie!
Cost and value: EGO 56V vs Ryobi 40V
The EGO 56V select cut series is generally $30-$50 more than the Ryobi 40V mower across, Lowe's, Home Depot, and Amazon.
Overall Impression: EGO vs Ryobi Mowers
This one is tough! They are similar in performance and have a ton of the same features. 
The EGO 56V mower is sturdier, feels powerful, and has a killer self-propelled function. The Ryobi 40V is a little lighter, more "plastic-y", and slightly less expensive.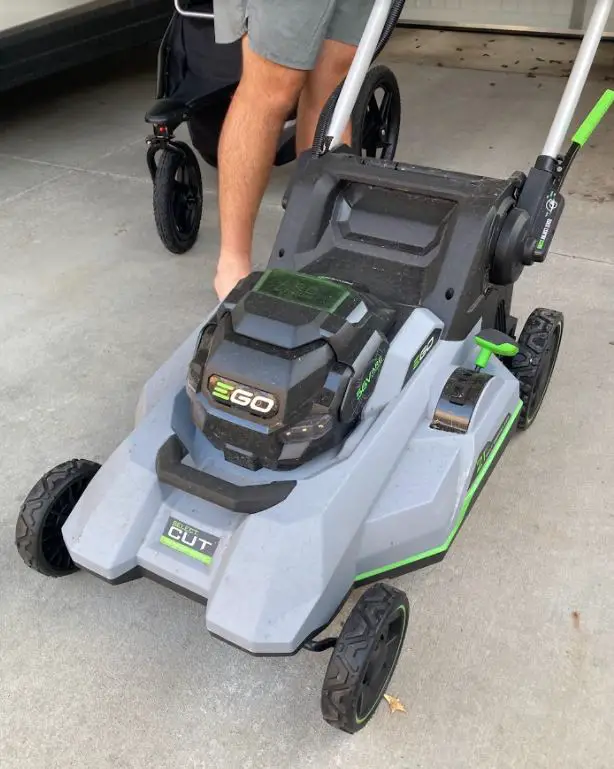 If we had to pick one, we would have to give a slight edge to the EGO 56V mower, but it's totally our preference. 
You can grab the EGO 56V mower on Amazon for a great price, including a tool-only version that's significantly cheaper.
Similarly, the Ryobi 40V mower is available from Home Depot for a great price.
If you're looking for something more affordable, check out the best budget mowers (they're really cheap).
If you'd like to see how EGO compares to Kobalt mowers, you can read more here.