Ryobi 40V blowers come in many shapes, sizes, and strengths. Today, we are going to check out the Brushless Whisper series, the 110 MPH 525 CFM Jet-fan blower, and the RYOBI 40V 155 MPH 300 CFM Cordless Battery Jet Fan.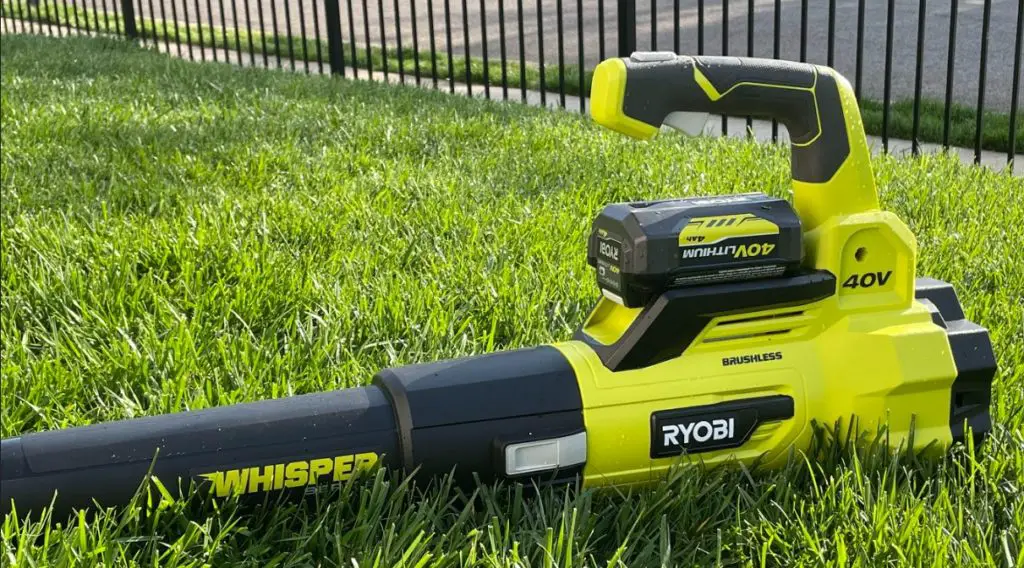 To be frank, I have not been a huge fan of Ryobi's battery powered line. I have their 3-in-1 ExpandIt Ryobi 40V weed eater. This has a blower attachment and it has broken twice. Yep, twice. I have attached it, turned it on, and it has made a high pitched screaming noise and then lost about half of its power. That's a 40V blower, these are 40V blowers – needless to say it is going to take a lot to impress me. 
Let's check out what we will review today:
Why we review lawn tools
The reason we started this website in the first place was because we had so much trouble trying to find reasonable, understandable, honest reviews for lawn equipment. And it's not cheap! After hours and hours of research, trying products and returning them, and messing up our yards – we started this site. 
As people who had to learn the hard way, we want you to know exactly what you are signing up for before you purchase a piece of equipment. That's why we are committed to providing honest, easy-to-understand reviews that mean something.
Ryobi 40V products
The Ryobi 40V series of products is supposed to be the convenient, all-in-one way to use one battery for hundreds of pieces of equipment. It is kind of weird how this builds brand loyalty and works to an extent. 
Check out our web story that highlights our thoughts on these Ryobi blowers.
Step back and think about it – a battery takes up 8 inches of space in the garage, but having hundreds of big, interchangeable electric tools is supposed to be convenient? Isn't that backwards? Shouldn't they be making more compact tools or innovating in some other way? 
Enough of my soapbox. I've reviewed a few of their other products like the Ryobi 40V lawn mower and similar products like Dewalt's self-propelled lawn mower and 20V hedge trimmer (and 60V chainsaw). Ryobi is about the same, but if you like neon green then go for it. 
If you want to see the Ryobi 40V vs EGO 56V blower, check this out!
The Ryobi 40V blowers: Feature reviews
Let's check out some of the features and break down what they really mean for us at home…staring at a wet leaf stuck to our driveway….and eventually walking up and scraping it off with the tip of the blower (not that this has ever happened to me). 
Power
Power surprisingly varies quite a bit between these: let's investigate.
Brushless Whisper Series
The Ryobi 40V Brushless Whisper blower is the industry's most powerful cordless (electric) handheld (not backpack) blower. It comes with a "Speed Tip" that allows it to reach up to 190 MPH. Most handheld electric blowers come in at around 90 to 125 miles per hour, so this is actually a pretty significant boost. 
The brushless motor has a big part of how this blower is so powerful. The ability to not crush itself with heat and friction allows it to retain energy for actually doing its job instead of just getting hot for no reason. 
The Ryobi 40V blower from the "Brushless Whisper Series" is a powerful cordless blower. Despite the name sounding like a candle from the Bath and Bodyworks, this blower means business. 
Ryobi Brushless motors on leaf blowers
Although this sounds like an ASMR experience, it's actually a powerful facet of a motor. A brushed motor means that there are blocks of carbon connected to a spring. These spin and change the magnetic polarity inside of a motor. Sadly, these can wear out overtime and otherwise cause significant heat while operating.

Brushless motors include a computer chip that charges magnets and does not have any of this friction happening. The runtime is increased by about 50% when compared to brush motors. This also allows the motor to be much quieter, which is where the "Whisper" portion of the name comes in. 
110 MPH 525 CFM Variable-Speed Jet Fan
This blower is more recognizable because it is one of the more affordable battery powered blowers offered by Ryobi. It looks similar to the Brushless Whisper blower above, except has a wider opening.
To be honest, not a huge fan of the power of this blower. While the CFM is high, indicating a higher power output, the nozzle of this blower is really wide. So it is not a focused stream, but more of a wall of air that doesn't do all that much good. This is good for very light work such as dry leaves or saw dust, but not for bigger jobs that require a faster air stream.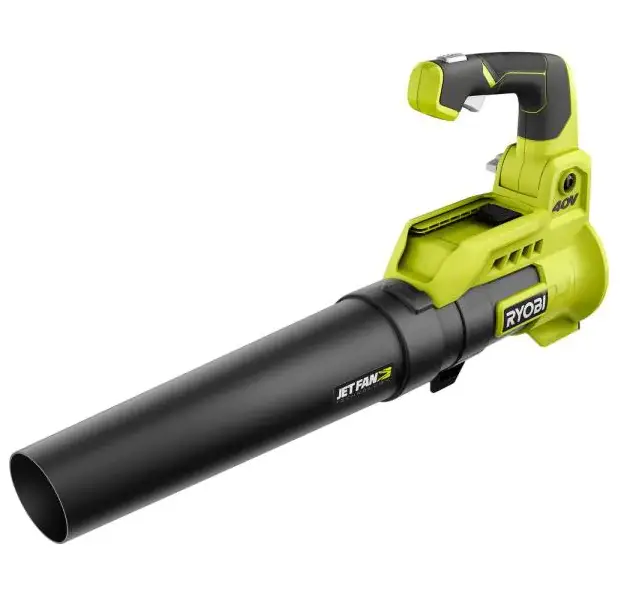 I would compare the power of this to the Dewalt blower we reviewed.
RYOBI 40V 155 MPH 300 CFM Cordless Battery Jet Fan
The 155 MPH 300 CFM Jet Fan is a mouthful, but also one of the lighter, easy to use blowers offered by Ryobi. I recently purchased this item and when it came, I had my doubts.
Now, I didn't expect for it to be as strong as a backpack blower, but I was shocked at how good of a job it did, especially compared to my old 40V attachment. This thing did a pretty good job, especially compared to the one above. I took it out to my back deck and was able to blow most leaves off, with the exception of some that were stuck between boards or wedged up against the side of the railing. Not bad!
Ryobi 40V blowers: Durability
If you read the opening paragraphs of this review, you would know that I have gone through two Ryobi 40V blowers in the past few years. They keep breaking and grinding and squealing. One difference between the one that I own and this one is that this is a dedicated blower. My Ryobi 40V blower is an attachment and a total joke.
Brushless Whisper Series
The key differentiator is again the brushless motor. Without all of the friction inside of the motor, the brushless motors last way longer. Ryobi knows that and has backed it with a five year warranty. 
Frankly, the five year warranty is the longest I have seen on the market. That's exceptional, especially for a battery-powered product. To top things off, the battery has a three year warranty. 
110 MPH 525 CFM Variable-Speed Jet Fan
I can't knock this blower too much because it really is a standard electric blower. It does not have a brushless motor meaning that at some point, it is going to burn out. Whether or not that happens after 2 years or 3 years, it won't last as long as the Brushless Whisper.
RYOBI 40V 155 MPH 300 CFM Cordless Battery Jet Fan
The 155 MPH 300 CFM blower is similar to the above. Probably a similar piece of equipment, but has less CFMs, meaning the engine isn't moving as fast. This might make it last a tad longer. It still will not stack up to the Brushless Whisper series blower.
Battery Life on Ryobi 40V blowers
Let's talk more about the battery on these blowers. The Ryobi 40V Brushless Whisper blower has two 4.0 Ah batteries with a 40V rapid charger. This charger will juice the batteries up four times faster than a standard charger. Basically it can charge a battery from empty to full within about 40 minutes. 
While this does require the two batteries, it really can last for quite a while. I would say blowing leaves across a few acres would be easily doable with this battery life. These are the same batteries that power their mower, if that tells you anything. It mentions a 2 hour runtime, which is quite impressive. I have not used it for that long.
The other ones just require one 40V battery, which is great for charging purposes, but is going to run for about half as long. I imagine again that you will never fully run through the battery just blowing leaves.
Something great about these batteries is that they can be used with over 50 other Ryobi products. This really helps if you do have the mower or trimmer or any of their other products. Basically it can save you some money by purchasing the tool-only option that comes without the battery. 
Experience
It is all about the experience. What it sounds like and feels like. Let's jump in.
Brushless Whisper Series
The whisper series name cracked me up, but after doing some more research on decibel levels I am shocked. This blower comes in at about 57 dB. That means absolutely nothing to me, so let me compare it to something else you may know. An electric toothbrush weighs in at about 55 dB of noise. The Ryobi 40V blower is stunningly quiet. 
One thing I cannot stand about my neighbors is the lawn care company they hire. They come in with these massive backpack blowers that are insanely loud. For some reason, they blow the entire street with absolutely no regard for human life. Truly, I cannot understand for the life of me why someone would want to use one of those blowers when you have one of these available and have a smaller job.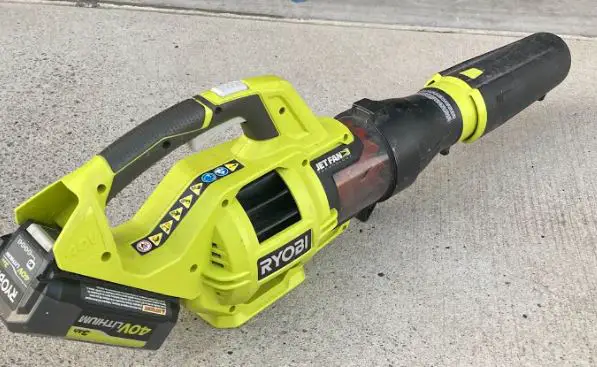 110 MPH 525 CFM Variable-Speed Jet Fan
Nothing sexy about this one. As I mentioned before, this is a very "stock" battery powered lawn mower. I don't give this one a great experience score because it is going to be louder than the Brushless Whisper series AND the one below, with actually doing a worse job of blowing. You hate to see it!
RYOBI 40V 155 MPH 300 CFM Cordless Battery Jet Fan
This blower was slightly louder than I would have liked considering the lower CFM. But overall, this is a really light blower. Super easy to use and hangs down low to the ground, which is great for a tall freak like me. This was fun to use and I recommend it for lighter jobs, like your deck, garage, or patio. I got mine off of Amazon for a great price.
Usability
Usability is one of THE most important elements of a blower. It has to be comfortable and easy to use.
Brushless Whisper Series
Another great feature on the Ryobi 40V blower is the speed controller trigger and cruise control. This allows you to not have to squeeze and pass, but to simply adjust the cruise control and let your hands relax a little bit. 
This also includes a "turbo" button as though it is straight out of Fast N' Furious, which increases the power. A potential situation here is that you are blowing dry leaves at a medium speed and realize that a wet leaf is stuck to the pavement at the bottom. You can press the turbo button and it will maximize the output of the blower for as long as its pressed, then will return back to the speed you had set previously.
110 MPH 525 CFM Variable-Speed Jet Fan
As mentioned in the name of the blower, this one has a nice variable speed trigger. This lets you pull the trigger up from a slight blow to all the way maxed out.
Scratching my head at who would want a blower to do a "soft blow", but it is there if you want it. Another cool part about this one is that it can lock a speed in place. Not my cup of tea because I always max out, but some people might like it.
RYOBI 40V 155 MPH 300 CFM Cordless Battery Jet Fan
This one had the simplest functionality. Just a squeeze trigger and that's about it. For me, I hold the trigger down the whole time on full blast, so it didn't make that much of a difference.
As I mentioned earlier, it is super light and easy to use. Even with it hanging down lower, I did not feel much of a shoulder strain after about 20 minutes.
Assembly of the Ryobi 40V blower series
Okay – making some assumptions here, but I recently unpacked the 155 MPH 300 CFM blower and set it up. The others look to be even easier to assemble, but this one required about 20 seconds of assembly.
I bought the tool-only version because I have a 40V battery ready. This saved me about $40-50 which was huge!
I'll frame out the step by step below: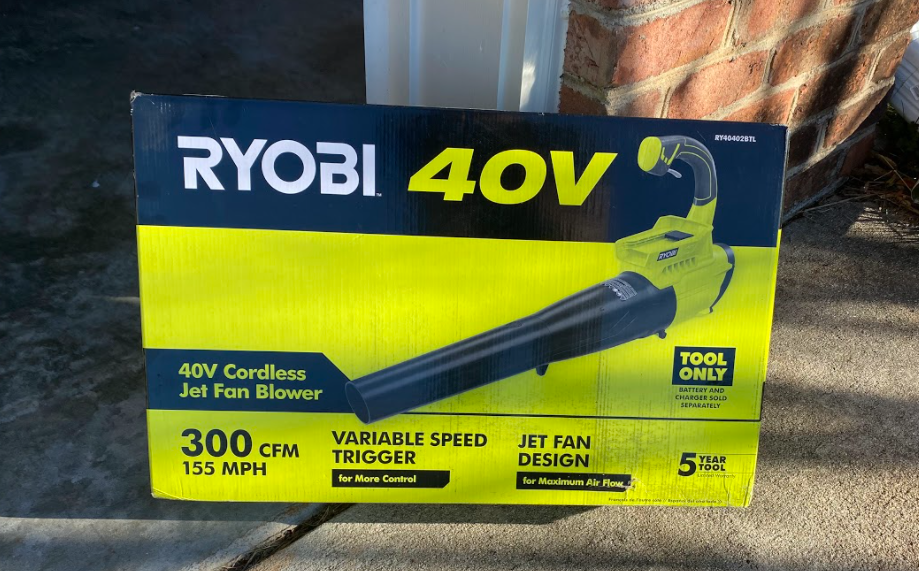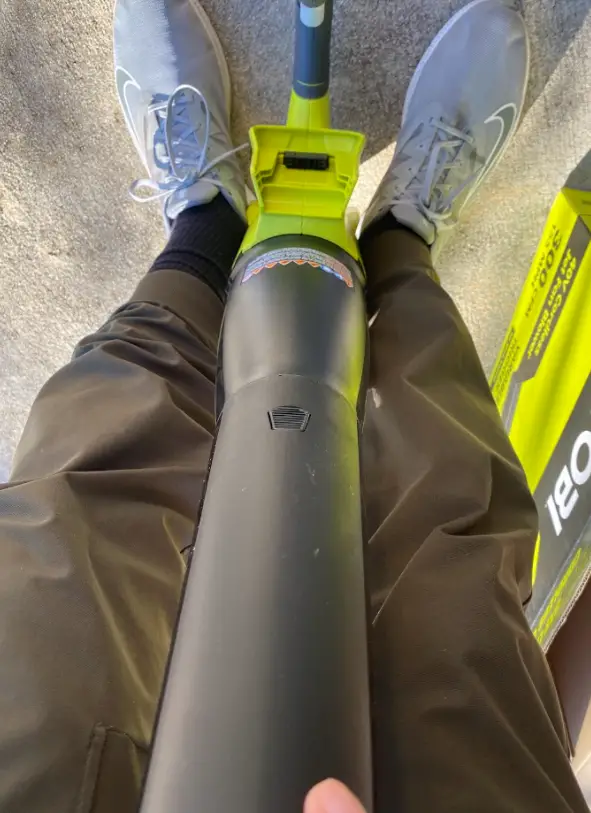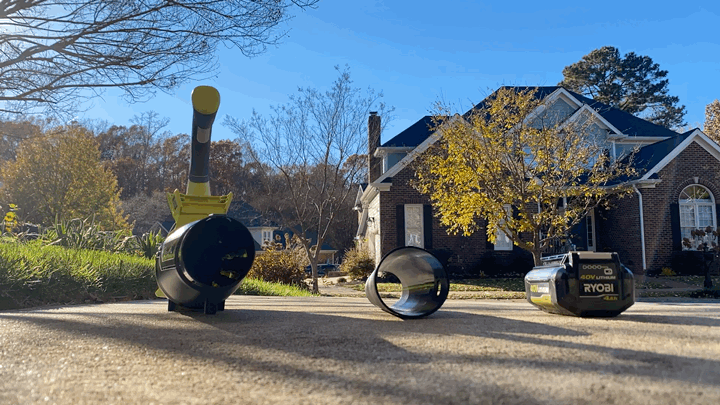 Ryobi 40V Blower prices
Let's dig into the prices!
Brushless Whisper Series
Okay – I have spoken pretty glowingly about this blower so far, but one setback is the price. You can get some Ryobi blowers for less than $100 and this one will cost you over $300 for the tool + batteries. It is a great deal in that it reduces your time out in the yard. You can check the most recent price on Home Depot's website.
Here is why I think it is worth it:
Five year tool warranty and three year battery warranty
Interchangeable battery with other Ryobi products
Strongest electric blower on the market
Easy to use and quiet
Folks, I have seen enough. I am officially recommending this blower. 
Curious at how the price of this one stacks up? Check out our lawn equipment cost guide.
110 MPH 525 CFM Variable-Speed Jet Fan
This one has been given an official "meh". It comes in around $130 for the tool-only version. It is fine, but won't last you very long and will keep you out in the yard for a while.
Don't just take my word for it – check out the reviews and price on Home Depot – a lot of people love it (including me).
RYOBI 40V 155 MPH 300 CFM Cordless Battery Jet Fan
This one is better! Not as nice as the Brushless Whisper blower, but definitely gets the job done efficiently. I bought the tool only version at Home Depot and have loved it so far.
The official review: Ryobi 40V blowers breakdown
| | | | |
| --- | --- | --- | --- |
| Feature | Brushless Whisper | 110 MPH 525 CFM Variable-Speed Jet Fan | RYOBI 40V 155 MPH 300 CFM Cordless Battery Jet Fan |
| Difficulty to use | Easier to use cruise control function | Average usability | Average usability |
| Durability | Very durable and backed by warranty | Not that durable | Average durability |
| Maintenance | Easiest to maintain | Easiest to maintain | Easiest to maintain |
| Value | Highest value | Lowest value | Medium value |
| For lots <10,000 sq. ft | Highly recommended | Recommended | Highly recommended |
| For lots <1 acre | Highly recommended | Not recommended | Recommended |
| For lots >1 acre | Highly recommended | Not recommended | Not recommended |