SKIL's 40V PWRCORE Power Head System is brand new to the market. SKIL has been around for quite some time, but is just now getting into the Power Head System game.
And there's never been a better time. There are a ton of power head attachment capable systems flooding onto the residential lawn care market. Here's why: they're super convenient and can save you a ton of money.
We've had the chance to review a few weed eaters with attachments that are all a part of a power head system, and SKIL has just made our list.
Today, we will deep dive into a bunch of features that make this thing pretty nice. We also have a corresponding Youtube video that shows it in action.
Jump ahead:
Why we review lawn tools
The reason we started this website in the first place was because we had so much trouble trying to find reasonable, understandable, honest reviews for lawn equipment. And it's not cheap! After hours and hours of research, trying products and returning them, and messing up our yards – we started this site.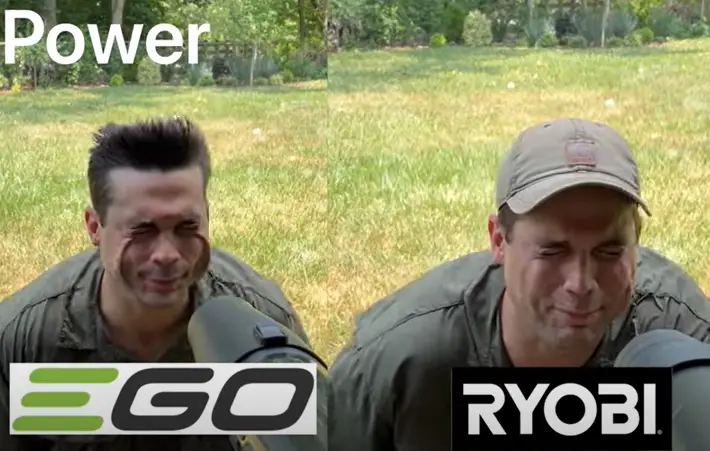 As guys who had to learn the hard way, we want you to know exactly what you are signing up for before you purchase a piece of equipment. That's why we are committed to providing honest, easy-to-understand reviews that mean something.
What to look for in a battery-powered attachment system
If I would have read this article a few years ago, I would have made a different decision and likely saved hundreds of dollars. But I learned the hard way and want to make sure you don't have to.
Here are the things I look for in a battery-powered attachment system:
A brushless motor
The first time around, I bought a brushed motor and I deeply regretted it a few months later. The main difference between brushed and brushless motors is how electricity is transferred from the battery to the motor. Brushed motors have a process that relies on friction. I quickly realized this when the palm of my hand was getting extremely hot while using the attachment system.
Brushless motors run cooler, more efficiently, provide more torque, and last longer. They are quickly becoming the gold standard in battery-powered lawn tools – but not everyone has caught up.
Universal attachments
Some of these weed eater attachment systems have the ability to take on any attachments. That's a benefit to those of us that are looking to save money or have an existing attachment system that's broken but the attachments work just fine. You can find attachments on Facebook marketplace or other second-hand stores for a way cheaper price. 
A high performing weed eater
Don't just buy a weed eater with attachments because it is attachment capable. Buy a battery-powered weed eater that freaking dominates and also has the ability to add attachments. 
Good attachments
If I don't mention this, I will get an email from one of you saying "you didn't say to buy one with good attachments" so here you go. Obviously you want an attachment system that can accommodate high performing attachments that you will actually use. Avoid bundles that give you attachments that aren't as good as the individual tools. The goal is to replace your other tools, not supplement them with an additional cost.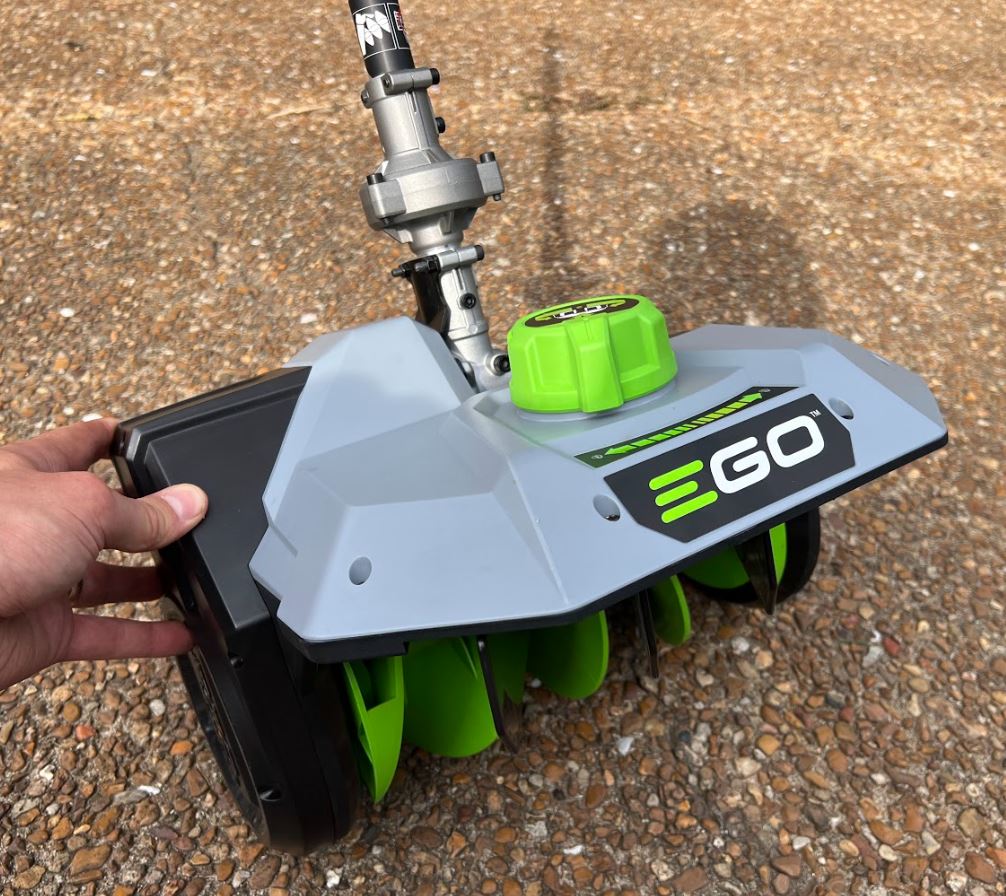 SKIL PWRCORE 40V Attachment Capable Power Head: Features
The SKIL PWRCORE 40V power head system that we got came with both weed eater and edger attachments, although more are likely to come soon. I expect a pole saw, cultivator, and snow blower attachment at least to be added in the next few months.
Let's take a dive into our experience with the weed eater and edger attachments on the SKIL PWRCORE 40V system.
Usability and handling
The SKIL Power Head comes with a nice molded rubber grip that feels super comfortable to use, almost like a pistol grip. One thing that I immediately noticed and liked was the safety feature. While I wouldn't normally want a safety feature on my Power Head, it has the ability to move left and right to accommodate the primary hand of any user. 
The D-loop handle is pretty common on most premium power head systems, but I like that this one is slightly more adjustable to accommodate differences in height and hand position.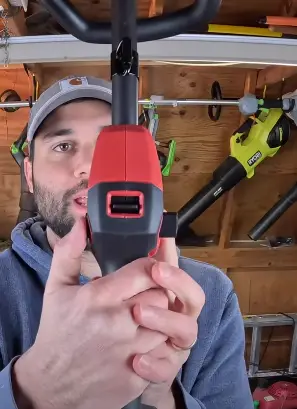 Connecting the attachments into the power head is a breeze. You simply pop it into the head (there's an arrow that shows you how to use it), then tighten it. Assembling the power head with each attachment was super simple as well.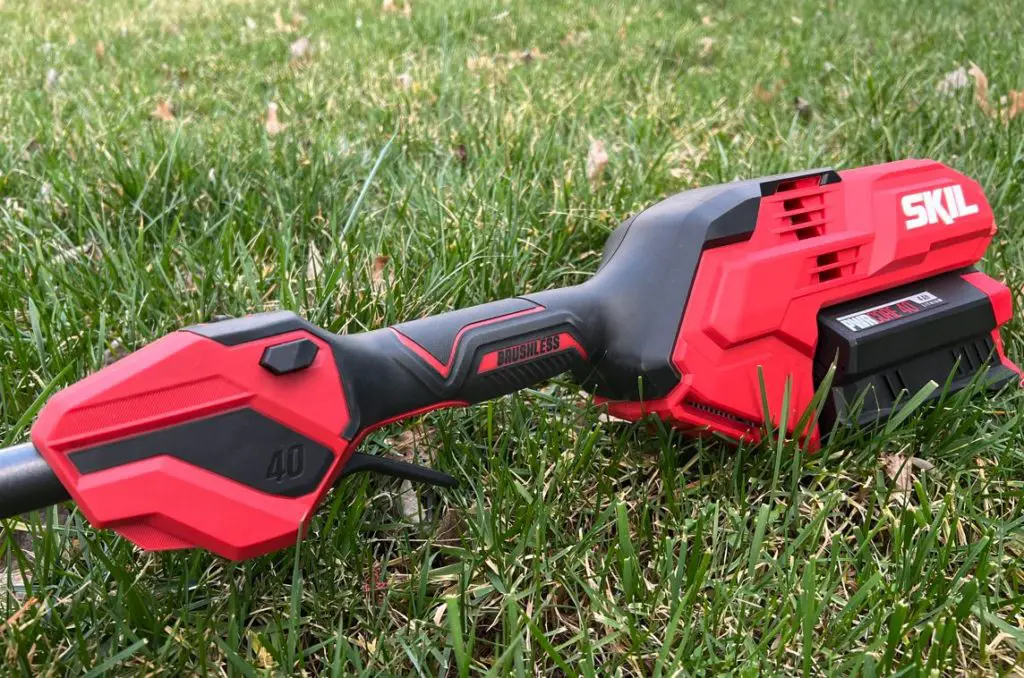 Power
It also comes with a variable speed trigger that lets you have complete control over the speed of the motor. On top of that variable speed trigger, there is a power switch that lets you move between levels 1 and 2 to have even further control over the speed and power of this unit.
One huge callout for this weed eater attachment is that it has a 16 inch cutting swath, which is comparable to some commercial weed eaters and definitely puts it in the higher range of residential weed eaters.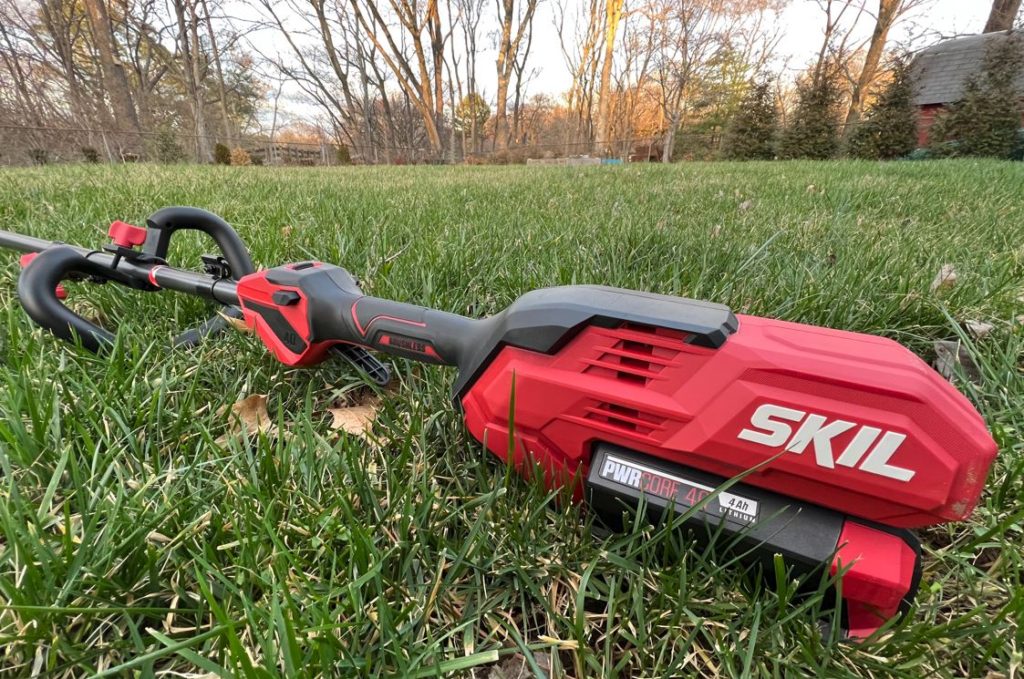 One thing that struck me immediately was how small the weed eater string was that came with this tool. It honestly looked like dental floss. We replaced it immediately, but found that .095" (the best size) string didn't fit – so we had to settle for .080" string.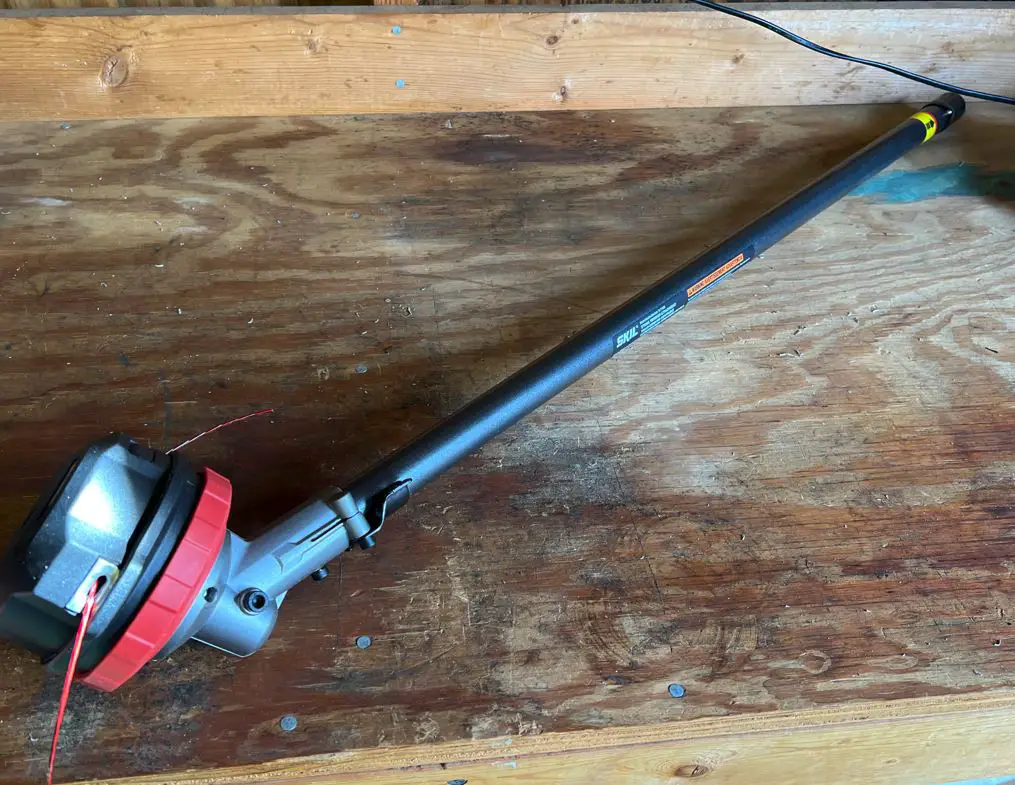 Once the string was replaced, this thing had some decent power. The weed eater performed nicely, but so did the edger attachment. Fortunately, the edger attachment is a universal one and can fit any power head system. At a 9" radius, this edger attachment is pretty heavy-duty. 
The edger attachment can easily get down to 3 inches underground to help trench up the borders of your yard. It is easy to change the height on for anyone looking for a more shallow edging.
Battery life
One thing I like about this SKIL PWRCORE Power Head System is that it comes with a Power Jump charger. It supercharges your battery for the first 15 minutes of the charge, meaning it does 30% battery capacity upfront. And when you connect it, you'll notice that it goes into overdrive and even makes noise trying to get the battery some instant juice.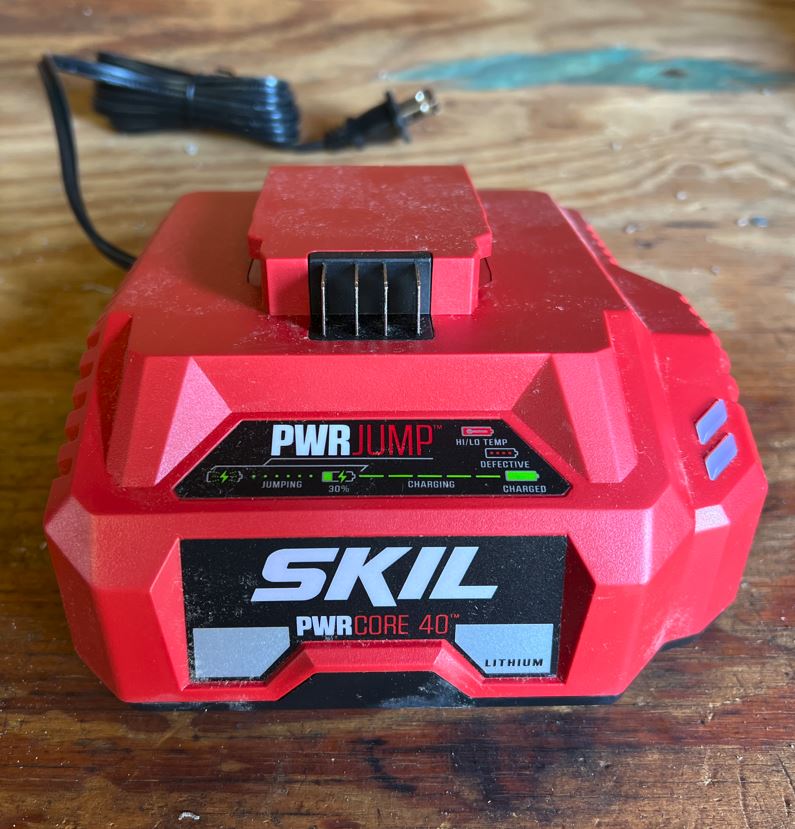 The overall runtime claim is about 50 minutes on a fully charged battery. We put that to the test. Our classic zip-tie system on the trigger and safety (it was hard to do) held them down so that we could see how this thing does on full blast of the lower power setting 1. It lasted for about 28 minutes before giving out.
After fully charging it again, we set it up on level 2 and ran it at full blast, where it lasted for about 23 minutes. Not bad, as we anticipated much more battery drain on the level two power setting.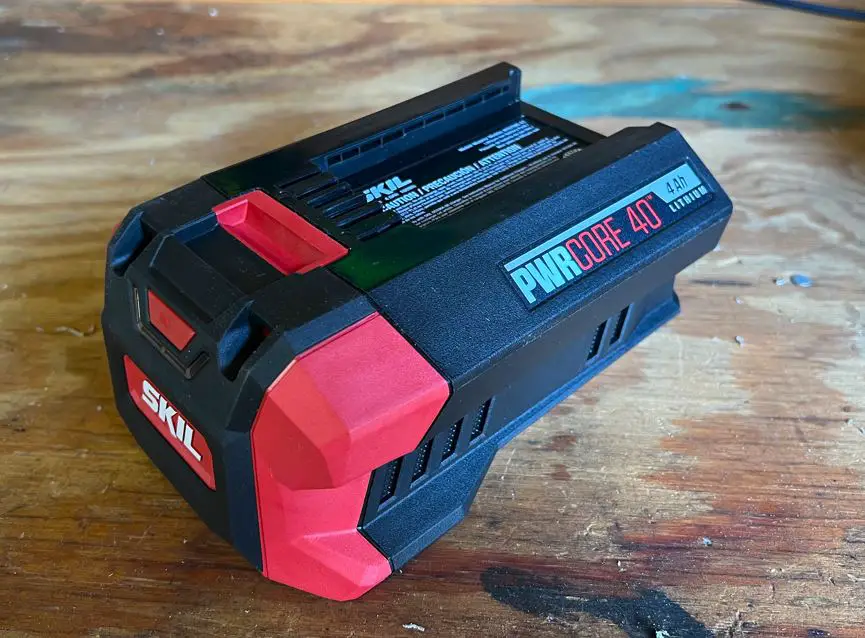 Once the battery was totally dead, we timed how long it took to fully recharge – took about an hour and a half despite the advertised hour. 
Cost and value
The PWRCORE Power Head System from SKIL comes in at right around $200 and comes with the weed eater head. Fortunately, it comes with a two year battery warranty and five year tool warranty.
One thing I like about this power head and describe it as a "high value" tool is that it comes with a brushless motor. This is how SKIL is able to put such a good warranty on this system.
Final Review: SKIL PWRCORE 40 Power Head System
This new power head system from SKIL has a lot to like. The brushless motor, large cutting swath, and universal attachment system at a relatively low cost make it a high value tool.
But they also made some claims about run time and battery charge time that were just plain false. And while this power head system has the capability of becoming really powerful, the fact that we couldn't fit a higher, more appropriate-sized weed eater string made us feel like it couldn't reach its full potential.
This is a MUST BUY if you already own the SKIL 40V battery and/or have a bunch of universal attachments as you can save a lot of money.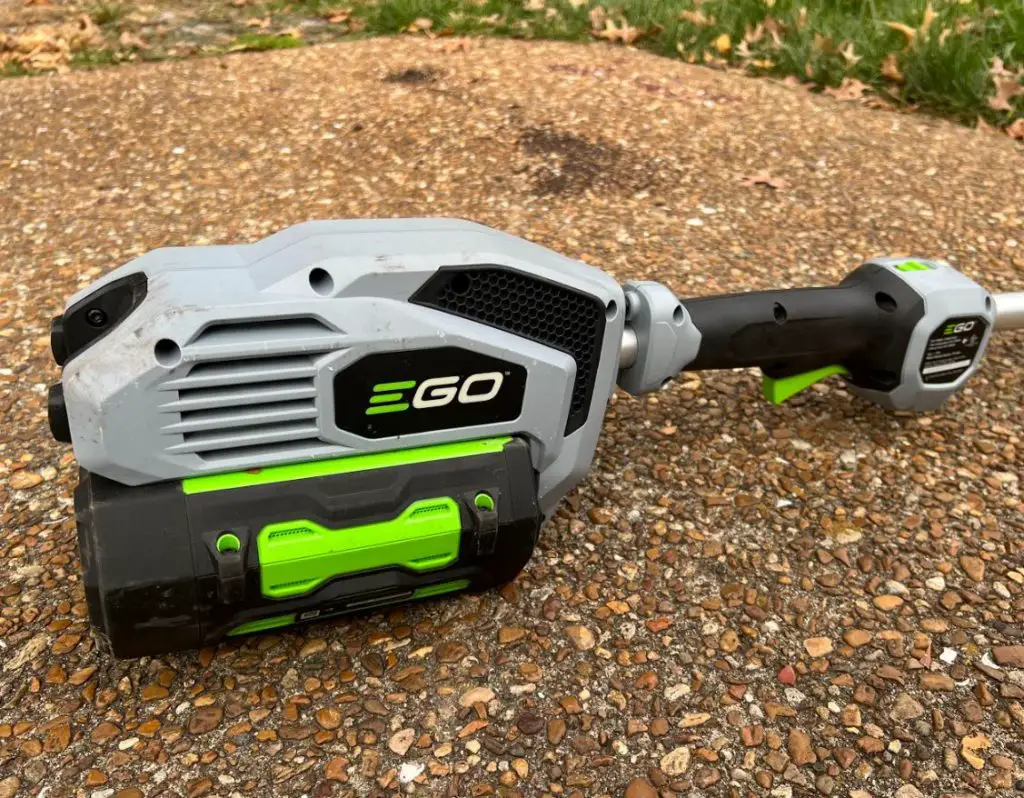 But if you are in the market for a new power head system and want to start from scratch, I'd research another like this EGO Multi-Head Power System.