WORX Hydroshot is a portable power washer that can provide instant power using any water source.
Pretty crazy, right?
This is not your run of the mill power washer in any way. But the WORX hydroshot is a tool that once you use, you cannot imagine not using.
The first time I used it, I was skeptical. Now, I will be in the most random locations and suddenly think "Wow, the hydroshot would be really helpful here".
And that's weird.
But anyways, let's check out what makes this product so dang cool.
Why we review lawn tools
The reason we started this website in the first place was because we had so much trouble trying to find reasonable, understandable, honest reviews for lawn equipment. And it's not cheap! After hours and hours of research, trying products and returning them, and messing up our yards – we started this site.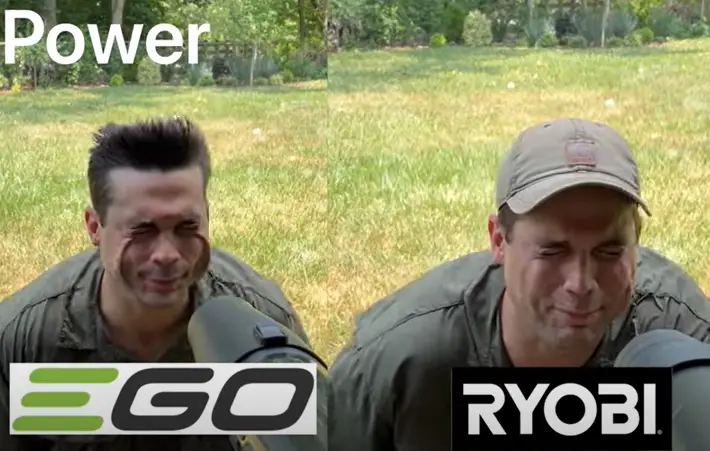 As people who had to learn the hard way, we want you to know exactly what you are signing up for before you purchase a piece of equipment. That's why we are committed to providing honest, easy-to-understand reviews that mean something. 
About WORX
Something that many of you may be scratching your head around is….what is Worx? It isn't quite the household name that Dewalt, John Deere, or some of the other big name brands. Worx has quietly been creeping into the marketplace and has found a niche in electric lawn tools.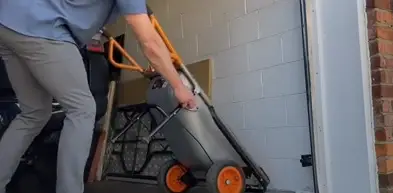 They offer low price, medium-to-high quality products that….work. Worx is super popular on places like Amazon, but also have a presence in some of the big box stores. Worx started off in lawn equipment and took off like a rocket, but are now transitioning into new products. One hallmark of Worx' brand is that of innovation. And let me tell you – the Hydroshot is definitely an innovation.
We've reviewed a ton of WORX products, from their leaf mulcher to their popular string trimmer.
But if you're looking at power cleaners – check out the Greenworks 24V Power Cleaner for comparison sake.
Worx Hydroshot 40V Powershare WG644: Features and benefits
Have you ever siphoned gas? If you haven't, you likely will here soon with the insane gas prices (this was written in June of 2022 when I paid over $50 to fill up my wife's Camry). The Hydroshot has a similar capability, except it can propel the liquid pretty dang fast. Let me explain.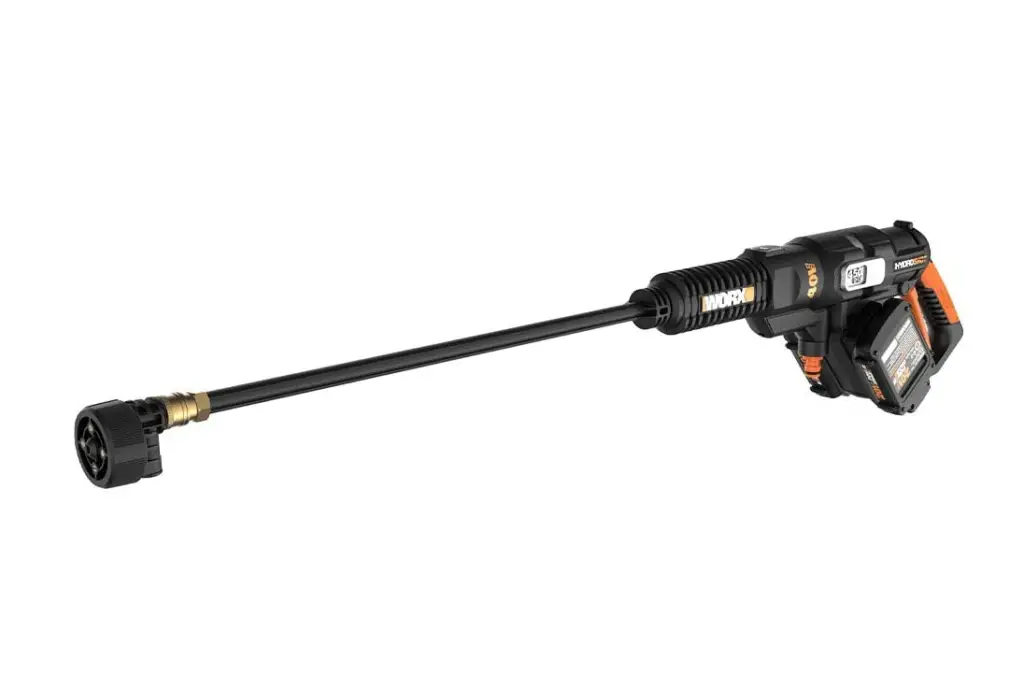 Power
Before you get your hopes up, this is not a pocket pressure washer from the year 2343 that will allow you to blast away the space debris from your rocket ship.
It is a portable power washer that allows for you to do light-duty stuff from basically wherever. It sits at about 450 PSI, which is well below the range of a conventional pressure washer. Most electric pressure washers that you can use on driveways and graffiti run somewhere around 2000-2500 PSI. 
So, what do we make of the 450 PSI on the Worx Hydroshot 40V WG644?
450 can still be a heck of a lot when used the right way. I would NOT recommend this for pressure washing your driveway. I would recommend it for a ton of other things around the house, boat, car, or outdoor activity. 
450 PSI is still going to be enough to thoroughly clean off an off-road bike with caked on mud. It is the perfect thing to blast off sand–covered kayaks and paddleboards. And those are all things where a normal pressure washer just wouldn't have the portability.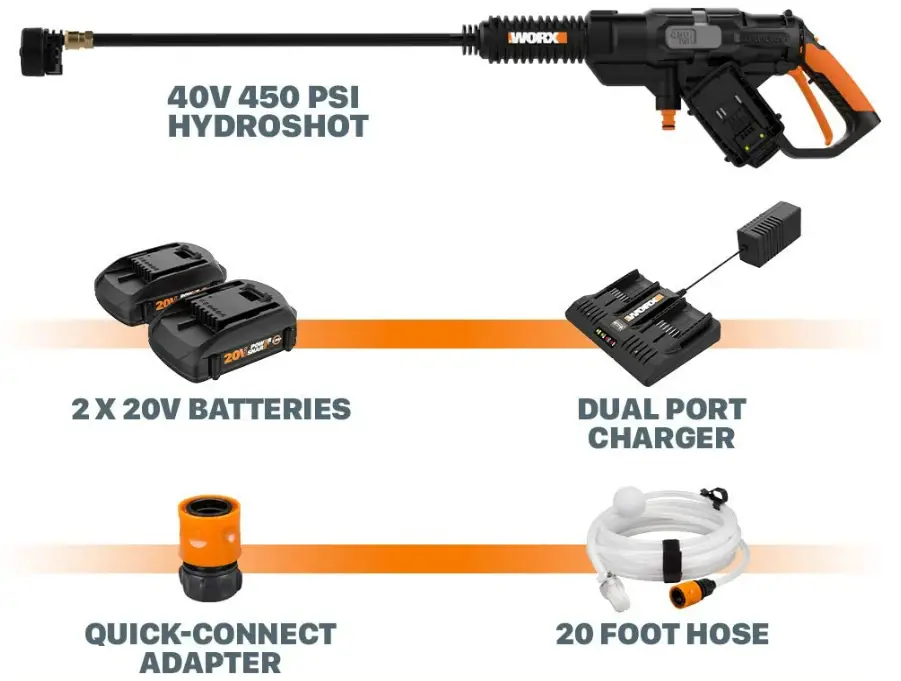 Nozzles
It would be a crime if I talked about the 450 PSI power on the Worx WG644 and didn't talk about the nozzles that it comes with. It has a rotating head with four nozzles that range from 0 degrees to 40 degrees. 
These nozzles have different spray patterns that cover different sized areas. The zero degree nozzle on the Worx Hydroshot is going to be pretty dang strong. Like it would hurt if you had it sprayed on your skin. 
The 40 degree nozzle is going to be most like a "mist" with its wider spray pattern, but will still be able to deliver some power when used up close and personal.
Usability
Well this is where basically no other pressure washer on the planet can compare with the Worx Hydroshot pressure washer. It simply isn't fair. This thing is meant to be taken anywhere and can frankly be used wherever there is a water source.
Water source doesn't mean hose! You can also hook up a soda-bottle looking attachment that's filled with water for ultimate portability – making it look almost like a water gun.
There is also a cool attachment that allows for you to draw water from any body of water – like a lake, pond, or swimming pool. You simply toss in the hose with the filter into the body of water, connect it to the HydroShot, and do your thing.
It has a nice little bobber like any old fishing line that allows it to float when you toss it in so that you're not sucking up a bunch of sediment.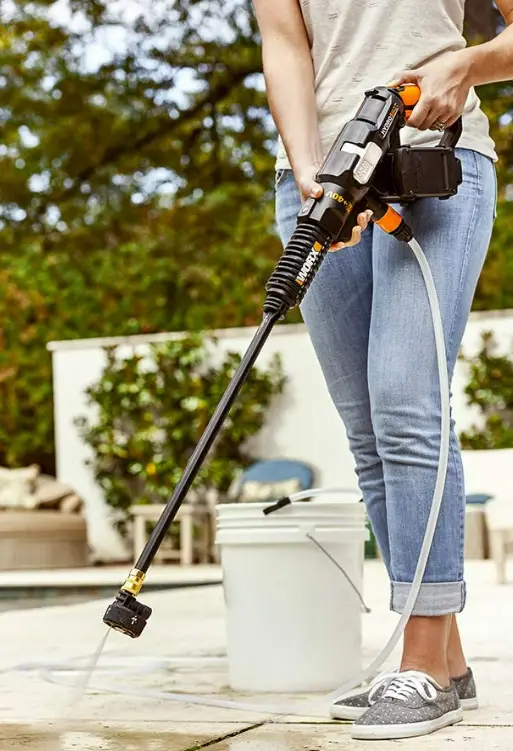 This is perfect for the paddleboard and kayak folks that are wanting to clean their equipment off without having to worry about getting the car dirty before heading home.
Wow.
Comfort and Feel
The Worx Hydroshot has a huge benefit of weighing 7 lbs. Now for someone like me who bench presses 9 million pounds, I don't even know I am holding it. 
Just kidding, of course. I bench 10 million.
But for real, this thing is so lightweight and compact that it feels like a super soaker on steroids. It has a nice long lance as well that allows you to extend your reach pretty significantly if you have a larger item you're trying to clean – no desperate reaching.
I love this personally for my car tires. I am taller than most and whenever I wash my car, I always have to get way down to scrub the detailed parts by hand. This wand allows me to stand there and knock it all out without worrying about missing any spots or doing any damage to parts of the wheel. Pretty sweet stuff.
My only complaint on this one is that it requires two 20V batteries, making it slightly heavier and bulkier once it is completely fitted out. It is also a bit of a hassle having to make sure both batteries are charged, but it does come with a dual port charger that lets you do them at the same time.
Still better than gas!
Cost and value
This thing comes in at about $200. Anything less than that is a steal. While I mentioned the downside of having two batteries, the full kit comes with both and a charger. Having the WORX 20V batteries on hand is fantastic if you own any other Worx products or are considering adding more tools to your garage or shed.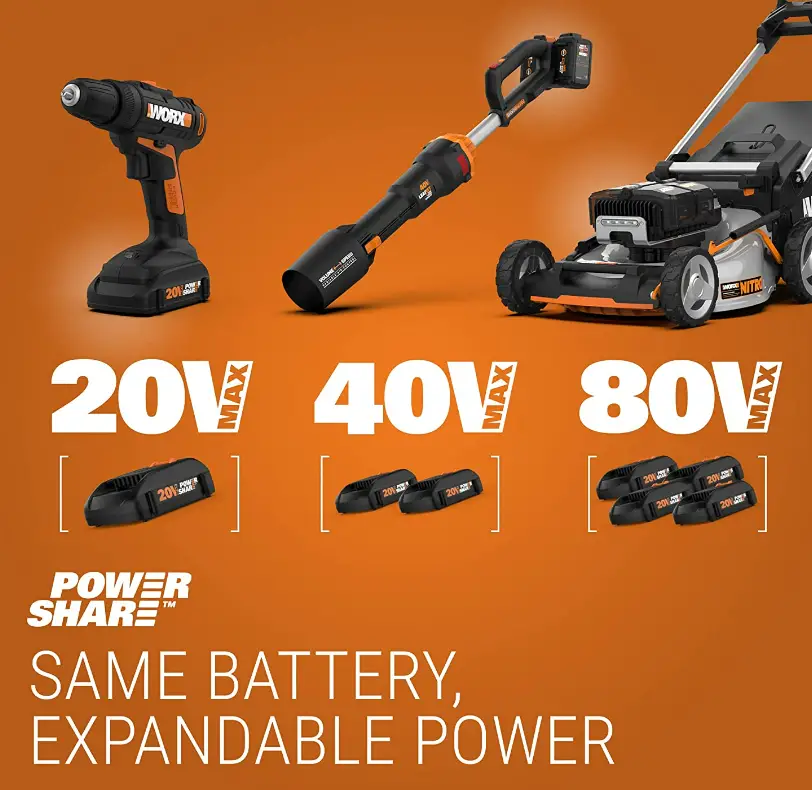 Official Review: WORX Hydroshot 40V PowerShare WG644 Power Cleaner
If you're in the market for a do-it-all pressure washer – keep looking. But if you're an outdoor or backyard enthusiast who can also think of a million uses for this product like I can, then you're going to have this as a permanent fixture at your side.
It has decent power, amazing portability, and is super convenient for anyone who gets things dirty. You can grab it with batteries and a charger on Amazon for under $200 right now. That's a steal.