Ryobi brushless and brushed tools are big names in the lawn tool space. The new label of "brushless" on everything that Ryobi puts out makes you wonder: "What is the difference between brushless and regular?". 
Although it may be hard to figure out from the box or product description, there's actually a huge difference. Today, I'll walk through what the difference is and make some product recommendations from Ryobi for their brushless motor line of tools. 
My goal is to make this not overly technical, but just give you the quick and dirty explanation that can help you decide whether or not to spend more money.
In short, YES – it is worth it to spend the extra money for brushless lawn tools. If you want to know why, keep reading.
Why we review lawn tools
The reason we started this website in the first place was because we had so much trouble trying to find reasonable, understandable, honest reviews for lawn equipment. And it's not cheap! After hours and hours of research, trying products and returning them, and messing up our yards – we started this site.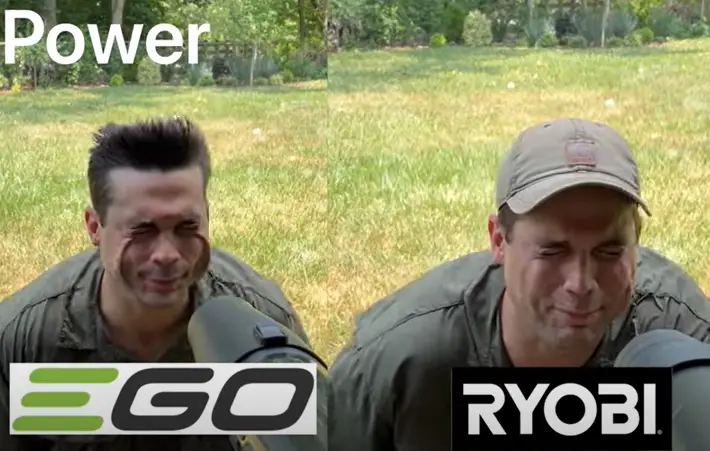 As people who had to learn the hard way, we want you to know exactly what you are signing up for before you purchase a piece of equipment. That's why we are committed to providing honest, easy-to-understand reviews that mean something. 
About Ryobi
I'm sure you already know a ton about Ryobi or at least own a few of their tools. They are HUGE in Home Depot. We love Ryobi products and have written extensively about dozens of their tools. Here are a few of our favorite Ryobi products:
Ryobi tools are fan favorites mostly because they are good-enough quality, are relatively low cost, and make just about every tool under the sun, which allows you to reuse their batteries and save a ton of money.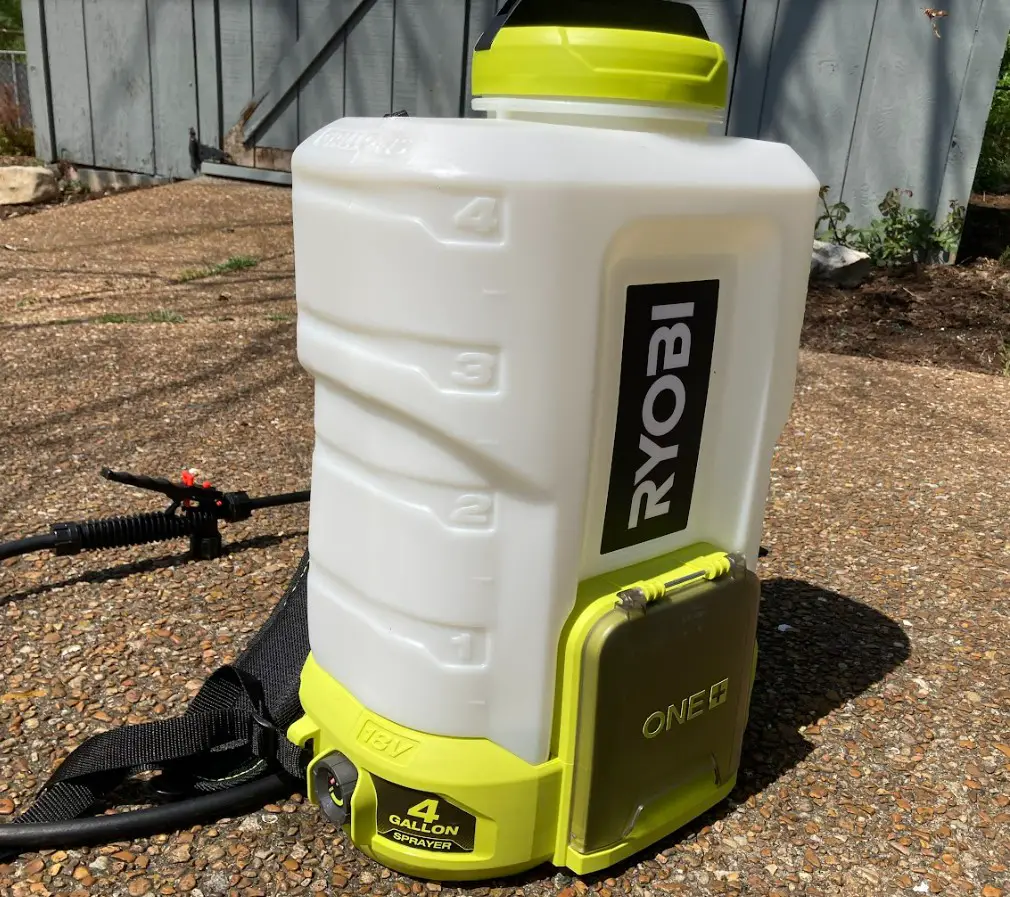 Brushless vs brushed Ryobi tools
I'm trying to avoid getting too technical here, so let me break down what brushed vs brushless motors do and how this impacts Ryobi tools.
Brushed motors (Regular) from Ryobi
Brushed Ryobi motors have an internal, stationary magnet surrounded by a mobile rotor. The brushes make physical contact with the rotor to transfer the electricity from the battery to the rotor. It essentially causes the rotor to move by changing which side of the motor is magnetic.
It sounds complicated, but here's what you need to know:
The brushes making physical contact with the rotor means that there is increased friction
With increased friction, you get heat
Heat is going to generally wear down things like plastic and other parts inside of lawn tools
This leads to a reduction in lifespan and durability of the product
It's also less efficient than brushless because you are losing energy to heat instead of to power
On a positive note, up until a few years ago (and still to this day), most products are brushed. It's been the standard for a long time. I have a hedge trimmer from the 90s that's brushed and still works fine because I barely use it.
But in general, these aren't as reliable and will get bent out of shape over time and ultimately stop working. 
Ryobi's Brushless motors
Brushless motors flip the engineering of brushed motors on their head. Basically instead of having the mechanical action of the brushes, a different type of current is used to cause a magnetic field that rotates and moves the magnet. 
It's almost like an invisible motor, totally driven by an electric current and magnets instead of manual transferral of voltage. 
For those that aren't nerds, here are some of the impacts:
More torque due to no heat loss 
Cooler running motor
Longer life
Which is better – brushed or brushless Ryobi tools?
It's pretty clear that Ryobi's brushless tools are better than their old brushed motors. If you aren't convinced by the increased power of their new brushless lineup, you should be convinced by the durability. 
Brushless motors are akin to the lithium-ion battery instead of the old nickel hydride batteries. They last a lot longer and perform way better. 
Our favorite Ryobi Brushless Lawn Tools
We've written a ton of reviews about some of Ryobi's best brushless tools. Let me save you some time and give you the best from each category.
Best Ryobi Brushless Blower
Ryobi came out with a new 40V Brushless Whisper series blower and it is sweet. We put it in a head-to-head challenge we called the Ryobi vs EGO blower battle.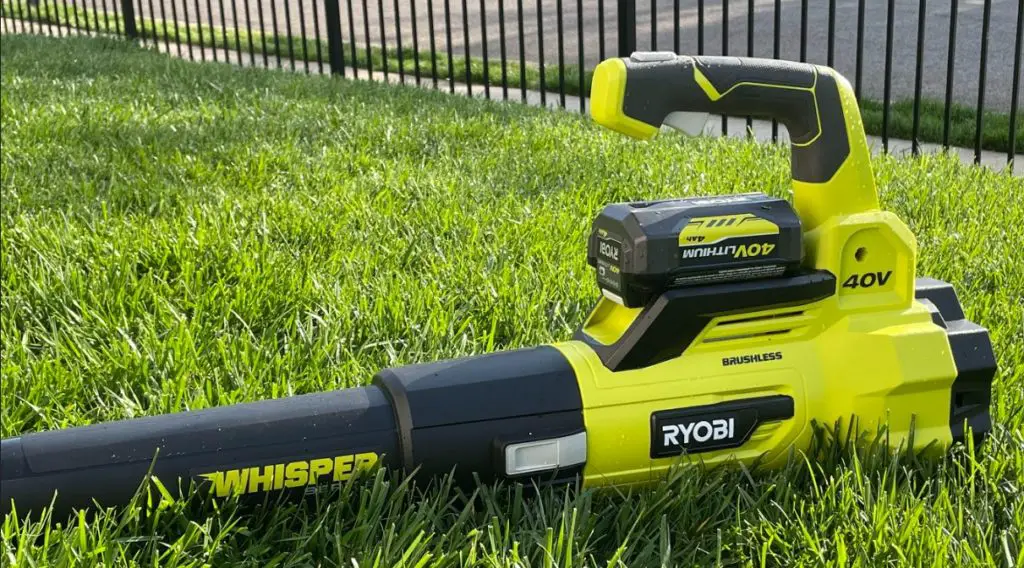 Here's what we love about the Ryobi 730 CFM 40V Brushless Whisper blower:
It's quiet – well, kind of. It makes a different noise which definitely isn't loud but also isn't the best sound in the world.
This Ryobi brushless blower has a really cool handle that allows you to control the speed and set a cruise control with your thumb
It also has a turbo button that takes it all the way up to 730 CFMs or 190 MPH. That's pretty dang fast.
The Ryobi 40V comes with two 4.5 Ah batteries and a charger.
Total time to charge the leaf blower from completely dead to fully charged was 53 minutes. Not bad!
It's easily the most powerful handheld cordless blower that Ryobi offers. You can grab it from your local Home Depot or grab it on Amazon for a great price.
Best Ryobi Brushless Mower
We did a full ranking of the best Ryobi lawn mowers and found the Ryobi 20 inch 40V Brushless Smart Trek Self-Propelled mower was the best. They have a few mowers that look just like this one and even have a newer model, but I really like this one from 2022 because of its simplicity and price.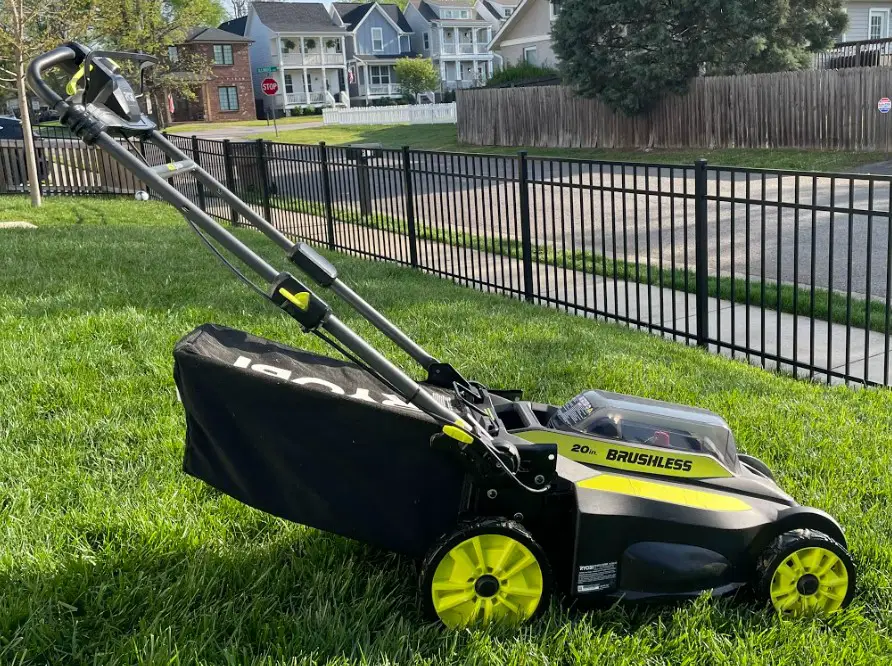 Here are a few things I liked about this one:
Brushless motor (duh)
I like that it is black and not neon yellow
The self propelled function works really well
It is extremely lightweight and easy to maneuver
This Ryobi mower has some really easy-to-use tools
You can use the 40V battery with everything
This one is also available on Amazon for a really good price, but can also be bought at Home Depot if you want the newer model.
You can also see how this Ryobi 40V mower compares to the Greenworks 48V mower.
Best Ryobi Brushless Weed Eater
When it comes to Ryobi Weed Eaters, we loved the Ryobi ONE+ HP 18V brushless 13 inch weed eater. This brushless weed eater from Ryobi comes as a part of their 18V ONE+ series of tools, which is a great collection for the homeowner with a small to medium sized yard.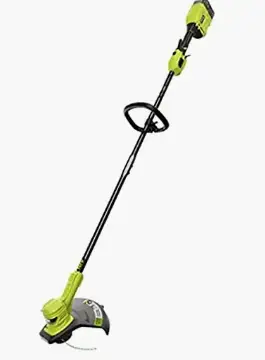 Here's why we picked it over a bunch of Ryobi weed eaters:
It has a decent sized cutting width at 13 inches. Many of the smaller ones are at 10-11 inches  which is frankly too small to do any kind of edging work. 
It's one of the only Ryobi weed eaters with a brushless motor
It's super easy to handle with it's large D-shaped handle
This one is well-balanced which means you won't torque your shoulder when carrying it around
This one is a no-brainer if you're looking for a brushless Ryobi weed eater. I got mine at Home Depot when I first moved into my house, but you can also get it on Amazon for a great price.
Best Ryobi Brushless Pressure Washer
I probably go a little over the top with my recommendation here, but I am blown away by this Brushless Ryobi Pressure Washer.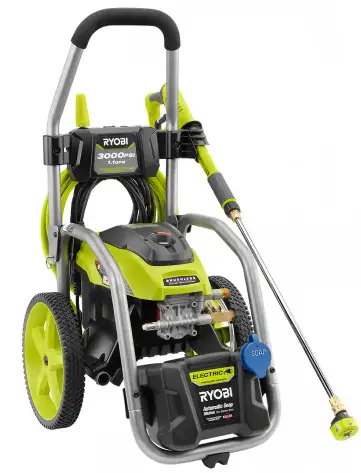 The Ryobi 3000 PSI 1.1 GPM electric pressure washer won both our best Ryobi pressure washer AND best electric pressure washer rankings. It's a beast. Here's why I am obsessed with it:
Best-in-class pressure for an electric pressure washer at 3000 PSI
Large soap tank
Nozzles built into the tip that allows you to just rotate the tip to change the angle
Big never flat wheels
It's truly top-of-the-line when it comes to electric pressure washers. The fact that it has a brushless motor and will last longer than the others is a huge bonus.
This one is a legend and can be bought online at any local Home Depot for a great price. 
Final words: Ryobi's brushless vs brushed motors
Like I said at the beginning, brushless motors make a difference and I highly recommend going with them if you are a DIYer. 
If this is your first time buying a lawn tool and know you won't use it often, you can get away with it being brushed and probably be fine. I would buy cheap and have low expectations, however.