The best battery-powered weed eaters all have a few things in common. I'll fill you in on that in a second, but let me tell you that "best" is highly subjective. The best weed eater for someone who lives in a townhome is going to look and feel vastly different from someone who lives on a farm.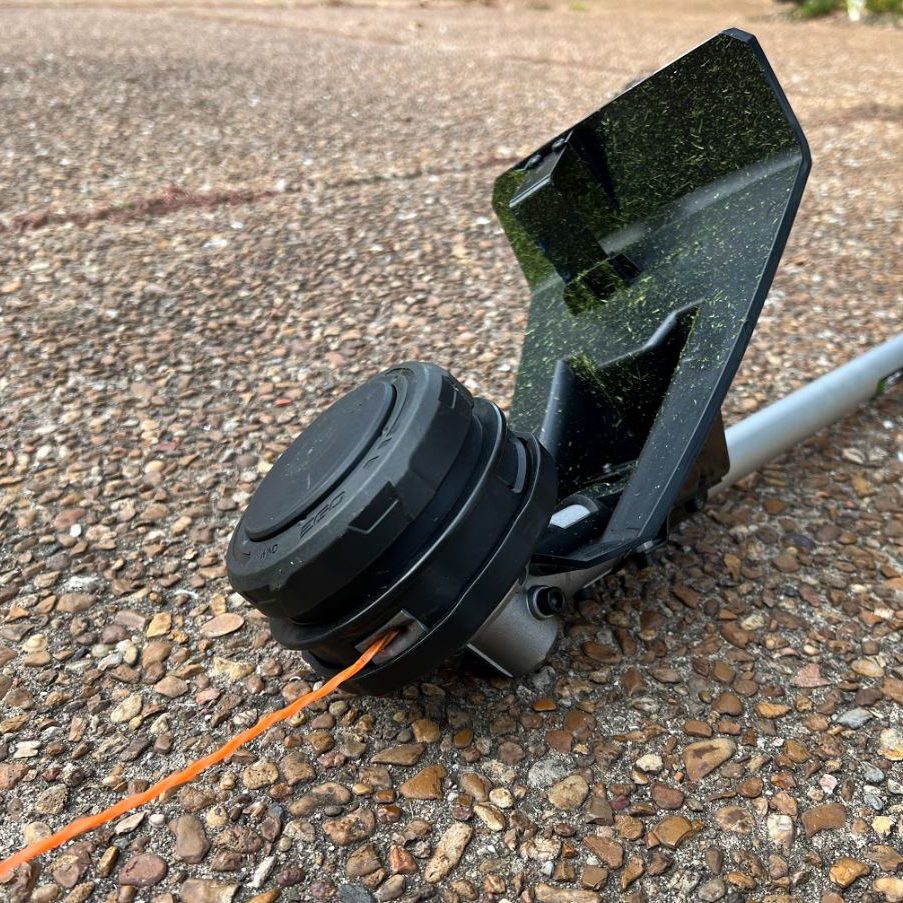 Luckily, we've gotten our hands on and tested dozens of weed eaters in our lives. 
So today we compiled all of the most common questions we get about weed eaters and made some recommendations. 
But before we move forward, there's one super simple thing we want to clarify.
Weed eaters, weed wackers, string trimmers – they're all the same thing. Believe it or not, people ask us the difference between the three all the time!
Let's get started:
The Best Battery Powered Weed Eaters: By Category
As we mentioned before, the best battery-powered weed eater for you may not be the best for me. So we will provide the best from each category to help you really narrow it down. Luckily, the best weed eaters all have the above things in common – so keep those as your North Star.
Best battery powered weed eater for large yards
When it comes to large yards, you need a weed eater that not only has a wide cutting swath, but serious battery power. Basically you want to be able to cut thick grass without the battery running out.
One of the best battery-powered weed eaters that my neighbor owns is the Pro 80V 16 inch string trimmer from Greenworks.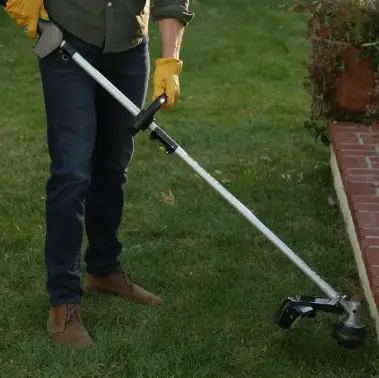 I recommend NOT using the stock weed eater string that comes with it. We developed the world's best weed eater string by testing dozens of different strings and taking the best elements of each. We created a green, .095″, triangle shaped weed eater string that is extremely powerful, visible, and durable.
Basically it's the dream weed eater. It has a HUGE cutting swatch at 16 inches. For reference, the ones for smaller yards are like 10 inches. To put it into perspective, this is almost a foot and a half of cutting power. Not only does this make it good for weed eating, but it also has the ability to do some nice deep edging work if you forgot your edger.
Why we like the Greenworks 80V Pro 16 inch weed eater
Better question is what is there not to like? Check out a few data points here:
Brushless motor (more durable, run cooler, quieter)
The motor and handle are attachment capable for other Greenworks 80V tools
Straight, long shaft (please no jokes)
A great four year warrants on the tool itself AND the battery
Ding, ding, ding, ding, ding! This is the best weed wacker for large yards and probably a bunch of others, too.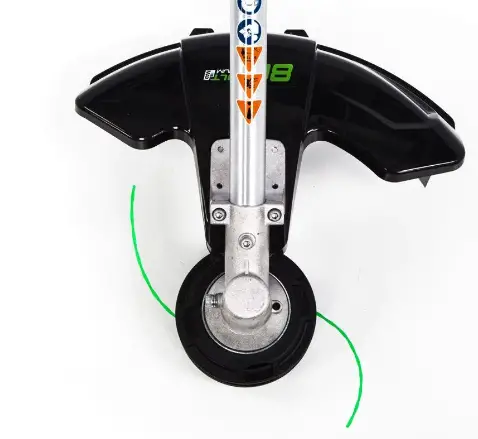 You can grab it from Greenworks' website directly or on Amazon for a massive discount.
Best battery powered weed eater and edger combo
When it comes to cleaning up your yard and you want to go the extra mile, you have to have an edger. Sure, weed eaters with big cutting swaths can do some light edging, but nothing is going to actually give you the crispiest borders like an edger will.
That's why it's great to get a weed eater that allows you to change out attachments. A ton of folks have this now. In fact, we wrote a whole long form post about the best battery powered weed eater and edger kits and we had a clear winner.
The EGO Power+ MHC1502 Multi Combo Kit: 15 String Trimmer, 8-Inch Edger & Power Head.
Yeah, it has a long name and a steeper price tag, but is WORTH IT.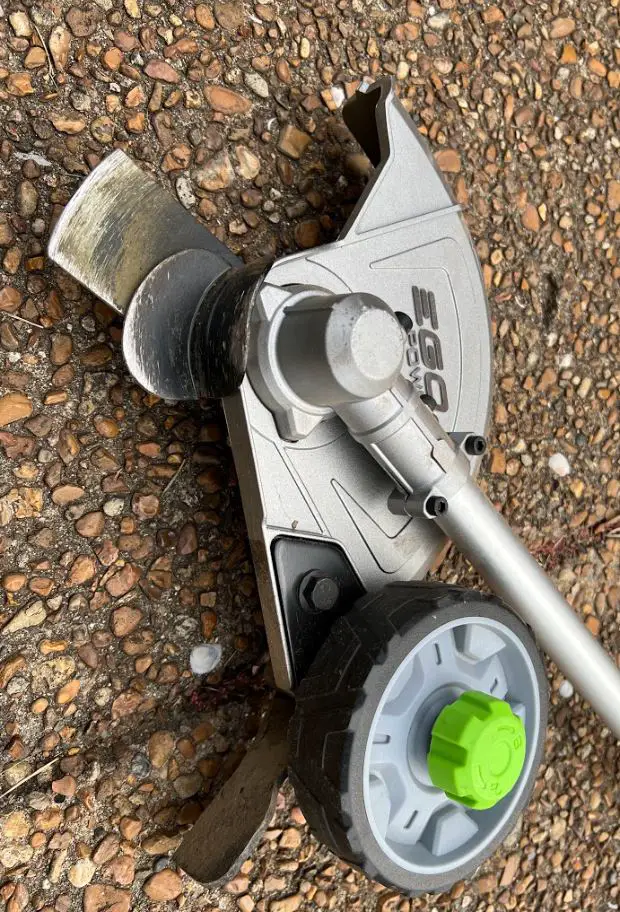 Here's why we loved the EGO Power+ MHC1502 trimmer and edger
It isn't a two-in-one, it is really a 8-in-1 – this thing has so many other attachments that it can do just about everything except mow.
EGO uses just one battery class – the 56V. Once you have that, you can buy any of their other tools' "tool-only" version – which means batteryless. That amounts to YUGE savings.
Brushless, straight, yada-yada-yada you know my shpiel by now. This checks all the boxes.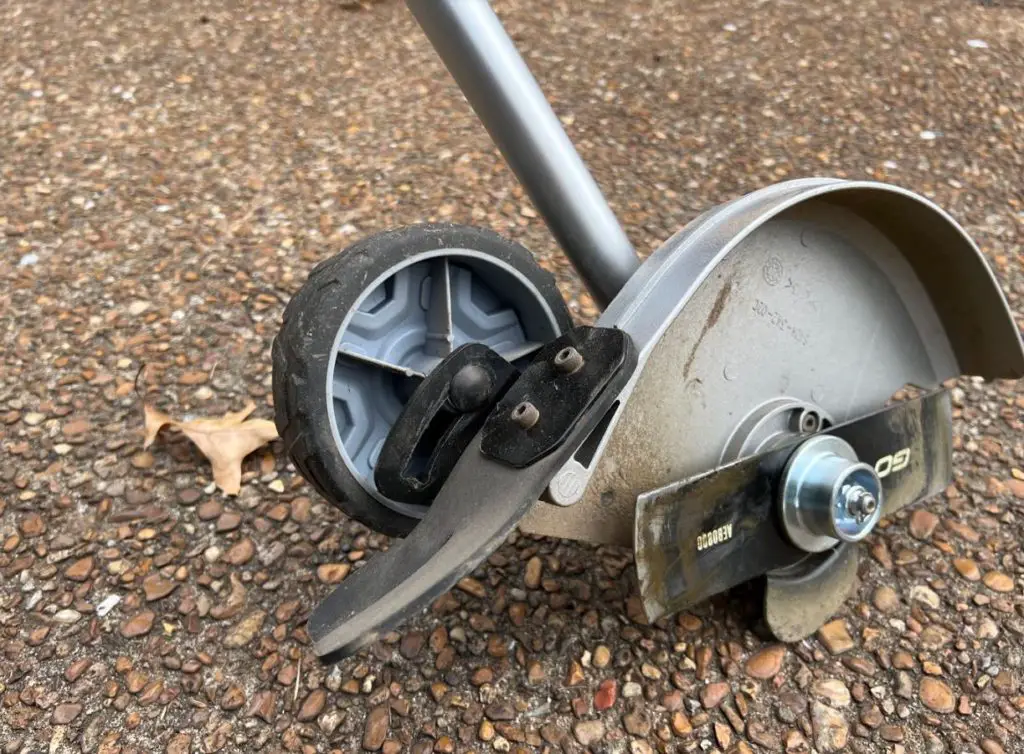 This edger and trimmer combo is sweet. If you are going to get one and ESPECIALLY if you already have an EGO battery, then this is the one for you.
You can from Amazon, which lets you pick from a bunch of different options.. 
Best battery powered commercial weed eater
This is actually a hard one. There aren't many full-on commercial battery-powered string trimmers because a lot of professionals still use gas.
That being said, there are definitely some battery weed eaters with enough power to keep up with the commercial ones.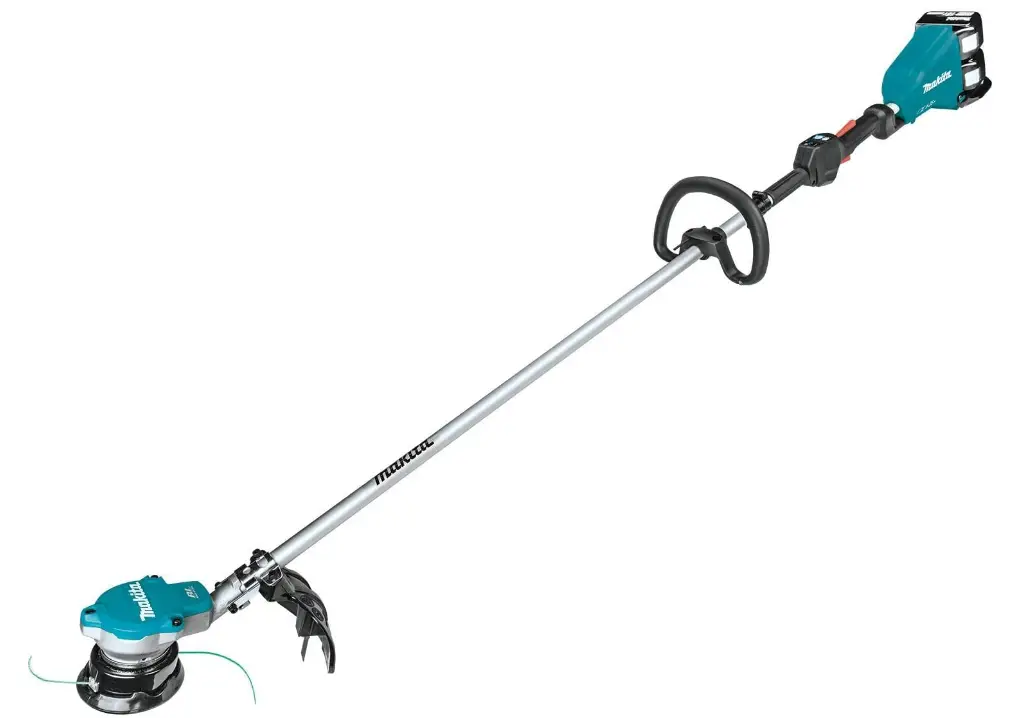 Our favorite here is a brand you probably recognize. Makita. We love Makita and have written extensively about Makita mowers, Makita blowers, and more. 
Here's what we love about the Makita XRU15PT1 36V string trimmer
Okay this weed eater is a tank. It comes with four batteries, but uses two at a time. If you have existing 18V Makita batteries, then you can save money on batteries, or store up a lot and only have to charge after like 20 lawns.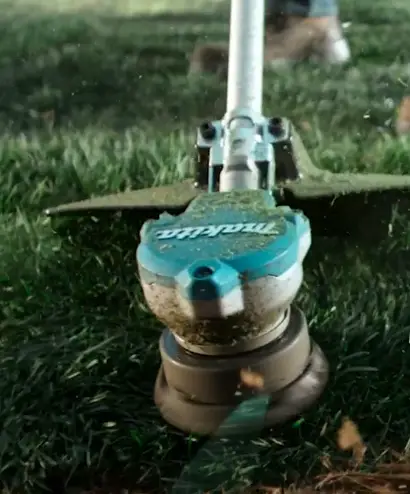 We like this one because it almost directly mimics some of the gas powered string trimmers like  Echo's SRM 225. It's loved by us for the following reasons:
Super long straight shaft (over 6ft. long)
Minimal guard, which is great for visibility but make sure you wear eye protection
15 inch cutting swath and massive RPMs of 6,500 (really fast)
Brushless motor
Basically you want the most powerful weed eater you can get that still has the performance of a commercial one. The Makita XRU15PT1 36V absolutely has it. 
This one we grabbed online at Home Depot and picked up in store for a great price.
Best battery powered weed eater with attachments
Why buy a weed eater alone? Just about every big brand is making a power-head or multi-tool or some other name for a nice handheld motor with attachments. 
We started out with the Ryobi multi-tool, but I legitimately burned through two of the blowers in a six month period. So I sent it straight to the trash. 
I picked up one of the EGO Power Heads and have never looked back. To date, we own the string trimmer, the edger, and the snow blower attachment.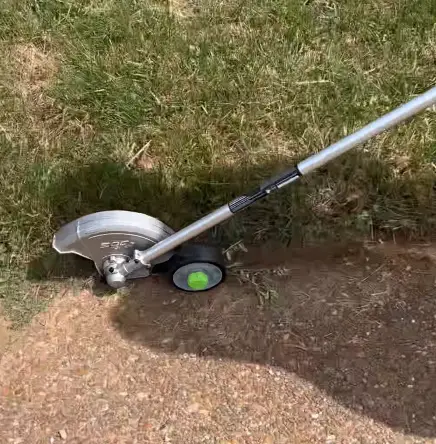 Why we like the EGO Power+ Power Head
First of all, you're here for weed eaters, so if you are interested in the weed eater, you can grab the MHC1502 battery powered weed eater we mentioned above. It has a huge cutting swath, brushless motor, and all the bells and whistles.
But boy do we love the attachments:
Pole saw
Edger
Hedge trimmer
Blower
Snow shovel
Bristle brush
Cultivator/Tiller
Rubber broom
It's pretty crazy how many attachments can fit on a single head of the dang EGO Power+ Power Head. If you're in the market for a heavy-duty, attachment capable battery powered weed eater – this is your go-to.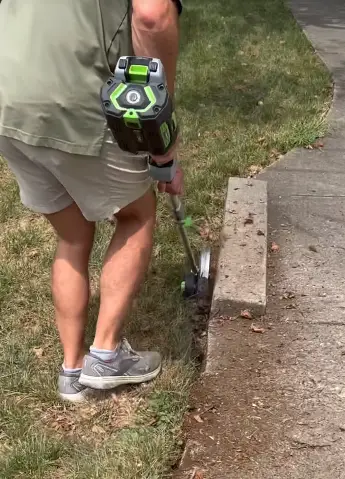 You can grab it at Lowe's, Ace Hardware, or on Amazon. If you're grabbing it online, I recommend Amazon. If you want to put hands on it, then I suggest stopping by Lowe's or Ace to get your paws on it.
Stihl's battery powered weed eaters
Stihl has a reputation for creating some of the best gas-powered equipment on the planet. They lead the chainsaw market with their Stihl MS 251 C chainsaw and also their gas powered string  trimmer, the Stihl FS 56 RC weed eater.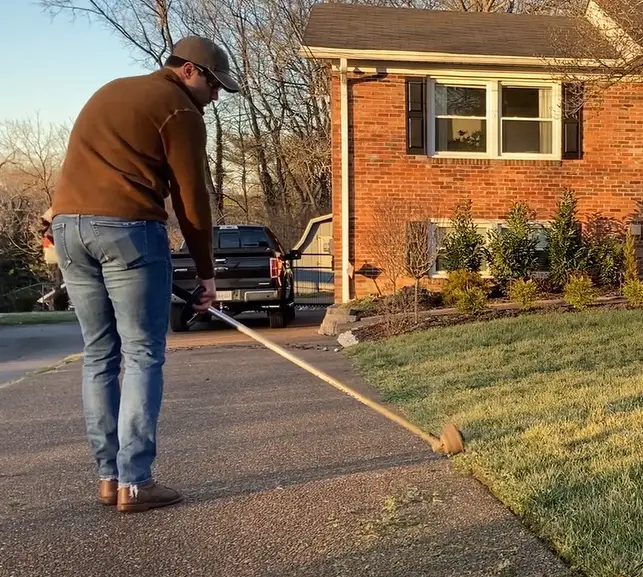 Stihl recently launched a big line of battery powered weed eaters, chainsaws, and leaf blowers.
To our surprise, we weren't thrilled with their features or performance.
Why we don't love Stihl's new battery powered series
Despite Stihl's stellar reputation in the gas space, we were saddened by some of their new battery products. For the weed eaters specifically, here is what we didn't love:
No brushless motor – how could they do this? They are market leaders! It's truly pretty sad.
Generally small cutting swath
Expensive
I think they are trying to go for a more residential audience as compared to their commercial gas trimmers, but man were we disappointed. Our favorite Stihl battery powered weed eater was the FSA 90 R – probably the closest equivalent to the gas FS 56 RC. 
The Stihl FSA 90 R has great specifications and features, but no brushless motor. It is the most "tolerable" of the group. We wrote a full review of the Stihl FSA 90 R here if you are interested in learning more.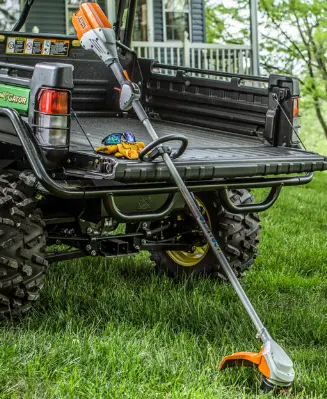 Stihl has a contract with Ace Hardware as the primary place to pick these up.
Cheapest battery powered weed eater
Oh boy – balling on a budget. Cheap battery powered weed eaters are great if you have a smaller yard, a townhome, or a thin wallet. 
Honestly, some of them are REALLY convenient. For example, we have ranked a ton of the Black and Decker string trimmers as well as the Worx weed eaters.
Both of these are budget friendly, but also small, lightweight, and extremely easy to use. 
Best budget battery powered weed eaters
Our favorite budget battery powered weed eater has got to be the Black and Decker 20V Max string trimmer. 
It is definitely on the smaller side, with a 12-inch cutting swath, but not as small as some of the others.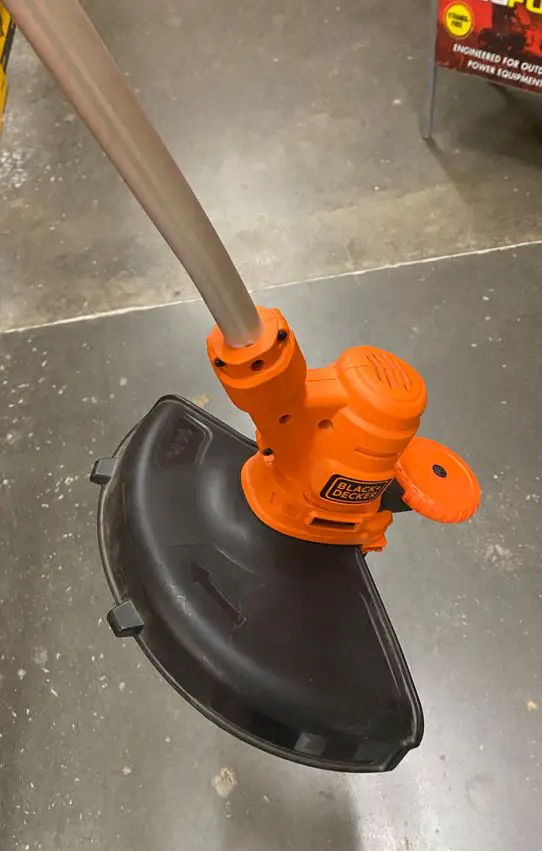 My favorite part about this trimmer is that the 20V battery on it can also be used on your power drill and a ton of other Black and Decker products. My parents have the 20V power drill, so they got this one for a steal and saved on the battery price.
It also has this little wheel on top that allows you to do some light edging in a straight line. V cool!
You can grab it on Amazon for an unbelievably low price. 
Best battery powered weed eater for a woman
Sexist! Women can use all weed eaters just as well as a man! And probably better!
Okay – we know that so cool your jets. But we do get this question a lot and it has nothing to do with ability. It isn't about being a woman, but many women reach out asking for trimmers that are super easy to use, lightweight, and storable. Also minimal maintenance and easy trimmer line replacement.
So we have helped find what they are looking for and always come to the same conclusion. The Worx GT Revolution 3.0.
Why we love the Worx GT Revolution for women
Coming in at just over five pounds, this weed eater is extremely lightweight and easy to maneuver. It breaks down (see pic below) for easy storage and even has a telescoping shaft. So if you are looking for the most flexible and intuitive lawn tool on the planet – this has got to be it.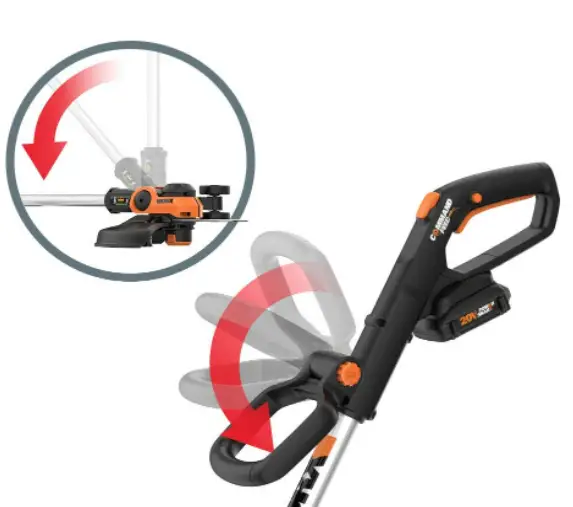 It has a decent 12 inch cutting swath, is compatible with Worx 20V and 40V batteries, and has a really easy to replace trimmer line.
My single mother neighbor down the street uses this in her lawn and had amazing things to say about it. Oh, and her yard looks incredible. 
This one is available on Amazon for a little over $100 – including battery and charger.
Final thoughts on battery powered weed whackers
Folks, as we mentioned at the beginning of this article – weed eaters are highly variable depending on what you're looking for. We hope this has been an insightful article. If you have any more questions or would like to join our mailing list – feel free to check out our contact page.
Why we started The Lawn Review
The reason we started this website in the first place was because we had so much trouble trying to find reasonable, understandable, honest reviews for lawn equipment. And it's not cheap! After hours and hours of research, trying products and returning them, and messing up our yards – we started this site.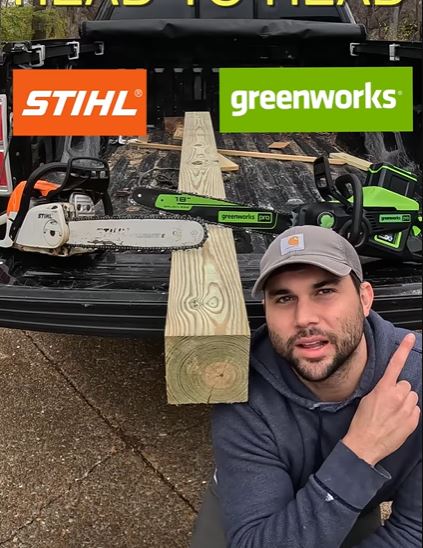 As people who had to learn the hard way, we want you to know exactly what you are signing up for before you purchase a piece of equipment. That's why we are committed to providing honest, easy-to-understand reviews that mean something. 
What to look for in a battery powered weed whacker
Cordless weed eaters come in all shapes and sizes. They aren't highly complicated pieces of equipment, but they do have a few nuances. Here is how I see it:
Feel – Obviously this is subjective, but feel is everything to me. I have had weed eaters in the past where the handle is off to the side, making me torque my shoulders and back. If you can, get as many adjustable pieces as possible to make this customizable. It doesn't seem like you use a weed eater for a long time, but the work is precision work that requires a steady hand and focus.
Motor – brushless motors are king here. They are longer lasting and more durable. Regular brushed motors are fine, too. The key difference here is that brushless motors use magnets, instead of friction, to power the motor. This means less heat, more durability, and a longer life. Brushed motors will still do the job, however they tend to have a shorter life. Brushless motors are relatively new, so if you have had an electric tool back in the day, it was probably brushed.
Interchangeable batteries – Get a dang tool that has batteries that you can use with other batteries. C'mon people – save money by doing this! You don't have to keep buying new battery sets. There are a lot of tool companies that have batteries that work with a ton of different tools. But some of these companies have a bunch of different battery types. Be careful!
Curved vs Straight shaft – I always, always, always prefer straight shafts. They are so much easier to use and control and are much longer than curved shafts. Curved shafts are good for clearing out a small piece of land unable to be mowed. But if you want to actually do some good trimming and edging, a straight shaft is much better. Curved shafts are difficult to maneuver and to create a straight line for edging. 
How to instantly improve your battery powered weed eater
Upgrade your weed eating game with the ultimate GrassKicker Weed Eater String! While weed eaters and lawn edgers are great tools, it's not complete without the right string. Our specially crafted line is designed to enhance your weed eater's performance and give you flawless edges around your yard and garden.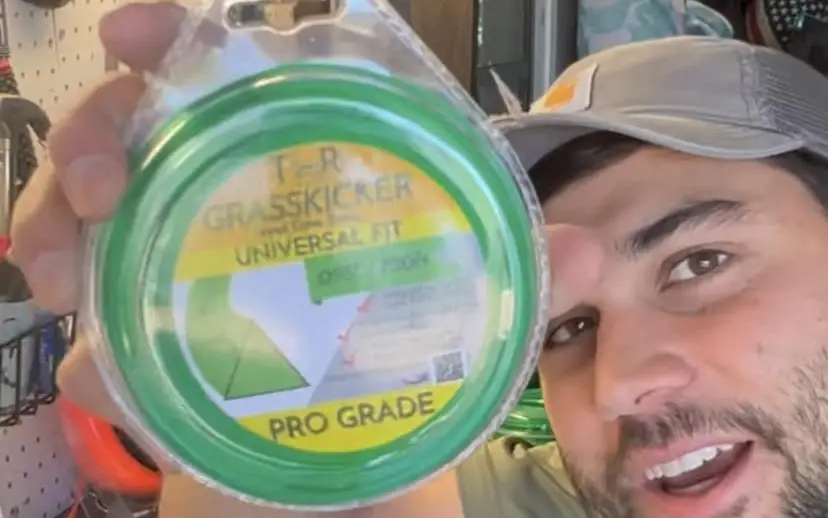 Don't settle for subpar string that breaks easily and leaves ragged edges. Our team has scoured the market and combined the best colors, shapes, thicknesses, and materials to create a superior line that cuts more cleanly and lasts longer.
With GrassKicker, you can take pride in your perfectly manicured lawn and make a lasting impression on your friends and family. And who knows, your envious neighbors might just start dropping by more often! Don't wait, elevate your weed eating game with GrassKicker Weed Eater String today! Click the link now to buy.