Battery lawn edgers are awesome tools to take your lawn pop. 
We constantly get compliments about having the best grass in the neighborhood. But honestly, our grass itself looks just like each of our neighbors.
So what's the difference?
Clean, crisp borders around the yard separating the driveway and walkway from the grass. It is a small, subtle change but makes all the difference.
Think about it like framing your yard. Imagine the Mona Lisa without a frame. It would look like something your kid would bring home to hang on the fridge (maybe a little better).
The new battery lawn edgers are awesome. So let's check out which ones are the absolute best.
**SPOILER** Best Battery Lawn Edger: Greenworks Pro 80V lawn edger
Why we review lawn tools
The reason we started this website in the first place was because we had so much trouble trying to find reasonable, understandable, honest reviews for lawn equipment. And it's not cheap! After hours and hours of research, trying products and returning them, and messing up our yards – we started this site.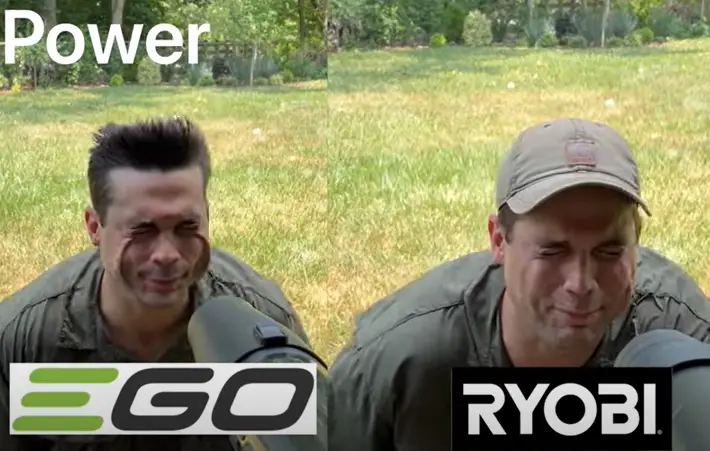 As people who had to learn the hard way, we want you to know exactly what you are signing up for before you purchase a piece of equipment. That's why we are committed to providing honest, easy-to-understand reviews that mean something. 
What's the difference between trimming and edging?
Let's set the record straight here. Edging and trimming are two very different things that are often mixed up. 
Edging utilizes a motorized blade that digs into the dirt between a hard surface (street, driveway, sidewalk) and your yard. Edgers push up dirt and dig a small little trench that cleanly separates the yard and surface. Edgers can do a little bit of trimming if grass is growing over the surface, but are not designed for full-scale grass shredding.
Trimmers are used to cut stray grass not reached or not accessible by mowing. Trimmers can also be used to cut the grass between hard surfaces and the yard, but don't quite have the capability to edge as well as an edger does.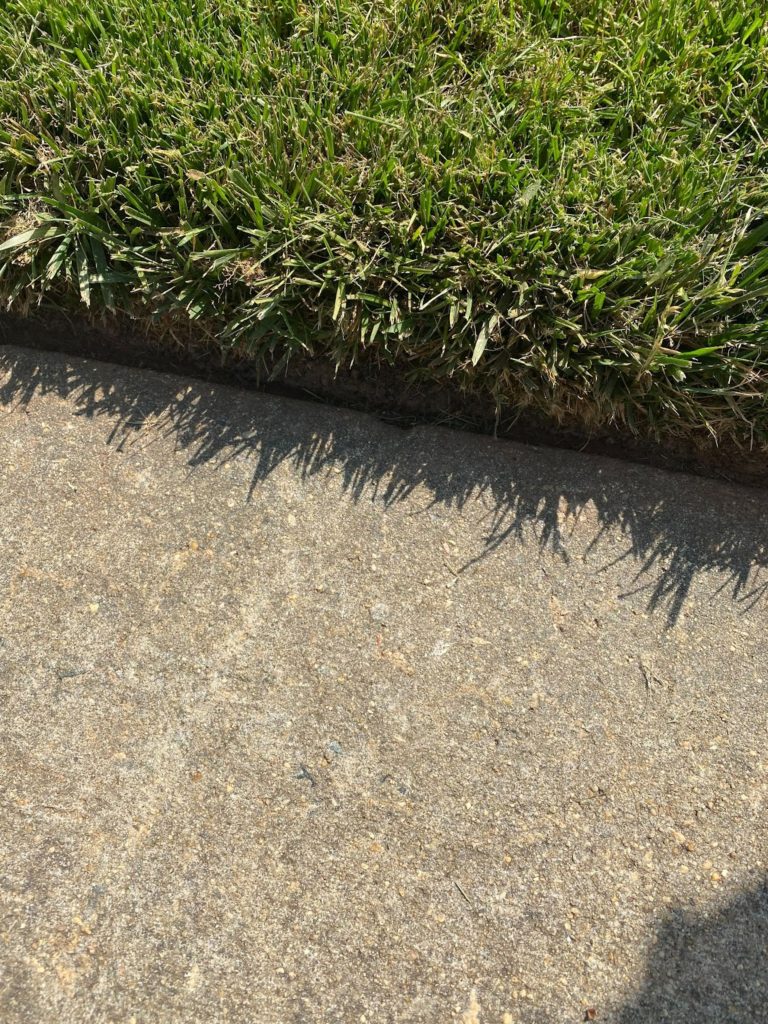 Is it worth buying a battery lawn edger?
In my opinion, absolutely. Most trimmers now come with detachable heads that allow for an edger to pop right on. Edgers are what take your yard from good to great. 
Can you edge with a trimmer? Can you trim with an edger?
If you are an absolute pro and have a high-powered trimmer, you can do some mild edging with a trimmer. If you use the GrassKicker weed eater string, you can get a really, really good edging job even with a weaker weed eater. Check it out below.
You still will not be able to dig way down deep to cause the best separation from surfaces, but it will give a similar appearance for a shorter amount of time.
You cannot trim with an edger unfortunately. The blade is just too big to finely cut small fragments of grass. 
5 Best Battery Lawn Edgers
Let's get started! There are some great brands here, but a few that really stick out for their power, reliability, and price.
5. DEWALT DCED472X1 Edger
Dewalt is a household name, but not necessarily for lawn tools. Mostly known for their power drills, saws, and other contractor-grade equipment, Dewalt is a well-trusted and well-known brand. 
Recently, they've dug into lawn tools and have put out some surprisingly high-quality, competitive stuff.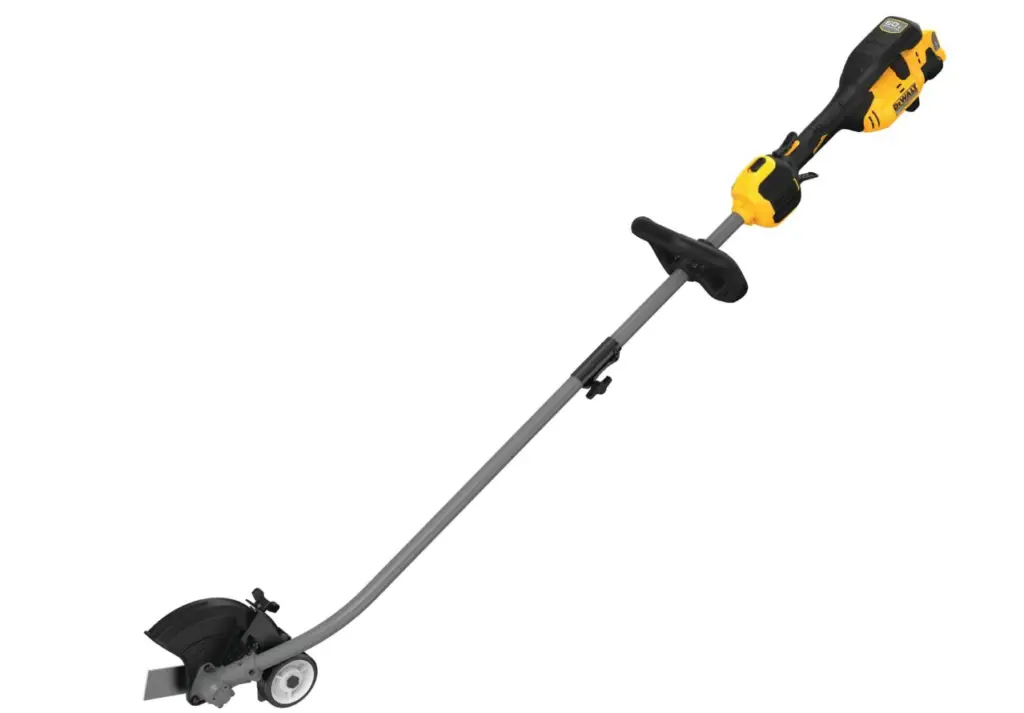 Their edger is actually pretty sweet. One of my favorite things about it is the squeeze trigger, which is way more comfortable on the hand and also provides a bit of a safety to prevent kids from using it. 
The edger is really an attachment on their multi-tool, which has a bunch of different heads that give you a full toolkit to craft your yard around.
This one was designed by pros, as it has a gentle slope going into the edger to ensure that it is flush with the surface and providing a deep, clean cut. 
The Dewalt battery lawn edger is on sale on Amazon right now and is normally a steep price, but also includes the head that can attach a ton of other tools. 
4. Kobalt 80-Volt Max 8-in Cordless Electric Lawn Edger
Kobalt is one of those brands that was exclusively sold in Lowe's stores across the country, then randomly showed up online and did really well. Kobalt has some high quality products and are a personal favorite of ours in the aesthetics department. They have a nice navy blue and black combo that is sleek and not some fluorescent color.
Kobalt's 80V Max series is a great series to build a battery powered tool set around. They have an awesome mower and a bunch of really good blowers.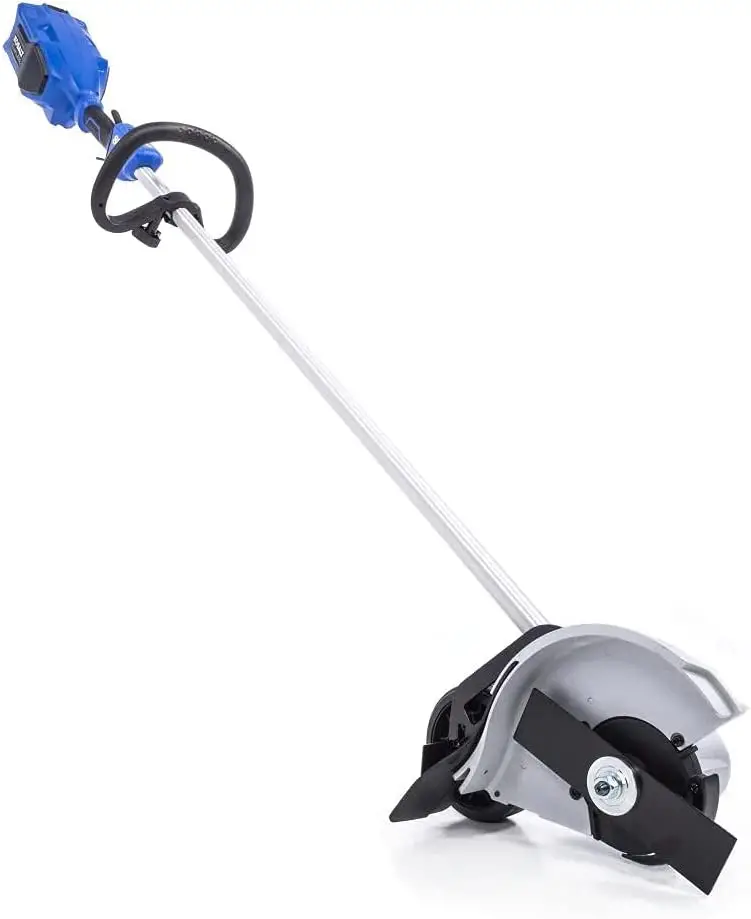 One of my favorite things about this edger is that it is LONG, which I like for surgical precision when edging. It also has a nice brushless motor, which means more torque, a cooler motor, and longer life. 
This one is for sale at Lowe's – the perfect buy if you already own a Kobalt 80V Max battery.
3. EGO Power+ ME0800 8-Inch Edger Attachment & Power Head
EGO has great products, hands down. The power head is one of, if not the absolute best, top power heads on the market. Super versatile, reliable, and powerful. The EGO power head is a dang steal. 
I like EGO Power+  products because they all use the 56V battery, from the lawn mower to the blower to the edger.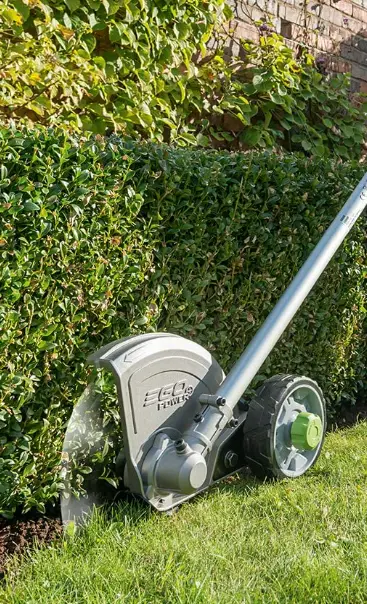 There isn't anything particularly special or snazzy about this product, but it is one that I know and trust to do the job without fail. Driving around your neighborhood on a Sunday afternoon, I bet you'll see one of these hanging in your neighbor's garage. It will still be there in 5 years. Good stuff.
The EGO power head with the edger attachment can be bought together for a nice price, or the edger attachment can be purchased separately.
2. Greenworks 40V 8″ Brushless Edger
Greenworks is one of our favorites brands – they have great products that are durable and reliable.
Their 40V series is awesome and can be used with over 60 tools. It is a great battery line to go with if you are looking to build out your lawn tool kit around a single battery. 
The 40V edger they have is great. It has all the necessary ingredients for a great edger and similar to the EGO, comes with the power head that can be used with a bunch of different attachments.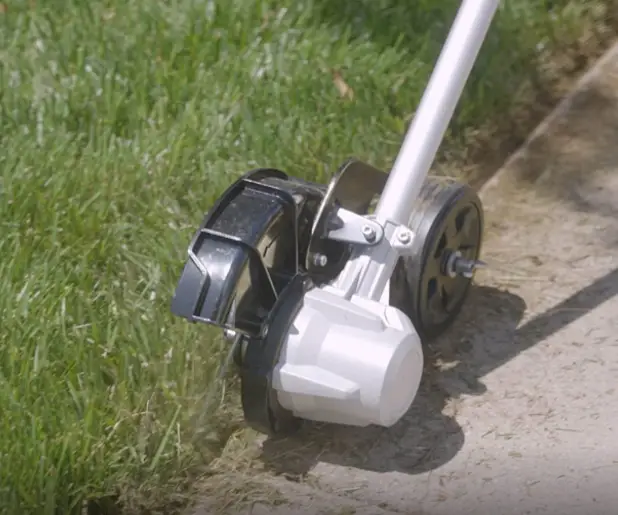 I ranked this one number two because it has the brushless motor (which is great) down at the bottom of the tool, where it is vulnerable to hitting pavement and breaking. Otherwise, this battery lawn edger is great.
It comes with a ton of reviews and a great price on Amazon, where you can also get the multi tool power head.
1. Greenworks Pro 80V 8 inch Brushless Edger
Greenworks' Pro 80V battery line is the supreme battery-powered lawn tool line. They have an amazing 80V mower, incredibly powerful blowers, and this awesome edger. 
This battery lawn edger is a dedicated edger – not part of a system of interchangeable parts. And it means business.
It has all the things you look for in an edger. Amazing battery system, easy to use handle, 4 year warranty, adjustable handle, brushless motor – the works.
The battery system here allows it to run for over 80 minutes, which is way more than you would ever need but speaks to the power of the 80V battery.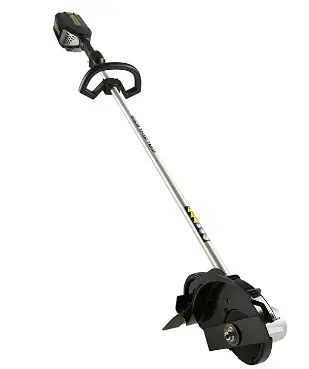 Coming in at about 17lbs, it's surprisingly light and usable considering how long it is and how much power it puts out.
This battery lawn edger is on sale right now on Amazon and is an EXTREMELY reasonable price.