Kobalt leaf blowers are popular electric handheld blowers that can be purchased at Lowe's and a few other places.
Why do I like them?

They're one of the better looking electric lawn tool brands on the market.
No neon colors. Just a cool black and blue color scheme. 
They also are very well built and high quality machines. For real. They are manufactured by our friends over at Greenworks, but wrapped in Kobalt colors and sold at Lowe's. Greenworks is legit and this is a really nice way to get a quality product in your garage or shed.
Nice.
Anyways – let's check out some of their best electric handheld cordless blowers.
Why we review lawn tools
The reason we started this website in the first place was because we had so much trouble trying to find reasonable, understandable, honest reviews for lawn equipment. And it's not cheap! After hours and hours of research, trying products and returning them, and messing up our yards – we started this site.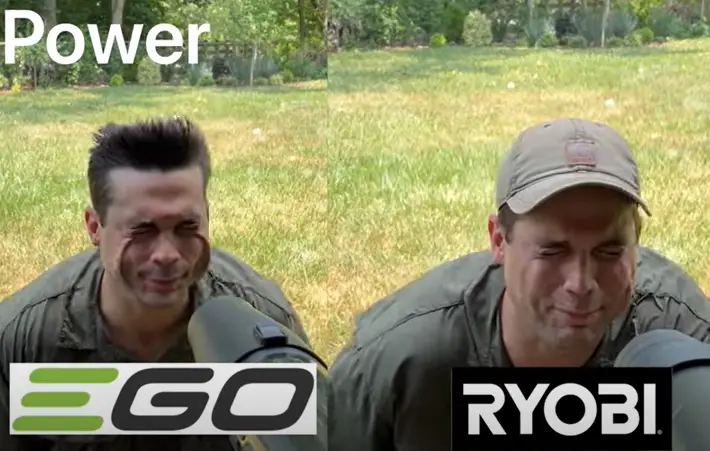 As people who had to learn the hard way, we want you to know exactly what you are signing up for before you purchase a piece of equipment. That's why we are committed to providing honest, easy-to-understand reviews that mean something. 
About Kobalt
Kobalt power tools have been a trusted name in lawn care for generations. Kobalt's lineup of cordless and corded tools is designed to help normal folks like us get the job done quickly and efficiently. 
Today, Kobalt is known for its innovation and quality, with its products being used in most of the world's garages. Kobalt's products are designed to stand up to the toughest lawn conditions, and the company has a darn good reputation. When it comes to power tools, Kobalt is a name that you can trust.
We've reviewed some Kobalt lawn mowers and one of their awesome Kobalt string trimmers here.
What to look for in an electric blower
Cordless blowers come in a bunch of shapes and sizes but there are three basic things you need to understand:
CFM – Cubic feet per minute. This is a measure of air output on the blower. Higher CFM = more power, but not necessarily more miles per hour. High CFM with a wide nozzle = lower MPH. High CFM with a narrow nozzle = high miles per hour. Ideally, you want both a high CFM with a narrow to medium nozzle for most residential jobs.
Usability – what is the point of having a blower if it is hard to use? Have to get one that is lightweight, easy to start, and has some functions that make your life easier.
Motor type – brushless motors reign supreme. Cooler running motors with more torque, a longer run-time, and last many more years. Brushless is a no brainer when picking a blower.
These are three things you need to pay attention to when looking through the specifications. 
A Warning
WARNING: If you have a MAX version battery, make sure to get a compatible blower. If you don't have the MAX version, make sure you get a blower that doesn't take MAX batteries. This confuses a lot of people because it isn't super clear online. MAX batteries don't work with non-MAX tools. Don't shoot the messenger!
5 Best Kobalt Blowers
Okay before I jump into the best Kobalt leaf blowers, I just want to say that some of this comes down to personal preference. Some if doesn't. I'll make sure to give you a heads up when something is just personal preference and when some things are better for certain people. It will make more sense as we move along.
5. Kobalt 40-Volt Max 480 CFM 110 MPH Handheld Cordless Electric Blower
The Koablt 40V Max 480 CFM 110 MPH blower is one of the most popular, but also the weakest of the blowers. Not only does it have the lowest CFM output, but also the slowest speeds on this list.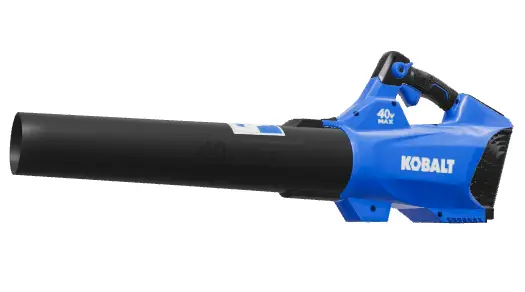 I'd recommend this blower for anyone who is doing light work around the house. Great activities for this blower include doing a quick blow of the sidewalk, driveway, or garage. If you are a woodworker not looking to create a storm with saw dust, this is an awesome tool to help crush saw dust without it blowing back into your mouth. 
One downside to this blower is that it doesn't have a brushless motor. This means it won't quite have the torque or long-life that its brushless counterparts have.
A positive to this blower is that the 40-Volt Max line of batteries from Kobalt are very popular, meaning you can save big money by purchasing the "tool only" version of this blower if you have the battery already. This puts the blower at just under $100 which is actually an amazing deal.
You can get the tool only version  here on Amazon for a great price.
4. Kobalt  80-volt Max 580-CFM 145-MPH Brushless Backpack Cordless Electric Leaf Blower
The Kobalt 80-Volt Max 580 CFM backpack blower is something out of a sci-fi movie. When you think of backpack blowers, you think of ultimate power. The pinnacle of power in the landscaping game – and almost all of them are gas-powered.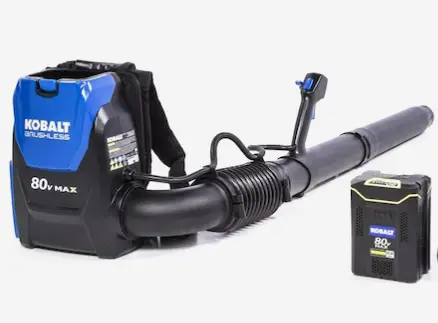 It is really cool that Kobalt offers this product, but it may be a tad unnecessary. It is actually less powerful than our number one recommended Kobalt blower, but actually does put out the highest speeds.
While it won't be quite as powerful as its gas-powered counterparts, it can still be a really slick tool. For starters, it is way more comfortable to carry around than a handheld blower if you have a big yard. You get to bear a lot of the weight on your back, instead of your shoulders and wrists. 
It's also significantly lighter than gas backpack blowers because it doesn't have all the dang fuel sloshing around in the back. 
This one is definitely up there for those that are looking for a powerful backpack blower that is light and requires ZERO maintenance. And oh yeah, it is an insanely, insanely low price. 
3. Kobalt 24-Volt MAX 500 CFM 120 MPH Brushless Handheld Cordless Blower
A couple of things I really love about the Kobalt 24V Max 500 CFM 120 MPH brushless blower.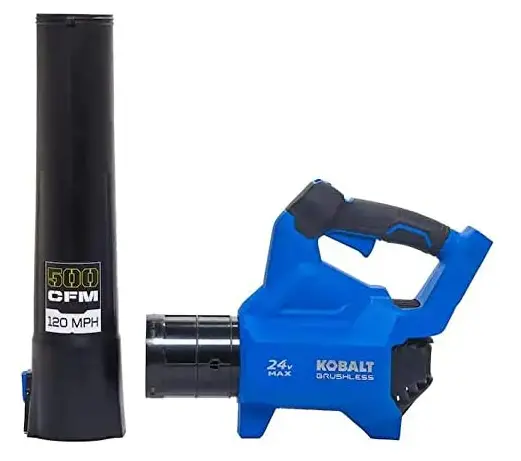 In the name, you get to see a couple of my favorite things: 24 Volts and the fact that it's brushless. Please don't be fooled by the lower MPH output here. The fact that this Kobalt blower has 500 CFMs means that it powerfully moves air, but has a wider nozzle that lowers the speed. This is great for larger yards with big piles of leaves. 
The Kobalt 24V max blower essentially sends a wide path of air out at a lower speed, exchanging speed for width. Perfect for landscapers or places with heavy leaves. One downside is that wet leaves and wet grass will be more difficult to remove than a higher MPH blower.
I also love that this has a brushless motor and is a part of the 24V series. The 24V series is one of the most popular lines for Kobalt, so you can save big on batteries if you already own some Kobalt 24V stuff or plan to in the future.
This one can be purchased for a great price on Amazon or at Lowe's. 
2. Kobalt 80-Volt MAX 500 CFM 125 MPH Brushless Handheld Cordless Blower
This thing just straight up looks cool. Sleek. Black. Means business.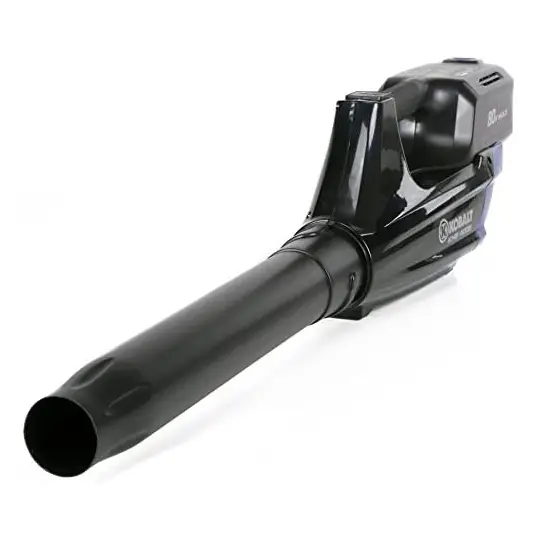 It also has a brushless blower and is super similar to the 24V blower above, except it has a slightly more tapered nozzle that adds 5 more MPH to the blower. It also runs on 80V batteries, which makes it compatible with some of the higher powered tools offered by Kobalt. 
If you're looking for a cool looking blower that will last you a long time, look no further. This one has the best aesthetics, is second best in handheld power, and allows for you to build a great line of 80V products around it from Kobalt. 
It's surprisingly under $200 and can be found on Amazon for a nice discount.
1. Kobalt 80-Volt MAX 630 CFM 140 MPH Brushless Handheld Cordless Blower
Number one. Wow. Well we are a little biased here at The Lawn Review because we did a full YouTube breakdown of this one and fell in love. 
If you want to know why it's #1, check out our video here.
It has so many great features including:
Thumb-controlled cruise control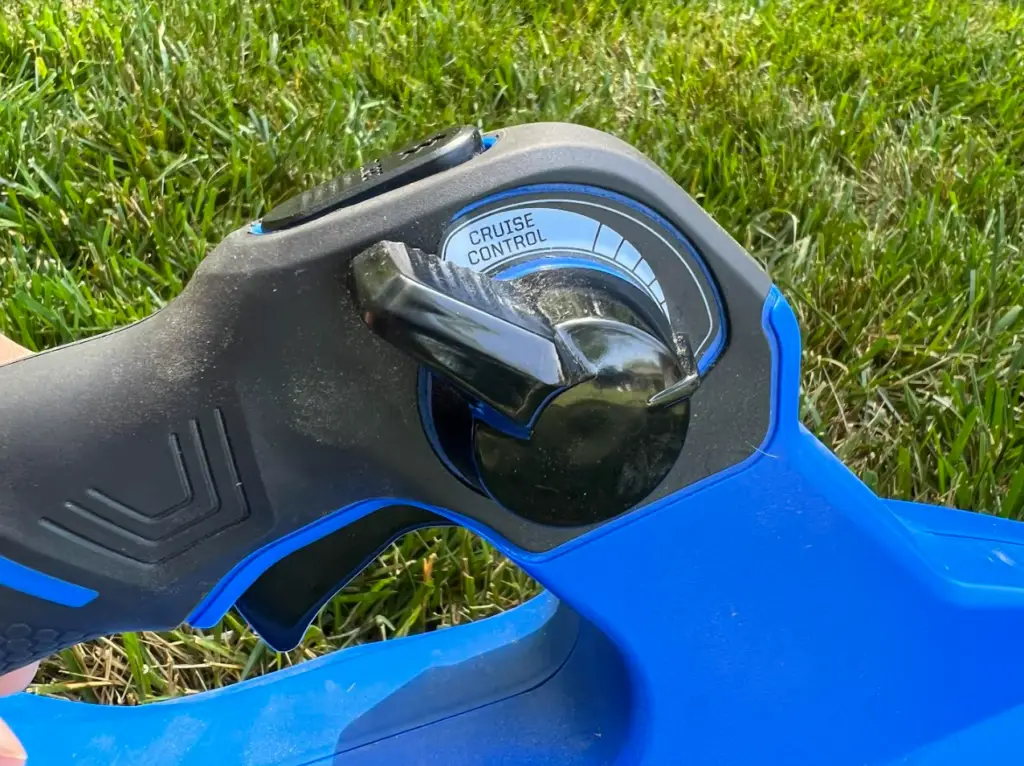 An excellent 80V battery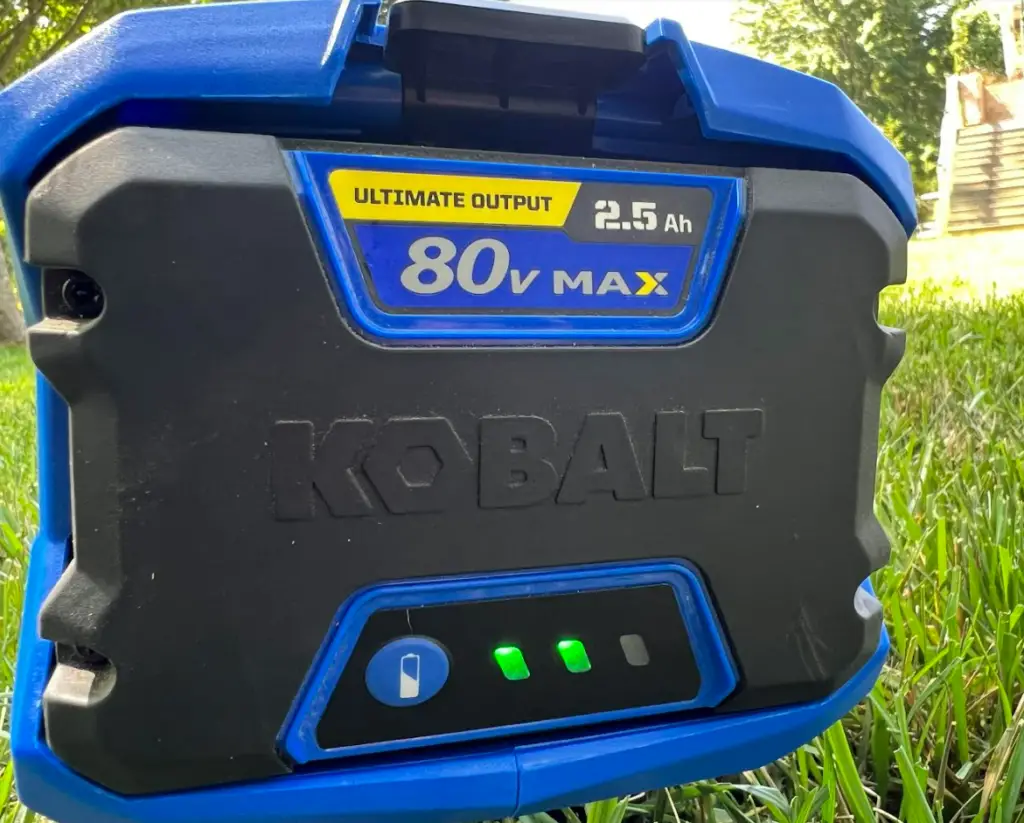 A male model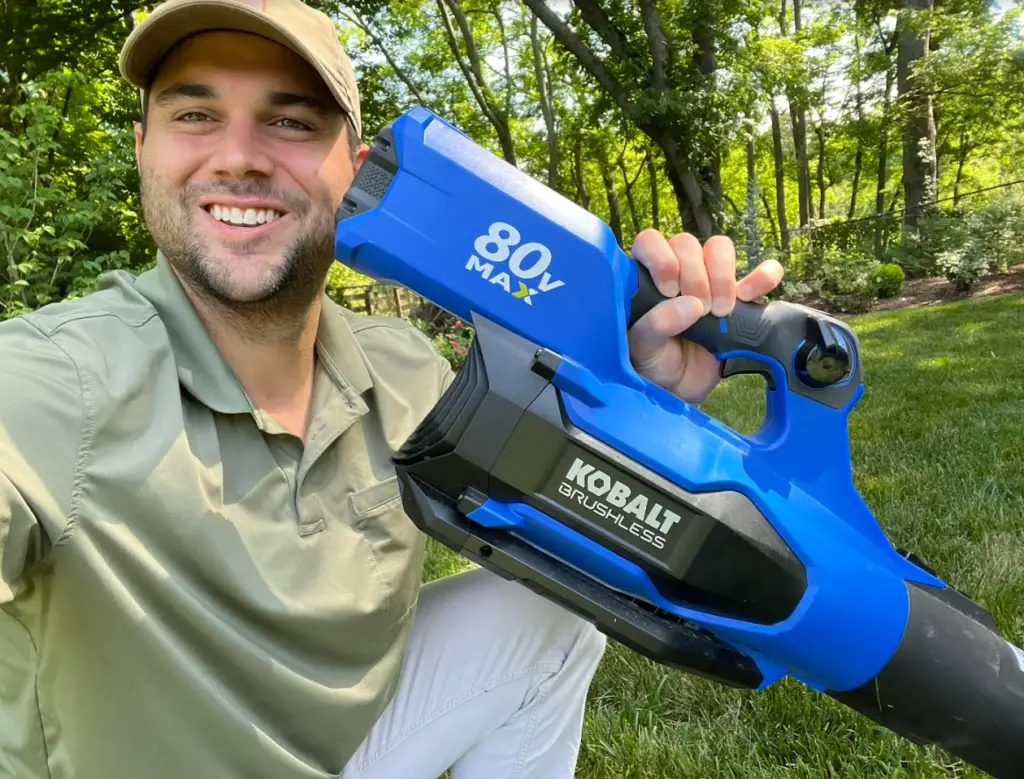 A brushless motor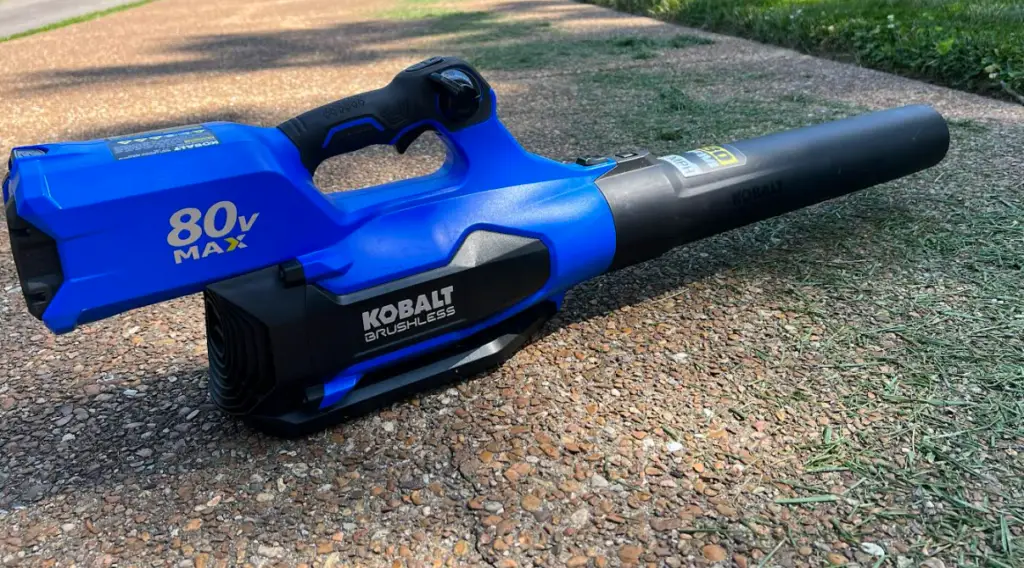 It is also available on Amazon for a little steal or you can pick it up at Lowe's.