Makita cordless blowers are making moves in the lawn care world. And for good reason.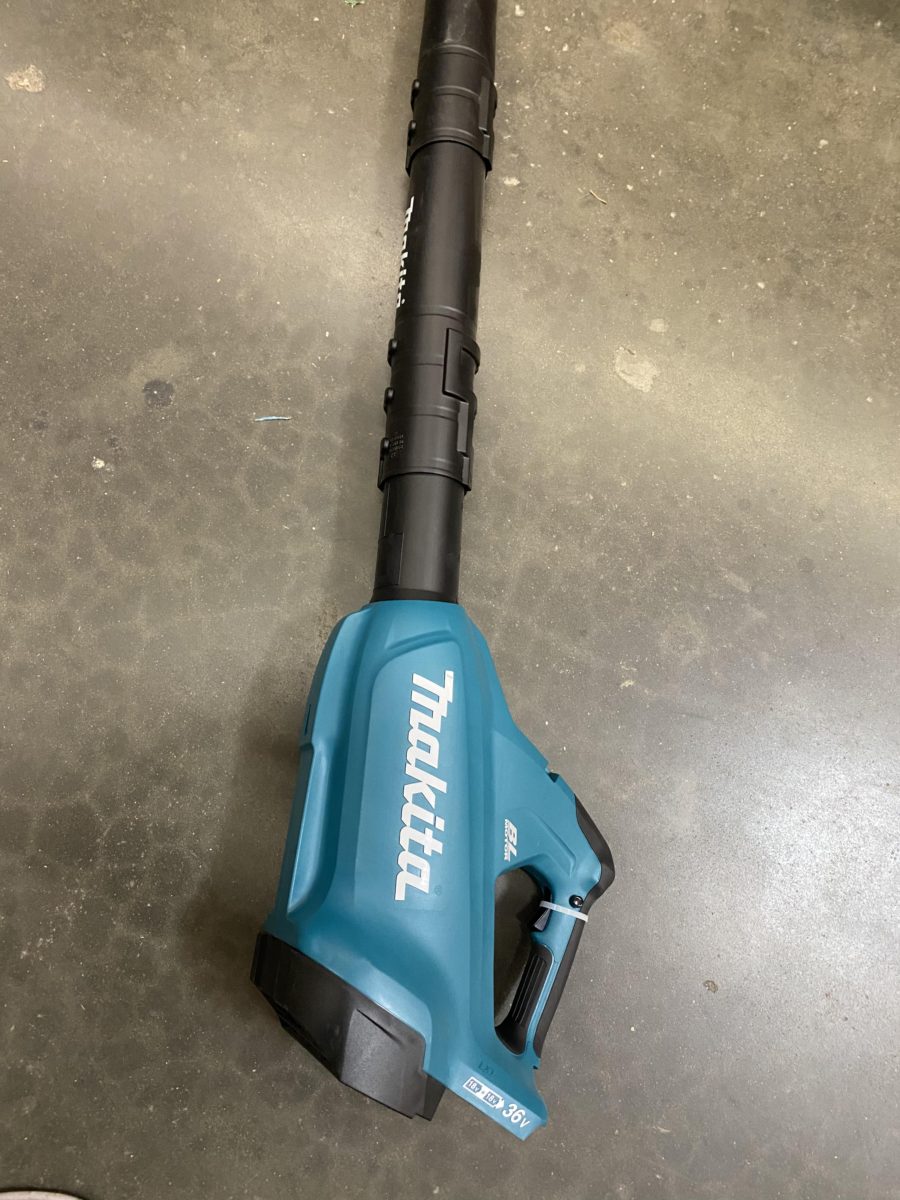 Makita has done really well with their battery-powered tools. So why not use those same batteries in cordless blowers?
That's exactly what you should be asking yourself if you have a Makita battery already.
If not, hold onto your seat because Makita is about to become a household name in leaf blowers. 
Spoilers*******:
If you don't like getting them from Amazon – Home Depot also has a TON of Makita blowers on great deals.
Why we review lawn tools
The reason we started this website in the first place was because we had so much trouble trying to find reasonable, understandable, honest reviews for lawn equipment. And it's not cheap! After hours and hours of research, trying products and returning them, and messing up our yards – we started this site.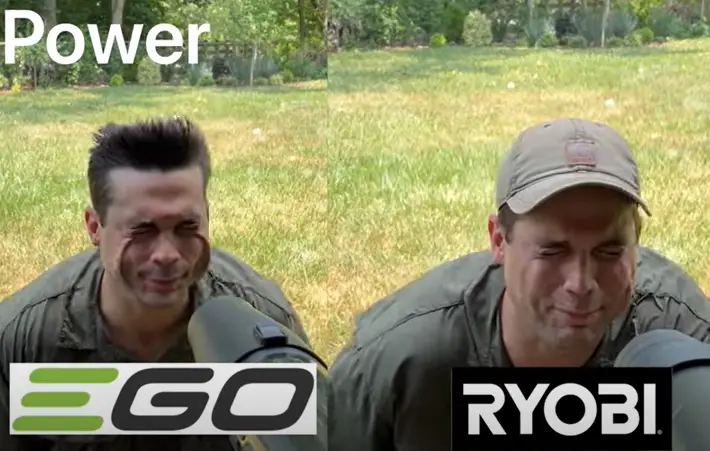 As people who had to learn the hard way, we want you to know exactly what you are signing up for before you purchase a piece of equipment. That's why we are committed to providing honest, easy-to-understand reviews that mean something.
Makita is making lawn equipment?
Yep, Makita has been around since 1915 and started making power tools back in 1958. They are best known for their pneumatic tools, their drills, and other construction site tools. 
They've always had great corded and cordless tools, so I am honestly surprised it has taken them this long to make a push into the cordless lawn tool space. 
But not that they're here, they aren't going anywhere. With competitors pouring into the space like Dewalt and Milwaukee, it only makes sense to take what they do best (battery powered tools) and put them in mowers, blowers, and more. 
But why is Makita making lawn equipment NOW?
Good question. One thing I can tell you is that it is currently March of 2022 and Makita has a relatively small presence and market share in the lawn tool space.
Please bookmark this page and see where they are in 2023. We have it on good authority that they are making a massive push into this space. 
So – sit back and watch them take over. 
Check out our review of the best Makita weed eaters as well.
We also reviewed the Makita mowers, which have an awesome "quiet feature".
What to look for in a cordless blower
Cordless blowers come in a bunch of shapes and sizes but there are two basic things you need to understand:
Brushless – a type of engine that does not rely on friction for generating power. This engine type uses magnets for a longer lasting, more efficient power generation. 
CFM – Cubic feet per minute. This is a measure of air output on the blower. Higher CFM = more power, but not necessarily more miles per hour. High CFM with a wide nozzle = lower MPH. High CFM with a narrow nozzle = high miles per hour. Ideally, you want both a high CFM with a narrow to medium nozzle for most residential jobs.
Tool-only – the blower by itself, no battery or charger or anything else. This is great if you already have a compatible battery from another tool. 
These are two things you need to pay attention to when looking through the specifications. Another important thing is to look at the battery and see if it can be used with other tools. In Makita's case, their batteries can be used across hundreds of tools. 
This can allow you to buy the tool-only version for significantly cheaper.
Best Makita 18V Cordless Blowers
The majority of Makita cordless blowers come from their 18V battery line, so that is what I am going to break down today for us.
Let's check out the benefits and potential downsides of each of these blowera + our favorite.
Let's get started.
Makita XBU03Z  and XBU03SM1 18V LXT Lithium-Ion Brushless Cordless Blower
The Makita XBU03Z and XBU03SM1 18V blower is one of the most popular blowers Makita makes. 
As you can see in the title, this Makita blower has a brushless motor. Big plus. Brushless motors are significantly longer lasting and more efficient than normal electric motors.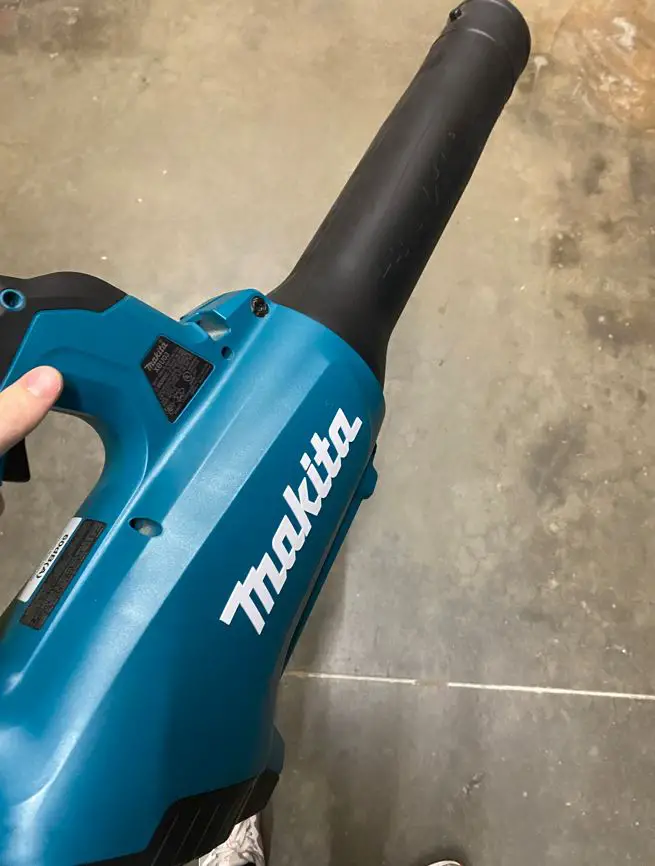 The specifications
This blower boasts a 459 CFM, 116 MPH motor and air delivery system. This is a relatively high CFM and a relatively low MPH. This means that this blower has a decently wide nozzle, which is great for covering large areas of dry leaves, grass, or other materials.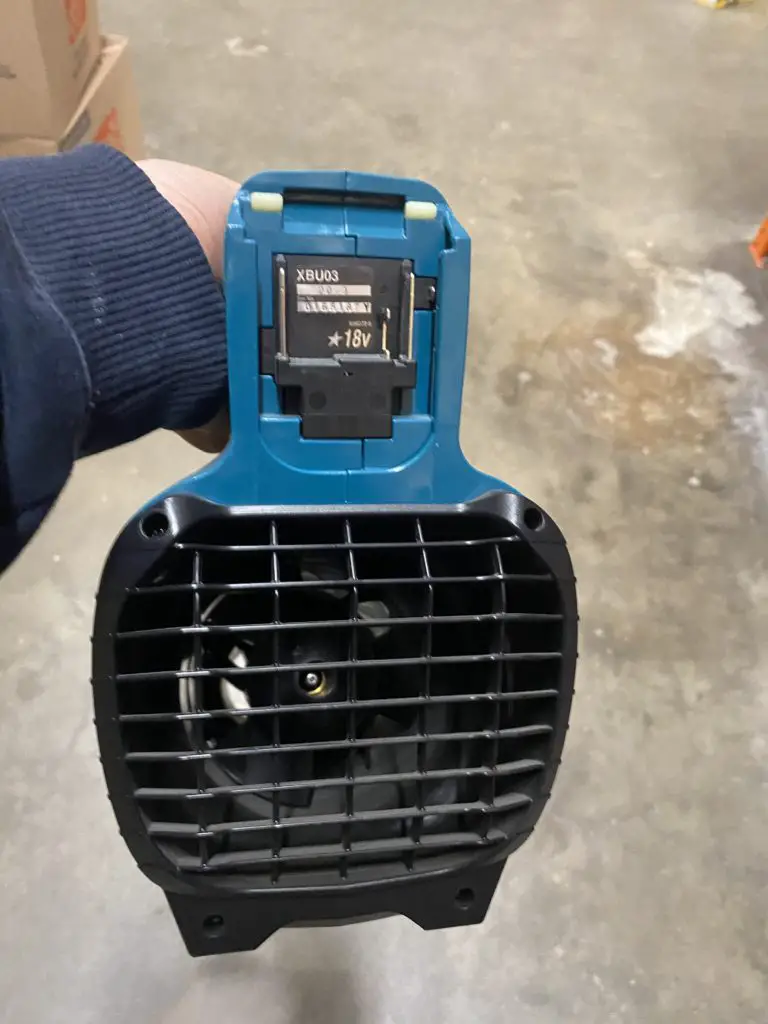 The benefits of this Makita Cordless Blower
The benefits of the Makita XBU03Z 18V blower are that it can cover large areas pretty well. If you have a big backyard covered with leaves, I am taking this blower every time. 
I also love the brushless motor and the 18V battery that can be used with just about every other Makita tool under the sun.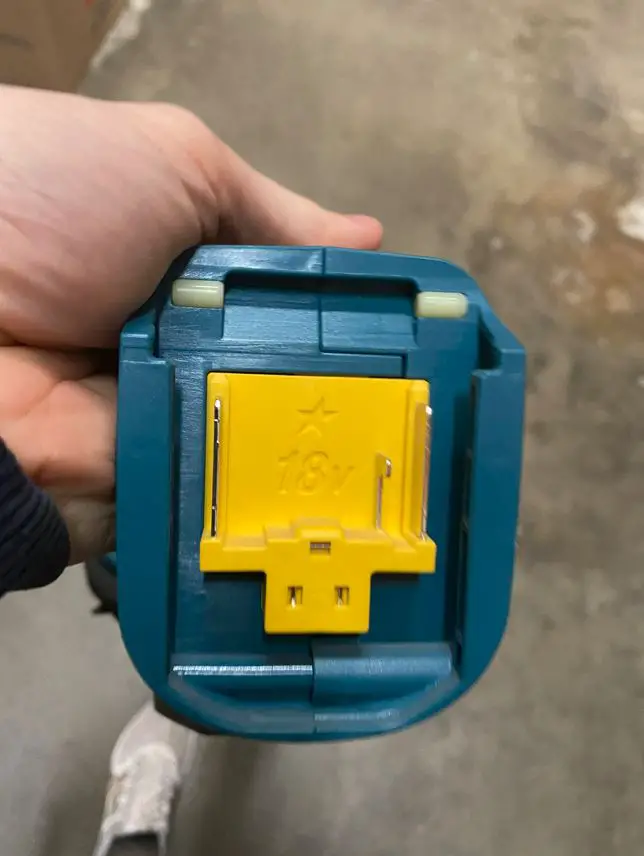 It also has a nice speed lock and variable speed trigger, giving you more control over how much air you want to push out. Also, it only weighs 6.5 lbs without the battery, meaning you won't tire out your shoulder carrying it around.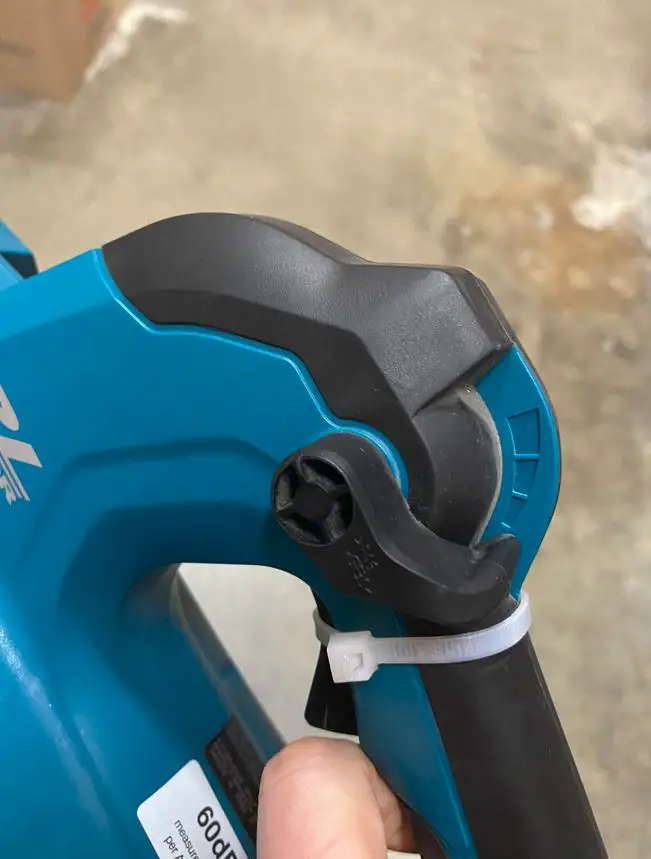 Potential downsides
You should not buy this blower if you are wanting to provide a high-speed air stream to get rid of wet grass or leaves. This mower is not really built for that given that it has a lower MPH than others. You can always buy a speed tip or flat end that can clip on to produce higher speeds.
Where to buy
You can grab this Makita blower at any big box store, or have it directly shipped to your house using Amazon.
We have found Amazon has the best deals when these products have a sale. Click here to see if it is currently on sale.
The difference between the Makita XBU03Z and Makita XBU03SM1
You may see both of these listed for sale on different websites. 
The Makita XBU03Z is the tool-only version of this blower, meaning that it does not come with a battery or charger. This is perfect for those of us that already own Makita batteries for other tools.
The Makita XBU03SM1 is the same blower, but comes with an 18V battery and charger. This blower set is great if you are a first time homeowner or are wanting to make the jump to Makita products. 
If you need the full kit, check the price on Amazon by using this link.
Makita XBU05Z 18V LXT® Lithium-Ion Cordless Blower
The Makita XBU05Z 18V is somehow the exact opposite of the one above. It is a much smaller blower that is handheld and has a limited reach. 
This blower is also a part of the 18V series, so can be used with most Makita tools.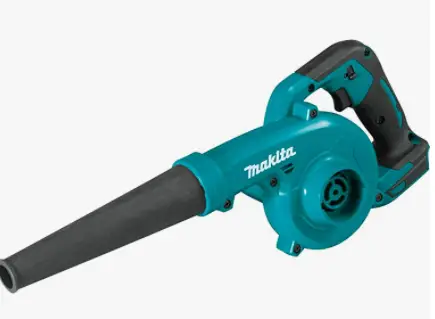 The specifications
The CFMs aren't even listed on this bad boy, but it does hit a speed of almost  220 MPH. That's super powerful. The reason CFMs aren't listed is that they are likely really low. Meaning this tool has a super narrow tip that can provide a super high speed stream of pressure. 
The benefits of the XBU05Z
This blower is light and great for around-the-house blowing. Its super portable, lightweight, and powerful. I love that it can take the 18V battery just like the other Makita tools. 
The Makita XBU05Z also has a rubber grip handle that looks just like a power drill handle. This handle will make it really easy to use and comfortable. 
Potential downsides
This blower is not really a backyard blower. Other than the front and back porch, I would probably not take this blower out into the yard.
It is like a swiss army knife and is more suited for little jobs here and there, not the big show of the backyard. 
Where to buy the XBU05Z blower
This one can be found at Ace Hardware, some Home Depots and Lowe's, but definitely on Amazon (which usually has a sale). Follow this link to see if it is currently on sale at Amazon.
Makita XBU02PT 36V (18V X2) LXT® Brushless Blower Kit (5.0Ah)
You may remember me saying that I was specifically  reviewing 18V products. Well, this is a Makita 36V blower, but it actually just take two 18V batteries. So it is still an 18V product (at least for the purposes of today's review.
I love the brushless blower on this and with double the battery power, you know this product means business.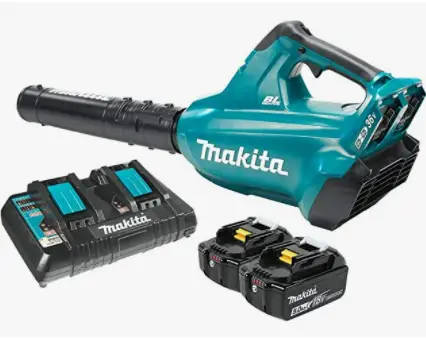 The specifications
This blower has a 473 CFM, 120 MPH air flow system. This is great, but also very similar to the two XBU03 blowers reviewed in the first section.
Basically, these blowers are powerful as all get out, but are best suited for large spaces and dry leaves and grass. 
One thing listed in this product and not others is the noise level. This is one of, if not the quietest blower on the market. Nice! Your neighbors won't hate you.
The benefits on the XBU02PT Makita cordless blower
Obviously this Makita 36V blower has twice the battery power of the 18V blowers, meaning it should last twice as long. 
I also love the brushless motor with the higher air velocity of the XBU03 blowers. Overall, this is going to be a great blower for most folks doing leaf clean up inthe fall. 
Potential downsides
The downsides of this blower are similar to the XBU03. Namely, this blower is not going to be wonderful if you are looking for a powerful, narrow air stream that could take care of wet leaves and grass. 
Otherwise, this one will require an extra battery, which could mean an extra cost. It also requires a charger that can hold two batteries.
This isn't an issue if you buy the full kit with the blower, batteries, and dual charger.
Where to grab the XBU02PT
You can grab this smaller handheld blower at most major retailers. We are an affiliate of Amazon, so get a small commission if you grab the blower from there. They usually have a decent sale, so its at least worth checking.
Follow this link to grab the XBU02PT blower on Amazon.
Makita XBU04ZV 36V (18V X2) LXT® Brushless Blower with Vacuum Attachment Kit
So this one is totally different. The Makita XBU04ZV is another 36V (really just two 18V batteries) that is a blower, mulcher, and vacuum. Pretty sweet. 
It has a 10:1 mulch ratio, meaning you can reduce 10 bags of leaves down to 1 with the mulching kit. Pretty sweet and reminds me of our favorite tool, the WORX leaf mulcher. 
The specifications
The blower function of this bad boy is super similar to the last one. A 473 CFM, 120 MPH air system. Meaning it is great for the large, wide, dry areas. 
The 10:1 mulching ratio for the vacuum/mulching section is pretty sweet as well. 
The benefits of the XBU04Z
Picture this: you have a backyard covered in dry leaves. You take this blower out and get all the leaves in a pile by the fence in the backyard. You then suck them all up, mulch them into tiny shreds, and get all of the leaves in one or two bags. 
Whoa. That's the power of the Makita XBU04ZV 36V blower and vacuum kit. 
Potential downsides
Same as the rest – not a super sharp air stream and not great for wet leaves and grass. 
How to buy this blower
This 3-in-1 can be bought either tool only or with the batteries and charger from Amazon.
Follow this link to check the price for both the tool only and the full kit.
Makita DUB182Z 18V LXT Lithium-Ion Cordless Blower
Ever heard that alligators can run super quickly for really short periods of time? That's basically how this blower is. Let's check it out.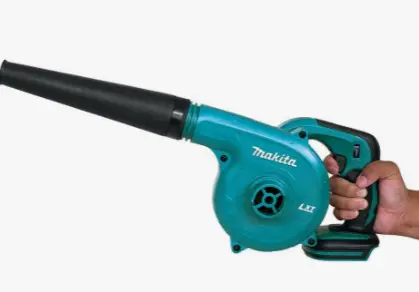 The specifications
The Makita DUB182Z 18V LXT blower has a maximum of 179 miles per hour when it comes to air speed. This is pretty powerful and from the looks of it, has a pretty direct and narrow airstream. 
It also weighs about 3 lbs which is great for keeping in the car, hallway closet, or anywhere else around the house. 
The benefits of the DUB182Z Cordless Blower
This blower is going to be great for blowing off the front porch or back deck, awesome for things like saw dust, and perfect for tight spaces. I love that it has a pretty high velocity and is only 20 inches long, making the Makita DUB182Z a great around-the-house blower.
Potential downsides
This blower is very similar to the XBU05Z listed above, but slightly weaker. If I am choosing between the two, I am going to take the XBU05Z and not this one. 
How to buy
If you get the DUB, then you're getting a W.
Check the price of this one on Amazon before buying.
Makita XBU01Z 36V (18V X2) LXT® Cordless Blower
Remember how I said a lot of these blowers aren't great for blowing off wet leaves and grass? Well the Makita XBU01Z is the antidote. Let me explain.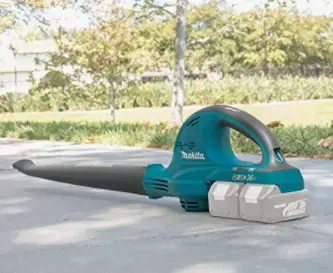 The specifications
The Makita XBU01Z comes in at a low 155 CFM but a very high 208 MPH. This is a great example of a blower with a super narrow nozzle. It has a wide-tip nozzle that is flat, providing a crazy powerful stream of air that can lift about anything off the ground. 
The benefits of the XBU01Z Makita cordless blower
Obviously the air velocity is unrivaled. The Makita XBU01Z also has a long run-time, an hour and a half of battery life before giving out. 
I would just about guarantee that you will finish the job before this blower runs out of juice. We've put many of these to the test and really loved the run time on this one
Potential downsides
While this blower is pure power – like a pressure washer – there are definitely times when you want to just move leaves. This blower is not going to be great for forming big piles of leaves. 
How to start eviscerating wet leaves
Step 1: Check the price of this blower on Amazon.
Step 2: Purchase it.
Step 3: Tell those wet leaves to meet their maker.
Our favorite Makita cordless blower
I am a big fan of the Makita XBU03Z for a few reasons.
For one, this blower has a nice brushless motor. It is going to be long lasting and durable.
I also love the 18V battery, meaning you don't need two to make a 36V and don't need to buy anything else. 
This blower is also tool-only, meaning you are getting the best value possible.