Dewalt weed eaters are not the most popular weed eaters on the block. In fact, lawn tools from Dewalt aren't super common because they are relatively new to the game.
But whenever someone enters a new market, it takes a while to build their brand presence. Dewalt is notorious for having some of the best power tools on the planet and they've been a dominant force in the battery game for a long time.
Lawn tools are a new world for them. They have a pretty dominant Dewalt blower collection, they've got a nice battery powered Dewalt mower that we reviewed, and they even have some pressure washers.
Dewalt string trimmers haven't had the test of time yet, but that doesn't mean they aren't worth checking out. These bad boys are hanging up at just about every Home Depot across the country.
But before you make a decision to pull the trigger, make sure you understand exactly what you're looking for and which Dewalt string trimmer is right for you and your job. 
Jump ahead to the best Dewalt Weed Eaters:
Why we review lawn tools
The reason we started this website in the first place was because we had so much trouble trying to find reasonable, understandable, honest reviews for lawn equipment. And it's not cheap! After hours and hours of research, trying products and returning them, and messing up our yards – we started this site.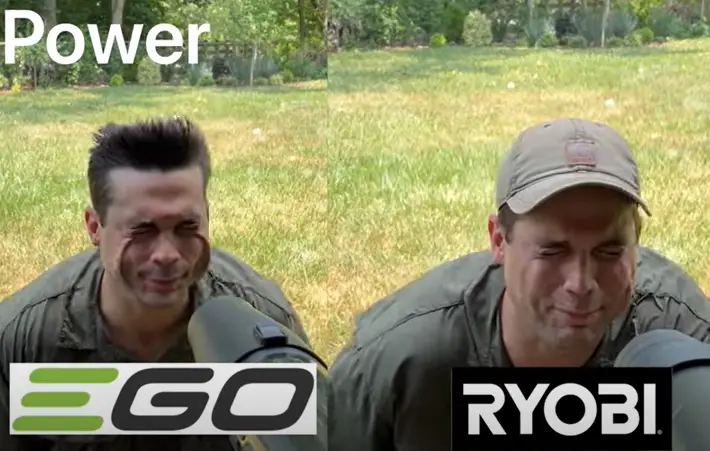 As people who had to learn the hard way, we want you to know exactly what you are signing up for before you purchase a piece of equipment. That's why we are committed to providing honest, easy-to-understand reviews that mean something.
What to look for in a weed eater
Weed eaters AKA string trimmers come in all shapes and sizes. They aren't highly complicated pieces of equipment, but they do have a few nuances. Here is how I see it:
Feel
Obviously this is subjective, but feel is everything to me. I have had weed eaters in the past where the handle is off to the side, making me torque my shoulders and back. If you can, get as many adjustable pieces as possible to make this customizable. It doesn't seem like you use a weed eater for a long time, but the work is precision work that requires a steady hand and focus.
Motor
Brushless motors are a non-negotiable when it comes to battery powered weed eaters. Without a doubt,  they are the best option to ensure you have maximum torque, more durability, and a longer life. These things are top notch performance and will be the only option when others start to catch on.
Curved vs Straight shaft
 I always, always, always prefer straight shafts. They are so much easier to use and control and are much longer than curved shafts. Curved shafts are good for clearing out a small piece of land unable to be mowed. But if you want to actually do some good trimming and edging, a straight shaft is much better. Curved shafts are difficult to maneuver and to create a straight line for edging. 
Best Dewalt Weed Eaters: Ranked
When looking at the Dewalt weed eaters, I'm taking a few things into consideration. The true balance to finding the right string trimmer is assessing the price vs the usability and power. Of course you want the one that feels the easiest to use, has all the bells and whistles, and has extreme power. But not everyone can afford that. So here is how we approach it through the lens of value.
1.) Dewalt 20V Max Brushless Cordless String Trimmer Kit
We put this one at number one because it has all the bells and whistles and is extremely price competitive. It isn't perfect. I wish it was a tad longer and had a little bit bigger cutting swath, but otherwise it's darn near perfect. As part of Dewalt's 20V Max series of tools, you can use the same battery you use for your power drill on this weed eater. Which means you can buy this version tool-only. Tool-only means that it doesn't come with a battery, which saves you about $60 on the purchase price. Cha-ching.
Here's what we love about this Dewalt weed eater:
A brushless motor that is going to last a LONG time
It weighs less than 9lbs, making it easy to use when walking around your yard or garden bed. 
Straight shaft that can split for easy storage.
Easy to load spool to add more weed eater string whenever you need it.
Ability to use 20V Max battery system from other tools you may already own.
Variable speed trigger so that you have total control over how much speed you want.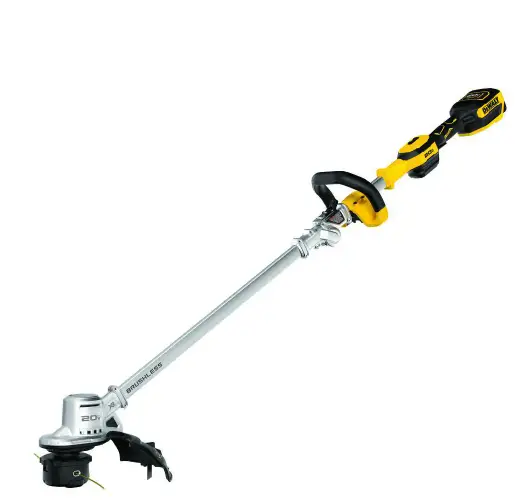 Basically, this is as close to the whole package as possible without going over $250. These are for sale at Home Depot but can also be found on Amazon for an even lower price.
To us, this one is the most valuable Dewalt string trimmer money can buy. 
2.) Dewalt 60V Max Brushless Attachment Capable String Trimmer Kit
If the number one result is the most valuable Dewalt weed eater, then this one is the most versatile. We've reviewed quite a few attachment capable string trimmer kits and really loved the EGO Multi-Head, but this one is giving it a run for the money. It even made our list of the best weed eaters with attachments.
The 60V Max Brushless attachment capable weed eater from Dewalt brought out ALL the bells and whistles when they made this one. When you buy this, you also have the ability to buy attachments like: a blower, pole saw, hedge trimmer, edger, and a brush cutter. So basically this has swiss army knife potential. That's what I'm talking about.
But don't let the cool attachments overshadow just how sweet the weed eater is.  The weed eater alone is an absolute unit and even touts itself as being better than some of the popular EGO weed eaters. 
Here's their evidence for making such a bold claim:
Brushless motor (EGO has this, too)
Up to 17 inch cutting swath (EGO's is 15)
12.8 lbs with the battery (EGO's is 14.1)
Ability to add universal attachments, which allow you to use attachments from several other brands (EGO's are custom fit to their tools)
The Dewalt 60V Max attachment capable weed eater is a dream. If you are a Dewalt loyalist, this tool is peak perfection – especially if you already own the battery.
This one can be grabbed from Home Depot for about $350 or from Amazon for about $320.
3.) Dewalt 60V Max Brushless Cordless String Trimmer
This 60V Max weed eater from Dewalt is really similar to the one above, but doesn't come with the attachment capabilities. If you're looking for JUST a baller weed eater, then this one is a great option. 
This Dewalt weed eater is an amped up version of our number one choice. But here's the crazy thing: it can be backwards-compatible with the 20V Max series of batteries. This is a crazy tech capability because the 20V Max series of batteries are much more popular.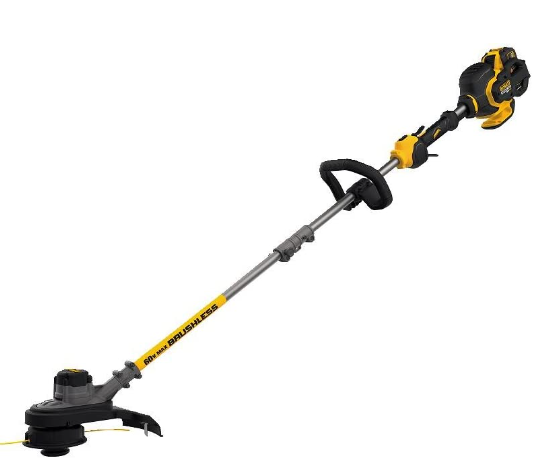 Think about it: if you have 60V Max batteries already or are building out your lawn tool collection around the 60V Max series, then this is a great investment because you can use the same batteries across all the tools. But what if you already own a Dewalt power drill with a 20V Max battery? Well….you're still in luck because this weed eater can take those batteries as well.
Dewalt really thought through their customer base and how they can best provide solutions that meet their needs. The reverse compatibility is a huge advancement for saving them money and basically making it universally compatible with Dewalt's entire line of products.
This one also has all the must-haves: variable speed trigger, brushless motor, straight shaft, decent length, and a 15 inch cutting swath. This Dewalt weed eater is SWEET.
You can grab it at Home Depot for about $300 but I've seen it for less on Amazon.
4.) Dewalt 27 cc 2-Stroke Straight Gas String Trimmer
Dewalt is not known for their gas-powered tools and definitely lesser  known in the lawn space. So this one seems risky. But the specifications on it are all extremely positive.
At first glance, this one reminds me of the ECHO SRM 225 or the Stihl FS 56 RC. Let me explain more:
27 cc 2-cycle engine is more than ECHO's and right in line with Stihl's
A massive 17 inch cutting swath is best-in-class for gas weed eaters
It is attachment-capable, which is a huge money saver
It comes with a shoulder strap for saving your back
Dewalt really did a great job thinking through this product and designing it for homeowners with big yards and even for commercial use. It's a dang beast.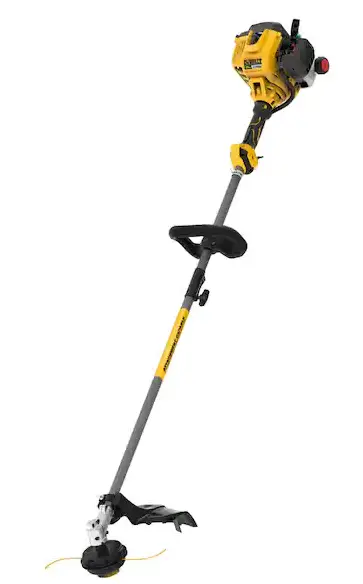 One complaint I have is that the shaft length is a little on the shorter side for me. Otherwise this thing is sweet.
What really sells this one for me is that it has a 3 year limited warranty. A lot of these weed eaters have different warranties for commercial or residential use. Dewalt went all out with the 3 year warranty, which I appreciate since they aren't well known in this space.
This one is available at Home Depot for a REALLY good price. Like a shockingly good price. We don't get any benefit when you buy from them, but I think this is the place to get it.
5.) Dewalt 20V Max Trimmer Blower Combo Kit
We've written extensively about some of the best trimmer blower combo kits. Dewalt made the list. Now I know this is kind of cheating to have a combo kit on here, but it should be a part of the consideration process if you are in the market for a new battery-powered line of tools.
That's what I love about battery powered lawn tools – you buy a kit like this one and you only have to buy one battery. That saves generally about $50-100 depending on the brand. That's the way to go.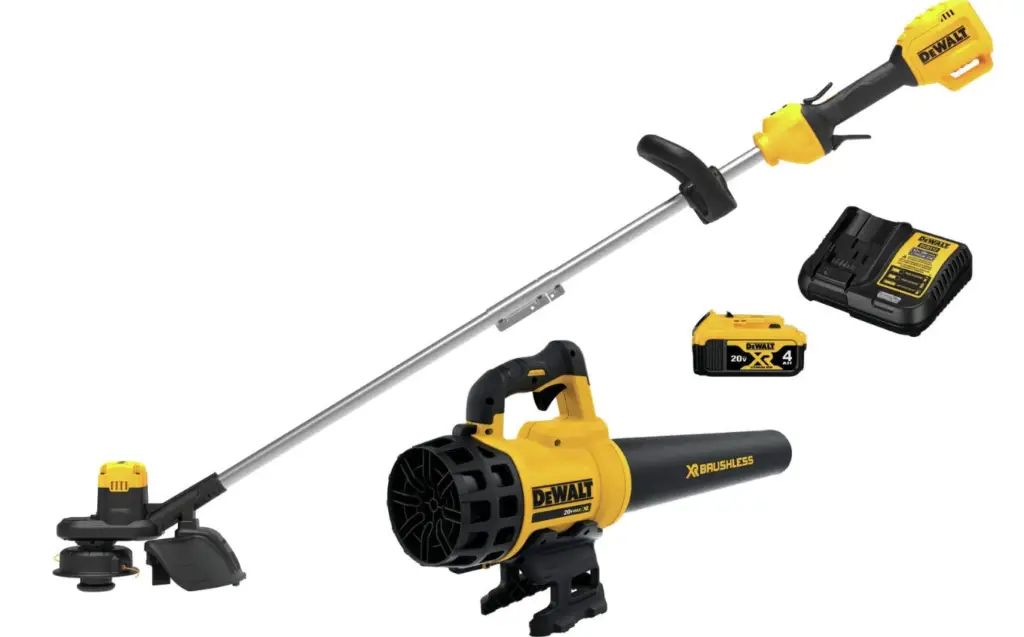 This features a 20V string trimmer similar to our number one option and a really great 20V Dewalt leaf blower that has made our top Dewalt blower list. 
The package together doesn't fall squarely in this article, but I want to make sure you all understand how great of a deal it is if you're considering joining the Dewalt family.
This one can be found on Amazon together for a ridiculous price but is also available online at Home Depot.
Best Weed Eater String / String Trimmer Line for Dewalt
Most of these Dewalt weed eaters come standard with a 0.80" weed eater string. It's fine and all, but I totally leveled up my weed eater when I moved to the GrassKicker weed eater string. 
Yes, we developed it because we got tired of buying weed eater string that broke or didn't give our yard the look we wanted. And we were shocked at the difference it made.
Our GrassKicker weed eater string fits into every Dewalt weed eater and will make a noticeable difference in the cut. It basically replaced my edger altogether and lasts WAY longer than the stock weed eater string.
Final thoughts: Dewalt's weed eater collection
While they aren't a household name (yet), Dewalt is moving into the game with some great products. You can't go wrong with any of these, it really comes down to how big of a job you have in front of you.
All of these have a great warranty and most of the battery-powered tools will work – as long as you stay in the MAX series of batteries.