Makita Weed Eaters are definitely top of the line cordless weed eaters. 
You may have seen them at Home Depot or Lowe's because of their clean, light blue and green appearance.
They stick out from the competition for a few reasons.
But the primary reason they stick out so much is that they are high quality.
Probably the highest quality on the market.
So let's check some of them out.
***SPOILER***
Best Makita weed eater for large yards: Makita XRU15PT cordless weed eater
Best all-around Makita weed eater: Makita XRU02Z Cordless Weed Eater
Why we review lawn tools
The reason we started this website in the first place was because we had so much trouble trying to find reasonable, understandable, honest reviews for lawn equipment. And it's not cheap! After hours and hours of research, trying products and returning them, and messing up our yards – we started this site.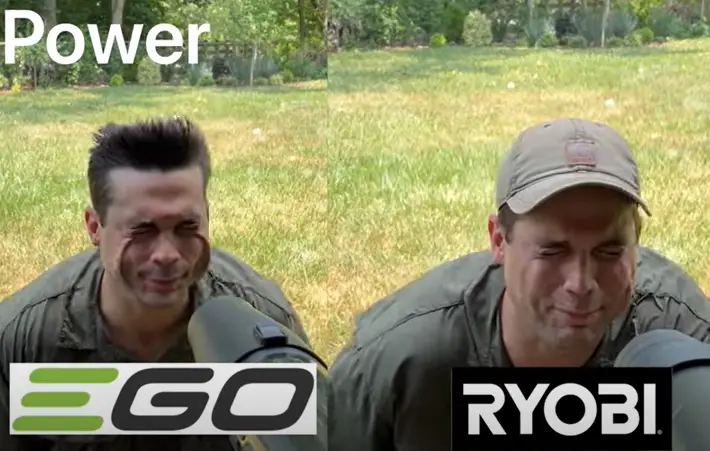 As people who had to learn the hard way, we want you to know exactly what you are signing up for before you purchase a piece of equipment. That's why we are committed to providing honest, easy-to-understand reviews that mean something.
Makita is making lawn equipment?
Yep, Makita has been around since 1915 and started making power tools back in 1958. They are best known for their pneumatic tools, their drills, and other construction site tools. 
They've always had great corded and cordless tools, so I am honestly surprised it has taken them this long to make a push into the cordless lawn tool space. 
But not that they're here, they aren't going anywhere. With competitors pouring into the space like Dewalt and Milwaukee, it only makes sense to take what they do best (battery powered tools) and put them in mowers, blowers, and more. 
But why is Makita making lawn equipment NOW?
Good question. One thing I can tell you is that it is currently March of 2023 and Makita has a relatively small presence and market share in the lawn tool space.
Please bookmark this page and see where they are in 2024. We have it on good authority that they are making a massive push into this space. 
So – sit back and watch them take over. 
We recently reviewed Makita's Cordless Blower series as well, check it out here. We also did a dive on the Makita cordless lawn mowers.
What to look for in a cordless weed eater
Cordless weed eaters come in all shapes and sizes. They aren't highly complicated pieces of equipment, but they do have a few nuances. Here is how I see it:
Feel – Obviously this is subjective, but feel is everything to me. I have had weed eaters in the past where the handle is off to the side, making me torque my shoulders and back. Bad.
Motor – brushless motors are king here. They are longer lasting and more durable.
18V vs 36V batteries – 36V Makita batteries are going to last you a lot longer than 18V. Good for those with bigger yards.
Curved vs Straight shaft – I always, always, always prefer straight shafts. They are so much easier to use and control.
Otherwise, make sure to get a full kit  if you don't have any Makita batteries. If you do already have some 18V batteries, grab the tool-only version to save a good chunk of change.
If you're looking to upgrade the weed eater string, check out our size guide.
The Best Makita Weed Eaters
Today we are going to review a list of weed eaters available from Makita. The names are not the most intuitive and can definitely be confusing. They also have letters at the end that signify whether or not they come with batteries. 
If you can fight through it, just focus on each individual review. If the names confuse you, just click the link we provide to get more detail.
Let's get started!
Makita XRU15PT and XRU15PT1 cordless weed eaters
Great one to start with! These are two of the higher end weed eaters offered by Makita and they pack a punch. Let's dig deeper.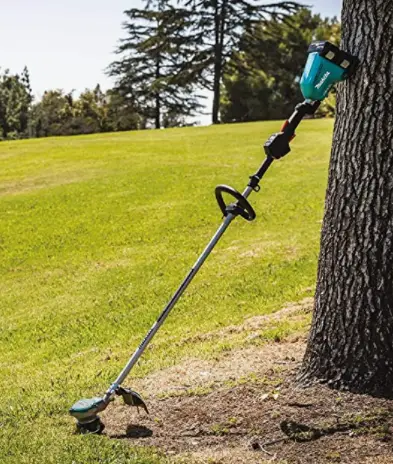 The specifications
The XRU15PT and XRU15PT1 both come with a brushless motor. These produce less friction so last longer and are more durable. This Makita cordless weed eater comes with three speed options ranging from 3,500 rotations per minute up to 6,500 for maximum power.
Additionally, these cordless Makita weed eaters come with a 15 inch cutting swath, which is definitely large. The end also has a "bump action" heading that allows for more string to be released while using. 
The benefits
A few things I pointed out in the specifications are huge benefits.
The XRU15PT and XRU15PT1 Makita weed eaters are powerhouses. Durable, long-lasting motors, high speeds, large cutting swath, and two 18V batteries.
These Makita weed eaters can tackle any job. I'm not kidding. 
Potential downsides
I honestly don't see any downsides to these weed eaters. Maybe if you are looking for a smaller job or live in a townhome, these are going to be overkill. They are also slightly pricier than other weed eaters, but you get what you pay for.
Makita XRU15PT vs XRU15PT1
These are identical weed eaters,  but the XRU15PT1 comes with four batteries instead of two. It is more expensive for the additional batteries, but you really don't need them unless you are in the commercial landscaping space. 
How to buy 
We recommend purchasing these weed eaters on Amazon. They occasionally run pretty steep sales, so you can click here to check the price. If you don't like Amazon, you can also grab it at Home Depot for a reasonable price.
Makita XUX01ZM5 36V (18V X2) LXT Brushless Weed Eater
The Makita XUX01ZM5 is a cordless weed eater that offers multiple attachments. Many brands have similar attachments and I think they are a great value. Let's break this one down.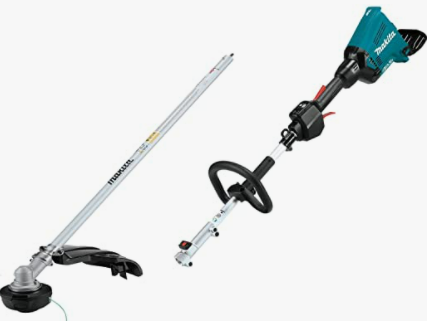 The specifications
The Makita XUX01ZM5 has a brushless motor with three speeds, ranging from 4,200 RPM all the way up to 7,100 RPM. It also has a variable speed trigger that gives you ultimate power over the cutting speed. 
The number of attachments that work with this weed eater seems to be growing every day, with tools like pole saws, different weed eater styles, and garden tillers.
The benefits
The benefits to this Makita cordless weed eater with attachments are much more than I expected. It is truly one of the most powerful Makita cordless weed eaters and I think I know why.
This thing needs to have maximum power delivery if it can also be compatible with pole saws and garden tillers.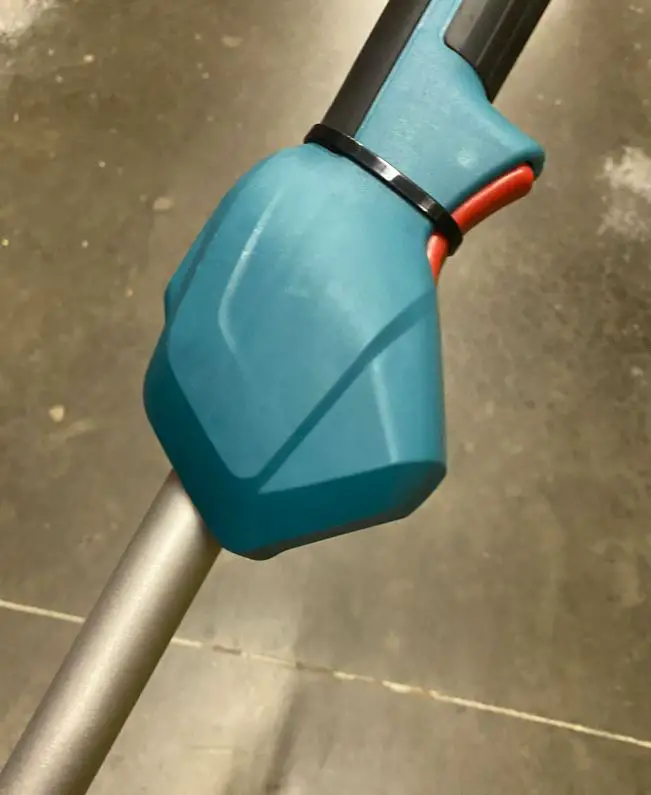 I also love the squeeze handle on this one, as it gives you more options with how to activate the power system. This Makita trimmer doesn't have the standard "trigger" that can only be pulled from one angle. 
Potential downsides
This weed eater is on the heavier side at about 10 lbs. While this is fine,your shoulder may become more tired over time.
You also are buying a full system, not just a weed eater. This means you might be sacrificing a little bit of comfort with each tool in exchange for the convenience of one single tool.
How to buy Makita cordless weed eater
The Makita XUX01ZM5 is available on Amazon and seems to go on sale quite a bit. We recommend checking the price by following this link. 
Home Depot also sells this weed eater and has a great return policy.
Makita XRU23SM1 and XRU23Z 18V Weed Eater
The Makita XRU23 series of weed eaters is an 18V battery-powered tool. The XRU23SM1 and XRU23Z are the same weed eater, but the Z does not come with a battery.
Let's break down this tool.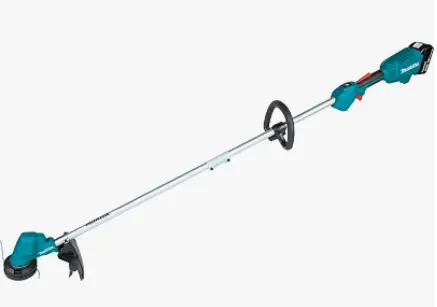 The specifications
The XRU23SM1 and XRU23Z Makita weed eaters come with a brushless motor that gives out up to 6,000 RPMs of power at a 13 inch cutting width.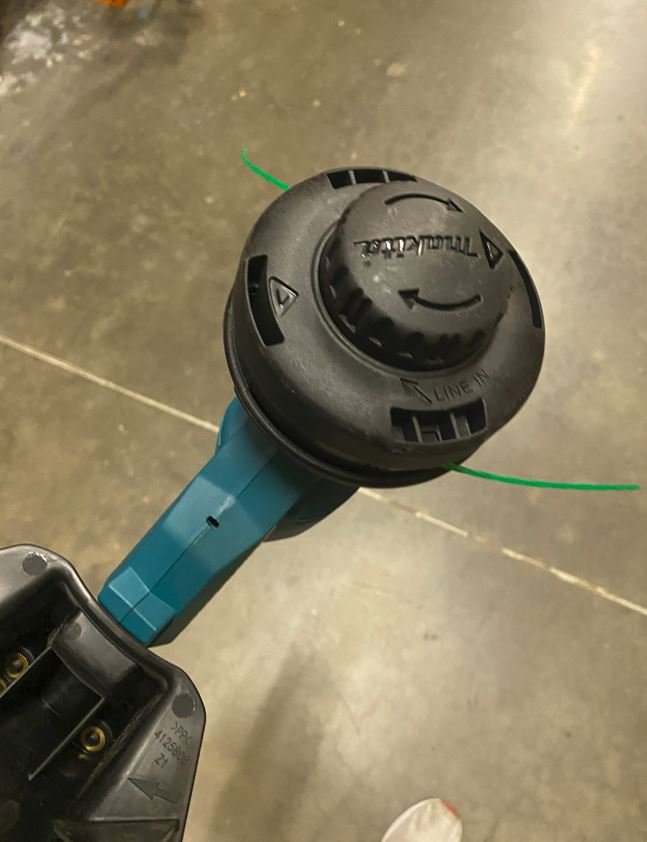 The 18V battery will give you about an hour of runtime before requiring another charge. It weighs about 12.38 lbs.
The benefits
The brushless motor on this Makita weed eater means you are getting durability and a long-lasting piece of electric equipment. I'm a big fan of this only requiring one 18V battery instead of two, saving you money and charging space.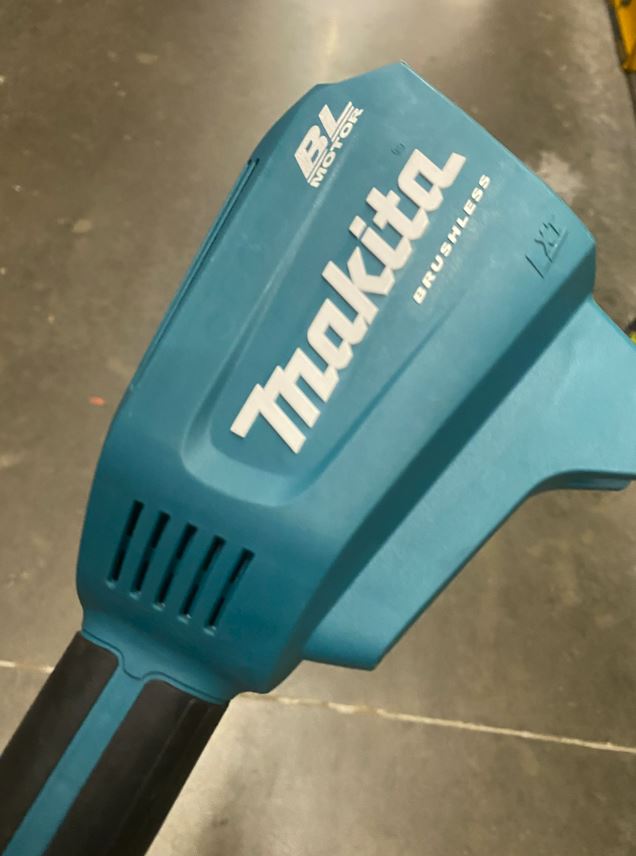 Another thing I like about this Makita weed eater is the price. The price on this weed eater is the lowest of all of the ones we have reviewed thus far. This is a high quality mid-range weed eater.
Potential downsides
If you have a really large yard, this might not be the best weed eater for you. For starters, its cutting width is not the largest for Makita weed eaters. The weed eater only supporting one 18V battery means you are limited to about one hour.
Otherwise, this is a great weed eater for the average residential homeowner.
How to buy
We recommend checking the price on Amazon and comparing it to the price at Home Depot. Both change a LOT and are always neck-and-neck.
Makita XRU02Z and XRU02SM1 cordless weed eaters
The Makita XRU02Z 18V weed eater is one of the most popular weed eaters. Not just Makita, but everywhere. It has a ton of reviews on Amazon and is averaging 4.5 stars. Not bad.
Let's check out why.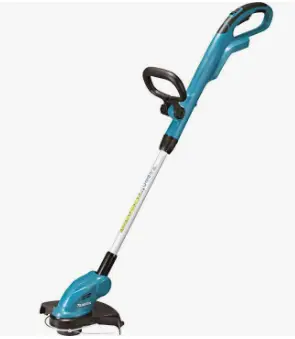 The specifications
The Makita XRU02Z and XRU02SM1 comes in at about 7lbs, making it one of the lightest and smallest weed eaters.
But don't be fooled. This one surprisingly has the highest rotation speeds, with about 7,800 rotations per minute. Wow.
The cutting diameter is a little smaller at just over 10 inches. 
The benefits
Where do I even start? This is the most powerful weed eater Makita offers, yet it is also the smallest and most affordable. 
This weed eater offers 45 minutes of run time and it lonely takes 30 minutes to charge.
If you are a homeowner with a small to medium yard, you simply cannot find a better all-around cordless weed eater.
Potential downsides
The Makita XRU02Z and XRU02SM1 are definitely designed for the modern homeowner, so don't use this if you are a professional landscaper.
Otherwise, I cannot think of any meaningful downsides. 
How to buy
The Makita XRU02Z and XRU02SM1 are available for darn good prices on Amazon. The tool only version (without a battery) is currently under $100 and its not even on sale.
My recommendation: click here to check for a sale on Amazon, then find out if it is on sale at Home Depot – both are great options.
How to instantly improve your weed eater
Upgrade your weed eating game with the ultimate GrassKicker Weed Eater String! While weed eaters and lawn edgers are great tools, it's not complete without the right string. Our specially crafted line is designed to enhance your weed eater's performance and give you flawless edges around your yard and garden.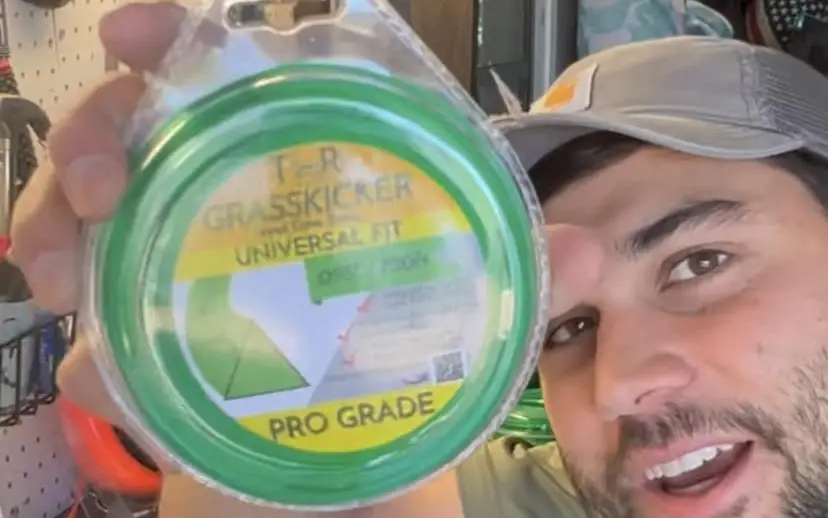 Don't settle for subpar string that breaks easily and leaves ragged edges. Our team has scoured the market and combined the best colors, shapes, thicknesses, and materials to create a superior line that cuts more cleanly and lasts longer.
With GrassKicker, you can take pride in your perfectly manicured lawn and make a lasting impression on your friends and family. And who knows, your envious neighbors might just start dropping by more often! Don't wait, elevate your weed eating game with GrassKicker Weed Eater String today! Click the link now to buy.
Our recommendation
With these Makita cordless weed eaters, it's hard to go wrong. But we have to pick a winner.
And we have to go with the XRU02Z and XRU02SM1 weed eaters. They are simply powerful, inexpensive, and easy to use. 
Grab yours for a great price on Amazon or check out the price at your local Home Depot.