Ryobi Weed Wackers, also known as weed eaters or string trimmers, are some of the most popular weed wackers in the game.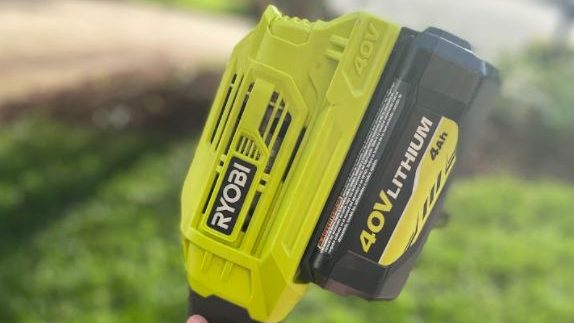 They're sold everywhere – and they are great options for homeowners. 
Here's why: almost everyone has at least ONE Ryobi product. Once you have the battery already, then you can buy the other tools without the battery for cheaper.
It's called buying  the tool-only version. It's how these brands sink their teeth into you for life.
So if you already own a Ryobi tool or want to get into the Ryobi space, I'll walk you through which weed wacker of theirs is the best for you.
Ready?
Let's get after it:
Why we review lawn tools
The reason we started this website in the first place was because we had so much trouble trying to find reasonable, understandable, honest reviews for lawn equipment. And it's not cheap! After hours and hours of research, trying products and returning them, and messing up our yards – we started this site. 
As people who had to learn the hard way, we want you to know exactly what you are signing up for before you purchase a piece of equipment. That's why we are committed to providing honest, easy-to-understand reviews that mean something. 
How to instantly improve your weed eater
Upgrade your weed eating game with the ultimate GrassKicker Weed Eater String! While weed eaters and lawn edgers are great tools, it's not complete without the right string. Our specially crafted line is designed to enhance your weed eater's performance and give you flawless edges around your yard and garden.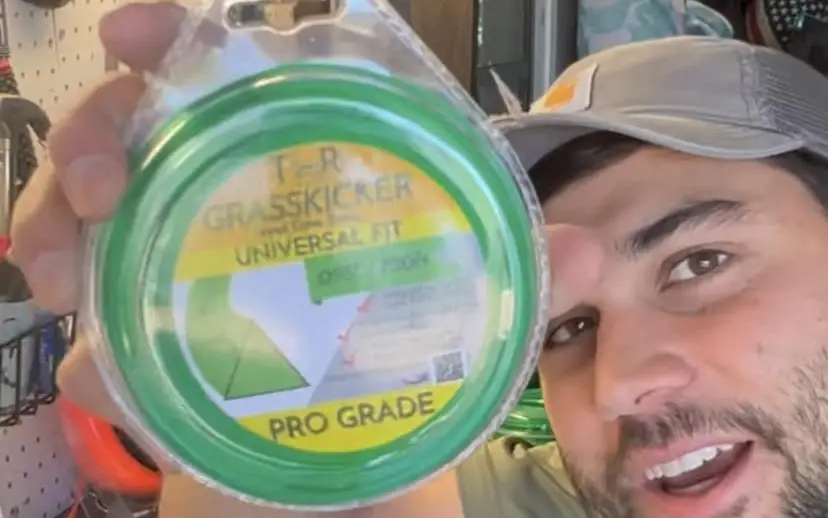 Don't settle for subpar string that breaks easily and leaves ragged edges. Our team has scoured the market and combined the best colors, shapes, thicknesses, and materials to create a superior line that cuts more cleanly and lasts longer.
With GrassKicker, you can take pride in your perfectly manicured lawn and make a lasting impression on your friends and family. And who knows, your envious neighbors might just start dropping by more often! Don't wait, elevate your weed eating game with GrassKicker Weed Eater String today! Click the link now to buy.
About Ryobi tools
Ryobi is one of the OGs of the battery-powered lawn tool world. They have EVERYTHING. Stuff you had no idea was even a real tool or could be battery powered. Some of our favorite Ryobi products include (links to full reviews we have done):
Ryobi has both a 40V and an 18V series. The 18V series is often called their ONE+ series, which generally fits lighter-duty products of theirs as it is a lower voltage. Their 40V series fits more of their heavy-duty stuff like mowers. Ryobi has different configurations of weed wackers that can accommodate both their ONE+ and 40V series. 
They have this distinction because weed eaters are one of those tools that can go either way. Some are lighter duty and some are used for really big yards. More to come on that.
Why would I buy a battery-powered weed eater?
There are a few reasons to check out an electric weed eater when picking out your next lawn and garden tool kit. As compared to gas-powered weed eaters, electric weed eaters tend to be easier to use and maintain. At the end of a long winter season, you may have to refuel your gas powered weed eater and crank it a few times before you can get it to start. With the Ryobi 40V weed eater and other electric weed eaters, you simply place the battery and you are ready to go. 
Another benefit to electric trimmers is maintenance. You will not have to do anything to maintain an electric trimmer other than change out the line. No oil change, no filter change, and no messy gasoline spills. 
If you are a Ryobi loyalist and have one of their mowers, then you can actually use this same 40 volt battery in both the mower and the trimmer. More on that later.
You also want to make sure you have a nice weed eater string with the best size, color, and shape. 
Looking for gas? Check out our post comparing ECHO and Stihl weed eaters.
4 Best Ryobi Weed Whackers
Ryobi weed wackers come in all shapes and sizes. Each yard size has multiple contenders, which is why we spent so much time pulling this list together. Our goal is to remove the confusion and serve up the best recommendation for you. Let's start with small yards.
The Best Ryobi Weed Whacker for Small Yards
Smaller yards generally require smaller tools. It's not difficult. Fortunately, with Ryobi's ONE+ 18V series you are going to get the perfect amount of power for the job.
And the best part is that Ryobi's ONE+ 18V series fits a TON of other tools. 
But for a small yard, a lightweight, easy-to-use tool is going to fit the bill just fine. That's why we recommend the Ryobi ONE+ 18V Electric Cordless String Trimmer. My neighbor has one that he uses and he let me borrow it.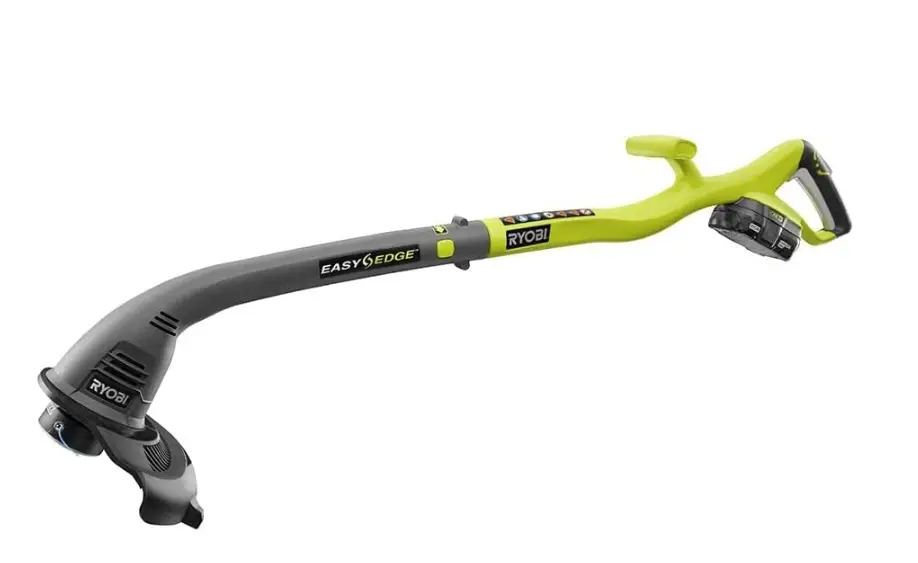 It honestly looks a little dinky, but it was a powerhouse. It's a ridiculously low price and has everything you need for small jobs. It has a nice little ergonomic handle and is easy to roll onto its side to act as a makeshift edger.
My neighbor who used it has a really steep yard and he was moving up and down the hill with relative ease, despite being older and recently having back surgery. If you have a small yard, this thing is going to be enough to handle all your basic needs. With a 10 inch cutting diameter, it can handle most grass and weeds but will struggle with thicker brush. 
You can get it on Amazon for under $120, but if you already own the battery you can get a tool-only version for around $70. Now that's a steal!
But its actually available for an even better price at Home Depot – check it here.
Best Ryobi Weed Whacker for Medium Yards
What is a medium sized yard anyways? I consider anything between around 5,000 square feet to a half-acre medium sized. 
Lawns like these still don't require commercial-grade weed eaters, but they do need something with a little more power than you'll get from the string trimmer above. 
That's where the ONE+ series 18V battery provides its highest-tier weed eater. The big brother to the string trimmer above. It has a similar name, but looks completely different and has a cutting swath that is three inches wider. Comparing the 18V and 40V Ryobi weed eater is tough, but this one is sweet.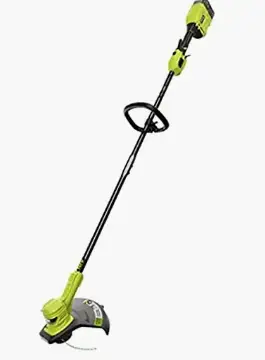 I love this one because it comes with a longer lasting battery than the one above. It has a 4.0 Ah battery whereas the smaller version is only 1.3 Ah. Basically they have the same strength but this one lasts longer. It also has an edge on cutting ability because of the larger cutting swath (more velocity on the edge of the trimmer). 
The other thing I like about this 18V Ryobi string trimmer is that it has a straight shaft. Many weed eaters out there have a curved shaft, which is nice for clearing out small plots of grass but SUCKS when it comes to doing any type of edging work. 
At just over 11 lbs, it is really easy to work with and handle. It was designed for medium-sized yards, which is where most Americans are going to fall. Lastly, I absolutely adore that this one has a brushless motor, which means it is going to have more torque and be much more durable. 
This one is available at Home Depot for a great price as well.
Best Ryobi Weed Whacker for Large Yards
I have a love-hate relationship with this one, because it was my first string trimmer. It was also my first edger and leaf blower. More on that later.
But for large yards, I recommend stepping up to Ryobi's 40V series. Their 40V Cordless Expand-It series weed wacker is the way to go for large yards and here's why:
15 inch cutting swath
Bump-feed string trimmer
Variable speed control (not just 1 or 2 speed options)
Operates just as well as some gas string trimmers if you take the guard off
Not sure if I can come out and say this, but two weeks ago I took the guard off of this weed eater and my mind was blown. I can't believe I've been using it for 4 years with the guard.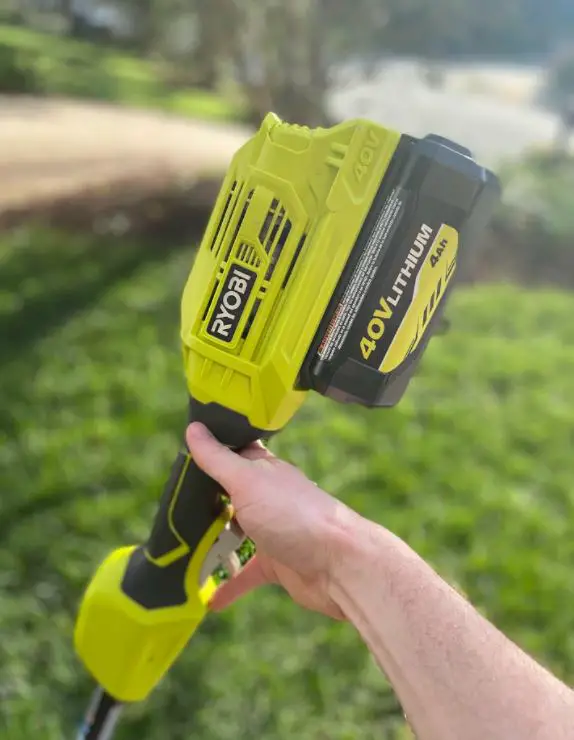 And what you may have missed there is that I've been using this weed eater for 4 years. It has held up amazingly that whole time just with a few string replacements.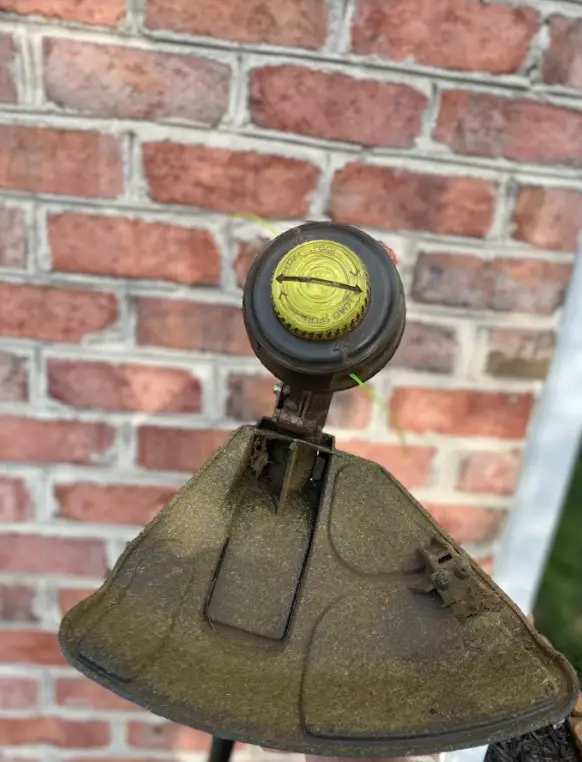 The string trimmer attachment on this attachment-capable kit is the absolute all-star. And having the 40V batteries will save you big money on this one if you already own them. If not, getting them with this weed eater will allow you to save hundreds of dollars on their lawn mowers, snow blowers, and leaf blowers if you want to grab those as well.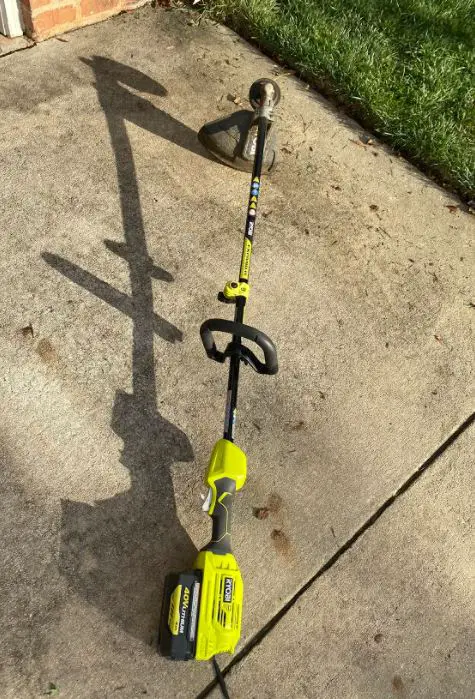 I'm 6 ft 7 in, so cranking my back with a weed eater is really easy. This one has never given me too much trouble because I can pop off the attachment and re-insert it at a different angle. This allows me to hold whatever grip is most comfortable with me and continue to use it for whatever type of job I'm doing. 
I got mine at Home Depot and still use it to this day – you can check the price now at Home Depot here.
Best Attachments for Ryobi Expand-It
Take it from me, I learned this lesson the hard way. If you are going to go with the Ryobi ExpandIt series weed eater, then you may as well add on some inexpensive attachments. 
Here's what I recommend:
The ExpandIt Edger attachment:

The edger attachment is an absolute beast. I've had it for 4 years and haven't had to replace the blade. It has consistently given me the best looking lawn in the neighborhood by creating deep borders around my yard.

The ExpandIt Brush Cutter attachment:

I love this because we have some kudzu growing behind our yard. It is a perpetual war to keep it at bay and out of my grass and off of my trees. The brush cutter once or twice a year keeps it from ever getting out of control and crossing the line. It's basically like the flamethrower guys from Stranger Things. 

The Expand-It Pole Saw attachment

Pole saws are kind of an insane tool. You strap a chainsaw to the end of a big stick and hope for the best. So basically they are every man's dream. The attachment takes a while to put together, but when you get it all figured out it is super fun to use.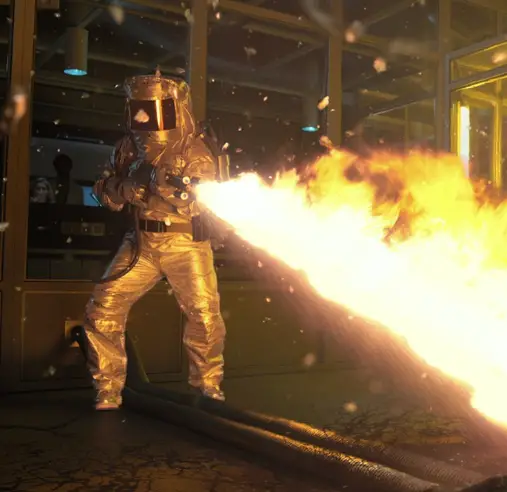 What I don't recommend:
The Expand-It blower attachment:

I burned through three of these in the first year. For whatever reason, the little driveshaft that spins the blower keeps getting stripped inside the blower. No idea what's happening. Luckily, I haven't seen these for sale online in a while, so Ryobi may have completely pulled them.
How to replace the trimmer line on a Ryobi Weed Whacker
Check out our YouTube short where we give step-by-step directions on how to replace the line on a Ryobi Weed Wacker.
Final review: Best Ryobi Weed Whackers
Folks, you really can't go wrong with a Ryobi weed wacker as long as you are matching the size and strength of the tool to your lawn. 
Smaller lawns are okay with smaller weed wackers. Larger yards are going to require a big, higher voltage weed eater with a large cutting swath. 
If you are interested in learning about more weed eaters, check out these battery powered weed eaters.