The best battery powered mowers all have a few things in common. And believe us, I have tested DOZENS of these bad boys and have only been impressed by a few.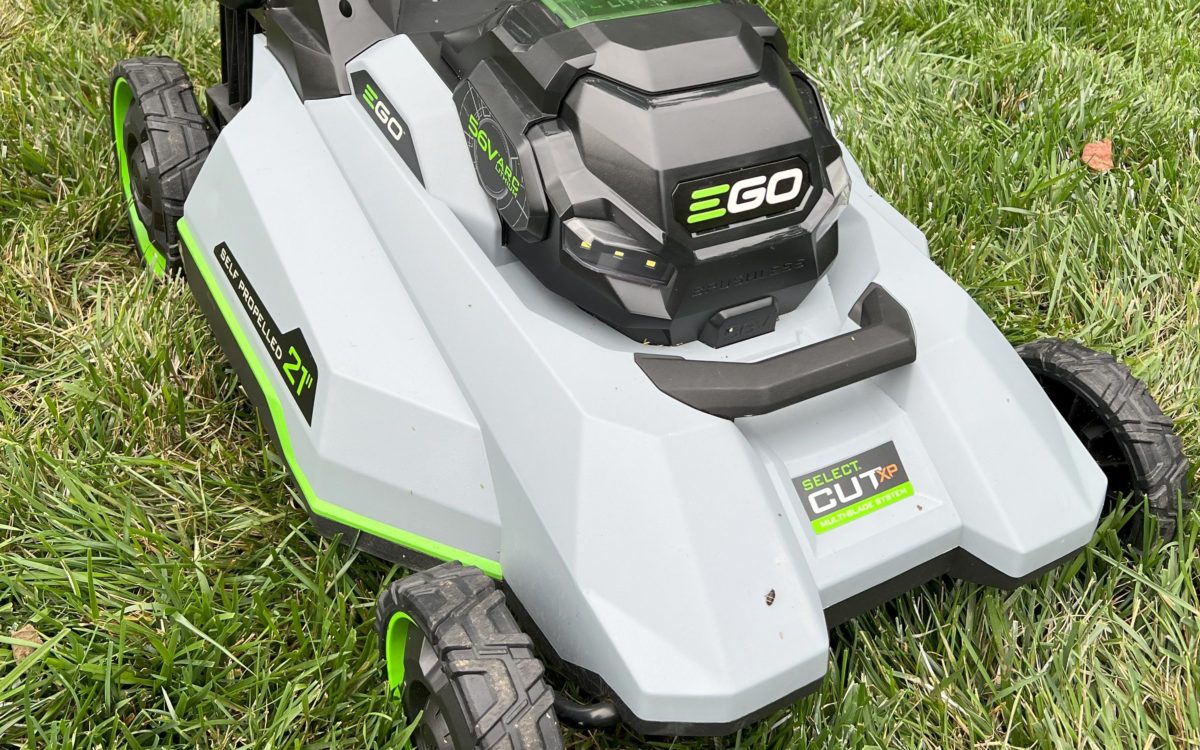 Whether or not you agree, battery powered mowers are taking over the lawn care space. When I walk into any Home Depot or Lowe's I see them prominently displayed in flashy colors all over the place.
But some of these new electric mowers are straight up plastic-y and cheap – and they've failed our rigorous testing. And if you're used to using an OG gas push mower like we were, well then you've got some high standards.
We weren't looking for the Rolls Royce of mowers when we made this list – I am looking for the best value, most durability, and most gas-like power I can find. Which is why I kept the list shorter than others.
Here are the best battery powered mowers I've tested for 2023:
Why we started The Lawn Review
The reason we started this website in the first place was because we had so much trouble trying to find reasonable, understandable, honest reviews for lawn equipment. And it's not cheap! After hours and hours of research, trying products and returning them, and messing up our yards – we started this site.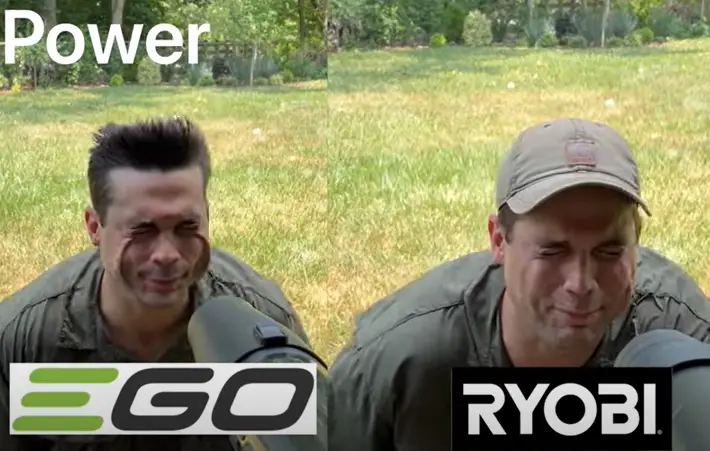 As people who had to learn the hard way, we want you to know exactly what you are signing up for before you purchase a piece of equipment. That's why we are committed to providing honest, easy-to-understand reviews that mean something.
How I tested these mowers
I tested these mowers over the course of a few years. For starters, I bought the Milwaukee M18 mower for over $1,000 a few weeks ago (you can see our YouTube video here). I have a few other videos that include the EGO mower and the Greenworks mower below. For the Toro mower, we went to Home Depot and tested it out. And lastly, the Ryobi mower I borrowed from my friend Drew for the comparison video we made against the EGO mower. All undergo an extensive testing protocol that includes assembly, mowing my 1/2 acre lawn, and battery run time tests.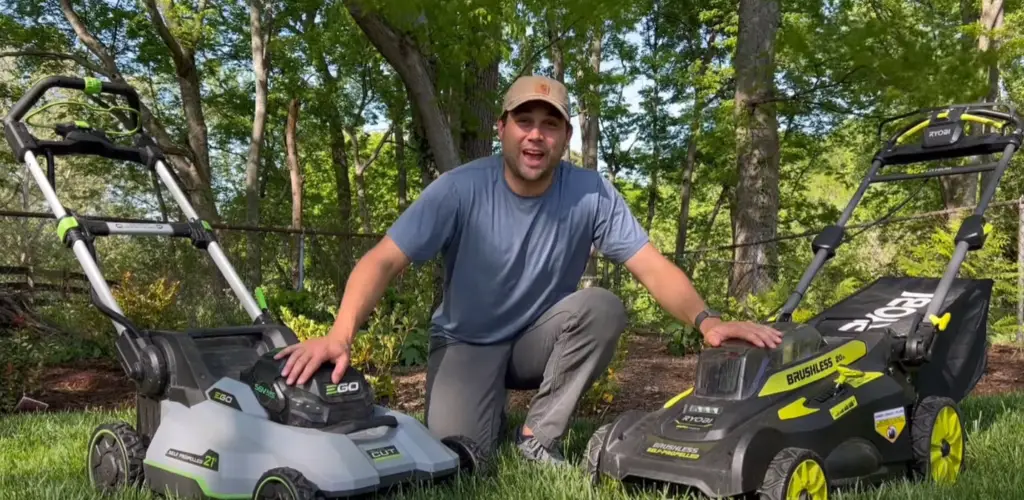 Ranking the best battery powered mowers of 2023
This was actually a pretty easy list to put together. I do this all day – what did you expect? Let me break down the best electric mowers and why I ranked them where I did.
1. Milwaukee M18 FUEL Battery powered Mower
The funny thing about Milwaukee's M18 FUEL lawn mower is that it is the only mower they make. It's like they got a team together, thought about how to make the perfect mower, then just….did it. Then they decided to never try again.
Either way, the Milwaukee M18 FUEL is the best battery powered mower offered in 2023. We like this mower for a few reasons:
It has as much power as a 200cc lawn mower (more than your classic Honda push mower)
A heavy, strong, steel metal deck as opposed to plastic ones found on the market
Goes to full throttle in less than a second
Brushless motor (requirement to be on this list)
The two 18V batteries work with any of the other 200+ M18 tools from Milwaukee
The only downside is that it is probably one of the more expensive push mowers I've seen. It retails at Home Depot for over $1,000. If you are a Milwaukee enthusiast or are truly looking for peak battery powered mower performance, then this one is the right one for you.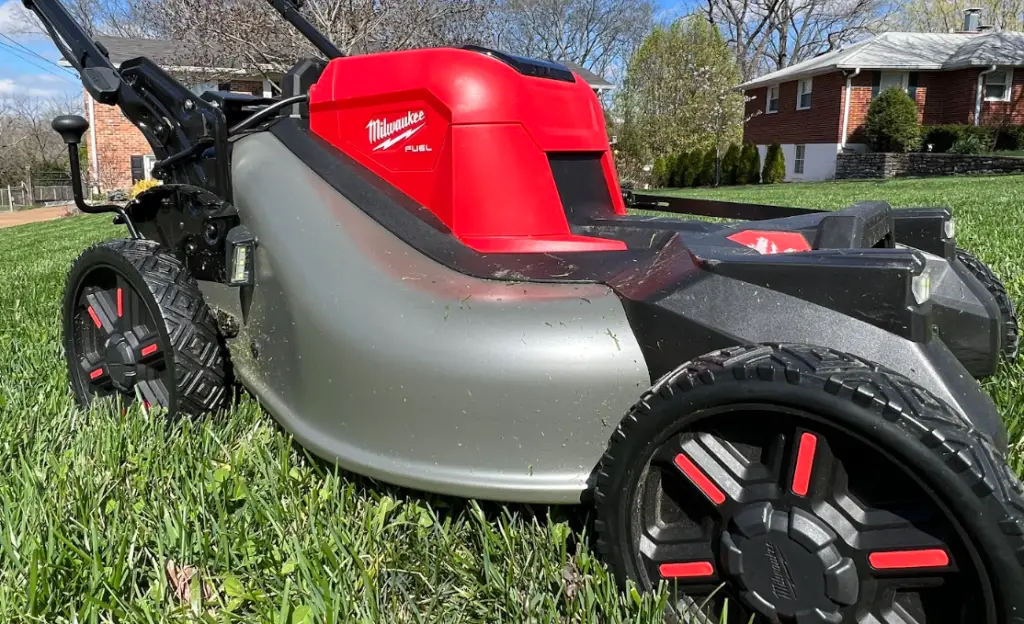 If you're looking for a side-by-side comparison, check out how the M18 stacks up against the Ryobi 40V HP (which also made this list).
2. EGO Power+ LM2021 Battery powered mower
We are never popular for saying that this EGO mower is our favorite EGO mower, but we don't care about being popular.
It is not the EGO mower with all the bells and whistles, but it does have most of the EGO features plus a steel cutting deck. It is the only EGO mower with a steel cutting deck, making it the most durable one they offer and also one of the heaviest.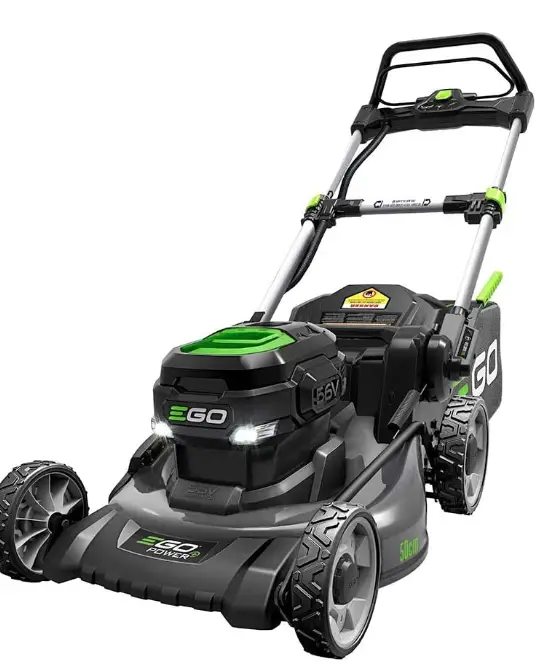 Why do I like heavy electric mowers? Because they feel more like a gas powered mower and are actually easier to control and keep in a straight line.
I love that this EGO mower still runs for an hour, still folds like the other EGO mowers, and has a brushless motor.
When it comes to EGO, it is easy to just jump after the prettiest one for sale at Lowe's or wherever else you buy it – but this is legitimately the one that will make you the happiest (in my opinion).
You can grab this one at your local Lowe's – or check it out on Amazon (it's usually cheaper there but good to compare).
3. Greenworks PRO 80V 21 inch Battery powered mower
We've been big fans of the Greenworks 80V mower because it is darn near perfect. I have it as number five not because it has the best specifications of any battery powered mower, but because it has the a great combination of quality and price.
If you haven't heard of Greenworks, they are an up-and-coming battery powered lawn tool brand that puts out some high quality stuff. They have a real attention to detail and offer great warranties on their brushless motors, this one with a four year warranty. My other neighbor has this mower and is obsessed.
I got my hands on this mower (my photography skills below) and had a confusing experience. I mostly loved using the mower and was super impressed by the power, but when I tested it on my yard it seemed to fall apart. The self-propelled function jammed up whenever I made a turn and I also experienced the mower just randomly cutting off.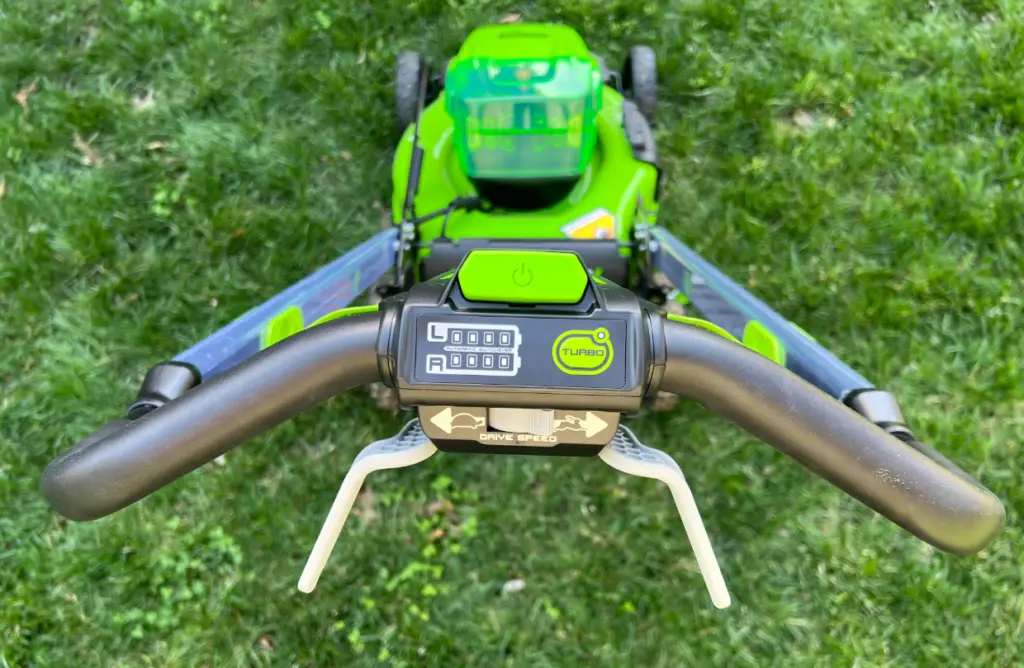 There's a lot to like about this mower, but we will just point out a few of our favorites:
Can mow up to 1 acre on a single charge
Works with a bunch of the other 80V Greenworks tools
A nice steel metal deck
Super easy to fold and store
The price
Self-propelled function
The best thing about this mower though is hands down the price. It's similar (maybe even better) quality than just about every mower on this list, but comes in at ½ to ¼ of the price. 
Yes, you can grab this one on Amazon for an insane price, especially if you already own the batteries. It is also one that is starting to show up in Costco, which is another great place to buy it.
4. Ryobi 40V HP Brushless Battery powered mower
My Ryobi 40V HP Brushless battery powered mower used to be my number one favorite electric mower. Because it was the first one I've ever used. Since then, I've matured a bit in my taste and become much pickier.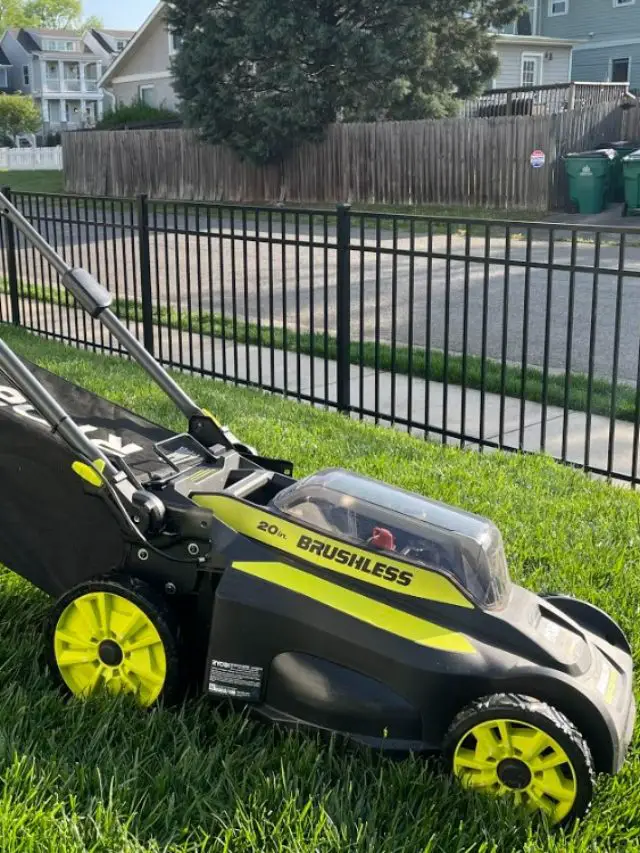 Nevertheless, it still made this list. It was a little bit too light for my liking, getting moved off-track whenever a tuft of thick grass or a stick got in the way.
But I can't deny just how great it is to use my same Ryobi 40V battery with a ton of my other different tools. I have used it with my 40V weed eater, my 40V Whisper Series blower, and even my backpack sprayer. 
It's super convenient. Oh, and the mower's not bad either. It has a brushless motor, some serious 6 Ah batteries, great functionality, and self-propelled function – really all the bells and whistles you could ask for.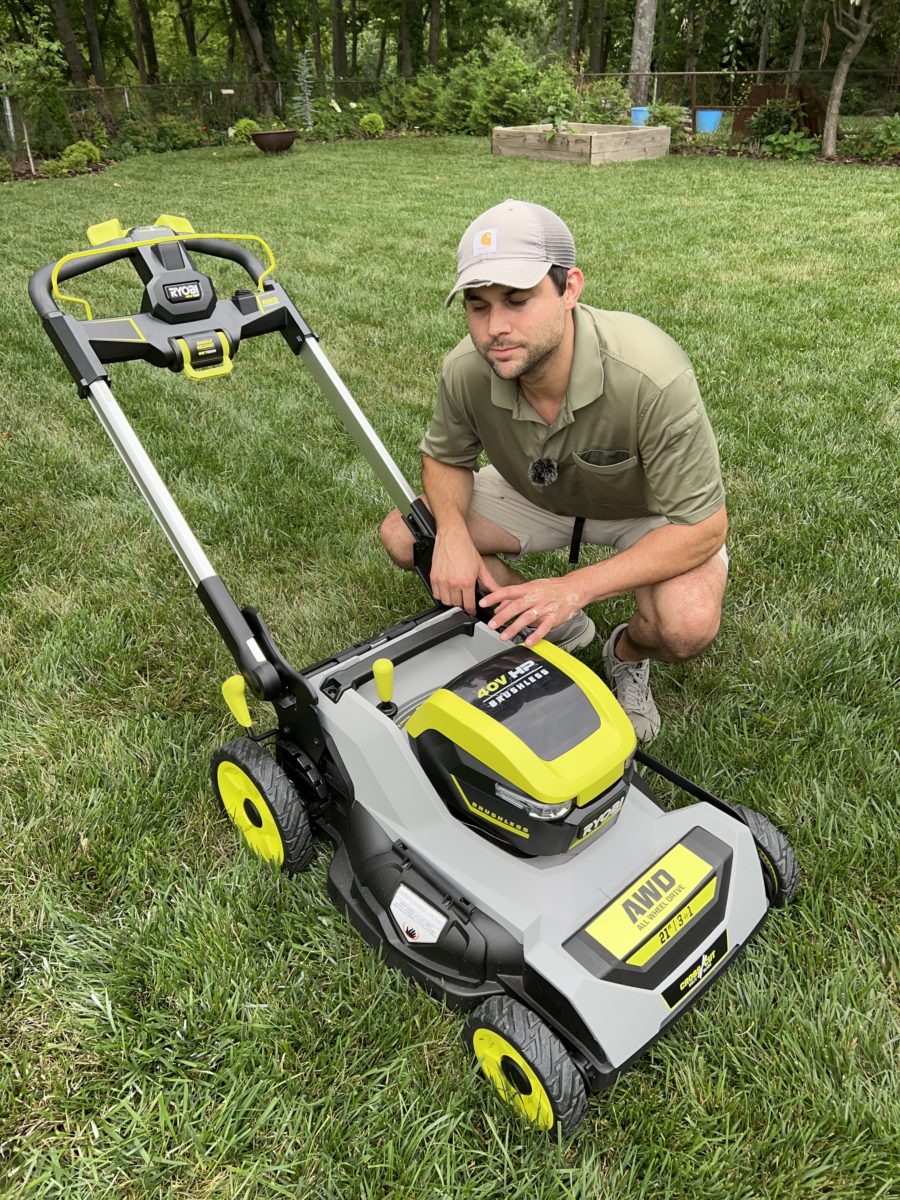 The Ryobi 40V is an amazing mower and should still be highly considered despite being second to last on this list – it's super exclusive.
This mower is available at Home Depot for a great price, check it here.
5. Toro 60V Max Super Recycler Battery powered mower
Toro's battery powered mowers are a beauty. But they're a bit expensive. If you're used to seeing these bright red mowers in your garage and all around your neighborhood, you aren't alone. 
Toro makes some of the most popular mowers on the planet and for some reason – they last for many years. But Toro definitely overcompensated for being late to the battery party by creating the 60V Super Recycler mower.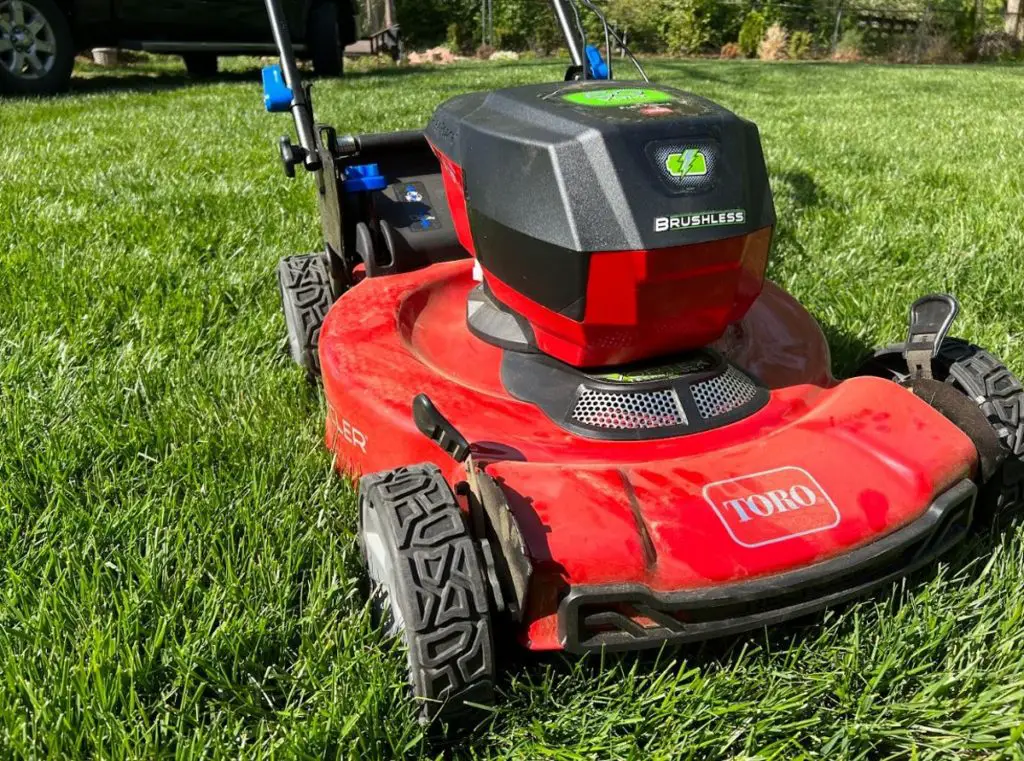 Here are some cool features that I liked about their new battery powered mower:
The power output is similar to my Honda gas mower
It has a shiny red metal deck that's more durable than the plastic ones
Recycler cutting system finely shredded my grass – that's good for your yard
It has this cool air intake valve at the top that pulls air in and causes grass to stand up tall, creating a really even cut in the lawn
Toro nailed this one and the price isn't honestly all that bad. The reason it isn't higher is that Toro doesn't have a ton of other battery powered tools, so you won't get the same efficiency that you would from a Milwaukee or EGO mower..
You can still grab this one (currently $80 off) from Home Depot online or in-store.
What to look for when buying a battery powered lawn mower
When looking to purchase an electric lawn mower, you need to make sure you understand what things matter. You will get hit with a lot of technical specifications and marketing tactics. Totally forget them and focus on the things that impact you. Below are my recommendations:
Battery powered mower brand quality
Quality is going to be super important here. Just about everyone is in the electric mower game these days and there are a ton of junky mowers out there. Avoid anything from a weird brand on Amazon that takes 9 years to ship. It is probably being 3D printed in a Laotian bathroom. Go for brands that have consistent quality and focus on the details, not just flashy colors.

Some brands I trust off the top of my head are: Greenworks, Milwaukee, Makita, Toro, EGO, and Kobalt. SOME Ryobi mowers, although myself and others have had some problems with reliability. Brand quality matters, but it's also important to look at the specs on each. For example, Greenworks sells like 60 mowers, only a handful of them would I ever consider for this list. EGO also sells a bunch of mowers, and only a few are within an acceptable price range to be on this list.
Metal where it matters: the deck 
Most electric mowers are plastic-y. Probably to reduce the weight of the mower so that the battery can get you further, but it feels cheap. Make sure to get metal where it matters – namely the deck. The deck is the part that covers the blades. Don't get plastic here – a rock can rip through it.
Battery interoperability.
 A ten dollar word used here, but really just make sure to buy a mower with a battery that is compatible with other electric tools. You'll see a bunch of these brands that have battery lines that work with a ton of tools. Milwaukee, Makita, and Dewalt are all great options because you can use them for all lawn tools AND power tools – saving you a ton of money on extra batteries.
If you have more questions, check out our guide to electric lawn mowers, where we break this down into a lot more detail.
Self-propelled or not
Self-propelled mowers are lawn mowers that slowly crawl forward when mowing the lawn. They propel forward the mower, taking off a lot of the "pushing power" required by traditional push mowers.
Self-propelled mowers are ALWAYS more expensive because they have the additional power and functionality that makes life easier. They have their place, but because of the cost can often seem not totally worth it
Have bermuda? Check out our best mower ranking for bermudagrass.
Battery powered mower vs gas mower
This is an age-old debate. Which is better, battery powered or gas? It's not that simple and I'll explain why.
Gas powered mowers have always been the dominant force because they are reliable, run as long as there's gas in them, and tend to be more powerful.
But that's changing. Yes, the runtime will always be better as long as you have gas, but battery powered mowers are becoming increasingly reliable and in many cases just as strong  (if not stronger) than their gas-powered counterparts.
Embarrassingly, I was mowing my damp lawn back in the Fall with my Troy Bilt TB160 gas mower when my neighbor, who owns an EGO Select Cut XP mower saw me struggling and asked if I wanted to borrow his mower.
The other huge benefit to battery powered mowers is virtually ZERO maintenance. No pull cords, no spark plugs, no oil changes. It's super convenient. Except when your (expensive) batteries die.
How long do battery mowers last?
It depends on the Amp-hours of the battery and the specific mower, but most last up to 1 acre or around 45-60 minutes on a single charge.
Using the self-propelled function on a battery powered mower can decrease this, as can super long grass.
Is it worth getting a battery powered mower?
If you have less than an acre of land, then yes – these are great investments.
The real money savings from battery-powered mowers comes from the ability to use one battery system across several tools, saving money on batteries with each tool. 
What are some disadvantages to battery powered mowers?
Battery powered mowers tend to be limited by their battery life, making it difficult for those with larger yards to get it all done in a single charge.
They also take a long time to charge, burning precious daylight. And while they are easier to maintain than gas-powered mowers, they aren't as reliable and have a lot of electronic parts.
The Bottom Line: Best electric mowers of 2023
When I am picking a battery powered mower, it's important to consider the comparison to gas-powered mowers, the size of your yard, and how much you're willing to spend. The ones I've included on this list are all premium – if you are looking for a more affordable one (less than $400 or so), check out the best electric mowers for small yards.
One thing we were surprised by in 2023 – the mower selection at Walmart – check out our ranking.