Ryobi vs Milwaukee mowers aren't the most fair comparison. Ryobi has a TON of mowers they sell and have been in the game for a long time. Milwaukee, well, they just have ONE mower. And it's a beast.
But many people lately have asked us our thoughts on which one to buy. Ryobi's mower is cheaper, but Milwaukee is known for their quality. Both are posted side-by-side at Home Depot – so which one is better?
We've been lucky enough to get our hands on both and have some opinions. So let's walk through what we like (and dislike) about both.
Oh yeah, and BOTH made our list of the best battery powered mowers.
How I tested both of these mowers
I saw these two side-by-side at Home Depot and they were both extremely expensive. Needless to say, my wife was not happy when I came home with two more lawn mowers and $2,000 spent.
But it had to be done. I put these through my normal gauntlet, which includes testing it on my tall fescue grass, checking out the self-propelled functions, evaluating the battery run time, and finally comparing it to my gas mower.
Things got interesting. And I'm still in the dog house.
Milwaukee M18 vs Ryobi 40V HP Mower: Features breakdown
When I'm looking at both the Milwaukee and Ryobi mowers, I'm asking myself – why the price difference? Before we get there, let's do a deep dive into the power, ease of use, durability, and value of each of these mowers. If you want to go deeper, we've done a full review of the Milwaukee M18 mower and ranked the best Ryobi lawn mowers.
Power comparison: Ryobi vs Milwaukee
Comparing power on electric motors is difficult because they don't have ccs or horsepower definitions that you find from the classic gas-powered mowers. Instead, metrics like torque are used to compare to traditional mowers.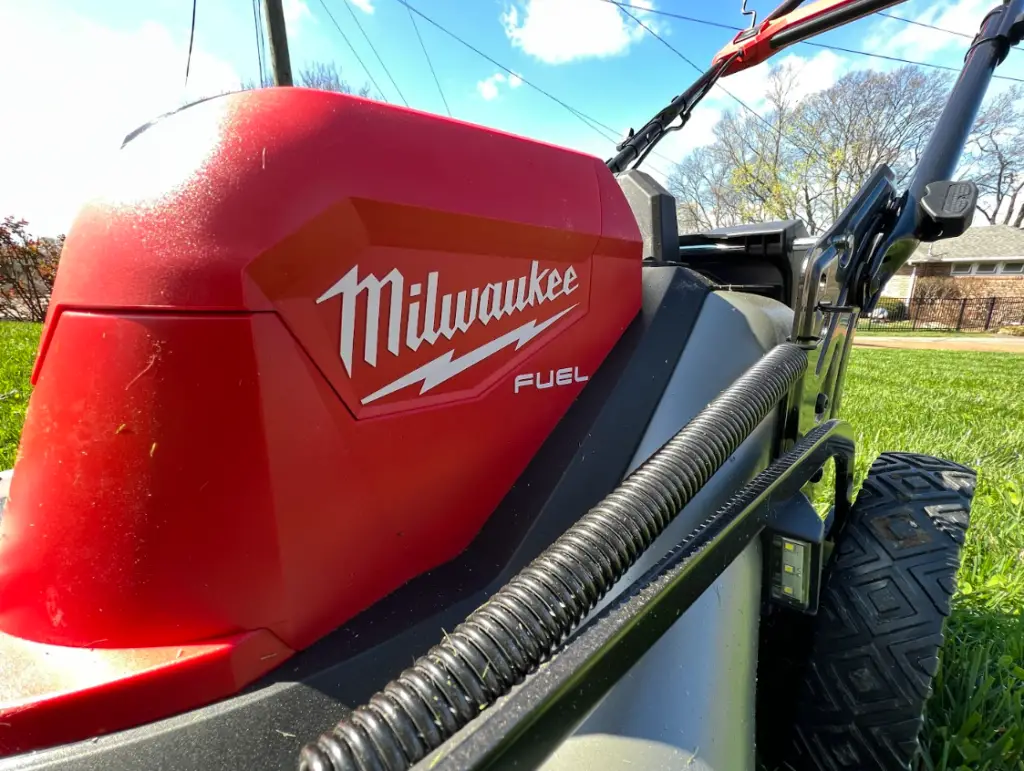 Let's break down the specifications on the Milwaukee mower first. It has a large 21 inch deck with a variable speed self-propelled function. 21 inch decks are standard cutting widths on push mowers, so we can check that box. One thing that Milwaukee boasts is their POWERSTATE brushless motor, which gives more torque than a 200c gas mower. 
That is really impressive. Honda makes some great mowers, but even their GCV190 mower doesn't have that kind of power. 
The Ryobi 40V HP mower also has a 21 inch deck with SMART TREK adaptive variable speed self-propelled functionality, just like the Milwaukee mower. One differentiator is that it has multiple blades that help cut faster and more evenly than single blade mowers. Their HP brushless motor and HP battery work together to deliver higher performance (HP) to the mower.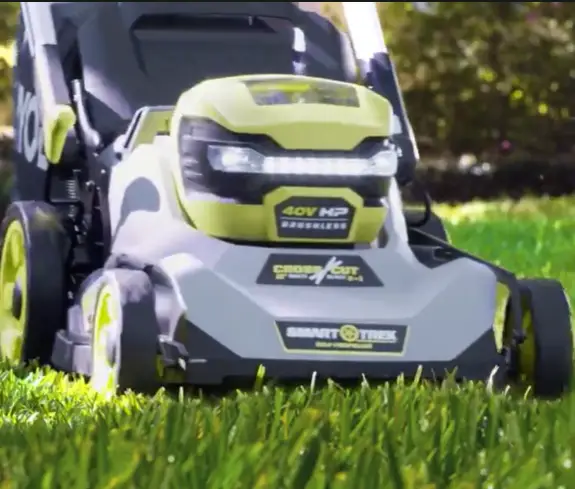 It's interesting assessing the power between these two just using the specifications, but the Milwaukee mower feels more powerful. Maybe it is the metal deck or maybe it is truly the motor design, but it feels just as powerful as my gas-powered mower. 
The winner of this power battle is the Milwaukee M18 Mower.
Ease of use
Evaluating how easy it is to use a lawn mower means checking out all the features that make it convenient, including bells and whistles. I'll break out each element of both mowers in easy-to-understand ways that help you know what you're buying. 
The M18 Milwaukee mower has some great features:
REDLINK PLUS – a battery and mower chip system that helps maximize the communication between the two to optimize performance (Ryobi has this, too)
High Lift Mode – pulls air through the bottom of the mower and lifts up the grass, making it easier to cut
Front and side LED lights (cool for at night use)
The M18 battery works with over 200 Milwaukee tools
Single point height adjuster means you don't have to change the height settings on both wheels
12 Amp-hour batteries for serious power and capacity (up to ¾ acre or 60 minutes)
Over 80 lbs
The last point is a contentious one but I actually like heavier push mowers. They hold a straight line much better and make mowing easier.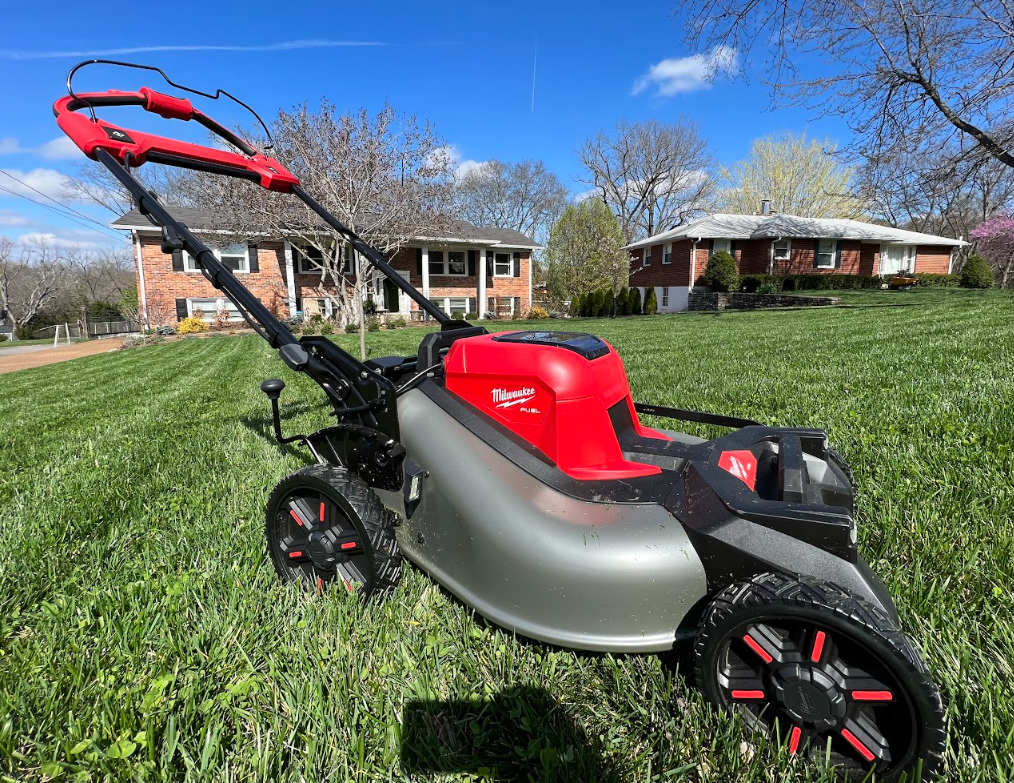 Milwaukee nailed it with this one, but let's check out some of the specs on the Ryobi 40V HP brushless mower:
LED headlights
Cross cut multi-blade system
70 minutes of run-time (compared to Milwaukee's 60)
HP battery system and chip that give you better performance (like Milwaukee's REDLINK)
Ability to use with Ryobi's 40V HP 50 other tools
These both have a ton of bells and whistles, but I actually like Milwaukee's better. They have clearly put a lot of thought into making this a premium mower and don't even sell another kind. It is designed to be near perfect, especially for someone who takes a lot of pride in their yard. Specifically, I like their high lift mode that pulls air up for easier cutting. Toro's SmartStow mower has this one as well. 
I also appreciate that Milwaukee has the same M18 battery across all their tools. You can save some serious money on batteries by using this mower if you already own Milwaukee M18 tools. Ryobi is still building out their 40V HP series, so it isn't quite as expansive. I also think Milwaukee overall is a more "premium" brand than Ryobi.
Winner: Milwaukee M18 FUEL Mower
Durability: Ryobi vs Milwaukee
If I'm going to drop darn near a grand on a battery-powered mower, the thing better last until I can pass it down to my unborn children. So durability matters big time. 
The most important thing in anticipating the longevity of a mower is the motor. Brushless motors (as mentioned at the beginning of this article) are the new wave in electric tools and should be mandatory. They provide more torque, a cooler running engine, and a longer life.
Fortunately, both the Ryobi 40V and Milwaukee M18 mower provide a brushless motor. Check that box.
The next thing I look for is the construction of the deck. Metal matters here – it is much more durable and provides additional weight that is extremely helpful in keeping the mower straight. The M18 mower is forged with a steel deck whereas the Ryobi 40V HP mower has a plastic deck. It is still made from tough material and comes with a lifetime warranty, but it isn't as nice as metal.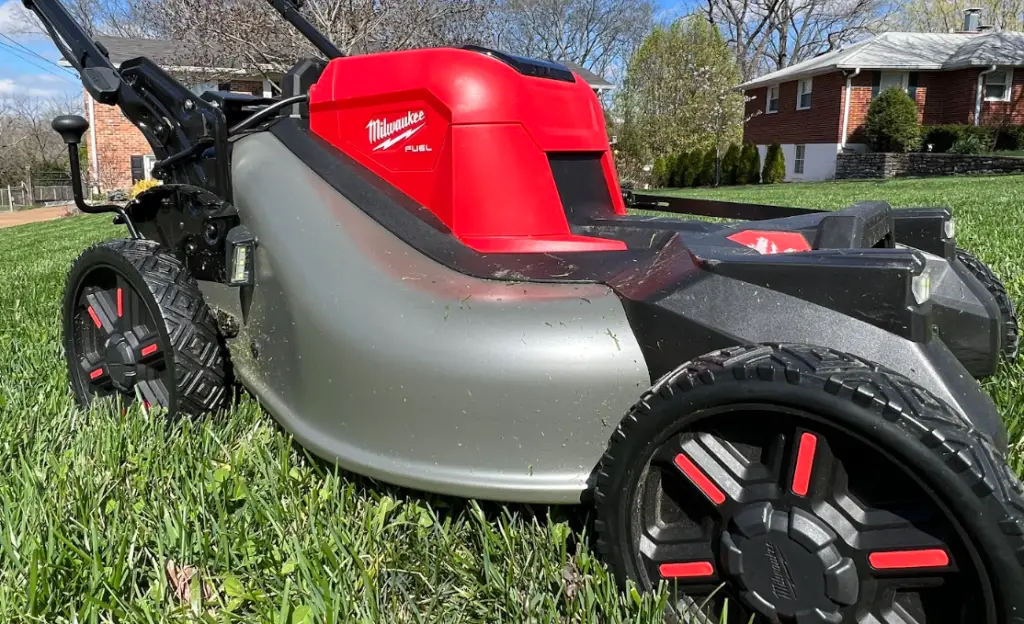 Using the Ryobi mower, it felt like the mower was almost too light. I blame the plastic deck for this, but it popped around when I hit tufts of grass and felt like it got out of control.
Winner: Milwaukee M18 FUEL Lawn Mower
Cost and value
Okay it seems unfair that Milwaukee's M18 mower has one every competition so far with Ryobi's 40V HP mower, but it comes with a price. A big one.
Milwaukee's M18 mower comes in at over $1,000. Is it worth it? It depends. If you have Milwaukee batteries already and/or want a PREMIUM walk-behind mower, then yes. You can grab it at Home Depot.
The Ryobi 40V HP mower costs about $750 from Home Depot (only place you can buy). So 75% cheaper than Milwaukee.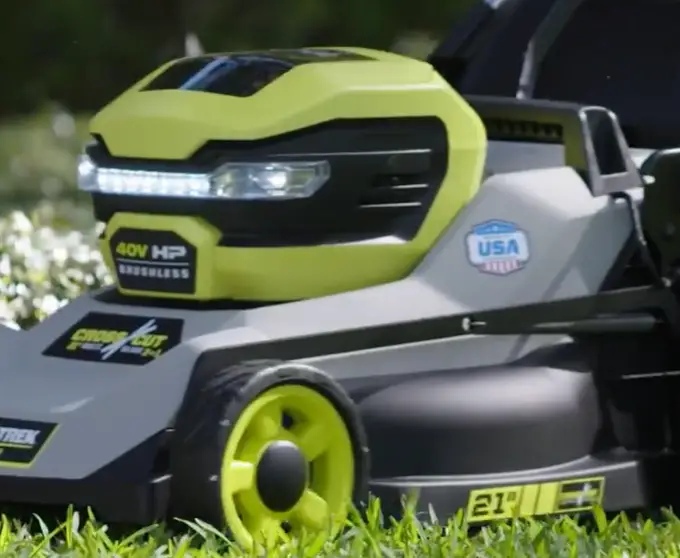 Here's my advice: the Ryobi 40V HP mower is still a premium mower that's better than 75% of mowers on the market. But if I don't already own Ryobi 40V HP batteries, I'm going to go with a cheaper mower of similar quality with a metal deck, like the Greenworks 80V Pro.
Final Review: Ryobi vs Milwaukee mower
Now that we've considered power, usability, durability, and cost we have a pretty good understanding of which mower is better. It's clearly the Milwaukee M18 FUEL mower winning the competition against the Ryobi 40V HP mower.
Is the cost worth it? Maybe. But if you're going with a premium mower, it is definitely the cream of the crop. 
Lastly, if you want to check out some other mowers out there for a fair comparison, check out how we rank these against EGO mowers.
Why you can trust The Lawn Review
The reason we started this website in the first place was because we had so much trouble trying to find reasonable, understandable, honest reviews for lawn equipment. And it's not cheap! After hours and hours of research, trying products and returning them, and messing up our yards – we started this site.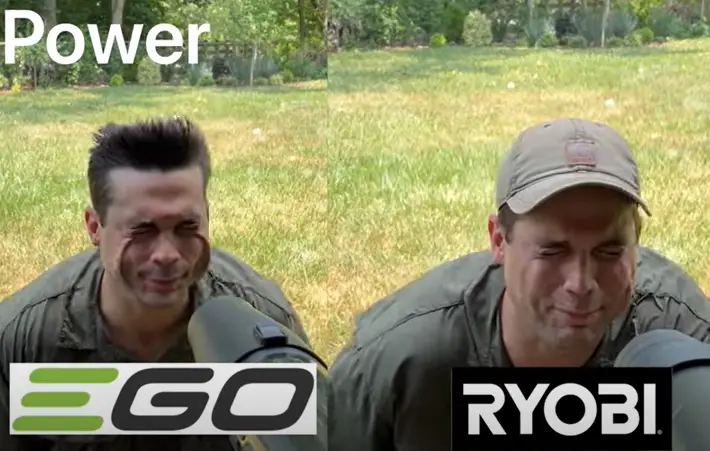 As people who had to learn the hard way, we want you to know exactly what you are signing up for before you purchase a piece of equipment. That's why we are committed to providing honest, easy-to-understand reviews that mean something. 
What I look for in a battery-powered lawn mower
When looking to purchase an electric lawn mower, you need to make sure you understand what things matter. You will get hit with a lot of technical specifications and marketing tactics. Totally forget them and focus on the things that impact you. Below are my recommendations:
Ryobi and Milwaukee brand quality
Quality is going to be super important here. Just about everyone is in the electric mower game these days and there are a ton of junky mowers out there. Avoid anything from a weird brand on Amazon that takes 9 years to ship. It is probably being 3D printed in a Laotian bathroom. Go for brands that have consistent quality and focus on the details, not just flashy colors.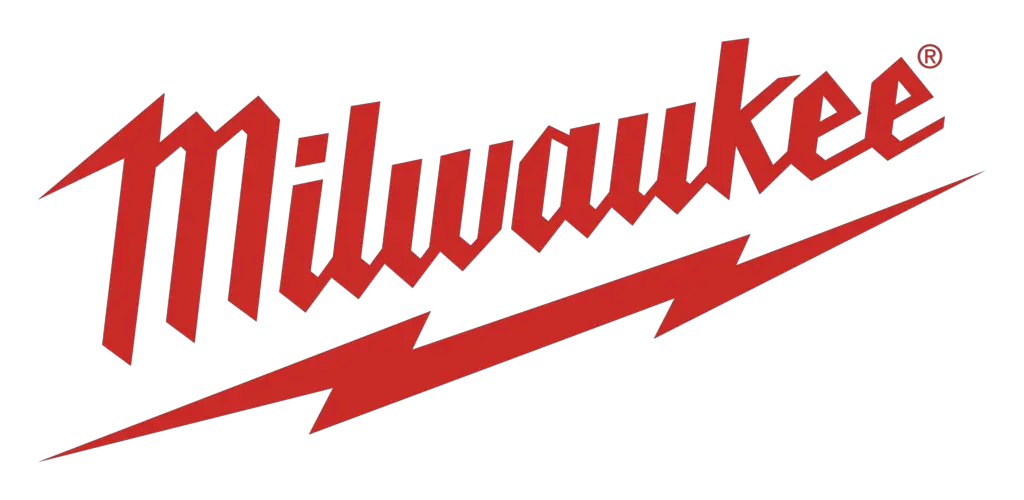 Ryobi and Milwaukee both have TONS of different tools. Milwaukee puts a ton of thought and research into developing a new product and then BAM – it's a hit.. Extremely well designed and durable, easy to use, and powerful. Ryobi also has a ton of products across several different industries and seems to be more focused on quantity than quality. 
But that doesn't mean Ryobi doesn't have some bangers. There are some great Ryobi weed eaters and Ryobi pressure washers, but there are also amazing Milwaukee weed eaters.
Metal where it matters: the deck 
Most electric mowers are plastic-y. Probably to reduce the weight of the mower so that the battery can get you further, but it feels cheap. Make sure to get metal where it matters – namely the deck. The deck is the part that covers the blades. Don't get plastic here – a rock can rip through it.
Battery interoperability.
 A ten dollar word used here, but really just make sure to buy a mower with a battery that is compatible with other electric tools. Luckily with Ryobi and Milwaukee, they have batteries that can be used across a TON of their products – both indoor and outdoor.
Milwaukee has some great products like their M18 hedge trimmer and even some great Milwaukee blowers.
If you have more questions, check out our guide to electric lawn mowers.