Toro lawn mowers are the absolute classics of the lawn care world. The Tom Brady of lawn mowers. The classic muscle car, '69 Corvette of lawn mowers.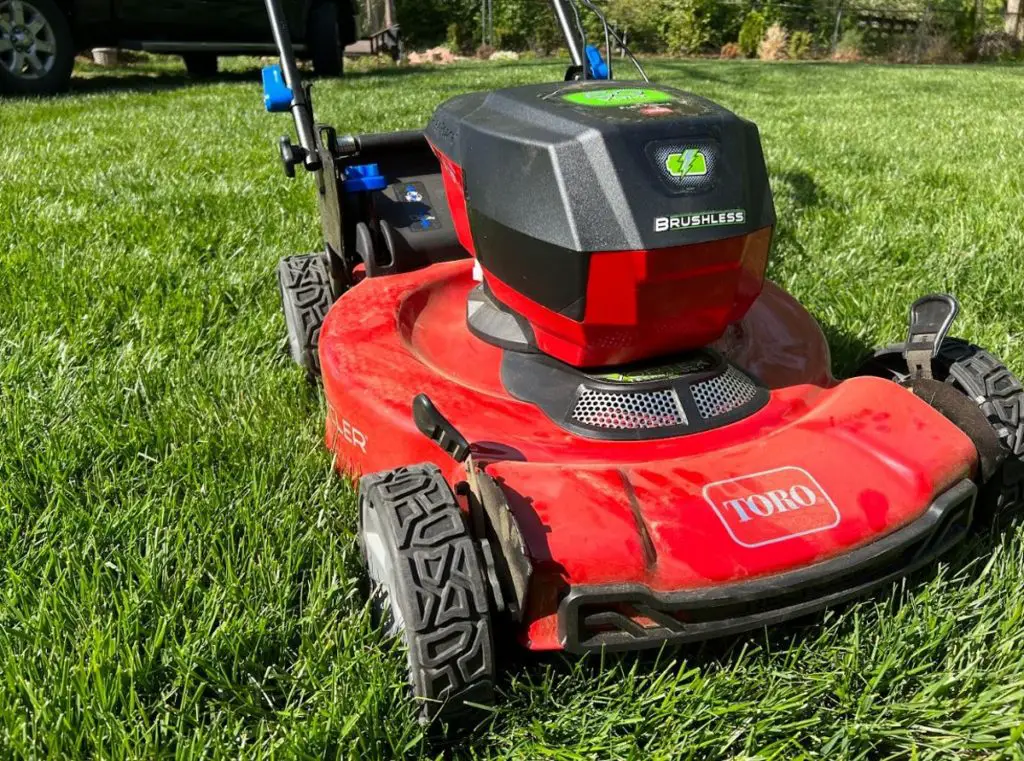 Why?
Go on a little drive this Sunday afternoon and tell me what you see. If you go through any neighborhood I guarantee you will see at least a few of these either being pushed around or stored in people's garages.
They are THE brand in lawn mowers. They've got some sweet zero turn mowers, but are notorious for their extremely reliable push mowers. 
Whatever side yard you have, Toro has a mower for you that is the TOP of the line.
So let's get started.
Why we review lawn tools
The reason we started this website in the first place was because we had so much trouble trying to find reasonable, understandable, honest reviews for lawn equipment. And it's not cheap! After hours and hours of research, trying products and returning them, and messing up our yards – we started this site.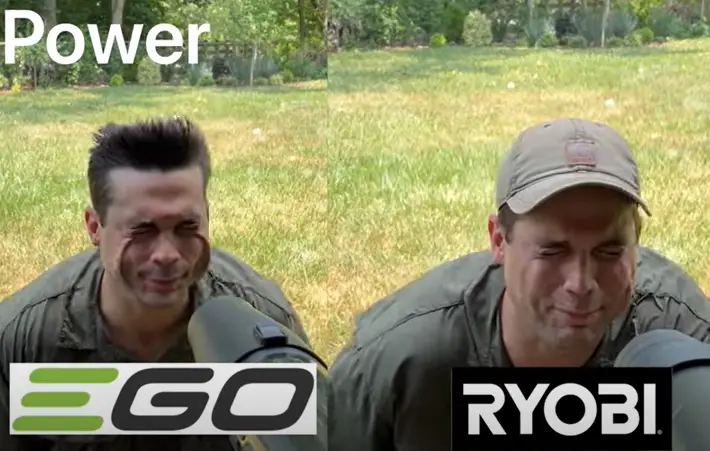 As people who had to learn the hard way, we want you to know exactly what you are signing up for before you purchase a piece of equipment. That's why we are committed to providing honest, easy-to-understand reviews that mean something. 
Toro lawn tools
Toro is a well known company that serves lawn equipment for homeowners. Toro also is one of the preferred products for golf courses, sports fields, and agriculture. They clearly know what they are doing.
I've reviewed other Toro equipment, like their recycler push mower. One thing that stood out to me in that review is their engineering. I truly believe they have quality equipment and there's a few ways to tell. The first is how heavy and solid their equipment is. Their quality stands out to me as top tier.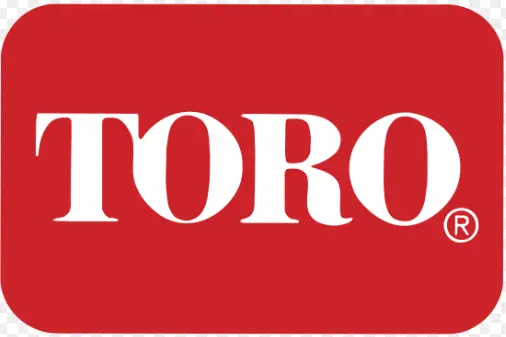 Another thing I noticed when reviewing the recycler mower is the attention to details. The mower just grinds and grinds and grinds until it produces a fine consistency that feeds your lawn. Other mower manufacturers do not put considerations like this into their products. They even have a patent for the fine grass clippings that nourish your yard.
Things I look for in mowers
Knowing what to look for in a mower varies on the type of mower.
Zero-turn mowers: For zero-turn mowers, I am looking for comfort. If you have a zero-turn mower it is because you have a big job in front of you. You're going to be sitting in this thing and steering it precisely for a while. There's nothing worse than being uncomfortable. I also look for things like a hydrostatic transmission to allow for longer transmission life. Lastly, I want durability – reinforced casters and a deck that won't crack under pressure. 
Push mowers: Push mowers have less to worry about as they are a much less costly investment. Still, push mowers can come with some great bells and whistles that make them way better to use. One of these is a self-propelled function, which I love on gas-powered mowers. Deck width is also important – if you have a medium-sized yard, then a wider deck is better. For smaller yards, a narrower deck. Otherwise, easy height adjustments, deck cleaning ports, and easy-start engines are must-haves.
Battery mowers: Battery powered mowers have a lot more room for error. For one, you have a super finite battery life that will take you out of the game if you kill too much battery. Gas mowers at least refill easily and then let you get on your merry way. But with battery mowers, you will see many made with a plastic deck. Avoid these unless they are super duper thick. I also generally avoid self-propelled functions on these because they crush the battery life. Lastly, you NEED to buy one with a brushless motor. 
The 4 Best Toro Mowers
Toro has historically been the market leader in lawn mowers. They're well known to everyone, but have struggled to keep up with the changing landscape and the young brands (this is where my Tom Brady comparison comes in). 
That doesn't mean they don't have great battery products, it just means they aren't marketed all that well. 
But before we get ahead of ourselves, let's highlight the amazing, well-known mowers they do have. 
The Best Toro Zero-Turn Mower: Toro TimeCutter SS4225
The Toro TimeCutter SS4225 is a zero-turn mower with a reputation for being top of the line. In fact, these are super popular among residential homeowners, but also with commercial landscapers. You RARELY see those two overlap as they are looking for different applications, but the TimeCutter SS4225 appeals to both.
Why?
Well not only does it have the comfort and affordability that attracts homeowners, but it also has the durability and power that landscapers are looking for. Sounds too good to be true? It isn't.
The Toro TimeCutter SS4225 boasts a 22.5 HP V-twin Toro engine (I think that is where the 225 in the name comes from) in addition to a 42 inch cutting deck (where the 42 comes from in the name). This is serious power. For comparison's sake, a number of riding mowers come in at 16-18 horsepower. This is a huge step up. Even the Cub Cadet ZT1, a hot competitor, comes in at only 22hp.
The SS in SS4225 stands for SmartSpeed, which means that it allows you to slow down when making tight maneuvers so that you can make sharp, smooth cuts around garden beds.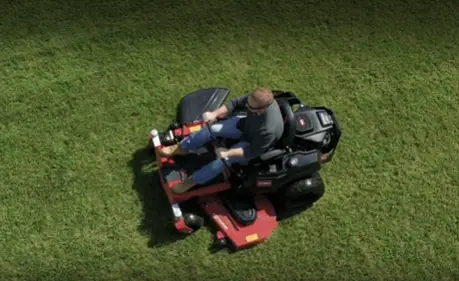 Guys, I can't highlight enough how well this zero-turn mower was engineered. There's a reason it is one of the most popular zero-turn mowers on planet Earth. 
Quick summary of what I love about the TimeCutter:
Extremely comfortable
High horsepower, well-made engine
Hydrostatic transmission
Durability
Deck washout system + cup-holders
The Toro TimeCutter can actually be bought online from Home Depot – check the price and make up your mind!
Best Toro Mower for Medium-Sized Yards: Toro TimeMaster 30
If you ask anybody who has worked for a landscaping company what the best push mower is, the TimeMaster 30 is going to be on their list. 
The Toro TimeMaster 30 is a beast. It may be one of the higher end push mowers on the market, costing over $1,000 (thanks Biden!) but it is totally worth it.
The TimeMaster 30 has TWO blades on it across a 30 inch cutting deck! That size of a cutting deck on a push mower is competing with the cutting decks on riding lawn mowers and lawn tractors. Y'all….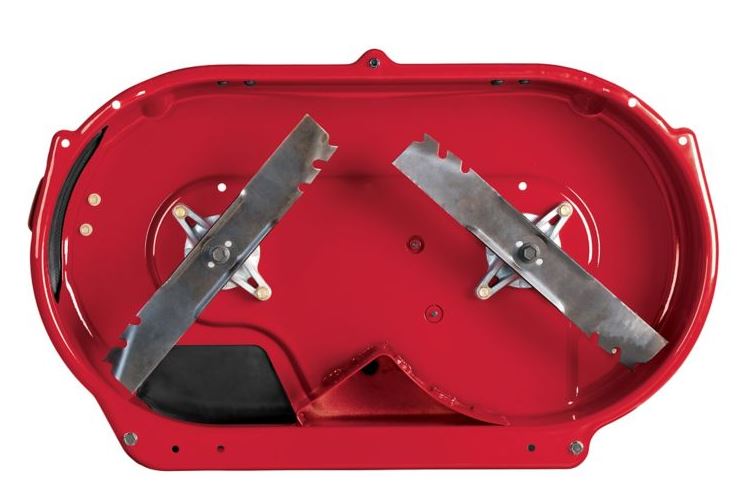 But the TimeMaster has a ton of bells and whistles as well. You can tell a true lawn pro designed this one. For example, it has a feature where if you let off the gas, the engine will keep running. Sounds small, but in reality it's extremely helpful.  There's nothing worse than mowing a lawn, having to stop to move a stick or rock, then going back to your mower to pull the cord until it starts again. That's exact situation is what you avoid by using the TimeMaster 30.
Also can we revisit how massive the deck is on this? Most push mowers are between 18 and 24 inches. 30 inches allows you to get an extra FOOT on each pass. Those things add up over the course of a mow and will save you some serious time.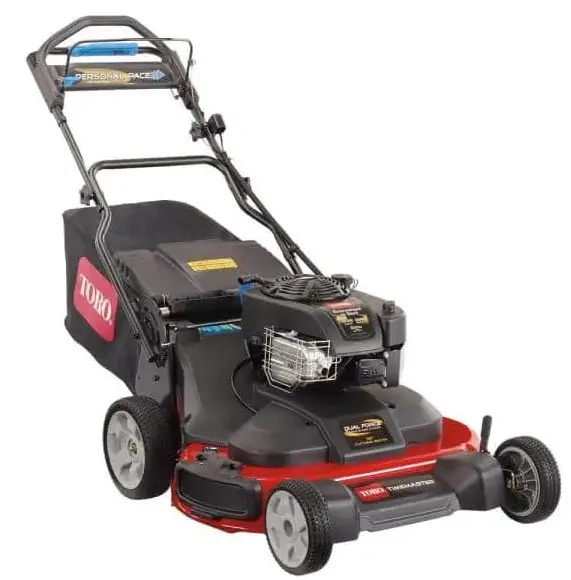 Lastly, Toro has made maintenance a breeze on this mower. It has a strict "no oil change" policy. Instead of changing out the oil, you just add more. I actually have no clue how this works other than burning oil off, but I'm not here to ask questions. I am here to have the best mowing experience of my life. 
I also love the deck washout system, which is also found on the TimeCutter above. You can connect your hose to the deck of the mower and it is designed internally to funnel the water in such a way that it cleans out the entirety of the deck.
It's the details for me!
Quick summary of what I love about the TimeMaster 30:
Massive cutting deck
SmartStop function
Self-propelled
TWO blades
The TimeMaster is for sale exclusively at Home Depot and it's price often changes – check it here.
Best Toro Mower for Small Yards: Toro Recycler
The Toro Recycler is your all-American lawn mower. This is the mower you see in everyone's garage or shed with the classic "TORO" print on the collection bag on the sides. If you've seen it (which you definitely have), then you know what I'm talking about. Sadly, the newer versions don't have that. BUT that's a good sign because the old ones clearly last FOREVER.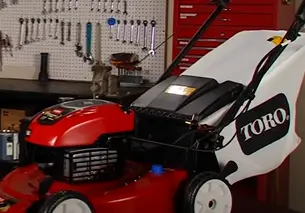 At 22 inches, the Toro Recycler is THE perfect width for lawns on the smaller side. I'm not talking townhouse mower small, but probably up to ½ acre or so, which is what most of us have here in America. 
The Toro Recycler has all the well-engineered parts that make the TimeMaster so incredible. It has the personal pace self-propelled function, the no oil change philosophy, a deck washout, and a well-made engine. 
It even has a really cool feature that is front-wheel drive for the self-propelled function. This function is wonderful if you have to mow over steep banks or hills. Instead of the rear wheels having the self-propelled motor, which results in spinning and getting stuck, the front wheels have it. This makes it so the mower creeps over any inconsistencies in the lawn and is particularly useful for hills. It helps pull the mower forward instead of pushing from behind.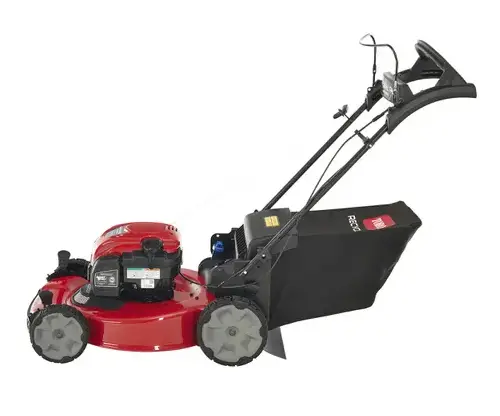 The other unheard of bell and whistle that comes with this mower is their vortex technology. I've never seen this on any other push mower. Basically, the mower has this airflow opening that flows air from the ground up through the blades, causing the grass to stand up. It's like using Electric Shave or whatever that makes your hair stand up before you shave. What in tarnation?
The Toro Recycler comes in two varieties, one with the front-wheel drive (called high-wheel drive) and a classic rear-wheel drive. Both are for sale at Home Depot.
Quick summary of what I love about  the Toro Recycler:
Great size for the average yard
Nice FWD self-propelled function
Vortex technology that lifts the grass before a cut
Best Battery-Powered Toro Mower: Toro Recycler SmartStow 60V
It flies under the radar completely, but the Toro Recycler SmartStow 60V mower is one of the best battery powered mowers ANYWHERE.
Yeah, we have all heard of EGO, Greenworks, Ryobi, and all the other battery powered brands. But the Toro 60V should be right at the top of that list as well.
Here's why: it basically has all the same features as its gas counterpart. Yes, that means an incredible steel deck, the vortex airflow thing, front wheel drive self-propelled functionality, and the ability to fold in half like a lawn chair for easy storage.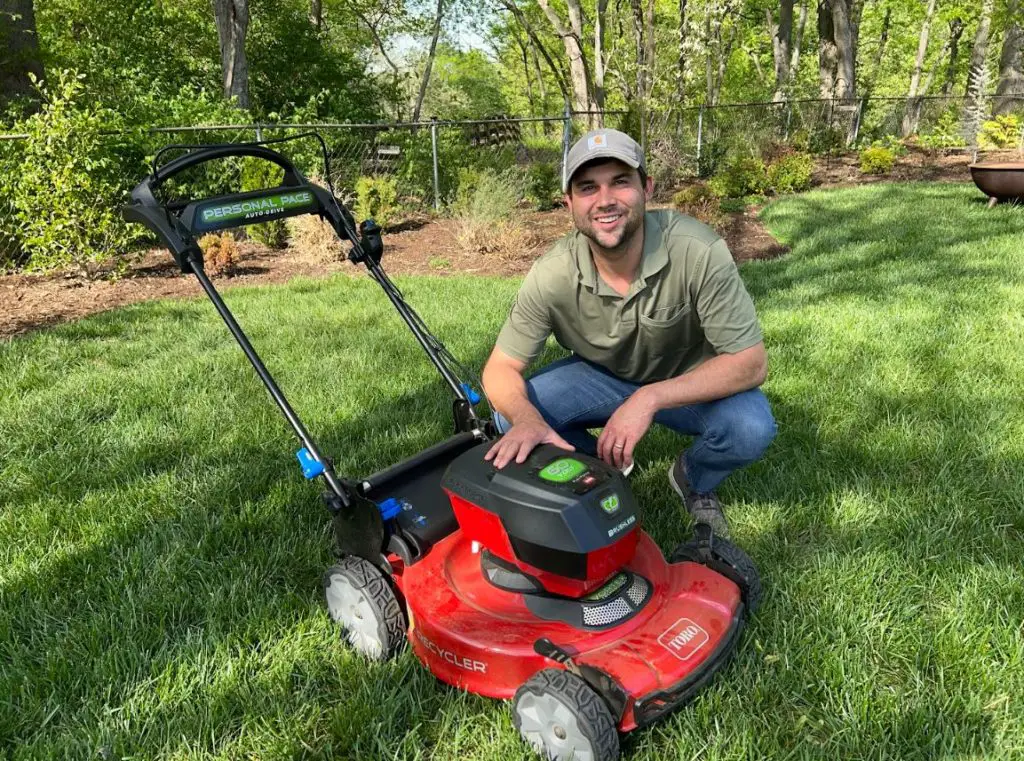 Honestly, I can't imagine what else I would add to this mower to make it any better. The only drawback when compared to some of the big name battery brands is that the Toro battery line is generally underdeveloped. Brands like EGO have hundreds of tools built around a single battery line, making it easier to get more of those tools and use the same battery. But this one still made our list of best battery powered mowers.
But as a standalone piece of equipment, Toro absolutely knocked it out of the park. I actually like that they don't have 1,000 different mowers like Ryobi does. They go with the one shot, one  kill method. Milwaukee has a mower that is built the same way.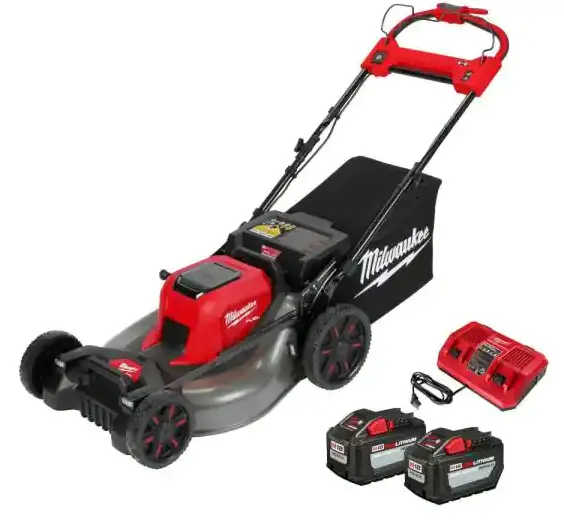 This one is definitely expensive, though. The main downside is that it is over $700. This is high for most battery powered mowers, but actually pretty reasonable when compared to some of the higher-tiered gas mowers.
All around a good buy. They sell it at Home Depot for a great price.
Final words: Toro mowers legacy
Toro mowers are world-class. You can't go wrong with really any of their mowers and I've yet to see a decline in quality.
Like I mentioned earlier, I guarantee your grandpa had a Toro mower sitting in his garage that could crank up in one pull even after 15 years. These things last.