Backpack sprayers are absolute cheat codes in the lawn care game. Long gone are the days of walking around cranking the pump lever all over your yard. Or even worse, the little sprayers that you carry and set down and repeatedly pump then get maybe 1-2 seconds of spray.
The new backpack sprayers keep a consistent amount of pressure inside and make your life way easier. I think the first time I used a backpack sprayer I was caught off guard with how quickly I was able to complete the job.
Battery powered backpack sprayers are the tool of the future, available now. 
They aren't all made the same and have some unique features and benefits.
So let's break them down.
Why we review lawn tools
The reason we started this website in the first place was because we had so much trouble trying to find reasonable, understandable, honest reviews for lawn equipment. And it's not cheap! After hours and hours of research, trying products and returning them, and messing up our yards – we started this site.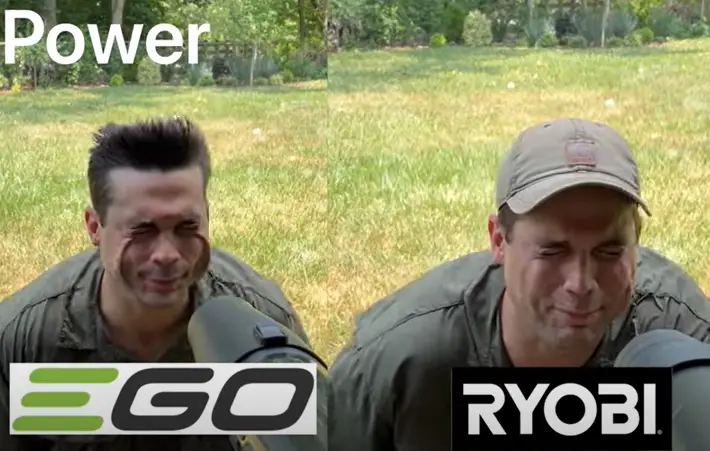 As people who had to learn the hard way, we want you to know exactly what you are signing up for before you purchase a piece of equipment. That's why we are committed to providing honest, easy-to-understand reviews that mean something. 
What to look for in a battery powered backpack sprayer
Again, these aren't all made the same. With one of these backpack sprayers, you want to make sure to have the below features.
Comfort

It sounds silly, but if you are going to be personally hauling a bunch of chemicals on your back, you've got to make sure it is comfortable. Honestly, with how easy these things are to use, the main differentiator is what the experience feels like. Look for padded shoulder straps and an otherwise lightweight tool.

Battery run-time

There's not really a point to a battery-powered sprayer if the battery dies and you can't finish the job. Regardless of how long your job takes, you want to make sure to get one with a decent battery life. That helps you if you take the battery off and use it on another tool.

A see-through tank

This one sounds even sillier, but some of these battery-powered backpack sprayers have dark tanks. You can't see how much fluid is in it. Not a huge deal but also a minor inconvenience that is so easy to avoid. Grab  one where you can see the fluid.
Those are the main things I look for. Of course there are other important things like different nozzles and a strainer to make sure you don't get a clogged line, but those should come standard.
5 Best Battery-Powered Backpack Sprayers: Ranked
Okay! Finally after careful consideration we have put this list together. We've gotten our hands on a few of these but also tried to get some more variety in new products. So let's get to the bottom of it once and for all.
5. Dewalt Battery Powered Backpack Sprayer
The Dewalt Lithium-Ion Battery-Powered Backpack Sprayer is sure to be a rugged, long-lasting tool. Not only does it come with Dewalt's trusted brand reputation, but it's a part of their 20V battery series.
Dewalt's 20V Battery series is compatible with TONS of Dewalt tools.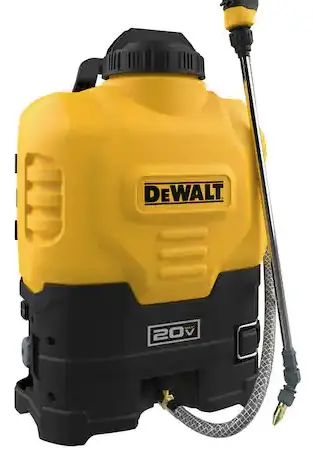 What I love about the Dewalt Battery-Powered Backpack Sprayer
Part of the 20V battery series
Padded straps with two wrap-around straps
10 different flow settings
Several nozzles for different spray patterns
What I don't love about the Dewalt backpack sprayer
This breaks rule number one! It doesn't have a see-through tank. So you have NO idea how much fluid is left in there outside of the weight differential.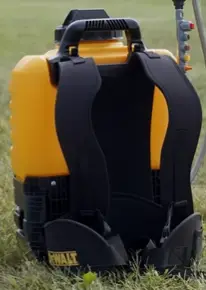 The other thing I don't love about this backpack sprayer is the price! It comes in at a steep $300 and can be purchased online from Home Depot.
4. Spraymate Lil Squirt Portable Backpack Sprayer
Candidly, we have not used this little guy but thought it was so cool that it needed to make this list. 
It isn't really a backpack sprayer, but more like a satchel sprayer. It comes with a nice little strap that you can hang over your shoulder and waltz around your lawn to get the job done.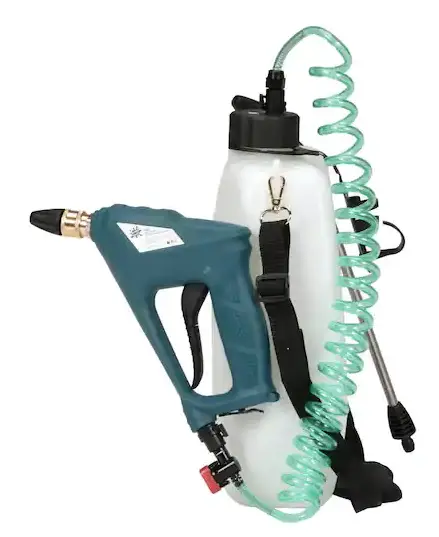 At just about $100, this thing is the most cost-effective way to get the job done with a battery powered sprayer.
So where is the battery?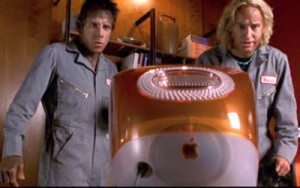 Great question. Looking at this, you would have no idea. But it is actually built into the handle of the Lil Squirt sprayer. It plugs into the wall and has a nice little charger that you plug in directly. It makes the product super intuitive and easy to use without having to pull out a separate battery.
Otherwise, this sprayer has a nice six foot hose, a quick-connect extension wand, and is super  lightweight.
If you are a more casual backpack sprayer user, then this is a really good cost-effective alternative to the others here. 
You can grab this one at Home Depot or get its big brother, a fully built out backpack sprayer with four gallons on Amazon.
3. Milwaukee M18 4 Gallon Backpack Sprayer
Milwaukee rocks. In fact, we've gotten our hands on a few of their pieces of lawn equipment. Like their new blowers and even their M18 lawn mower. 
They simply don't miss. 
So when I saw their backpack sprayer I knew it would make the top five. 
What we love about the Milwaukee M18 Backpack Sprayer
The M18 battery line is incredible and can service TONS of tools
It can absolutely LAUNCH spray – like over 20 feet away if you desire
The shoulder straps are supremely comfortable
The battery placement is well-designed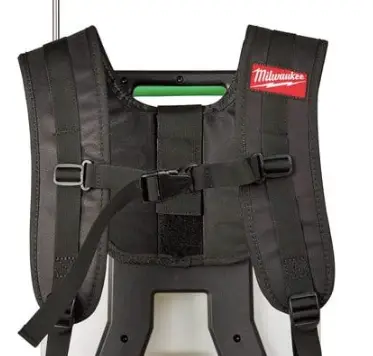 What we didn't love
We didn't have this problem, but from others have heard that the tank can leak
It's a bit pricey.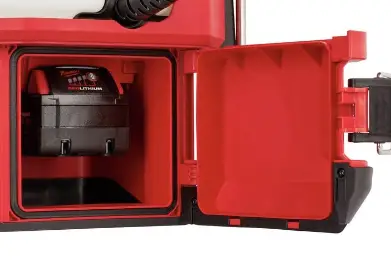 All in all this is a great backpack sprayer and perfect for those of us that already own M18 batteries, this thing is sweet. If you already own the batteries you can save a ton of money by purchasing the tool-only version on Amazon or getting it off of Home Depot, wherever you prefer.
2. Ryobi ONE+ 18V Cordless Backpack Sprayer
The Ryobi ONE+ 18V Cordless backpack sprayer is pretty slick. We loved using it and even filmed a long YouTube video that highlights all the different features and benefits.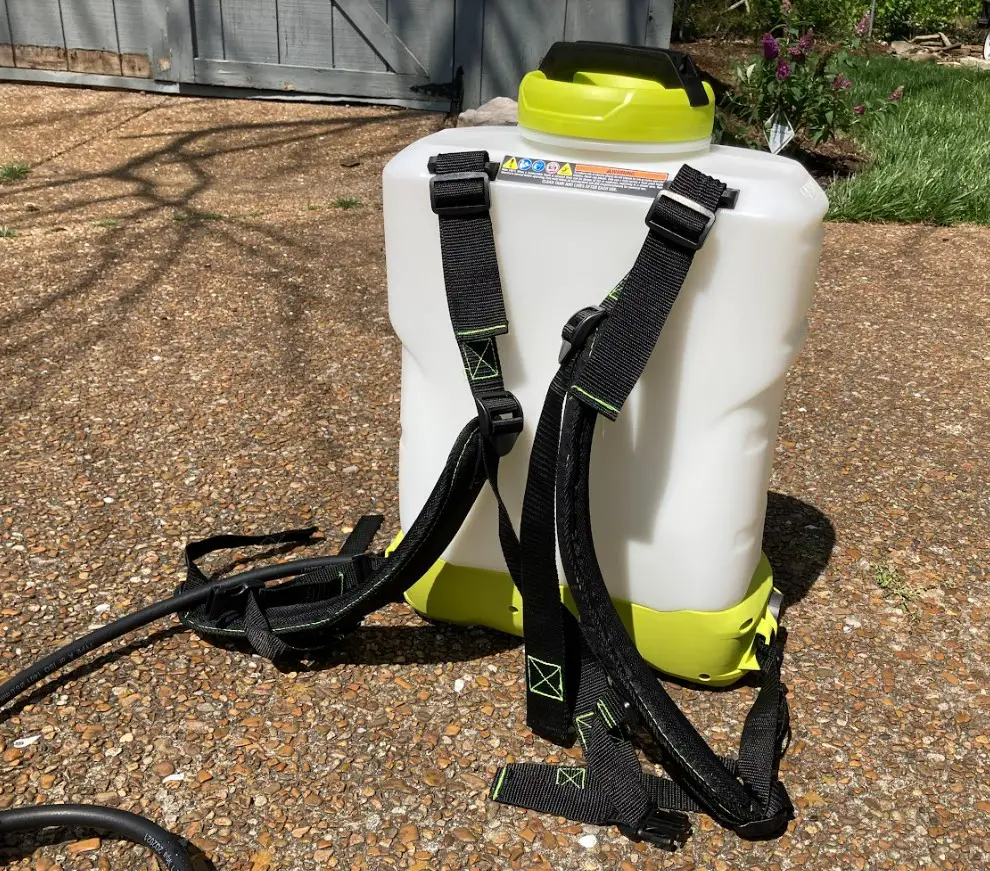 It is a huge timesaver, just like the other battery-powered backpack sprayers, but is also really reliable. Ryobi products are super common as well, so chances are you already have one of their ONE+ 18V batteries to pop right onto this backpack sprayer.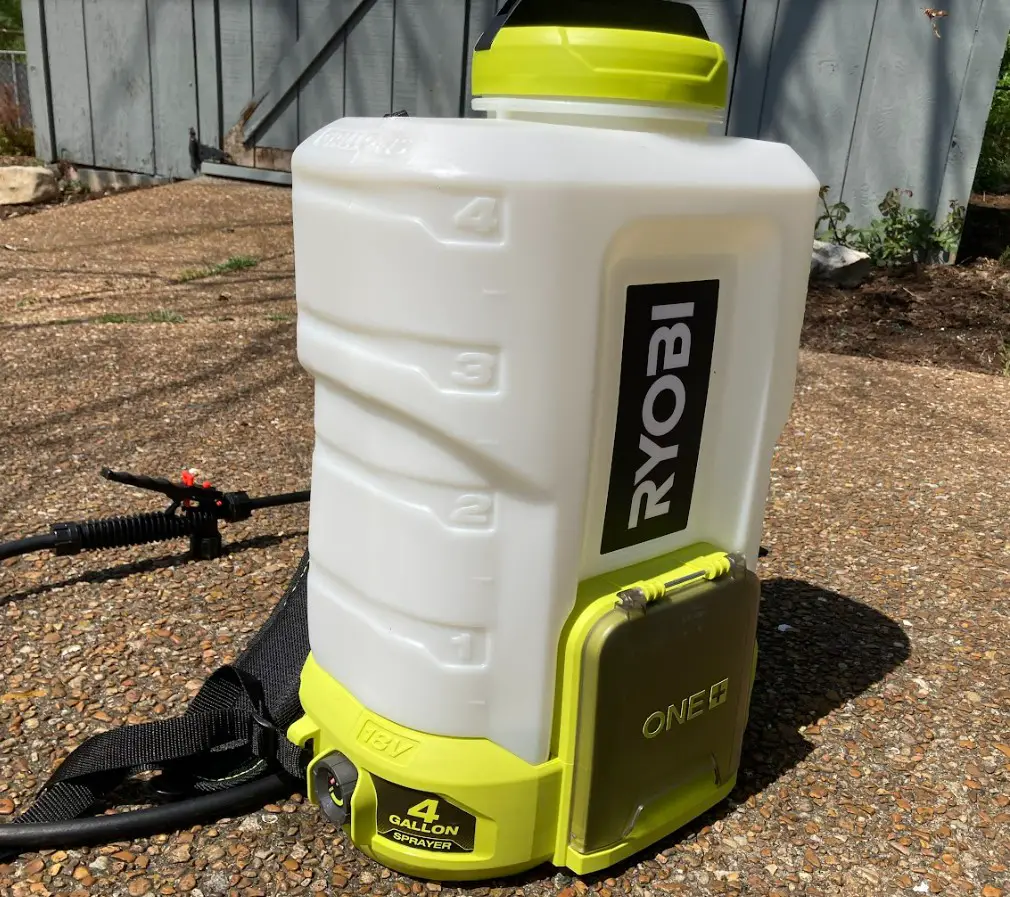 What we love about the Ryobi 18V backpack sprayer
Super easy, ergonomically designed trigger that fits your whole hand
Battery interchangeability with all the other Ryobi 18V tools
You can use the tank 11 times on the same charge
Incredibly comfortable – way better than my Jansport backpack
Easy to use pressure control valve on the side
See-through 4 gallon tank so you know when you're getting  low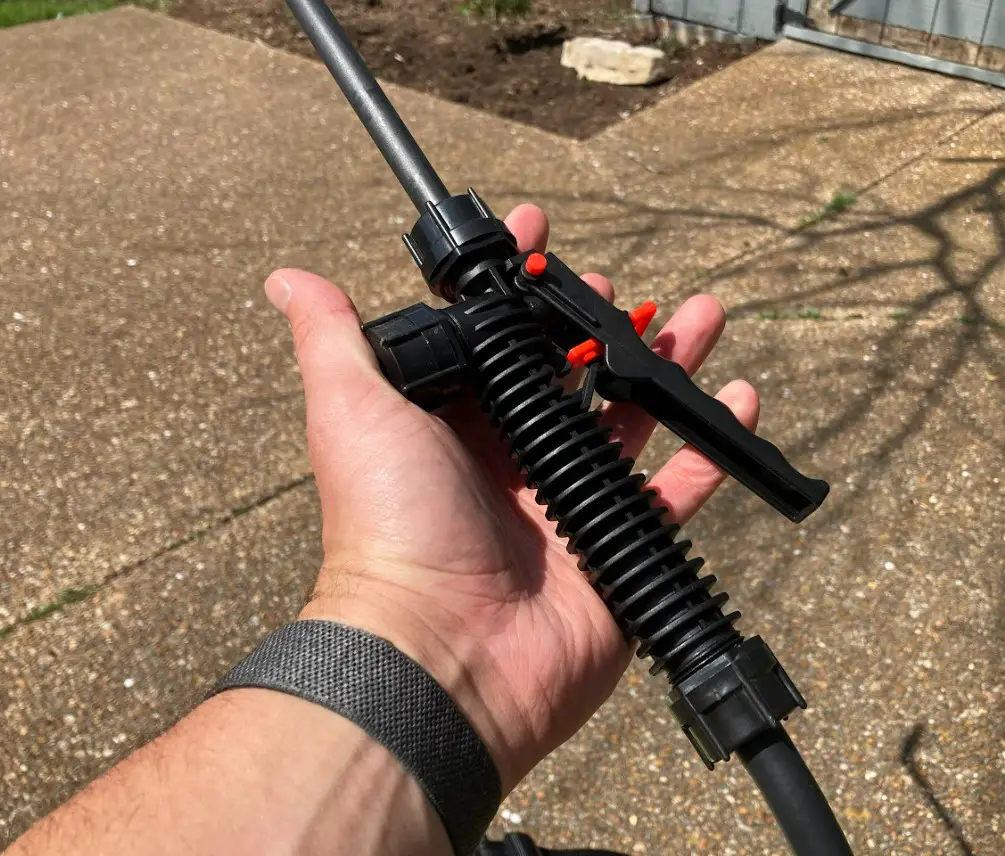 Frankly, there wasn't much to dislike about this backpack sprayer. It comes in at a great price WITH battery and charger on Amazon or at Home Depot for a great price.
1. RYOBI 40V Cordless Backpack Sprayer
Okay guys, we have a confession. This one is basically IDENTICAL to the 18V ONE+ battery backpack sprayer above. And we like it for all the same reasons.
But the 40V series from Ryobi is just much more popular than the 18V series. If you already own a Ryobi tool, you can get this thing for an insane price from a number of places. We found  the best price for the tool-only version on Home Depot's site and it's even cheaper than the 18V series.