If you are looking for an electric lawn mower in 2023, you are not alone.
They are one of the hottest items to buy because they tend to be cheaper, easier to store, and quieter than gas mowers. 
First time home buyer? Recently downsized? Live in California? Sick of gas prices? Me too.
While there are a TON of electric mowers out there, some of them are crap and some of them are rip-offs. So, let's cut through the noise as usual.
We've summed up our findings here:
Why we review lawn mowers
The reason we started this website in the first place was because we had so much trouble trying to find reasonable, understandable, honest reviews for lawn equipment. And it's not cheap! After hours and hours of research, trying products and returning them, and messing up our yards – we started this site. 
As people who had to learn the hard way, we want you to know exactly what you are signing up for before you purchase a piece of equipment. That's why we are committed to providing honest, easy-to-understand reviews that mean something. Always feel free to leave a comment or request a review using the form you see at the top of this page.
What to look for in an electric lawn mower
When looking to purchase an electric lawn mower, you need to make sure you understand what things matter. You will get hit with a lot of technical specifications and marketing tactics. Totally forget them and focus on the things that impact you. Below are my recommendations:
Brand quality. Quality is going to be super important here. Everyone is in the electric mower game these days and there are a ton of junky mowers out there. Avoid anything from a weird brand on Amazon that takes 9 years to ship. It is probably being 3D printed in a Laotian bathroom. Go for brands that have consistent quality and focus on the details, not just flashy colors.
Metal where it matters. Most electric mowers are plastic-y. Probably to reduce the weight of the mower so that the battery can get you further, but it feels cheap. Make sure to get metal where it matters – namely the deck. The deck is the part that covers the blades. Don't get plastic here – a rock can rip through it.
Battery interoperability. A ten dollar word used here, but really just make sure to buy a mower with a battery that is compatible with other electric tools. Ryobi has this, so does Dewalt, and so do some of the Greenworks products. This will save you garage clutter and plug space.
Self-propelled or not. I actually don't like the self-propelled feature. It doesn't help you that much and it drains battery – I would pass here. This is a marketing gimmick in my opinion.
Here is our full guide to electric mowers – including FAQs. We even compared two of the top ones – the Ryobi 40V HP vs the Greenworks 48V mower.
Why are electric mowers becoming so popular?
We made an awesome web story highlighting exactly why these mowers are skyrocketing in sales.
The top 13 electric mowers for small yards – 2022
Now that we know what we are looking for, let's get started in finding the best dang electric mowers on the planet.
13. Green Machine 62V Cordless mower
Using the above criteria, this one would actually rank decently. It is missing in a couple big areas, however. The Green Machine 62V Cordless Mower is a no-name brand (sorry), and has a 62V battery that is not usable with probably any equipment you own today. 
A few positives: it has a metal deck and looks pretty nice. It has a decently large cutting deck as well, at 22 inches. This puts it in the higher end of our list if you have a small-to-medium sized yard. At just about $350 on Home Depot, it is a decent option, but unable to crack the top 10.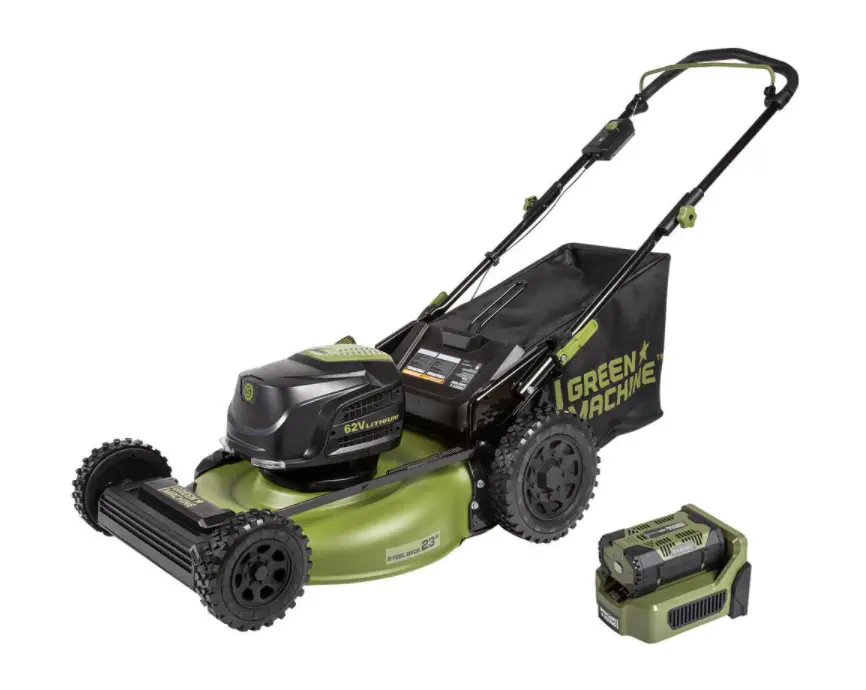 12. Worx Power Share 14 in 40V cordless mower 
I've actually grown to love WORX products, including their mulcher and electric edger
One benefit to this mower is that the two 20V batteries can be used on most of their other products.
It's plastic all over and only cuts ⅛ acre per charge. If you do like the Worx series however, you can use these batteries with any of their tools – which can save you a lot of money. The price tag is also around $300, making it a decent deal.
As one of the more affordable options, grab this one today on Amazon.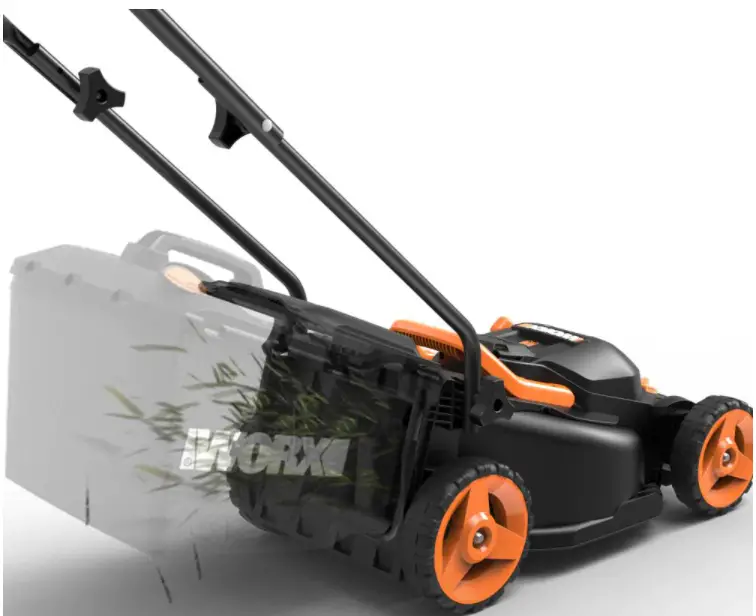 11. Sun Joe MJ401E Mow Joe 14 inch mower
While this mower does get a couple dings from me, its price makes up for it. The first ding is that its plastic and looks like a turtle. Everything is plastic and likely won't last a super long time. It is also tiny and requires an extension cord. 14 inches is not a big mower. 
But here are a few things I do like. This is perfect from people who live in a townhome or condo and have a little bit of grass. It's going to cut the grass fine, but it's not going to handle tough terrain or tall weeds. If you're looking for something super cheap and easy to use, this is basically a little yard vacuum.
This one is EXTREMELY affordable and can be shipped straight to your house from Amazon.
10. Greenworks 10A 16-inch corded mower
Alright, if you are looking for a slight step up from the Sun Joe MJ401E (reviewed above), this is it. It is still powered by an extension cord but is a couple of inches bigger and has a few more customizable features. This one could definitely get you much further than the Sun Joe and actually has a mulching feature as well. 
Greenworks is a little better than Sun Joe as a brand in my opinion. They make heavier-duty mowers and blowers and focus just on yard tools. Sun Joe is an outgrowth of Snow Joe, which was the original brand that made things like snow shovels.
This one is slightly more expensive than the Sun Joe, but still a steal (lol). Right now, it's on sale at Amazon for a really good price. You can check it out below:
9. Greenworks PRO 17 inch 48V battery mower
Now that we are in the top 10, our game has stepped up quite a bit. This is another great Greenworks mower with a 17 inch deck (slightly larger than the previous Greenworks corded mower). It comes with two 24v batteries which appear to work with a couple of other Greenworks products, but not all of them.
This one will last you significantly longer than the other mowers and be able to take on much more work. The Greenworks PRO 17 inch 48V battery mower also offers a brushless motor, which makes it last much longer and is overall much quieter. It does still have a plastic deck, which I absolutely despise – so it is staying in the back half of this list.
Right now, Greenworks is selling mowers for a great price on Amazon, giving you a really good deal heading into the mowing season.
8. Ryobi ONE+ HP 18V 16in cordless mower
This one has so much potential! It has all the bells and whistles that you would want in an electric mower, but has a plastic deck still. The Ryobi ONE series is pretty popular and has a good amount of tools in it, but not as many as the 40V series from Ryobi. 
This is one of the nicer looking, mid-sized electric mowers on the market. It comes with two batteries that can be used in a bevy of other tools. It overall is a great mower, but gets dinged by me for not being a part of the 40V series and having a plastic deck. Still a good purchase if you are someone that has existing Ryobi ONE+ 18V batteries. You can find it for a decent price on Amazon if you get the tool-only version (meaning you use your same battery).
7. Dewalt 21.5 in 20V Max push mower
I like the Dewalt 21.5 in 20V mower because it is so simple. Dewalt has a jillion tools that you can use the battery with. If you look at this product, it is the most standard looking lawn mower in the world, other than the fact that it is bright yellow.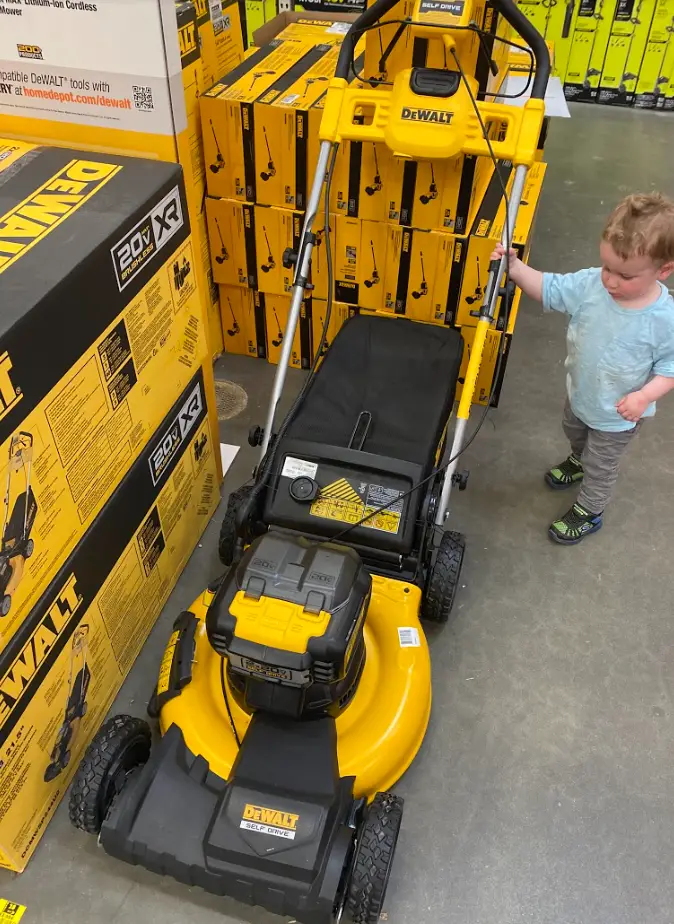 The Dewalt 21.5 in 20V mower has a brushless motor as well, making it longer lasting and quieter. It has a big metal deck as well, which means you won't have rocks cutting through the deck and breaking it completely. It is a pricier electric mower (around $550), but I think you get what you pay for here. 
For our full review, check out this post on our Dewalt 20V mower review.
6. Toro Recycler 22in SmartStow 60V max mower
There are a lot of things to like about this mower. First of all, I love Toro and have reviewed a ton of their mowers. They are always dependable and do an incredible job. This isn't number one on this list for a couple of reasons.
It's pretty big – maybe bigger than you need for a teeny tiny yard, but good for a small-medium yard. Another thing that is working against the Toro recycler is the lack of battery interoperability. There just aren't enough popular tools that the Toro battery works with. As a standalone, this is still a great option, however.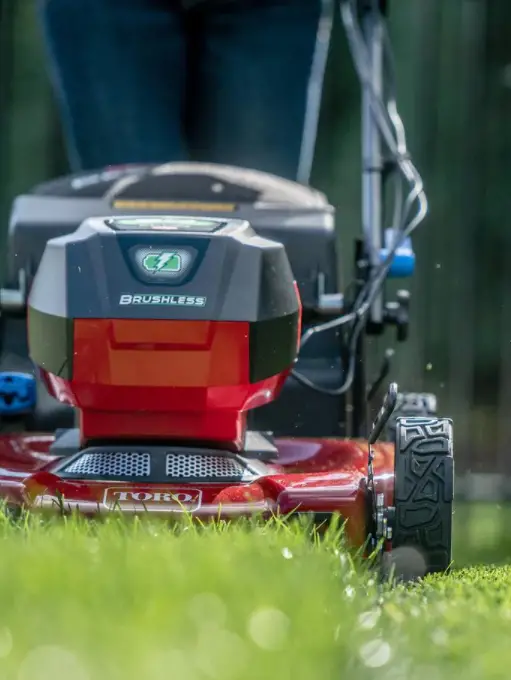 5. Ryobi 40V Brushless 20in mower lawn mower
The Ryobi 40V series makes a ton of good tools that you can use, including blowers and weed eaters. You can also use the battery in this mower for those. That is the type of interoperability I'm talking about!
This also has a brushless motor, is super simple to use, but sadly has a plastic deck – which is keeping out of the top 3.
This is one of the most popular electric mowers in the world, so if you do go ahead with this purchase: you are in good company.
It is another medium sized mower that will get just about any small to mid sized yard done easily. Great purchase here, IMO if you can get it on Amazon and ship it.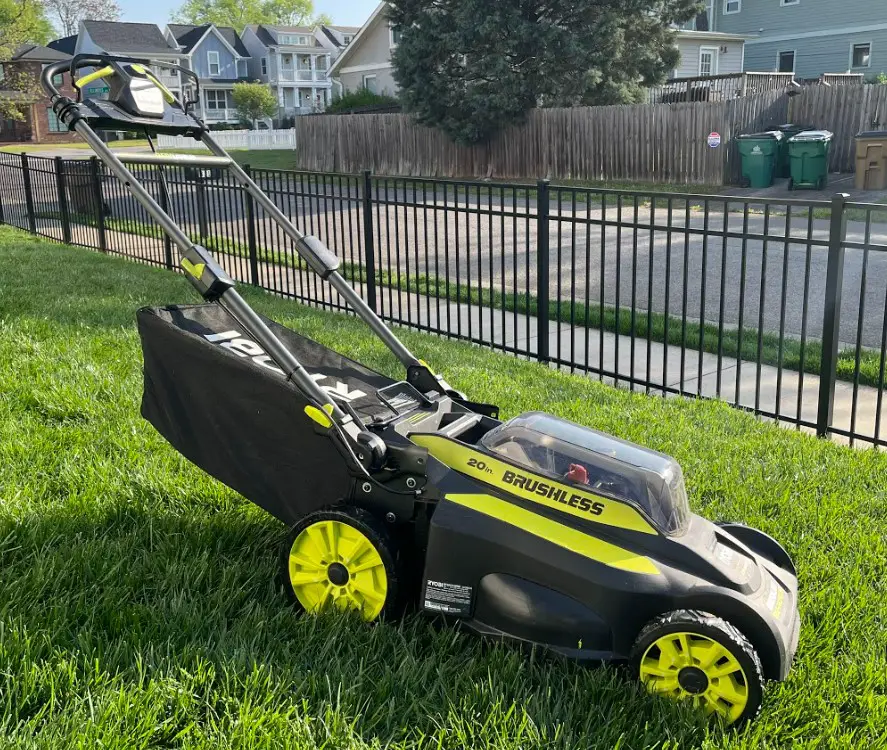 4. Black and Decker 40V Max Cordless Lawn mower
While I'm not a huge fan of black and decker, this is basically a mirror of the Ryobi mower. They are virtually identical in every aspect. Black and Decker also has a yuuuuuuuge collection of tools that take a 40v battery. 
This mower is slightly more versatile in that it has a thing called EDGEMAX that allows you to mow super close to other surfaces, which is nice. Otherwise, this one is orange and black colored, which I tend to favor more than the neon green of Ryobi. 
This one is also for sale on Amazon, but the price is hidden, so go check it out for yourself.
I recommend this one to anybody with Black and Decker tools already.
Can't go wrong with this one.
3. Greenworks 80V 21 inch Cordless Push Lawn Mower
I like Greenworks' mowers because they tend to be pretty thoughtfully made. Their 21-inch mower with a 40V battery is definitely up there for me. As one of the more popular electric mowers on the market (almost 6,000 reviews). 
This mower has dual blades, allowing for a better cut and for finer mulching. This is pretty equivalent to a gas mower, except the electric version where you can't really tell a difference. Greenworks also has some super powerful tools like their blowers where this battery can be super helpful. The Greenworks 80V 21 inch mower has a great quality cut and is super quiet.
Highly recommended and a nice kick-off to our top three.
This is one of the most popular ones sold on Amazon (with almost 6k reviews). Don't believe us? Go check out the other reviews at Amazon.
We like Greenworks because of their distinguished high-quality products.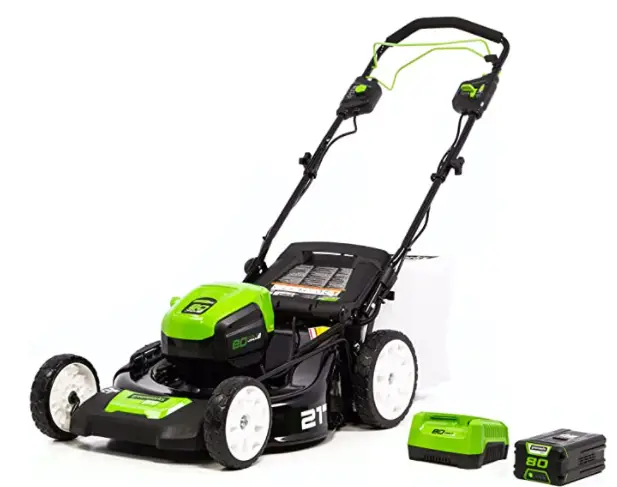 2. Makita XML03CM1 Brushless 18" lawn mower
Makita makes really high quality power tools and so when they release an under-the-radar mower, you know it is going to be good. This sucker comes with 4 batteries, a metal deck, and a brushless motor. Basically everything you could like about an electric mower, the Makita has. Compared to most other mowers, this has a significantly longer run time.
For those with smaller yards, the 18 inch metal deck is just about ideal.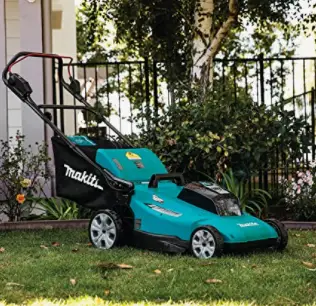 The fact that you won't burn all your batteries means that you will have plenty of juice left for your other Makita tools. 
The Makita XML03CM1 is just about perfect. If you get it without all the batteries, its actually pretty dang affordable on Amazon.
1. EGO Power+ LM2101 21 inch 56 V mower
Finally! Number one! The Ego Power+21 inch 56V mower is the best electric mower on the market. EGO makes a ton of different lawn tools and the mower is top of the line. EGO basically only makes electric lawn tools, so you know they have mastered the mower.
One of the main benefits of this mower is the wide deck, meaning it has a decent cutting area with each pass you make. The larger the yard, the larger the cutting area.
21 inches is a perfect happy medium for small yards because it allows you to cover a good amount of ground while still being nimble.
This has all of the features you look for in an electric mower: a nice interoperable battery, easy to fold and store, durable, and powerful. Give it a look on Amazon (it is still kind of a secret).