Battery mowers with metal decks are the cream of the crop. In fact, I almost never recommend a battery powered mower with a plastic deck.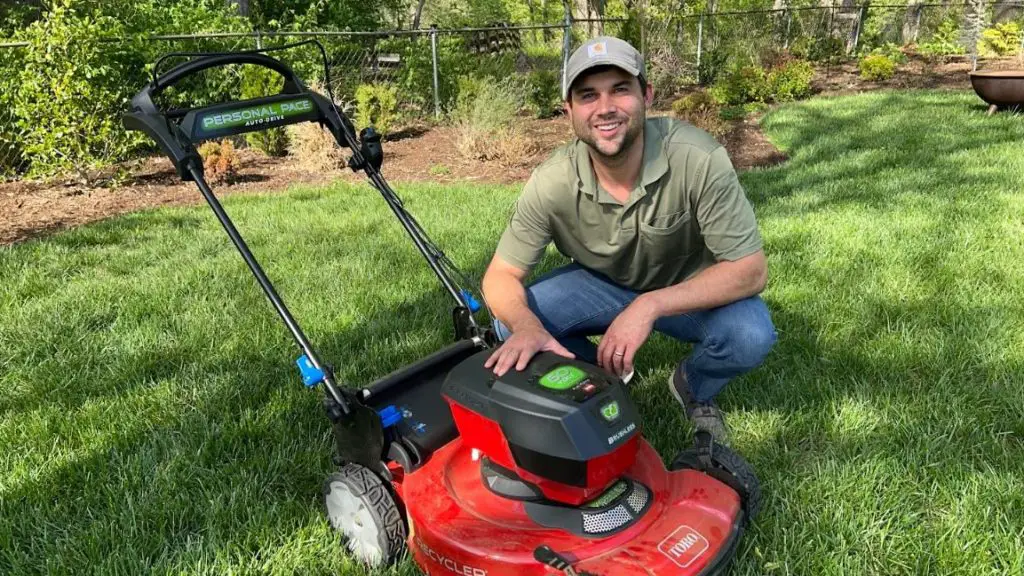 They simply provide too many benefits and have the best comparison to their gas-powered counterparts. I love them for a lot of reasons, which I will get to – and have also used dozens of battery powered mowers. So here are my favorite battery mowers with metal decks:
My experience with battery powered mowers with metal decks
When it comes to evaluating battery powered mowers, I'm VERY seasoned. For starters, I filmed a Youtube video of me testing out five of the most popular in a head-to-head matchup. On top of that, I've done countless other Youtube reviews of battery mowers.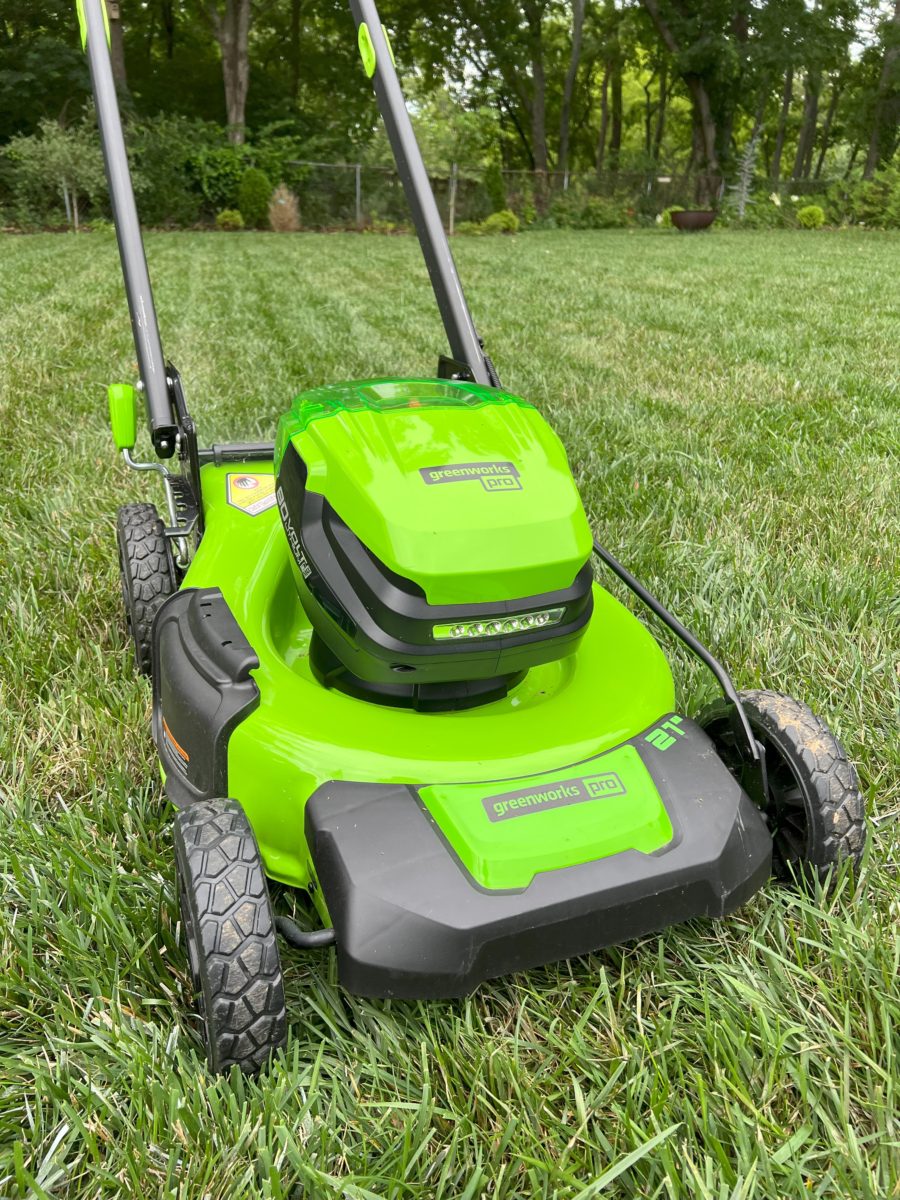 Given all this personal experience with electric mowers, I feel pretty confident that I can tell you exactly what you should be looking for in an electric mower. And most importantly – what to avoid. There is a lot of garbage and marketing gimmicks out there, so let me break down for you exactly what to look for.
What I look for in battery powered mowers
If you're looking for a new battery powered mower (which you are), you need to make sure you understand what things matter. You will get hit with a lot of technical specifications and people throwing acronyms at you. If you're like me, you will tune them out.
Below are my recommendations:
Battery-powered mower brand quality
Quality is going to be super important here. Just about everyone is in the electric mower game these days and there are a ton of junky mowers out there. Avoid anything from a weird brand on Amazon that takes 9 years to ship. It is probably being 3D printed in a Laotian bathroom. Go for brands that have consistent quality and focus on the details, not just flashy colors.
Some brands I trust off the top of my head are: Greenworks, Milwaukee, Makita, Toro, EGO, and Kobalt. SOME Ryobi mowers, although myself and others have had some problems with reliability. Brand quality matters, but it's also important to look at the specs on each.
Metal where it matters: the deck 
Most electric mowers are plastic-y. Probably to reduce the weight of the mower so that the battery can get you further, but it feels cheap. Make sure to get metal where it matters – namely the deck. The deck is the part that covers the blades. Don't get plastic here – a rock can rip through it.
Battery interoperability.
 A ten dollar word used here, but really just make sure to buy a mower with a battery that is compatible with other electric tools. You'll see a bunch of these brands that have battery lines that work with a ton of tools. Milwaukee, Makita, and Dewalt are all great options because you can use them for all lawn tools AND power tools – saving you a ton of money on extra batteries.
If you have more questions, check out our guide to electric lawn mowers, where we break this down into a lot more detail.
Self-propelled or not
Self-propelled mowers are lawn mowers that slowly crawl forward when mowing the lawn. They propel forward the mower, taking off a lot of the "pushing power" required by traditional push mowers.
Self-propelled mowers are ALWAYS more expensive because they have the additional power and functionality that makes life easier. They have their place, but because of the cost can often seem not totally worth it.
5  Best Electric Mowers with Metal Decks
Alright y'all – let me start with my very top choice. I've been reluctant to name this one number one because I had an initially rocky experience, but after using dozens of others AFTER this one, it turned out to actually be the best for the price.
1.) Greenworks Pro 80V Brushless Electric Mower
I love the Greenworks Pro 80V electric mower, although I didn't always. The first one I purchased had some sort of error that made it difficult to learn. But I swapped it out and had a great experience with the replacement.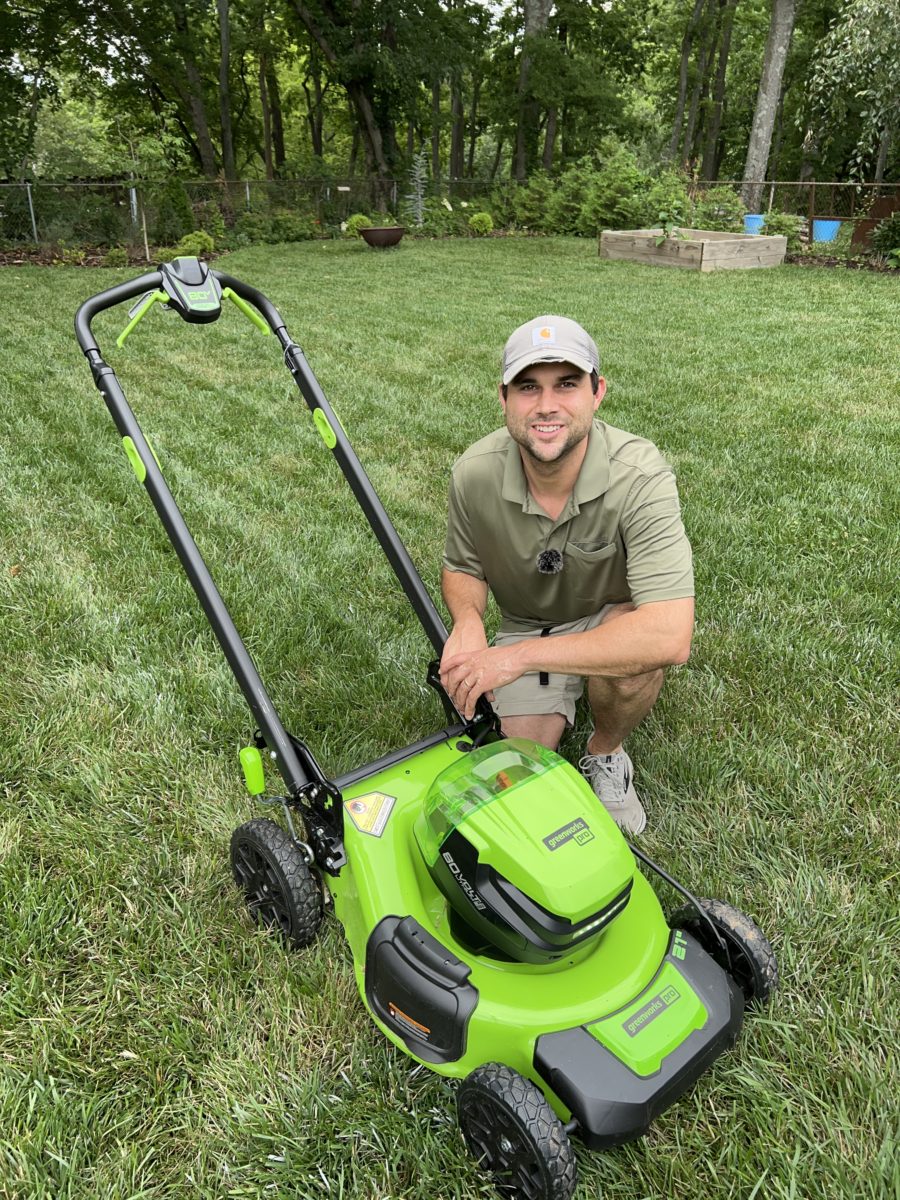 Greenworks makes this mower with a nice 21 inch steel cutting deck that looks and feels like a gas-powered push mower. A few other things I like about this mower:
A really nice dashboard that shows you battery life and allows you to toggle the speed of the self-propelled function
A brushless motor
It also has a turbo button that allows you to amp up the power (literally) to take on thicker grass
Great battery life
An 80V battery lineup that can also accommodate their 80V blower
This one has really grown one me, to the point of it being my go-to every weekend mower. Yeah, that's right. I own 11 push mowers and this is the one I grab every time.
You can grab yours on Amazon for a great price or get it at your local Costco if you're a member.
2) Milwaukee M18 Battery Powered Mower
Honestly, the Milwaukee M18 mower is the best battery powered lawn mower I've ever used.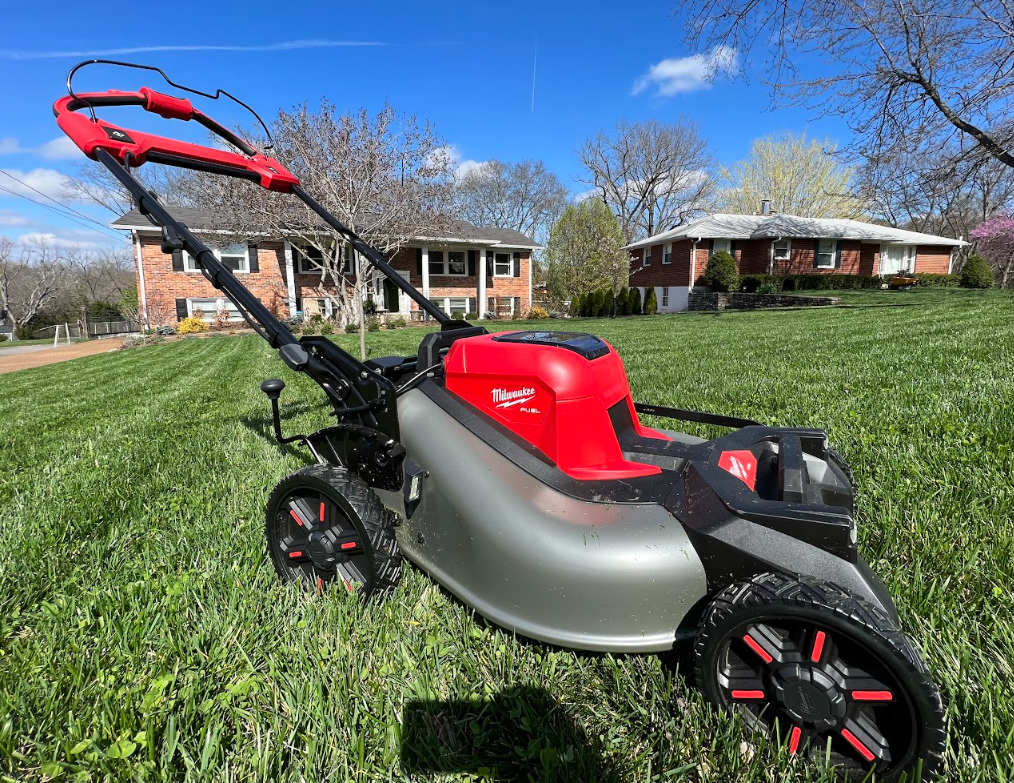 It has everything I look for in a mower: a steel deck, really great battery life, batteries that can be used across hundreds of tools, supreme power, and all the bells and whistles. I got to use it extensively when I did a full review of it on Youtube.
My favorite thing about this mower is that it is built solid as a rock. It is heavier than most electric mowers on the market, which I actually like. Some of the lighter electric mowers have a propensity to bounce around with every little divot in the grass. With the M18, you will have an experience extremely similar to a gas powered mower.
You're probably wondering, "If he is so obsessed with this mower, then why is it not number one?". And that would be a great question.
The only – and I mean ONLY – downside to the Milwaukee M18 mower is that it has a hefty price tag. If you don't own the batteries already then you can expect to pay well over a grand for this bad boy. 
Don't worry – it goes on sale from time to time at Home Depot if you want to check it out.
3.) EGO 56V LM2021 20-Inch Walk Behind Mower
I've written about this mower extensively in my ranking of the best EGO mowers and the difference between Select Cut and Select Cut XP.
This is not a popular opinion. If you read other folks' reviews of EGO mowers, this one probably won't make the list. But we are different here at The Lawn Review and are giving you the absolute insider's take. But I have to be really honest with you guys. This one doesn't have all the bells and whistles, but will last you 10+ years.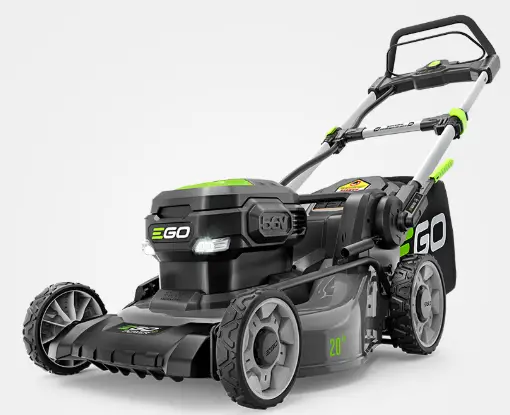 We don't just sort mowers by the best seller and then regurgitate the specifications to you. We are actually going to break down exactly why this one is our absolute favorite. 
If I could draw up the perfect lawn mower in a lab, this one would be darn near close. It has all of my favorite things including:
The only EGO mower with a steel deck – which rockets it up the list in my opinion. Metal decks are way more durable, temperature resistant, and provide a little more weight to keep the mower balanced. 
Of course it has the brushless motor and 56V battery system.
Easy push button start that gets you going
Folds in half for storing in the winter or tight spaces around the garage or shed
A top run time at over an hour!
This one doesn't have all the bells and whistles like I mentioned earlier. It's basically a super durable, not complicated, efficient battery powered mower that is the easiest comparison to gas-powered mowers.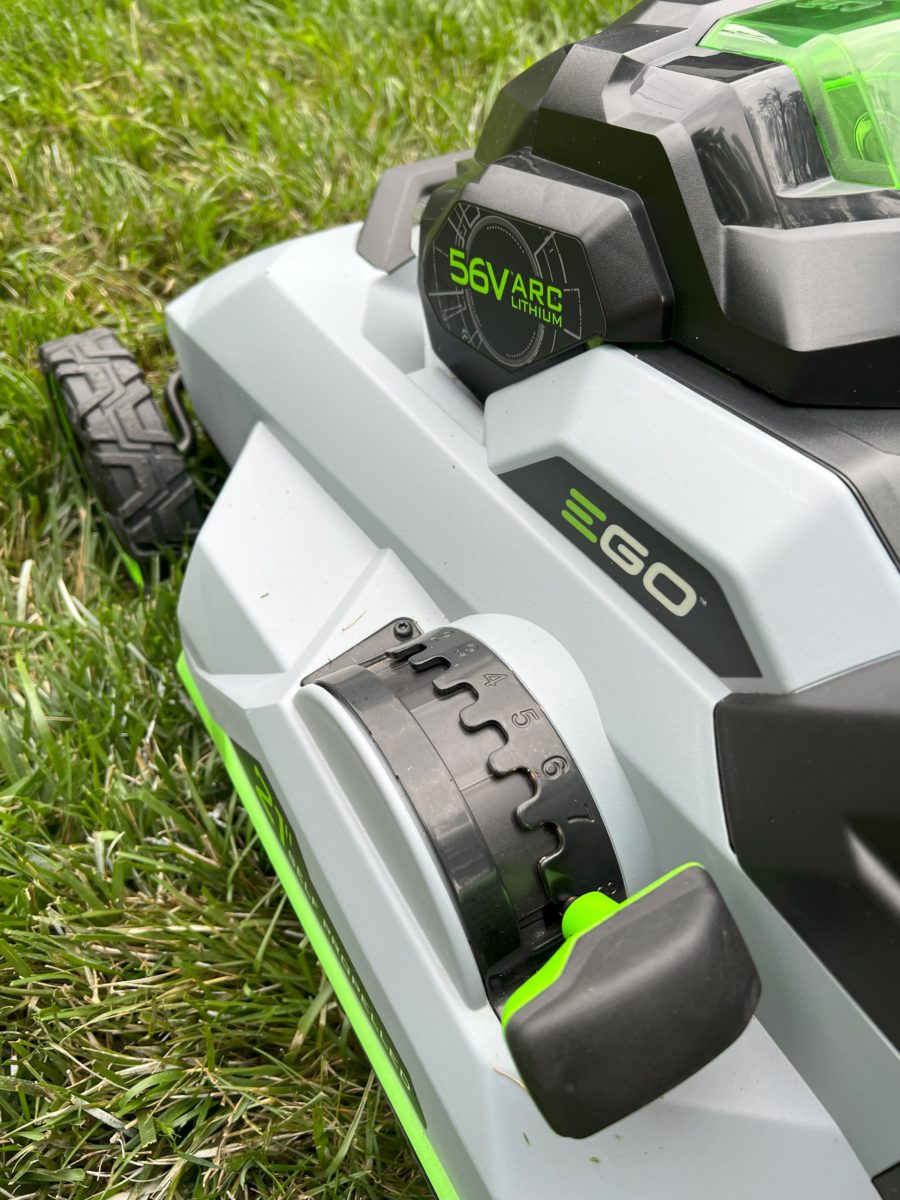 I love this mower because it lacks some of the complexities that drain the other mowers' batteries like self-propelled functions and multiple blades and variable speeds. It just does its thing and does it well
You just push the mower like you always have. But to put the cherry on top, this is one of the most affordable EGO mowers on the market. The price is always changing, but we've found it to be the lowest when you buy it off of Amazon.
4.) Dewalt 20V Max 21.5 inch lawn mower
I gotta say, I love Dewalt. They make some great tools – from their sweet Dewalt weed eaters, their leaf blowers, and even their air compressors – all of which I've had the opportunity to review.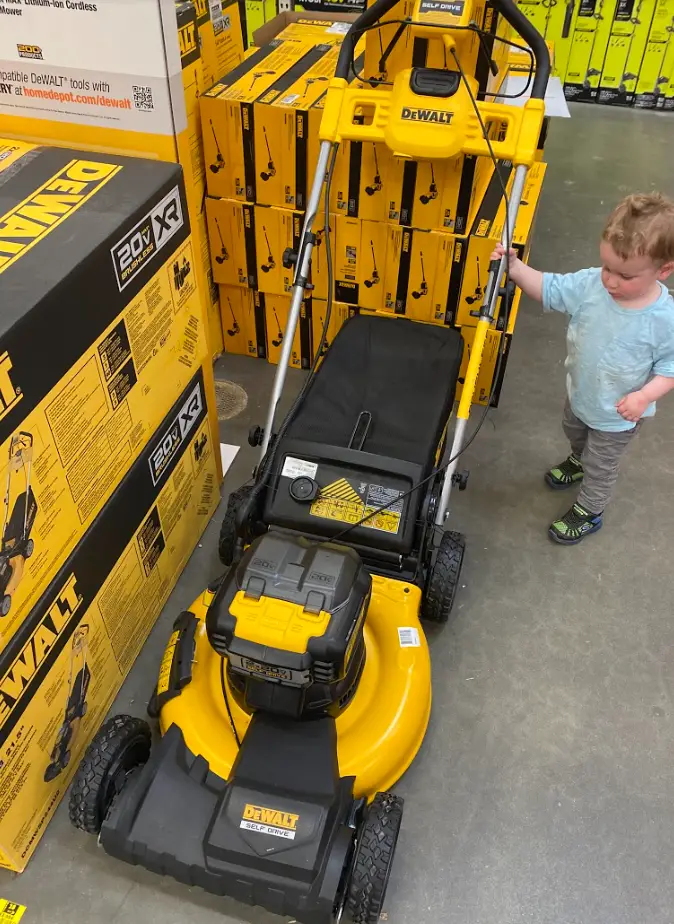 Their mower is really well built. They made it to mimic a gas-powered mower and it actually looks exactly like one. It has a lot to like, including:
A wide 21.5 inch steel deck which is right in the gas-powered range
Some nice functionality, like a self-propelled function and increased torque when you get to thicker patches of grass
Some cutting heights that give you a lot of range for short grass like Berumuda
But my favorite part is that it comes with two massive 12 Ah batteries. This gives you an absurd amount of run time. I'm talking well over an hour of run time.
Where most mowers fall short and die after about 30-45 mins, this one will lap them completely and get you on to your next task faster. The mower is dang sweet and comes in at a reasonable price point if you grab it at Home Depot online.
5.) Toro Recycler SmartStow Battery Mower
Toro's 60V Recycler Mower has a lot of really great bells and whistles. Frankly, it has all the features I would want in a battery powered mower. It has:
A steel deck
A nice 6 Ah battery
This cool function that pulls air up so you can cut the grass better
Patented LawnVitamins mulching system
Personal Pace technology, which adjusts the speed of the mower on your ability to push the mower
But it also has a few downsides. For example, Toro doesn't have a huge selection of battery tools. That means you don't get the upside of buying a battery kit and using it across power tools and outdoor power equipment.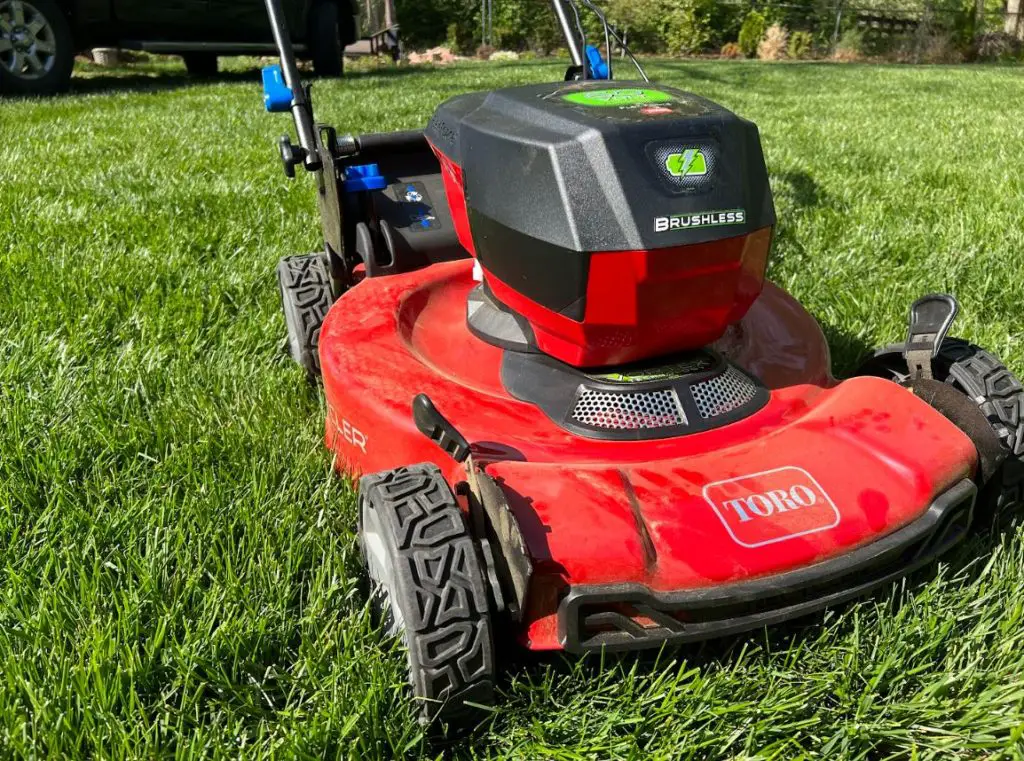 I also felt like some of the features of this mower were a bit gimmicky. The "Vortex" air flow technology doesn't really seem to do anything. The Personal Pace feature was kind of annoying and unsettling, and the batteries took FOREVER to charge.
This is a good option if you already own a Toro battery or are for some reason a Toro loyalist. Otherwise, there's a reason it is number five on this list.
You can check the price at Home Depot here.
Why we started The Lawn Review
The reason we started this website in the first place was because we had so much trouble trying to find reasonable, understandable, honest reviews for lawn equipment. And it's not cheap! After hours and hours of research, trying products and returning them, and messing up our yards – we started this site.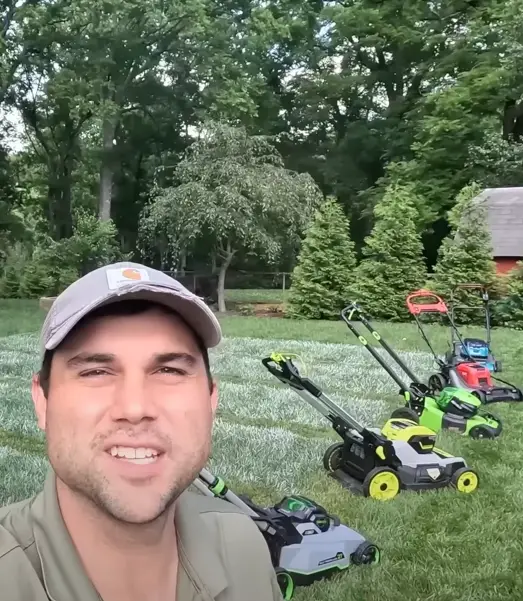 As people who had to learn the hard way, we want you to know exactly what you are signing up for before you purchase a piece of equipment. That's why we are committed to providing honest, easy-to-understand reviews that mean something.