Battery lawn mowers at Walmart are often overlooked – but a pretty good selection. While they aren't most folks first stop for lawn tools, they are the first stop for lots of other things. And they happen to have an exclusive mower brand that's pretty sweet.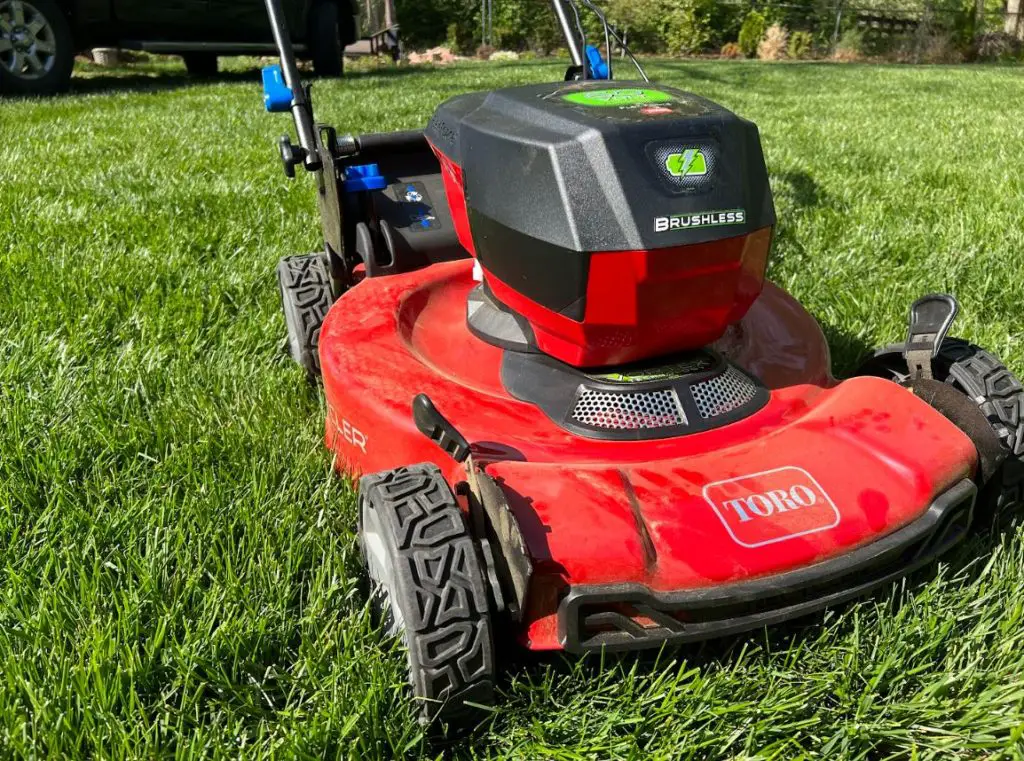 Before we dive into the full ranking of mowers at Walmart, we will break down exactly what you need to look for in a battery-powered mower. Mower reviews are our bread and butter since we have gotten our hands on dozens of mowers, run a landscaping company, and are absolute nerds about this stuff. 
Jump ahead:
Why we started The Lawn Review
The reason we started this website in the first place was because we had so much trouble trying to find reasonable, understandable, honest reviews for lawn equipment. And it's not cheap! After hours and hours of research, trying products and returning them, and messing up our yards – we started this site.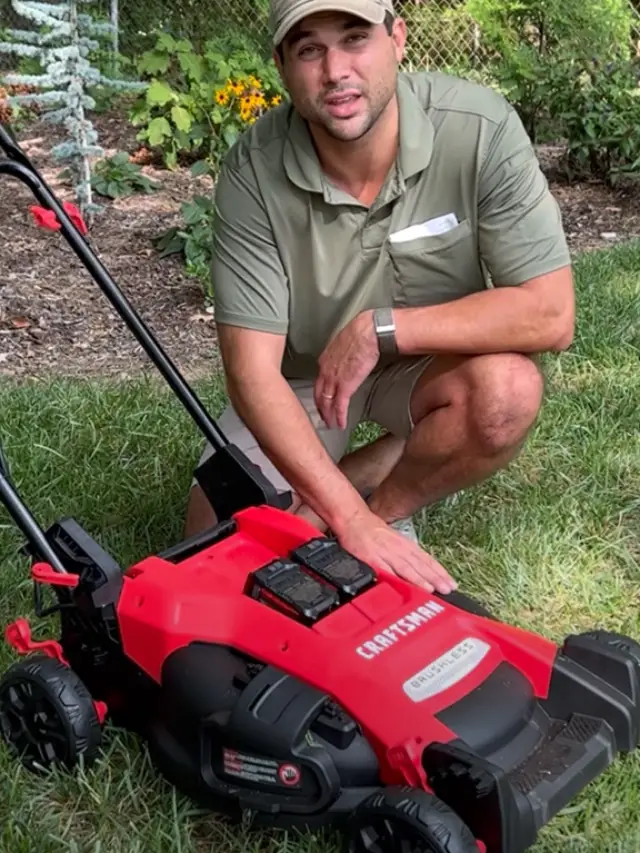 As people who had to learn the hard way, we want you to know exactly what you are signing up for before you purchase a piece of equipment. That's why we are committed to providing honest, easy-to-understand reviews that mean something. 
What to look for when buying a battery-powered lawn mower
If you're looking for a new battery powered mower (which you are), you need to make sure you understand what things matter. You will get hit with a lot of technical specifications and people throwing acronyms at you. If you're like me, you will tune them out.
Below are my recommendations:
Battery-powered mower brand quality
Quality is going to be super important here. Just about everyone is in the electric mower game these days and there are a ton of junky mowers out there. Avoid anything from a weird brand on Amazon that takes 9 years to ship. It is probably being 3D printed in a Laotian bathroom. Go for brands that have consistent quality and focus on the details, not just flashy colors.
Some brands I trust off the top of my head are: Greenworks, Milwaukee, Makita, Toro, EGO, and Kobalt. SOME Ryobi mowers, although myself and others have had some problems with reliability. Brand quality matters, but it's also important to look at the specs on each.
Metal where it matters: the deck 
Most electric mowers are plastic-y. Probably to reduce the weight of the mower so that the battery can get you further, but it feels cheap. Make sure to get metal where it matters – namely the deck. The deck is the part that covers the blades. Don't get plastic here – a rock can rip through it.
Battery interoperability.
 A ten dollar word used here, but really just make sure to buy a mower with a battery that is compatible with other electric tools. You'll see a bunch of these brands that have battery lines that work with a ton of tools. Milwaukee, Makita, and Dewalt are all great options because you can use them for all lawn tools AND power tools – saving you a ton of money on extra batteries.
If you have more questions, check out our guide to electric lawn mowers, where we break this down into a lot more detail.
Self-propelled or not
Self-propelled mowers are lawn mowers that slowly crawl forward when mowing the lawn. They propel forward the mower, taking off a lot of the "pushing power" required by traditional push mowers.
Self-propelled mowers are ALWAYS more expensive because they have the additional power and functionality that makes life easier. They have their place, but because of the cost can often seem not totally worth it
The Walmart and Hart relationship
If you are looking at mowers at Walmart, you may be wondering where the heck the "Hart" brand came from. Well, it turns out that Hart is an exclusive brand at Walmart manufactured and owned by the same folks that do Ryobi, Milwaukee, and a bunch of others – Techtronic Industries.
I don't totally know, but I think Ryobi and others have non-competes with Home Depot, so Techtronic is getting around it by launching a brand that is basically the same, but a different name. 
Should you be concerned or wary? No – not really. It looks like they basically copy and paste their Ryobi models over to Hart. 
Well – you're in luck because we have reviewed a TON of Ryobi mowers so this should be a breeze.
5 Best Battery Lawn Mowers at Walmart: Ranked
When we walked the aisles at Walmart in preparation to write this post, we weren't all that impressed. Then we went to Walmart's website – and man were we impressed. Some SERIOUS selection that's better than Amazon and rivals Home Depot and Lowe's. Don't sleep on Walmart!
Let's jump right into it. 
Best All-Around Mower: EGO Cordless Lawn Mower 21" Self-Propelled
I'll get right to the point – Walmart sells the EGO mower series on their website and they are one of our favorite all-around battery-powered mowers. EGO is a huge brand and probably the most powerful, gas-like brand on the market. We've done a ton of writing on EGO's Select Cut series and a ton of their other mowers. 
We like EGO's 21" self-propelled mower for many reasons, although it isn't perfect. If you're looking for EGO's best mower, check out our best battery powered mowers list – they have one on there with a steel deck.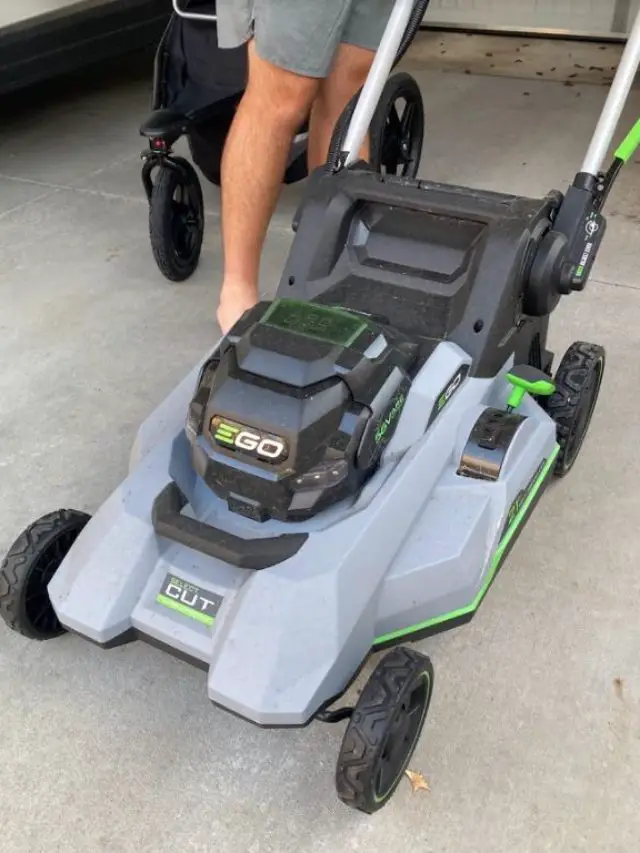 Without the steel deck, this one is still the top dog at Walmart. It feels different than most battery powered mowers because it is flat out strong. The self-propelled function on this is heavy-duty and the overall mower just feels indestructible. 
Plus, EGO has a ton of other lawn tools and only uses one 56V battery series. That means you can save big when getting an EGO weed eater, an EGO blower or any other tool of theirs.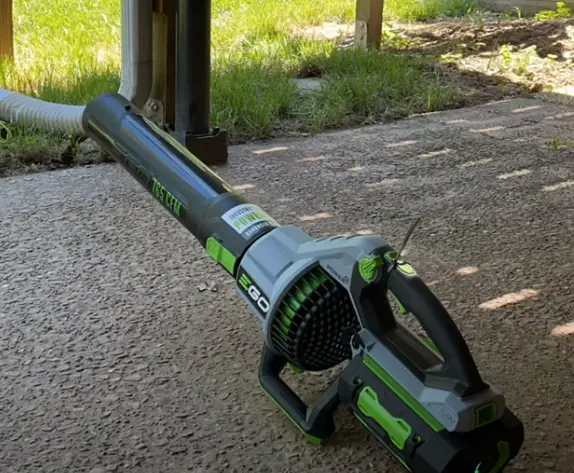 You can grab it from Walmart's website or even on Amazon.
Best Budget Mower: Hart 40-Volt Cordless 18-inch Push Mower Kit
When you're looking for a cheap lawn mower, you want something that will get the job done without breaking…or breaking the bank. Luckily you're at Walmart and surrounded by inexpensive things. 
We picked the Hart 40V 18-inch push mower because it combines the simplicity of battery-powered mowers without the bells and whistles that jack up the price. The crazy thing is – this Hart mower at Walmart is really well done. 
Some of the great features we like about the Hart 40V 18 inch push mower:
40V Hart battery can be used with a ton of other Hart 40V tools, saving you money when you buy the "tool-only" version
Super easy to turn on and maintain (just push a button and no maintenance required)
The battery can cut up to ⅓ of an acre – not bad!
18 inch width is perfect for smaller yards and actually helps you be more nimble
It's dirt-cheap at just over $200
One downside to this is that it is so light that it can almost be hard to steer. Yes – we've used a few similar Ryobi mowers and it is great that they are light, but they get jostled around by bumps or thick grass. 
Lastly – this Hart mower has a great 5 year warranty + a 3 year battery warranty. This isn't some cheapo crap mower!
Best Exclusive Walmart Mower: Hart 40-Volt 20-inch Brushless Self-Propelled Mower
This is really the best Hart mower as they are the biggest exclusive-only brand at Walmart, meaning you can't buy Hart mowers anywhere else unless it is second hand.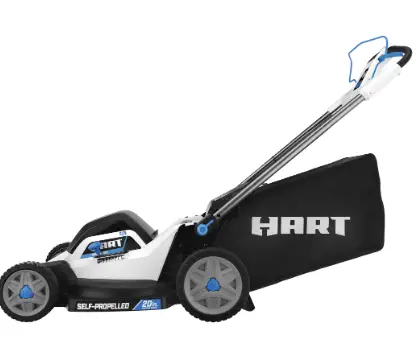 But the Hart 40-Volt 20-inch brushless self-propelled mower is a dang beast. If it looks familiar, it is basically the Ryobi 40V 20 inch brushless self-propelled mower with a new paint job. And that's not a bad thing. We love that mower. We own that mower.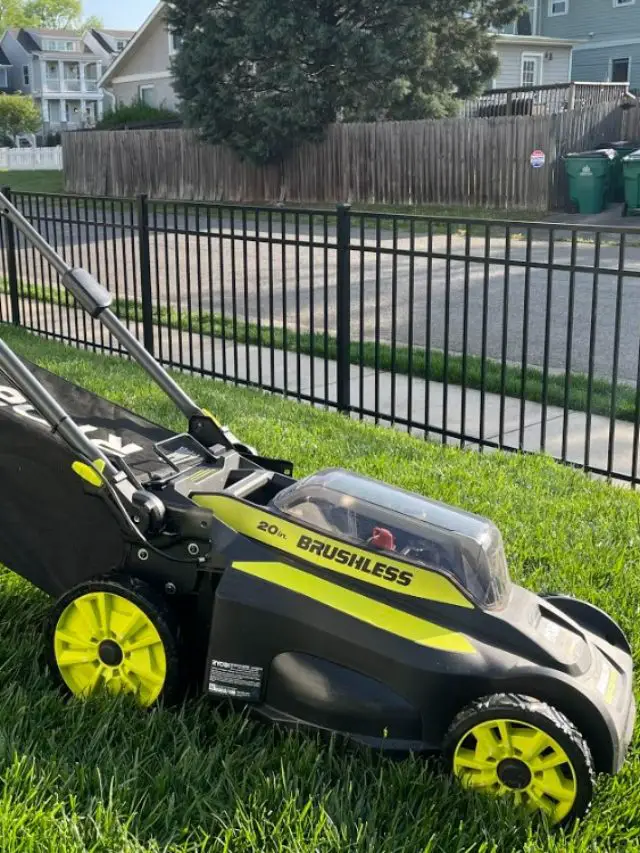 Here are some reasons we think the Hart 40V 20 Inch Mower is great from Walmart.
It's got a brushless motor, meaning it produces less friction, has more torque, and a much longer life. Basically, it's going to have a super durable motor. It can take on a little bit more than the smaller 18 inch one above, letting you get up to ½ an acre on a single charge. One other upgrade that's noteworthy is the ability to fold down really quickly and store easily.
Oh – and it's got a self-propelled function that is sweet. This thing has all the good parts of just about every mower. Only thing I would request is a metal deck – otherwise it's perfect.
Best Mower Combo Kit: Greenworks 40V 14" Mower/Blower/Trimmer Kit
If you're a first time homeowner or just in need of a lawn tool rehaul, you can get a total replacement kit and save a bunch of money. Now I wouldn't recommend this for the most intense lawn tool obsessors because it isn't exactly heavy duty, but it is easy on the wallet.
The Greenworks 40V Mower/Blower/String Trimmer kit has the essentials you need to get your lawn started. I recommend this kit for small lawns for a few reasons. Primarily: the tools are small (relatively). 
The 14 inch mower is not going to get you very far if you have anything more than ¼ of an acre. The String trimmer has a 12" cutting swath which is on the low end, and the blower isn't about to knock anyone over.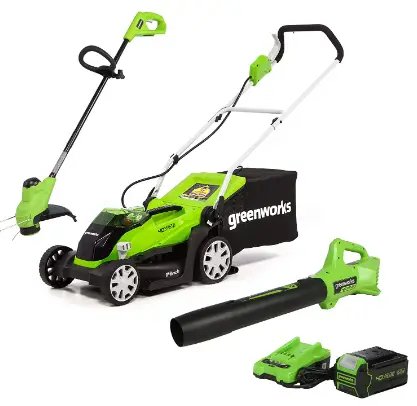 Just because they aren't all the most powerful doesn't mean that you can't get the job done. It's an amazing starting point for most new homeowners. Also, Greenworks has a good reputation for putting out quality tools and their 40V battery lineup can be used with a bunch of other tools – so it's a great initial investment. 
The total cost of the kit is equal to most individual mowers – so this is an absolute steal. Bundle and save! You can get it from Walmart or on Amazon for a great price as well.
Best Premium Mower: Toro 22 in. 60V Flex Force Battery Self-Propelled Mower
On the total other end of the spectrum, Toro mowers are sold at Walmart online and well – it's tough to beat them. I put the Toro Flex Force mower in the premium section because it is pricey, but worth it.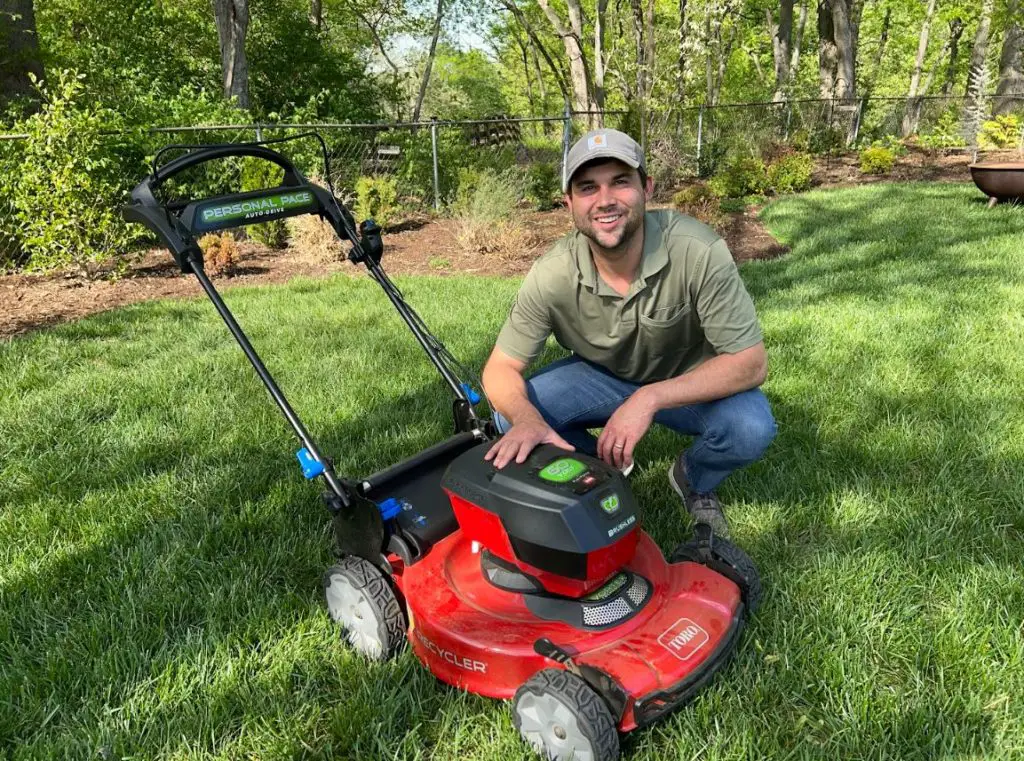 Toro's 60V Flex Force Mower is the biggest mower on this list with a 22 inch steel cutting deck. It has some other great features, too, like:
Largest voltage carrying the most power
Big old steel cutting deck
Little holes in the steel deck that pull air through, causing the grass to stand up for an even cut
Self-propelled
Brushless motor
This mower has one downside – Toro's 60V lineup isn't super developed. With Hart, Greenworks, and others you can reuse the same battery across a bunch of tools to save money. Toro's just not there yet.
Reviewing the top mowers at Walmart
Never thought I would be recommending a mower from Walmart, but I'm not beneath it. Truth is – they have the same dang mowers as any other place + a few extras. If you're in the market for a new battery mower, Walmart is as good of a place as any. 
If you're not looking at Walmart, check out some other great battery powered mowers!