We get so many questions about battery powered lawn tools, but most are all about one thing: the battery. 
The different lawn tool brands that make battery powered equipment are growing every day – but the questions about their batteries continue to grow with them.
Today, we've put together a guide of frequently asked questions to serve as a resource for anyone interested.
We will continue to update this as we receive more questions. If you have a question, submit it to our Facebook group and we will get you an answer.
Let's get started:
Why we review lawn tools
The reason we started this website in the first place was because we had so much trouble trying to find reasonable, understandable, honest reviews for lawn equipment. And it's not cheap! After hours and hours of research, trying products and returning them, and messing up our yards – we started this site.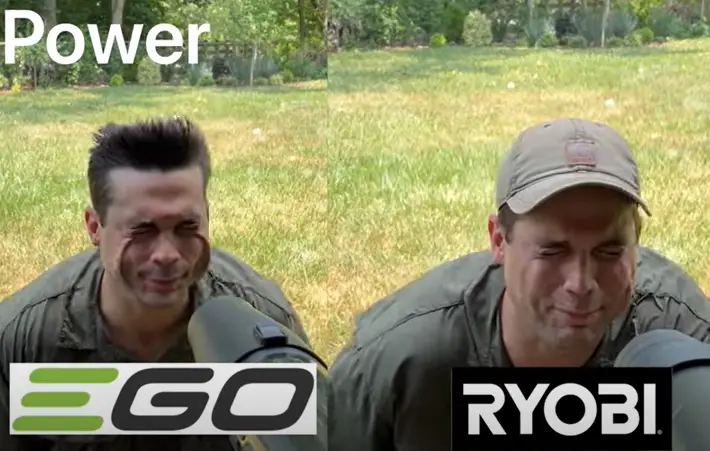 As people who had to learn the hard way, we want you to know exactly what you are signing up for before you purchase a piece of equipment. That's why we are committed to providing honest, easy-to-understand reviews that mean something.
Ryobi Battery Guide: Common Ryobi Battery questions
As a Ryobi fan, I get a ton of questions about their batteries. Here are some of the best reviews we have done of Ryobi products.
How long does the Ryobi 40V battery last?
The Ryobi 40V battery life is dependent on a few things but will be most dependent on the type of tool. Battery life is going to get run down by the power output required of the tool. A lawn mower is likely going to eat through more battery than a cordless drill. So here is a quick guide
Ryobi 40V mower run time: 45 minutes
Ryobi 40V blower run time: 60 minutes
Ryobi 40V trimmer run time: 90 minutes

These will vary greatly – for example if you have a particularly thick mowing job, this number could drop from 45 to 30 minutes. Likewise, if you are using self-propelled features you may see a similar drop.
How to remove the Ryobi 40V battery from the blower?
Easy! Simply press down on the gray tab, grab the top of the battery, and slide out. I have a GIF below that shows how you put it in.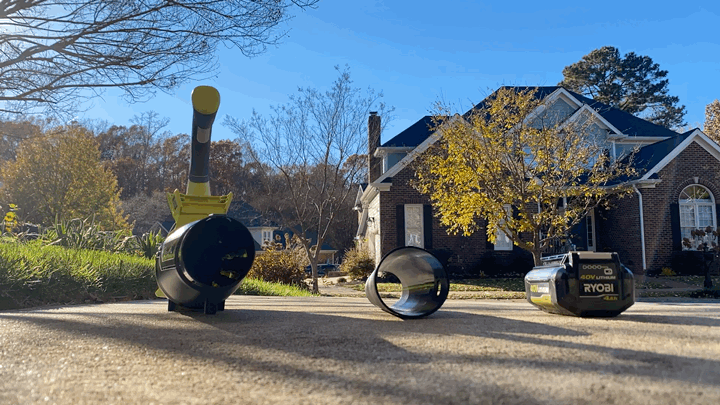 Remember to hold down the gray tab the entire time you are removing it and you should have no problem sliding it out.
Check out our Ryobi 40V blower post here.
How long does it take to charge a Ryobi 40V battery?
I've experienced Ryobi 40V battery recharge times varying from a little over an hour up to 3 hours. While the battery life is displayed in ¼ increments, it's hard to tell if you have one left whether you are at 1% or 30% battery remaining.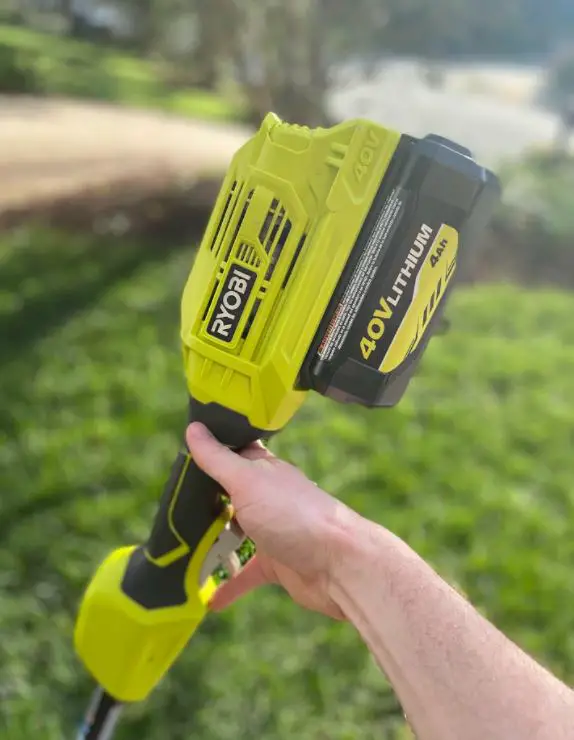 Do Ryobi batteries fit Greenworks tools? Are Ryobi and Greenworks batteries interchangeable?
C'mon now – you didn't think these corporations would make it this easy! No! They are not. You would have to either buy a battery for the other tool, or if you already have a battery, buy the tool-only version (which comes without a battery).
Are all Ryobi 18V batteries the same?
If they are a part of Ryobi's 18V One + (which I think they all are), then the battery will fit in all tools that use that battery. Part of the wonderful design of this series of batteries.
Can you leave Ryobi 18V or Ryobi 40V batteries on the charger?
This is not recommended as it can shorten the span on your battery life. Without getting too technical, I would say take it off the charger once it is fully charged. 
EGO Battery Guide: Common EGO battery questions
EGO makes some really cool lawn tools and has been exploding! Check out some of our EGO battery powered lawn tool posts here.
Are all EGO 56V batteries interchangeable?
Yes, all EGO 56V batteries work across all of their 56V tools. This is a huge benefit to EGO products. You may see different Ah (amp-hours), all with the same 56V. Each one of these 56V batteries will work across all tools.
Can EGO 56V batteries stay on the charger?
Generally with Lithium-Ion batteries, leaving them on the charger is not recommended. While it will not cause them to explode, it could result in reduced battery life to leave the batteries on the charger well past when they have reached their full charge.
How long does the EGO 56V battery last?
This totally depends on the number of Amp-hours of the battery. Higher Amp-hours means longer run time. Similarly, the more exhaustive and power-dependent the tool, the less time it will run. For example, a mower will require more power to operate than a string trimmer.
Do all EGO products use the same battery?
They are all compatible with 56V batteries and can technically all take the same battery, however EGO makes levels of Amp-hours with their batteries.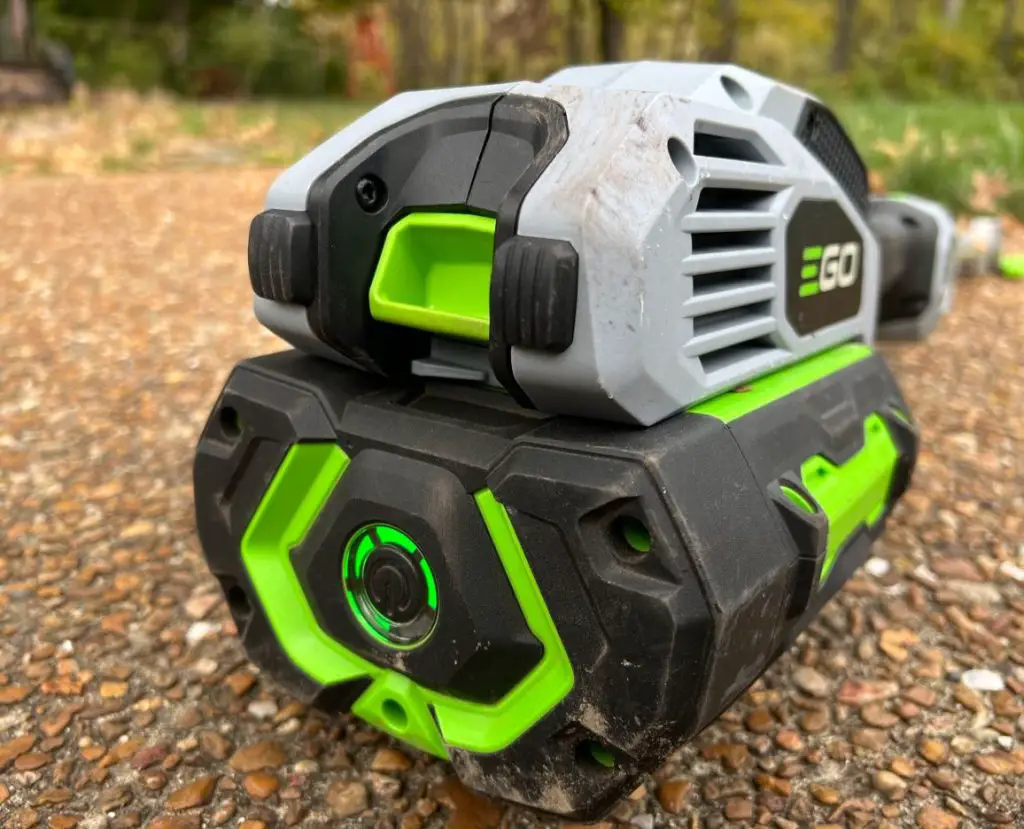 How long does it take to charge EGO 56V battery?
EGO put together a great guide below, but with a standard charger, it looks like this:
2.5 Ah EGO battery takes 50 minutes to charge
5 Ah EGO battery takes 100 minutes to charge
7.5 EGO battery Ah takes 145 minutes to charge
10.0 EGO battery Ah takes 190 minutes to charge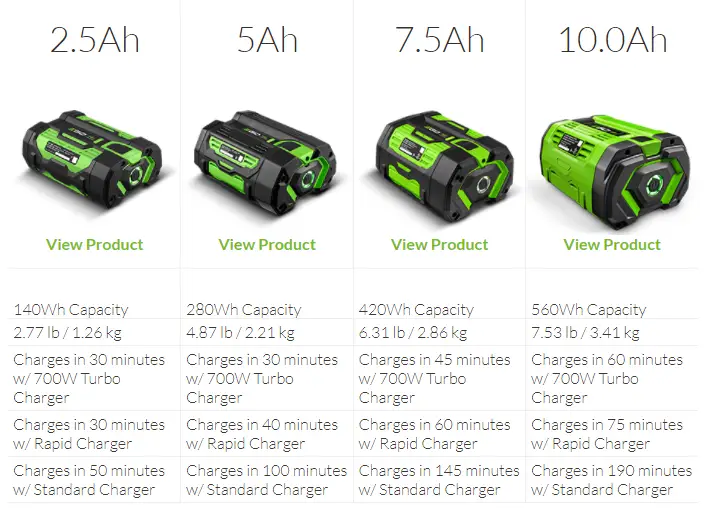 Are Greenworks and EGO batteries interchangeable?
Sadly, no – they use different voltages.
Greenworks Battery Guide: Common Greenworks battery questions
Greenworks makes awesome tools. Check out some of our favorite Greenworks posts here.
Are Greenworks 60V and 80V batteries interchangeable?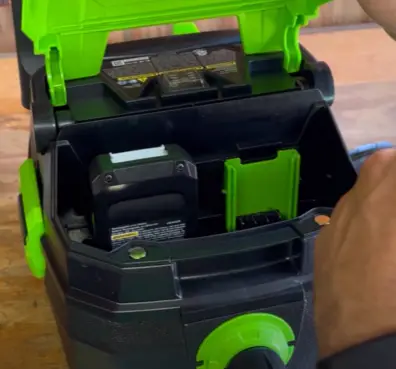 Unfortunately, no – these are not interchangeable.
How long does Greenworks 60V battery last?
Depending on the project and tool, you can expect this battery to last for 40-45 minutes.
How long does it take to charge Greenworks 60V battery?
The charging time for a Greenwork 60V battery is about one hour – making it top of class for a standard charger.
Are Greenworks 80V batteries interchangeable?
Yes! Greenworks 80V batteries are interchangeable with other Greenworks 80V compatible tools.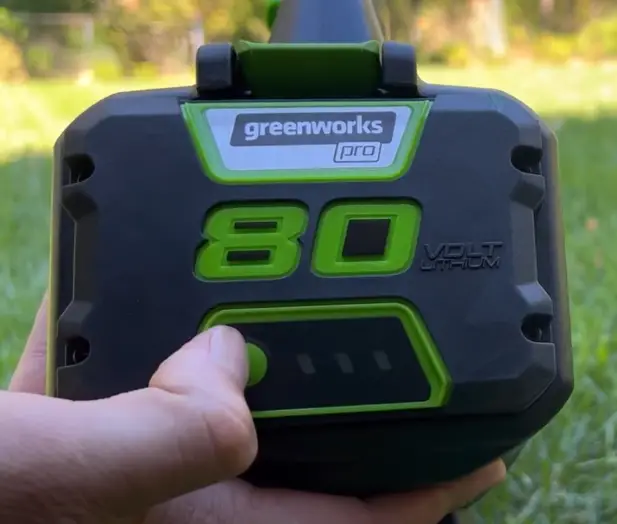 Are Greenworks and Kobalt 80V batteries interchangeable?
No! Sadly, they have different fits for each brand and do not work together in this way.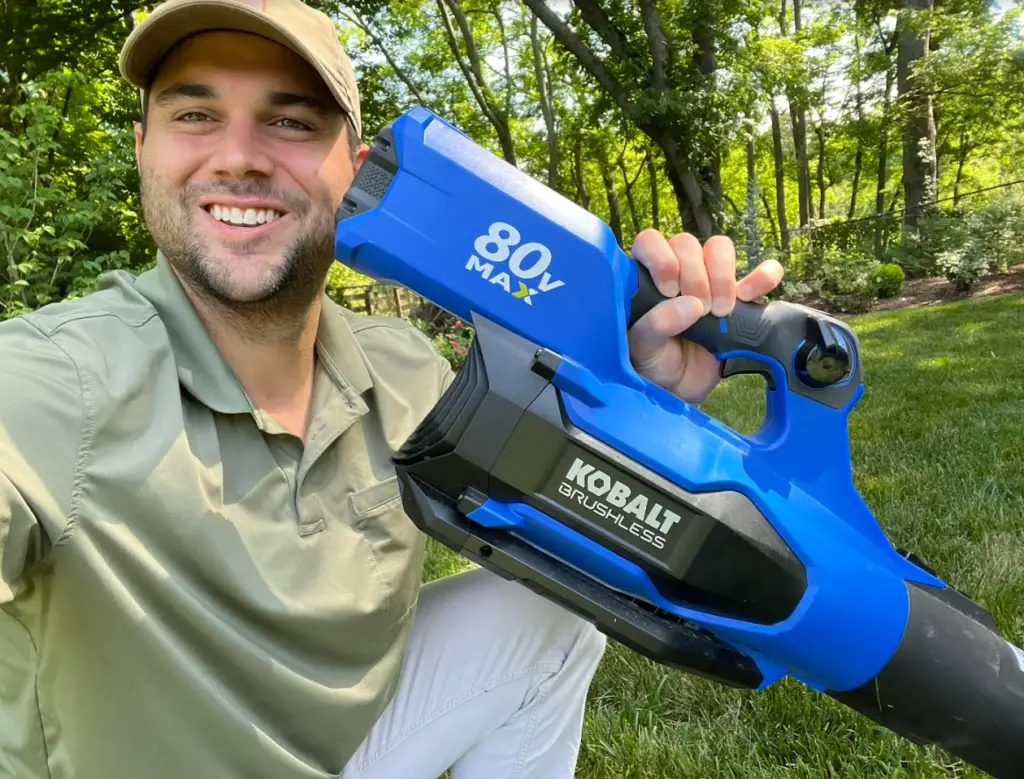 Dewalt Battery Guide: Common Dewalt battery questions
Let's kick off the Dewalt Battery FAQ! Check out some of our Dewalt posts here.
How long do Dewalt 20V batteries last?
This varies wildly by the type of job, but for a power drill can last several days whereas a Dewalt leaf blower can last about 45 minutes.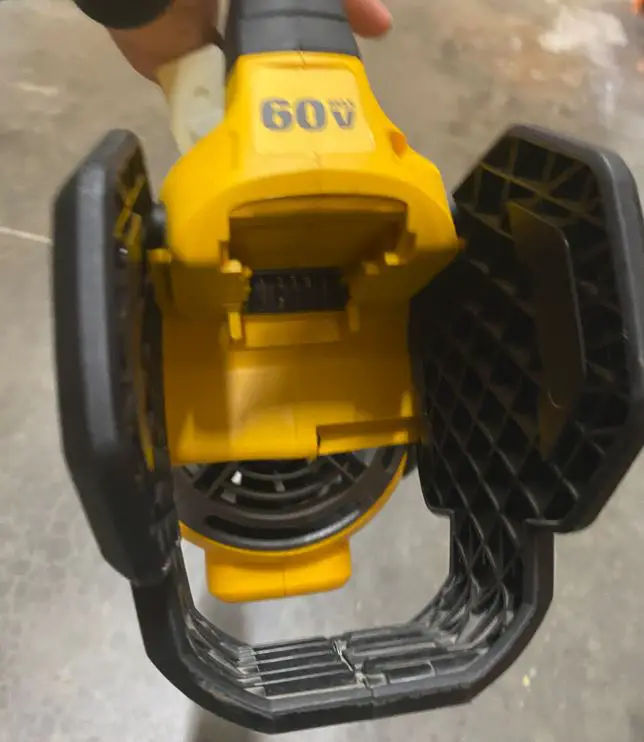 Are Dewalt 20V batteries interchangeable?
Yes, all Dewalt 20V batteries work with all Dewalt 20V products.
Are Dewalt 20V and 20V MAX batteries interchangeable?
While it seems confusing, the answer is yes. The MAX notates a more efficient battery system, meaning you will get more juice for the squeeze.
Is it okay to leave a Dewalt 20V battery on the charger?
Actually, yes. Dewalt chargers have a "maintenance mode" that allows them to remain on the charger until you're ready to get to work. 
Summary of findings
While all of these innovators in the battery-powered lawn tool space, rest assured that most batteries are the same. While voltage and Amp-hours can be confusing, a general rule of thumb is that most last for about 45 minutes for lawn tools.