Milwaukee lawn mowers are something out of a movie. Interestingly, Milwaukee invested all their time and effort into perfecting the battery-powered lawn mower. 
What was the result? Well, we went to Home Depot and bought this bad boy – straight up. Then we used it in our yard, my mother-in-laws yard, and my neighbors yard all in one day.
Well, unlike their peers who made 100 different battery-powered mowers, Milwaukee just made one.
For real? They just made one mower? 
Yes. Because when you put in as much thought and focus into a single item, you get amazing results. 
You have got to appreciate the commitment to making a quality product. 
So let's check out the best (and only) Milwaukee lawn mower: the M18 FUEL Brushless Cordless 21 inch walk behind dual battery self-propelled mower. 
Why we started The Lawn Review
The reason we started this website in the first place was because we had so much trouble trying to find reasonable, understandable, honest reviews for lawn equipment. And it's not cheap! After hours and hours of research, trying products and returning them, and messing up our yards – we started this site.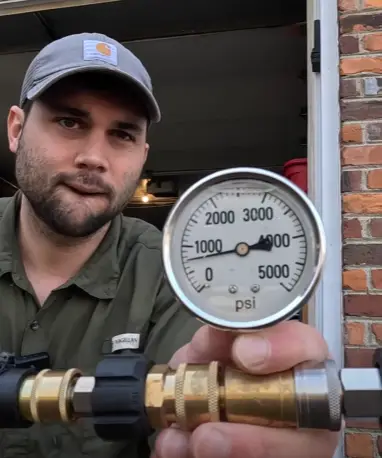 As people who had to learn the hard way, we want you to know exactly what you are signing up for before you purchase a piece of equipment. That's why we are committed to providing honest, easy-to-understand reviews that mean something. 
We also did a nice review of Milwaukee's M18 weed eater.
What to look for in an electric lawn mower 
When looking to purchase an electric lawn mower, you need to make sure you understand what things matter. You will get hit with a lot of technical specifications and marketing tactics. Totally forget them and focus on the things that impact you. Below are my recommendations:
Brand quality

Quality is going to be super important here. Everyone is in the electric mower game these days and there are a ton of junky mowers out there. Avoid anything from a weird brand on Amazon that takes 9 years to ship. It is probably being 3D printed in a Laotian bathroom. Go for brands that have consistent quality and focus on the details, not just flashy colors.
Luckily – Milwaukee carries really good brand quality. They're well known for making durable, powerful, trusted tools

Metal where it matters.

Most electric mowers are plastic-y. Probably to reduce the weight of the mower so that the battery can get you further, but it feels cheap. Make sure to get metal where it matters – namely the deck. The deck is the part that covers the blades. Don't get plastic here – a rock can rip through it.
Again, Milwaukee has you covered ehre.

Battery interoperability.

 A ten dollar word used here, but really just make sure to buy a mower with a battery that is compatible with other electric tools. Ryobi has this, so does Dewalt, and so do some of the Greenworks products. This will save you garage clutter and plug space.

Self-propelled or not.

Some people love it – I am indifferent. It's a great feature for hills, uneven surfaces, or if you don't like to push your push mower.
If you're interested in learning more, check out our electric lawn mower buying guide.
About Milwaukee tools
Milwaukee tools have a long history of being tough and durable. Milwaukee is a brand that has been around for over 100 years, and it has a well-deserved reputation for making high-quality tools. Milwaukee tools are used by professionals all over the world, and they are known for being able to withstand heavy use. 
Milwaukee makes a wide variety of tools, from hand tools to power tools, and they are used in a variety of industries, from construction to automotive. Milwaukee is a brand that is trusted by professionals, and Milwaukee tools are built to last.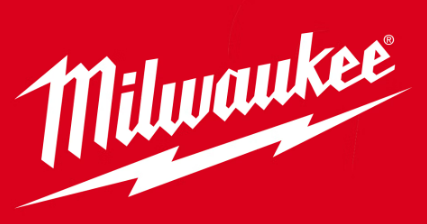 We noticed that Milwaukee was starting to make a splash in the lawn tool industry, so we have been trying to get our hands on any Milwaukee products that we can.
Best Milwaukee lawn mower
It's honestly hilarious because it is the only Milwaukee Lawn Mower. Therefore the best AND the worst. But who wants to read about the worst Milwaukee lawn mower? Not me. Anyways, let's get started.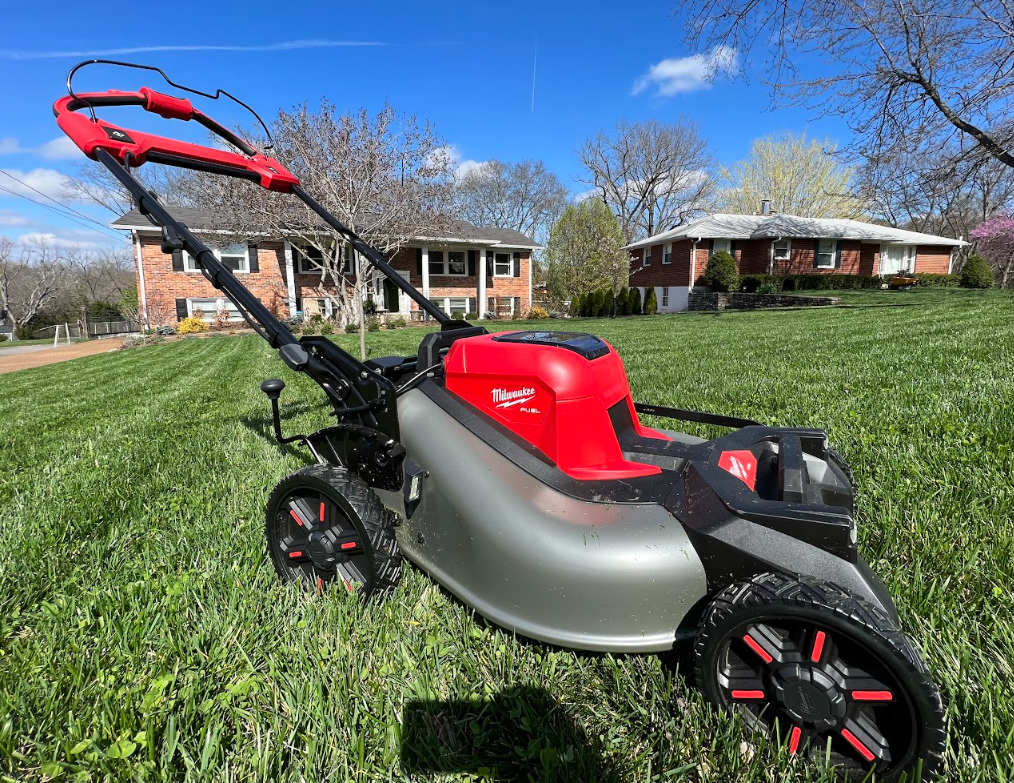 Power
If there's anything you can be confident about when buying a Milwaukee lawn mower, it is going to be the power. Milwaukee is notorious for making powerful products that deliver without fail. 
So when it comes to lawn mowers, you have to know that the power is there. And it is. It's always hard to evaluate power without measuring horsepower or cc displacement or whatever can be compared with gas mowers, so let's get a little more qualitative.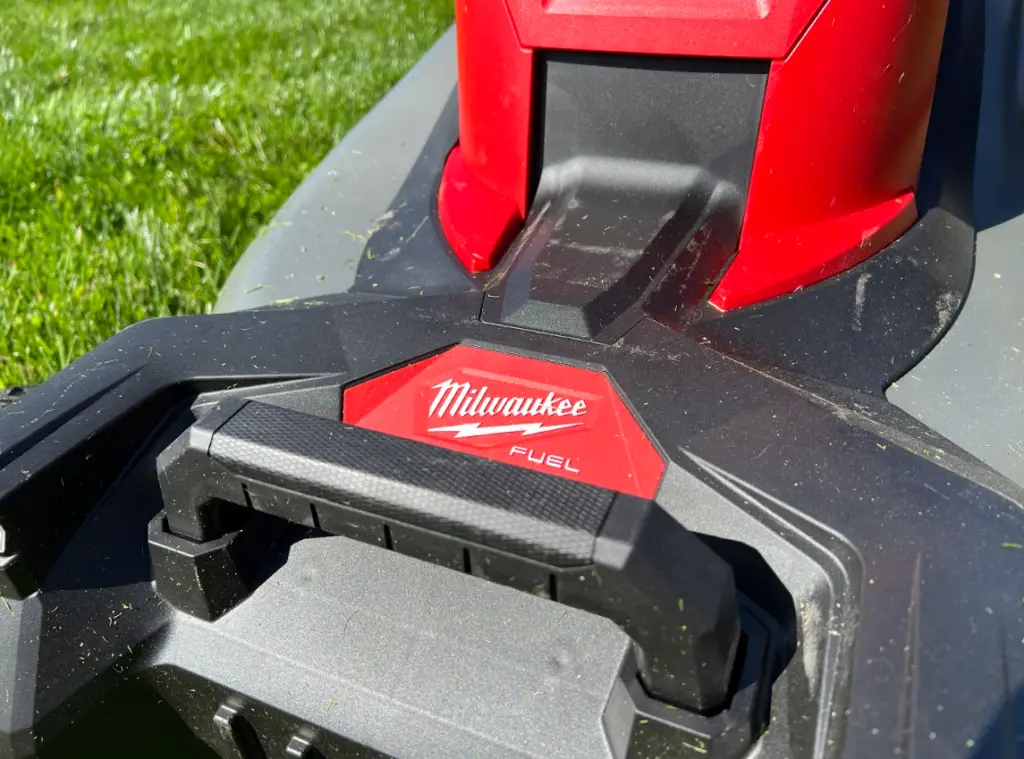 The Milwaukee M18 Fuel mower is going to at least be as powerful as a 200cc lawn mower. For comparison sake, one of the most popular gas mowers, the GCV170 from Honda has 170ccs. So even more powerful.
At the end of the day, you just want to make sure it cuts every blade of grass without being weak. I'm here to tell you that it does.
Feel and experience
Second most important thing in a Milwaukee lawn mower is the feel. If you're going to be making a bunch of laps in your yard, you don't want it to be too heavy to the point of becoming super difficult to push. You also don't want it to be plastic-y and lightweight, unable to keep a straight line.
The M18 Fuel mower has a metal deck, which makes it a little heavier than most electric mowers. Bad thing, right? 
Well, it makes up for it by coming with a nice self-propelled function that helps push it along (if you need it).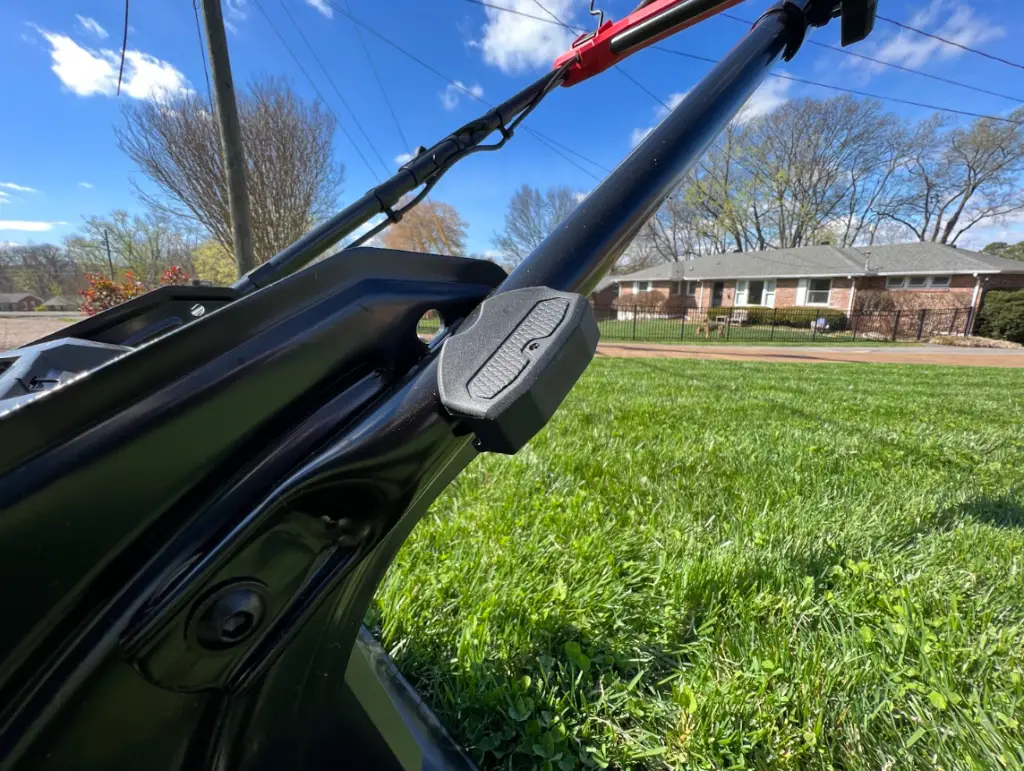 Whenever I use an electric mower, it still feels weird to me that it isn't loud. The noise is always a little weird to me – like a blender at a smoothie shop. I'm still getting used to the noise, but am growing to like it because I can listen to music or a podcast while I mow. 
This Milwaukee mower is also extremely easy to maneuver and feels exactly like my first mower, the Troy Bilt TB160 did when I made turns. 
Durability
When I consider durability in lawn tools, there are a few things I keep in mind. One of the top considerations is the brand's quality and reputation. Milwaukee is one of the few brands that does not put out any suspect tools.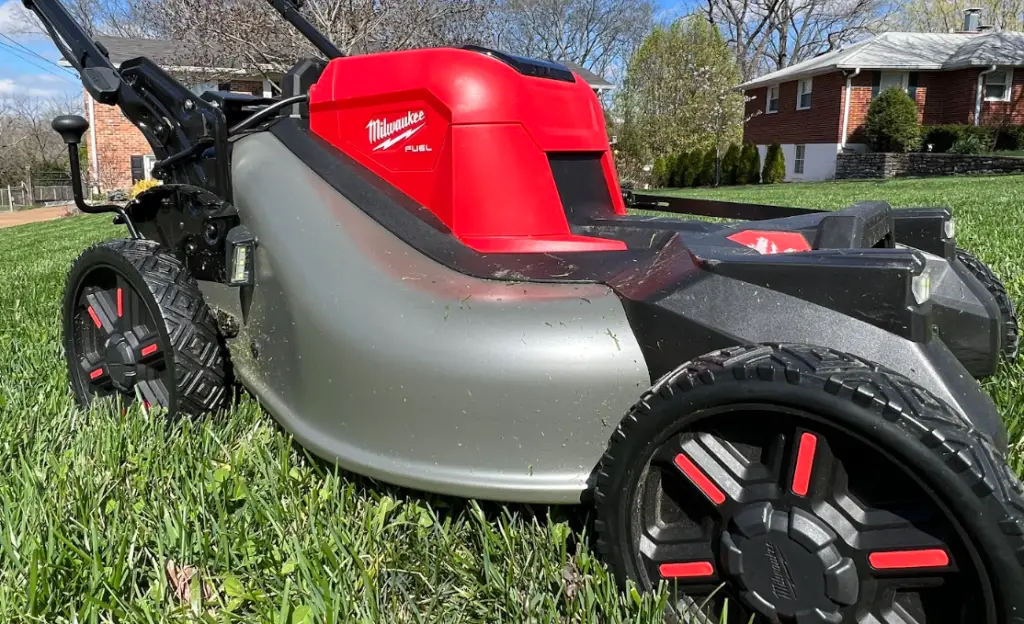 A lot of the other brands have lower-power tools that are relatively inexpensive to market to a different segment of customers. Milwaukee doesn't have time for that. They only put out bangers.
Oneother thing I love about this mower is the steel deck. Steel cutting decks are way more durable than their plastic counterparts, with the ability to keep it together even under potentially harmful scenarios. This means no cracking, no chips, no breaking. The steel deck here is going to last you for a long time (forever).
Other features: Bells and whistles
The Milwaukee M18 mower does not try to have all the bells and whistles – it's just a rock-solid, heavy-duty push mower. 
But it does have some features that have serious utility. The first of which is three cut styles: mulch, bag, and side discharge. Go with what suits you, but I generally mulch my grass and leave it in the yard. This is controversial. Deal with it.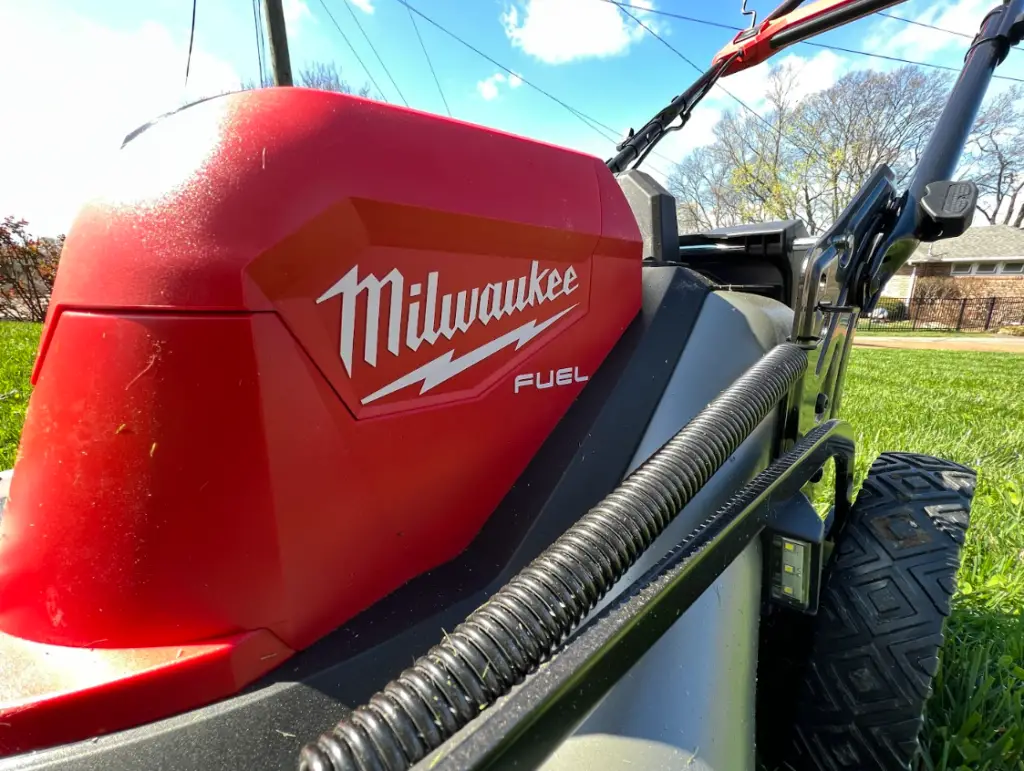 Another cool thing about this mower is that it goes to full throttle in less than one second. Which means you can just crank it and roll. A nice little touch. 
Cost and value: M18 Mower
The Milwaukee M18 mower comes in at just over $1,000 for the mower with batteries and a charger. You can get it for a bit less if you get it without batteries in case you already have some.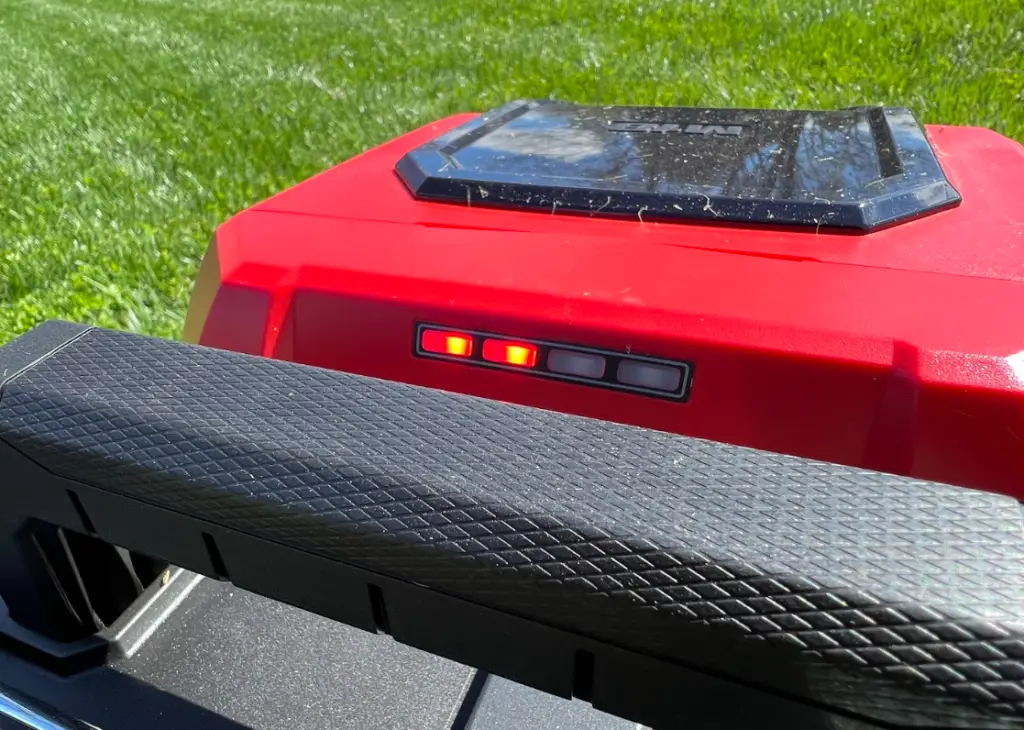 The M18 battery series serves over 200 tools and is an extremely reliable and intelligent battery.
I know what you're thinking – a whole rack for a mower? Yeah, it is a little steep. But like I said, Milwaukee just has one mower and it is pretty dang good. 
If you want a more affordable mower of similar quality, I would check out some of Makita's best mowers. 
The official review: Milwaukee M18 FUEL 21 inch mower
This Milwaukee mower not only comes with the power that you trust from all Milwaukee tools,  but is also extremely dependable. 
The price is a little steep, but this mower is exactly what you would expect from a Milwaukee product. Durable, consistent, and relentless about getting the job done.
You can grab it from Home Depot – check the price here – and a variety of other places. Check out our comparison post of the Ryobi 40V vs Milwaukee M18 mower.