The best lawn mowers for Bermudagrass have a few subtle differences or settings that are optimal for the health of Bermuda lawns.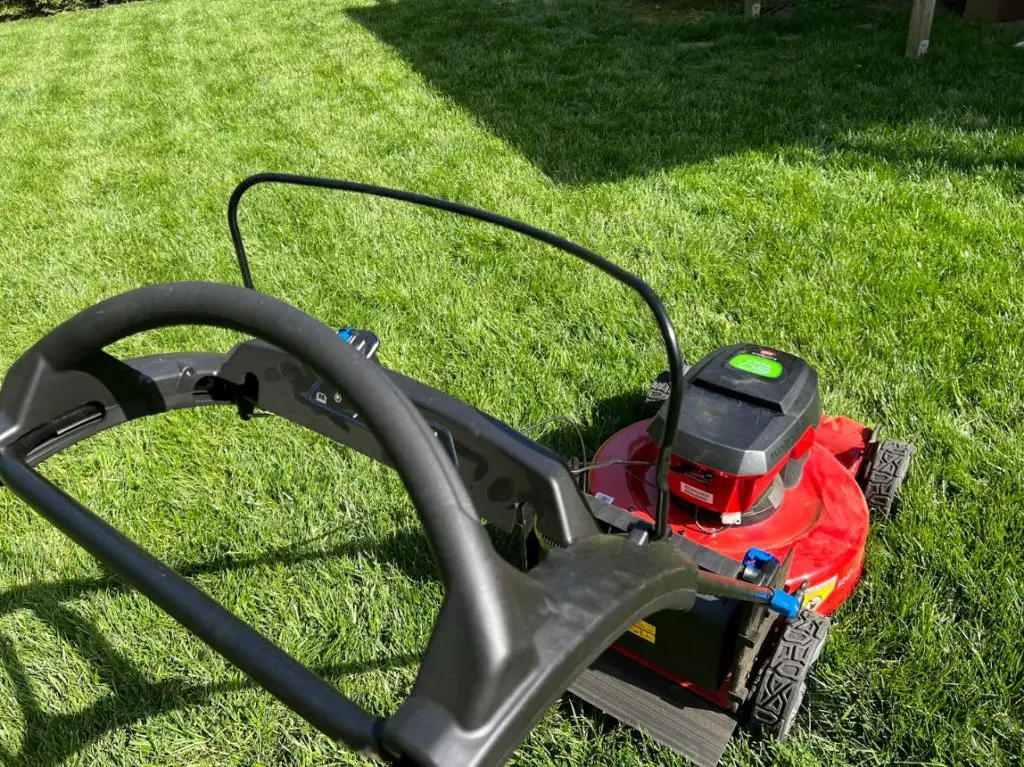 Personally, I hate Bermuda grass. I have some nice tall fescue and live in a transitional zone.  My neighbor has Bermuda so that they can be "different". Okay.
Anyways, I consider Bermuda grass a weed. But my friends just south of me and one of my The Lawn Review colleagues live in Texas – which is home to a lot of Bermuda. And he gave me his list of the best mowers for Bermuda grass.
So, let's add some background on why this is important and get right to it.
Here are the best lawn mowers for Bermuda grass:
Why we started The Lawn Review
The reason we started this website in the first place was because we had so much trouble trying to find reasonable, understandable, honest reviews for lawn equipment. And it's not cheap! After hours and hours of research, trying products and returning them, and messing up our yards – we started this site.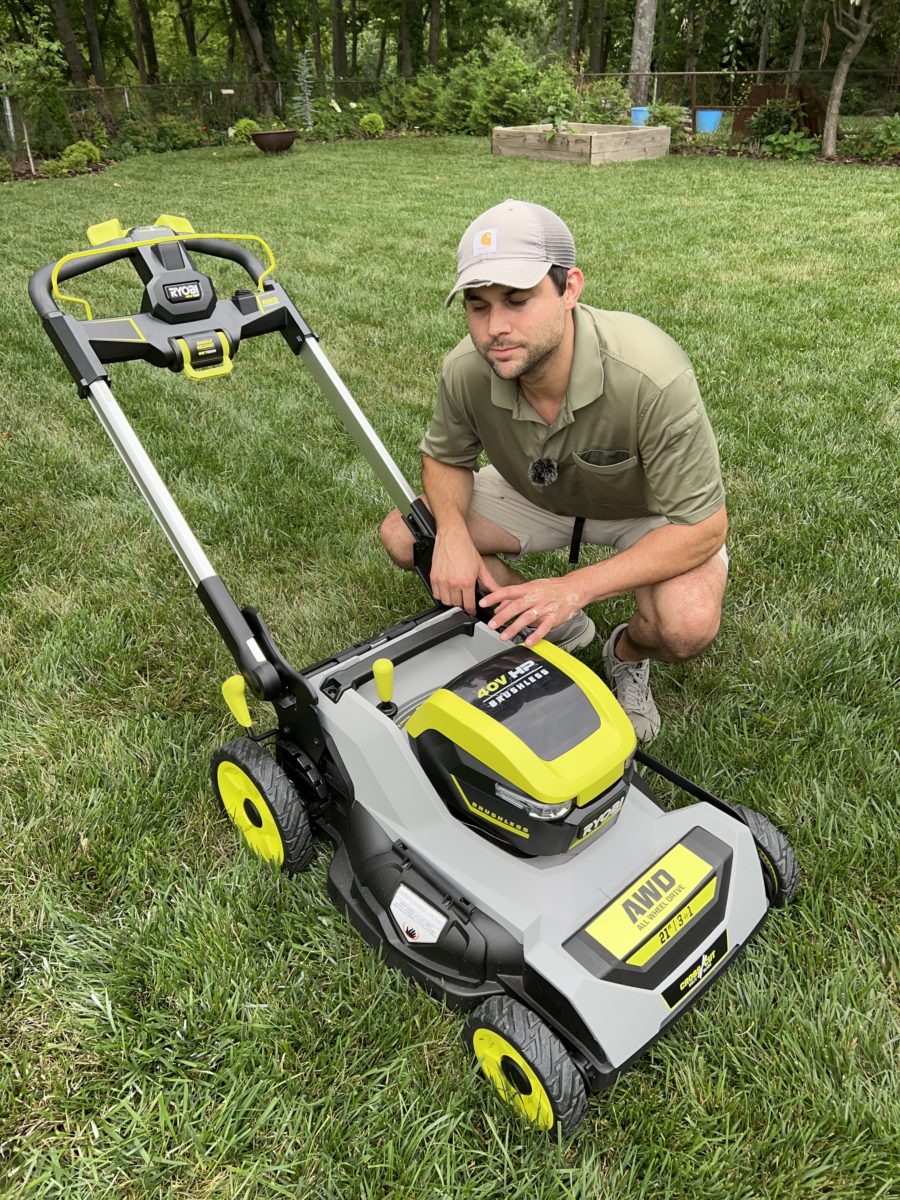 As people who had to learn the hard way, we want you to know exactly what you are signing up for before you purchase a piece of equipment. That's why we are committed to providing honest, easy-to-understand reviews that mean something. 
Why is Bermuda grass different for mowing?
Truth is, you can roll any old mower out there and it will get the job done. But if you want not only good-looking green grass but HEALTHY green Bermuda grass, then you should be careful how you cut it. Here's what to look for:
Flexibility with cutting heights
Bermuda needs to be cut at a height of 1 to 1.5 inches. That's short. For example, I cut my fescue lawn at about 3 inches. You'll want to grab a mower that can cut that low but also has more intervals between 0-2 inches that let you customize it based on your needs. Getting a mower that has wide intervals may not allow you to mow with any real sensitivity.
Bagging capabilities
Most of the time, I don't recommend bagging your grass while mowing. I let the clippings fall into the yard and provide nutrients to the soil. Bermudagrass grows like a weed (and I consider it one), meaning it grows really quickly. If you aren't bagging the clippings, you'll find that fungus will begin to thrive in your lawn. 
A wider deck
Bermuda grass grows really quickly. My neighbor is out there about 1.5x a week mowing his lawn (conveniently when my daughter is trying to take a nap). If you have a small mower, say 16-18 inches, then you are going to be out there making a LOT of passes. Getting a mower with a slightly wider deck will help make you a lot more efficient while mowing.
5 Best Lawn Mowers for Bermudagrass: Ranked
As you can see – with Bermuda grass, you have to be a little bit more selective about what you want in a mower. This is exactly why we spent dozens of hours researching and testing the mowers that are going to be super tailored to Bermuda lawns. Let's check it out.
Toro Recycler SmartStow 22 inch Battery Powered Mower
We tanked the Toro Recycler SmartStow 22 inch battery powered mower as the best mower for Bermuda grass for a few reasons. First of all, Toro is a well-known name that makes some freakishly popular and powerful mowers.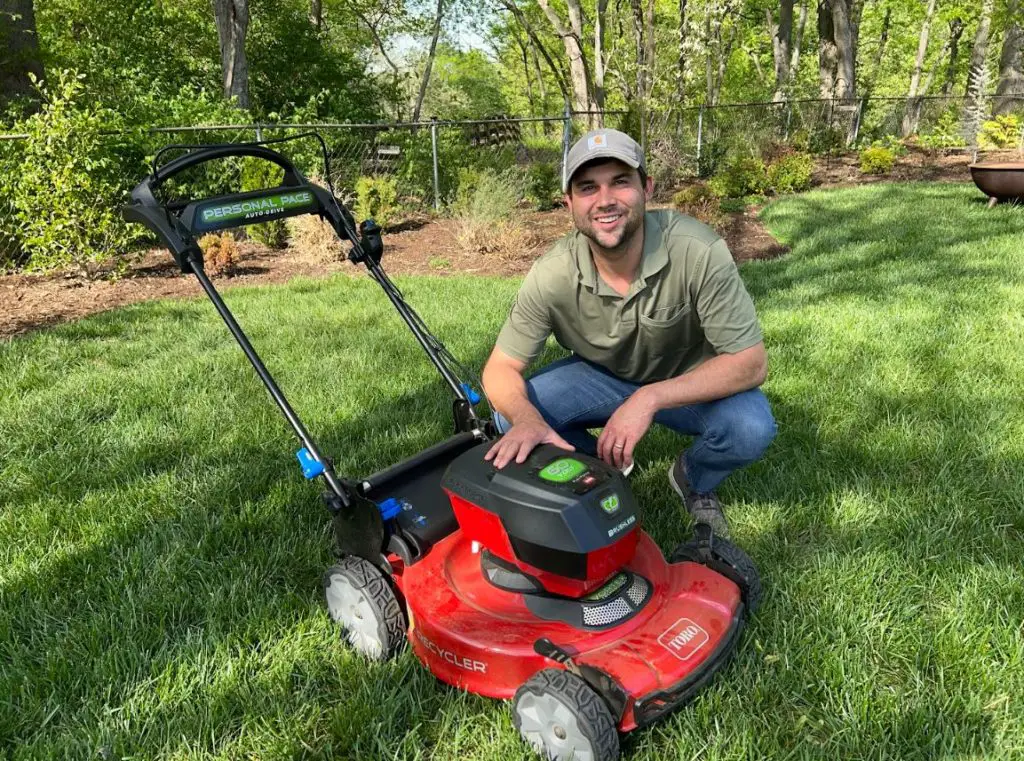 But there are many more reasons than just the fancy name. As we referenced earlier in this article, this one has everything you could want in a mower for bermudagrass. Like these key features:
A slightly wider deck at 22 inches (the standard is usually 18-21 for push mowers)
Bagging ability (most have this, though)
I like that it is battery powered because you won't have to run to get gas if you are mowing more than once per week.
It can cut between 1 to 4 inches, getting you great results for your 1.5 inch bermuda grass
Toro created this airflow technology that pulls the air up on grass, allowing it to be more evenly cut – this mower has that.
It stores super easily, folding in half and being placed in a tight spot in the garage to get you through the dead season of bermudagrass, which seems to last forever
Toro nailed it with this mower. You know they had bermuda grass folks in mind when they created it – which makes sense given how popular these are in the South. 
You can grab this one from Home Depot for a great price – check the most recent price here.
Check out our top mowers at Home Depot.
Milwaukee M18 Fuel Brushless Mower
What can we say? We are obsessed with this mower and have featured it on all of our favorite battery powered mower posts. 
The reason?
It's a freak of nature. And we also love that it is the only mower that Milwaukee makes. We frequently joke that they just decided to put all their chips on this hand and walked away from the table a winner.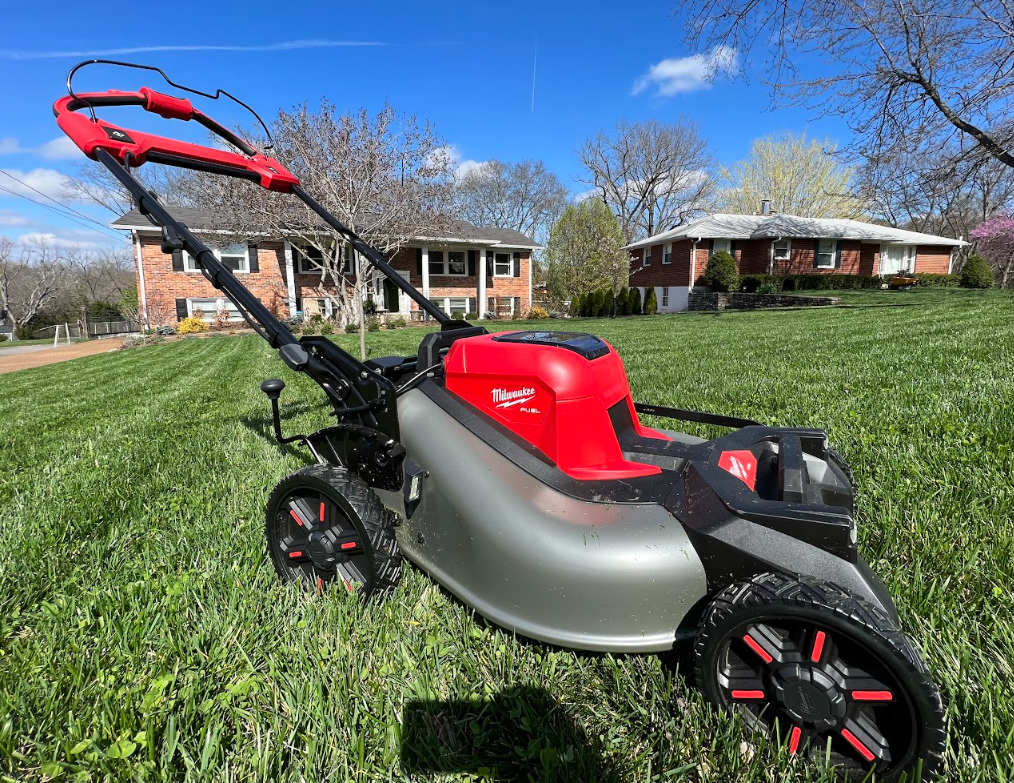 The Milwaukee M18 Fuel mower is great for Bermuda grass and has a lot of the same features as the Toro one above, but also costs about twice as much. It has bagged discharge capabilities, 1 to 4 inch height adjustment (that is single point, by the way), a wonderful self-propelled function, an extremely efficient brushless motor that accelerates faster than any other mower, and more torque than most gas mowers.
Yes, it is the cream of the crop and the perfect mower for any of you that already own an M18 battery-powered tool. 
This one is quite expensive though. Milwaukee is definitely a premium brand and hands down has the best mower on this list – but the price is steep.
You can check the most recent price at Home Depot, where it is exclusively sold, right here.
Dewalt 20V Max 21.5 inch Battery Mower
The Dewalt 20V Max mower is one that definitely surprised me. I know Dewalt has been in the power tool business for a long, long time, but are relatively new to the lawn tool space. 
The reason this one isn't higher up on the list is that Dewalt simply doesn't have a massive line of lawn tools. They have this 20V brand but also have a 60V line. So you don't get the same efficiency and battery savings that you do with other brands like Ryobi.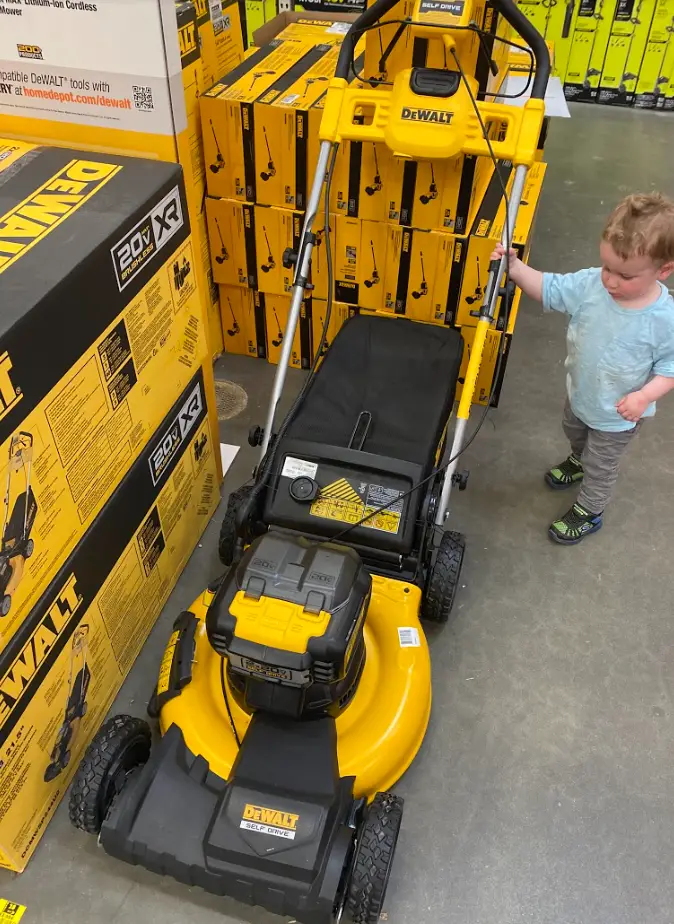 But there's still a lot to like about the Dewalt battery-powered lawn mower, like:
21.5 inch deck gives you a little more width for cutting Bermuda grass
10 Ah batteries – which is INSANELY high
Self-propelled function
1.5-4 inch cutting heights – so you'll have to drop it way down for Bermuda
Sweet metal cutting deck
Reasonable price – even better if you already have a dewalt 20V Max battery
This really is a great mower, with one of the main downsides being that it's really hard to find replacement blades because of the unique size. If they get dull, you can sharpen your mower blades instead of buying a new one.
This one is also available at Home Depot for a great price – even less if you get the tool-only version.
Toro TimeMaster 30 inch Mower
Some of you are getting super mad right now because I haven't featured any gas-powered mowers….until now!
The Toro TimeMaster 30 is the Ray Lewis of mowers. It's absolutely massive and packs a ridiculous punch. Yes – the 30 in TimeMaster 30 is how many inches wide it is. And if you're thinking that the width is like a riding mower, then you'd be exactly right. It's extremely wide.
The TimeMaster is a gas-powered masterpiece that's amazing for Bermuda lawns. The cut height ranges from 1.25 to 4.25 inches and everything in between. This level of detail is unmatched. Here are some other bells and whistles on the TimeMaster that truly set it apart.
223 CC Engine
Self-propel function with traction assist
Spin-Stop  function that means you can deactivate the blades but keep the engine running. Great if you have to move a rock out of the way without having to stop and restart the mower.
Two side-by-side cutting blades
A cool deck wash port that allows you to connect your hose to a tube and it will clean out the deck.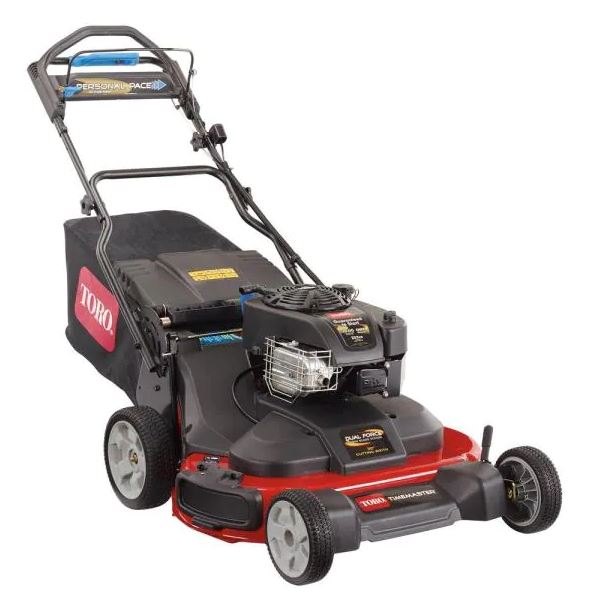 The only downside to this mower is the price. It is the Cadillac of push mowers which means it carries a Cadillac price tag. It does occasionally go on sale so you can check the price here at Home Depot.
EGO Power+ LM2021 Mower
I had to put this EGO mower in here in the ranking of great mowers for Bermuda because we just love EGO products. And we recommend this mower the most because it has a steel cutting  deck whereas most other EGO mowers don't.
We like this EGO mower for bermuda because it is a great battery-powered lawn system that can be used all across your bermuda lawn. From EGO's weed eaters to their super powerful blowers, you'll be covered once you get into this system.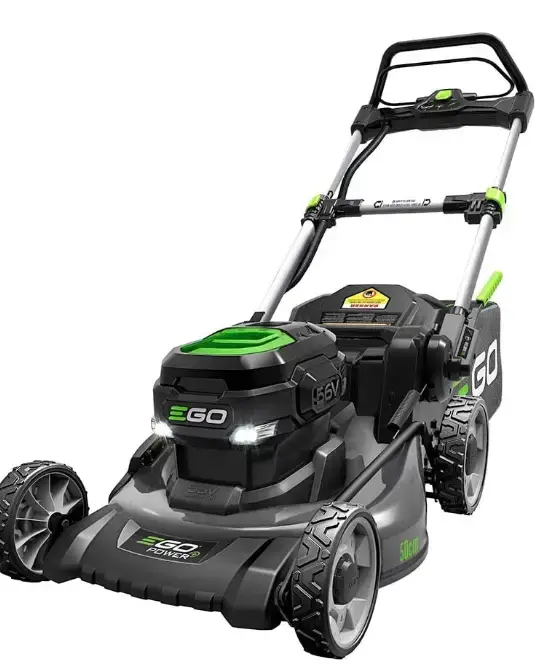 It's also got a great run-time and charges quickly, so you can mow a larger area and do it more often without worrying about trips to the gas station. Great for bermuda grass. 
This one is available at Amazon for a super good price relative to most other EGO mowers.
Bottom line on mowers for Bermudagrass
It's not hard to find a good mower for Bermudagrass – but since you are going to be mowing more often than most folks, want to collect grass clippings, and need a short cut, there are some mowers that are just flat out more suited for you.
Looking for a mower somewhere else? We were surprised to see some of these at Walmart.