The Greenworks 80V Leaf Blower is an absolute unit. A solid, extremely powerful battery-powered leaf blower that can easily rival gas-powered backpack blowers.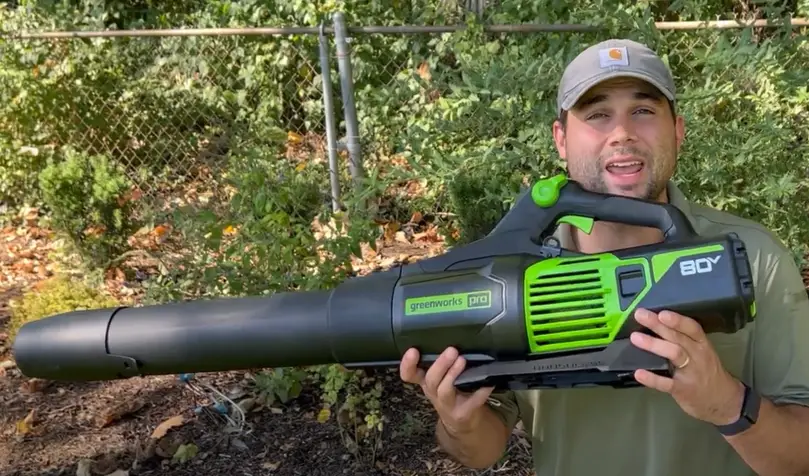 We were lucky enough to get our hands on this blower and boy, were we impressed. 
Today we will break down the best parts about this blower, a few of the things we didn't love, and give it an overall ranking.
But before we get started, make sure to check out our long-form video review of this blower where you can see and hear exactly what it's like. And don't forget to subscribe to our channel to enter into the free giveaway!
Let's get started.
Why we review lawn tools
The reason we started this website in the first place was because we had so much trouble trying to find reasonable, understandable, honest reviews for lawn equipment. And it's not cheap! After hours and hours of research, trying products and returning them, and messing up our yards – we started this site.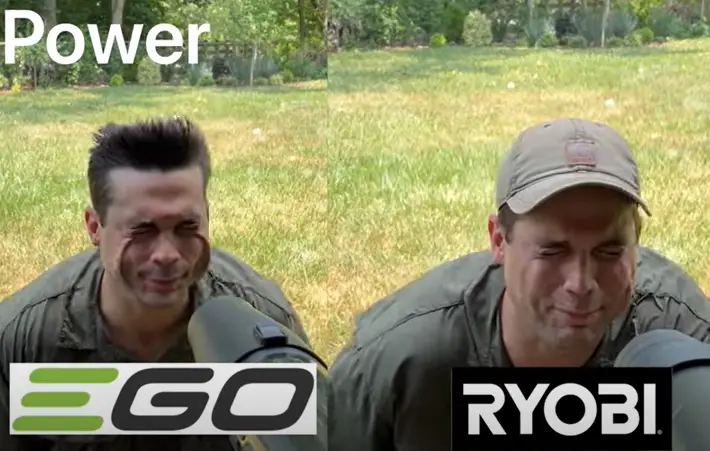 As people who had to learn the hard way, we want you to know exactly what you are signing up for before you purchase a piece of equipment. That's why we are committed to providing honest, easy-to-understand reviews that mean something. 
Greenworks makes some other cool products we've reviewed, like their Cordless Shop Vac.
What to look for in an electric blower
Cordless blowers come in a bunch of shapes and sizes but there are three basic things you need to understand:
CFM – Cubic feet per minute. This is a measure of air output on the blower. Higher CFM = more power, but not necessarily more miles per hour. High CFM with a wide nozzle = lower MPH. High CFM with a narrow nozzle = high miles per hour. Ideally, you want both a high CFM with a narrow to medium nozzle for most residential jobs.
Usability – what is the point of having a blower if it is hard to use? Have to get one that is lightweight, easy to start, and has some functions that make your life easier.
Motor type – brushless motors reign supreme. Cooler running motors with more torque, a longer run-time, and last many more years. Brushless is a no brainer when picking a blower.
These are three things you need to pay attention to when looking through the specifications. 
Greenworks 80V Blower: Features and benefits
Before we hop into the breakdown of this blower's performance and feel, let's give a quick overview of what's included in the purchase.
In the box you will receive: three user manuals (blower, charging station, battery), a tapered nozzle tip, the funnel, the blower motor housing, the 80V charging station and the 80V battery itself.
Now we can get going!
Feel and usability on the Greenworks 80V electric blower
The first thing we noticed about this Greenworks 80V blower was how DENSE it felt. It feels super solid and like it just came in one piece, carved out of stone instead of a million little pieces assembled together.
Not sure how else to describe it besides dense and tight. I think once you pick it up for the first time you will understand. The Greenworks 60V blower has an almost identical feel, but slightly less power and a different battery unit.
If you really want to try something fun and have the 80V battery already, check out the Greenworks 80V electric backpack blower.
Versatility of the 80V Greenworks cordless blower
A few features we loved about the versatility of this blower were:
Variable speed trigger
Cruise control setting for variable speeds
Turbo button
With these three features, which aren't all that common among other, cheaper blowers, you can have total control over how hard you want the air to blow.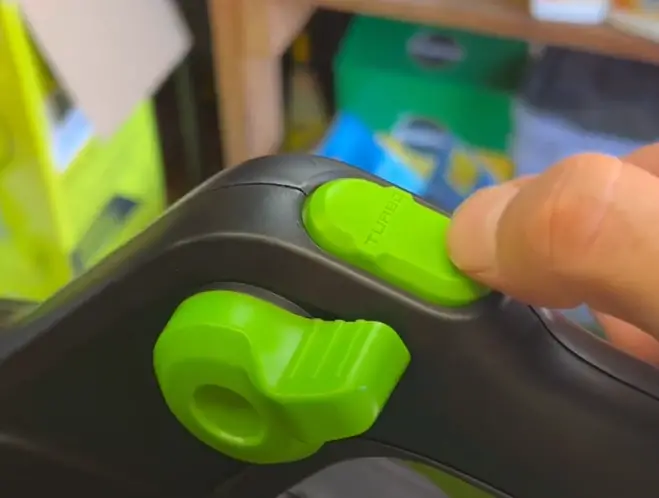 Before owning some of these nicer Greenworks blowers, EGO blowers, and Ryobi blowers – I always just held the trigger down as hard as it would go. But with these mega powerful blowers, the air comes out so much faster that you actually need to calm it down some of the time.
Having control over the airflow really helps and having cruise control allows for you to relax your hand and prevent it from cramping (first world problems!).
Nozzle types on Greenworks leaf blowers
The tapered nozzle tip that comes with this blower will give you a little bit more power at the end.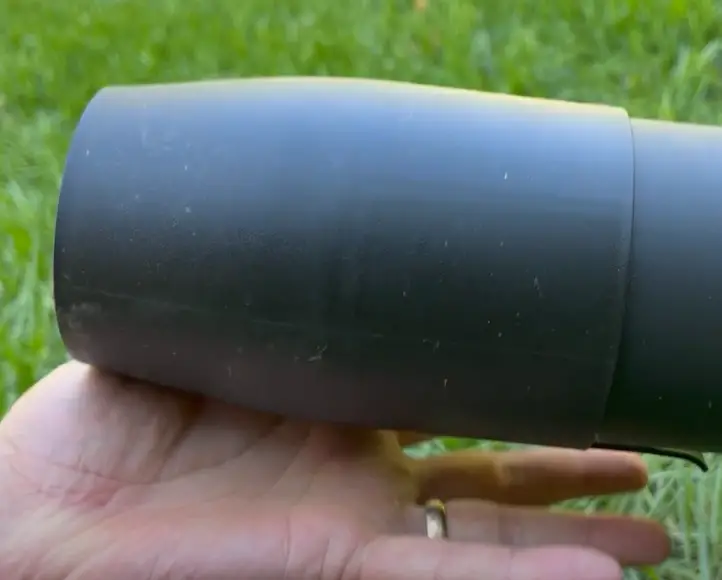 If you remember our discussion of CFMs and MPHs earlier, a tapered nozzle tip vs. a regular nozzle tip at the exact same number of CFMs will produce a higher MPH.
That's why you see some blowers out there with lower CFMs, but really high MPHs – they have very narrow nozzle tips. For me, I will probably keep the tapered nozzle tip on all the time so that I can destroy wet leaves and other things on my deck and driveway that drive me crazy.
Other bells and whistles
The Greenworks 80V blower has that sweet 80V battery that slides right into the back of the blower. This thing has a nice LED light indicator with three levels that can tell you when you need to head back inside – although I doubt you will get super low on battery any time soon (more to come on that).
Comfort and usability of a handheld Greenworks electric blower
Not all blowers are created equally. In fact, I used to own a Stihl BG 86 C gas-powered blower that was about as powerful as this one, maybe a little less, but was built in such a way that I had to crank my shoulder in a weird position to keep it down. Not this one! 
 At 8.9 lbs with the battery and tool combined, it isn't tough to waltz around with – meaning you likely won't need a strap unless you have back issues. 
But my favorite part about this blower is that the handle naturally forces the blower to point downward. This allows you to effortlessly hold onto the blower and have it at the optimal angle for blowing leaves. 
This is a huge wrist, shoulder, and back saver and something that only a true user of the tool would design. Major props to Greenworks for the design!
How loud is it?
Obviously one of the key things that's important when using an electric tool is the sound. In fact, many commercial landscapers use electric blowers when they get close to buildings to make sure that they're not too disruptive. Places like schools, nursing homes, hospitals, offices – all of them don't want to hear the insane screech of a backpack blower.
We again invite you to watch our YouTube review of the blower so that you can hear it for yourself, but this is probably on the louder side for an electric blower. During normal operations, the blower is on par with other electric blowers, but when you hit the turbo button this bad boy has a little bit of a squeal.
Hard to hold this against the blower as it is one of the most powerful handheld battery-powered blowers on the face of the Earth. 
All about the Greenworks 80V Battery
As we always do, we put the manufacturer's claims to the test when it comes to tool run-time and battery charge-time. This usually involves us zip-tying the trigger down with the turbo button on, without the turbo button and at full speed, and then at a low-speed setting.
Here were our results:
Turbo button held down: 12 minutes of run-time
Full-speed, no turbo: 17 minutes of run-time
Lowest speed: 496 minutes
Whew! We stayed up late for that one, finishing at about 10:30pm waiting for the dang blower to die.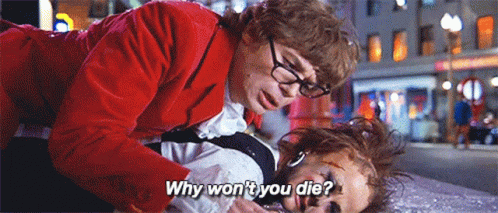 The must-haves in any battery blower
If you read our introduction, you know that the most important thing to look for in a battery-powered blower is obviously the brushless motor.
Does the Greenworks 80V blower have a brushless motor? Yep.
Brushless motors just mean that it uses magnets to spin the motor instead of copper wiring. This results in less friction, less heat, a much longer-lasting motor, and even more torque. Wow.
Another must-have is battery interoperability. Does the Greenworks 80V battery work with other tools? You betcha. 
In fact, the Greenworks 80V battery works in probably our favorite battery-powered mower of all time as well – the Greenworks PRO 80V mower. If you are in the market for a mower – this thing is what you're looking for. 
Lastly, we talked about CFMs and MPH – this blower has both. Super high CFM at 730 and can blow up to 170 MPH. More than enough speed and power for any residential use.
Comparing the Greenworks blower to Ryobi and EGO blowers
We are working on a separate video and full write-up for this, but at a really high level here is our summary.
Greenworks also has a nice 60V blower that is the little brother to this one.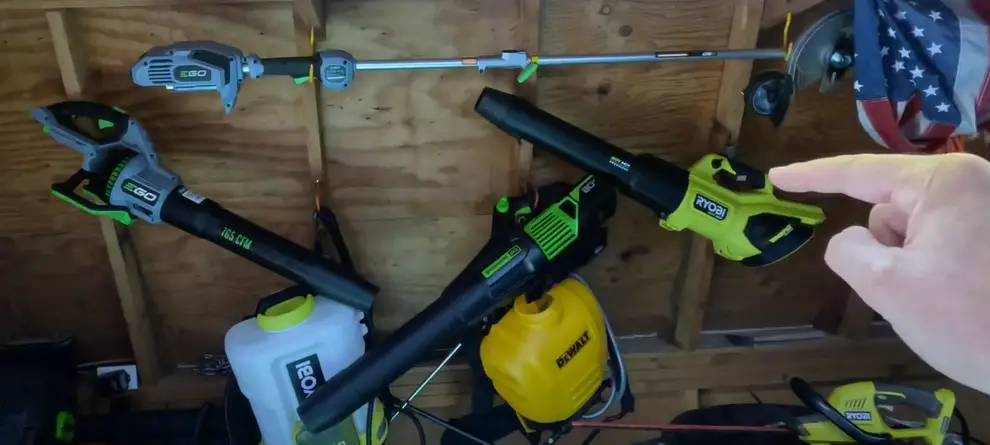 Official Review: Greenworks 80V Battery-Powered Blower
The Greenworks 80V battery-powered blower is a thoughtfully-made, well-designed battery blower that stands out in how easy and comfortable it is to use.
Does it get our stamp of approval? Heck yes. It is much quieter than a gas blower and can go toe-to-toe on power without a doubt. 
You can grab this blower on Amazon for a great price and can get the tool-only version for significantly cheaper if you already own the battery.