EGO Select Cut and Select Cut XP mowers carry many features that are honestly really confusing. EGO has 13 push mowers on their website. They are all roughly the same size, the same battery voltage, and look the same.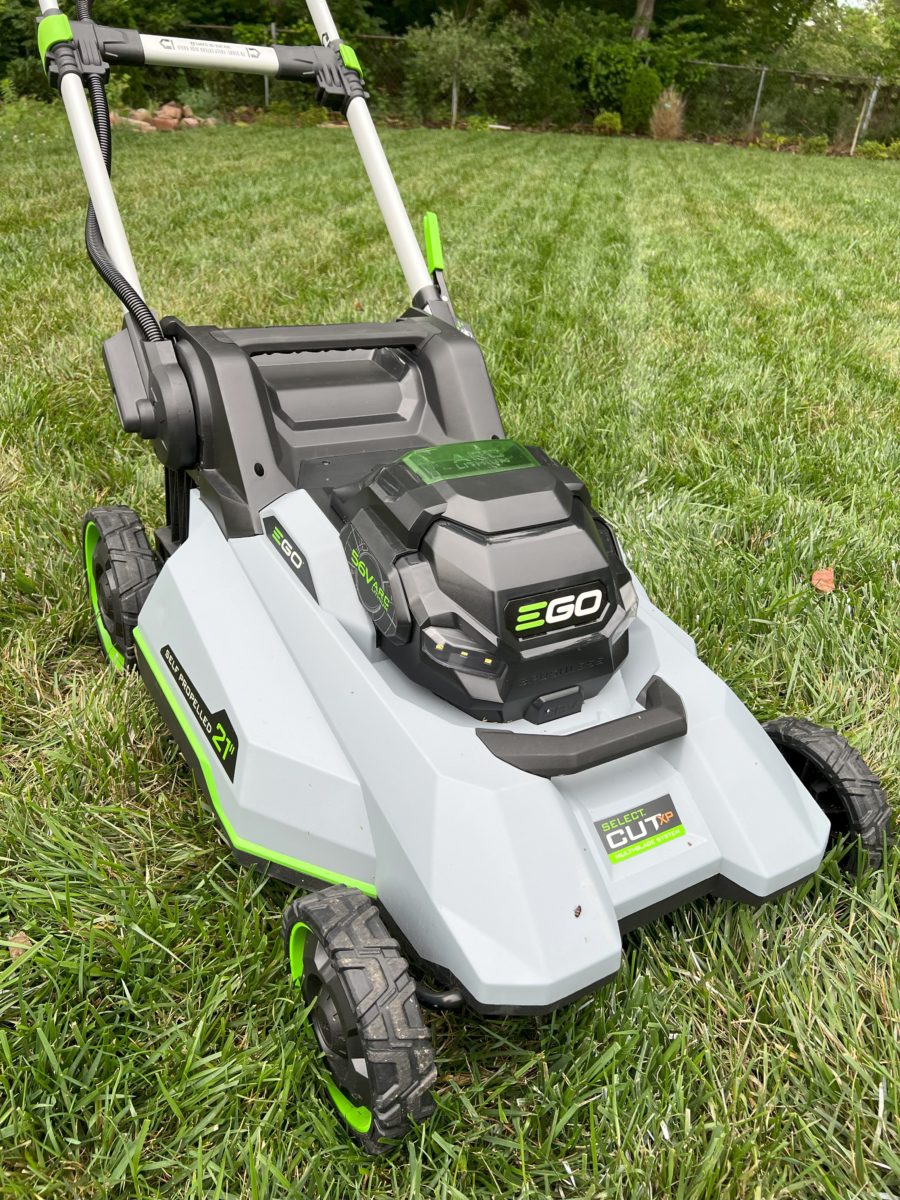 So what's the difference? Why is one $900 and the other $350? These are the questions we are here to figure out today.
It's no secret that EGO mowers absolutely crush the battery powered lawn mower game. They are some of the most powerful, longest lasting, and convenient tools on the market. So deciphering how to know what you're buying and making the right decision is important.
Let's get it figured out, together.
Jump ahead:
Why we review lawn tools
The reason we started this website in the first place was because we had so much trouble trying to find reasonable, understandable, honest reviews for lawn equipment. And it's not cheap! After hours and hours of research, trying products and returning them, and messing up our yards – we started this site.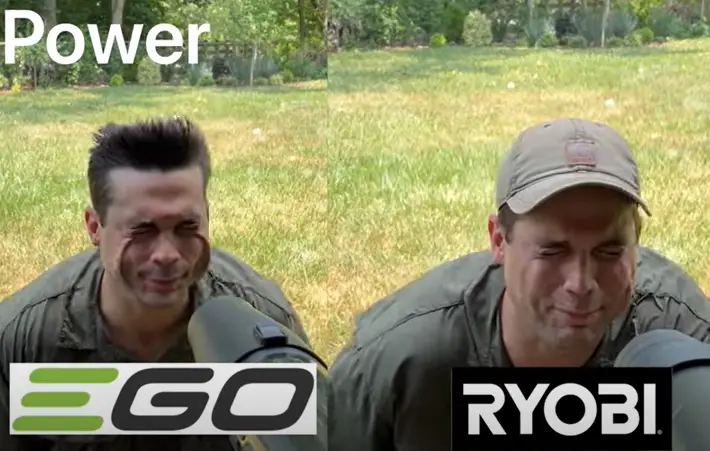 As people who had to learn the hard way, we want you to know exactly what you are signing up for before you purchase a piece of equipment. That's why we are committed to providing honest, easy-to-understand reviews that mean something. 
What to look for in a battery-powered lawn mower
When looking to purchase an electric lawn mower, you need to make sure you understand what things matter. You will get hit with a lot of technical specifications and marketing tactics. Totally forget them and focus on the things that impact you. Below are my recommendations:
EGO brand quality
Quality is going to be super important here. Just about everyone is in the electric mower game these days and there are a ton of junky mowers out there. Avoid anything from a weird brand on Amazon that takes 9 years to ship. It is probably being 3D printed in a Laotian bathroom. Go for brands that have consistent quality and focus on the details, not just flashy colors.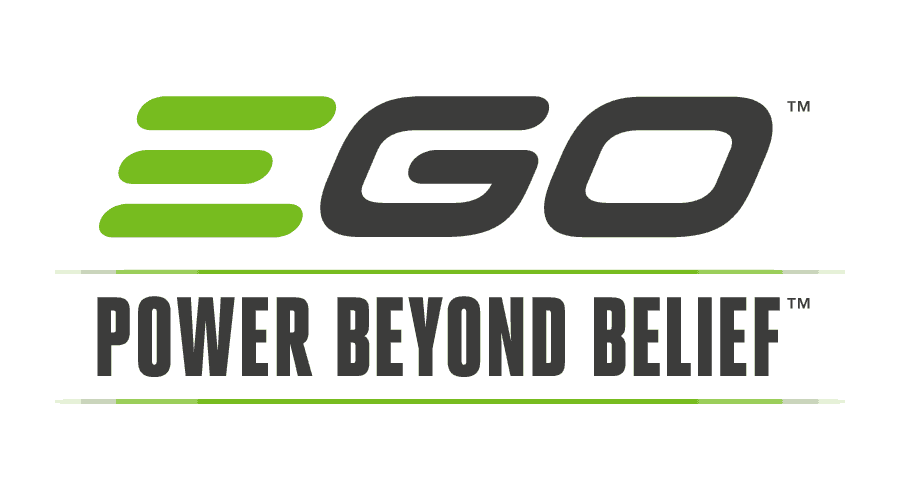 EGO is known for making seriously high quality, dense lawn tools. Yeah, we used the word dense here because when you pick up their tools they feel solid as a rock. We've reviewed a ton of EGO products and made YouTube videos covering EGO's leaf blowers and EGO's mowers.
Metal where it matters: the deck 
Most electric mowers are plastic-y. Probably to reduce the weight of the mower so that the battery can get you further, but it feels cheap. Make sure to get metal where it matters – namely the deck. The deck is the part that covers the blades. Don't get plastic here – a rock can rip through it.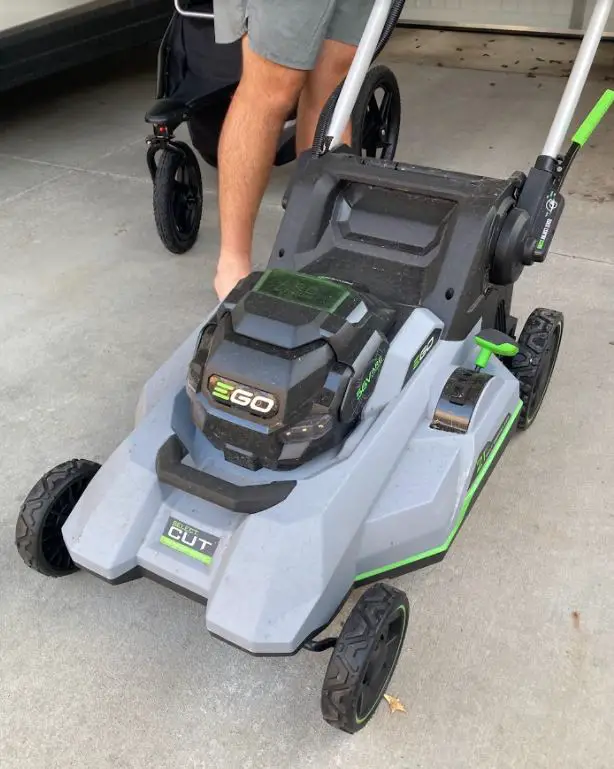 EGO sadly makes quite a few mowers with plastic decking, but a couple with metal decks. While I prefer metal decks, EGO's reinforced plastic is actually quite durable. It won't kill you to use a plastic deck, but it can help it last much longer.
Battery interoperability.
 A ten dollar word used here, but really just make sure to buy a mower with a battery that is compatible with other electric tools. Luckily with EGO, they only have a 56V battery line, which can be used across all of their products. The only difference you'll see is in the amp-hours, which increases the amount of time you can spend doing the job. 
If you have more questions, check out our guide to electric lawn mowers
Breaking down EGO's mower lingo
If you are like me and were at one point staring at all the different mowers that look the same, then you may wonder what the words EGO uses actually mean.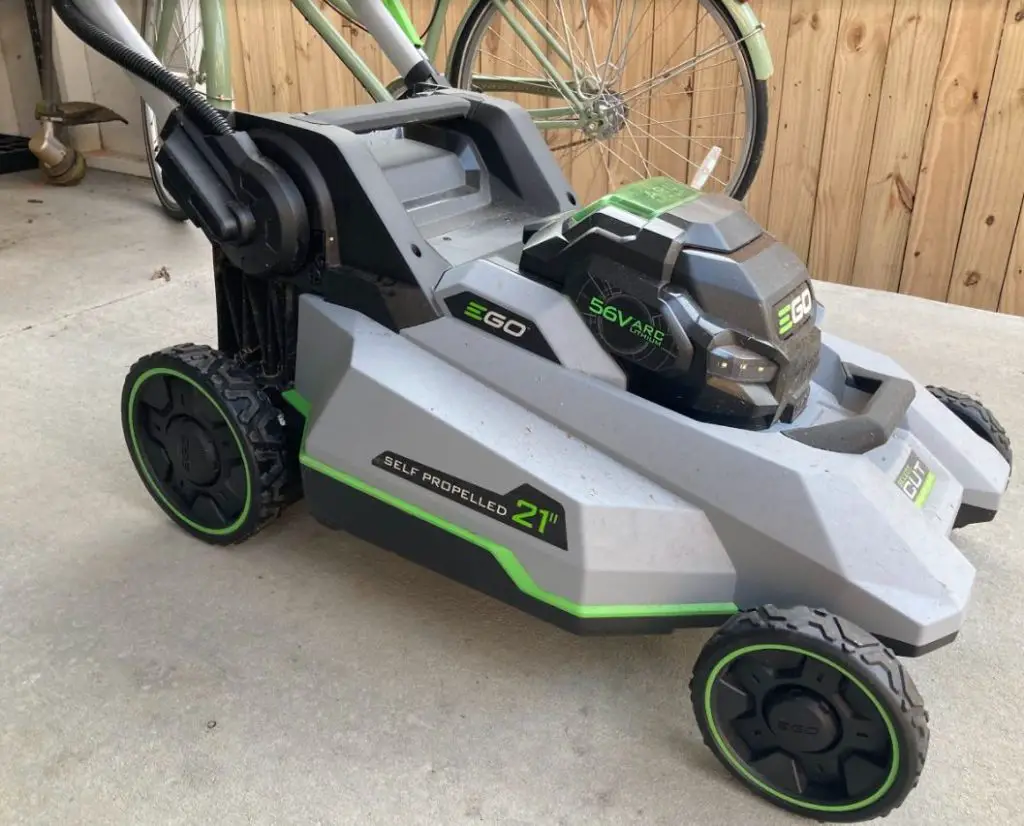 We spent some time reading through what all of these actually mean and which ones we think you should buy. Here is our quick dictionary for reference when reading through each of the mower's names.
Power+ naming
Power+ just references EGO's battery powered line of tools. Basically everything of theirs is Power+. It's their standard naming convention and basically EGO's last name. 
Self-propelled function
The self-propelled function is an optional function you can use to move the mower forward using a trigger on the handle. It is really nice for moving the mower over banks and hills or for adding some additional power to a thick cut of grass. The downside is that it can drain your battery – use carefully!
EGO Touch Drive Explained
Touch Drive is a function that allows you to more easily control the self-propelled function. Whereas self-propelled EGO mowers without touch drive use a squeeze trigger, Touch Drive mowers have a trigger inside the handle that allows you to use your palm to initiate the self-propelled function, then a speed dial to adjust how quickly it moves.
EGO Peak Power Explained
Peak power allows you to combine any two EGO batteries to operate the mower (saving you money if you already own one).
EGO Select Cut Definition
Select Cut refers to more than one mower blade on the bottom of the mower.
EGO Select Cut XP Definition
Select Cut XP is a designation given to the highest torque Select Cut option that EGO offers.
EGO Speed IQ
Speed IQ is a tool that automatically adjusts the speed of the self-propelled function based off of the terrain. It will slow down to make sure thicker areas get fully cut and speed up over areas that you may have already passed or aren't as resistant. 
EGO Select Cut vs Select Cut XP vs Regular Mowers Explained
EGO's mowers come in Select Cut, Select Cut XP and Regular variations. The main difference among all of these is the amount of torque the motor puts out.
Select Cut as a term refers to the multi-blade system used by the mower. Select Cut XP simply refers to the additional torque offered by XP motors. The EGO Select Cut motors put out about 7 pounds of torque whereas the Select Cut XP puts out about 8.3 pounds.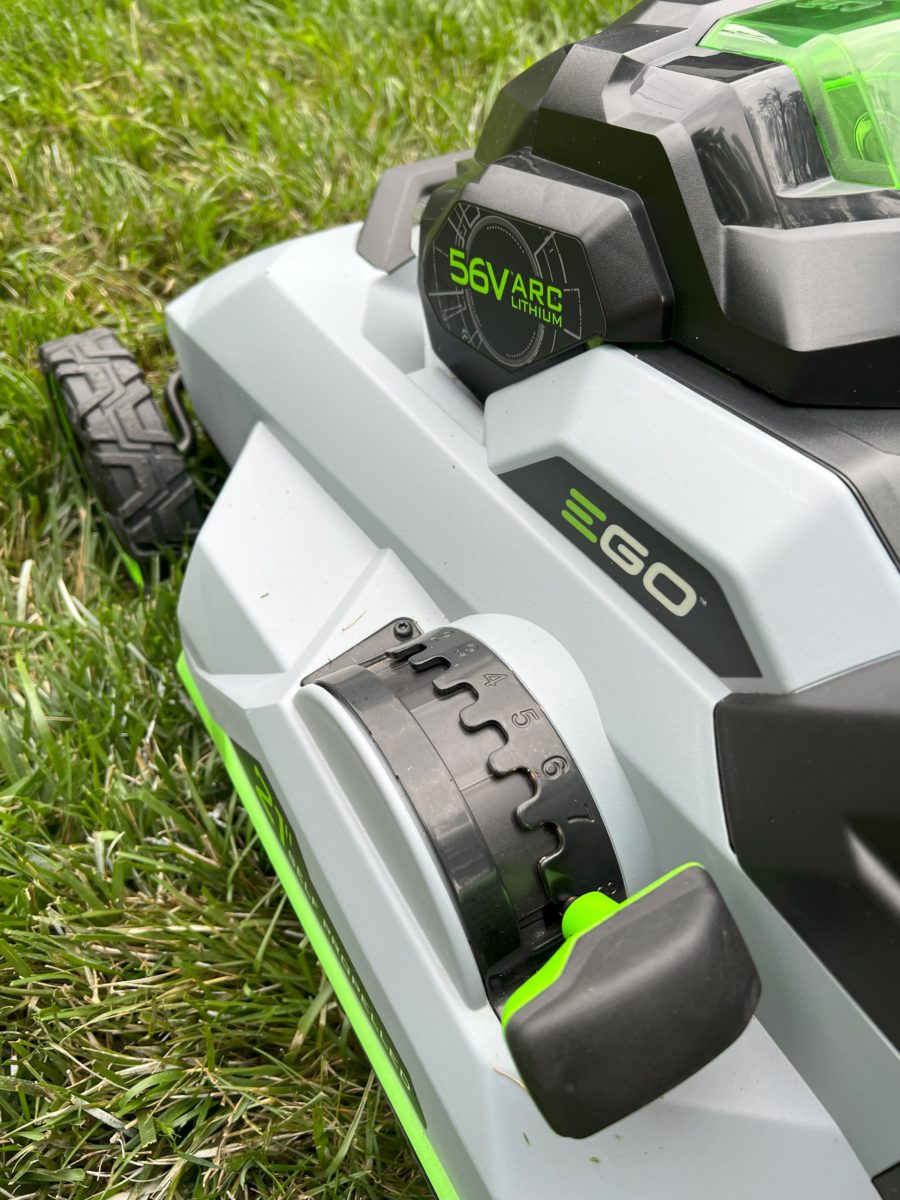 EGO Select Cut XP is definitely more powerful than Select Cut and their regular mowers. If you have thick grass or just like dominating the grass when you mow, Select Cut XP is a really great option.
The regular option or non-Select Cut XP and non-Select Cut has a single blade on the bottom – which is also true of many traditional gas-powered mowers.
The 3 Best EGO Mowers in 2023: Ranked
Now that we have broken down all the complex lingo related to EGO mowers, let's use them to formulate and rank the best ones. One thing we want to make sure to take into account is VALUE. 
Sure, the best EGO mower will probably be the most expensive, so we try to really break it down to assess which is the best EGO mower for the money.
Buckle up.
1.) EGO Power+ LM2021 20-Inch Walk Behind Mower
This is not a popular opinion. If you read other folks' reviews of EGO mowers, this one probably won't make the list. But we are different here at The Lawn Review and are giving you the absolute insider's take. 
We don't just sort mowers by the best seller and then regurgitate the specifications to you. We are actually going to break down exactly why this one is our absolute favorite. 
If I could draw up the perfect lawn mower in a lab, this one would be darn near close. It has all of my favorite things including:
The only EGO mower with a steel deck. Metal decks are way more durable, temperature resistant, and provide a little more weight to keep the mower balanced. 
Of course it has the brushless motor and 56V battery system.
Easy push button start
Folds in half for storing in the winter (or between mows)
One of the longer run times at over an hour
This one doesn't have all the bells and whistles. It's basically a super durable, not complicated, efficient battery powered mower that is the easiest comparison to gas-powered mowers.
We love this mower because it lacks some of the complexities that drain the other mowers' batteries like self-propelled functions and multiple blades and variable speeds.
You just push the mower like you always have. But to put the cherry on top, this is one of the most affordable EGO mowers on the market. The price is always changing, but we've found it to be the lowest when you buy it off of Amazon.
2.) EGO Power+ LM2133 21-Inch Select Cut Lawn Mower
Next up on the list is the LM2133 mower from EGO. This one does have some bells and whistles, but doesn't go too overboard. This has all of the standard beautiful features in an EGO mower (56V battery, 21 inch deck, brushless motor), but also has some nice extras.
This EGO mower has the Select Cut functionality, which if you reference our dictionary above, would know that it has multiple cutting blades. The multiple blades help work together to finely mulch the grass, allowing you to move faster and make fewer passes in your yard.
You can grab this one on Amazon as well for a great price. If you want to boost the run time from 45 minutes to 65 minutes, get the tool-only version and buy a separate 7.5 Ah battery. This one comes with a 5.0 Ah battery that may not fully get you where you need to go.
3.) EGO POWER+ 21″ Select Cut XP Mower with Touch Drive LM2156SP
This one is obviously the Cadillac of EGO mowers. It comes with every bell and whistle. The belle of the ball. But it comes with a price.
Here are some of the features that make this one unbeatable:
Select Cut XP functionality means that this is the highest torque EGO mower on the planet
Also has Touch Drive self-propelled functionality, making it the easiest to use and control
Longest run time at 75 minutes because it comes with 10.0 Ah batteries, basically double the Ah of their other mowers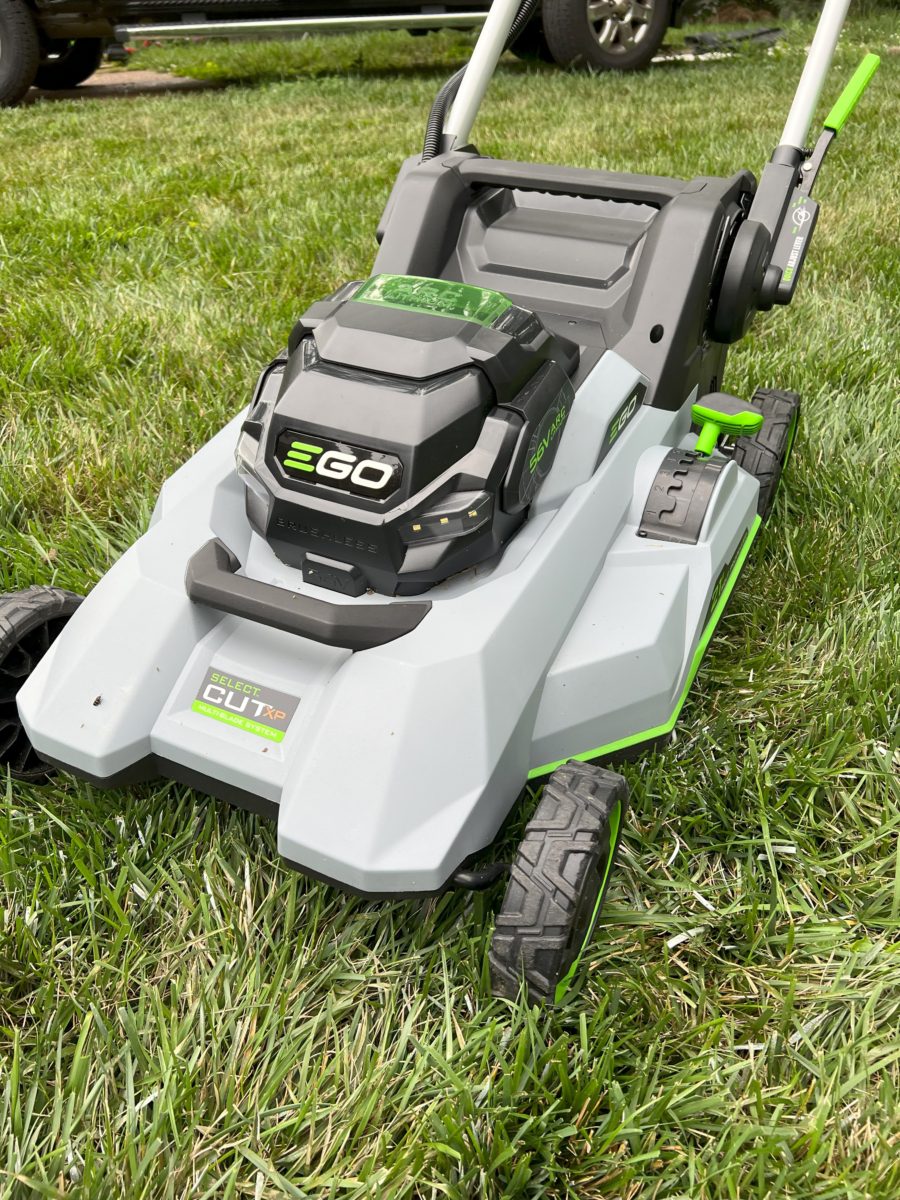 So this is the most powerful, longest running, easiest to control EGO mower. It is truly probably the best battery powered mower available from a technical specification perspective. But it doesn't have a steel deck, which makes me sad. 
You can buy this one at Ace Hardware for a pretty penny (anywhere between $800-900). We wrote about this one extensively – you can check out our full review of the EGO Select Cut XP LM2156 or LM2150 here.
EGO Mowers: Cutting Through The Noise
I hope this article has provided some clarity around all the different features EGO offers on their mowers. Frankly, they are all trademarked and difficult to understand. 
When you feel confused, take a step back and think through the most important questions: how does this mower perform? Will it last me a long time? How long is the run time? How much does it cost?
Those will steer you past any flashy slogans or popular products to the one you can rely on.