The Troy Bilt TB160 is one of the most affordable lawn mowers on the market. Which is why I bought it.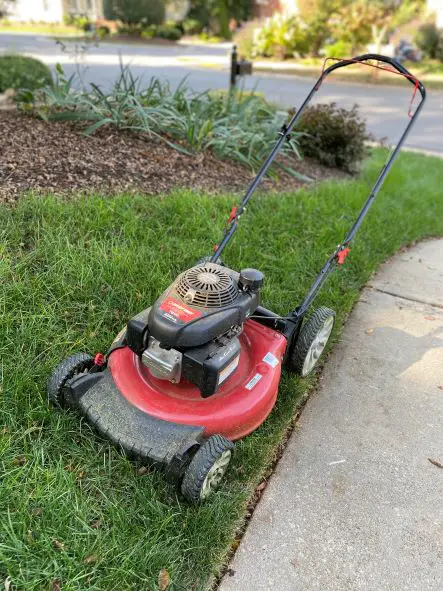 The TB160 is a push mower, which is great for small yards or people who just love to exercise while mowing. This mower boasts a 160cc Honda engine – which can be confusing for those that may think this is a Honda GCV160. 
The Troy Bilt TB160 was the first mower that I ever owned. I used this mower for a relatively small yard and still own it to this day. I have had to do very little maintenance on the mower and store it in my garage during the winter.
Today, we will review the Troy Bilt TB160 and give some thoughts on whether this mower is the best for you. 
Jump to a section:
2024 Update: I have now owned this mower for six years. As many times as I have literally folded it and put it away with plans to never use it again. A week later, I inevitably pull it out and start using it again. I can't keep away!
Why we review lawn tools
The reason we started this website in the first place was because we had so much trouble trying to find reasonable, understandable, honest reviews for lawn equipment. And it's not cheap! After hours and hours of research, trying products and returning them, and messing up our yards – we started this site.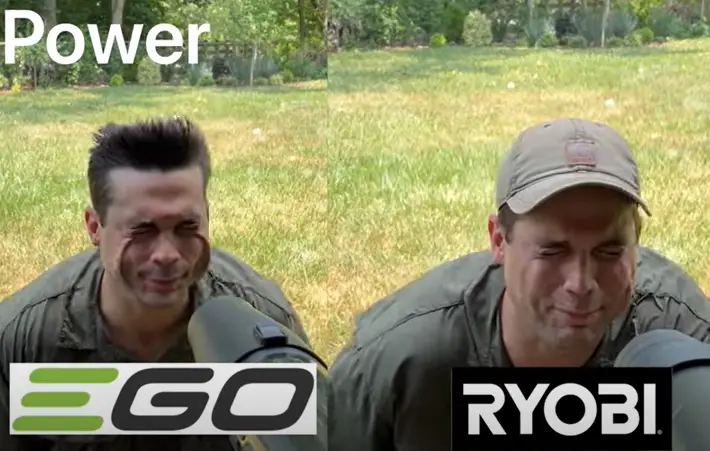 As people who had to learn the hard way, we want you to know exactly what you are signing up for before you purchase a piece of equipment. That's why we are committed to providing honest, easy-to-understand reviews that mean something.
A message for first time mower owners
Though it may seem like a silly question, it's important to recognize that this is a mower for people who may have just purchased their first home and have a small yard. We all start somewhere, so let's start this mower. 
When first removing this mower from the box, you will think to yourself: "How is the box this small?". Well, the folks at Troy-Bilt have efficiently packaged everything into a box that will fit into the back of a small trunk. This is because many folks buy these mowers on Amazon or at Home Depot.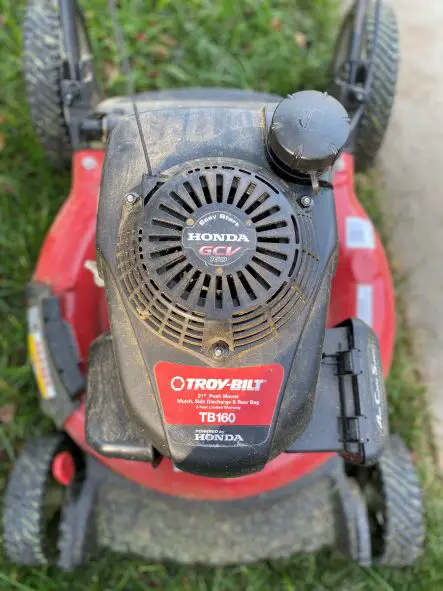 Troy-Bilt TB160 assembly
Assembling the TB160 is straightforward – you simply pull apart the metal railing that accompanies the box and tighten the screws on the side of the mower. Be careful to avoid cutting the black zip tie that holds the cord to the side of the handle. It definitely looks like something that should be removed, however its purpose is to keep the cord attached to the handle rail (and not flying all over the place). 
Make sure that your mower has the appropriate level of fuel and oil to get started. Please refer to the owners manual for how much fuel and oil to put into this machine.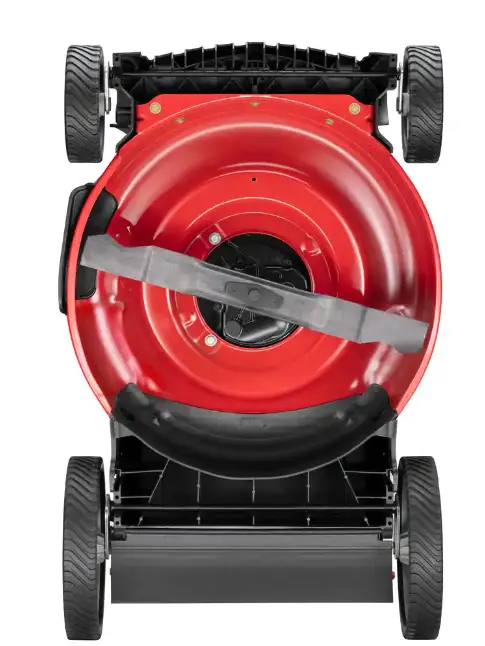 You will also want to make sure the mower is at an appropriate height for your lawn. I have my mower sitting as tall as it can go. You can adjust the height of the mower by moving the levers that are on the sides of each wheel. There is a red looking tab that sticks up. Simply pull it out of place and shift it whichever direction will either raise or lower the mower. 
A taller mower will trim the grass and be easier to push. A shorter mower distance will cut the grass very short and be more difficult to push. 
How to start the TB160
The Troy Bilt TB160 has a red, foldable metal bar over where the handle is located. Simply fold the red bar down onto the handle and hold with one hand. While holding that part down, grab the plastic handle with the string attached near the engine. This is a pull-start mower, meaning you will have to yank the plastic handle pretty hard a few times to get it going.
For first time mower users, it can take a couple of tries to get this down. Once more oil and gas have run through the engine, it will become easier. This engine from Honda has an auto-choke system, so no choke is required to get this engine started. 
Review of the Troy-Bilt TB160: a guide to each element
Let's review all of the different things that make a good mower below.
Difficulty to push
The Troy-Bilt TB160 is a push mower – and that means you will really have to push. If you have this mower on a tall-grass setting (which I recommend), you won't have much difficulty pushing. This mower does not propel itself and will require some effort to get going. 
One thing I like about the TB160 is that it is relatively light. This makes it easier to maneuver and spin as compared to some other mowers.
Something I dislike about this mower is that it isn't exactly a comfortable mower. The handle is pure metal and has quite a bit of vibration from the engine. The wheels are plastic as well, which seems to amplify the vibration instead of absorbing it. The plastic wheels also make it more difficult to maneuver than rubber-wheeled mowers as it tends to get stuck more easily in small divots. 
Using the bag on the TB160
The TB160 is a mower I always used without the bag. Honestly, I did not think this mower did a great job of providing enough kickback of grass into the bag. For this reason, it would consistently get "clogged" and shut off the blade whenever a decent amount of grass began to load. 
Another thing I noticed about the bag is that it simply isn't intuitive to place on the mower. My wife and I always had difficulty replacing the bag and found that removing it often spilled the grass everywhere. 
Durability and reliability
Something I love about the Troy Bilt TB160 is the Honda engine. As we are all familiar, Honda engines are reliable in cars and motorcycles. The same holds true here – this is an easy to maintain, durable lawn mower.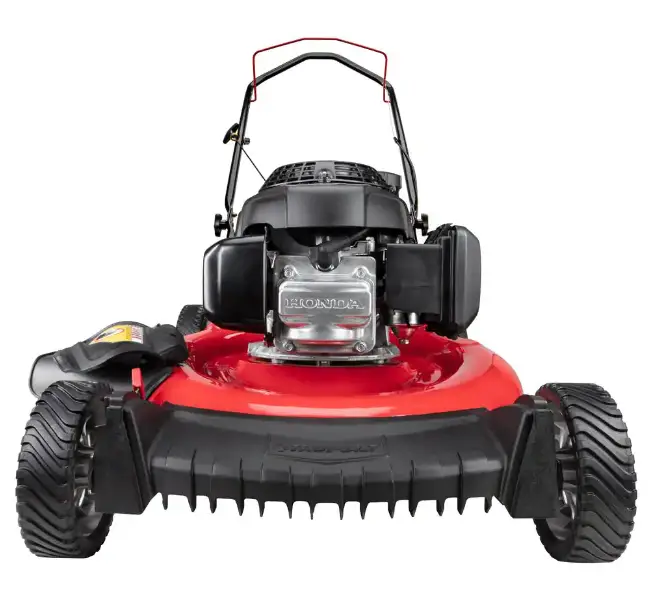 I've done hundreds of mows with this mower and it simply won't quit. It's easy to start, requires very little maintenance, and stores well indoors or outdoors. Simply put, the TB160 can handle some abuse and the Honda motor will run as long as you do.
Changing the oil on a Troy-Bilt TB160
While probably unnecessary, I change the oil on my TB160 at the beginning of each spring. To change the oil, you simply remove the cap on the side of the engine. Once removed, tilt the mower on its side and let the oil flow into a pan. Once all of the oil has spilled, refill with the manufacturer's recommended oil. That's it. 
As far as spark plugs or any other maintenance goes, I have not had to do anything. In fact, I've never even sharpened the blades on this mower. To maintain the longevity of the mower, you can spray the bottom of the blades with a rust preventer each winter when you aren't using it as much. 
The cost and value of this mower
The TB160 is one of the more affordable push lawn mowers on the market. We got ours at Home Depot a few years ago, but I am still seeing them for sale at places like Walmart, Lowes, and Amazon. 
The price range for a TB160 is anywhere from $250 to $400 depending on when you are buying and where you are buying your mower.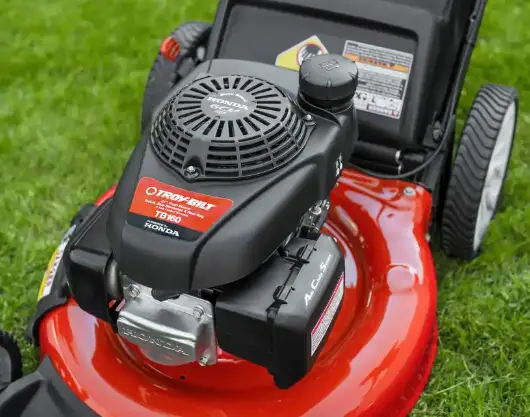 I believe the TB160 is a great value for a mower. This mower will last many years, requires little upkeep, stores easily, and is relatively inexpensive.
Are Troy-Bilt push mowers good?
It depends on how you define good. If you have a small yard, are looking for an affordable mower, and don't mind getting some exercise during your mow, then this is a great mower. 
For the price, you really cannot beat this mower. It will most likely outlive your car and is way easier to maintain. I have had mine for over four years and have only done a couple of oil changes and used less than a can of gas the entire time. 
The Official TB160 Review
| | |
| --- | --- |
| Feature | Rating |
| Difficulty to use | Average difficulty for navigation |
| Durability | Most durable |
| Maintenance | Easiest to maintain |
| Value | Highest value |
| For lots <10,000 sq. ft | Highly recommended |
| For lots <1 acre | Recommended if willing to use a push mower |
| For lots >1 acre | Not recommended |
A breakdown review of the Troy Bilt TB160
To summarize this review, the Troy-Bilt TB160 is the best and most affordable mower you can buy if you are looking for:
A durable, easy to maintain mower
A high-value, long-lasting mower
You have a relatively small lot
You don't mind the "push" of a push mower
If you're interested in learning more, check out the ultimate guide to the best Troy Bilt lawn mowers.