Electric mowers at Home Depot are a dime a dozen. If you've ever been to the store (which I don't recommend) then you may have noticed there is a whole aisle with electric mowers side-by-side.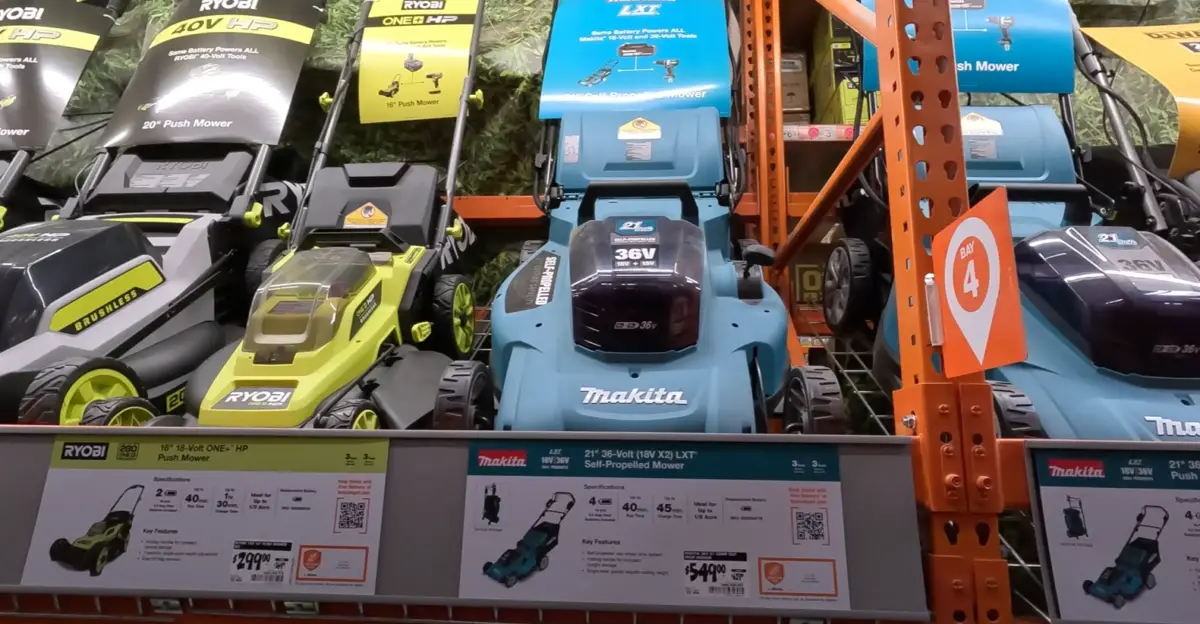 Walking down this aisle is dizzying and extremely unhelpful. It seems like the only things that differentiates the mowers is the price tag and colors.
How on planet Earth are you supposed to pick one? Well – we did the hard work and figured it out by buying basically all of them. Here are our favorites at Home Depot:
My experience buying electric mowers at Home Depot
The reason I started reviewing mowers in the first place is because I was standing in Home Depot, just like you. I was walking the aisles with my wife trying to figure out what kind of mower we needed for our first home (about 5 years ago).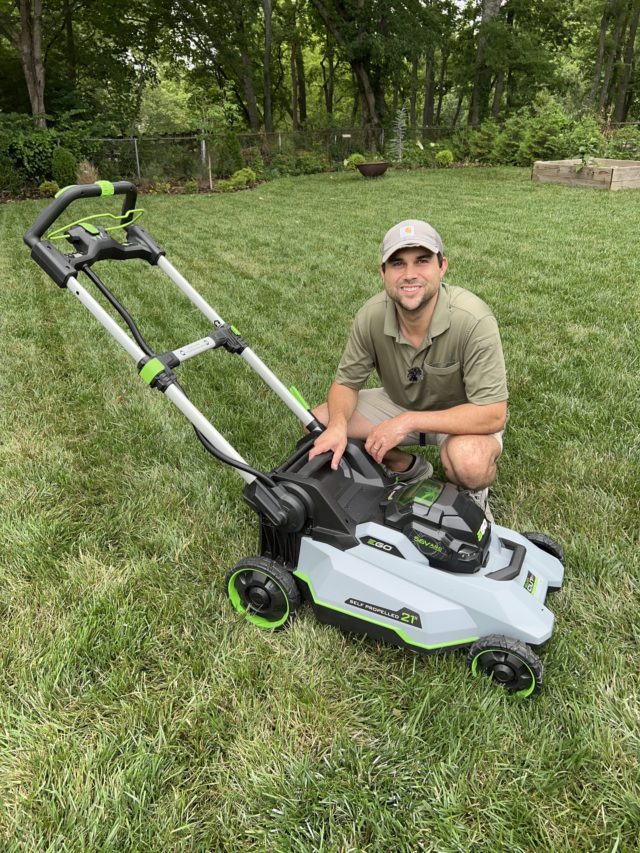 We had no clue. The only thing that drove us to end up getting a gas-powered mower (my Troy Bilt mower) was because it was so dang cheap. While it wasn't a total mistake, I wish I would have gone electric at the time.
Since then, I've bought and used over a dozen electric mowers. Yes – it has been insane and expensive but it has also been a LOT of fun.
5 Best Electric Mowers at Home Depot: Ranked
We took the time to review a bunch of these battery powered mowers from Home Depot. It was NOT cheap but it was pretty fun. Check out our Youtube channel if you want to see more mower reviews, including a ton of them in this article.
1. Milwaukee M18 Battery Powered Mower at Home Depot
Home Depot sells Milwaukee's M18 FUEL lawn mower – almost exclusively. It is an interesting case because it stands alone as their sole mower offering for now. It's as if they assembled a dedicated team of dorks and rednecks, brainstormed ideas to create the ultimate mower, and simply went for it without looking back.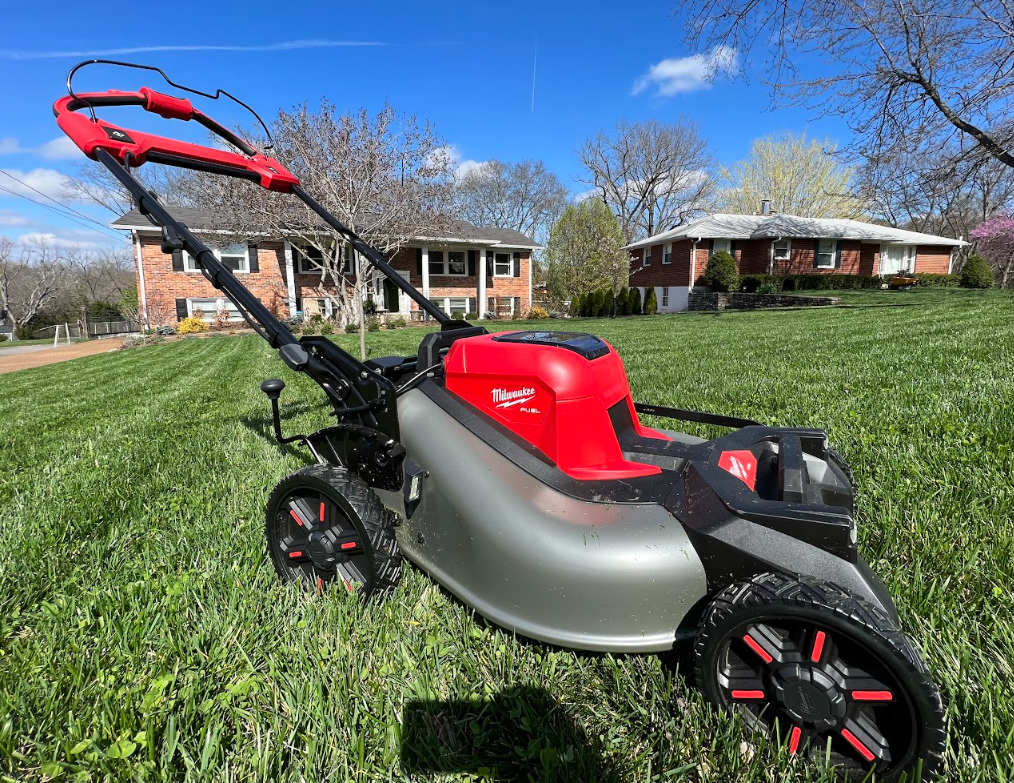 Here are some of my favorite features:
It boasts serious power comparable to a 200cc lawn mower, surpassing even the classic Honda push mowers.
The mower features a robust steel deck, setting it apart from the more common plastic decks in the electric mower market
Rapid acceleration allows it to reach full throttle in less than a second – like a Lambo
The inclusion of a brushless motor is a must-have for being at the top of this list
The utilization of two 18V Milwaukee batteries offers compatibility with over 200 other M18 tools from Milwaukee.
The Milwaukee M18 FUEL outperforms many of the others that come in at a lower price point. However, it is worth noting that this superior performance comes with a higher price tag. With a retail price of over $1,000 at Home Depot (if you get it with the batteries), it might be considered one of the more expensive push mowers available. Nevertheless, for Milwaukee enthusiasts or those genuinely seeking peak battery-powered mower performance, this model unquestionably stands out as the best.
For a side-by-side comparison, one may find it insightful to evaluate how the M18 stacks up against the Ryobi 40V HP, another mower that also made it onto this list.
2. Ryobi 40V HP Whisper Series Mower at Home Depot
The Ryobi 40V HP whisper series mower is good for a few reasons. Back in the day, the Ryobi 40V HP Brushless battery-powered mower was my favorite electric mower from Ryobi! Yeah, it was my first-ever try with electric, and I thought it rocked. But you know how it goes, my taste got more sophisticated, and now I've become considerably wiser after testing dozens of these things.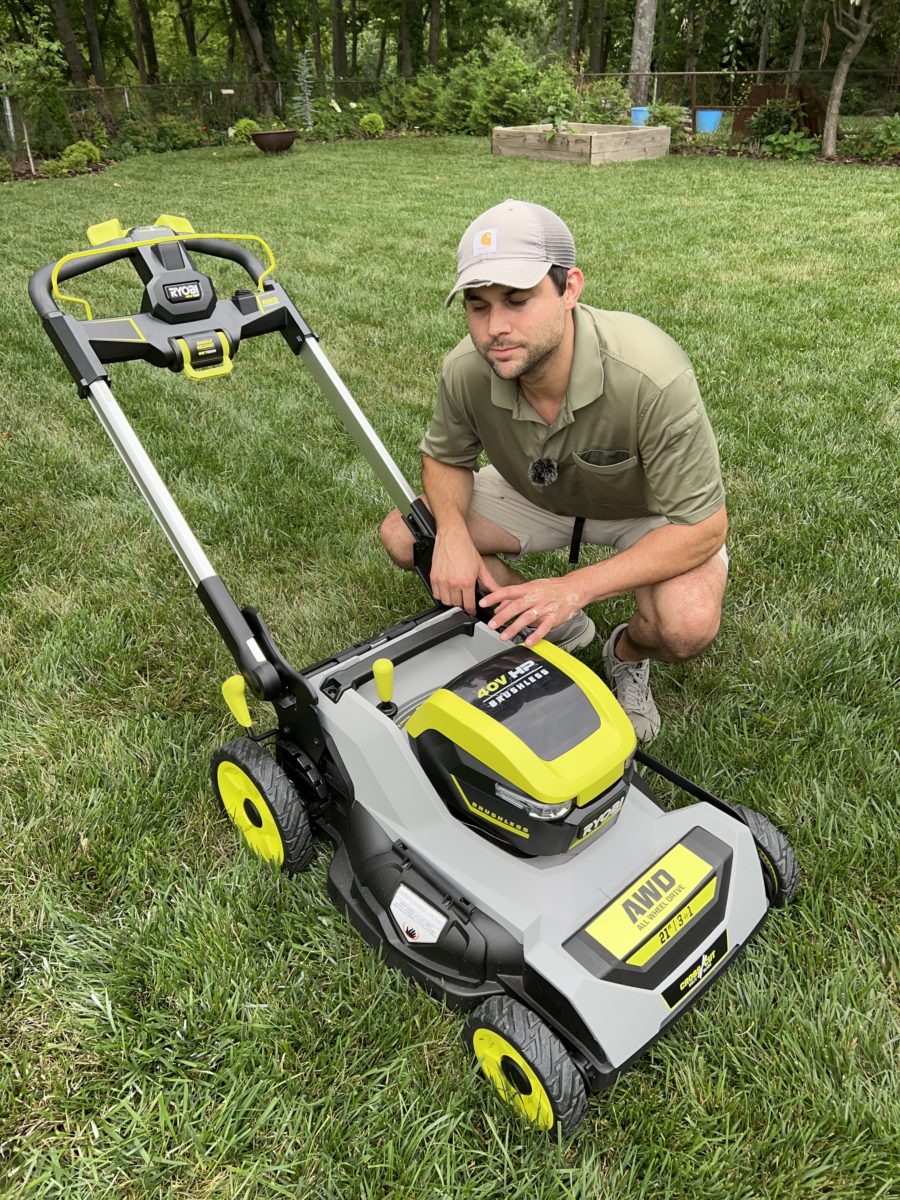 Anyway, it still earned a spot on this list, though I gotta say, it's a bit too lightweight for my liking. One bump into thick grass or a pesky stick, and it goes off-track like, "Whoa, hold up!". I don't like how light it is because the weight helps hold it glued to the ground and keeps it even over any rough patch.
But let me tell you about the best part! You can totally use the same Ryobi 40V battery with a bunch of other tools they offer – and they are plentiful. They have a ton of 40V blowers and 40V string trimmers that rock and even their backpack sprayer. It's like magic – so dang convenient!
Oh, and don't sleep on the mower itself. It's got a brushless motor, sweet 6.0 Ah batteries, its super easy to start and maintain, and even a self-propelled mode. Seriously, it's got all the fancy stuff that the Milwaukee one above has.
Even though it isn't number one, the Ryobi 40V is still an absolute beast of a mower! If you're into Ryobi, which I know a ton of folks are, this is a great option.
Oh, and heads up – you can snag this bad boy for a sweet deal at Home Depot.
3. Toro 60V Recycler Battery Mower at Home Depot
Toro's battery-powered mowers are a real beauty, no doubt about it. But, being completely honest – they can be a bit pricey. Still, if you've been spotting these vibrant red mowers in your neighborhood or garage, you're definitely not alone. Toro is super popular and has amazing brand recognition. Basically the Kennedy of lawn mowers.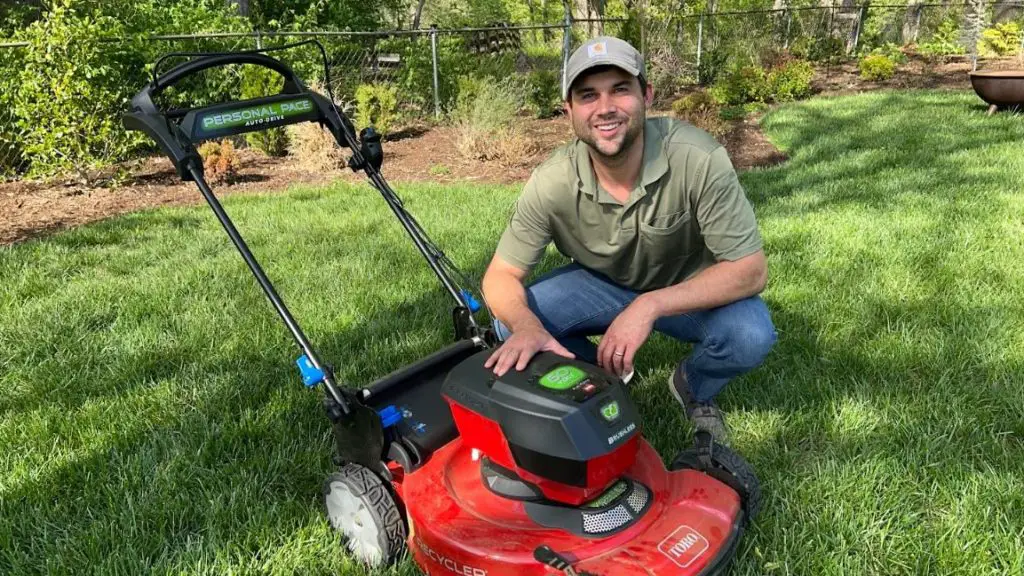 Toro earned their reputation for making some of the most popular mowers out there, and what's even more impressive is that these bad boys last for ages. But when they finally joined the battery game, they went all out and created the 60V Recycler mower. This one is built for the modern homeowner that has a small to mid-sized yard. If you want to really amp it up (pun intended), then you should check out their super recycler.
Let me drop some factoids on the cool stuff we liked about this new battery-powered beast:
It packs a punch similar to a 175cc gas mower. It  is for really-real.
That shiny red metal deck is not only recognizable, but way tougher than those plastic ones you see everywhere else.
The Recycler cutting system works magic, shredding the grass into tiny bits that your lawn will thank you for. They call them "Lawn Vitamins" and literally patented the term.
And check this out – they added a slick air intake valve on top that sucks in air, making the grass stand tall and giving you the smoothest cut ever. The downside is that when I put it to the test, it didn't really do anything. Pure fiction!
Toro made a reliable mower that provides a good cut. While I definitely prefer other mowers, this one is not a bad option.
But hey, no worries! You can still grab this bad boy (currently $80 off!) at Home Depot, either online or in-store. Don't miss out on this gem!
4. Makita LXT 18V Electric Mower at Home Depot
The Makita LXT mower was a bit of a head scratcher for me. Assembly-wise, the Makita LXT mower took a bit longer than I'd like, with a few tools required whereas others kind of just snap in place or have some hand screws. Starting it up was a little complex too, but I can appreciate the safety features required to stop a kid from chopping his hand off.
The real nuance provided by the Makita mower that turned this one into a "luxury mower" is the little dashboard near the handles. It's got a battery indicator that's super handy, unlike some others that make you remove the battery to check or go down near the blades and press a button. Plus, there's a lever for controlling the self-propelled speed, ranging from turtle to rabbit mode. But that "quiet mode" button sticks out, I'm not entirely sold on its purpose. Not sure of many, if any, use cases for having an extra quiet feature on an already quiet electric mower.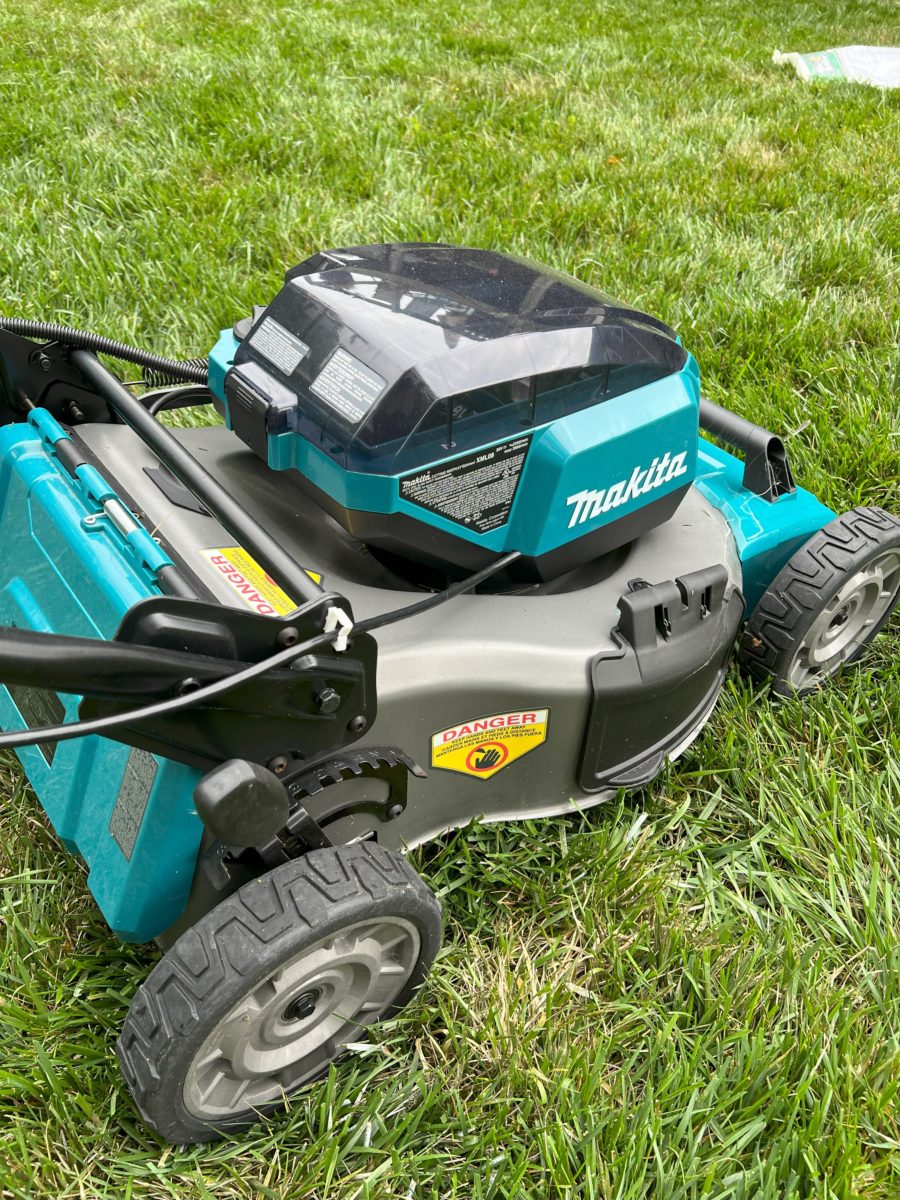 Here's what sets this mower apart – the steel deck. I'm not a fan of plastic decks, so this was a big win for me. The single height adjustment is a game-changer, saving me from the hassle of adjusting each wheel separately. This is low-key a really nice function to have. Oh, and those six-inch wheels are solid and don't feel flimsy like others I've tried.
When it comes to battery power, I put it to the test. With two batteries, I got about 38 minutes and 29 seconds of mowing, enough for my front yard and part of the back. But with four batteries, you can expect a full 80 minutes of mowing.
Now, the charge time was a bit longer than what they claimed – took about an hour and five minutes instead of 45 minutes. C'mon people!
Pricing-wise, it ranges from $689 to $789 depending on the size and batteries included. You can grab it at Home Depot, and they sometimes have sales, so keep an eye out for savings! It looks like it is $200 off right now, which is huge.
5. Dewalt 20V Max 21.5 inch battery powered mower at Home Depot
Dewalt's 20V Max mower is one I was intrigued by, especially since Dewalt transitioned from 40V to 20V batteries for their outdoor equipment. I've tested various 20V Dewalt products, and they usually deliver. So, let's break down the benefits and features: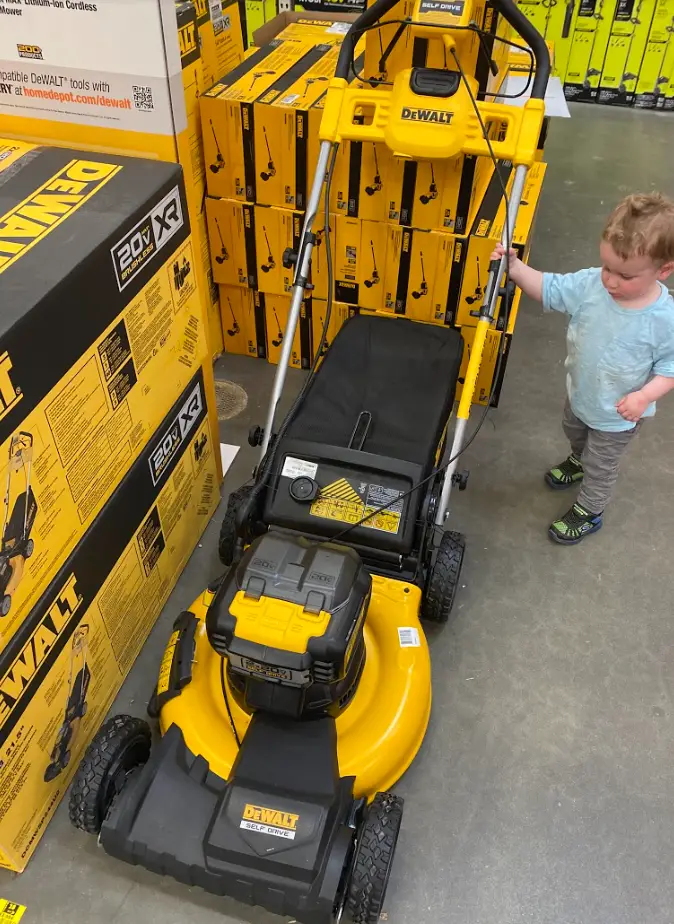 Longest run-time among battery-powered mowers (75 minutes).
Lightweight and easy to use with a push-to-start button and self-propelled function.
Durable with a wide steel deck, backed by a three-year warranty and a money-back guarantee.
Compatible with other Dewalt tools, offering over 200 products that use the same 20V battery.
Made in the USA, supporting American-made products
Easy storage with a foldable design that saves space.
Overall, the Dewalt Self-Propelled Mower impressed me a lot, and its compatibility with other Dewalt tools sweetened the deal. 
If you have a smaller yard, it's highly recommended, but for larger lots, keeping spare batteries around might be necessary. You can find it at Home Depot's website for online purchase or in-store pickup.
Common questions about electric mowers at Home Depot
Here are some common questions we get from folks who are searching for a new electric mower from Home Depot:
What are the disadvantages of an electric lawn mower?
Electric lawn mowers require recharging the batteries and can often be less powerful than their gas-powered counterparts. But that is quickly evolving and changing.
How long do electric lawn mowers last?
Most electric lawn mowers last for 7–10 years. They can run for around 45-50 minutes on a single charge.
What is the average price for an electric lawn mower?
The average electric lawn mower price is around $400 in 2023.
Do electric mowers cut better than gas?
Electric mowers can often cut just as well as gas mowers for small yards.
What to look for when buying a battery-powered lawn mower at Home Depot
When looking to purchase an electric lawn mower, you need to make sure you understand what things matter. You will get hit with a lot of technical specifications and marketing tactics. Totally forget them and focus on the things that impact you. Below are my recommendations:
Battery-powered mower brand quality
Quality is going to be super important here. Just about everyone is in the electric mower game these days and there are a ton of junky mowers out there. Avoid anything from a weird brand on Amazon that takes 9 years to ship. It is probably being 3D printed in a Laotian bathroom. Go for brands that have consistent quality and focus on the details, not just flashy colors.
Some brands I trust off the top of my head are: Greenworks, Milwaukee, Makita, Toro, EGO, and Kobalt. SOME Ryobi mowers, although myself and others have had some problems with reliability. Brand quality matters, but it's also important to look at the specs on each. For example, Greenworks sells like 60 mowers, only a handful of them would I ever consider for this list. EGO also sells a bunch of mowers, and only a few are within an acceptable price range to be on this list.
Metal where it matters: the deck 
Most electric mowers are plastic-y. Probably to reduce the weight of the mower so that the battery can get you further, but it feels cheap. Make sure to get metal where it matters – namely the deck. The deck is the part that covers the blades. Don't get plastic here – a rock can rip through it.
Battery interoperability.
 A ten dollar word used here, but really just make sure to buy a mower with a battery that is compatible with other electric tools. You'll see a bunch of these brands that have battery lines that work with a ton of tools. Milwaukee, Makita, and Dewalt are all great options because you can use them for all lawn tools AND power tools – saving you a ton of money on extra batteries.
If you have more questions, check out our guide to electric lawn mowers, where we break this down into a lot more detail.
Self-propelled or not
Self-propelled mowers are lawn mowers that slowly crawl forward when mowing the lawn. They propel forward the mower, taking off a lot of the "pushing power" required by traditional push mowers.
Self-propelled mowers are ALWAYS more expensive because they have the additional power and functionality that makes life easier. They have their place, but because of the cost can often seem not totally worth it