Dewalt leaf blowers are a household name. Not only do most people own a bunch of Dewalt products already, but they have really stepped up their game lately.
Dewalt has a pretty sweet string trimmer, lawn mower, and even a trimmer and blower combo kit that absolutely slaps. 
But they've started diversifying their product suite and have a ton of new blowers.
Fortunately, we had the pleasure of using some of these suckers (or blowers) and have put out our definitive ranking guide.
So, let's get started.
**SPOILER** Best Dewalt Leaf Blower: Dewalt 20V Max Leaf Blower
Why we review lawn tools
The reason we started this website in the first place was because we had so much trouble trying to find reasonable, understandable, honest reviews for lawn equipment. And it's not cheap! After hours and hours of research, trying products and returning them, and messing up our yards – we started this site.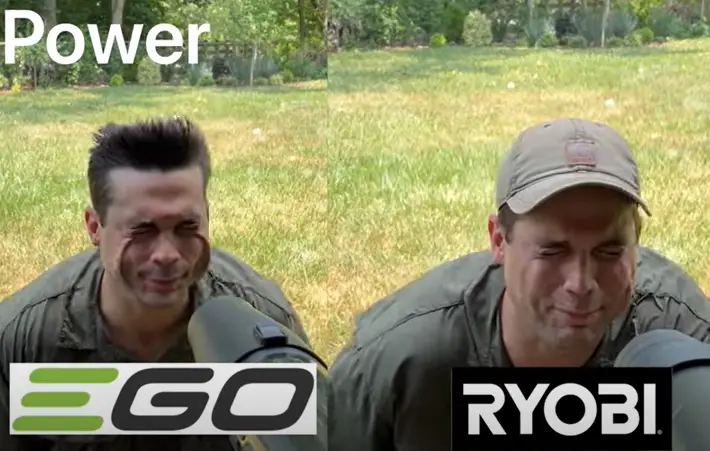 As people who had to learn the hard way, we want you to know exactly what you are signing up for before you purchase a piece of equipment. That's why we are committed to providing honest, easy-to-understand reviews that mean something.
If you like Dewalt, check out Dewalt's line of air compressors. 
What to look for in an electric blower
Cordless blowers come in a bunch of shapes and sizes but there are three basic things you need to understand:
CFM – Cubic feet per minute. This is a measure of air output on the blower. Higher CFM = more power, but not necessarily more miles per hour. High CFM with a wide nozzle = lower MPH. High CFM with a narrow nozzle = high miles per hour. Ideally, you want both a high CFM with a narrow to medium nozzle for most residential jobs.
Usability – what is the point of having a blower if it is hard to use? Have to get one that is lightweight, easy to start, and has some functions that make your life easier.
Motor type – brushless motors reign supreme. Cooler running motors with more torque, a longer run-time, and last many more years. Brushless is a no brainer when picking a blower.
These are three things you need to pay attention to when looking through the specifications. 
If you like Dewalt – check out the best Dewalt weed eaters.
The official Dewalt Leaf Blower ranking
Now that you're up to speed on leaf blower terminology, let's move forward with ranking the best Dewalt Blowers on planet Earth.
3. DEWALT FLEXVOLT 60V MAX Blower, Brushless, Handheld, 3-Ah Battery (DCBL770X1)
The Dewalt Flexvolt 60V MAX handheld blower is pretty sweet. One of my favorite things about this blower is that it puts out a deceivingly-high 423 CFM of air with speeds up to 129 MPH. But wait, there's more!
It also comes with a flat concentrator nozzle that can increase air speeds up to 175 MPH. That is freaking fast.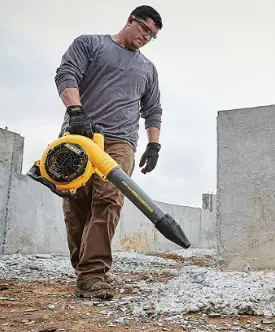 This blower comes with a nice brushless motor as well, making it darn near perfect. My only complaint is that most folks looking for a blower are looking for one that is going to push leaves like a dang cannon. This one is more of a sniper, good for wet leaves and smaller areas. 
If you already own the 60V battery and have a similar tool like the Dewalt 60V chainsaw, then this one is a no brainer. It comes in at just over $200 right now on Amazon and is also for sale at Home Depot, which includes the battery.
2. DEWALT 60V MAX FLEXVOLT Leaf Blower 125-MPH, 600-CFM
What the previous Dewalt blower lacks, this one totally makes up for. This 60V Max Flexvolt Dewalt blower has 600 CFM – which basically means it is a cannon of air. CFMs this high are pretty rare on electric leaf blowers.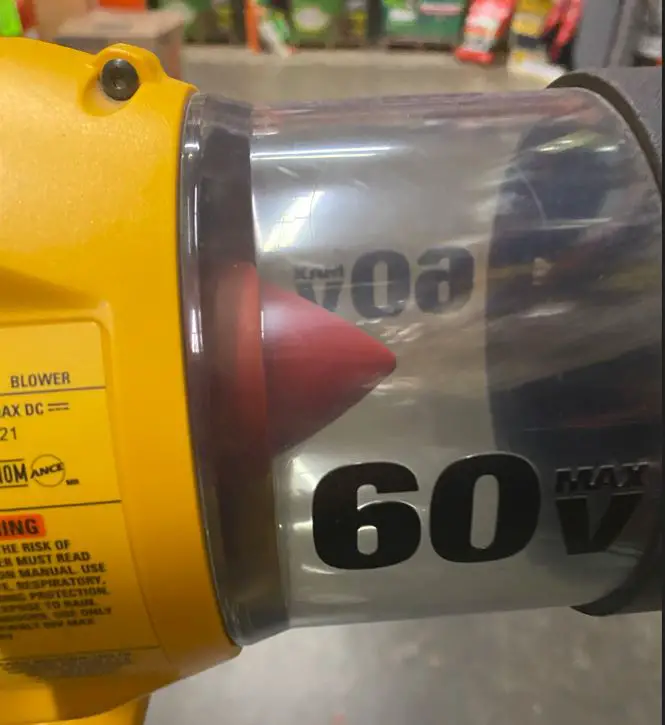 This blower again has a nice brushless motor, a grip that resembles your electric power drill, a variable speed trigger, and a speed lock. I like the speed lock function here because sometimes I want to do mid-speed and my finger cramps holding it at the exact speed I want (first world problems).

All-in-all, this is a great blower from Dewalt and comes in at just over 9lbs. Comparing this one to the one before, they are both 60V blowers but have different purposes. This one is for pushing big piles of leaves and the other is for smaller spaces and wetter leaves. They are both great blowers, but really fit two different demographics.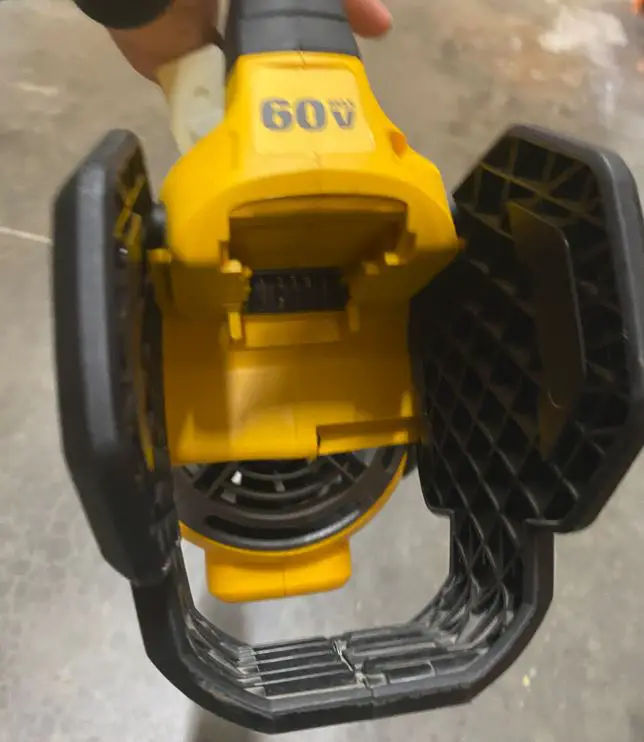 This Dewalt blower can be found on sale at Amazon for a decent price right now (especially if you get the tool-only version).
If you want to grab it from Home Depot, that's where we got ours. You can check the price here.
1. DEWALT 20V MAX* XR Leaf Blower, 125-MPH, 450-CFM (DCBL722P1)
The Dewalt 20V Max leaf blower is really good and an amazing price. I wrote about this Dewalt 20V leaf blower once before, but they've made some major improvements. 
The first major improvement they've made is a nice removable concentrator tip. With this blower, you get the best of both worlds. You have the ability to snipe wet leaves or clean off your porch as needed, with the added ability to remove the concentrator and use the wider mouth for shoving big piles of leaves.
This one has all the great things – a brushless motor, a nice variable speed trigger with a lock, and it's about half the weight of the blower above – just over 5 lbs.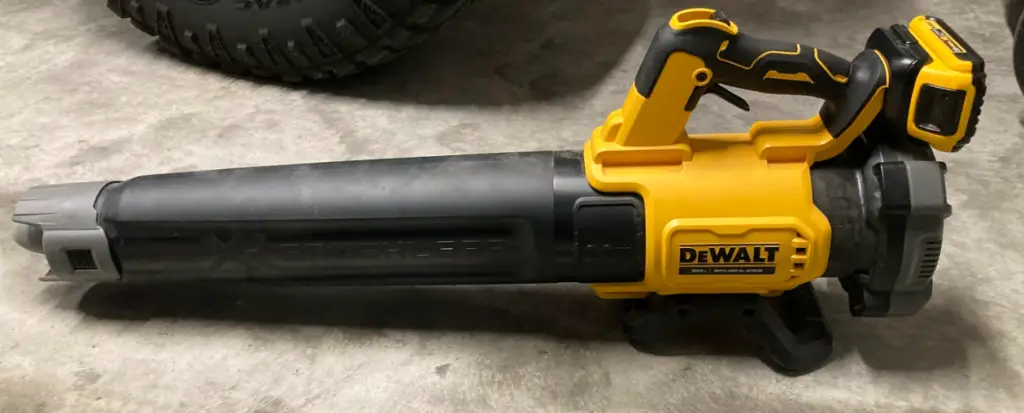 Holy cow. This one is also relatively quiet (about as much noise as a blender) and is the most affordable of the three. 
In my opinion, this is hands-down the best Dewalt blower on the market. The best part is that the 20V battery on this one is one of their most popular battery lines and is what the power drill uses (among hundreds of other tools).
You can grab this one WITH a battery for an insane price on Amazon. If you want to grab it locally, grab it from Home Depot online and pick it up in store.