Makita's 21 inch 36V LXT brushless mower is a beauty to look at. They make awesome power tools, some really good lawn tools, and amazing mowers….right?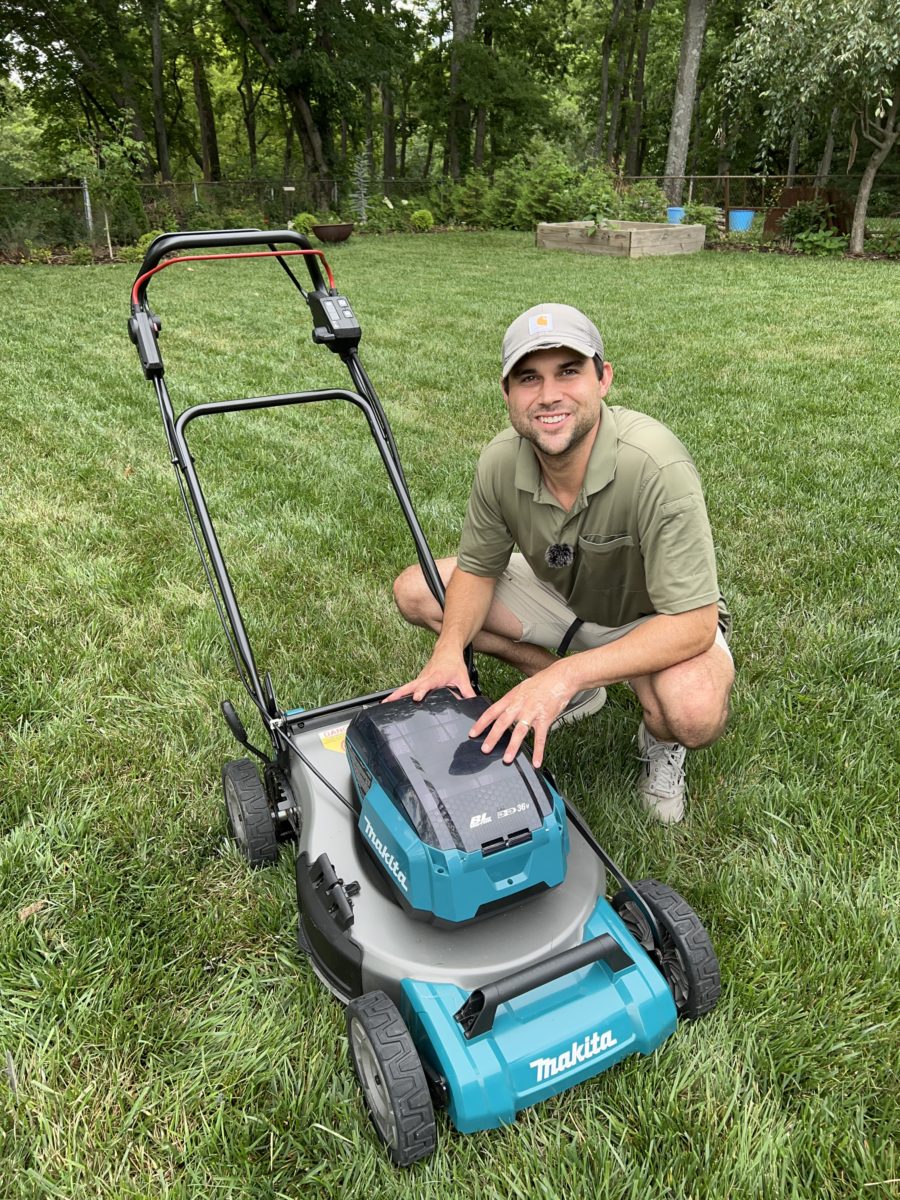 I got my hands on the new Makita 36V LXT mower and put it to the absolute test. In fact, over on our Youtube channel this mower was the MOST requested mower review we've ever done. Tons of folks were leaving comments on our other mower videos asking about this Makita LXT mower because it looks sweet, is a decent price, and is front and center at just about every Home Depot in the country.
Let me give you my honest thoughts on a number of categories.
My experience with battery powered mowers
What I'm about to say may be extreme, but I think I may be the most experienced battery-powered mower reviewer (if that is a word) on the planet. I've used just about every battery mower on the market and consider myself a snob.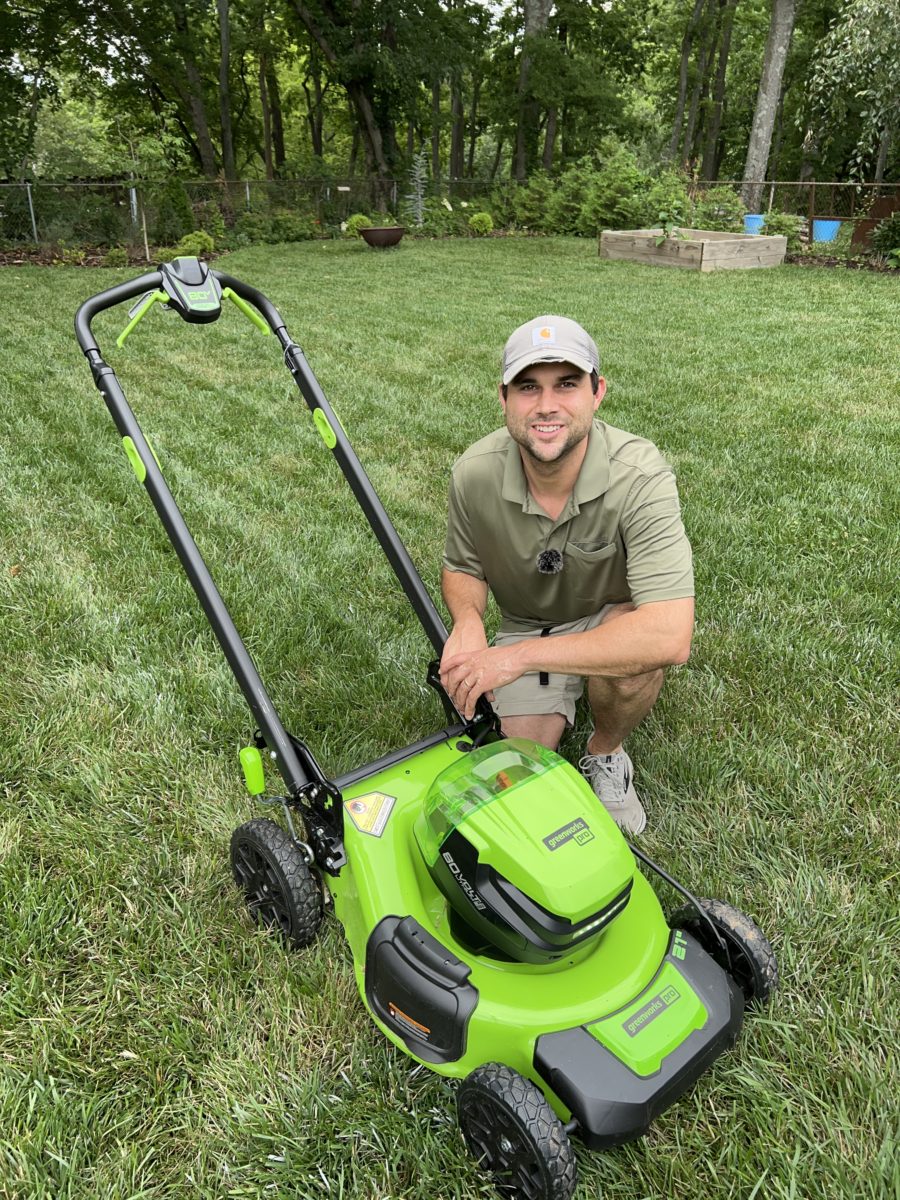 In fact, I own 11 mowers – which my wife of course loves (just kidding). Eight of them are battery powered push mowers and five of them are all 2023 models. It has been a weird year.
Anyways – I saved you the time of having to compare and contrast all the meaningless specifications and thought I could translate it into plain English.
The Makita 36V (18 x 2) Brushless Electric Mower Review
I went and grabbed the Makita mower from my local Home Depot. Many people think I get these things sent for free. I do not. So you can trust my experience on this one as the old wallet took a big hit.
Set-up and starting the Makita LXT mower
Unlike most electric mowers these days that have a super easy set-up process that doesn't involve any tools, the Makita LXT had a few tools I had to use to get it all assembled. While it wasn't overall difficult to assemble, it did take about twice the time as some of the other mowers I assembled. In fact, I did a 5-way head-to-head electric mower challenge and this one was the longest set-up.
Starting the mower is a little bit complex, too. I appreciate the safety aspects, but it was pretty cumbersome to get started. You press down the red button on the right side of the mower, then pull the handle bar down which engages the blade, then pull another bar over to get the self-propelled function.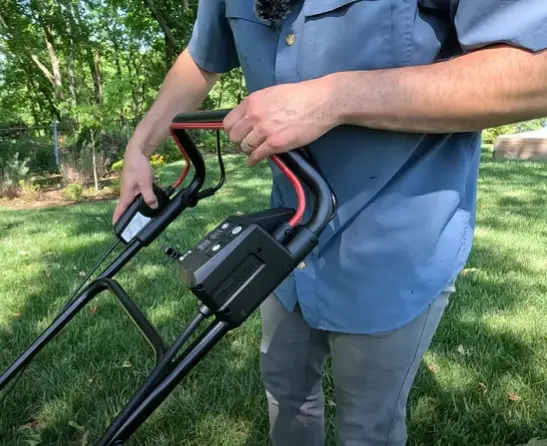 Using the Dashboard on the Makita LXT electric mower
One thing I really liked about the Makita mower is that it comes with a little dashboard panel near the handles. It has a battery light indicator that is super helpful compared to others, some of which make you take off the battery to check how much juice is left. It also has a lever that allows you to control how quickly the self-propelled function goes (ranging from turtle to rabbit).
Lastly there's this little button that acts as a "quiet mode" which really doesn't serve much of a purpose. It sends the RPMs down to a lower level, which basically makes the mower less effective. I don't really get it.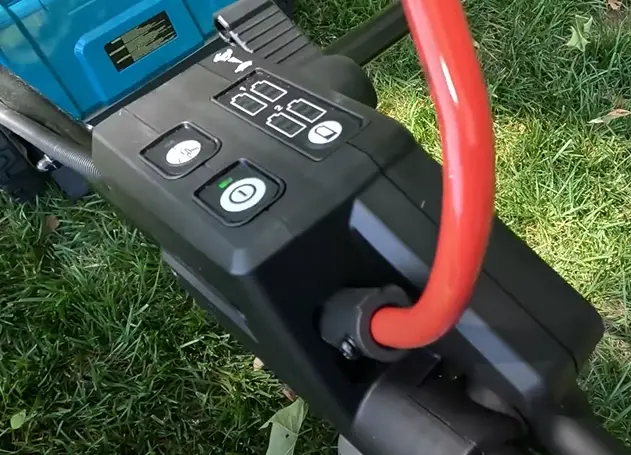 The frame and body of the Makita LXT mower
One thing that this mower has that a lot of the competition doesn't: a steel deck. So many electric mowers have plastic decks which I am not a huge fan of. I like the weight of a steel deck as well to help keep the mower on the straight and narrow.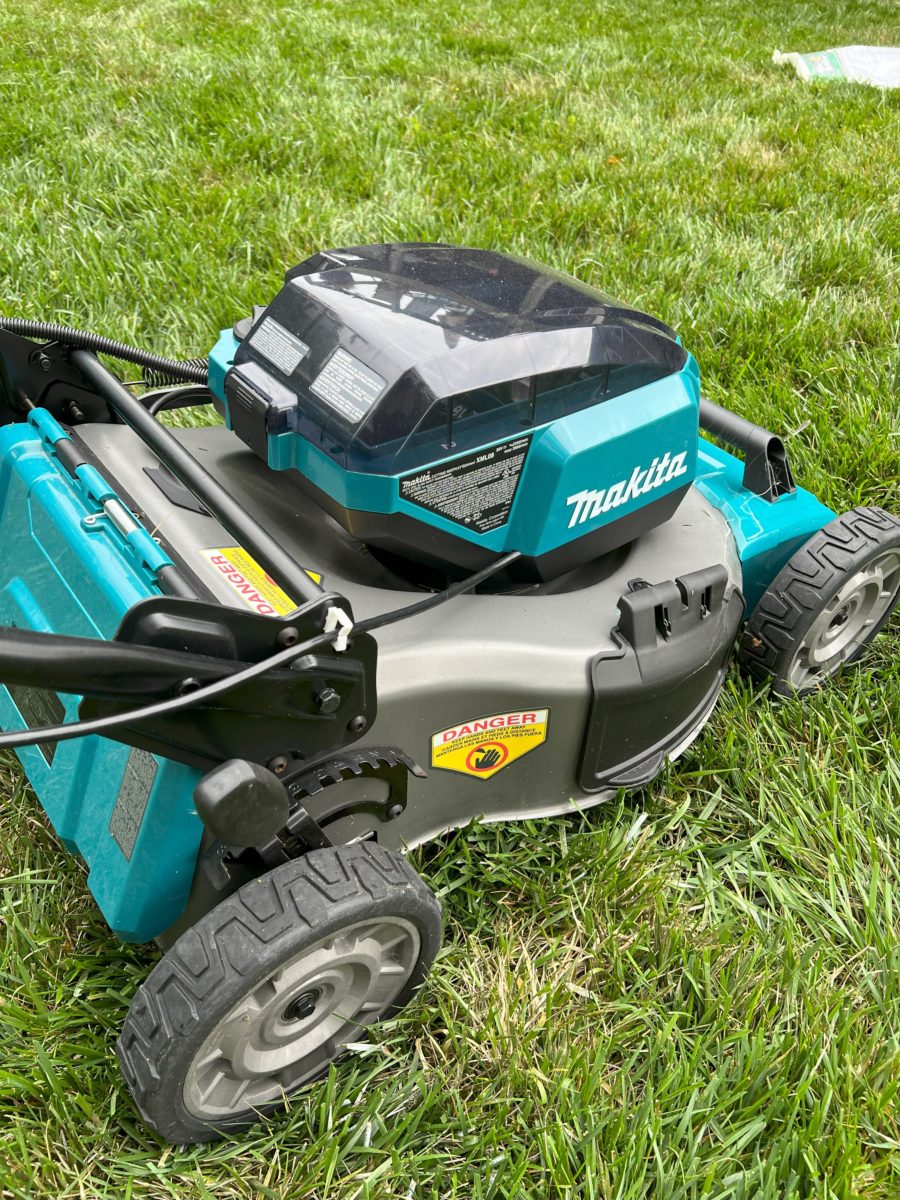 One huge benefit of this is the single height adjustment. For folks that don't know, they make mowers now that can be adjusted at one side of the mower to set the height for the whole mower. I only realized how great this was after having a mower that required it to be adjusted at each wheel separately. Such a nightmare. The heights range from 1.25 inches to 4 inches – great for bermuda or tall fescue. 
The wheels on this Makita mower are also a nice, solid six inches and don't look or feel plastic-y like some other mowers out there. I also like that the battery housing holds four 5 Ah 18V batteries from Makita, which should get you a decent amount of time. When you want to switch between the first set of batteries to the second, you have to stop and switch a knob that indicates which batteries you want to draw from. Not unusual, but still kind of inefficient.
Battery run time and charge time tests on the Makita mower
Makita can claim whatever they want about the run-time of this mower. I am going to put it to the test to see what is real.
With this mower, I ran it in my yard with a timer to see exactly how long I could mow before the batteries died. With the first set of two batteries, I only got basically my front yard and part of my back – with 38 minutes and 29 seconds. With four batteries, you can probably get a full 80 minutes.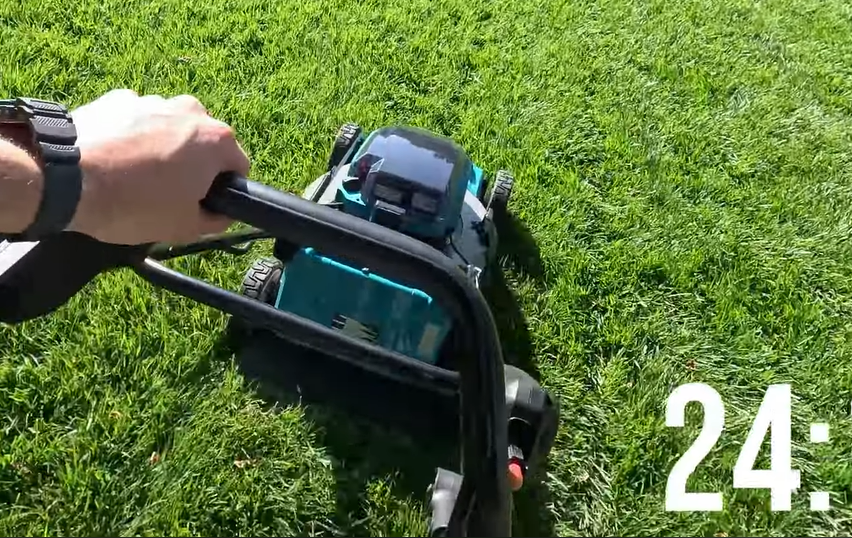 When it comes to charge time, it is also important to see how quickly you can reuse the batteries after a mow (or in the middle of it if they die). I popped two of these dead batteries on the charger and found that it took them about an hour and five minutes to charge (not 45 minutes like advertised).
Cost and value comparison for Makita LXT
The cost of the Makita LXT mower varies by size and batteries, but the one I got that came with two batteries and a 21 inch cutting deck cost about $689. Fully loaded with 4 batteries will run you about $789. 
You can grab any of these variations at Home Depot and adjust the price, where it often goes on sale.
Would I recommend the Makita 36V LXT mower?
This is a tough one. On paper, this is a fantastic mower. Steel deck, Makita's great brand quality at places like Home Depot, a bunch of bells and whistles, and some great batteries.
But man – this thing was a disappointment when I actually used it. Not a great cut, some weird functions that didn't make sense like the "quiet mode", and a huge price tag. To be honest, I think you can do better with one of the best battery powered mowers we wrote about.
I WOULD recommend this mower to someone who already has some nice Makita 18V batteries that can save a ton of money by purchasing the tool-only version from Home Depot for a lower price.
Why we review lawn tools
The reason we started this website in the first place was because we had so much trouble trying to find reasonable, understandable, honest reviews for lawn equipment. And it's not cheap! After hours and hours of research, trying products and returning them, and messing up our yards – we started this site.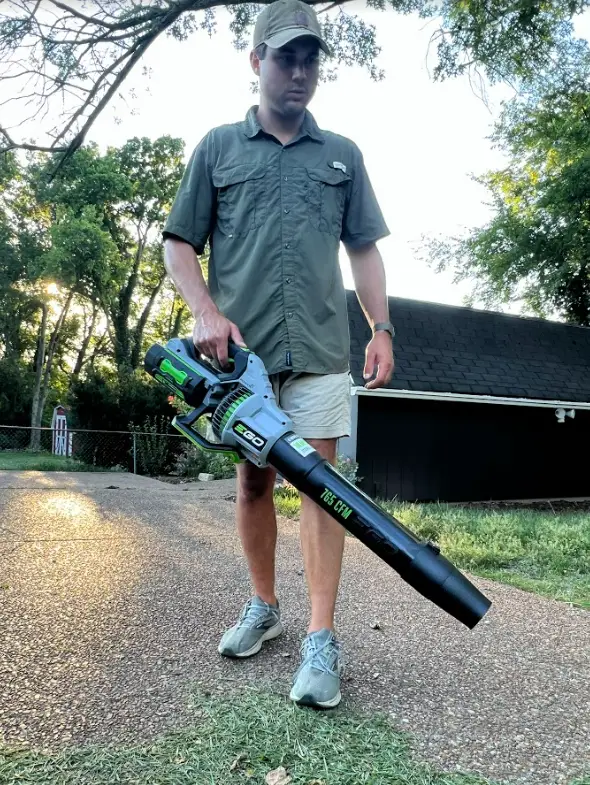 As people who had to learn the hard way, we want you to know exactly what you are signing up for before you purchase a piece of equipment. That's why we are committed to providing honest, easy-to-understand reviews that mean something.