Lightweight string trimmers are really good tools for those with smaller yards, back pain, or just like to move fast. Most weed eaters start at about 10-11 lbs but feel way heavier since they are over 5 feet long.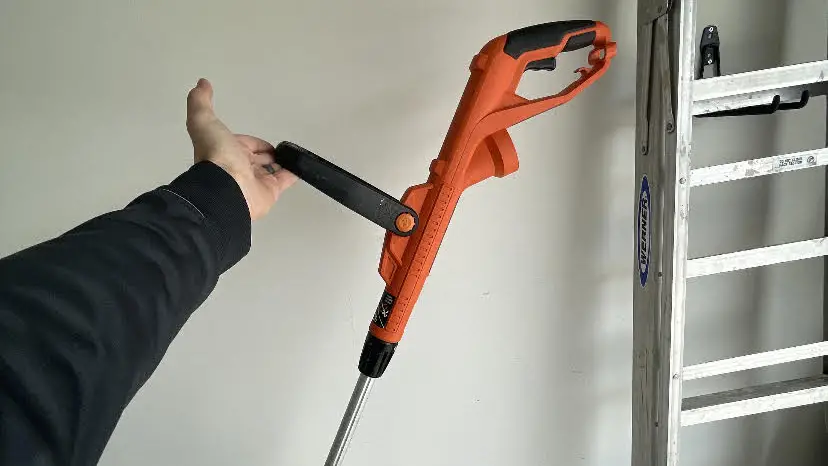 It doesn't have to be this way. My parents (senior citizens) and my wife (woman) love using smaller weed eaters because  they're just easier. And they aren't hardcore perfectionists like me who are obsessed with having heavy-duty tools. 
But anyways – I have gotten a lot of questions lately over on our Youtube channel about what the best lightweight weed eaters are, mostly from older women. Let's break it down today!
Here is our list of best lightweight string trimmers:
Greenworks 40V 12 inch Cordless String Trimmer
Ryobi ONE+ 18V 10 in. Cordless Battery String Trimmer and Edger
Black and Decker 14 inch String Trimmer
WORX WG162 20V Cordless String Trimmer
Sun Joe TRJ13STE Trimmer Joe 13" Weed Eater
5 Best Lightweight Electric Weed Eaters: Ranked
Many of these weed eaters I've gotten to use after borrowing from my neighbors, parents, or in-laws that told me how great they were. I'm taking into account my personal experience, my parents' enthusiasm, and the specifications that make these the best.
1. Greenworks 40V 12 inch Cordless String Trimmer
We liked the Greenworks 40V 12 inch cordless string trimmer because it has much of the same performance as a big weed eater, but is noticeably lighter. Coming in at right at 9 lbs, this one is going to mostly feel like a bigger EGO string trimmer, but provide less fatigue (and less power).
We liked this tool because the Greenworks 40V battery series can be used with a ton of other Greenworks 40V products as well. There are a ton of those, including a big ole chainsaw, a bunch of their mowers, and more.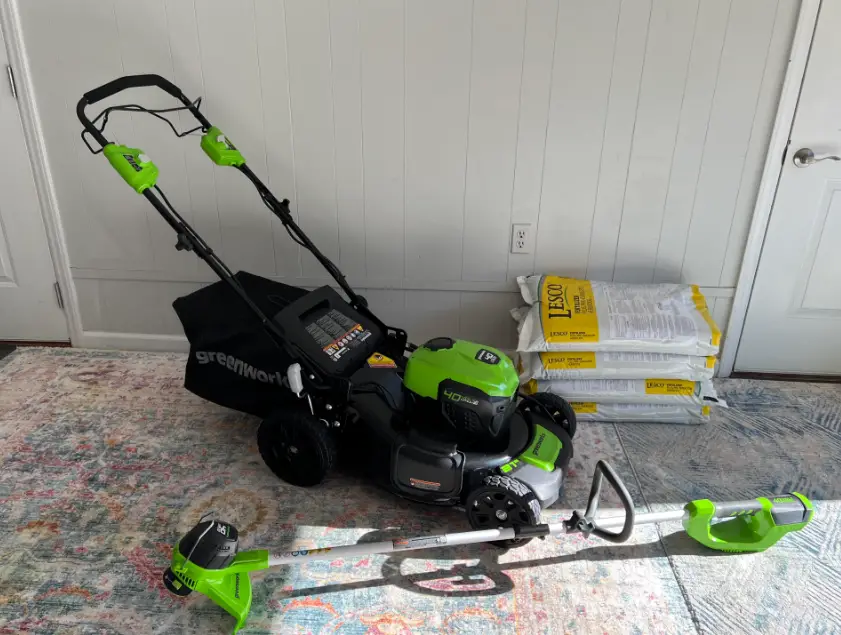 But for this string trimmer, I particularly loved the molded handle grip that takes even more force off of your fingertips. It also has a slightly bent D-loop handle that isn't a fake plastic-y type of handle. Together, these make the 9 lbs feel even lighter. 
While this isn't the highest performing weed eater – a cutting swath of 12 inches – it is definitely a good cutting swath for smaller yards without crazy amounts of thick brush. It's a great weed eater for a homeowner with a generally well-maintained yard. I also really liked the variable speed trigger on this, which lets you have complete control over how hard you are trimming.
You can grab this one from the same place we did – Amazon – for a great price WITH a battery. 
2. Ryobi ONE+ 18V 10 in. Cordless Battery String Trimmer and Edger
So my neighbor has the Ryobi ONE+ 18V cordless string trimmer and I had spotted him using it one day when I went up and asked him about it. He recently had back surgery and was finally back to playing golf. He liked this tool because it was taking the weight off of his back and was extremely easy to use.
While it doesn't look like much, this Ryobi string trimmer made it super easy for my elderly neighbor to get back to taking care of his yard, which I can definitely appreciate. At first glance, this weed eater doesn't appear to meet any of the criteria I laid out below. It has a curved shaft (if you can call it that), it isn't very adjustable, it's got a tiny cutting swath – but man if it isn't lightweight.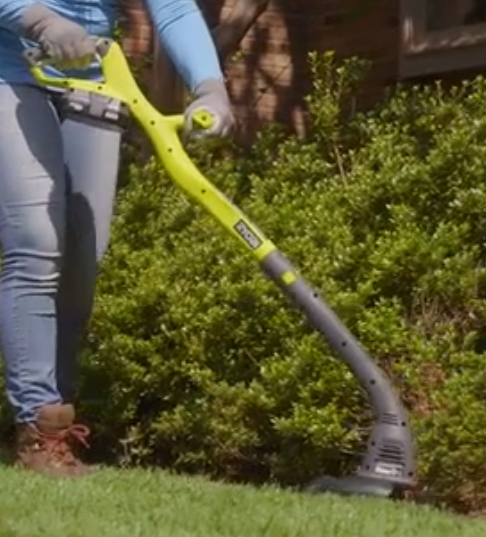 Coming in at 4 lbs, this may be the lightest electric weed eater on the block. Whoever designed this made sure that it was all about convenience – which is what so many of us care about anyways. It has these features as well:
Automatic line advancement meaning you don't have to flip it over and pull out more line when it inevitable breaks off
The 18V battery that can be used with a ton of other Ryobi 18V ONE+ tools (like this backpack sprayer of theirs)
A dang 3 year warranty
An insane price
Look – this electric string trimmer isn't all about power – and that's fine. But I challenge you to find a lightweight, easier to use weed eater on the block. You can find this one a number of places, like Home Depot (where my neighbor got it) for a really low price.
3. Black and Decker 14 inch String Trimmer
The Black and Decker 14 inch corded electric string trimmer was the first string trimmer I ever owned. I did a full write up about it last week because I found it in my garage and got nostalgic. It's ranking high up here because it lasted me about six years and could keep on going if I hadn't upgraded it.
This one is super convenient because it has a handle that rotates that lets you go from trimming to edging – really quickly. I like the fact that it has a cord because it makes it both extremely cheap and I never have to worry about charging batteries.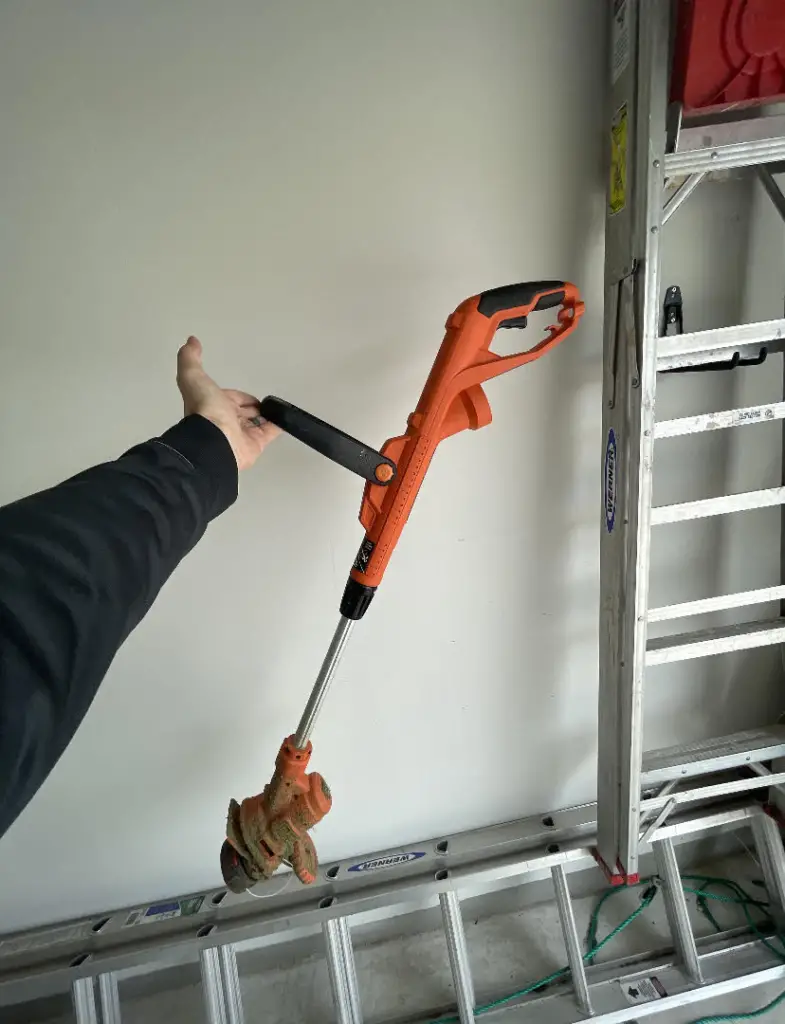 Another cool thing about this trimmer is that it can retract into itself and fold the handle up, making it fit into a space the size of a locker. It can easily hang on a nail in the garage. When using it, I can extend the trimmer, rotate the head, and balance it along a wheel to do some light edging work as well. 
This one got me through many years in my first home on a budget. You can check the latest price on Amazon here, but it is dirt cheap.
4. WORX WG162 20V Cordless String Trimmer
Next up is the WORX WG162 20V string trimmer. This one is battery-powered and WITH the battery comes in at 5.5 lbs and without the battery weighs 4.5 lbs. That is incredibly lightweight.
Here are some other things that we like about this trimmer:
20V battery works with a ton of other Worx 20V tools
12 inch cutting swath is slightly larger than a few of the competitors
Telescoping head lets you adjust the length of the trimmer or collapse it for easy storage
The head pivots for edging just like the Black and Decker above
One thing I don't love about this trimmer, which is why it is ranking below the others, is that it only has a single speed. I like having as much control as possible (which my wife loves), so having a single speed really limits what I can do. In particular, it makes it hard for me to cut around delicate flowers without being absolutely surgical and/or wreckless.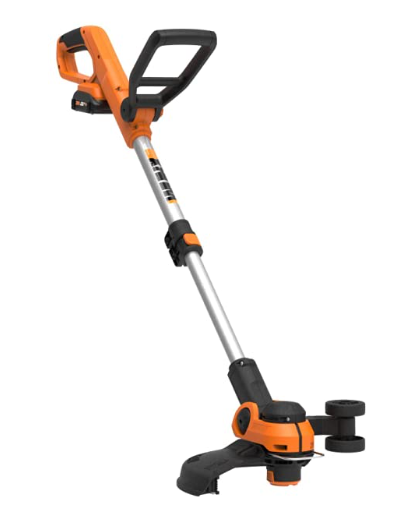 Either way, this is still a great, lightweight string trimmer and marketed almost exclusively toward women (just my observation!). But given the lightweight feel and the ease of use – it is also a great lightweight string trimmer for seniors. 
This one, like most Worx products, are found almost exclusively at Amazon – where the price is pretty ridiculous (low).
5. Sun Joe TRJ13STE Trimmer Joe 13" Weed Eater
One that definitely flies under the radar, the Sun Joe electric string trimmer and edger is nearly identical to the Worx one above. The main difference is that it has a slightly larger cutting swath at 13 inches and is a corded electric string trimmer instead of battery.
Weighing in at 5 lbs (and no additional battery to weigh it down further), this thing is on the list because it is featherlight. Oh – and it is also featherlight on the wallet. This thing is under $40. Yes, if you're on a budget and looking for something light and easy – you aren't going to do much better than this.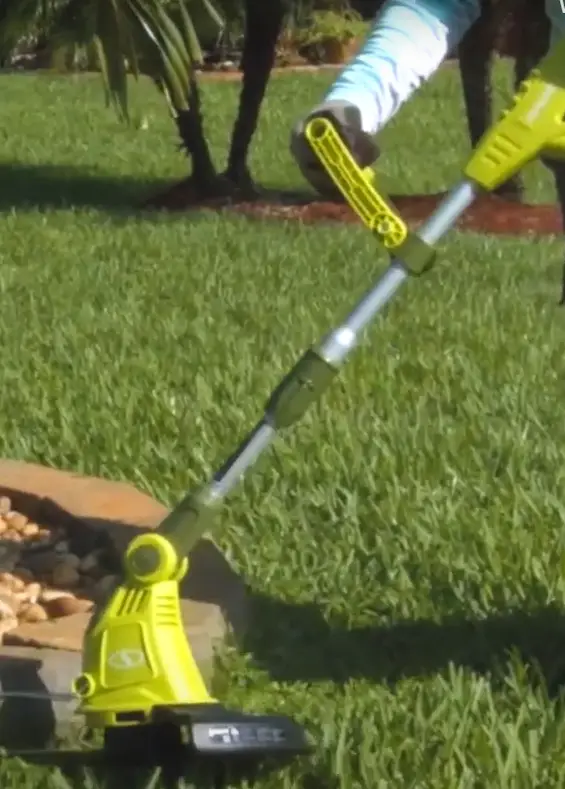 This is the ultimate string trimmer for people with tiny yards and aren't snobby about their tools. Sun Joe is not big in the lawn care space (yet), so you aren't going to be building out your full suite of lawn tools with them. We have the Sun Joe dethatcher and have used a few other Sun Joe tools and honestly – they aren't bad.
So – what do you have to lose? 40 bucks? That's like a dozen eggs these days.
Go grab it on Amazon right now before hyperinflation takes it to the price of a normal weed eater.
Why we created The Lawn Review
The reason we started this website in the first place was because we had so much trouble trying to find reasonable, understandable, honest reviews for lawn equipment. And it's not cheap! After hours and hours of research, trying products and returning them, and messing up our yards – we started this site. 
As people who had to learn the hard way, we want you to know exactly what you are signing up for before you purchase a piece of equipment. That's why we are committed to providing honest, easy-to-understand reviews that mean something. 
What to look for in a string trimmer
Cordless weed eaters come in all shapes and sizes. They aren't highly complicated pieces of equipment, but they do have a few nuances. Here is how I see it:
Feel
Obviously this is subjective, but feel is everything to me. I have had weed eaters in the past where the handle is off to the side, making me torque my shoulders and back. With the ones on this list, feel is less important because they're so dang light. It is hard to torque your back or shoulder when there isn't a ton of weight working against you.
Motor 
Brushless motors are the best type of motors for electric lawn tools. They also produce more torque and less heat. They're harder to find in lower-end lawn tools like the ones on this list. But if you can get one – it is good as gold and will last a long time.
Power Source
Depending on your situation, you may need to consider the power source. If you have a large yard with a lot of acreage, you may need gas to cover the whole area, while smaller yards (an acre or less) can get away with a battery or corded tool. These ones are all either battery or corded electric. If you get corded, just make sure you have a nice extension cord.
Curved vs Straight shaft
I always, always, always prefer straight shafts. They are so much easier to use and control. Curved shafts are better for smaller areas that require "mowing", whereas straight shafts are better for precision and clean lines.
Bottom Line: Lightweight weed eaters
Y'all the good thing about these lightweight weed eaters is that they all get the job done and are lightweight on the wallet as well. The toughest choice you'll make from this list is whether or not you want a battery or corded electric string trimmer.
Either way, your back will thank you for the featherweight tool and your lawn will look as good as new.