Toro' Recycler SmartStow Battery Mower has enormous shoes to fill.
Toro mowers are one of the best selling gas mowers in the Milky Way galaxy (and beyond). Making the switch to battery is a huge task. Aren't battery mowers weaker? And plastic? And can it break easily?
Truthfully, some are weaker and plastic-y, and some are absolute units that are even better than gas.
Let's take a really close look at the Toro Recycler SmartStow Battery mower to see how it stacks up.
Jump ahead:
Why we started The Lawn Review
The reason we started this website in the first place was because we had so much trouble trying to find reasonable, understandable, honest reviews for lawn equipment. And it's not cheap! After hours and hours of research, trying products and returning them, and messing up our yards – we started this site.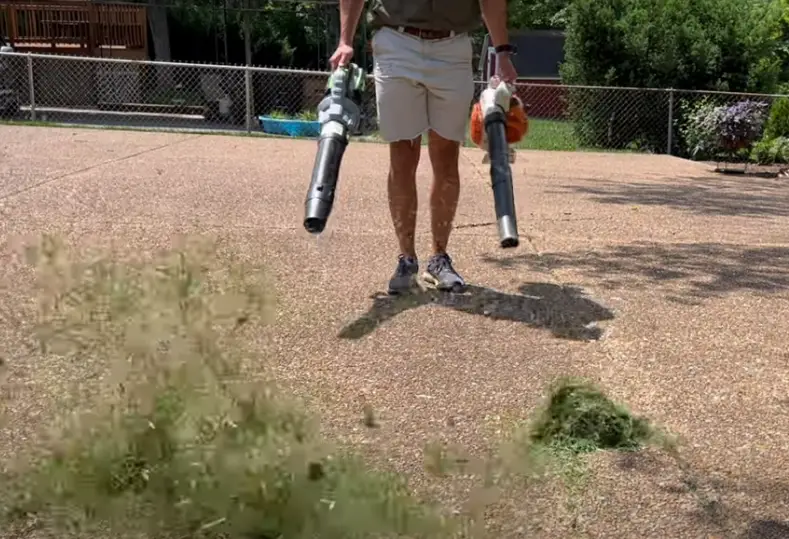 As people who had to learn the hard way, we want you to know exactly what you are signing up for before you purchase a piece of equipment. That's why we are committed to providing honest, easy-to-understand reviews that mean something. 
What to look for in an electric lawn mower 
When looking to purchase an electric lawn mower, you need to make sure you understand what things matter. You will get hit with a lot of technical specifications and marketing tactics. Totally forget them and focus on the things that impact you. Below are my recommendations:
Brand quality

Quality is going to be super important here. Everyone is in the electric mower game these days and there are a ton of junky mowers out there. Avoid anything from a weird brand on Amazon that takes 9 years to ship. It is probably being 3D printed in a Laotian bathroom. Go for brands that have consistent quality and focus on the details, not just flashy colors.

Metal where it matters.

Most electric mowers are plastic-y. Probably to reduce the weight of the mower so that the battery can get you further, but it feels cheap. Make sure to get metal where it matters – namely the deck. The deck is the part that covers the blades. Don't get plastic here – a rock can rip through it.

Battery interoperability.

 A ten dollar word used here, but really just make sure to buy a mower with a battery that is compatible with other electric tools. Ryobi has this, so does Dewalt, and so do some of the Greenworks products. This will save you garage clutter and plug space.
If you have more questions, check out our guide to electric lawn mowers.
Toro Recycler SmartStow Battery Mower: Features and Benefits
Let's hop into what might become the household staple of the future. The red Toro Lawn Mower that is in just about every garage, except battery-powered. This one even made our list of best mowers for bermudagrass.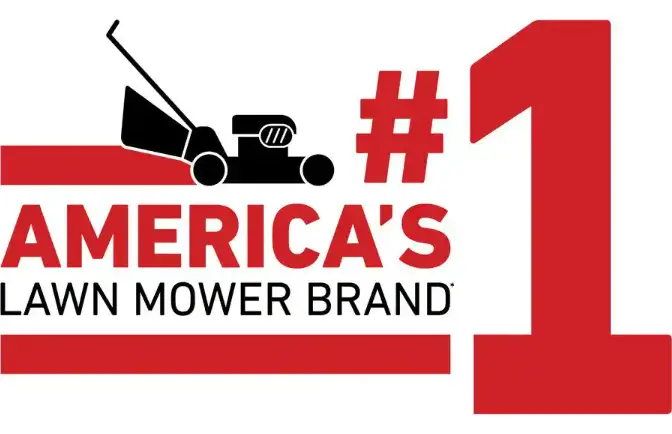 Power
Gauging power output on a battery-powered mower is always tough when compared to gas mowers. Gas mowers have cubic centimeter displacement, or ccs, that give you a good idea and are more widely recognized.
Battery mowers have voltage (V), which generally correlates to power. It also has Amp-hours (Ah) which correlates to run-time. The 60V Toro Recycler SmartStow battery mower is an above-average voltage for a walk-behind battery mower.
I would compare this power output to somewhere around 175 cc on a gas mower.
In layman's terms, this thing can keep up with and even exceed most gas walk-behind mowers. It will sound different, but the cutting power is really the same.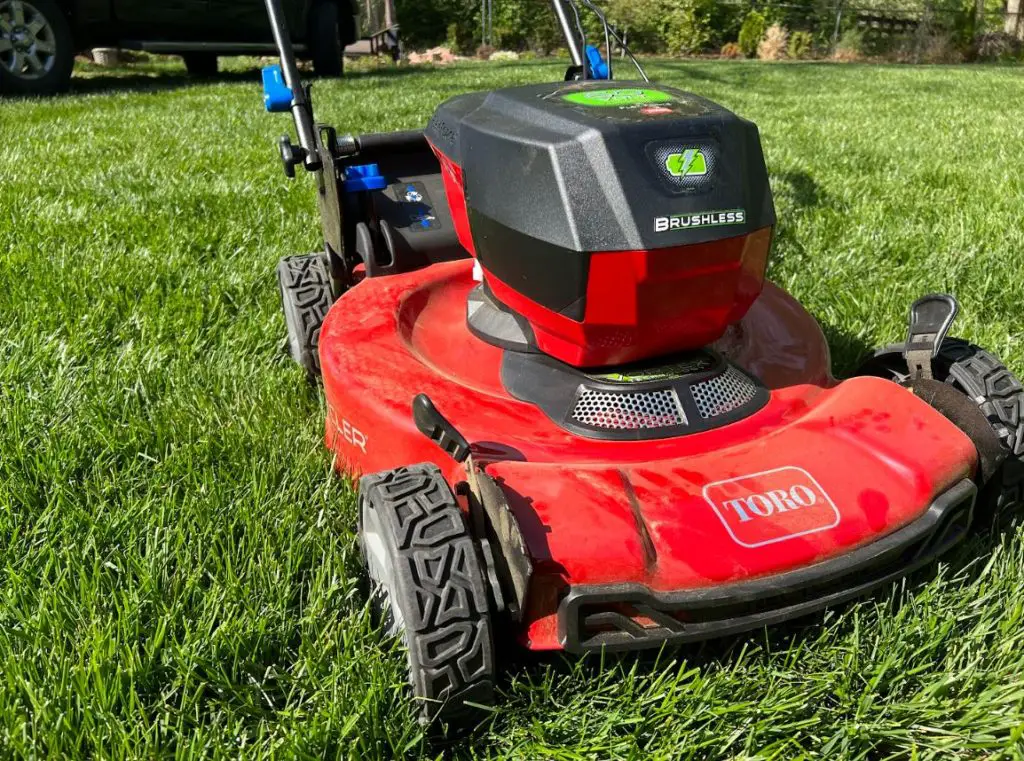 One thing I will mention related to power is the motor type. This comes with a great Brushless motor, meaning more torque, a cooler running motor, and a durable long-lasting tool.
Battery life
Battery life may be the biggest concern if you are switching to a Toro SmartStow battery mower for the first time. Up above, I mentioned Amp-hours as the measurement of how long the battery will run. You can get the Toro Recycler SmartStow in either a 5 or 6 Ah battery package. I recommend going with the 6 Ah for more run time.
In a normal yard, you will be able to cut for about 45 minutes, which is really pretty great for a battery powered mower. In terms of size, you will be able to cut about ⅓ of an acre with this on a  single charge.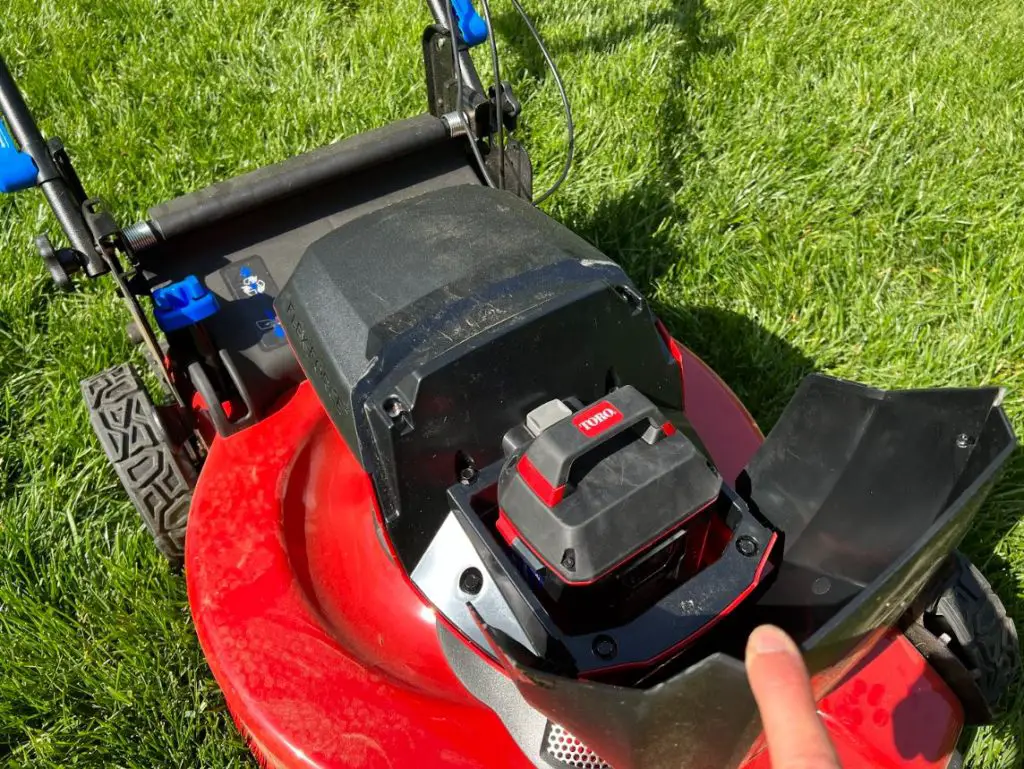 The beauty of the 60V battery on the Toro Recycler SmartStow battery mower is that it can be used with the trimmer, blower, and chainsaw. One battery can give you several different tools. That's why if you go with the Toro 60V, you should make sure to check out other products in the Toro 60V line to save some serious money by purchasing the "tool-only" versions.
Just as a forewarning, running your mower with the self-propelled function on will noticeably burn the battery as compared to just pushing it the old fashioned way.
Durability and maintenance
My favorite part about battery mowers in general is that they require basically no maintenance. At all. And they start reliably every time without having to pull a cord a dozen times.

No spilling gas all over your garage, no oil changes or filter changes, and no smelling like gasoline (which I actually like).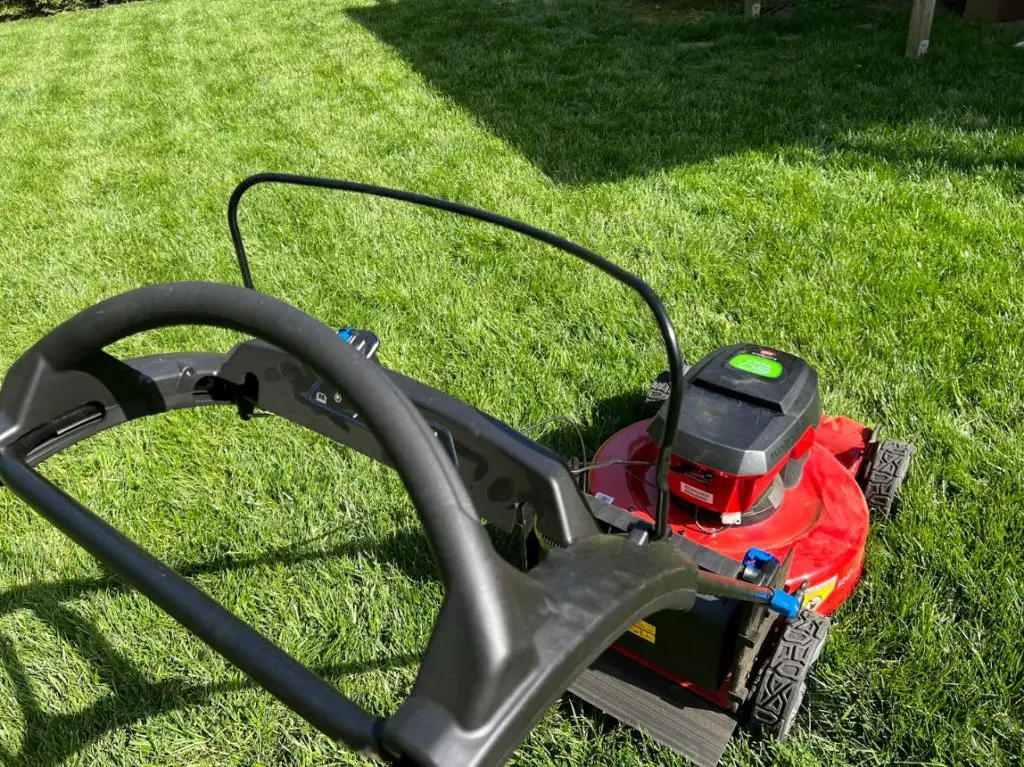 You can simply press a button and get going. 
As you may have read at the beginning of this article, it's also really important to have a mower with a metal decking. Thankfully, the Toro Recycler battery mower has a nice 21 inch or 22 inch steel deck, whichever size you buy.
The steel deck means that you get the reliability and durability you would expect from Toro. 
Bells and whistles
Some other features of this mower include the rear-drive self-propelled function. I'm a bit picky, but if I get a self-propelled mower, I actually prefer it to have front-wheel drive so that it can help pull the mower over certain spots. 
The Toro Recycler SmartStow has a 9-position cutting height range, which is almost excessive but nice that you have this many options. You;ll be able to cut all types of grass, from fescue to zoysia.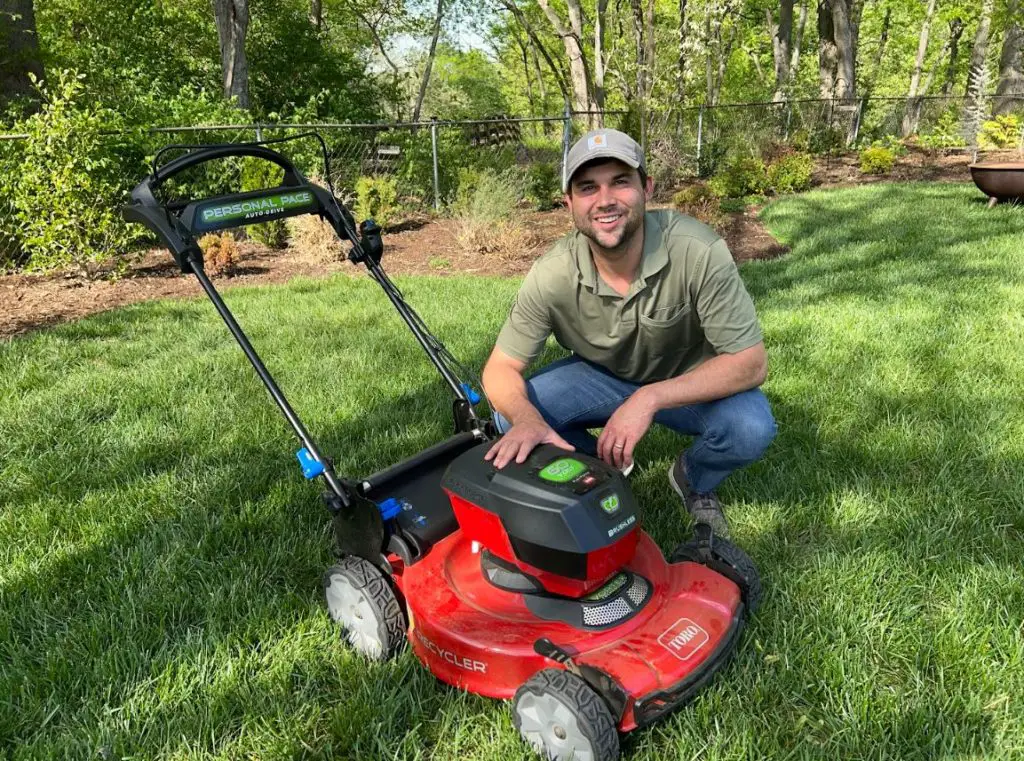 The last part is the Recycler Cutting System, which is how this mower gets its name. One of my favorite things about Toro is that they patented the term LawnVitamins, or very finely trimmed grass clippings created from their Recycler series. 
These fall back into your soil, nourishing the lawn and providing it with some great nutrition to grow nice and thick.
Cost
The Toro Recycler SmartStow comes in at about $500 depending on the size and the battery that you get. This is a pretty reasonable price considering that it is going to last you for quite some time. 
As is true with all brand-names, you are definitely paying a bit more for the "Toro" logo printed on the side.
Official Review: Toro Recycler SmartStow 60V Battery Mower
From Toro, this is exactly what I would expect. It is high-quality, well-made, durable, and reliable. I believe over the years we will see this mower become the dominant replacement for folks using gas mowers nowadays. 
You can grab yours at Home Depot for a great deal, but click here to see the ever-changing price.
Check out our ranking of the best Toro mowers!