Cordless hedge trimmers are amazing tools – especially if you've ever been frustrated by tangled cords or had a hedge trimmer continually unplug. With almost all lawn care moving to battery-powered and cordless, hedge trimmers are at the top of the list for being the best cordless tool.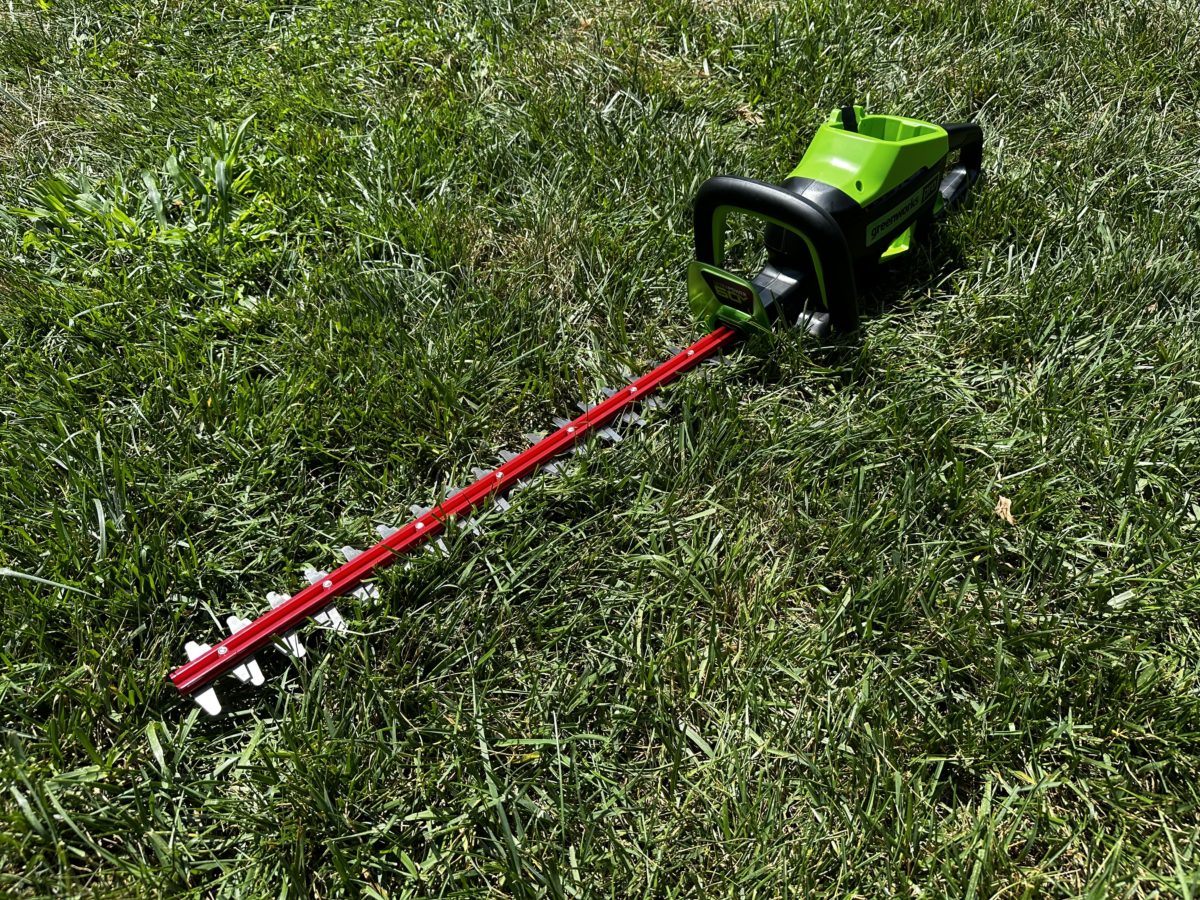 We've had the pleasure of using some mighty fine hedge trimmers in our day – ones that have serious juice that allow us to mold beautiful bushes in the front yard.
Today, we are going to cover what to look for in a cordless hedge trimmer then rank the 5 best cordless hedge trimmers on the market in 2023.
Here is our list of the best cordless hedge trimmers:
Why we review lawn tools
The reason we started this website in the first place was because we had so much trouble trying to find reasonable, understandable, honest reviews for lawn equipment. And it's not cheap! After hours and hours of research, trying products and returning them, and messing up our yards – we started this site.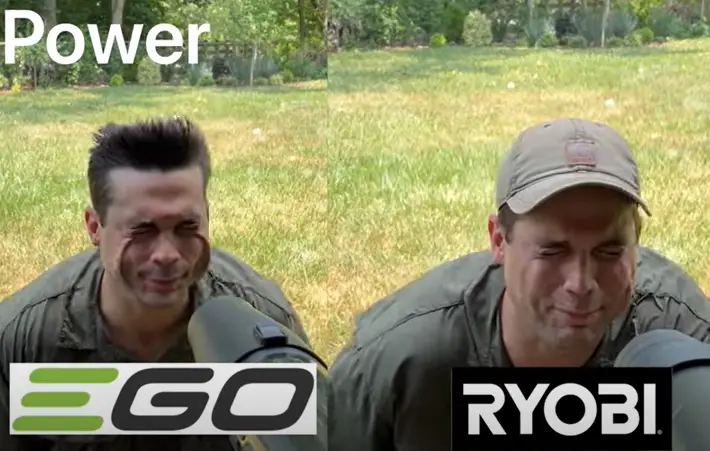 As people who had to learn the hard way, we want you to know exactly what you are signing up for before you purchase a piece of equipment. That's why we are committed to providing honest, easy-to-understand reviews that mean something. 
What to look for in a cordless hedge trimmer
Cordless hedge trimmers are a great addition to any gardener's toolkit. Not only are they environmentally friendly, but they also offer a number of advantages over their gas-powered counterparts. However, with so many different models on the market, it can be difficult to know which one is right for you. Here are a few things to look for when choosing a cordless hedge trimmer:
Hedge Trimmer Length:
Cordless hedge trimmers come in a variety of lengths, from small handheld models to larger units that can reach up to several feet. Choose the size that is best suited for your needs.
Ease of use:
Cordless hedge trimmers should be easy to operate, with comfortable handles and simple controls. Look for a model that is lightweight and easy to maneuver.
Battery life:
Corded hedge trimmers need to be plugged into an outlet, which can be inconvenient and restrict your range of motion. Cordless models run on batteries, which will need to be recharged after a certain amount of use. Choose a model with a long battery life so that you can work uninterrupted. If you already own a line of battery-powered products, check out the hedge trimmer from that line as a starting point.
With these factors in mind, you'll be sure to find the perfect cordless hedge trimmer for your garden. If you are old fashioned, check out our list of the best corded hedge trimmers.
Top Cordless Hedge Trimmers: 2023 Ranking
Now it's time to get down to business. We've reviewed just about every one of these hedge trimmers at length and finally get the chance to rank them and explain exactly why they are ranked where they are. Let's save everyone a bunch of time and start with number one.
1.) Milwaukee M18 Fuel Hedge Trimmer
Milwaukee makes a bunch of tools in their M18 line, like their notorious Milwaukee M18 mower or their M18 FUEL Weed Eater. As a part of this line, they don't have a TON of different types of mowers, weed eaters, blowers, or even hedge trimmers. They put out one or two options that are really well made and stand behind it. I like that.
The M18 FUEL hedge trimmer from Milwaukee is about 24 inches long, which is the perfect length. It's extremely well built and can't be described any better than just saying it is SOLID. 
Here are a few specs that made it stand out:
Super low vibration and smooth handling
3,400 movements per minutes (it moves quickly)
A brushless motor 
The REDLINK plus system that improves performance between the battery and motor
All-in-all, Milwaukee has done it again. Can't tell if it is cocky or just plain confident that they only put out one of each tool, but this one is top tier.
Oh, and it comes in at a great price. You can grab it from Home Depot for under $200 without the battery.
2.) Makita XHU07Z Brushless Cordless Hedge Trimmer
The Makita XHU07Z hedge trimmer is a freaking sweet hedge trimmer that has crazy power. Makita went absolutely nuts when they created this. It has the same 24 inch length as the Milwaukee M18 hedge trimmer, even more cuts per minute, and of course a brushless motor.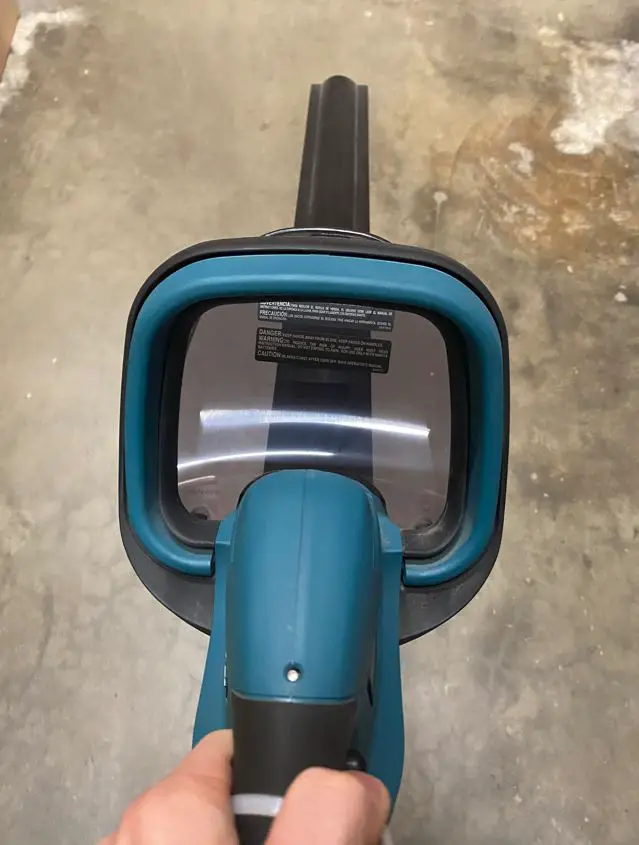 This Makita Cordless Hedge Trimmer also has some sick anti-vibration technology so that you don't finish the job and feel like you just used a jack hammer. This is probably the most premium cordless hedge trimmer on the market, but it's expensive and tough to find. You can grab it in-store at several places, like Home Depot or online and go pick it up.
Its MSRP value is over $500, but you can get it for much less if you grab the tool-only version. If you want a top-of-the-line cordless hedge trimmer – this is your best bet.
3.) EGO POWER+ HT2411 or HT2410 Brushless Cordless Hedge Trimmer
EGO is known for making really high quality tools that all revolve around their 56V battery series. They've got super strong EGO weed eaters, EGO mowers, and much more. They're definitely on the more premium side of lawn tools, making the most powerful ones on the planet, like their EGO 765 CFM blower.
Their hedge trimmer is no different. It's a beast. Here are some of our favorite features of the EGO Brushless Hedge Trimmer:
Can cut up to one-inch thick (this is crazy for a hedge trimmer)
It of course has a brushless motor
Easily removed blades for quick sharpening (many don't allow you to take off and sharpen blades)
Reasonable power at 3,000 RPM (not the highest, not the lowest)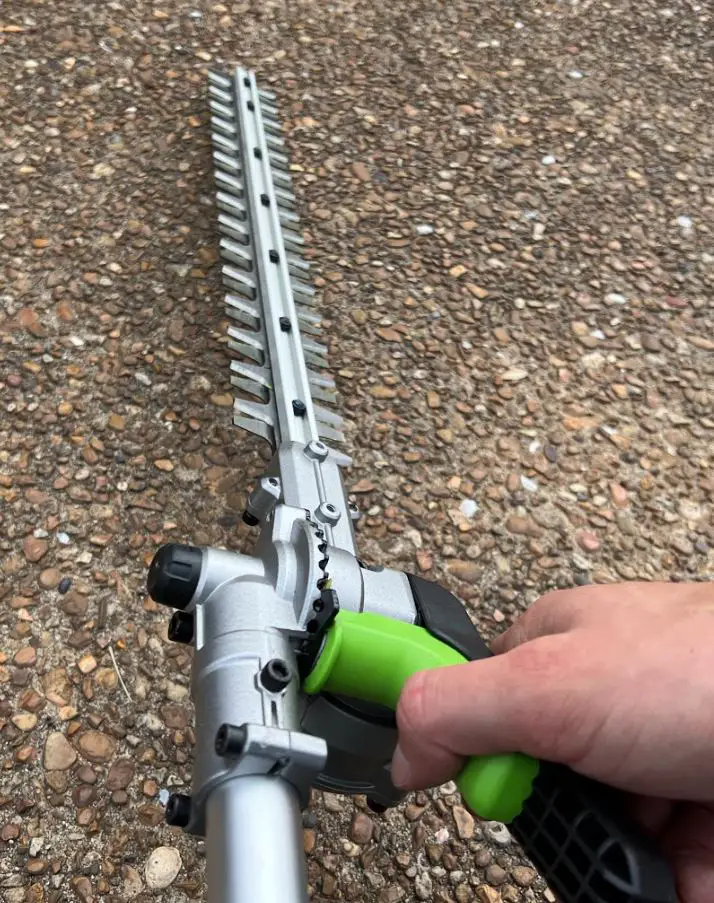 We did a full review of EGO's Power Head attachment system and actually really liked the hedge trimmer attachment wand that can be purchased with it. Basically, EGO makes great hedge trimmers of all kinds and you can't really go wrong.
One downside to EGO's system is that the 56V battery is probably too much power for a hedge trimmer. It is great that the EGO cordless hedge trimmer can tackle up to an inch thick branches, but is it worth the additional weight of the 56V battery? You tell me!
You can grab this EGO cordless hedge trimmer from Amazon for a great price.
4.) Greenworks 40V 24 inch Cordless Hedge Trimmer
We are big fans of Greenworks at The Lawn Review. They make some really high quality products and have tons (maybe too many) options. We've been really impressed with some of their Greenworks mowers and their 80V blower.
They nailed the hedge trimmer. It comes with a G-Max 40V battery which can be used across a ton of their tools, which all fall in their middle range of power. The Greenworks is by far one of the most comfortable cordless hedge trimmers we have used. It has this really nice cushioned grip that's easy to hold onto.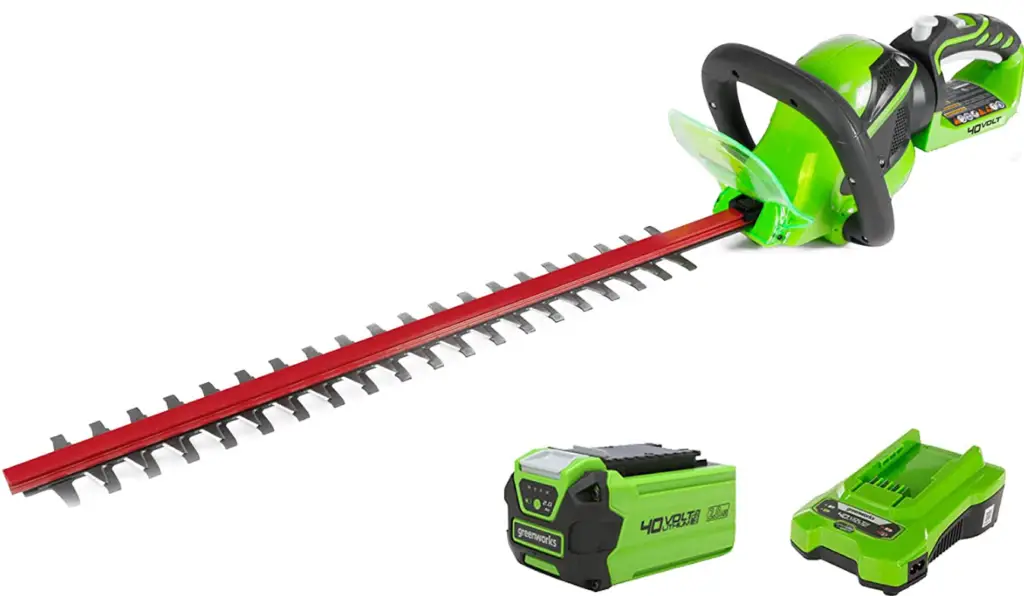 Another beauty about this cordless hedge trimmer is that it has up to 50 minutes of run time. Not only can you finish your entire project in that time, but you can probably also bring it inside to carve up some turkey. 
One downside to this Greenworks hedge trimmer is that it doesn't have a brushless motor. Come on! Greenworks is making us look bad here because we talked about their quality, but this is sadly not a very durable or long-lasting hedge trimmer. Sad!
To make up for not having a brushless motor, it does have a really good price (the two are related). This 40V hedge trimmer can be bought off of Amazon WITHOUT the charger and battery for a really, really good price. Like insanely good. 
5.) Dewalt DCHT820B Cordless Hedge Trimmer
The Dewalt 20V cordless hedge trimmer is sneaky good. It's at the bottom of this list because these are heavy hitters, but it still made our list. I'll start by saying that this hedge trimmer has a great battery system that works with a TON of Dewalt tools, but not many Dewalt lawn tools. That's why it is at the bottom here – Dewalt just doesn't have a humongous set of lawn tools to use this with.
But this one still has a lot of the bells and whistles that the others do, including the ability to cut  through ¾ inch of wood and the other below features:
Super comfortable grip
22 inch length
2800 movements per minute
8 lbs
While it is on the lower end of the power spectrum and smaller in length than the others, it's still a great option for many of us. If you already own a Dewalt 20V product like one of their power drills, the DCHT820B can be purchased without the battery and save you a pretty penny. You can grab this one on Amazon for a really good price by getting the tool-only version.
If you're looking for something with much more power that fits all your other battery powered lawn tools, I'd scroll back up to the top.
Final thoughts: Best Cordless Hedge Trimmers
The best cordless hedge trimmers are a great balance of maneuverability, power, high quality components, and price. The hedge trimmers we listed here today are all top-tier and totally subjective (except for number one), but take into account our personal experience trimming hedges and using hundreds of battery-powered lawn tools.