Milwaukee's M18 FUEL 24 inch hedge trimmer is illegal in 19 countries.
Just kidding. 
But it is powerful enough to cut through just about any bush or hedge in the world. 
Milwaukee is known for insanely powerful products that perform at high levels. Think about their power drills and other tools that are trusted by the pros. They take that same power and oftentimes the same battery, and pack it into some yard tools.
Hedge trimmers are tools you don't want to be weak. They have to be precise or else you are going to waste a lot of time going over the same spots.
Milwaukee tools are the opposite of weak.
So let's get started.
P.S. This was number one on our list of best cordless hedge trimmers.
Why we review lawn tools
The reason we started this website in the first place was because we had so much trouble trying to find reasonable, understandable, honest reviews for lawn equipment. And it's not cheap! After hours and hours of research, trying products and returning them, and messing up our yards – we started this site.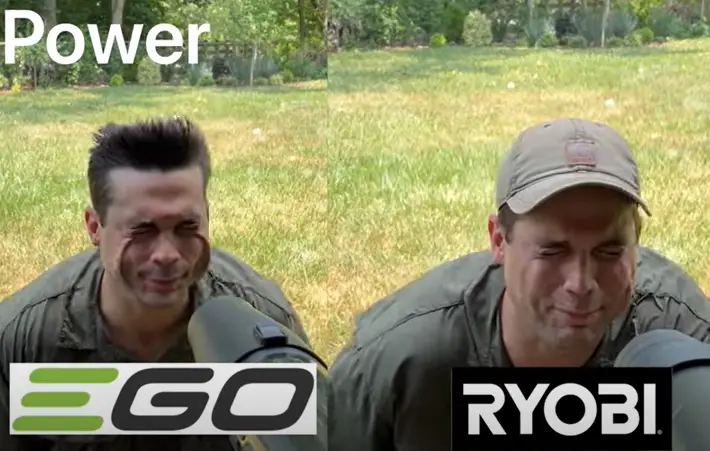 As people who had to learn the hard way, we want you to know exactly what you are signing up for before you purchase a piece of equipment. That's why we are committed to providing honest, easy-to-understand reviews that mean something. 
Why you need a cordless hedge trimmer
Hedge trimming keeps the yard looking manicured. But if you've ever tried to trim a hedge with a pair of shears, you know that it's not an easy task. Hedge trimmers are specially designed to make trimming hedges quick and easy – which is why they were named hedge trimmers.
 Here are three reasons why you need a cordless hedge trimmer:
Hedge trimming is a tough job, but Hedge Trimmers make it really fast. Hedge Trimmers have sharp blades that can quickly cut through even the thickest hedges. And because they're so lightweight and easy to maneuver, Hedge Trimmers make it easy to get even the most difficult-to-reach areas. The beauty of cordless hedge trimmers is that they don't ever cut the cord – unlike my mother-in-law.
Hedge Trimmers save you time. Hedge trimming can be a time-consuming task, but Hedge Trimmers can help you get the job done quickly. It is a hack compared to using traditional hedge clippers or shears. Sadly, cleaning up still takes the same amount of time!
Hedge Trimmers help you keep your yard looking its best. Well-trimmed hedges add structure and definition to your yard, and they can help your garden look neater and more. I am always going for the manicured look, and nothing gets rid of unruly overgrowth like a hedge trimmer.
About Milwaukee tools
Milwaukee tools have a long history of being tough and durable. Milwaukee is a brand that has been around for over 100 years, and it has a well-deserved reputation for making high-quality tools. Milwaukee tools are used by professionals all over the world, and they are known for being able to withstand heavy use. 
Milwaukee makes a wide variety of tools, from hand tools to power tools, and they are used in a variety of industries, from construction to automotive. These tools are known for being very versatile, and they can be used for a variety of applications. Milwaukee is a brand that is trusted by professionals, and Milwaukee tools are built to last.
We noticed that Milwaukee was starting to make a splash in the lawn tool industry, so we have been trying to get our hands on any Milwaukee products that we can, including Milwaukee's M18 weed eater.
Milwaukee M18 FUEL 24 inch Hedge Trimmer: Features and Benefits
Okay enough blabbering, let's get on with it. We had the distinct pleasure of getting our hands on the Milwaukee M18 FUEL 24 inch hedge trimmer when I borrowed it from my neighbor.
So, let's check it out.
Feel
Feel is the very first thing you experience when you pick up the Milwaukee M18 FUEL hedge trimmer. Ideally you want a hedge trimmer to feel lightweight but also solid. It is rare to get the two of those together.
The M18 FUEL hedge trimmer had a good combo of lightweight and also solid. It comes in at about 9lbs, which isn't the lightest on the block, but still manageable. The thing felt as solid as a rock though, which is exactly what you want.
I've had a few Black and Decker hedge trimmers and while they are inexpensive, they feel plastic-y, uncomfortable, and overall low budget. The Milwaukee felt like the real deal.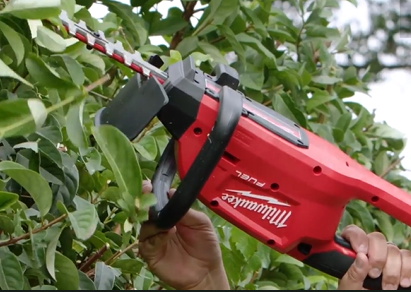 Once I started cutting, it felt like I could let gravity do the work with some minor guidance. While it was slightly heavier than I liked, it was easy to use. I'd give it about ⅘ stars  in the "feel" category.
Power
Any lack in the "feel" department was completely made up by power. This is what Milwaukee is famous for. Power drills with serious power. Well, it really held up against my expectations here.
The extra weight on this hedge trimmer is there for a reason: it is holding a powerhouse motor inside that can cut up to ¾" of branches. That is pretty crazy for a hedge trimmer. Most think hedge trimmers can just cut little leaves off of tiny bushes.
Nope.
Milwaukee incorporated saw-like technology on this bad boy and somehow it can cut up to three quarters of an inch-thick branch. That's wild.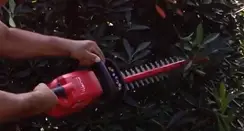 The saw functions move back and forth at 3,400 exchanges per minute. Not sure what that means, but you can tell this thing can cut. One part that was shocking to me was the lack of vibration when trying to cut.
For example, with some of my Black + Decker hedge trimmers, when it's really trying to work its way through a thicker branch it will stall and vibrate until it gets through it. I didn't really experience that with the Milwaukee M18 hedge trimmer as compared to the Black and Decker.
The last part I will say about the motor on this M18 Hedge Trimmer is that it has a brushless motor. Milwaukee calls it the POWERSTATE brushless motor, which allows for more torque, more run-time, and a longer life. This is true – brushless motors are absolutely amazing for any tool, but mostly so on lawn tools because they have a tendency to overheat due to their long run-time (unlike power drills which don't run for very long).
Battery life
I didn't run into an issue with battery life on the Milwaukee M18 battery, but I think there's a lot more to it than that.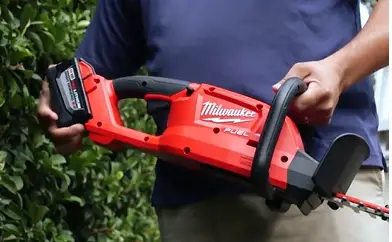 On Milwaukee's website, they go into pretty lengthy details about all the different trademarks and copyrights they have on the M18 battery. It almost makes it unreadable, but here is what I learned:
The M18 REDLITHIUM HIGH OUTPUT XC8.0 battery pack can put out 50% more power and can run significantly cooler than their old battery packs
There is something called REDLINK PLUS which is electronic intelligence (not sure what that means) that enables communication between tools and batteries.

This sounds like they are plotting to take us over. Whatever.
I think M18 batteries in general can run for over 100 minutes without any pressure. I would expect quite a bit less when trimming hedges and thicker brush. That being said, the M18 24 inch hedge trimmer battery will likely last for any job you are doing around the yard. 
If the battery dies, take some time to clean up the previous section of hedges and use that time to recharge the battery. 
The M18 batteries can be used in a TON of other Milwaukee tools, so make sure to check out some of their other products to save money on batteries.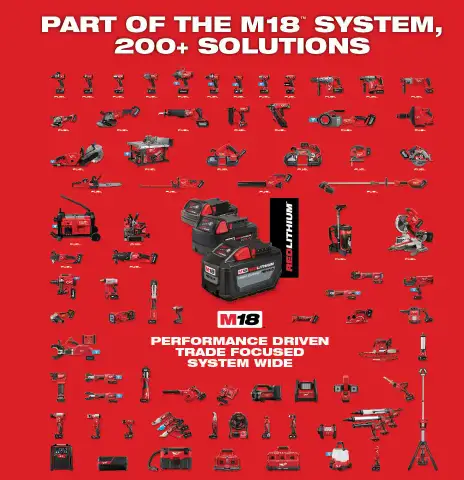 Cost and value
You can buy the M18 FUEL 24 in 18V cordless hedge trimmer for just under $200 on Home Depot's website. It currently says that you can buy the tool-only version, which is considerably cheaper but comes without a battery.
It looks like Home Depot is running a special deal where if you buy the tool-only version, they throw in a free battery.
Confusing, but whatever. This is a great price when compared to similar-quality hedge trimmers like the ones from Makita, which are much more expensive.
Overall review: Milwaukee M18 FUEL 24 in 18V cordless hedge trimmer
The Milwaukee M18 24" hedge trimmer is a dang beast. This is going to be able to tackle any hedge trimming job with power and grace.
Would I buy this if I was a 75+ grandma? Probably not, I would probably go with a cheaper, lighter hedge trimmer. But most folks that can handle an 8-10lb hedge trimmer will find that this one is extremely powerful, easy to use, and long-lasting.