EGO Weed Eaters are top of the line battery-powered tools. EGO has been on the forefront of the battery power movement and has some absolute beasts. Most folks I know with battery-powered lawn tools are constantly bragging about EGO. Including us.
We've reviewed a TON of EGO content and recorded quite a few YouTube videos with their stuff, even giving away an EGO 765 CFM blower at one point – totally free!
But today I want to break down their new line of weed eaters. They basically all look the same, vary wildly in price, and have features that I haven't seen anywhere else.
So buckle up and let's get going.
Full ranking of best EGO weed eaters in 2023:
Why we review lawn tools
The reason we started this website in the first place was because we had so much trouble trying to find reasonable, understandable, honest reviews for lawn equipment. And it's not cheap! After hours and hours of research, trying products and returning them, and messing up our yards – we started this site.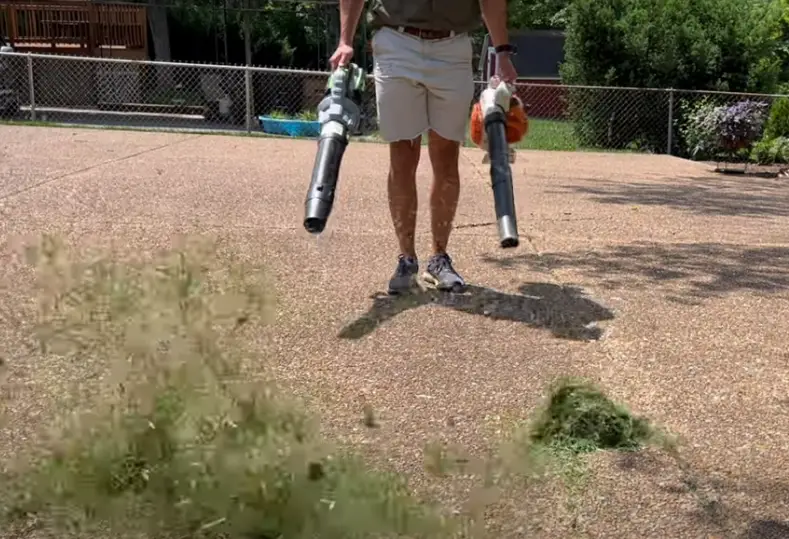 As people who had to learn the hard way, we want you to know exactly what you are signing up for before you purchase a piece of equipment. That's why we are committed to providing honest, easy-to-understand reviews that mean something. 
Why would I buy a battery-powered weed eater?
There are a few reasons to check out an electric weed eater when picking out your next lawn and garden tool kit. As compared to gas-powered weed eaters, electric weed eaters tend to be easier to use and maintain. At the end of a long winter season, you may have to refuel your gas powered weed eater and crank it a few times before you can get it to start. 
With the EGO 56V weed eater and other electric weed eaters, you simply place the battery and you are ready to go. 
Another benefit to electric trimmers is maintenance. You will not have to do anything to maintain an electric trimmer other than change out the line. No oil change, no filter change, and no messy gasoline spills. 
If you are a EGO loyalist and have one of their mowers, then you can actually use this same 56 volt battery in both the mower and the trimmer. More on that later. 
Translating EGO's language
If you've been browsing EGO's website, they have a bunch of different features that have fancy names, but don't really make intuitive sense. We've done the research (and used just about every tool of theirs under the sun) to help decipher and decode what these folks are talking about.
Power+: basically anything from their 56V line, which is their most popular battery series line, is Power+. 
Powerload: The patented powerload technology basically just means that after you put the weed eater string through the head and even it out, that it will self-wind itself (with some help) to wind it all in there.
Line IQ: This is a device that keeps the cutting swath at the ideal length at all times. Most other string trimmers just have string that breaks off and you can bump the head to make it a little longer. 
Carbon fiber shaft: the shaft is made of carbon fiber which is super strong and light material.
Telescopic shaft: you can change the length of the shaft to be shorter or longer.
Brushless motor: a motor powered by magnets instead of brushes that generate electricity. Results in more torque, a cooler motor, and longer life. 
Cutting swath: the width from point-to-point of the sides of the weed eater string.
I think that covers it and will help make sense of the descriptions we use when talking about each of the EGO weed eaters.
5 Best EGO Weed Eaters (Ranked)
One thing that I love about EGO's weed eaters is that they are all straight shafts. Which means they check one of my boxes already. They also all have a brushless motor and use the awesome 56V battery that EGO has so famously committed to. The main differentiating points with these weed eaters are the bells and whistles, so I'll be extra sure to pick those apart and the minute differences that can cause $100+ swings in each of these.
Let's get started:
1. EGO Power+ ST1511T 15 inch 56V PowerLoad Weed Eater with Telescopic Aluminum Shaft
I like to cut right to the chase and start with number one – the EGO ST1511T. I'm not sure what the numbers mean, but I know what I love about this EGO trimmer.
This thing has Powerload technology, which if you reference our dictionary above means that you can run the line through the head of the trimmer, press a button, and it will automatically wind it to the appropriate length. On this weed eater, that is a 15 inch-wide cutting swath which is the gold standard for residential weed eaters. 
The absolute must-haves that this one has: a brushless motor, a 45 minute run time (with the 2.5 Ah batteries, you can go higher if you want), and the ability to carry a .095 inch weed eater string. The EGO ST1511T weed eater checks the boxes. Now for the bells and whistles.
This one has two-speed settings, which in reality I always use max speed for a weed eater unless I'm trying to be extra delicate around a bed of flowers or something. But the reason I really liked this one is that it has a telescopic aluminum shaft. That's a fancy way of saying you can super easily change the length of this without it being complicated.
For me, this was a huge selling point. If you spend any time using a weed eater, you know how easy it is to tweak your back. You can either deal with it, get a strap, or get a weed eater like this one to be perfectly sized to your dimensions. 
For me, this was the winner. It also comes with a foldable split shaft that allows you to fold it if you'd like.
You can grab this one at a number of places, but I've found Amazon to be super convenient and often has the best price. You can grab it on Amazon here to see the most recent price.
2. EGO Power+ ST1623T 16-inch 56V PowerLoad String Trimmer
So this is a slightly more powerful, pimped out version of our number one rating. As a reminder,  this is probably the premium EGO weed eater, but I chose my number one option because it is about $100 cheaper and has nearly similar performance.
The ST1623T EGO weed eater also has a 56V battery, brushless motor, Powerload technology, and more. But it really differentiates itself with the Line IQ technology, which keeps the string at a specific length (16 inches) regardless of whether or not some breaks off.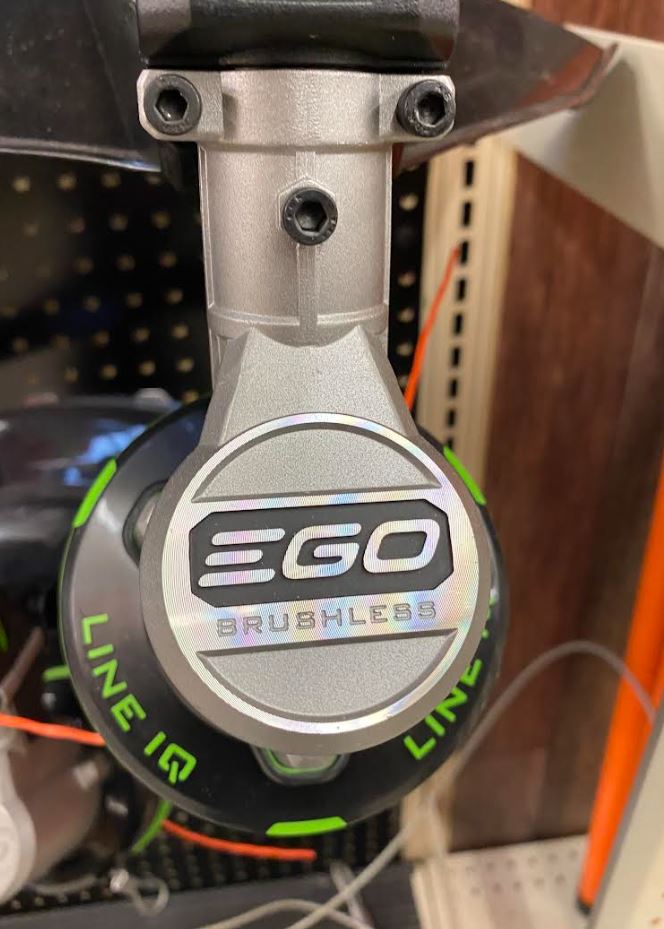 This Line IQ technology from EGO sounds great, but it can also rip through trimmer line really easily. Usually you can tell that you're losing string when it starts to rip off and you notice it getting shorter. This is a good sign that you need to back off whatever surface you're cutting against. With the ST1623T and Line IQ technology, you will quickly burn through string before you learn your lesson. 
Otherwise, this weed eater comes with a carbon fiber shaft and a 4.0 Ah battery, which will give you a nice run time of about an hour. 
This one is also available on Amazon and if you're looking to spend a bit more, you can get it for a decent price – still better than most gas trimmers. 
3. EGO Power+ MHC1502 Multi Combo Kit Power Head
We LOVE the EGO multi-tool combo kit. In fact, we did a super long YouTube video about it and have written extensively about it. Yeah, it is kind of cheating that this isn't purely a weed eater, but if you're looking for a solid weed eater that can also add on basically every other lawn tool, then this is a no-brainer.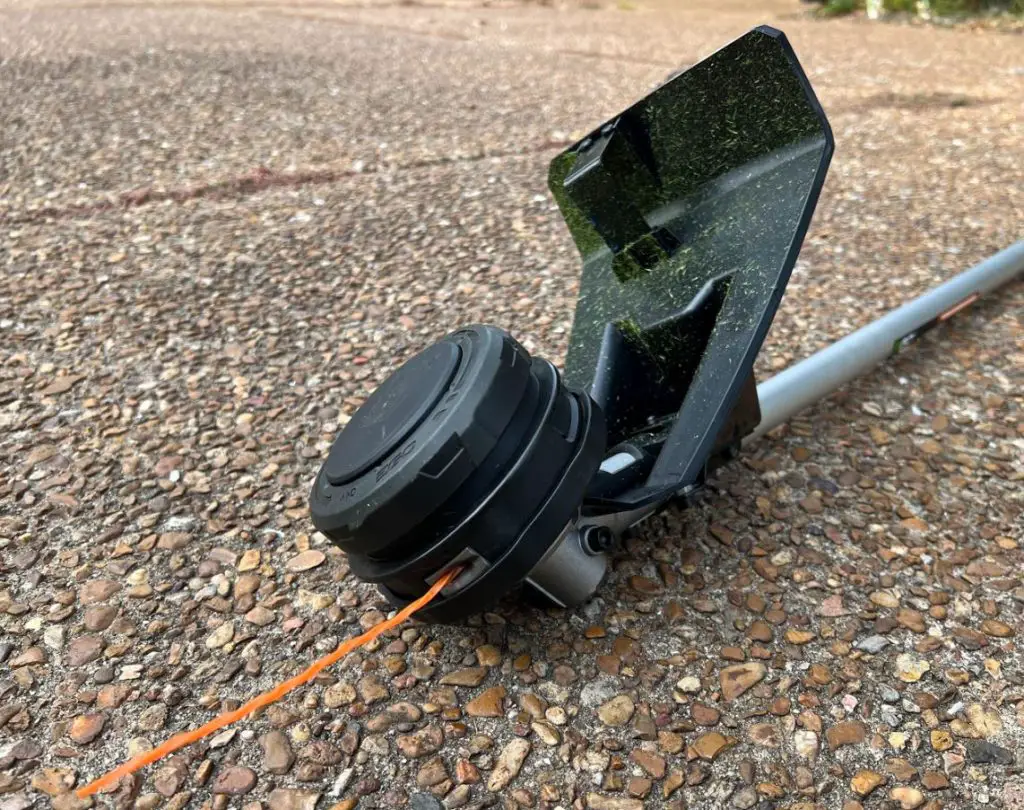 The weed eater attachment is great and honestly one that we use all the time, including in some of our biggest weed eater videos. It still has a 15 inch cutting swath and is backed by a brushless motor.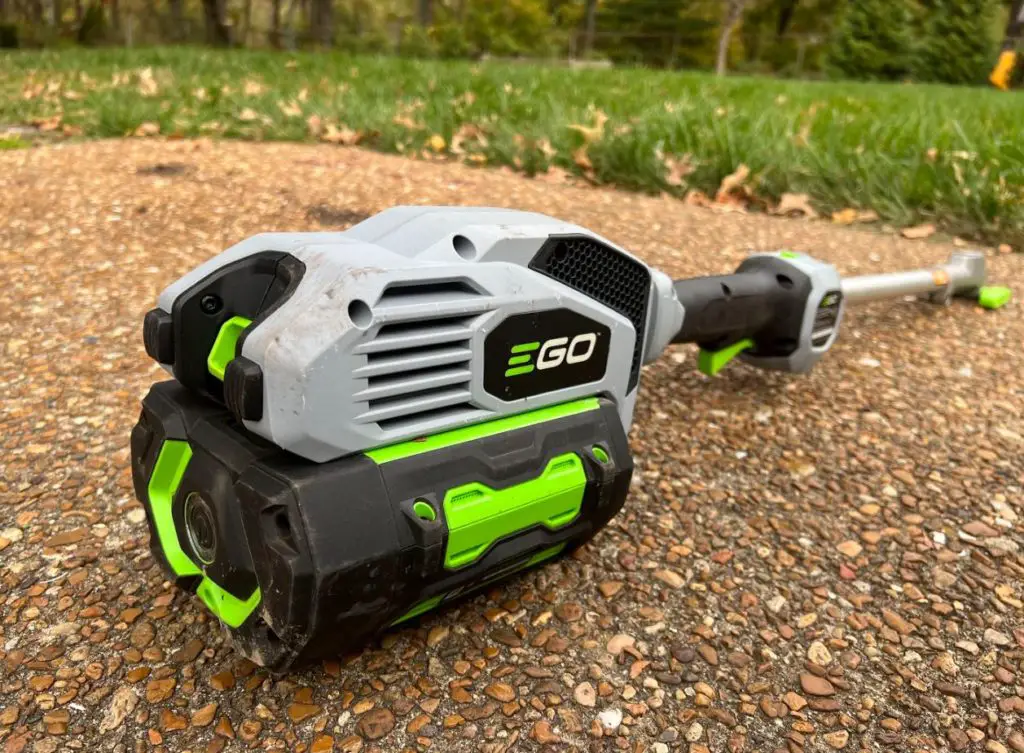 We love the edger attachment but were most surprised with how great the hedge trimmer attachment was. 
Either way, this is a great one that can be bought at a ton of places, but we got ours on Amazon and bought like 5 different attachments for it. 
4. EGO Power+ ST1502 56V String Trimmer
The EGO ST1502 is a great string trimmer and I can't knock it at all. It is totally fine,but it doesn't quite have the bells and whistles the others do.
This thing is more like the Honda Civic of the EGO weed eater world. Reliable, dependable, nothing that can really go wrong. I like that. In fact, it is very similar to our number one option, it  just doesn't have the cool telescoping handle and the Powerload technology.
But if you're a normal guy or gal, this thing is going to fit you just fine. I would definitely grab this one if I were testing out EGO for the first time. It's a low-risk, low-reward weed eater.
Some of the features include a 15 inch cutting swath, a brushless motor, variable speed control (which is actually way better than only having two speeds), and a split shaft for folding. 
Again, not all the bells and whistles but this also means fewer parts that can break down.
This one is also competitively priced and can be found on Amazon.
5. EGO Power+ ST1524 15 inch String Trimmer with Carbon Fiber Shaft
Just like the number four EGO weed eater being a step down from the number one weed eater, this one is a step down from the number two.
It DOES have all the bells and whistles, with the exception of a telescoping shaft. Again, this one has the beautiful brushless motor, variable speed control, a 15 inch cutting swath, Powerload technology and even a freaking sweet black carbon fiber shaft.
This one frankly looks the coolest out of all the EGO weed eaters, but it doesn't have Line IQ and is even more expensive than our number one choice.
If you have more money than you know what to do with, this one is absolutely sick. But for those of us not dripping in cash, this  one may be too expensive.
The EGO ST1524 string trimmer sometimes goes on sale on Amazon (currently 30% off), but if not then you're going to pay a heavy price. 
How to instantly improve your weed eater
Upgrade your weed eating game with the ultimate GrassKicker Weed Eater String! While weed eaters and lawn edgers are great tools, it's not complete without the right string. Our specially crafted line is designed to enhance your weed eater's performance and give you flawless edges around your yard and garden.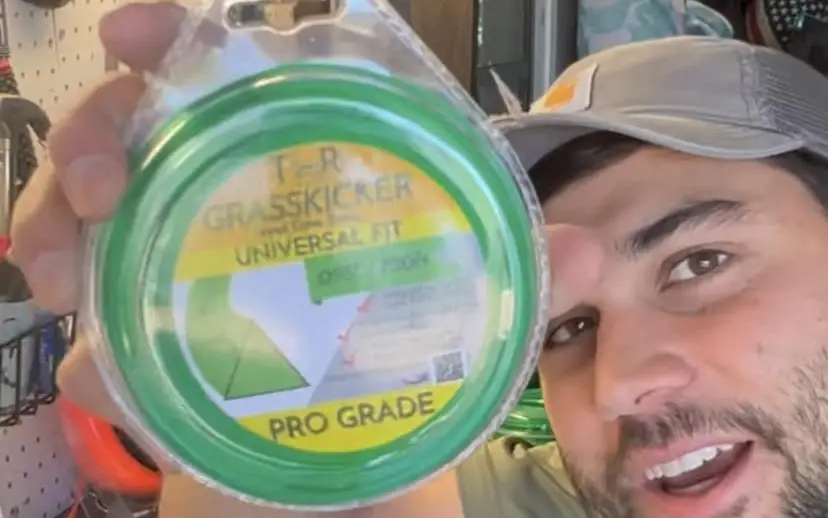 Don't settle for subpar string that breaks easily and leaves ragged edges. Our team has scoured the market and combined the best colors, shapes, thicknesses, and materials to create a superior line that cuts more cleanly and lasts longer.
With GrassKicker, you can take pride in your perfectly manicured lawn and make a lasting impression on your friends and family. And who knows, your envious neighbors might just start dropping by more often! Don't wait, elevate your weed eating game with GrassKicker Weed Eater String today! Click the link now to buy.
The bottom line: EGO Weed Eaters 
When I'm looking for a weed eater, the two non-negotiables I have are a brushless motor and a straight shaft. EGO crushes it in both categories, plus adds a ton of cool features. You really can't go wrong with any of them, but I really liked the PowerLine function and the telescoping shaft. I didn't like the Line IQ technology and the standard weed eater string that came with the weed eaters.