Makita Hedge Trimmers are easily top-of-the-line cordless hedge trimmers. Makita just makes quality products. And they keep getting better.
I am calling it now – watch for Makita to make a massive push in the lawn care industry over the next year or so.
Makita hedge trimmers are undoubtedly going to be high quality. Because Makita makes extremely high quality power tools and is using the same technology in their yard tools.
I'm excited. Oh, and one of these made our list of best cordless hedge trimmers.
***SPOILER: ALL-AROUND Best Cordless Makita Hedge Trimmer: The Makita XHU07T Hedge Trimmer 
Why we review lawn tools
The reason we started this website in the first place was because we had so much trouble trying to find reasonable, understandable, honest reviews for lawn equipment. And it's not cheap! After hours and hours of research, trying products and returning them, and messing up our yards – we started this site.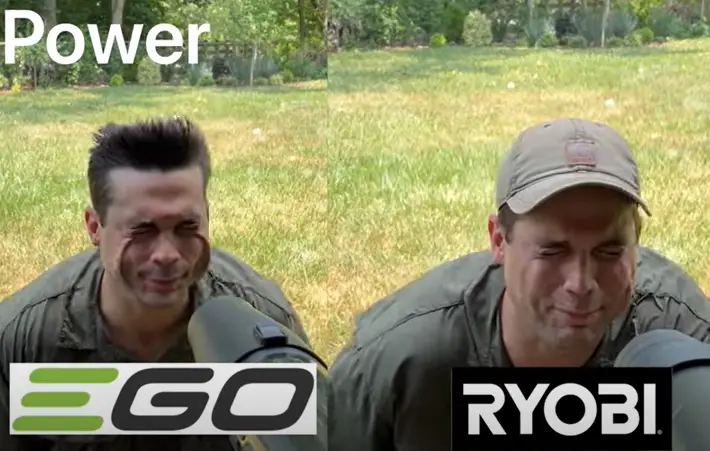 As people who had to learn the hard way, we want you to know exactly what you are signing up for before you purchase a piece of equipment. That's why we are committed to providing honest, easy-to-understand reviews that mean something.
Makita is making lawn equipment?
Yep, Makita has been around since 1915 and started making power tools back in 1958. They are best known for their pneumatic tools, their drills, and other construction site tools. 
They've always had great corded and cordless tools, so I am honestly surprised it has taken them this long to make a push into the cordless lawn tool space. 
But not that they're here, they aren't going anywhere. With competitors pouring into the space like Dewalt and Milwaukee, it only makes sense to take what they do best (battery powered tools) and put them in mowers, blowers, and more. 
Check out our best Makita weed eater, best Makita lawn mower, and best Makita leaf blower reviews.
But why is Makita making lawn equipment NOW?
Good question. One thing I can tell you is that it is currently March of 2022 and Makita has a relatively small presence and market share in the lawn tool space.
Please bookmark this page and see where they are in 2023. We have it on good authority that they are making a massive push into this space. 
So – sit back and watch them take over. 
What to look for in a cordless Makita hedge trimmer
Cordless hedge trimmers are a great addition to any gardener's toolkit. Not only are they environmentally friendly, but they also offer a number of advantages over their gas-powered counterparts. However, with so many different models on the market, it can be difficult to know which one is right for you. Here are a few things to look for when choosing a cordless hedge trimmer:
Length: Cordless hedge trimmers come in a variety of lengths, from small handheld models to larger units that can reach up to several feet. Choose the size that is best suited for your needs.
Ease of use: Cordless hedge trimmers should be easy to operate, with comfortable handles and simple controls. Look for a model that is lightweight and easy to maneuver.
Battery life: Corded hedge trimmers need to be plugged into an outlet, which can be inconvenient and restrict your range of motion. Cordless models run on batteries, which will need to be recharged after a certain amount of use. Choose a model with a long battery life so that you can work uninterrupted.
With these factors in mind, you'll be sure to find the perfect cordless hedge trimmer for your garden.
If you like cords, check out our list of the best corded hedge trimmers.
The Best Makita Hedge Trimmers (RANKED)
While I think just by making this list any of these are good purchases, there are a few that really catch my eye as supreme. Let's break them down.
4. Makita XHU04PT 36V 25.5 inch Hedge Trimmer
Great news folks, if you own other 18V Makita products, like their mowers or blowers, then you're in luck.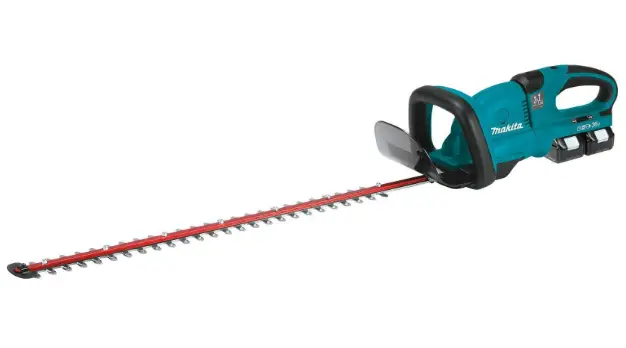 The Makita XHU04PT 36V 25.5 inch Hedge Trimmer is one of the best on the market, and it comes at a great price. It has a six speed dial, which allows you to adjust the speed to suit your needs. It can also run two batteries, so you don't have to worry about running out of power. The only downside is that it is a little bit heavier when it runs two batteries, but this is offset by the fact that it is a great price. The Makita XHU04PT 36V 25.5 inch Hedge Trimmer is a great choice for anyone looking for a quality hedge trimmer. 
You can get the tool only version for an absolute steal if you already own the 18V batteries.
Either option is available at Amazon for a NICE price.
3. Makita XNU01T Brushless Cordless 18V 20" Articulating Pole Hedge Trimmer Kit
If you're serious about your shrubbery, then you need the Makita XNU01T brushless cordless 18V 20″ articulating pole hedge trimmer. This is the tool that the professionals use to create pristine bushes. It has amazing reach, so you can trim even the tallest hedges without breaking a sweat. It's also lighter than its gas-powered competitors, so you can use it for longer without getting fatigue. And it can run for a really long time on a single charge, so you never have to worry about running out of power in the middle of a job. Plus, it can cut at many different angles, so you can get those perfect curves or straight lines every time. And if that's not enough, it even folds in half for easy storage.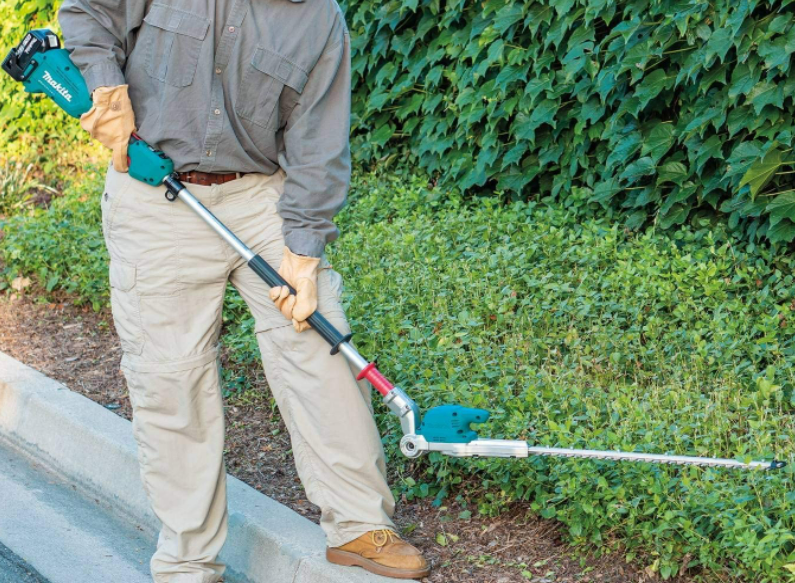 To create manicured bushes and creations, grab this product on Amazon (it's decently expensive but pretty dang cool).
2. Makita XHU08Z and XHU08T 18V LXT Brushless Cordless 30" Hedge Trimmer
The Makita XHU08Z 18V Lithium-Ion Brushless Cordless 30″ Hedge Trimmer is a great hedge trimmer…if you're a giant. It's slightly longer than I prefer, which is why I ranked it #2. It has great features including a brushless motor, speed control, and a rotating handle, but is a little too big. When Makita says "30 inches," they mean it.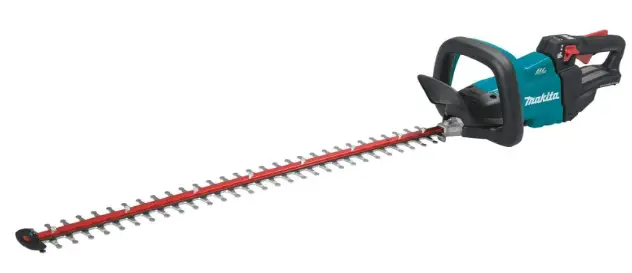 This thing is massive. If you're looking for a hedge trimmer that will make your neighbors think you're landscaping for the zoo, then this is the one for you. But if you're like me and prefer something a little more manageable, then you might want to look elsewhere.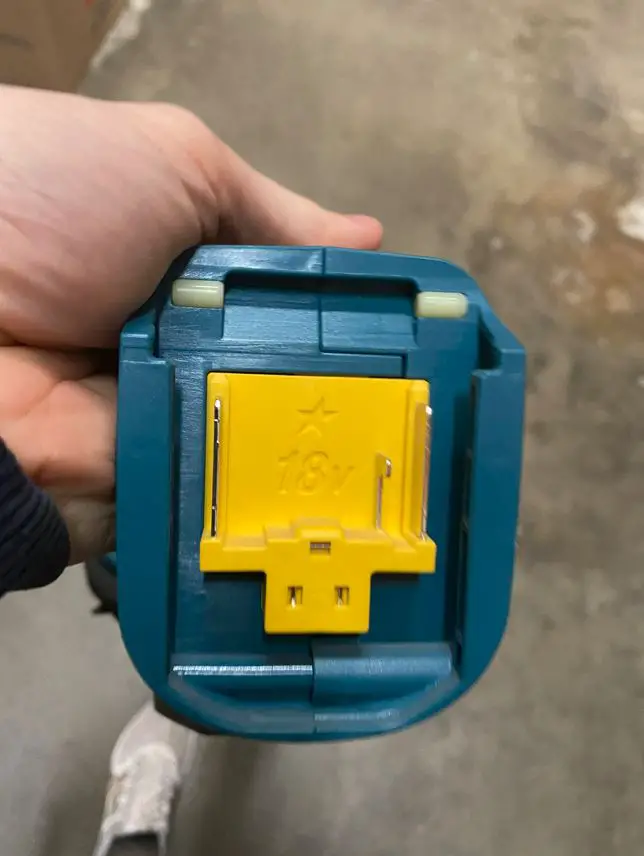 It's a lot of hedge trimmer, but a great option if you have a place to store it.
This one you can get at Home Depot for a dang steal.
1. Makita XHU07Z and XHU07T 18V Brushless Cordless 24" Trimmer
Makita's XHU07Z and XHUO7T 18V Lithium-Ion Brushless Cordless 24″ Hedge Trimmer is the best hedge trimmer on the market, hands down. It's the perfect length, has a rotating handle for easy maneuverability, and variable speed control so you can adjust according to the thickness of your hedges. Plus, Makita's exclusive anti-vibration technology means that you can use this trimmer for hours on end without feeling any fatigue. And finally, the Makita XHU07T is built to last, so you won't have to replace it anytime soon. So if you're looking for a top-quality hedge trimmer that will make your life easier, look no further than the Makita XHU07Z.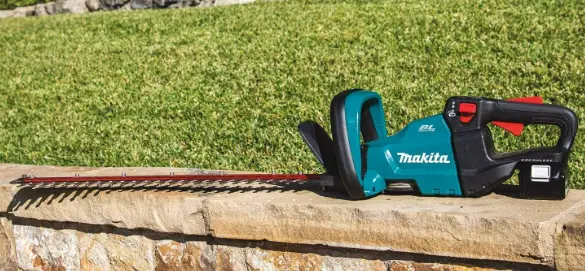 The reason I ranked this Makita hedge trimmer number one is that it has a brushless motor. These types of motors last way longer and have more torque.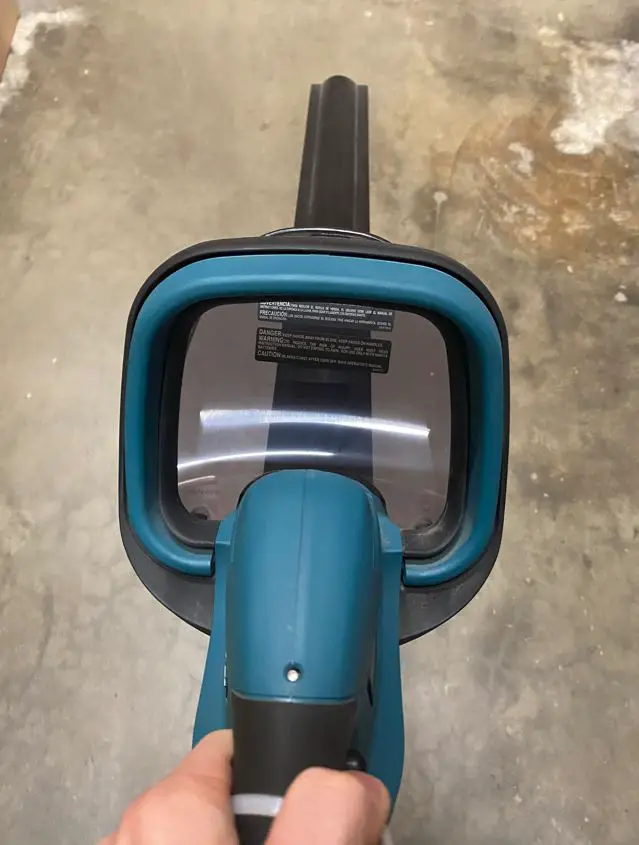 This one can be grabbed from Makita's website – definitely on the higher end but worth the money.