EGO's LB7654 765 CFM leaf blower is almost too good to be true.
But it's not.
We got our hands on it and compared it to a trusty Stihl gas blower and a competitor Ryobi blower.
It wasn't even close.
You've got to check out our experience because it was truly mind blowing for us. We've reviewed a TON of electric blowers, but never a handheld tornado. 
Check it out.
Why we review lawn tools
The reason we started this website in the first place was because we had so much trouble trying to find reasonable, understandable, honest reviews for lawn equipment. And it's not cheap! After hours and hours of research, trying products and returning them, and messing up our yards – we started this site. 
As people who had to learn the hard way, we want you to know exactly what you are signing up for before you purchase a piece of equipment. That's why we are committed to providing honest, easy-to-understand reviews that mean something.
What to look for in an electric blower
Blowers come in a bunch of shapes and sizes but there are two basic things you need to understand:
Brushless – a type of motor that does not rely on friction for generating power. This engine type uses magnets for a longer lasting, more efficient power generation. Brushless motors also have more torque and are more durable.
CFM – Cubic feet per minute. This is a measure of air output on the blower. Higher CFM = more power, but not necessarily more miles per hour. High CFM with a wide nozzle = lower MPH. High CFM with a narrow nozzle = high miles per hour. Ideally, you want both a high CFM with a narrow to medium nozzle for most residential jobs.
MPH – miles per hour. The speed at which the air travels.
EGO LB7654 765 CFM Blower: Features and benefits
If you've ever used an EGO product before, you know that it is simply powerful. They don't miss when it comes to making products that can go toe-to-toe with their gas counterparts. We even made a cool web story that highlights some of the tests we did to this EGO blower. The future is definitely battery powered and EGO has positioned themselves to be a leader in the space as they slowly replace gas-powered tools. In fact, EGO even has a battery-powered multi-tool with a ton of attachments that rocks.
This blower is no exception. Let's get right to it.
Check out how this compares to the 650 CFM blower.
Versatility
The EGO LB7654 blower has a ton of different ways it can be used. Yes, it can blow off your neighbors toupee but it can also be used more gently.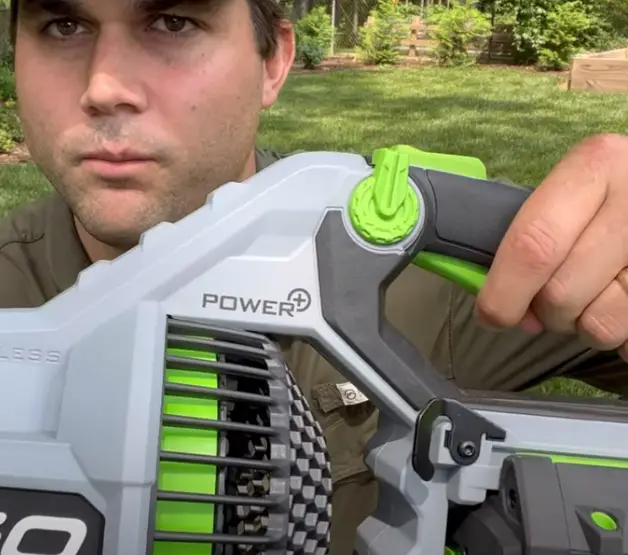 You see, the EGO blower has a variable speed trigger (pictured above) that allows you to go from 280 CFMs to 580 CFMs with a gentle pull of the trigger. This has solved the problem of my angry wife yelling at me for blowing too much mulch out of the garden bed. A literal life saver.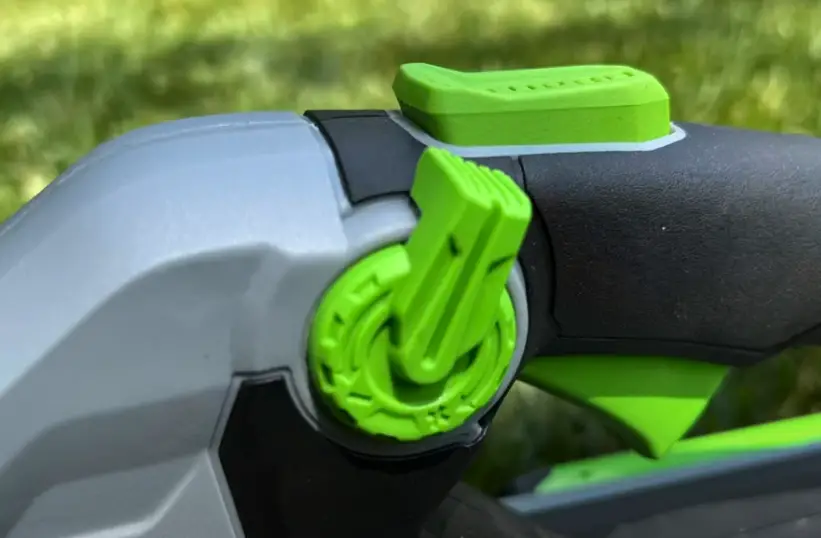 The EGO LB7654 also has a cruise control function that can serve as a separate trigger that holds itself in place, allowing you to relax your hand and not have to squeeze the trigger to an exact speed. Wow! Looks like EGO heard the feedback from the hand cramp crowd.
Lastly, the EGO 765 CFM blower has a turbo button. Yes, a turbo button.
This button is what takes you from the trigger-maximum of 580 CFMs to 765 CFMs. Truly, like NOS in Ja Rule's car in 2 Fast 2 Furious. 
Now that we've covered the motor and controls, let's talk about the nozzle versatility as well.
This blower comes with a tapered nozzle, a flared nozzle, and the standard nozzle. You can even remove them and go nozzle-less. This is usually done by car fanatics that like to hand-dry their car like a hair dryer. 
Battery life
The EGO 765 CFM blower has a 5.0Ah battery that comes standard with this blower (if you don't get the tool-only version). This battery touts a 90 minute run time with the EGO LB7654 blower. So we put it to the test.
While my normal blower job (stop laughing) lasts about 25-30 minutes, we actually zip-tied the turbo button down to see how long it would run. Here were our results:
Full-turbo: 17 minutes
High-speed non-turbo: 25 minutes
Lowest setting: 140 minutes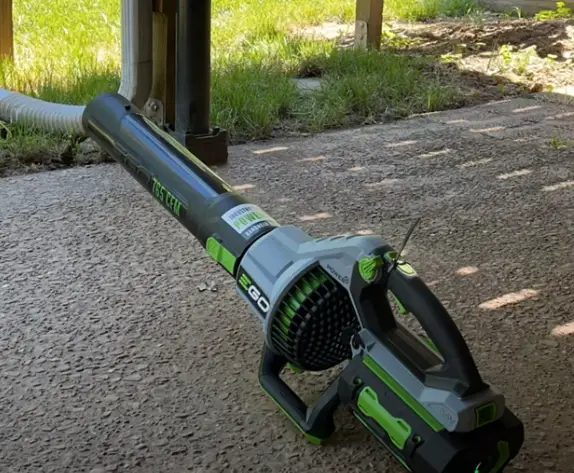 Pretty impressive! 
Ease of use
The EGO LB7654 blower definitely has some of the typical features we love about battery-powered products. Specifically, you just pop in the battery, pick it up, and get going. No cranking a cord or changing oil or whatever.
Coming in at 12.2 lbs, or less than my 3 month old baby girl, this thing is relatively lightweight.
We've talked a bit about the cruise control function, but just wanted to reiterate how great this is for making it an easy to use and easy to control tool. It felt great to just walk around and be able to quickly adjust the speed without having to hold my finger in the exact position and hope it doesn't move.
One thing that is noticeably different about this EGO blower (and EGO products in general) is that it feels genuinely sturdy. It doesn't feel like it is a bunch of cheap plastic that has superb power. The EGO LB7654 feels well-constructed and sturdy, which is a differentiator in the battery powered lawn tool space.
There's also a nice rubber molded handle that makes lugging this thing around easy on your hands, forearms, and ultimately your shoulders.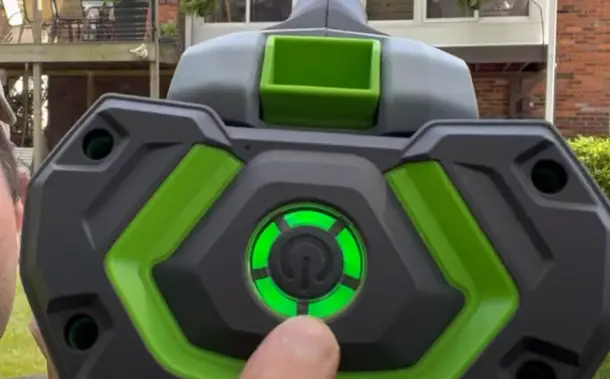 One other cool thing about this blower is the battery power indicator level. Most batteries, like Ryobi, only have four indicator lights that tell you where you are. EGO has 5 indicator lights, giving you a slightly better range to work off of when estimating how much time you have left until recharge.
Power
Saved this one for last because it is the most tantalizing but also the most obvious. First things first, this sucker has a brushless motor. Automatic huge checkmarks in the power department and basically everywhere else.
But to really compare it to some of the legends out there, we compared it to our trusty Stihl BG86C blower. The Stihl blower is one of the most dependable, popular gas blower on the market.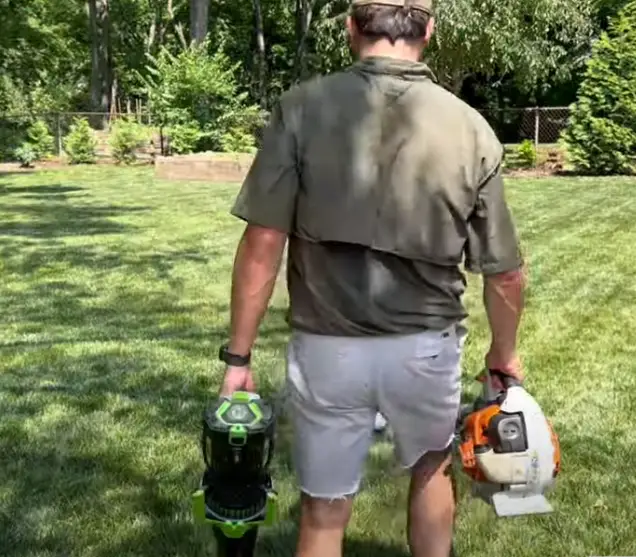 We first compared the two blowers using a wiffle ball around the backyard. Not super indicative of which one is more powerful, although the EGO seemed to have more of a direct line of power.
The next test we did was side-by-side comparison with two piles of damp grass. This one was extremely easy to declare a winner. The EGO absolutely demolished the pile of grass, sending  it into a million smithereens, whereas the Stihl moved the grass, but more so tumbled it over.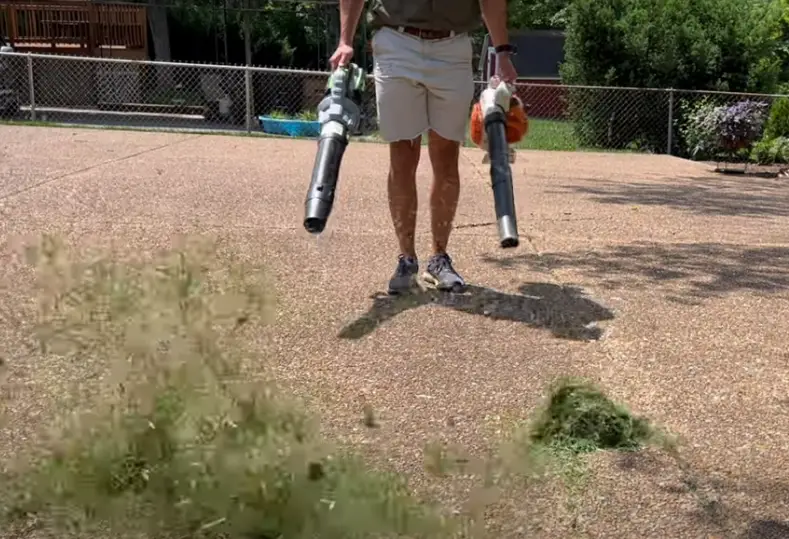 Cost and value
This blower and battery come in at just over $300 – and while that seems like a steep price, let me remind you that this thing is going to last you a while. The brushless motor and simple, but solid, construction means this thing can hang in your garage for quite a few years. 
EGO LB7654 Power+ blower: Final review
The EGO 765 CFM blower crushed every test we put it through. Not only is it extremely versatile and easy to use, but the battery life lasts way longer than advertised and has a ridiculous turbo button that blasts away gas competitors.
You can grab this one on Amazon with the battery, or get the tool only version for significantly cheaper on Amazon as well.
If you want to see the EGO 765 CFM blower compared to the Ryobi 40V blower click here.