The best Greenworks electric lawn mowers are easy to find. Greenworks makes super high-quality mowers and have slowly started taking up the battery-powered mower space.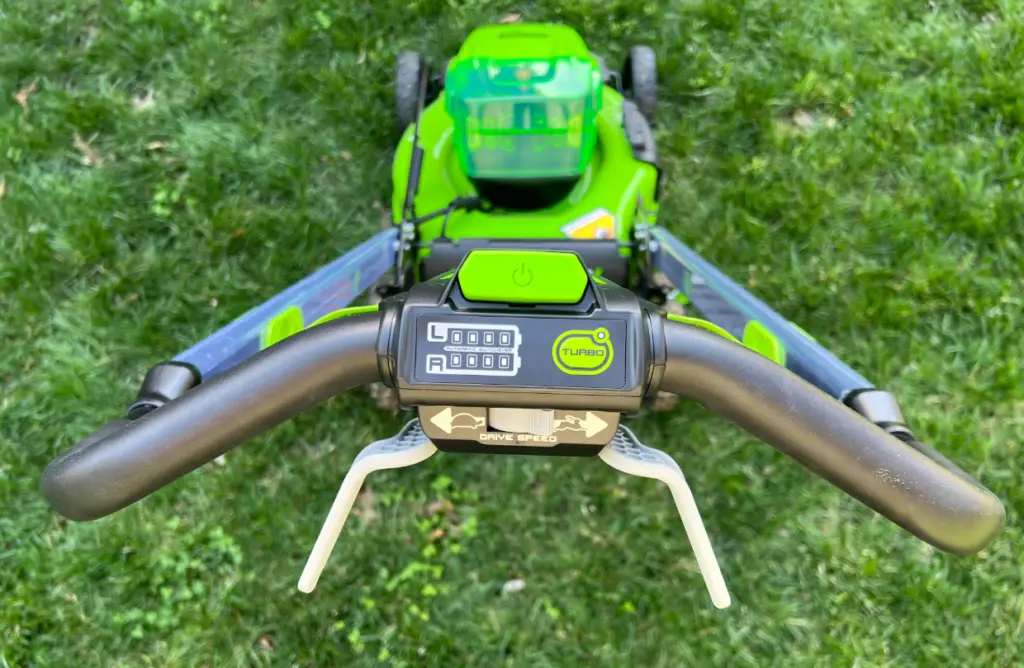 If you found this article, you probably saw Greenworks mowers on Amazon, where they absolutely dominate and have super low prices. They can also be found at Costco, or directly on Greeenworks' website.
Let's sum up our findings from today:
Why we review lawn mowers
We started The Lawn Review out of frustration. Looking for lawn tools was like trying to read the assembly instructions on a Swedish bookshelf from Ikea. A bunch of words that don't really mean anything and don't tell me how the experience of owning the lawn tool.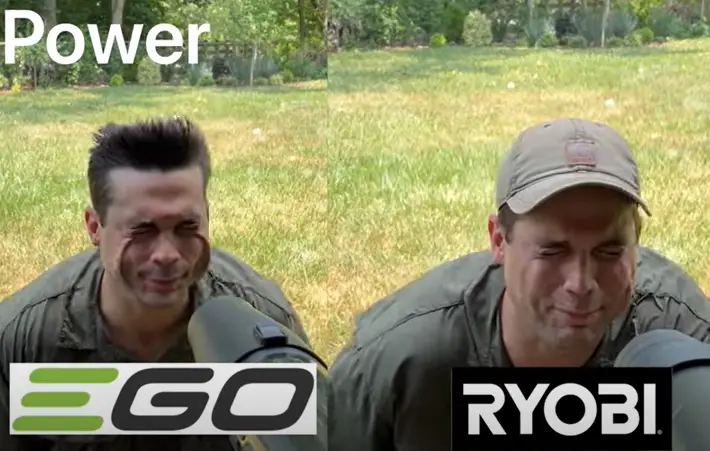 We want to be different. While we are experts in the field, we almost NEVER use technical jargon and are much more focused on the usability, experience, and value of each product.
Check out our web story stacking up the Greenworks mowers.
Greenworks brand and reputation
Greenworks sells lawn tools like blowers, pressure washers, trimmers, and just about anything else you can think of. They are not often found in the big box stores, but have an amazing online presence, particularly at Amazon.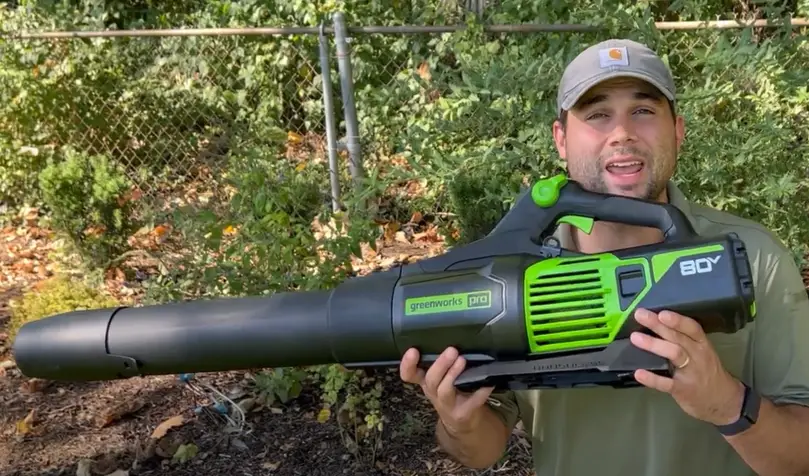 I love Greenworks products and have reviewed quite a few. One thing about their products consistently stands out: they make some powerful stuff. This means they are not just getting cheap parts and calling themselves a mower company – they take the time to truly develop high quality tools that can pack a punch.
A great example of this is their 80V blower, which made our list of top blowers. 
What to look for in a battery-powered lawn mower
When looking to purchase an electric lawn mower, you need to make sure you understand what things matter. You will get hit with a lot of technical specifications and marketing tactics. Totally forget them and focus on the things that impact you. Below are my recommendations:
Brand quality. Quality is going to be super important here. Everyone is in the electric mower game these days and there are a ton of junky mowers out there. Avoid anything from a weird brand on Amazon that takes 9 years to ship. It is probably being 3D printed in a Laotian bathroom. Go for brands that have consistent quality and focus on the details, not just flashy colors.
Metal where it matters. Most electric mowers are plastic-y. Probably to reduce the weight of the mower so that the battery can get you further, but it feels cheap. Make sure to get metal where it matters – namely the deck. The deck is the part that covers the blades. Don't get plastic here – a rock can rip through it.
Battery interoperability. A ten dollar word used here, but really just make sure to buy a mower with a battery that is compatible with other electric tools. Ryobi has this, so does Dewalt, and so do some of the Greenworks products. This will save you garage clutter and plug space.
Self-propelled or not. I actually don't like the self-propelled feature. It doesn't help you that much and it drains battery – I would pass here. This is a marketing gimmick in my opinion.
You can read a more in-depth guide to electric lawn mowers here.
The Ultimate Greenworks Electric Mower Ranking
I broke down the complete list of the best Greenworks electric mowers and ranked these suckers from worst to best (although all are pretty good).
11. Greenworks 18-inch 12 Amp Corded Electric lawn mower
The Greenworks 18-inch 12 Amp Corded electric lawn mower is basic. In fact, some might call it boring. But boring can be beautiful sometimes. If you look at the picture below, you might think "that is extremely simple". 
The thing is that this mower is not going to be complex and not have all these weird functions and stuff you have to modify. It is straightforward. And that's nice.
I have it at the bottom of the list not because it is simple, but because it is on the smaller side of mowers and still requires an extension cord. This doesn't have the bells and whistles, but does still have a metal deck – meaning it will last a while.
You really can't go wrong with this one. And it is for sale for a pretty dang good price on Amazon.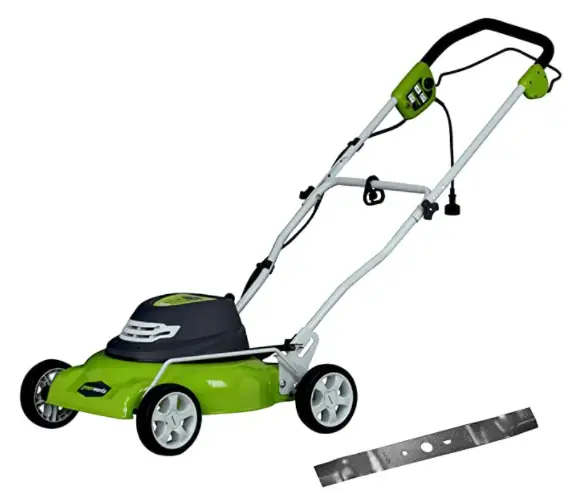 10. Greenworks G-Max 40V 20-inch cordless 3-in-1 lawn mower
The Greenworks G-Max 40V 20-inch mower comes across as extremely aggressive. In fact, it's the opposite of the one above. It has ALL the bells and whistles. 
A 20 inch steel deck means it is going to be durable and allows for mulching, bag collection, or side discharge. This gives you some flexibility in how you groom your grass. The mower also detects when it is getting kickback from dense grass and will increase the blade speed to push through the job.
It takes two batteries and can cut the majority of home's grass in a single charge. 
If you are looking for a heavy (it weighs 60 lbs) duty electric mower, you truly cannot go wrong with the G-Max 40V 20-inch mower. You can buy it today on Amazon for just under $400.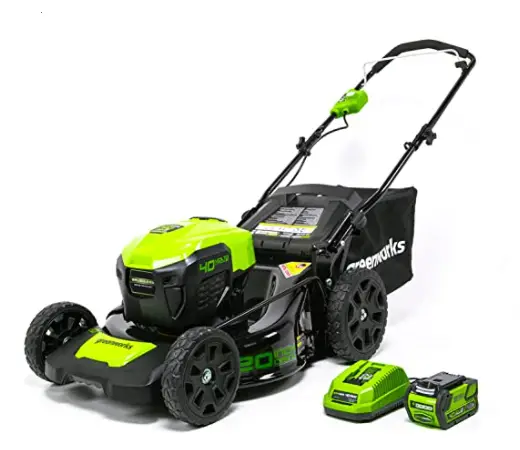 9. Greenworks 48V 20" Brushless Cordless Lawn Mower
I love this dang mower. It comes with a few great things, chief of which is the brushless motor. Brushless motors last longer, require less energy, and don't overheat the electrical unit. To me, they are non-negotiable when buying electronic equipment.
This mower also has a 20 inch steel deck and LED headlights, for all those times you mow in the middle of the night. There is also a "turbo" button which appears to speed up the blades just like in the previous mower. 
It truly is an amazing, long-lasting mower that can be purchased on Amazon today for right at $399.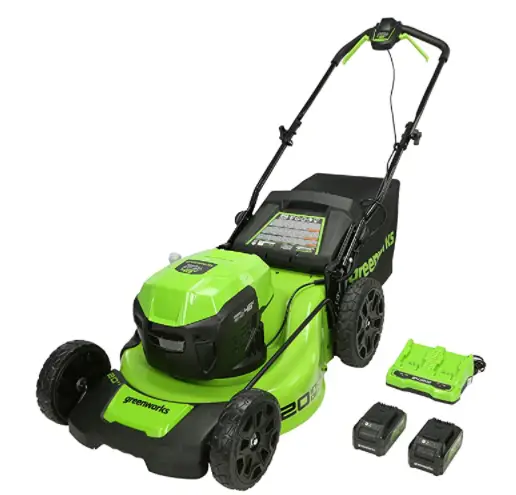 8.Greenworks 21-inch 40V Self propelled cordless lawn mower
The 21 inch deck on this mower makes it one of the larger mowers that Greenworks makes. As I mentioned previously, I'm not the biggest fan of self-propelled mowers – BUT – a LOT of people are. Their muscles simply aren't as large as mine. 
It is definitely a sleek looking mower with the majority of the body being black. This is the perfect mower for someone with a larger yard who gets tired pushing for a long time. 
At a slightly higher price point, this mower is currently available on Amazon for just over $500.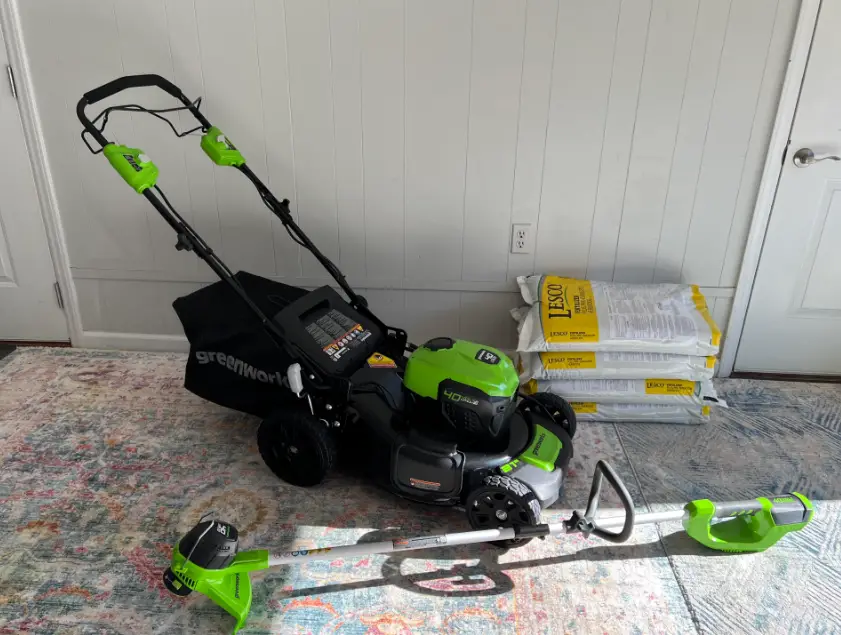 7. Greenworks 25302 20 inch 40V Twin Force Cordless mower
The Greenworks 25302 is one of the earlier models made by Greenworks. It doesn't have a steel cutting deck, but it is one of the lighter mowers for its 20-inch size. 
It has a 40V battery that can be used in a ton of different Greenworks products and will run for about an hour. There is also an opportunity to add a second battery to it for it to go even longer. 
This mower is great, not intimidating, and has wonderful reviews on Amazon by older women. If this sounds like you, then buy it on Amazon and join the club.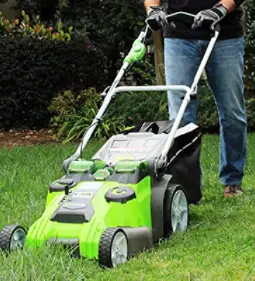 6. Greenworks 10 Amp 16-inch corded mower 25142
The Greenworks 10 Amp 16-inch corded mower is a plug-in, mostly plastic mower. So why did I rank it so high?
THE PRICE! It is an amazing price on Amazon if you're interested in buying.
This mower is a simple design and basically all you will need for a thorough cut. It is one of the premium corded (requiring an extension cord) mower on the market. A great thing about this mower is that its super light, easy to start, and easy to store. 
This one is perfect for first time homebuyers with a smaller yard. Buy it now on Amazon for about half of the price of the other mowers.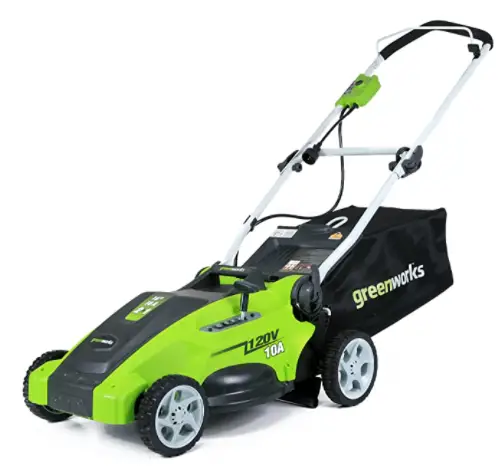 5. Greenworks 40V 21 inch cordless brushless push mower
This is one of the better looking mowers offered by Greenworks, IMO. It is almost pure black, has a big ole steel cutting deck, and looks like any other gas mower on the market. 
It comes with a nice mulching bag, but can also do mulching or side discharge (this is what I do). One thing I love about this mower is of course the BRUSHLESS MOTOR. It will last you for a long time.
Greenworks also does a great job of making easy-to-store mowers that can fit into a tight space in your garage or shed. If you want one of the better looking electric mowers on the market, buy this mower on Amazon (lowest price I could find).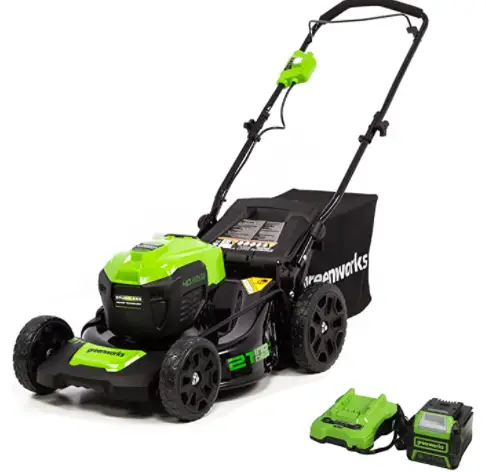 4. Greenworks 48V 17" Cordless lawn mower
Okay, so it may not make a ton of sense that this one ranks so highly but I will explain why. It is a 48V mower that is 17 inches wide, making it great for small yards. The beauty in this mower is that it can be purchased in a combination set.
Yep, you can get it with a blower, a trimmer, or both. It will also come with a dual battery charger, which is super convenient for all of the different tools. 
I recommend going with this one if you are looking for an all-in-one solution. This set is great for those that are new homeowners, wanting to make the switch to electric, or have a smaller yard. 
You can get the full set on Amazon for a decent price and save a ton of money on battery costs. Grab it today to grab all the lawn tools you will ever need at the same time.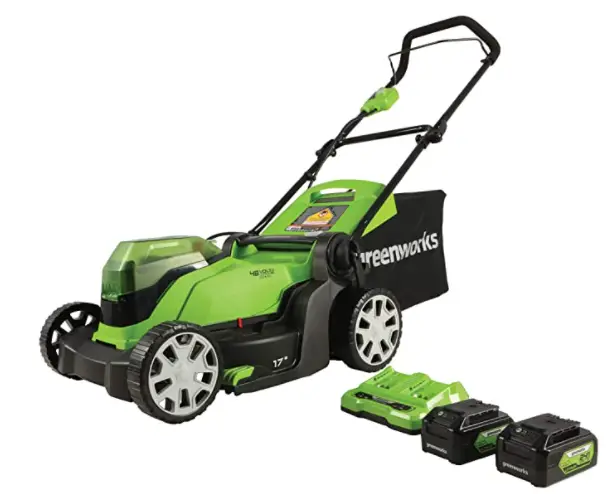 3. Greenworks 12amp 20-inch 3-in-1 electric corded lawn mower
Not gonna lie, this thing is pretty sweet. While it is a corded mower, I ranked it so highly because of its simplicity. Yes, you will need an extension cord, but this thing is built to last. It has a 20 inch steel deck which is amazing for longevity.
Another thing I love about this mower is the PRICE. To my knowledge, this is one of the least expensive 20 inch mowers on the planet. Right now, it is on sale on Amazon for about a 10% discount.
There is a reason it has almost 10k reviews on Amazon – its really popular, light, easy to use, and will last a long time. The Greenworks 12A 20 inch corded mower has all the perks of the big battery-powered mowers, but technically has unlimited run time. 
Go ahead and treat yourself to this mower on Amazon because it is as simple as hooking up a vacuum – and actually way less expensive.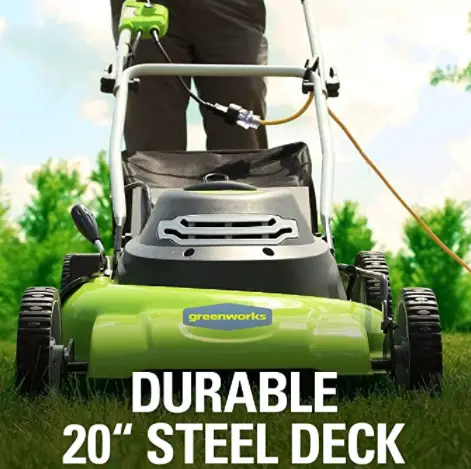 2. Greenworks 40V Push Lawn Mower, 16 inch electric lawn mower
Okay so I had absolutely no choice but to rank this one higher than the mower above because it has some similar attributes. Both are at an incredible price point in their category and both are wildly popular.
This mower runs off of a 40V battery that can be used with a ton of other Greenworks tools. This bad boy is simple to use, small enough to tackle tight spaces, lightweight, and easy to store.
And did I mention the price? It is running about $50 under its list price right now on Amazon. It also has the option to add compatible tools like chainsaw, blower vac, trimmer, and leaf blower that all use the same battery. BRB going to go buy it on Amazon….
This is currently 20% off on Amazon, so I'd give it a look as the least expensive.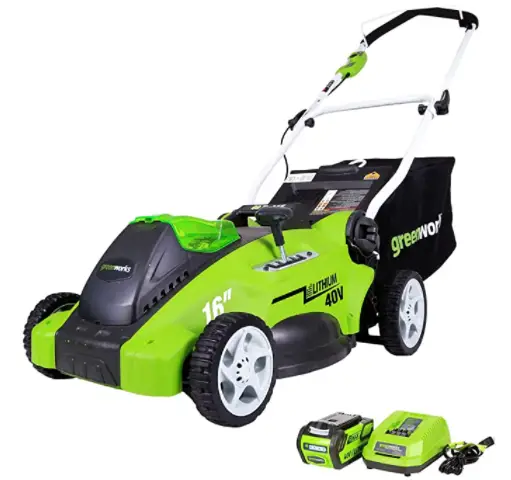 1. Greenworks Pro 80V 21-inch Brushless self-propelled mower
How can I not but make this the number one Greenworks mower in 2022? This mower is the biggest, baddest Greenworks mower on the market. Coming in at 21 inches with a nice steel deck, this mower is ready for any size job. In fact, it's larger than my current gas push mower.
Benefits of the top Greenworks mower
It is also self-propelled, meaning it can help move along the job for you. Not to mention the brushless motor. The Greenworks Pro 80V mower is simply the Cadillac of mowers. 
Another thing I love about this product is that the 80V battery can also be used with a ton of other tools that Greenworks offers, and they are all the most powerful and longest lasting. 
You can grab the mower alone, or with an edger, trimmer, or blower. If you already have the 80V battery, you can buy just the mower alone and save a ton of money (like $200 of savings).
This mower is on sale right now and Amazon says it is a "Limited Time Deal", so if you are in the market – I would grab this one today.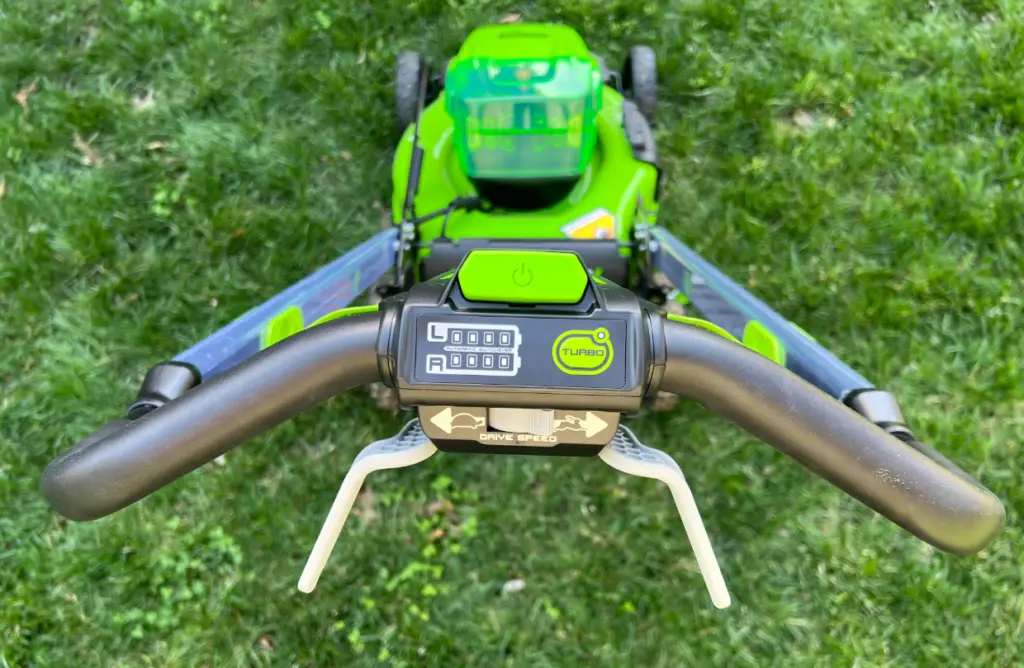 Conclusion: Best Greenworks electric lawn mowers
When it comes to Greenworks mowers, you really can't go wrong. It is important to find a mower that fits all of your needs, including price point, size, storage, power, and battery compatibility.
We are huge fans of Greenworks because they make top of the line battery-powered equipment.