Self-propelled battery lawn mowers are sweet tools that can make your job super easy. I used to never use self-propelled mowers and actively spoke out against them.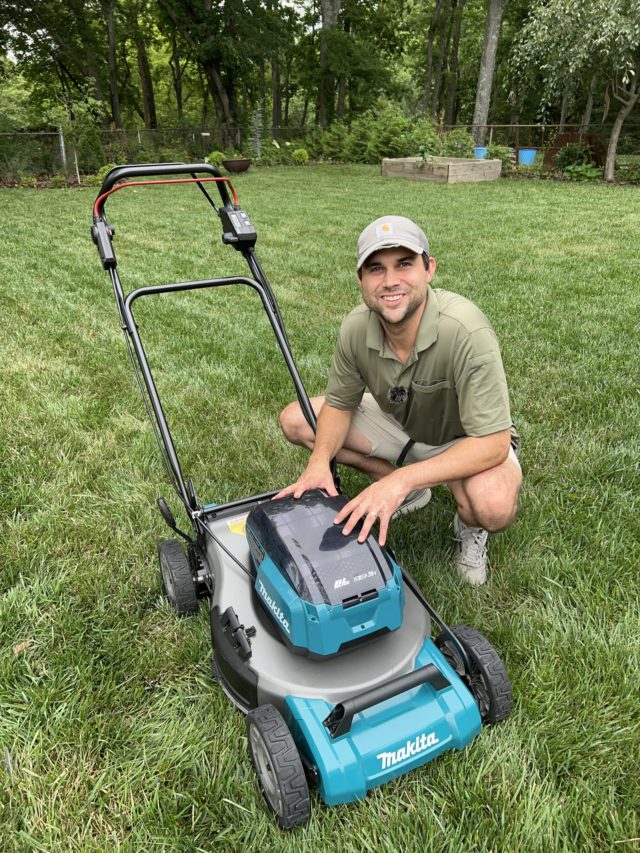 But my mind has been changed. I got a few self-propelled electric mowers and put them to the test. The functionality has a bunch of different ways of working – from front-wheel drive to all-wheel drive and all kinds of cruise controls.
My experience using self-propelled mowers
I started using self-propelled mowers only recently. I've always been a push guy and haven't minded pushing the mower all around the yard. But after I tested one out for one of my Youtube videos – I became a believer. These things are sweet and take quite the load off. 
One thing I found after testing out a few of these is that there's actually a bunch of variety in how these work. Some are easy to use, others have weird functions – they all are better than pushing the dang mower. 
Ranking the 3 BEST Self-Propelled Battery Mowers
I've been lucky enough to own and test several self-propelled mowers and distilled this list down to only three. I did this to NOT waste your time and give you the pure facts – with everything in mind – price, ease of use, durability, etc. Let's get started.
Milwaukee M18 Self-Propelled Battery Lawn Mower
Milwaukee's M18 FUEL lawn mower – almost exclusively. It is an interesting case because it stands alone as their sole mower offering for now. It's as if they assembled a dedicated team of dorks and rednecks, brainstormed ideas to create the ultimate mower, and simply went for it without looking back.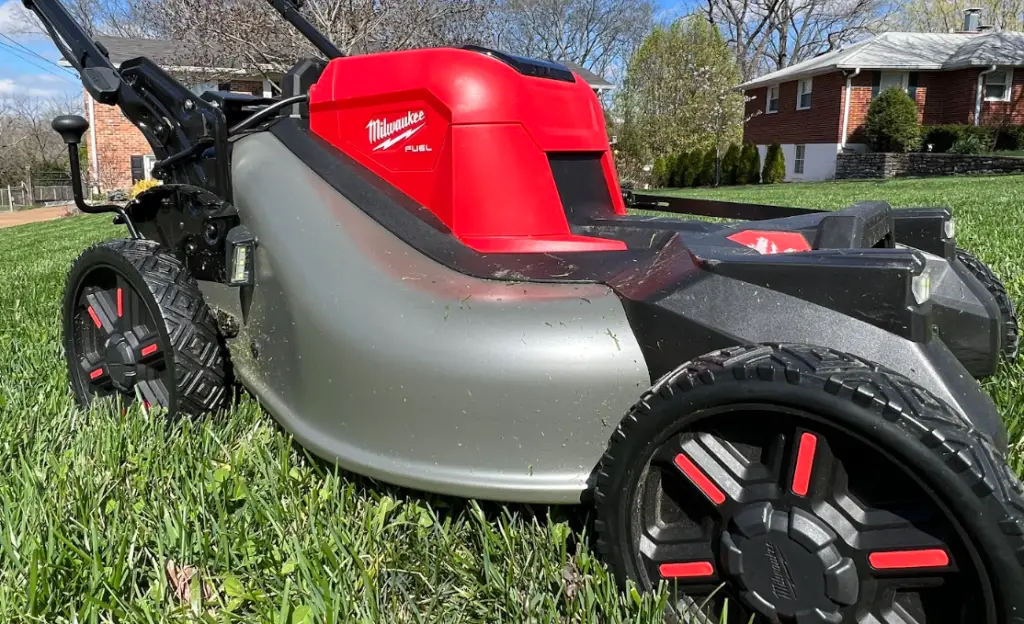 Here are some of my favorite features:
It boasts serious power comparable to a 200cc lawn mower, surpassing even the classic Honda push mowers.
The mower features a robust steel deck, setting it apart from the more common plastic decks in the electric mower market
Rapid acceleration allows it to reach full throttle in less than a second – like a Lambo
The inclusion of a brushless motor is a must-have for being at the top of this list
The utilization of two 18V Milwaukee batteries offers compatibility with over 200 other M18 tools from Milwaukee.
The Milwaukee M18 FUEL outperforms many of the others that come in at a lower price point. However, it is worth noting that this superior performance comes with a higher price tag. With a retail price of over $1,000 at Home Depot (if you get it with the batteries), it might be considered one of the more expensive push mowers available. Nevertheless, for Milwaukee enthusiasts or those genuinely seeking peak battery-powered mower performance, this model unquestionably stands out as the best.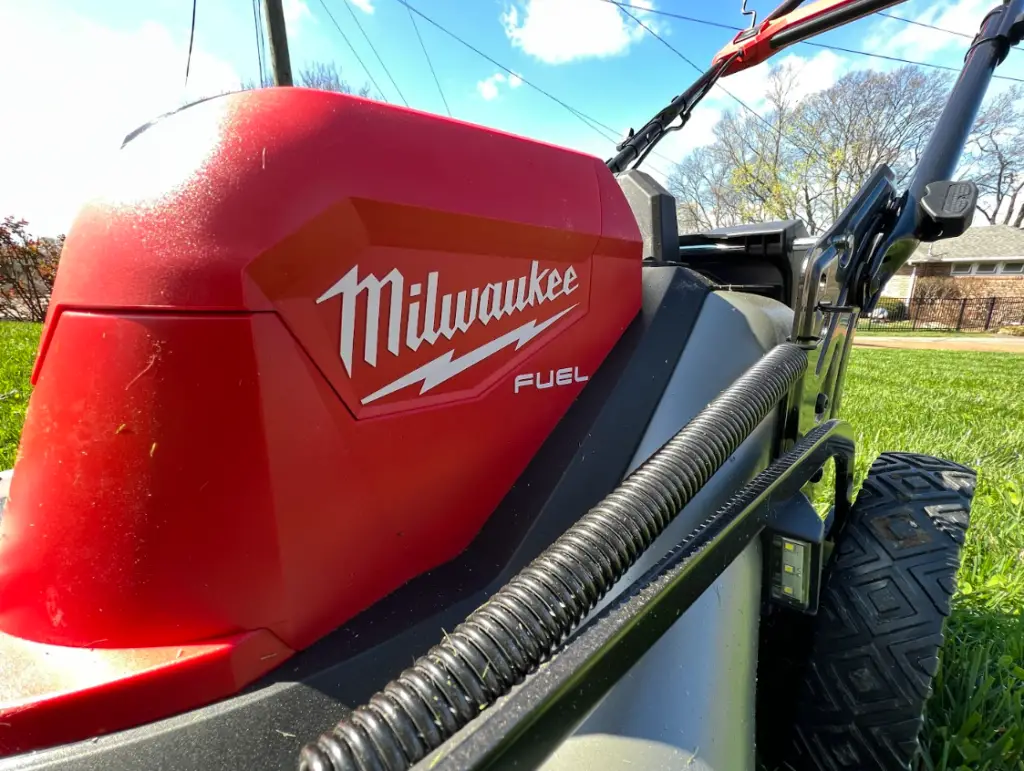 For a side-by-side comparison, one may find it insightful to evaluate how the M18 stacks up against the Ryobi 40V HP, another mower that also made it onto this list.
Greenworks Pro 80V Self-Propelled Battery Lawn Mower
It would be really hard to keep this one off the list since I made a huge mower comparison video that had this one at number one. This mower is the biggest, baddest Greenworks mower on the market. Coming in at 21 inches with a nice steel deck, this mower is ready for any size job. In fact, it's larger than my current gas push mower.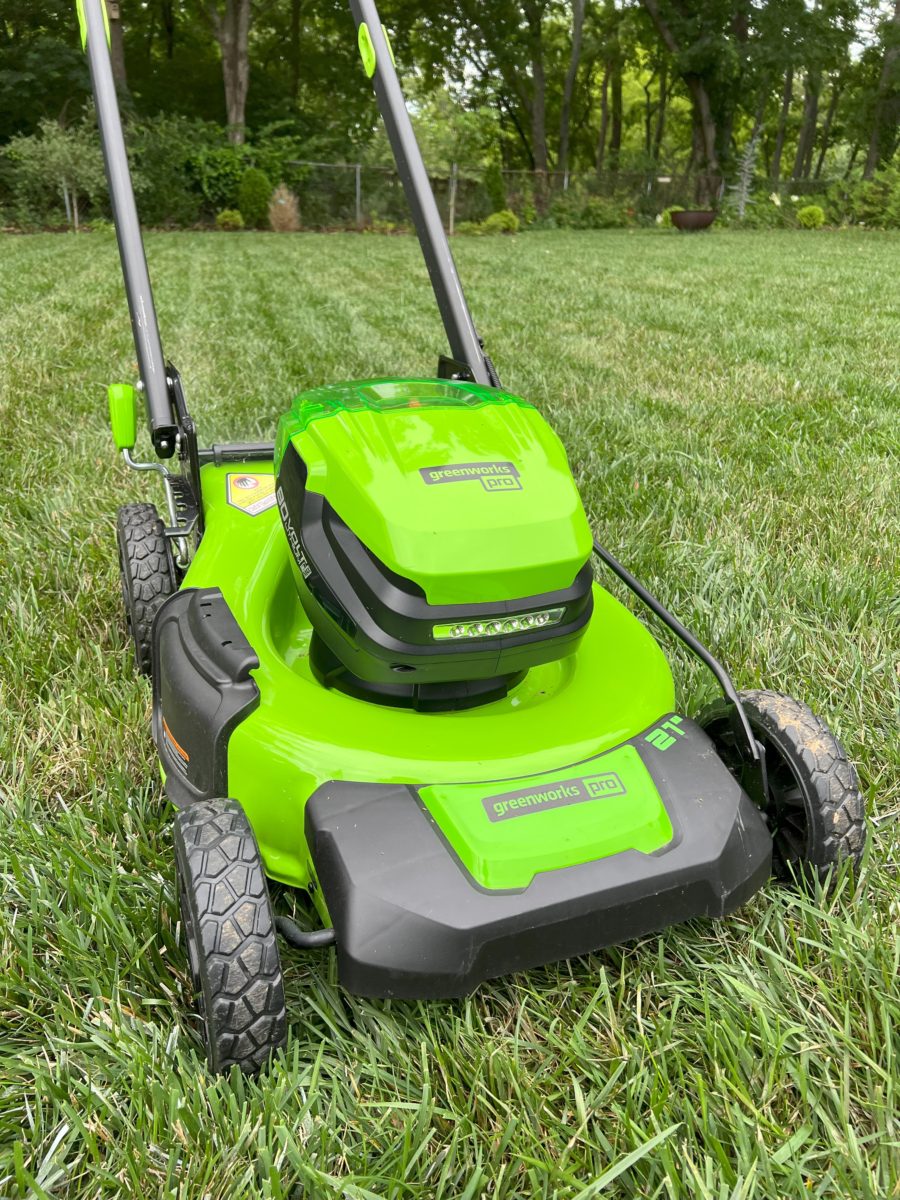 The only reason this one comes in at number two on this list is because the self-propelled function is a little wonky. It prevents the wheels from moving backward, so before you approach a turnaround, you have to let it go and give the wheels time to unlock. This isn't an awful thing, just takes some getting used to.
It is also self-propelled, meaning it can help move along the job for you. Not to mention the brushless motor. The Greenworks Pro 80V mower is simply the Cadillac of electric mowers. 
Another thing I love about this product is that the 80V battery can also be used with a ton of other tools that Greenworks offers, and they are all the most powerful and longest lasting. One of my favorites that pairs well with this mower is the Greenworks 80V blower.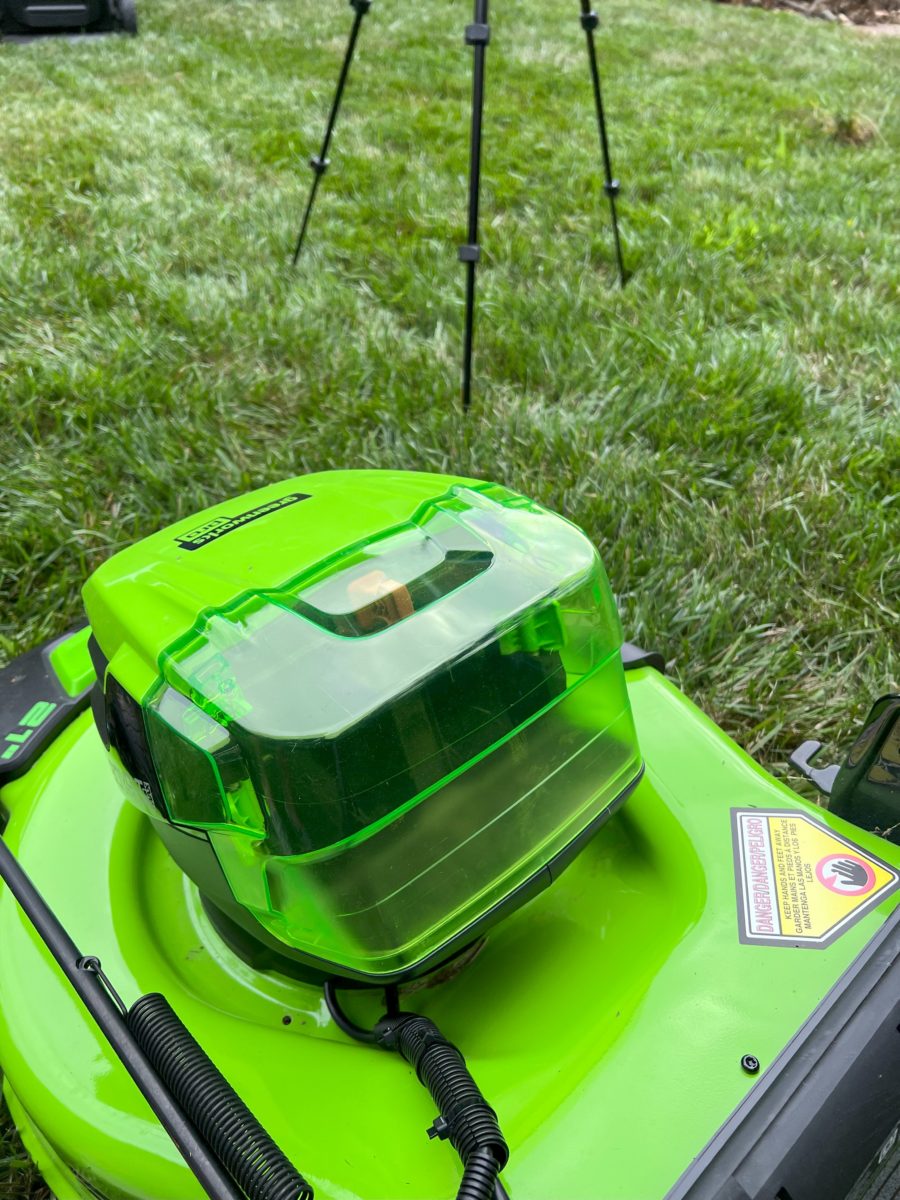 You can grab the mower alone, or with an edger, trimmer, or blower. If you already have the 80V battery, you can buy just the mower alone and save a ton of money (like $200 of savings).
This mower is on sale right now and Amazon says it is a "Limited Time Deal", so if you are in the market – I would grab this one today.
EGO LM2156SP Self-Propelled Battery Lawn Mower
The LM2156SP is obviously the Cadillac of EGO mowers. It comes with every bell and whistle. The belle of the ball. But it comes with a price.
Here are some of the features that make this one COMPLETELY unbeatable:
Select Cut XP functionality means that this is the highest torque EGO mower on the planet 
It also has Touch Drive self-propelled functionality, making it the easiest to use and control
Longest run time at 75 minutes because it comes with 10.0 Ah batteries, basically double the Ah of their other mowers
So this is the most powerful, longest running, easiest to control EGO mower. It is truly probably the best battery powered mower available from a technical specification perspective. But it doesn't have a steel deck, which makes me sad. And is ultimately the reason that it fell to number three on this list.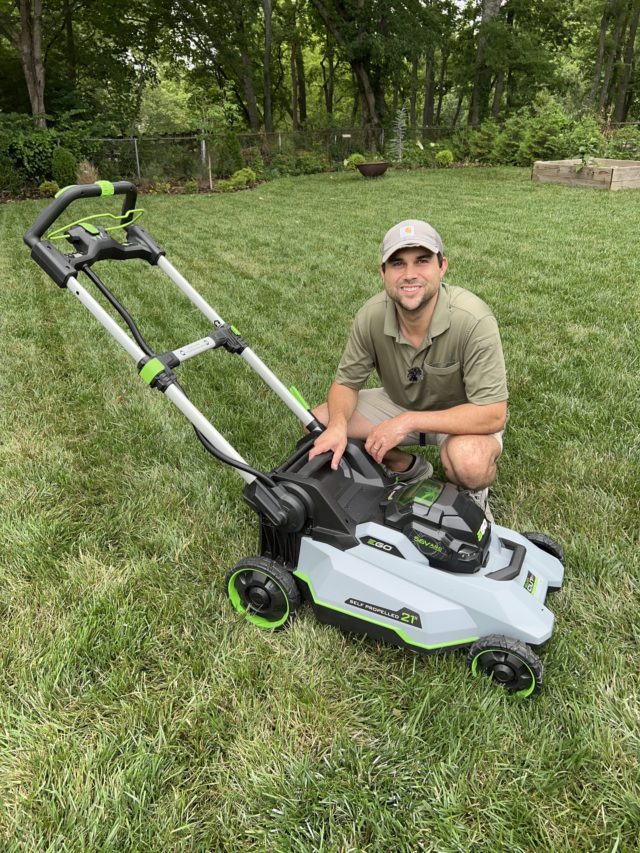 As far as overall power goes, this one is almost TOO powerful. If you max out the self-propelled function on this, it will absolutely pull you forward. If you're the type of person still looking for a workout and don't want to push, this EGO mower will have you speed walking around your yard.
You can buy this one from Amazon, where I found it for the best price.
What to look for when buying a battery-powered lawn mower
When looking to purchase an electric lawn mower, you need to make sure you understand what things matter. You will get hit with a lot of technical specifications and marketing tactics. Totally forget them and focus on the things that impact you. Below are my recommendations:
Battery-powered mower brand quality
Quality is going to be super important here. Just about everyone is in the electric mower game these days and there are a ton of junky mowers out there. Avoid anything from a weird brand on Amazon that takes 9 years to ship. It is probably being 3D printed in a Laotian bathroom. Go for brands that have consistent quality and focus on the details, not just flashy colors.
Some brands I trust off the top of my head are: Greenworks, Milwaukee, Makita, Toro, EGO, and Kobalt. SOME Ryobi mowers, although myself and others have had some problems with reliability. Brand quality matters, but it's also important to look at the specs on each. For example, Greenworks sells like 60 mowers, only a handful of them would I ever consider for this list. EGO also sells a bunch of mowers, and only a few are within an acceptable price range to be on this list.
Metal where it matters: the deck 
Most electric mowers are plastic-y. Probably to reduce the weight of the mower so that the battery can get you further, but it feels cheap. Make sure to get metal where it matters – namely the deck. The deck is the part that covers the blades. Don't get plastic here – a rock can rip through it.
Battery interoperability.
 A ten dollar word used here, but really just make sure to buy a mower with a battery that is compatible with other electric tools. You'll see a bunch of these brands that have battery lines that work with a ton of tools. Milwaukee, Makita, and Dewalt are all great options because you can use them for all lawn tools AND power tools – saving you a ton of money on extra batteries.
If you have more questions, check out our guide to electric lawn mowers, where we break this down into a lot more detail.
Self-propelled or not
Self-propelled mowers are lawn mowers that slowly crawl forward when mowing the lawn. They propel forward the mower, taking off a lot of the "pushing power" required by traditional push mowers.
Self-propelled mowers are ALWAYS more expensive because they have the additional power and functionality that makes life easier. They have their place, but because of the cost can often come with a higher price tag.
Why we review lawn tools
The reason we started this website in the first place was because we had so much trouble trying to find reasonable, understandable, honest reviews for lawn equipment. And it's not cheap! After hours and hours of research, trying products and returning them, and messing up our yards – we started this site.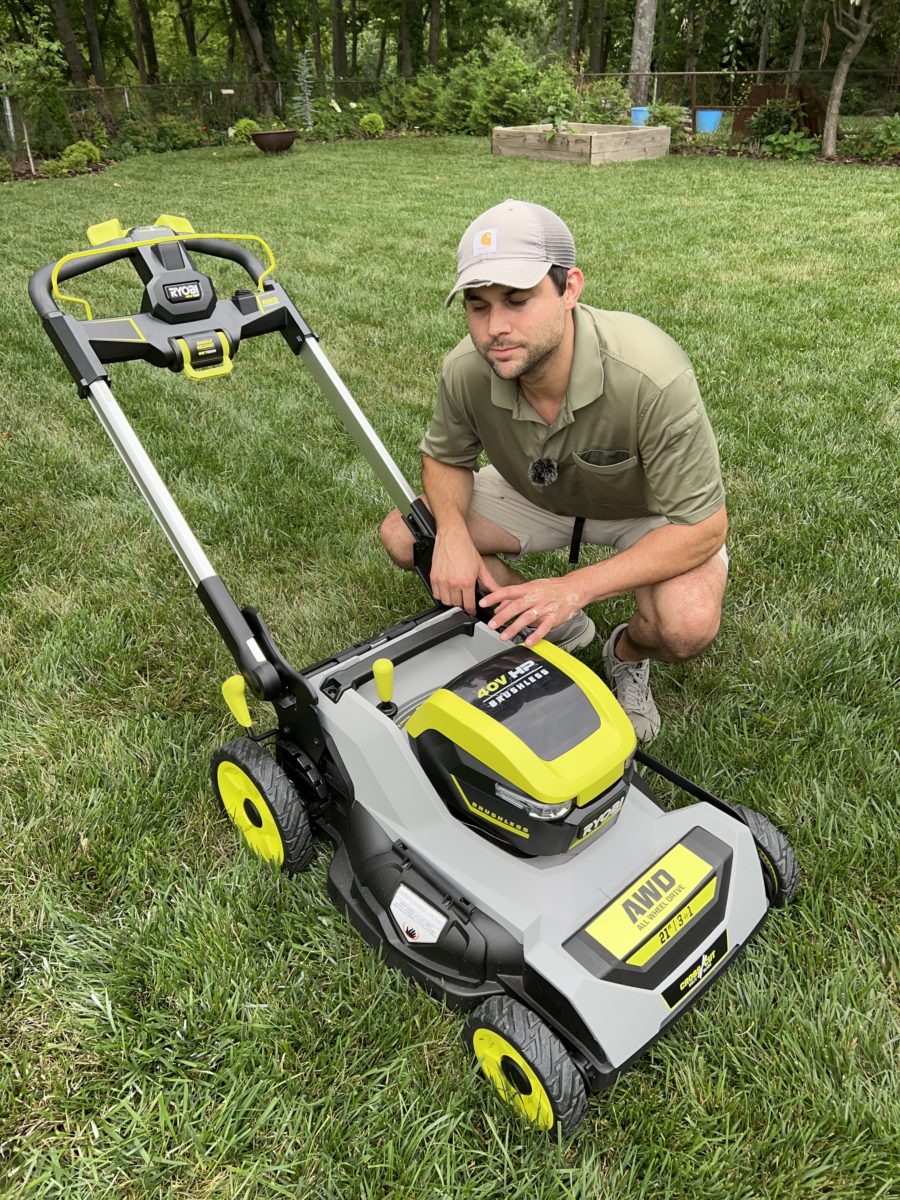 As people who had to learn the hard way, we want you to know exactly what you are signing up for before you purchase a piece of equipment. That's why we are committed to providing honest, easy-to-understand reviews that mean something.