EGO blowers have quickly become Fall's hottest lawn tools. I'm not joking, they have absolutely blown up.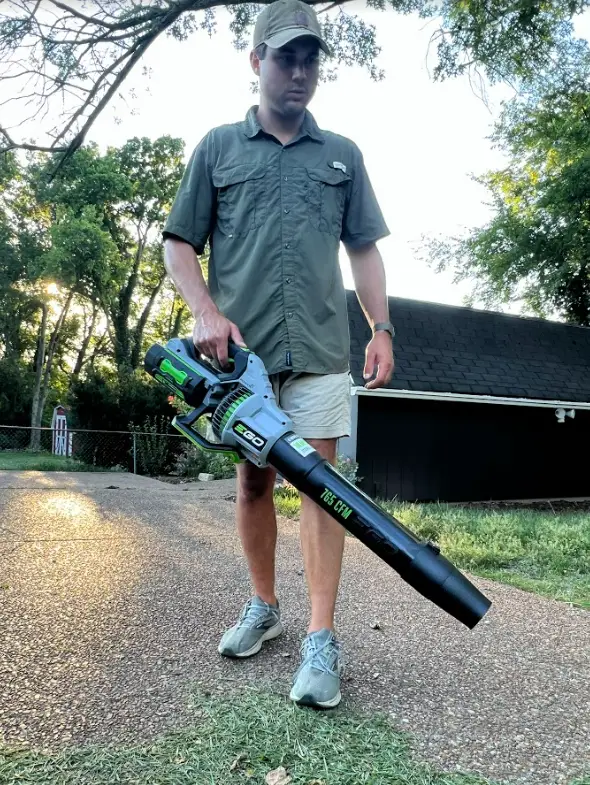 Not convinced? Go read some of the comments on our YouTube review of the EGO 765 blower.
They are some of the sleekest and most powerful lawn tools on the planet. And there's a good reason why.
We've written extensively and made a TON of video content about these blowers purely out of requests. We are even giving one away this month to one of our lucky newsletter subscribers. 
These bad boys can be found on Amazon or at Lowe's, where EGO has some exclusivity, but not at Home Depot.
Let's check out why these two blowers are quickly becoming famous, then compare them to see which one makes the most sense for you.
Jump ahead:
Why we review lawn tools
The reason we started this website in the first place was because we had so much trouble trying to find reasonable, understandable, honest reviews for lawn equipment. And it's not cheap! After hours and hours of research, trying products and returning them, and messing up our yards – we started this site. 
As people who had to learn the hard way, we want you to know exactly what you are signing up for before you purchase a piece of equipment. That's why we are committed to providing honest, easy-to-understand reviews that mean something. 
What to look for in an electric blower
Cordless blowers come in a bunch of shapes and sizes but there are three basic things you need to understand:
CFM – Cubic feet per minute. This is a measure of air output on the blower. Higher CFM = more power, but not necessarily more miles per hour. High CFM with a wide nozzle = lower MPH. High CFM with a narrow nozzle = high miles per hour. Ideally, you want both a high CFM with a narrow to medium nozzle for most residential jobs.
Usability – what is the point of having a blower if it is hard to use? Have to get one that is lightweight, easy to start, and has some functions that make your life easier.
Motor type – brushless motors reign supreme. Cooler running motors with more torque, a longer run-time, and last many more years. Brushless is a no brainer when picking a blower.
These are three things you need to pay attention to when looking through the specifications. 
About EGO
EGO is still relatively new to the lawn tool space. They started back in 2014 and have absolutely exploded in recent years. They are owned by the parent company Chervon, which also make SKIL and FLEX brand tools. 
EGO has quickly become synonymous with power. All of their tools (including the blowers we are reviewing today) are top-of-the-line when it comes to power. When we've gotten our hands on the products, the first thing we always think is "solid". Their products are generally heavier than other brands and feel really tight and well-constructed. 

Their mowers are heavier, stronger, and faster. Their EGO string trimmers are freaks of nature. Everything is built for performance.
So let's look at the 650 and 765 CFM blowers.
What are CFMs in leaf blowers?
I know I briefly touched on this a few paragraphs above, but the distinction is important – especially for comparing these two.
CFM stands for cubic feet per minute. Basically it is a measurement of airflow out of the end of the blower. The typical relationship you see is the higher the CFMs, the wider the mouth of the blower. It can also result in lower miles per hour of air speed, because so much more air is moving out of a wider opening. 
It's like taking a deep breath, relaxing your mouth and blowing out compared to taking the same breath and whistling. Same amount of air is coming out, but just much faster when you whistle. 
High CFM blowers, wide mouthed blowers are great for moving large piles of leaves. Lower CFM blowers that are narrow are good for providing a jet-stream of air that is great for wet grass clippings and small amounts of leaves. 
Keep that in mind as we move forward.
The EGO 765 CFM blower: Overview
The EGO LB7654 blower is an absolute unit. One of the most powerful handheld electric blowers (I think it actually may be THE most  powerful) on the planet, it was designed for absolute lawn enthusiasts.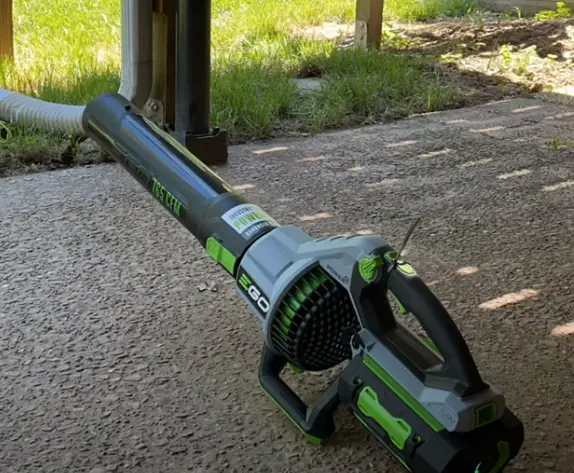 Here are a few things we love about this blower:
It's really versatile. It has a nice variable speed control trigger on the side with a cruise control function. This is awesome for taking the stress off of your fingers when trying to keep the blower at a consistent speed. 
The EGO 765 comes with a few different nozzle heads. As I've come to learn (shoutout to our YouTube subscribers), a lot of folks use these blowers to dry off their cars. There's some versatility with this as though EGO kept that in mind when making it. 
It has a really nice molded rubber grip that makes it easier to hold onto. It is a bit heavier than other electric blowers, so it's a thoughtful touch.
The 5.0 Ah battery has a run time of 25 minutes while on full-speed. With the turbo button, you can get 17 minutes of run time. Yes, we actually tested this with zip ties. We are weird but are dedicated to you.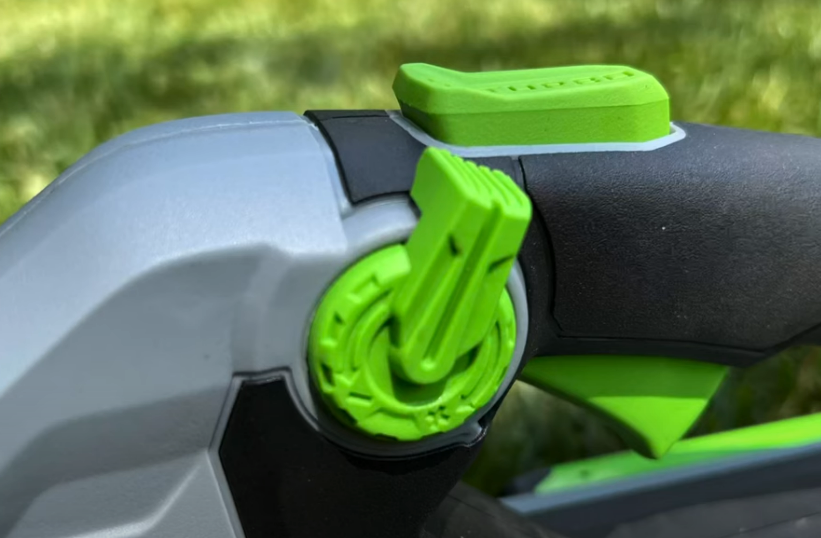 EGO 765 Specifications Breakdown
Pop quiz – if this thing has 765 CFMs coming out of the end, do you think it is a wide-mouthed blower with a lower speed? 
Well, it's not. It actually has BOTH super high CFMs AND high MPHs. It's sort of a freak of nature like that. This means that the blower can do big piles of leaves AND use an extreme jet stream to destroy wet, stuck leaves. 
That's what makes this blower really stick out. The turbo button takes this blower to a level no other electric handheld blower has been before.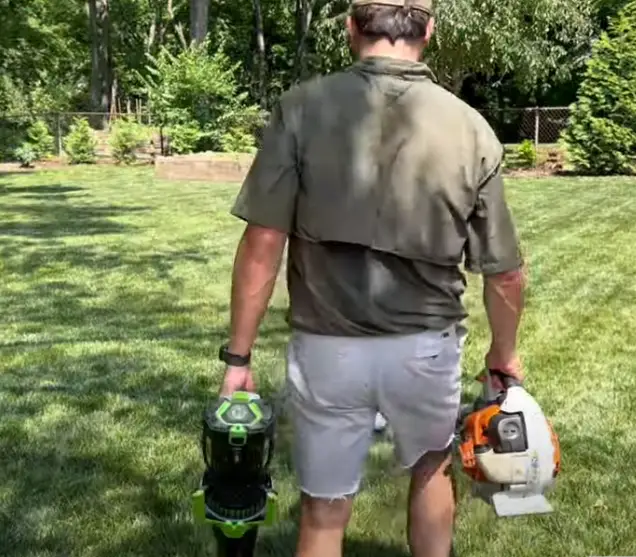 We compared the EGO 765 CFM blower to our Stihl BG86C handheld gas blower and it was pretty wild. On turbo, the EGO was actually more powerful. 
At just over 12 lbs, it is noticeably heavier than a lot of other electric blowers. You can separately purchase a sling that helps offload some of the weight. Some of our YouTube commenters that purchased the tool talked about the strain on their wrists turning it side to side. But it was also noted that the exchange in power made it worth it. Up to you!
The EGO 650 CFM Blower: Overview
The EGO LB6504 blower is also a freak of nature. If it weren't for it's bigger brother, the 765 CFM blower, this would still be one of the most powerful handheld blowers on the planet. 
The EGO 650 CFM blower has many of the same features as the EGO 765 CFM blower, including:
A cruise control button. It isn't as easy to use as the 765 blower because it doesn't have the thumb-controlled portion, but it does have a little knob that you can twist to set the speed. 
The turbo button cranks this up to 650 CFMs, which is still extremely high!
Multiple nozzles, including a flat nozzle that is really great for blowing leaves around your patio or near the end of your driveway. Talk about a jet stream. 
A brushless motor that can also be found on the 765. Brushless motors use magnets to power the motor instead of brushes. This allows for a cooler running motor, more torque, and significant durability. It's a must have for an electric lawn tool. 
EGO 650 CFM Blower Specifications
Just like its 765 CFM big brother, the 650 CFM blower marries both high CFMs and high MPH to produce an absolute wind cannon.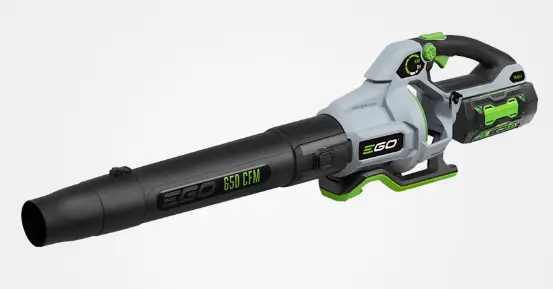 In contrast to the 765 CFM blower, the 650 CFM EGO blower weighs about 2.5 lbs lighter, putting it back into the normal range of handheld blowers. This is a lifesaver for anyone with wrist or shoulder issues, giving you more mobility when moving the blower side to side.
EGO 765 CFM vs 650 CFM Blower: Similarities and Differences
Since these blowers look almost identical, I wanted to summarize the notable differences between the two blowers. Let's start with similarities: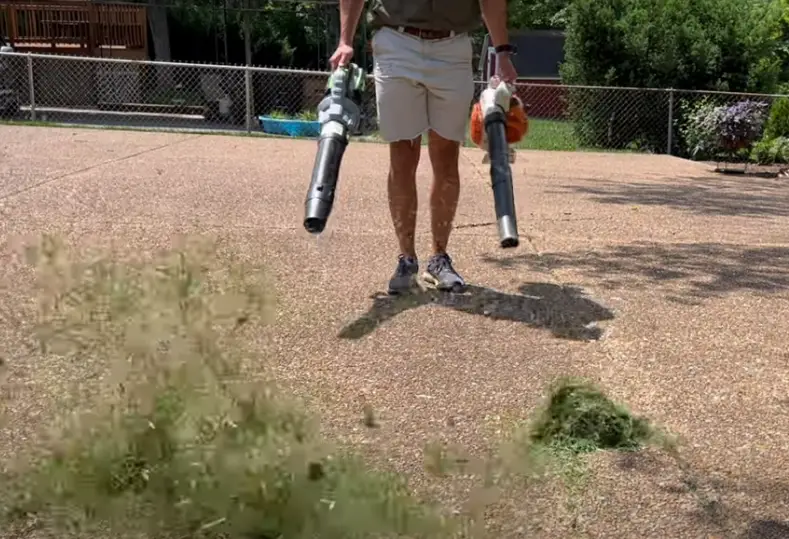 Similarities between EGO 765 and 650
Aesthetics – unless you're up close you can't tell them apart
Both have cruise control
Both have a turbo button that amps up the CFMs
Both take the 56V battery
Both are extremely well-made
Differences between EGO 765 and 650
CFM and speed differences, obviously
765 weighs 2.5 lbs more than the 650
765 costs about $50 more than the 650
765 comes with a nice thumb adjuster on the cruise control
So which is better? EGO 765 CFM vs 650 CFM blower?
Tough to give a concrete answer here. So I'll do my best: the 650 CFM blower is a better value for the normal homeowner. It packs more than enough power, is $50 cheaper, and still comes with all the perks of the 765 CFM blower, just a little bit weaker. Either way, these are for sale for a cheaper price on Amazon than they are at Lowe's.
The EGO 765 CFM blower is on Amazon for a little over $300 with the charger. Without the charger it comes in at just under $250 (but changes all the time).
The EGO 650 CFM blower is on Amazon for a little under $300 with the charger. Without the charger, it is on sale for UNDER $200 (this is a steal).
The 765 CFM blower, however, has unrivaled power and speed. There are definitely times where the additional speed boost would come in handy, so it is also a great option. Also, if you just LOVE EGO products and want the newest and best tools, you have got to go with this one.
The Bottom Line: 765 vs 650 CFM EGO blowers
At the end of the day, they both have incredible specifications, amazing warranties, and extreme power. You can't go wrong. Do you want to shell out a bit more money for some crazy power? That's what you need to ask yourself. 
Oh and by the way, we own the 765 CFM blower 🙂.
Check this out if you want to see us compare the EGO 765 CFM blower to the Ryobi 730 CFM blower