The Toro TimeMaster 30-inch push mower is an absolute workhorse. This mower is one of the more expensive push mowers on the market, but there is a reason. I have reviewed a few Toro products, including their recycler mower and their TimeCutter zero-turn mower. My favorite thing about Toro is their focus on quality and the user experience. This mower really does it all and I am excited to share it with you.
Today, we will review every aspect of the Toro TimeMaster and compare it to some of the competition. Let's get started:
Why we review lawn tools
The reason we started this website in the first place was because we had so much trouble trying to find reasonable, understandable, honest reviews for lawn equipment. And it's not cheap! After hours and hours of research, trying products and returning them, and messing up our yards – we started this site.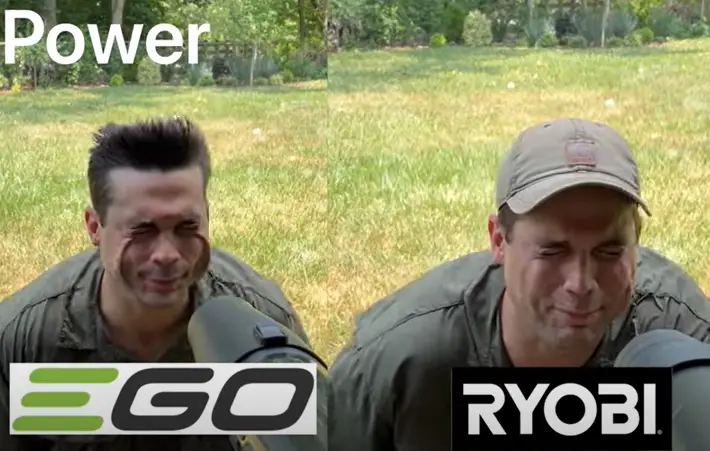 As people who had to learn the hard way, we want you to know exactly what you are signing up for before you purchase a piece of equipment. That's why we are committed to providing honest, easy-to-understand reviews that mean something.
Self-propelled mowers
Self-propelled push mowers do exactly that – they creep along so that your pushing force is minimally needed. When you reach a hill or other incline, it will help provide additional thrust so that you are not having to lean in and haul the mower uphill. These mowers can be found in both electric and gas styles. 
The downside with electric self-propelled mowers is that the mower burns through battery life when this functionality is on. While helpful, you may not be able to complete your yard in a single trip. 
Toro's TimeMaster 30 in mower features
Okay – this mower has some features I have never seen before in a push mower and I am excited to dive in. This thing offers some truly sweet, convenient and smart engineering that separates it from all of its competition. Let's get started.
Oh and check out our post about the best Toro mowers if you want to learn more.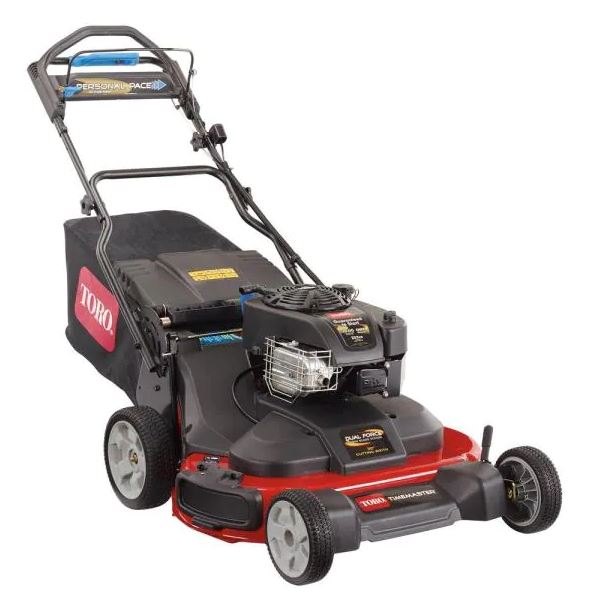 Power
The TimeMaster 30 inch mower boasts a Briggs & Stratton 223cc OHV engine. For context, most push mowers range between 18 and 24 inches. This thing is big and means business. When you think about each pass you make in the yard, the TimeMaster can take an additional 10-12 inches and reduce the number of total passes. Hence, the name TimeMaster. 
Not only does this have a 30 inch cutting area (which features 2 blades vs 1 big blade), but it also has a recycler system. As I mentioned in my review of the Toro Recycler mower, Toro has thought through how to have an even healthier yard. For those of us that go bagless, Toro has a patented "Lawn Vitamin" product that takes your grass clippings and grinds them into ultra-fine vitamins for your yard. I am a huge proponent of this feature.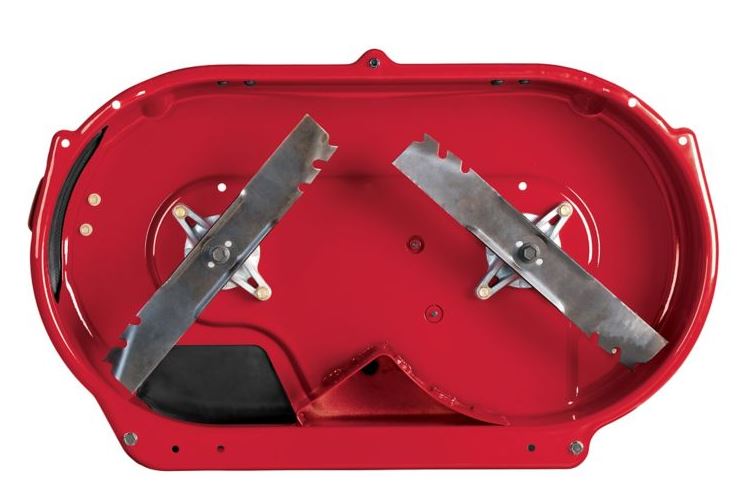 The Spin-stop feature found on the Toro TimeMaster 30 inch
The fact that I did not know this feature existed until now shows just how small my mind is. Have you ever gotten annoyed by having to stop mowing to move things in your yard? The worst part is having to restart the mower each time you want to move a stick out of the way. Well, Toro thought of how annoying that was and created a safety stop. 
The safety stop feature means that you can stop the mower from moving and step away from your mower. When you step away the blades stop spinning, meaning you do not have to worry about any danger from leaving it unattended. When you come back to the mower to start mowing again, the blades will start back up and you can continue the job. I do not know how I ever lived without this. 
Usability and the self-propelled function
There has rarely been a more usable push mower. The beautiful thing about this gas powered self-propel mower is that you have total control. The TimeMaster features what it calls "Personal Pace", which means that you can adjust the speed at which the self-propelled motor runs. 
While this is nice for going at your own pace, it's super helpful for when you get near garden beds or other structures. Changing the pace gives you more maneuverability to trim around the edges of structures and need to be more agile. This is particularly important when you have a mower that is as large as the Toro TimeMaster 30 inch.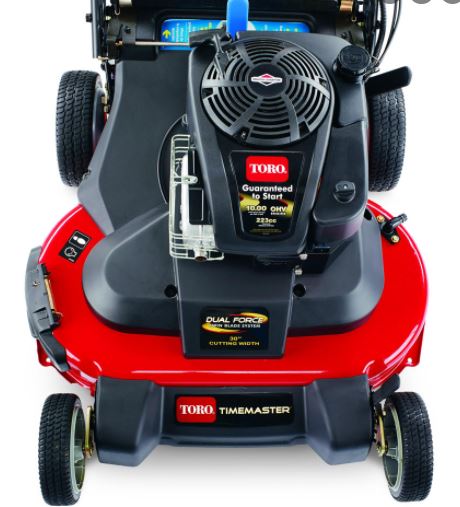 Maintenance: not really required
Something neat that Toro does with their push mowers is a deck wash-out system. They have a nozzle that you can hook your hose up to, and it does the rest. There are grooves inside of the steel deck that allow for water to run through them and knock off any clumps or fine clippings. 
Toro also realizes that changing the oil in your mower is not how you like to spend your weekends. That is why they created the "no oil change" mower. Yep – you just do not change the oil. I guess it just burns off or something, but you just have to simply refill it when you see it getting low. No mess or spills.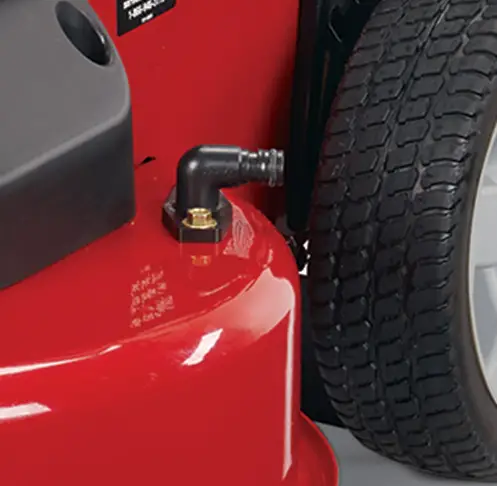 Toro always backs their mowers up with a serious warranty. This one is a 3 year full warranty, not just an engine warranty. They also have a three year guaranteed to start warranty. These are both remarkable warranties that speak to the confidence in the mowers' ability to run for a long time. 
I love that this mower is easy to store as well. One of my concerns with a mower of this size is that it will take up a ton of room in our garage. This thing folds up so that it really only take up about 30 inches of garage space. 
Toro TimeMaster 30 push mower cost
The Toro TimeMaster 30 costs somewhere between $1,750 and $2,000 depending on where you buy it.
Home Depot has it for a great price (check here) and you can buy online and pick it up.
Our overall review: The Toro TimeMaster 30 inch mower
| | |
| --- | --- |
| Feature | Rating |
| Difficulty to use | Less difficult than other gas mowers thanks to self-propelled function at your own pace |
| Durability | More durable due to size and weight, backed by significant warranty |
| Maintenance | Easiest to maintain with no oil change required |
| Value | High value for a push mower |
| For lots <10,000 sq. ft | Less recommended |
| For lots <1 acre | Very highly recommended |
| For lots >1 acre | Not recommended |
We really like this mower for bermudagrass because it has a super wide deck, is easy to use, and bags a ton of clippings.
Want to save even MORE time? Check out the Toro zero-turn mower that we reviewed.