Electric pressure washers are on the rise because they have two underrated qualities: they are quiet and they are super easy to start.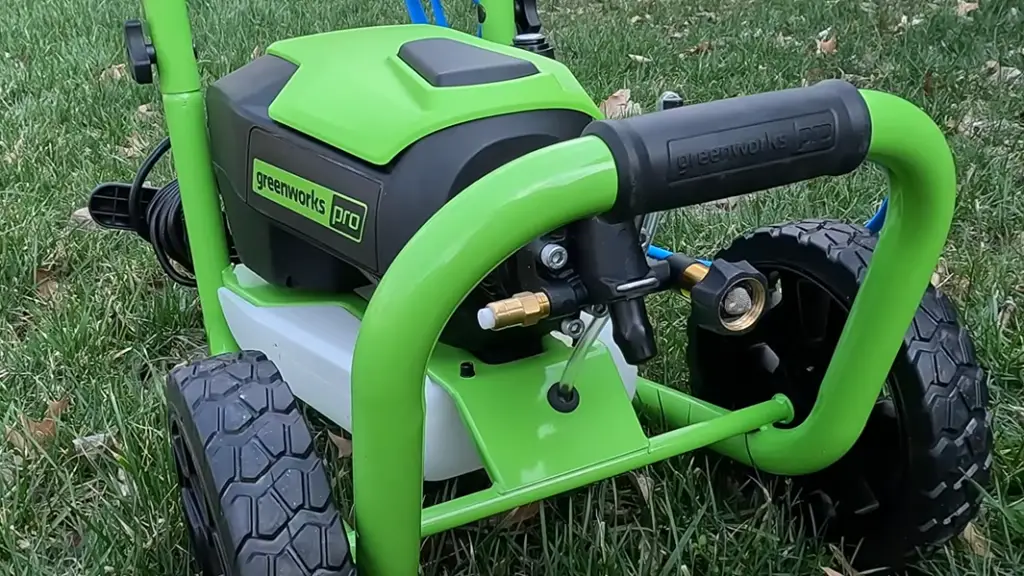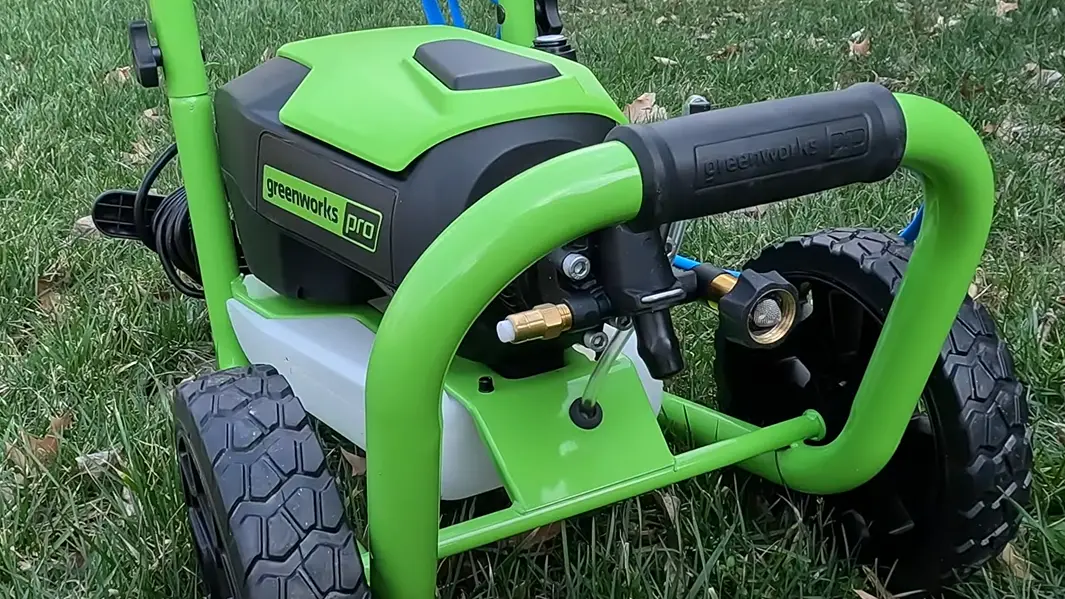 You're going to sacrifice a bit of power when it comes to these, but how much power do you need? For most homeowners, electric pressure washers are going to be more than enough power. 
I'll explain more later, but my electric pressure washers are the second most satisfying tool on the planet. My sister-in-law bought one and finds excuses to use it. She is about as girly-girl as they come and she is constantly on the search for grime to blast away outdoors. 
But pressure washers are hard to compare. They all look the same, they have a ton of acronyms, and they cost a nice chunk of change. 
So today, we are going to break down what to look for in a pressure washer and give you the 5 best electric pressure washers in 2023. 
We've reviewed all of these at length and even recorded videos of us using several of them on our YouTube channel.
Let's get started. 
Here are the best electric pressure washers of 2023, ranked:
How I tested these electric pressure washers
I tested these electric pressure washers by checking out a few things. Obviously the PSI and GPM matter as well as the other technical specifications, but it's also important to measure performance, bells and whistles (like number of nozzles and soap tanks), and portability.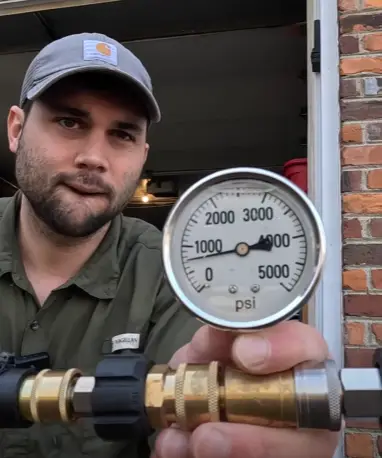 With each of these, I did an actual test of the pressure (not the advertised test) and a similar test for gallons per minute using a 5 gallon bucket. It was a labor of love doing all this testing, but it helped me help you.
Best Electric Pressure Washers: 2023 Ranking
Whereas most folks make you scroll down to the bottom to see the number one choice, I like to start at the top to not waste any of your time. I also think the number one choice is the absolute best, so you may not even need to scroll further. 
Here we go!
1. Ryobi 3000 PSI Electric Pressure Washer
We wrote about this Ryobi 3000 PSI electric pressure washer (which also ranked #1) on our Best Ryobi Pressure Washer ranking. When I opened this post I said that electric pressure washers often exchange power for convenience and ease of use. The Ryobi 3000 PSI electric pressure washer does both.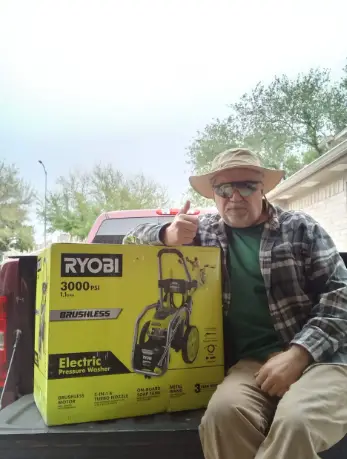 Yep – 3000 PSI is right up there with the Dewalt gas pressure washers and a whole bunch of others. This means you can likely take it beyond some household applications, such as spraying off graffiti or stripping paint off a fence. You can also tone it down to be used for washing a car or pressure washing your driveway.
While this has a really strong PSI, it is a little light on the GPM. Again, this means that you'll have a strong stream but not quite the widest spray or most efficient surface.
But hey, it's electric and this is about as good as it gets.
Here's what I love about Ryobi's 3000 PSI pressure washer BESIDES the power:
A push-button start
Never-flat tires that allow you to easily stroll it around a job site
A brushless motor
A big soap tank
BUILT IN NOZZLES on the tip of the sprayer, a cool treat
It's easily one of the most powerful electric pressure washers on the market and the most powerful on today's ranking. It's extremely dynamic which is why we gave it such high marks.
It is a bit on the pricier side at about $450 and can be found at Home Depot.
2. Sun Joe SPX3500 2300 Max Psi Brushless Induction Electric Pressure Washer
Sun Joe is a slightly lesser known brand which is an offshoot of Snow Joe (and they also have Aqua Joe). They have one of the most popular pressure washers ever made and the top-seller on Amazon (also #5 on our list), the Sun Joe SPX3000.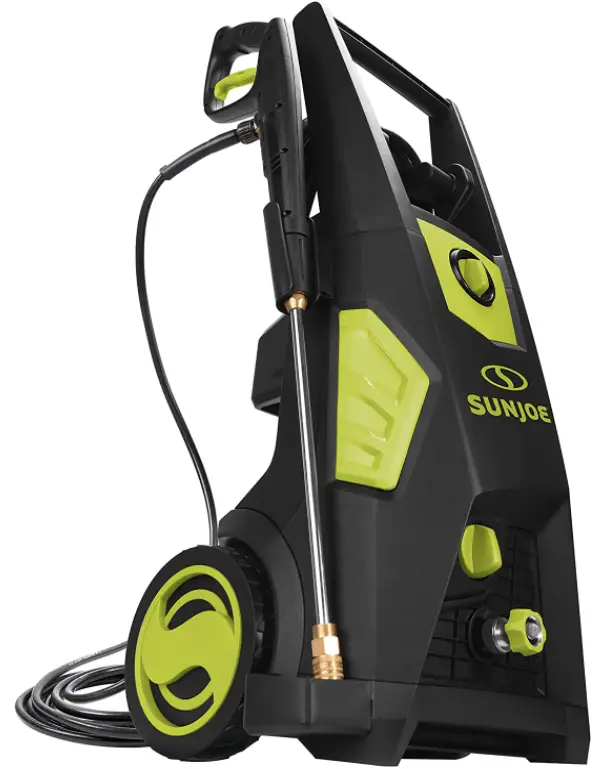 The Sun Joe SPX3500 is basically the culmination of all the feedback received about the SPX3000. They went back and made it slightly more powerful, easier to carry around, more durable, and fixed a common problem – the hose connector. It used to be plastic and now it is brass on the 3500.
At 1.5 GPM, this is going to be more efficient at household jobs than the Ryobi, but won't be able to deliver quite the same pressure.
Here's what else we like about the SPX3500:
A solid 2300 PSI
The addition of a brushless motor
Black color – better looking
The ability to add a bunch of attachments
1.5 GPM for an efficient job
Many people overlook the 3500 because it isn't as popular as the 3000, but it went ahead and fixed all the complaints and is the superior option. 
Let me be clear – this is not the most powerful pressure washer in the world and doesn't claim to be. But as far as electric pressure washers go, this one does a heck of a job.
You can grab it on Amazon for an extremely low price and I think that's the only place you can get it.
3. Greenworks pro-2300 Max PSI 14 Amp brushless electric pressure washer
Greenworks is a great brand. They spend a lot of time making sure their claims are true and that their products hold up well. They nailed it with their PRO series 2300 PSI pressure washer. This  thing is sweet and the only reason I ranked it number three and not number two is that it is a bit more expensive than the Sun Joe.
Here's what I love about this one:
Extremely sturdy – often underrated feature but it's got a sturdy base and won't topple over when you're at the end of the hose
It has a brushless motor with water pressure-sensing technology that makes sure you have a consistent amount of pressure
It has a 25 foot hose and a 35 foot electrical cord which means you can go further than most
The power cord has an inline GFCI (little box with buttons), meaning you can plug it into just about any outlet without it getting in the way
It's got a 2.3 GPM flow rate, which is extremely efficient. This means it is virtually the same pressure as the Sun Joe above, but at a much more efficient rate. Is it worth the extra money? I can be convinced by a good sale…
We've spoken with the guys at Greenworks who oversee pressure washers and they're legit. They definitely know what they're talking about. We've done a compilation of the best Greenworks pressure washers, and this one is still number one – even when we compared it to the Sun Joe SPX4600.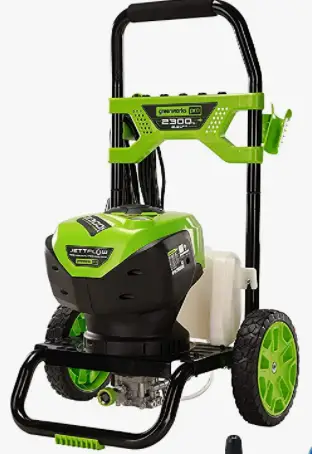 If you're looking for quality, this one is going to be your best bet. Just be prepared to pay a premium (which most of us will).
It's available on their website or from Amazon for a moderate price, but still lower than most gas washers.
4. Worx Hydroshot Power Washer
While the Worx Hydroshot isn't your classic pressure washer, I had to put this in the top five because it is so dang cool.
The Hydroshot is a battery-powered power washer that is totally portable. All you need is a body of water or a bucket and you're good to go. It comes with this cool hose attachment that you can toss into a lake and use to wash off your bike, paddle board, or camping equipment.
You can also toss it in a bucket and wash off your kids shoes or your dog before getting back into the car. It's like a high powered water gun designed to clean things.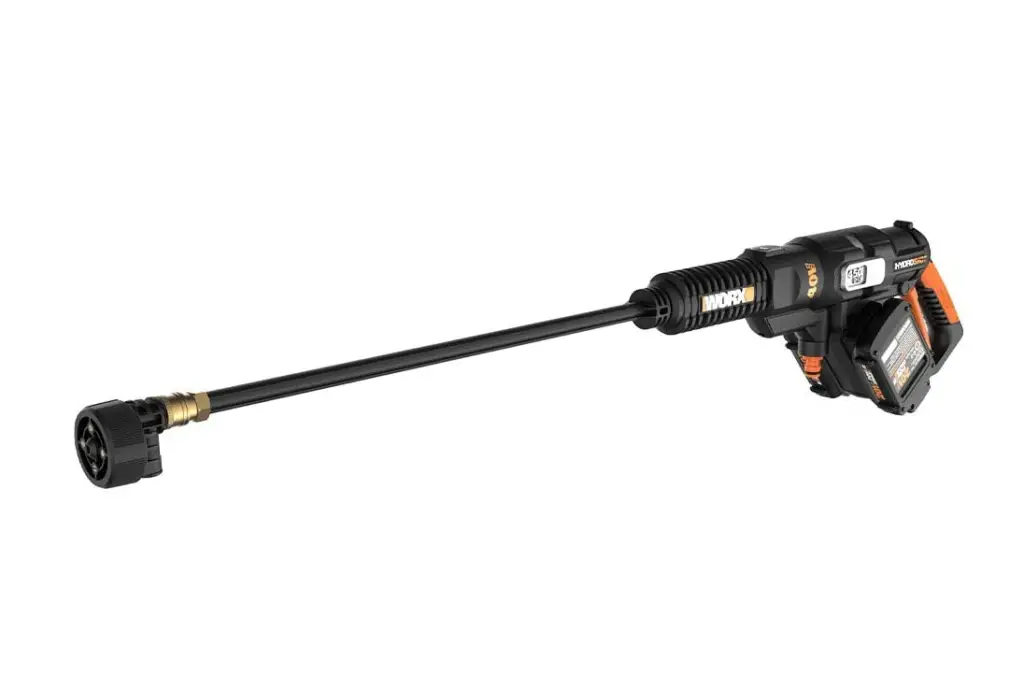 Heck – you can even connect it to your pool and do some patio chair cleaning. The cool part about this is that it has a rotating nozzle on the end that can go from gentle spray to intense stream. 
These are really handy and if you're an outdoor junkie, they are probably one of the coolest gifts you can buy.
You can grab it on Amazon for a great price (right now its like 40% off).
5. Sun Joe SPX3000 2030 Max PSI 1.76 GPM 14.5-Amp Electric High Pressure Washer
Yep, we still put the Sun Joe SPX3000 on this list because it is so dang popular. One of the best selling pressure washers of all time, they're in hundreds of thousands, if not millions, of garages across the country. 
We like the SPX3000 because it is super simple to use, provides decent power, and is dirt cheap.
We made a full Youtube video about the SPX3000 and even compared it to the next best seller on Amazon. It was quite the battle.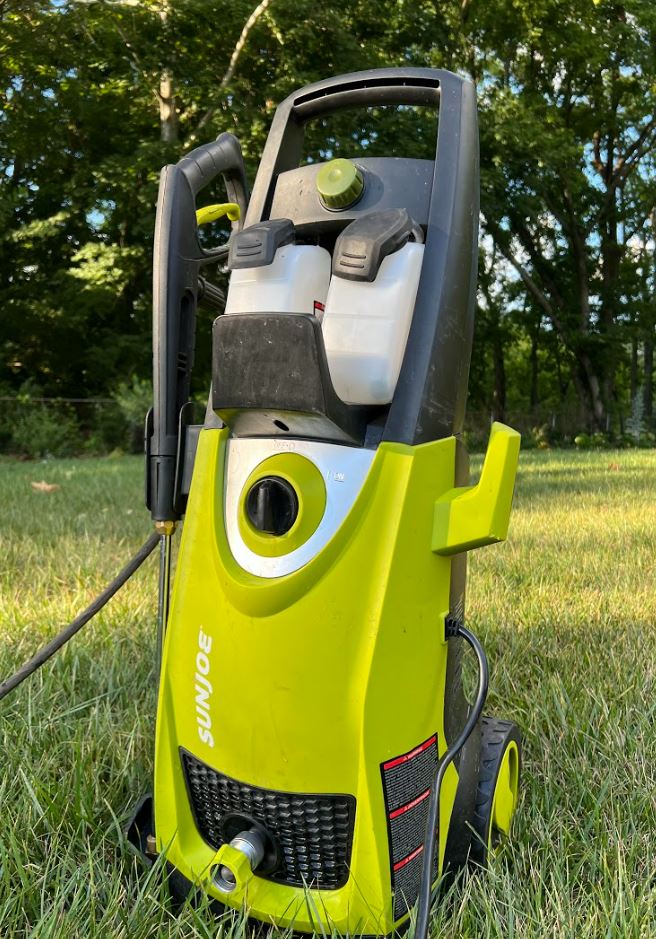 But the SPX3000 is great for toting around your yard and cleaning off fences, windows, cars, mailboxes – whatever. It is the small-to-medium sized homeowner's dream. I wouldn't take it to any work site, but for about 80% of Americans, this is the perfect combination of price, power, and ease of use.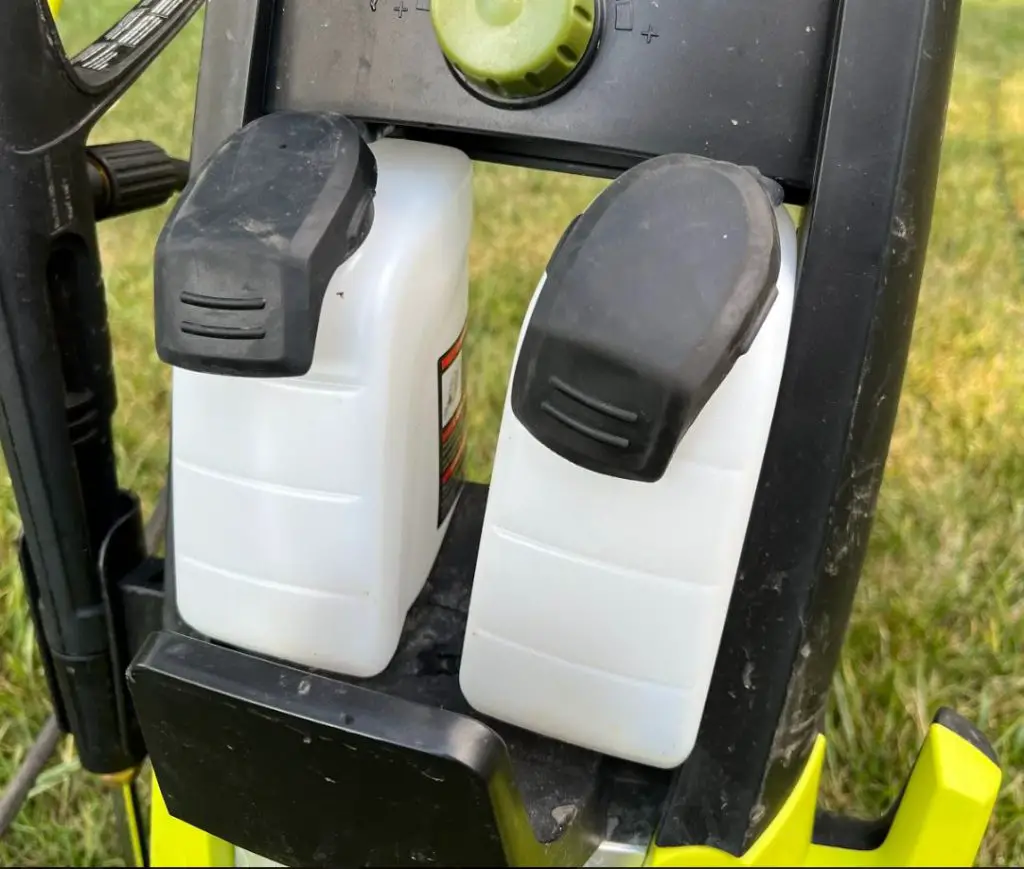 We love that this has a soap tank and a bunch of detachable nozzles that make it extremely flexible and great for anything light duty.
Don't believe us and our Youtube videos? Go read the 50,000+ reviews folks left on Amazon.
Why we started The Lawn Review
The reason we started this website in the first place was because we had so much trouble trying to find reasonable, understandable, honest reviews for lawn equipment. And it's not cheap! After hours and hours of research, trying products and returning them, and messing up our yards – we started this site.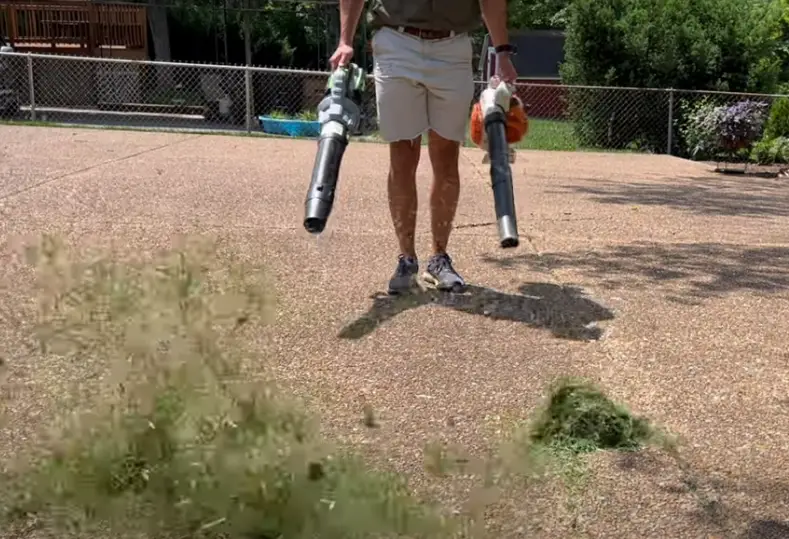 As people who had to learn the hard way, we want you to know exactly what you are signing up for before you purchase a piece of equipment. That's why we are committed to providing honest, easy-to-understand reviews that mean something. 
What to look for in a pressure washer
You gotta know what to look for on these pressure washers. Some of these pressure washers look identical, but have small, nuanced differences that you need to keep an eye on.
Pressure washer nozzles
When choosing a pressure washer, you should pay attention to the nozzles included in the package. Two types of spray nozzles are available, adjustable spray nozzles that can be controlled and quick-connect nozzles with predefined spray patterns.  
The predefined spray patterns typically come in different angles, allowing for you to quickly switch between a broad, lower pressure spray or a narrow, higher pressure stream.
Quick connect nozzles are super convenient, but they're almost like airpods – you can lose them!
Soap tanks on a pressure washer
Additionally, you may want to consider a soap tank-equipped pressure washer. Some of these pressure washers have "foam cannons" where you can simply add some soap and it will mix it in with the water. Pretty cool.
I recommend a soap tank for cars and windows.
Wheels are important
Despite these seemingly minor features, they can have a big impact, especially with larger units. No sense in lugging around one of these in your yard and tripping all over the place.
Some pressure washers have a tendency to flip over and be top heavy, so make sure the base is sturdy.
Pressure washer hose types
There's a big difference between how easy or difficult it is to use a pressure washer based on the kind of hose that comes with it. Stiff, rigid hoses make it extremely difficult to have any maneuverability without messing up the job or knocking over the base.
Portability and weight
Even if this has the drawback of making the unit less powerful, a portable, smaller pressure washer will be a better choice if you have to move around or carry the unit with you. Most of us do this, especially if you are doing the exterior of your house.
Totally depends on the job you are trying to do.
Pressure washer motor type
We are looking for brushless motors as they are more reliable, more powerful, and have a much longer life. 
Not interested in buying? Try renting a pressure washer.
GPM and PSI on electric pressure washers
GPM stands for gallons per minute. GPM measures how quickly water is leaving the end of the electric pressure washer. PSI stands for pounds per square inch and is a measure of pressure that is being applied out of the electric pressure washer.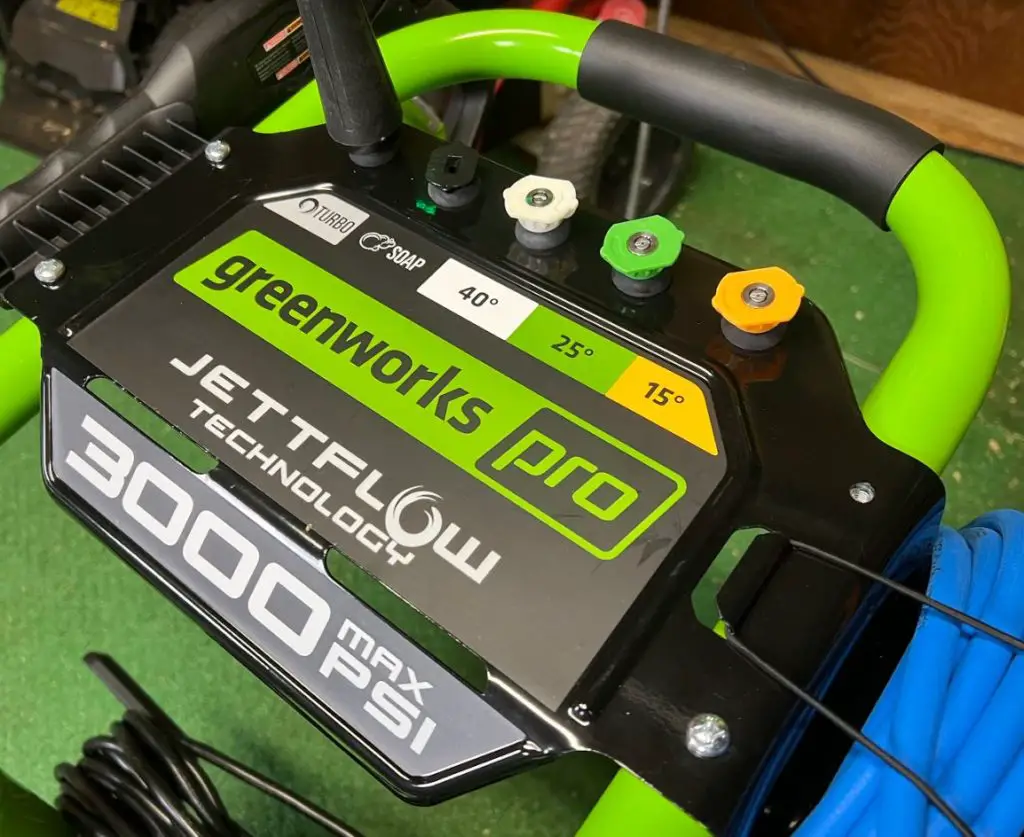 If this is confusing to you, you're not alone. In reality, if you are looking for power, you want both. They work hand-in-hand to deliver water from the machine at a high rate and effective and efficient volume.
For reference, a pressure washer can have a high PSI but a low GPM, meaning it is able to have a high pressure but generally not over a large area. Having both a high PSI and high GPM means that it's coming out fast and it's producing a more effective stream.
Likewise, you can also have a low PSI and higher GPM. This is a good ratio for cleaning cars because you get a lot of water at a safer pressure.
So what's a good PSI for a pressure washer?
It depends on the job you want to do. For heavy duty jobs, you will need 3000 PSI pressure or higher. This is for things like stripping graffiti and is not as common for homeowners, unless you have teenagers.
Anything under 1000 PSI is going to be pretty weak, but still has a place – like cleaning the mud off of a dirt bike or washing down a surf board.
Between 1000 and 3000 PSI is the sweet spot for most homeowners. This will provide a decent amount of pressure to do things like cleaning windows, cars, driveways, patios, decks, etc. Obviously the higher up you go, the stronger job you can do. And per our lesson above, the more GPM, the faster you can get the job done.
Best Electric Pressure Washers: Parting Thoughts
As long as you're getting an electric pressure washer with a good motor that is easy to use and delivers the power you want, then you're going to get a good piece of equipment. There are definitely more than 5 good electric pressure washers on the market, but the ones that made this list are ones we've found to be both reliable, popular, and affordable.
Is gas more your thing? Check out the Honda GCV pressure washer series.