Having a Greenworks pressure washer on hand will allow you to do jobs that would take hours of work and elbow grease to complete. With a pressure washer, you can finally wash hard-to-reach areas or tackle an entire wide surface like your front patio.
Pollen season in the Southeast is intense – namely cars, windows, surfaces, and outdoor patio equipment. You can do the rain dance all you want, but actually getting the stuff clean is going to require a pressure washer.
****************** SPOILER *******************
Why we review lawn tools
The reason we started this website in the first place was because we had so much trouble trying to find reasonable, understandable, honest reviews for lawn equipment. And it's not cheap! After hours and hours of research, trying products and returning them, and messing up our yards – we started this site.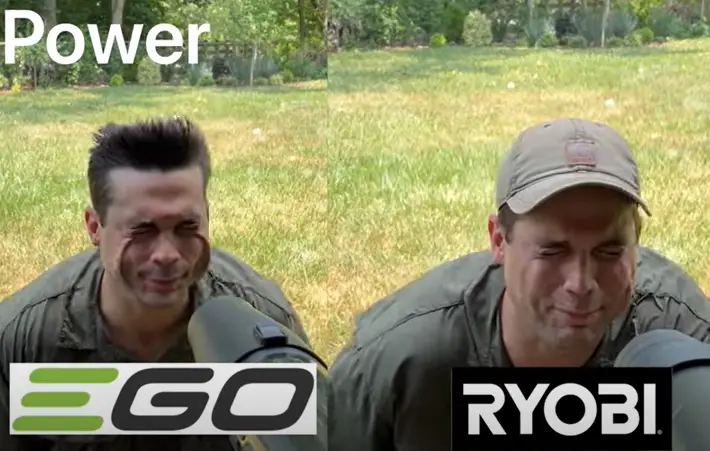 As people who had to learn the hard way, we want you to know exactly what you are signing up for before you purchase a piece of equipment. That's why we are committed to providing honest, easy-to-understand reviews that mean something. 
Have a product request? Go let us know by posting on our Facebook page!
Greenworks products
Greenworks makes some of the best battery-powered and electric lawn tools on the planet. A few reasons why I am extremely bullish on this brand taking over the market:
Quality

Greenworks has some of the highest quality battery-powered tools on the market. I attribute this mostly to their focus. Whereas some other brands (cough cough *Ryobi*) make a million products, Greenworks is focused on high quality tools. Although they have a smaller selection, the engineering and lasting life on each of these are worth it.

Power

Greenworks products are generally high power. They also have some really nice lawn mowers that can easily replace any gas-powered push mower as well. 

Looks

Greenworks products have the best looks of all battery-powered tools, hands-down. Most of their products are all-black, with a darker neon green accent. Much less gimmicky and plastic. 
What to look for in a pressure washer
You gotta know what to look for on these bad boys! Each one looks basically the same, but has subtle differences that completely change its capabilities.
Nozzles
When choosing a pressure washer, you should pay attention to the nozzles included in the package. Two types of spray nozzles are available, adjustable spray nozzles that can be controlled and quick-connect nozzles with predefined spray patterns.  
The predefined spray patterns typically come in different angles, allowing for you to quickly switch between a broad, lower pressure spray or a narrow, higher pressure stream.
Soap tank
Additionally, you may want to consider a cleaning system-equipped pressure washer. These units feature a tank for storing cleaning solutions. A bucket or a standalone sprayer will need to be used instead of this tank to apply the cleaning solution.
I recommend a soap tank for cars and windows.
Wheels
Despite these seemingly minor features, they can have a big impact, especially with larger units. No sense in lugging around one of these in your yard and tripping all over the place.
Hose
There's a big difference between how easy or difficult it is to use a pressure washer based on the kind of hose that comes with it. Stiff, rigid hoses make it extremely difficult to have any maneuverability without messing up the job or knocking over the base.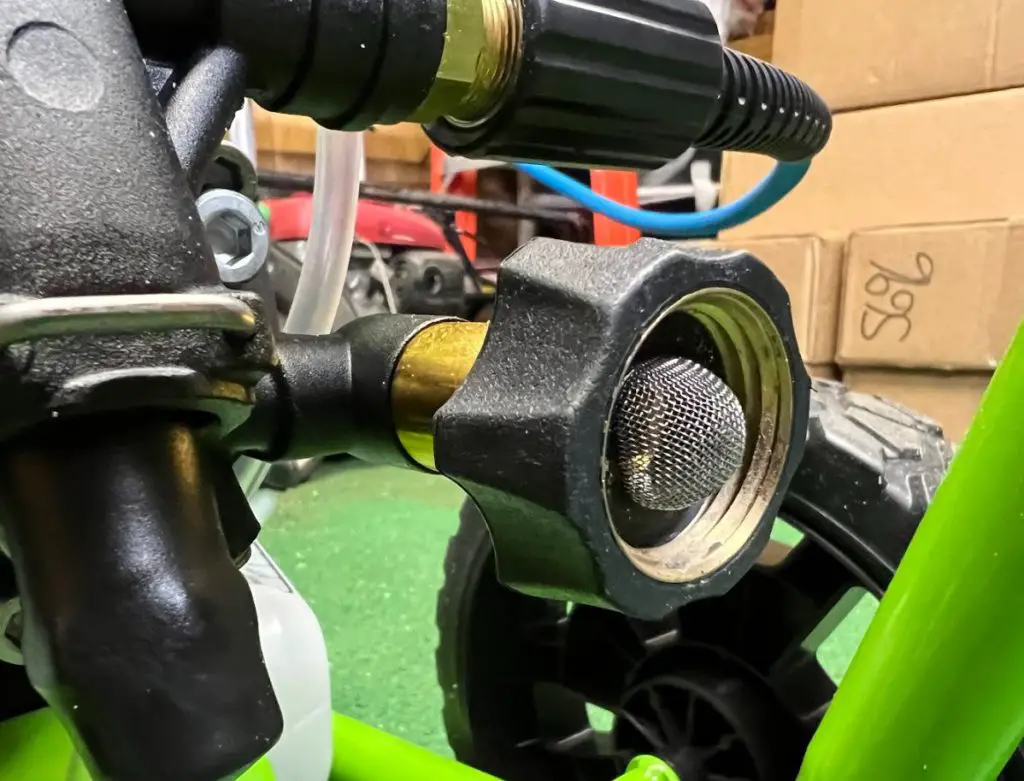 Portability
Even if this has the drawback of making the unit less powerful, a portable, smaller pressure washer will be a better choice if you have to move around or carry the unit with you. I own a pressure washer that is mounted to the wall, which is nice but NOT portable.
Totally depends on the job you are trying to do. Check out our comparison of Greenworks 3000 PSI to Ryobi's 3000 PSI.
Pressure washers: Gas vs. Electric
Both gas and electric pressure washers are available, although electric ones like Greenworks are often preferred for homeowners.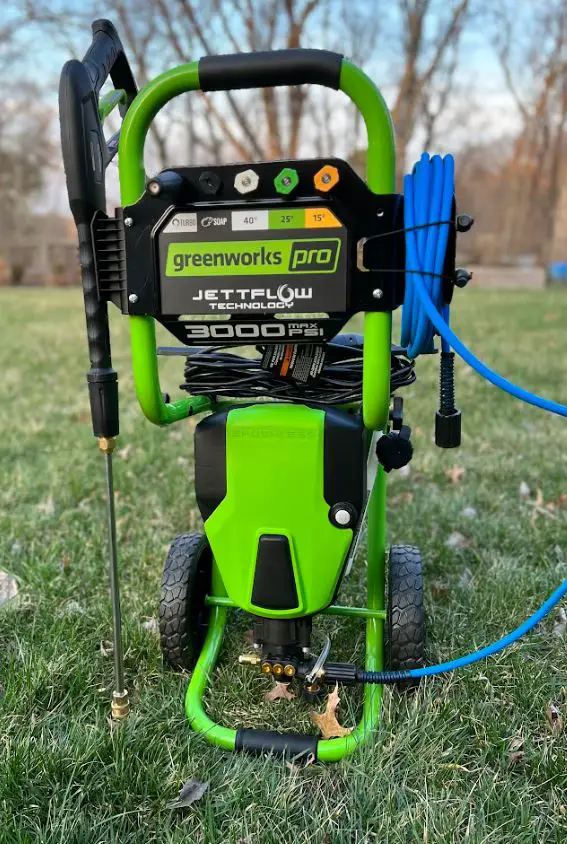 The maintenance and cost of gas pressure washers are greater, including things like air filter changes, spark plugs, and more. However, electric washers simply have a power source and a button. 
I like buttons.
Why Greenworks pressure washers?
Pressure washers from Greenworks are recommended for several reasons. Greenworks just puts out solid stuff in all of their tools. We are confident that when we need it to work it is going to work with minimum care, compared to gas-powered models.
No pull-cord, no gas, no insanely loud noises. Greenworks is the low-maintenance pressure washer king.
Best Greenworks pressure washers
1. Greenworks pro-2300 Max PSI 14 Amp brushless electric pressure washer
The patented JET FLOW technology is used in this electric pressure washer from Greenworks allowing for a solid stream that can reach up to 20 feet away.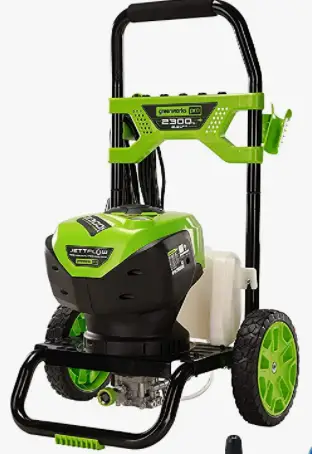 A brushless electric motor is also included in this model. This means it is more efficient than standard motors and increases torque. The motor is also backed by a 10-year warranty, as Greenworks believes the motor is so durable that it can withstand your demand.
An all-purpose pressure washer, the Greenworks PRO 2300: with just a single nozzle change, it can wash your car and clean your siding. 
We have this one in our top 5 BEST pressure washers, too.
This is the most powerful pressure washer offered by Greenworks, making it our top choice. You get the benefits of a gas-powered pressure washer without the hassle. 
What we love
● High pressure.
● A total of five hose nozzles.
● It uses jet flow technology.
● We love the brushless motor.
Cons
● More expensive
● More difficult to store.
You can grab this one for a decent price on Amazon, anything under $300 is good. This is our number one because it is the highest value, no doubt. We compared it to the Sun Joe SPX4600 – it's other competitor.
2. Greenworks 2000 PSI 1.2 gallon GPM electric pressure washer
Lightweight and practical with 2000 PSI, this model has the power to take care of any household cleaning task. It is also an affordable addition to any spring cleaning kit.
Universal motors are designed to last for an extended period of time, protecting your investment in electric pressure washers. Furthermore, the whole device is waterproof (which makes sense). In addition, the Greenworks warranty covers your purchase for three years.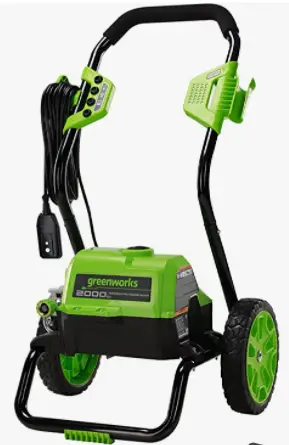 Greenwork offers a variety of nozzles for this pressure washer. You can customize your pressure washer accordingly. 
This one is also pretty powerful, although slightly lower PSI than the one above. It is smaller, making it slightly easier to store.
What we love
● Decent pressure
● Light and easy to store
● 5 hose nozzles
Cons
● Bad history with valves and leakage
This one is so lightweight and mobile that it should be illegal. But its not. Its dirt cheap on Amazon (less than $200 last time I checked).
3. Greenworks 1500 PSI 1.2 GPM electric pressure washer
Pressure washers like this one from green works are perfect for quick projects. One of its best features is its handheld design.
 You can take this bad boy basically anywhere and hook it up to a hose. It is super light and mobile, but probably not going to be great for blasting away spray paint or anything.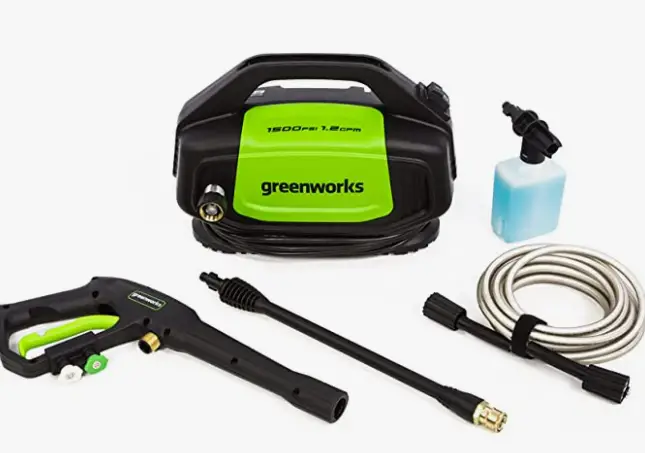 It can be carried around like a stereo and won't require any maintenance at all. If I lived in a townhome or condo and had some occasional outdoor cleaning to do, this would be the go-to pressure washer.
Pros
● Compact and portable.
● Nozzles with a quick connection.
● Weightless.
● Exceptionally low price.
Cons
● Lower pressure
● There are only two nozzles, with a 25 and 40 degree angle option.
This thing cracks me up. It's like my first WalkMan – except it shoots out water at insanely high speeds. Technology, man.
It comes in at less than $100, which is mind boggling. I've seen some pretty insane sales on this too on Amazon , so give it a look before pulling the trigger (pun intended).
4. Greenworks 1700 PSI 1.2 GPM vertical pressure washer
With the GPW1703 1700 PSI  electric pressure washer from GreenWorks, you can tackle smaller cleaning jobs with ease.  It makes cleaning easy and efficient by allowing you to pull it along like a suitcase at the airport. 
Among the Greenworks pressure washers, this is the lightest. It is designed to fit easily into a vehicle and be transported when needed. With its lightweight design and two wheels, it can be moved independently.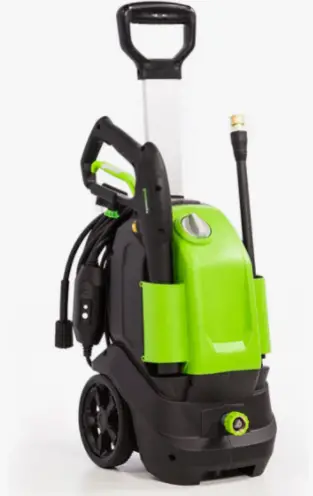 I think it also likes to party.
This is great for when you are outside, get slightly out of reach, and can quickly pull the handle and keep working.
Pros
● Lightweight.
● Affordable.
● Moving is easy.
Cons
● Lower PSI (but not too bad).
● Only three nozzles are available.
This Greenworks pressure washer has mid-range power, but the mobility of a champion. I like the wheels because it keeps the thing easy to move around for minor adjustments.
It is also mid-range on price, but is always changing on Amazon.
5. Greenworks 2000 PSI 13 Amp 1.1 GPM pressure 
The Greenworks 2000 PSI 13A 1.2GPM pressure washer (with hose reel) can clean everything. From your fence, housing outings, boat, garage, patio, house, and many others – you are getting this powerful and durable product from the company for a very reasonable rate, and you are getting it from Amazon for a very low price. 
This one has pretty good pressure and comes in at a decent price. Nothing 
You can travel a good distance from your power source with a 35 feet power cord and a 25-foot hose. In addition, it is vertically and horizontally stable while operating.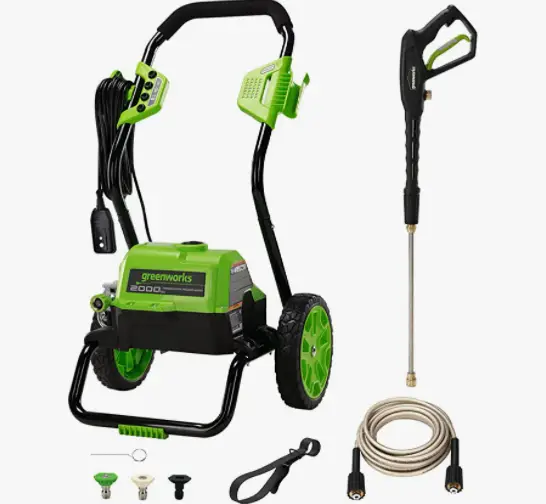 I like that this comes with a pretty long extension cord, saving you some money and garage space. 
Pros
● Compact and easy to store.
● 1-year warranty.
Cons
● Pressure went down after a few months of use (but you have the warranty!)
This one is nice! It is definitely basic, but still backs a good punch. Not much to say here other than it is the most standard version of their pressure washer. Probably like a Honda Civic of pressure washers.
But that's a popular car, and this is a popular pressure washer. Check the reviews and price on Amazon if you don't believe me.
6. Greenworks 2000 PSI corded electric pressure washer
The Greenworks 2000 PSI GPW2001 is small, sweet, and compact. The frame is designed to make it portable – plus it comes with a nice hose reel. The hose reel is definitely convenient, but can also be frustrating.
Generally, when I try to pull the hose out of the hose reel, it will tip the machine over until I get enough slack out.
My advice is to unwind the hose reel a little bit until you get about 10 feet out, then you can start pulling without knocking the machine over.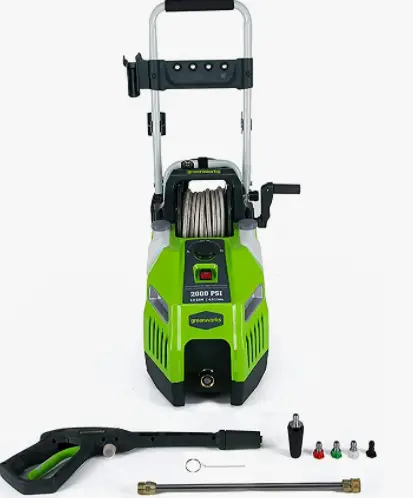 Included in the purchase are 35 feet of power cord and 20 feet of HP hose. A soap sprayer and four nozzles will also be included.
The machine is durable, performs well, and is comfortable to use. It connects to nozzles easily and its spray fun is very convenient. It is affordable and offers great performance.
Pros
● Long hose and power cable.
● Lightweight.
● Moving is easy.
● No extra bucket is needed for detergent.
● 1-year warranty.
Cons
● Hose reel can cause it to topple over
This one looks cool but is slightly less cool to use, simply because the hose reel at the TOP of the pressure washer can cause it to topple over.
If you treat it right, it will treat you right. This is another good one from Greenworks and can be yours if you grab it on Amazon.
Final thoughts
You really can't go wrong with a Greenworks pressure washer. Make sure you are matching the size of the job you are completing with the PSI in a pressure washer you will need.
Frankly, none of these pressure washers are going to be commercial-grade. They will do incredibly well with cleaning off a fence, patio, car, RV, windows, or really any surface. If you're looking to blast away a few years of dirt off your driveway – I'd go with a gas one.
I like Greenworks because of their warranty and because they typically have super high quality products.