Sun Joe vs Greenworks pressure washers is like comparing Toyota and Honda. Both brands of pressure washers are known for being extremely popular, easy to use, and affordable. 
But comparing electric pressure washers requires a lot of nuance. Electricity and water notoriously don't mix – so you have to make sure you buy a high quality tool. Today, I want to compare the Sun Joe pressure washer with one of the best Greenworks pressure washers.
If you haven't read some of our other posts about Sun Joe Pressure Washers, you may know that the best selling Sun Joe pressure washer of all time is their SPX3000. But it actually isn't their best one. The SPX 4600 is actually their most powerful and expensive pressure washer, which is a great comparison to the Greenworks PRO 2300 PSI Brushless pressure washer.
So today, we are going to do a really deep dive on the Sun Joe SPX4600 and the Greenworks 2300 PSI pressure washer. 
Let's get started!
Jump ahead:
Why we review lawn tools
The reason we started this website in the first place was because we had so much trouble trying to find reasonable, understandable, honest reviews for lawn equipment. And it's not cheap! After hours and hours of research, trying products and returning them, and messing up our yards – we started this site.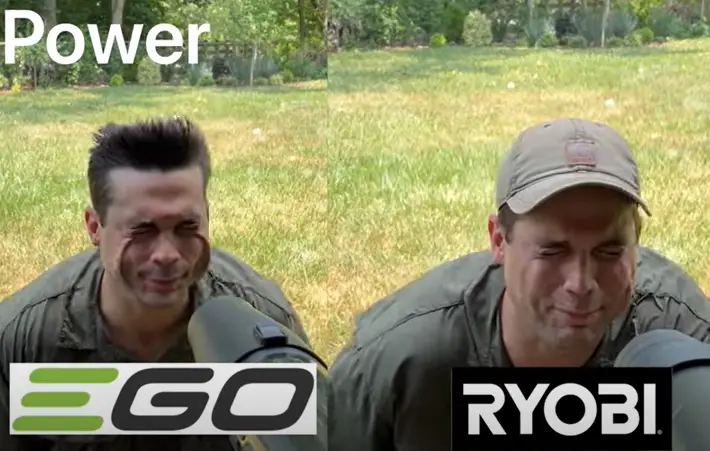 As people who had to learn the hard way, we want you to know exactly what you are signing up for before you purchase a piece of equipment. That's why we are committed to providing honest, easy-to-understand reviews that mean something. 
What features to look for in a pressure washer
Honda pressure washers make it relatively easy to knock off one of the biggest must-haves on your list: a reliable and powerful engine. But there are a few other things we recommend truly making sure are available when searching for a new pressure washer.
Nozzles Matter
When choosing a pressure washer, you should pay attention to the nozzles included in the package. Two types of spray nozzles are available, adjustable spray nozzles that can be controlled and quick-connect nozzles with predefined spray patterns.  
The predefined spray patterns typically come in different angles, allowing for you to quickly switch between a broad, lower pressure spray or a narrow, higher pressure stream.
Quick connect nozzles are super convenient, but they're almost like airpods – you can lose them!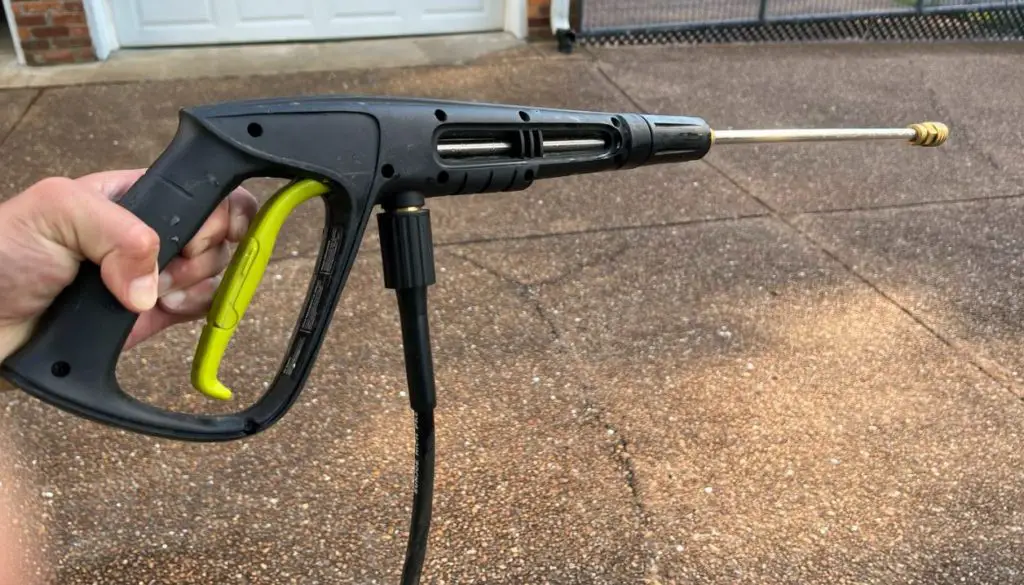 Soap tank availability
Additionally, you may want to consider a soap tank-equipped pressure washer. Some of these pressure washers have "foam cannons" where you can simply add some soap and it will mix it in with the water. Pretty cool.
I recommend a soap tank for cars and windows.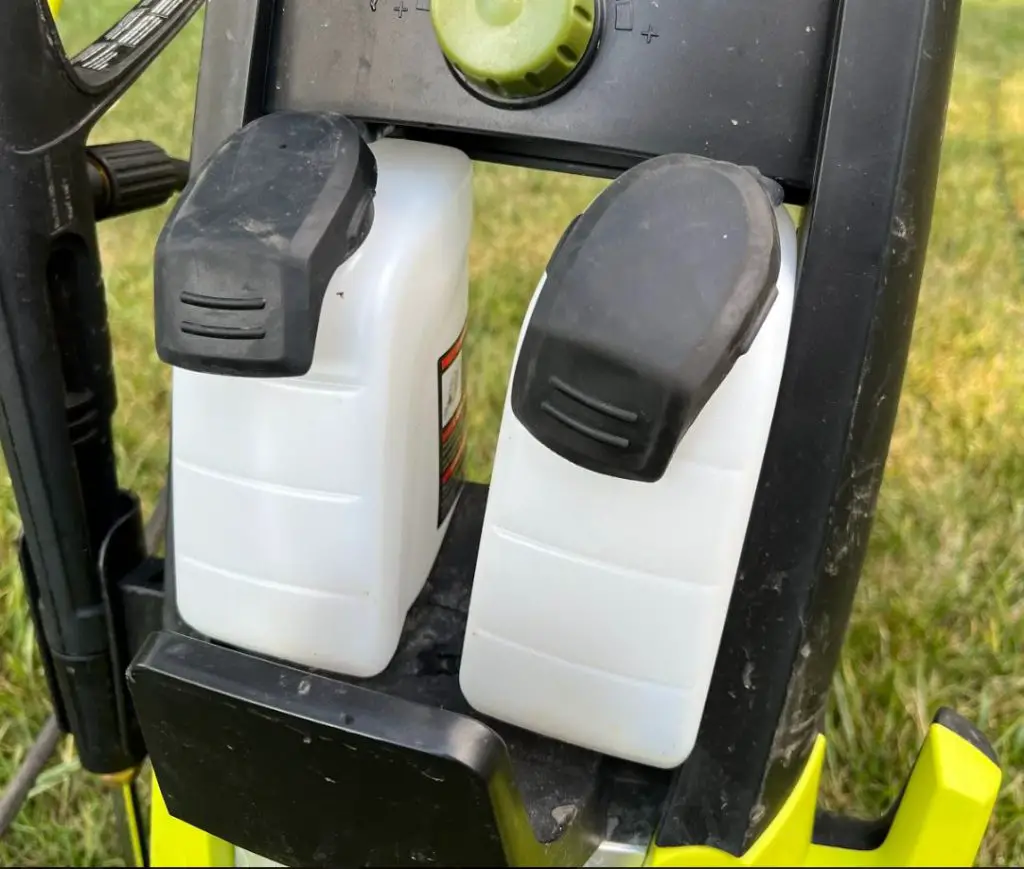 Wheels on pressure washers
Despite these seemingly minor features, they can have a big impact, especially with larger units. No sense in lugging around one of these in your yard and tripping all over the place.
Some pressure washers have a tendency to flip over and be top heavy, so make sure the base is sturdy.
If you're on the job site, keep an eye out for never-flat tires that will protect the wheels in case there are spare nails laying around.
Hose types
There's a big difference between how easy or difficult it is to use a pressure washer based on the kind of hose that comes with it. Stiff, rigid hoses make it extremely difficult to have any maneuverability without messing up the job or knocking over the base.
Length is also important for pressure washer hoses as you can end up in a tight spot, literally, if you don't have enough reach.
Sun Joe vs Greenworks: Best Electric Pressure Washer Comparison
I think by now we understand a few things: Sun Joe and Greenworks make great products, but have a significant range of power and cost. That's why we need to compare their top dogs and evaluate their power, durability, and extra features. There's a reason these two are top sellers – they are the best analog to gas-powered pressure washers.
Let's start with power!
Power comparison
When it comes to looking at power on a pressure washer, there are two main components I look at: PSI and GPM. PSI stands for pounds per square inch and is a measure of the pressure. It sounds simple, but it gets more complex because GPM is also in the mix. GPM stands for gallons per minute, and measures how much water is coming out, or how wide the stream is. The nozzle tip then can pare that down to zero degrees, forty degrees, or anywhere in between to help focus the stream to accomplish your job.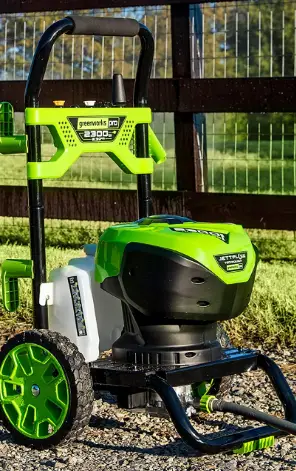 It's similar to blowers that have MPH (speed) and CFM (area). You ideally want a combination of both PSI and GPM to have an efficient tool.
The Greenworks 2300 PSI pressure washer puts out 2,300 PSI of pressure at 2.3 GPM. This is not only pretty powerful, but also a much larger GPM than most other pressure washers. On the other hand, the Sun Joe SPX4600 puts out 3000 PSI at 1.3 GPM. 
That's a big difference.
What's more is that Greenworks is rating their PSI at the consistent running pressure of the tool. Sun Joe is rating theirs at the initial pull of the trigger, when the PSI build up is the highest. In reality, the Sun Joe pressure washer rates at 2,300 PSI as well. Is that false advertising? Maybe.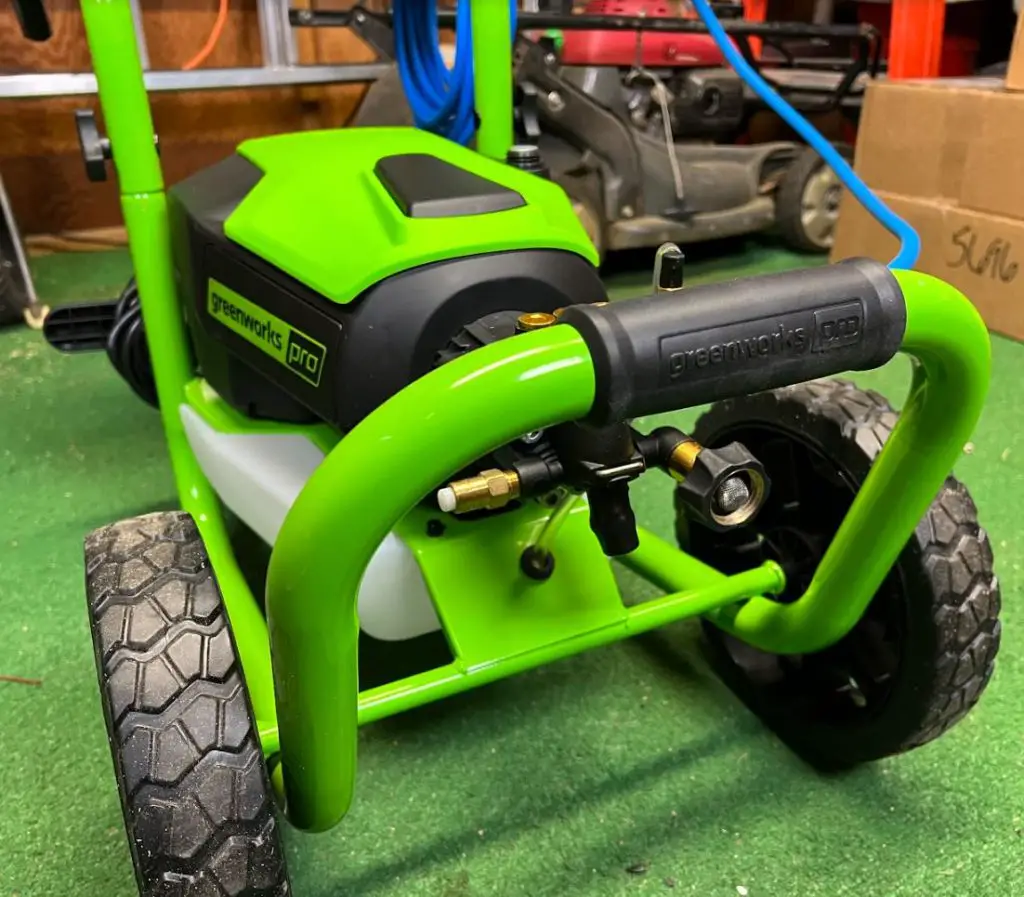 So when it comes to power, the Greenworks pressure washer and the Sun Joe pressure washer actually put out the exact same PSI when they're fully running. The main differentiator is that the Greenworks pressure washer has an additional 1.0 GPM of flow, making it the far more effective and efficient pressure washer.
Don't be fooled – the winner of this competition is the Greenworks 2300 PSI pressure washer.
Want to see how Greenworks and Ryobi pressure washers compare?
Durability
Durability in pressure washers is more than just the motor. While motors are important, it's also necessary to look at fittings, hose types, and overall construction. One of the most popular pressure washers, the Sun Joe SPX3000 has a plastic fitting for the output hose, which is known to crack and has likely cost the company millions in returns.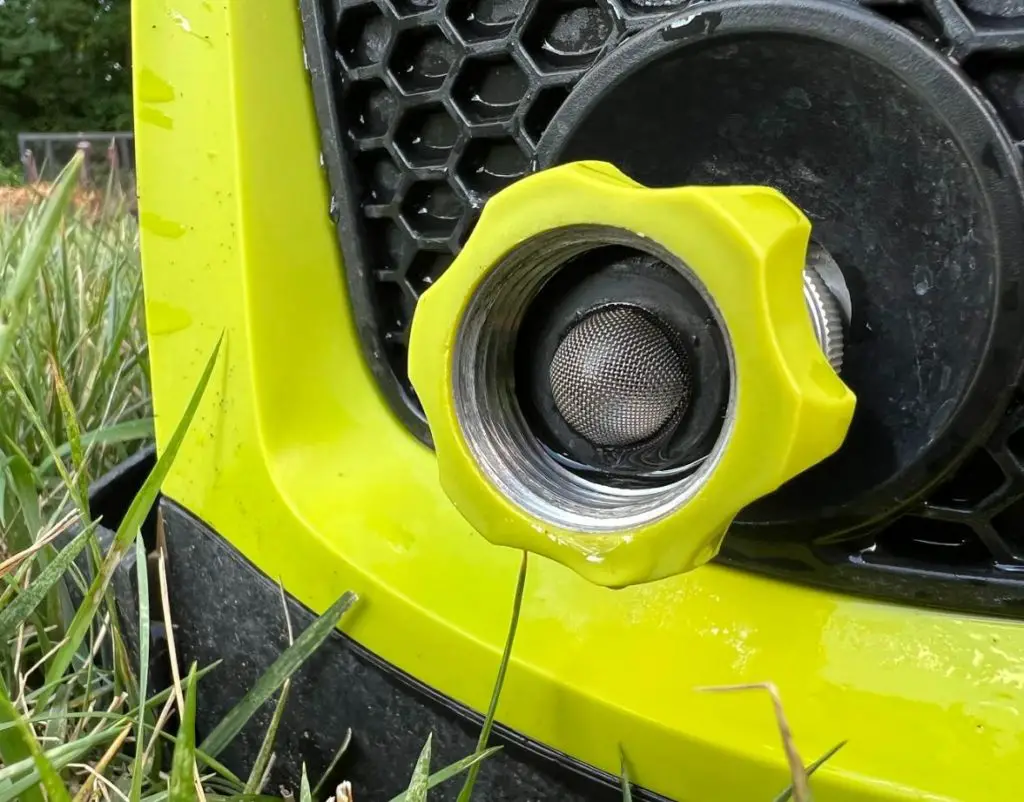 Starting with motors, the most important thing to have is a brushless motor. To be clear, both the Sun Joe and Greenworks pressure washers have brushless motors. Brushless motors are cooler running, provide more torque, and overall are more durable. So this is a great start.
One differentiator on the Greenworks pressure washer when compared to the Sun Joe is the fact that its brushless motor, coined "TruBrushless" comes with a 10 year warranty. Folks, that is EXTREMELY compelling. You basically won't have to worry about the motor….EVER. The Sun Joe only has a 2 year warranty.
Otherwise, both have metal fittings for hose output connection and both have sturdy metal bases that allow for them to not tip over when the hose gets pulled (believe me, it's common).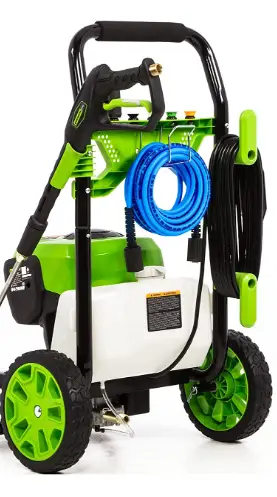 The last thing I will say about this Greenworks 2300 PSI pressure washer is that it is PWMA certified, which means the Pressure Washer Manufacturer Association has taken it apart and certified all of its specifications as legit. Sadly, Sun Joe's SPX4600 may not pass that test.
Winner: Greenworks 2300 PSI pressure washer.
Bells and Whistles
Once you've checked the boxes on both power and durability, the last part is checking out what kind of "nice-to-haves" each of these pressure washers have.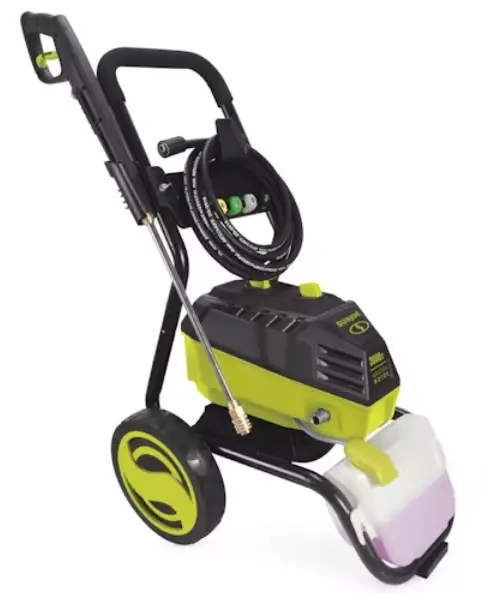 Here's a quick breakdown of some of the SPX4600's features:
Onboard detergent tank for soap, up to a full gallon
Total stop system that preserves energy
34 inch wand, 20 foot hose, 35 foot power cord
5 nozzles (including a soap nozzle)
Let's compare that to the Greenworks 2300 PSI:
Onboard detergent tank
25 foot hose, 35 foot power cord
5 nozzles, including a soap and a turbo nozzle
They both have on board nozzle holder that allows you to store them and they both have big big back wheels that make transporting it easy.
Winner: It's a tie!
Price Comparison
The Sun Joe SPX4600 comes in at $359 (when not on sale) whereas the Greenworks 2300 PSI comes in at $329 when not on sale.
Currently you can get the Greenworks on Amazon or on the Greenworks website. It tends to go on sale frequently, so make sure to keep checking the price.
The Sun Joe SPX4600 is also available on Amazon for an ever-changing price, but can be found on Sun Joe's website as well.
It's tough to compare the two when their prices swing wildly, but at its MSRP the Greenworks is the more affordable of the two.
Winner: Greenworks 2300 PSI pressure washer
Greenworks vs Sun Joe Pressure Washer: Winner
This one was not what we expected when we started doing our research. At first glance, the Sun Joe pressure washer appears to be the better option. But after applying some of the knowledge we've gained over the past few years and looking closer, the true winner is the Greenworks 2300 PSI TruBrushless Pressure Washer. 
It has more power, an insane warranty, and a better price with all the same bells and whistles. You can grab it today on Amazon and keep it going under warranty for the next 10 years.