The Dewalt 3400 PSI pressure washer packs quite the punch. For those of us completing residential jobs (driveways, windows, cars, etc.), the Dewalt 3400 PSI packs juuuuuuust the right amount of power. Let's check out all of the features of the pressure washer, then see if there are any negatives to watch out for. 
Jump ahead:
Why we review lawn tools
The reason we started this website in the first place was because we had so much trouble trying to find reasonable, understandable, honest reviews for lawn equipment. And it's not cheap! After hours and hours of research, trying products and returning them, and messing up our yards – we started this site.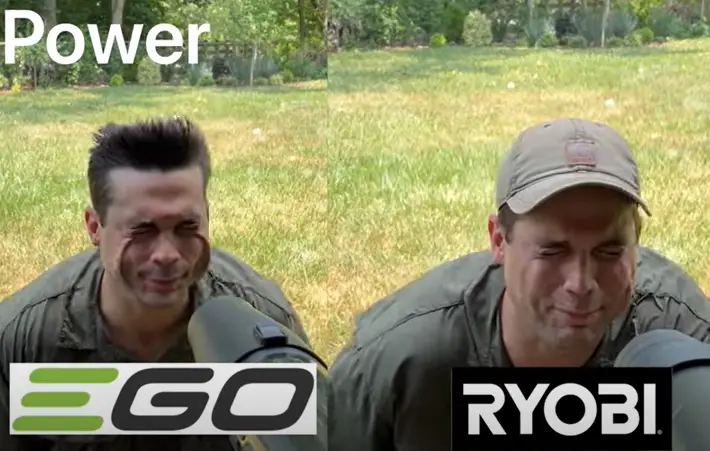 As people who had to learn the hard way, we want you to know exactly what you are signing up for before you purchase a piece of equipment. That's why we are committed to providing honest, easy-to-understand reviews that mean something.
Things to consider before buying a pressure washer 
Some common considerations for those looking for a pressure washer include the following:
Ability to add soap to the hose instead of schlepping around a bucket with soap
Multiple nozzle types for whichever job you need
Length of pole (if cleaning exterior of house, not having one of these could limit how high you can reach)
Storage capability and maintenance requirements
PSI level for either commercial or residential use
What to look for in a pressure washer
When looking for a pressure washer, you want to have a good understanding of the jobs you want to get done. Most people use pressure washers to deep clean their patio, porch, driveways, windows, or other external surfaces around the house. Most pressure washers are good for these jobs as they are relatively light work and do not require excessive force.
For those of us cleaning the spray paint off of our cars from our crazy ex-girlfriends, you might want one that has a little more "umph" behind it. 
Luckily for you, the Dewalt 3400 PSI pressure washer can handle both.
About Dewalt
Dewalt is absolutely a household name in basically anything tool-related. Best known for their drills, they also have blowers, electric lawn mowers, chainsaws, and more. They are really trying to bring universal battery coverage to many of their tools. That's why they have a huge line of 20V products.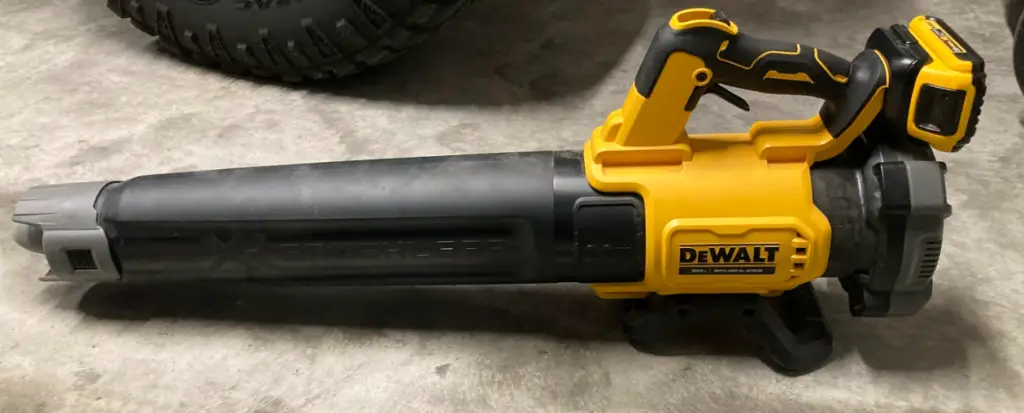 While known for their diversity of products, they aren't necessarily known for being power or durability driven. That's why you see commercial HVAC folks and contractors using Makita and Milwaukee tools mostly.
To see our other Dewalt reviews, click here.
The Dewalt 3400 PSI pressure washer: Features
Before you blow a fat stack on a pressure washer, you want to make sure that it can stand up to the job. There are a few things that need to undergo intense scrutiny, and I will review them below.
Power
When it comes to buying a pressure washer, you need power. That's where the term "pressure" comes from in "pressure washer" (did I just blow your mind?). You see pressure comes from the latin "presto", which translates roughly to "Pretzel". I sounded smart for a second there.
There's a reason you aren't buying a garden hose and sticking your thumb on it. You need power. And if you want to do anything above washing the tires on your car and the windows on your house, you need 3000 PSI or above. The Dewalt 3400 PSI obviously comes in above the 3000 mark, so you should be good for most jobs here.
Now, if you are really wanting to remove some graffiti of vulgar things about your mom on the side of the arcade, you will probably want to get a pressure washer, put it in a box, put it in a truck, and move out of town because you have bigger problems.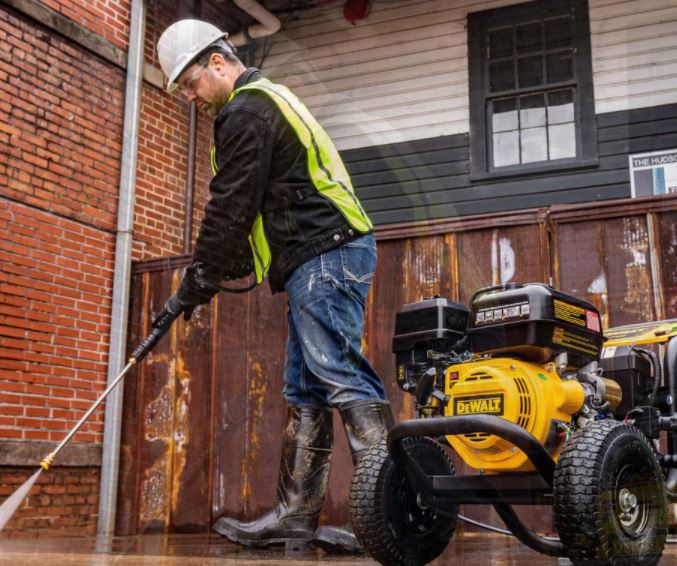 But if you want to stick around, make sure to get a heavy duty pressure washer with at least 4000 PSI, or a really tight nozzle plus some free time with the Dewalt 3400 PSI pressure washer. 
Compare this power to some of the electric pressure washers, like the Sun Joe SPX3000 or the Greenworks 2000 PSI pressure washer.
Usability
Dewalt must have gotten some bad feedback at some point because they pulled out all the stops with this pressure washer. For starters (ha), the starter on this machine is electric. It does have a battery that needs to be charged, but can save you some back pain as a deviation from the old pull-string.
Another cool feature here is that they made this idiot proof. For those of us that are inclined to ignore routine maintenance, Dewalt made our lives a whole lot easier. The first feature they created is a low oil shutdown feature. If the engine oil gets low, then it will shut down until you replace or put in more. No more burning the engine.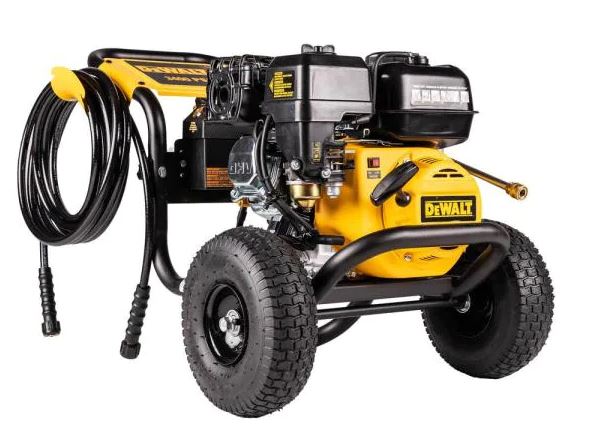 Another measure put into place is the water sensing device. This machine will not burn the motor up if water is not actively flowing into it. In fact, it will turn off if water is not detected inside the pump. 
A downside here is that the hose that comes with this machine is only 25 feet long. This is simply not long enough for jobs that require more than 30 minutes of work or cover a larger area.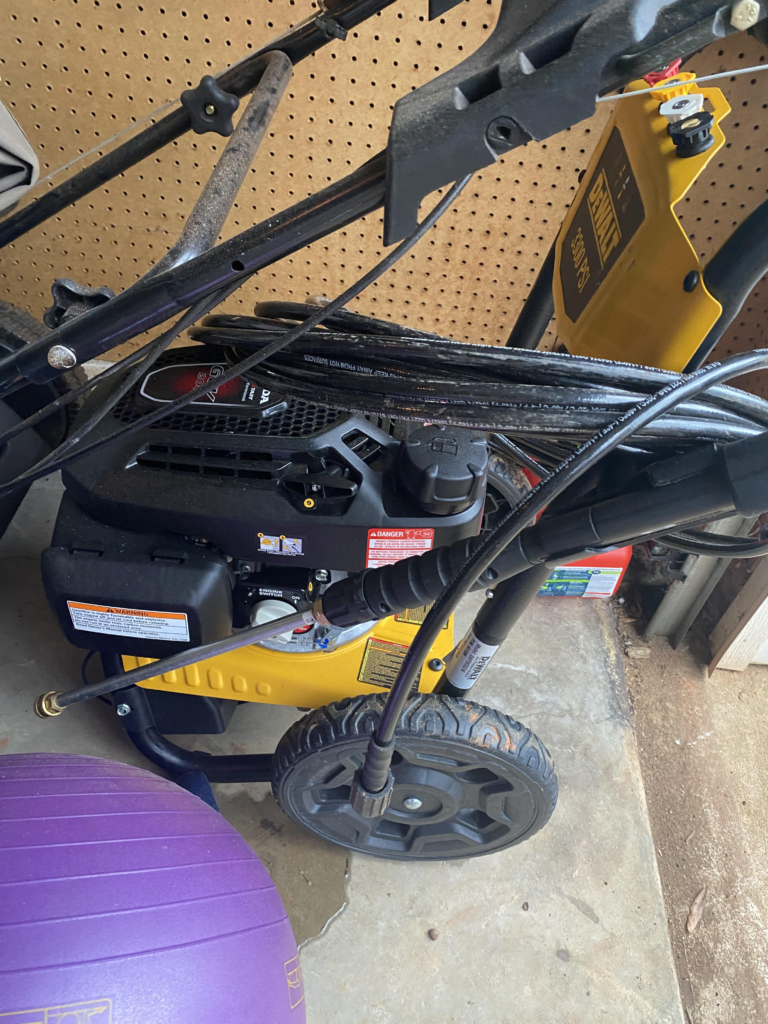 As a positive (and maybe negative, but we will get to that later), this machine comes with QuickConnect nozzles that allow for easy changing of the five different nozzles and even the sprayer arm. This makes it pretty easy to switch between certain nozzle heads and can save you time on the job.
Maintenance and durability
As mentioned before, this will require new oil every now and then. The pressure washer comes with a big bag (no idea why it is in a bag) of oil for you to get started with, then the rest is on you. You will know when to change the oil because it will simply stop working (as mentioned previously).
Now let's get down to durability. For most folks, this item seems to be totally fine. There are, however, a ton of negative reviews about the QuickConnect nozzles. It seems like there is a plastic connector from the metal nozzle to the spraying wand, which busts frequently. I have not personally experienced this, but a ton of other people have. Needless to say, this might not be the most durable item out there. 
An aside: it really is hilarious the adjectives used to describe some of these products. Looking at the product guide now, there is a nice little call-out for the tires on this. The tires are pneumatic (!!!!) – which basically means they have air in them. And they are ten inches and allow for easy maneuverability across various terrain. Yep, you can take these to go mudding and then climb the side of a mountain with them and then even take them to Antarctica. I think they have a dartboard of adjectives they use and this one landed on the "just describe it like a Jeep" portion. 
Price and value: Dewalt 3400 PSI pressure washer
The Dewalt 3400 PSI pressure washer will cost you about $500-550, otherwise known as a half a G – but I've seen it cheaper at Home Depot (check price here).
This thing is on the expensive side, but with great power comes great cost. In all reality, I would give this pressure washer a C. For CSatisfactory. It is a good pressure washer and does have a lot of power, but it seems 50/50 on whether or not it will break down on you. 
If you're looking for an electric alternative that's cheaper but less powerful, check out our top 5 best electric pressure washers.
The official review: Dewalt 3400 PSI pressure washer
| | | |
| --- | --- | --- |
| Feature | Dewalt 3400 PSI pressure washer | Comparable gas powered pressure washer |
| Difficulty to use | Less difficult to use (electric start) | More difficult to start  |
| Durability | Not very durable | Very durable |
| Maintenance | Slightly easier to maintain  | Less easy to maintain |
| Value | Medium to low value | Medium value |
| Small jobs | Highly recommended | Highly recommended |
| Medium jobs | Recommended | Highly recommended |
| Heavy jobs | Not recommended | Less recommended (need more PSI) |