The Aqua Joe Oscillating Sprinkler touts itself as indestructible.
Well, I've owned it for over three years and am here to let you know my thoughts.
Aqua Joe sprinklers are pretty slick. You probably heard about them on Amazon because they have like 20k star ratings.
Pretty impressive.
But I have seen the other reviews and it looks like I'm one of the only ones who actually has owned this thing for any real amount of time to inform you of how "indestructible" it is.
So let's get started.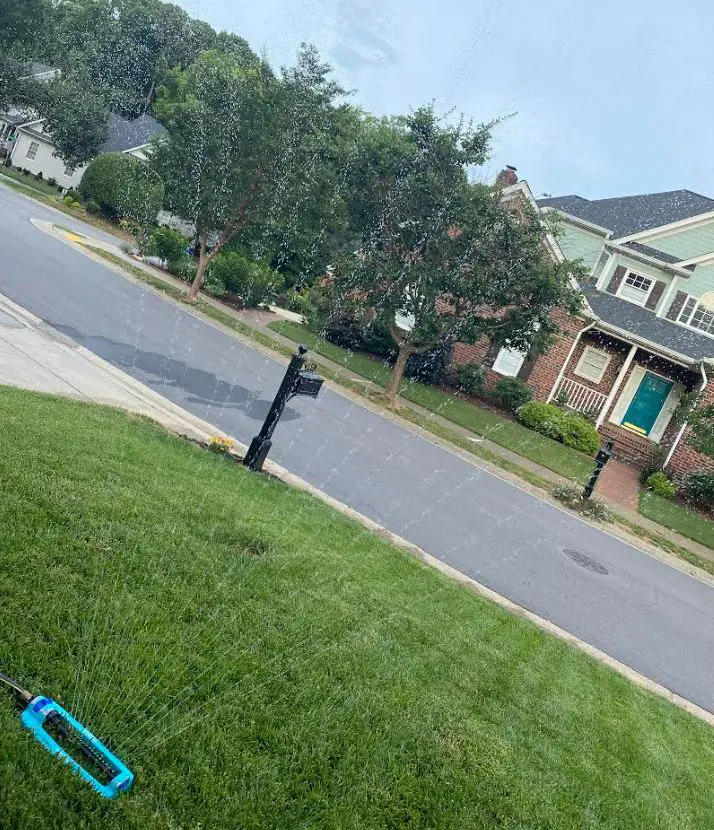 Why we review lawn tools
The reason we started this website in the first place was because we had so much trouble trying to find reasonable, understandable, honest reviews for lawn equipment. And it's not cheap! After hours and hours of research, trying products and returning them, and messing up our yards – we started this site.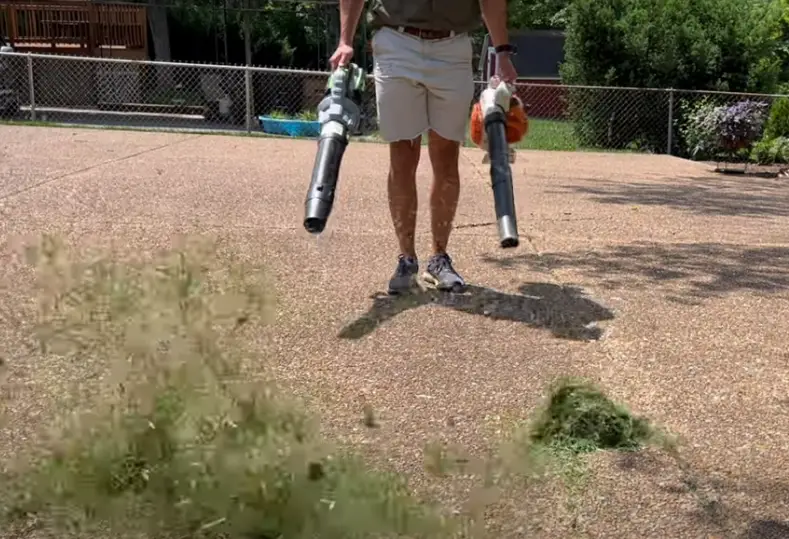 As people who had to learn the hard way, we want you to know exactly what you are signing up for before you purchase a piece of equipment. That's why we are committed to providing honest, easy-to-understand reviews that mean something. 
Why you need a sprinkler in the summer
Rain doesn't grow on trees, you know? But seriously, if you live in the South during the summer, you know just how dang hot it can get. The sun can be brutal on our grass. 
For us, we have fescue grass that loves the Spring and Fall but gets absolutely decimated come July and August. These are also essential when you dethatch and aerate or for the summer heat.
Fortunately, we have a sprinkler that can help get each part of our front yard some much needed rain between Summer storms. And fortunately once more, we don't live in an area that has limitations around how much water you can use for your yard or garden.
If you're wondering about how long to water your lawn, we have the perfect article for you.
About Aqua Joe
Aqua Joe is the sprinkler arm of the larger Snow Joe brand that includes Sun Joe. 
Sun Joe is a US-based company that specializes in outdoor/garden tools. They sell an array of products, including electric lawn mowers, snow blowers, and air compressors.
Sun Joe originally started as Snow Joe, a team of products focused on snow removal technology, mostly battery-powered. They have since seen the light (lmao), and offer full on outdoor summer and spring products as well. 
We have reviewed a ton of their products like their Sun Joe Dethatcher, Sun Joe pressure washers, and even some Sun Joe Pole Saws. They recently announced a collaboration with Martha Stewart and have outdoor furniture and fireplaces as well.
Aqua Joe SJI-OMS20 oscillating sprinkler: Features and benefits
The beauty of a sprinkler is that it doesn't need a ton of bells and whistles for it to be the best. Let's check out why I've kept this sprinkler for the past two years without even considering a replacement.
Power
The Aqua Joe SJI OMS20 covers about 4,400 square feet of yard. I know it's hard to tell what that means, but basically this would cover the average front yard. For those of us with bigger yards, you may have to move the sprinkler around a couple of times to get full coverage. 
If this is too much, the Aqua Joe SJI OMS16 covers about 3,400 square feet.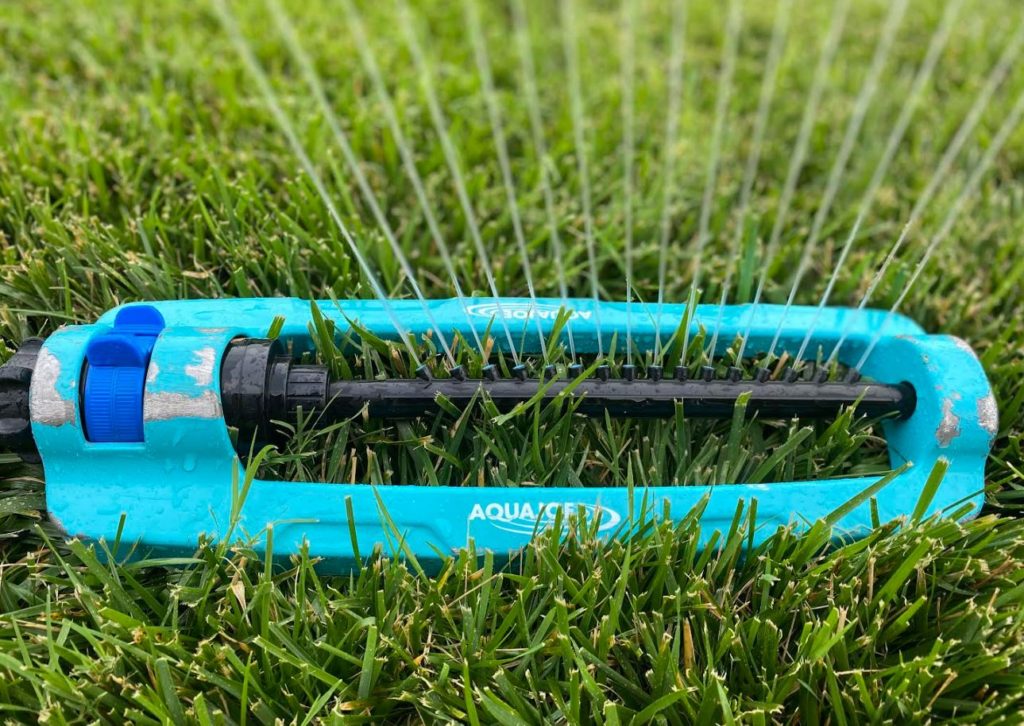 Frankly, with a single sprinkler, this is definitely on the higher range of sprinklers. I have relatively weak water pressure outdoors to where it seems like water just trickles out of my hose compared to other places I've lived.
You can't tell when we use our sprinkler. Somehow, it goes through the sprinkler and gets way more power than I would have thought. Impressive!
Ease of use
The SJI-OMS20 oscillating sprinkler from Aqua Joe is surprisingly easy to use. Honestly, for the first year or so that we owned this sprinkler, my wife was the one who would get it all set up and ready to go while I was at work.
After COVID hit, I began working at home and taking an interest in the yard watering process. I went out and figured out how to use this sprinkler in two seconds.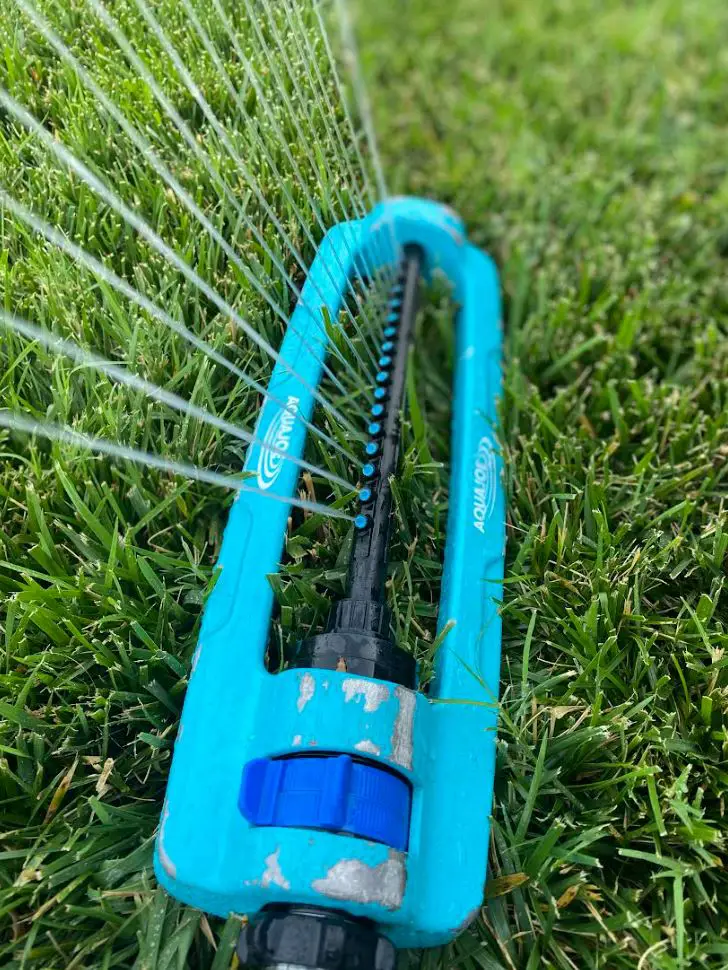 The Aqua Joe SJI-OSM20 has these little adjustable nozzles on the side that are super intuitive. Basically point each one where you want the limits of the sprinkler to spray. It doesn't require any maintenance or adjustment after that. Extremely straightforward.
Another thing I love is how easy it was to attach to my hose reel. For some reason, I get a ton of spray and leakage whenever I try to put anything on my hose. The Aqua Joe sprinkler spun right on and has not leaked a single drip in the three years I've owned it.
Durability: the indestructible sprinkler
I know this is what you have all been waiting for. Yes, the Aqua Joe sprinkler touts itself as the indestructible sprinkler. 
I'm here to tell you that's true. Just look at mine! Three years in and I reel it in each morning and let it drag across the concrete sidewalk and driveway. It has definitely been scraped up but it's performance has not waned at all.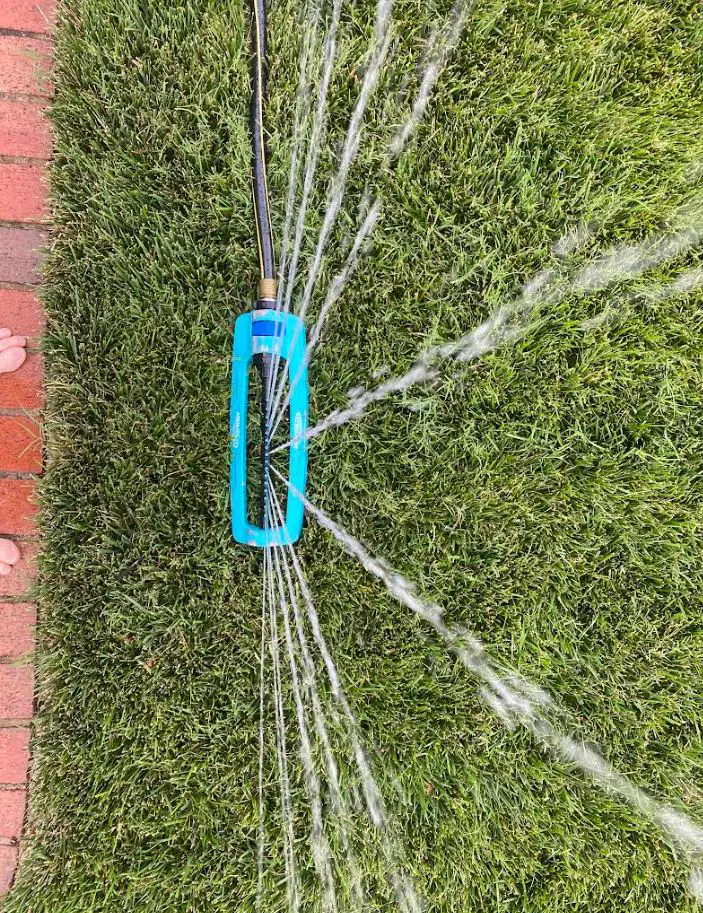 You see, it has a metal base that is pretty heavy. I like this feature a lot because it won't flop around like a plastic sprinkler and actually stays put when you turn the water on. Also, you can lazily reel it in and let it get scraped up and stuck on things without worrying about it cracking.
The inner parts of the sprinkler are still plastic, which is a little sad, but it has lasted for quite a while now without any concerns. 
Cost and value
The Aqua Joe oscillating sprinkler comes in at about $30 and the smaller one comes in at $20. Holy cow. 
This is a great deal that can be found on Amazon and is included in prime. 
Considering this thing is going to last you for a long time, this is an amazing deal.
Overall review: Aqua Joe SJI-OMS20 Oscillating Sprinkler
The Aqua Joe Sprinkler, which claims to be indestructible, has been indestructible, reliable, consistent, and powerful for the three years I have owned it. I would say I will buy it again, but I legitimately don't think I will ever need another sprinkler.
Grab it on Amazon and join the club of #foreversprinklers.