Sun Joe Pressure Washers are some of the best-selling residential pressure washers on the planet.
But why? The low price? The power? The 44k Amazon reviews?
We will explain why here in a moment. 
But first – let's point one thing out: the names of these pressure washers are confusing and they all look alike. 
That's where we come in – to help sort all of this out for you.
We have written about Sun Joe pressure washers before and have a combined 33 hours of research time poured into this dang post.
So let's get started:
SPOILER*** Our top choice is the Sun Joe SPX3500 – the best combination of durability and power from Sun Joe.
Check out our full Sun Joe SPX3000 vs SPX3001 post here.
Looking at other pressure washers? Greenworks has a great selection of electric pressure washers as well.
Why we review lawn tools
The reason we started this website in the first place was because we had so much trouble trying to find reasonable, understandable, honest reviews for lawn equipment. And it's not cheap! After hours and hours of research, trying products and returning them, and messing up our yards – we started this site. 
As people who had to learn the hard way, we want you to know exactly what you are signing up for before you purchase a piece of equipment. That's why we are committed to providing honest, easy-to-understand reviews that mean something. 
What to look for in a pressure washer
You gotta know what to look for on these Mr Joe's bad boys! Each one looks basically the same, has a complex acronym name, and comes in a similar color.
Nozzles Matter
When choosing a pressure washer, you should pay attention to the nozzles included in the package. Two types of spray nozzles are available, adjustable spray nozzles that can be controlled and quick-connect nozzles with predefined spray patterns.  
The predefined spray patterns typically come in different angles, allowing for you to quickly switch between a broad, lower pressure spray or a narrow, higher pressure stream.
Soap tank
Additionally, you may want to consider a soap tank – equipped pressure washer. Some of these pressure washers have "foam cannons" where you can simply add some soap and it will mix it in with the water. Pretty cool.
I recommend a soap tank for cars and windows.
Wheels on pressure washers
Despite these seemingly minor features, they can have a big impact, especially with larger units. No sense in lugging around one of these in your yard and tripping all over the place.
Hose types
There's a big difference between how easy or difficult it is to use a pressure washer based on the kind of hose that comes with it. Stiff, rigid hoses make it extremely difficult to have any maneuverability without messing up the job or knocking over the base.
Portability
Even if this has the drawback of making the unit less powerful, a portable, smaller pressure washer will be a better choice if you have to move around or carry the unit with you. Most of us do this, especially if you are doing the exterior of your house.
Totally depends on the job you are trying to do.
Pressure washers: Gas vs. Electric
Gas pressure washers have been around forever and probably aren't going anywhere – but electric pressure washers are on the up and up like all the other lawn tools.
Electricity and water! What can go wrong?
The maintenance and cost of gas pressure washers are greater, including things like air filter changes, spark plugs, and more. Gas pressures are also insanely loud. However, electric washers simply have a power source and a button and are far quieter.
I like buttons.
The 7 Best Sun Joe SPX–series pressure washers
Let's get started with Sun Joe's best pressure washers!
7. Sun Joe SPX1000 1450 PSI 1.45 GPM 11.5-Amp Electric Pressure Washer, Green
What can only be assumed to be the first Sun Joe pressure washer (hence 1000), this pressure washer has a lot to like.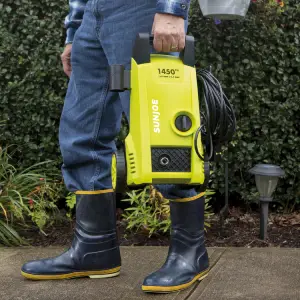 While it is smaller and less powerful than many of its counterparts, it is also nearly pocket sized. At less than two feet tall and a foot wide, this machine is not meant to blast away dirt. 
The SPX1000 1450 PSI pressure washer was designed for light cleaning. Think cars, windows, siding, and other surfaces that won't get clean from a garden hose alone.
Some folks even use this for produce! It has a 21 ft long hose and will shred dirt at 1450 PSI. 
The lightest pressure washer of the bunch, don't expect to be clearing driveways. But if you are looking for light-duty pressure washing – this is your best bet.
You can grab this pressure washer from Sun Joe's website or from Amazon, which should be a comparable price.
6. Sun Joe SPX4000-PRO 2030 Max PSI 1.76 GPM 14.5-Amp Electric Pressure Washer, w/Turbo Head Spray Nozzle
The Sun Joe SPX4000 is a huge step up from the SPX1000 in terms of power.
Consider this – you can still do the same amount of pressure that the SPX1000 does, or you can increase it by 50%. Talk about some serious versatility.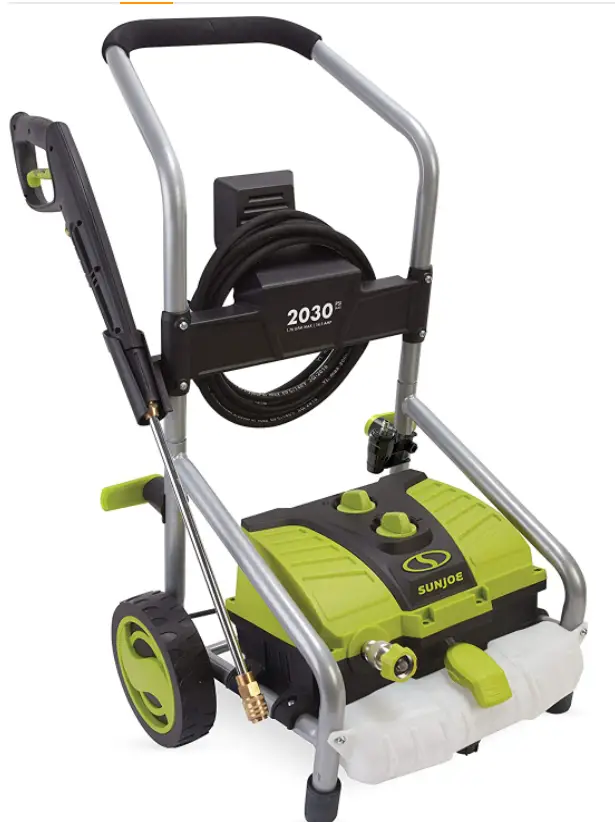 The SPX4000 has a few bells and whistles that make it pretty sophisticated. The first is that this bad boy has a 54 fluid ounce tank that allows you to add detergent (bleach and water or soap) to the spray. These are great for cars (soap) or super dirty things (bleach). 
The SPX4000 pressure washer also has a quick-connect turbo head spray nozzle that cleans 40% faster than a standard nozzle. That's a lot of percentages!
This one also has 4 other quick connect spray tips to solve a variety of problems. The ultimate showman, the SPX4000 can be a lover or a fighter  – you choose. 

The last comment I will make about this pressure washer is that it is dang sturdy. It comes with some legs so will not topple over like some of the others (more on that later).
If you want versatility and sturdiness, this pressure washer can be yours from the Sun Joe website or from Amazon for a great price.
5. Sun Joe SPX3200 GO ANYWHERE Electric Pressure Washer, 14.5-Amp, 1.76 GPM 2030 PSI (Max)
The Sun Joe SPX3200 is impressive. Consider all the things I said were great in a pressure  washer. It is mind-boggling how all of  those can fit into one small, odd looking box. 
But it does in the SPX3200. The dang pressure washer has wheels and you can pull it around.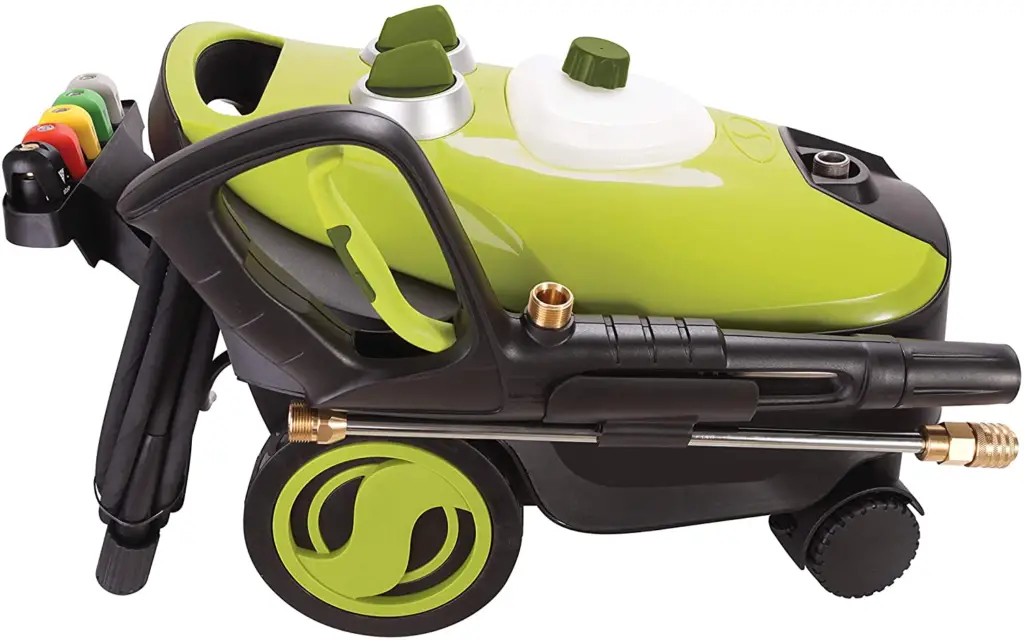 Oh, and the power is on par with much larger pressure washers. This is the ideal pressure washer for anything you would clean on your driveway. 
Having an on-the-go pressure washer takes all the hassle out of pressure washing and constantly having to readjust, get more slack, and move the washer. Simply pull on the hose and get this thing to move over a couple of feet to keep going. 
A smaller detergent tank but still the 5 nozzle system found across Sun Joe's pressure washers, this one has it all. 
And it's on sale for a heck of a good price right now on Amazon.
4. Sun Joe SPX4600 3000 PSI MAX 1.30 GPM High Performance Electric Pressure Washer
The Sun Joe SPX4600 does not play around. This pressure washer is one of the highest performing pressure washers that Sun Joe has.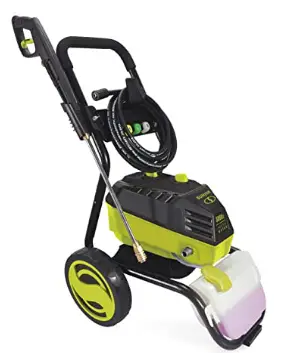 We are talking insane PSI levels – up to 3000 PSI. This is on par with many gas-powered pressure washers. With a 34-inch extension wand, 20 ft long hose, and a 35 ft power cord – this thing is meant for serious jobs.
Whereas some of the other Sun Joe pressure washers are for light-duty activities like windows or produce, this one could absolutely clean the grime off of your driveway with ease. 
This one also has a large detergent tank sitting right up front with the quick connect spray tips that accompany all Sun Joe pressure washers. 
The thing I love about this pressure washer is that it is extremely sturdy and bottom heavy, but still has wheels. It won't topple over with some tension, but it also has a ton of maneuverability for easy relocation. We compared the SPX4600 to the Greenworks 2300 PSI pressure washer as well.
The Sun Joe SPX 4600 is a beast and should be treated as such. It's currently on sale at Amazon, but can also be purchased from Sun Joe's website.
3. Sun Joe SPX3001 2030 PSI 1.76 GPM 14.5 AMP Electric Pressure Washer with Hose Reel, Green
The big brother to the SPX3000, the Sun Joe SPX3001 has a hose reel on the top that differentiates it from its little brother.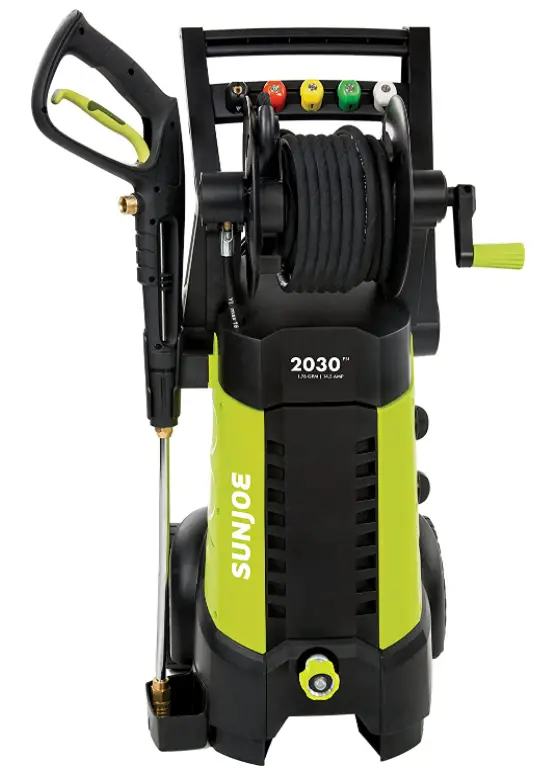 While it has all the same specifications as the SPX3000, it has this convenient hose reel at the top that can bring the hose back in for you instead of schlepping it all together yourself.
The hose reel is a double edged sword in my opinion. It is super convenient for clean up and makes storage easy, but it also makes the SPX3001 top-heavy compared to the other Sun Joe pressure washers. 
Yikes!
I also wish some of these earlier SPX3000 series pressure washers had brushless motors, but sadly they do not.
The SPX3001 is a big step up from some of the others and is definitely a great choice, but the top heaviness kicked it back to number 3 for me.
You can grab the SPX3001 for sale on Amazon or you can grab it from Sun Joe directly.
2. Sun Joe SPX3000 2030 Max PSI 1.76 GPM 14.5-Amp Electric High Pressure Washer
I know everyone thought that this would be #1, but it is not. Close, though. 
The SPX3000 has an absolutely insane amount of positive reviews on Amazon and is the top selling pressure washer of all time. Convincing.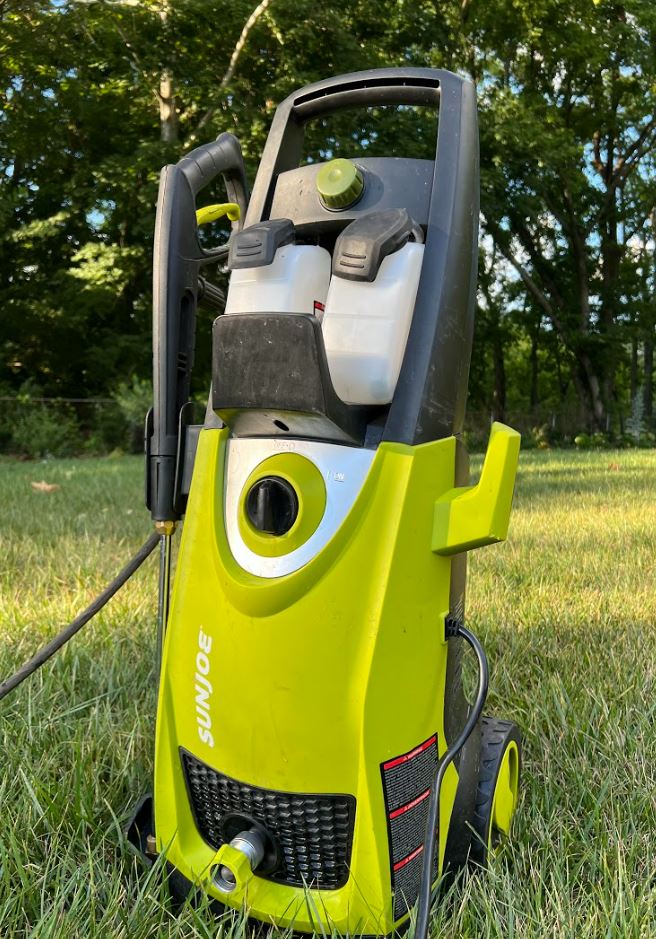 Here are the positives:
Decent pressure
5 quick connect spray nozzles including a soap nozzle
Nice detergent tank
Lightweight
Inexpensive
There are a few things that ding the SPX3000 – namely the hose connection point. It seems totally hit or miss on if this happens, but some seem to have connection problems where the hose is plugged in. This area is plastic and seems to either break or not completely seal the hose off, causing leakage.
This one is great and likely won't break on you, but I think the SPX3500 has the necessary upgrades to prevent these.
We do a deep dive into the SPX3000 in this review.
You can join the 45k other Sun Joe SPX3000 lovers by grabbing this one on Amazon or at the Sun Joe website.
1. Sun Joe SPX3500 2300 Max Psi 1.48 GPM Brushless Induction Electric Pressure Washer
Alright, y'all – we are here! This one is easily the coolest looking Sun Joe Pressure washer, but that is not why I ranked it #1.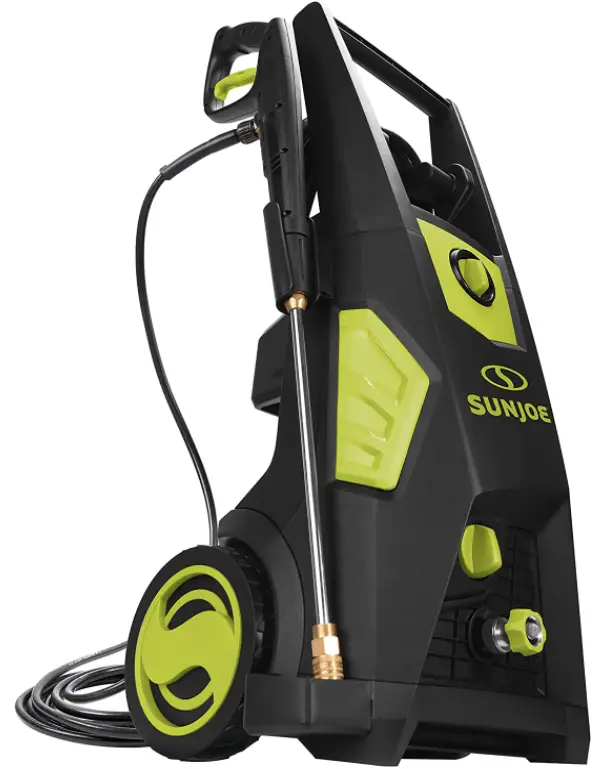 The Sun Joe SPX3500 2300 Max PSI pressure washer is a powerful pressure washer that is a slightly souped up version of the other SPX3000s. It has more power, a brushless motor, and a nice big detergent tank.
The brushless motor is why I ranked this Sun Joe Pressure washer number one for home use. Brushless motors last significantly longer and outperform traditional motors. 
This one made our top 5 best electric pressure washers list, too.
Another huge differentiator in the SPX3500 is the brass hose connector. After hearing feedback from thousands of people on the SPX3000, Sun Joe realized having a plastic hose connector simply would not cut it. There were complaints of leakage around the fitting, which is not great for an electric pressure washer.
The SPX3500 pressure washer from Sun Joe is the best one they have – hands down.  An evolution of the SPX3000 – it fixes all the issues and complaints with one of the hottest selling pressure washers ever.
You can have one shipped to your home today for a great price from Amazon or you can check it out on Sun Joe's site.