My Greenworks 3000 PSI electric pressure washer boasts a big game. 3000 PSI at 2.0 GPM (as claimed on the box) puts it in the same category as many gas-powered pressure washers.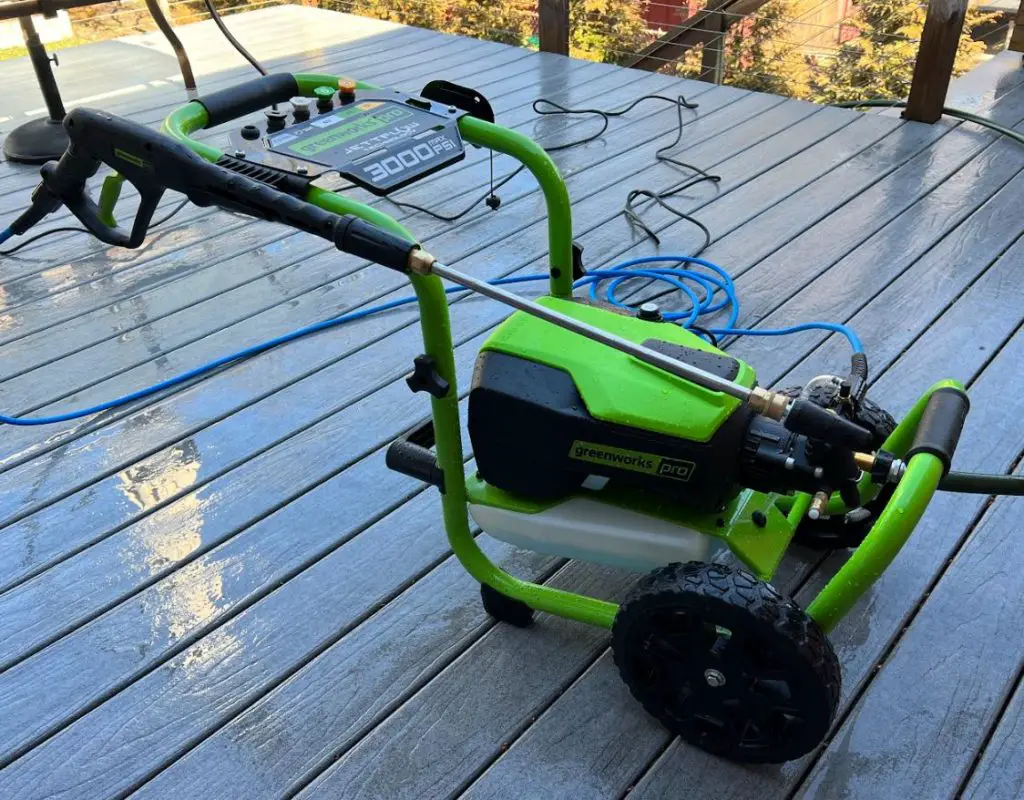 We spent a ton of time putting this to the test as seen in our YouTube video reviewing the Greenworks 3000 PSI pressure washer.
We love Greenworks and we loved their 3000 PSI electric pressure washer, but we found that the claims weren't totally what you would expect. This is still probably the best electric pressure washer we've ever used, so don't get it twisted.
Here's how we analyzed this pressure washer (jump ahead):
Why we review lawn tools
The reason we started this website in the first place was because we had so much trouble trying to find reasonable, understandable, honest reviews for lawn equipment. And it's not cheap! After hours and hours of research, trying products and returning them, and messing up our yards – we started this site.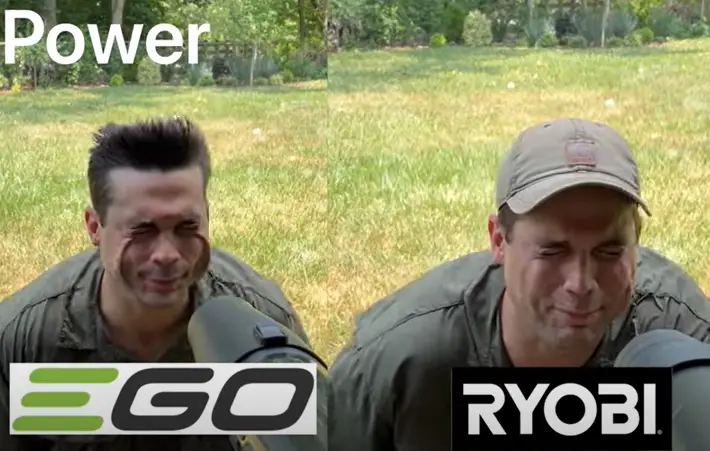 As people who had to learn the hard way, we want you to know exactly what you are signing up for before you purchase a piece of equipment. That's why we are committed to providing honest, easy-to-understand reviews that mean something. 
What features to look for in a pressure washer
Greenworks electric pressure washers make it relatively easy to knock off one of the biggest must-haves on your list: a reliable and powerful engine. But there are a few other things we recommend truly making sure are available when searching for a new pressure washer.
Nozzles Matter
When choosing a pressure washer, you should pay attention to the nozzles included in the package. Two types of spray nozzles are available, adjustable spray nozzles that can be controlled and quick-connect nozzles with predefined spray patterns.  
The predefined spray patterns typically come in different angles, allowing for you to quickly switch between a broad, lower pressure spray or a narrow, higher pressure stream.
Quick connect nozzles are super convenient, but they're almost like airpods – you can lose them!
Soap tank availability
Additionally, you may want to consider a soap tank-equipped pressure washer. Some of these pressure washers have "foam cannons" where you can simply add some soap and it will mix it in with the water. Pretty cool.
I recommend a soap tank for cars and windows.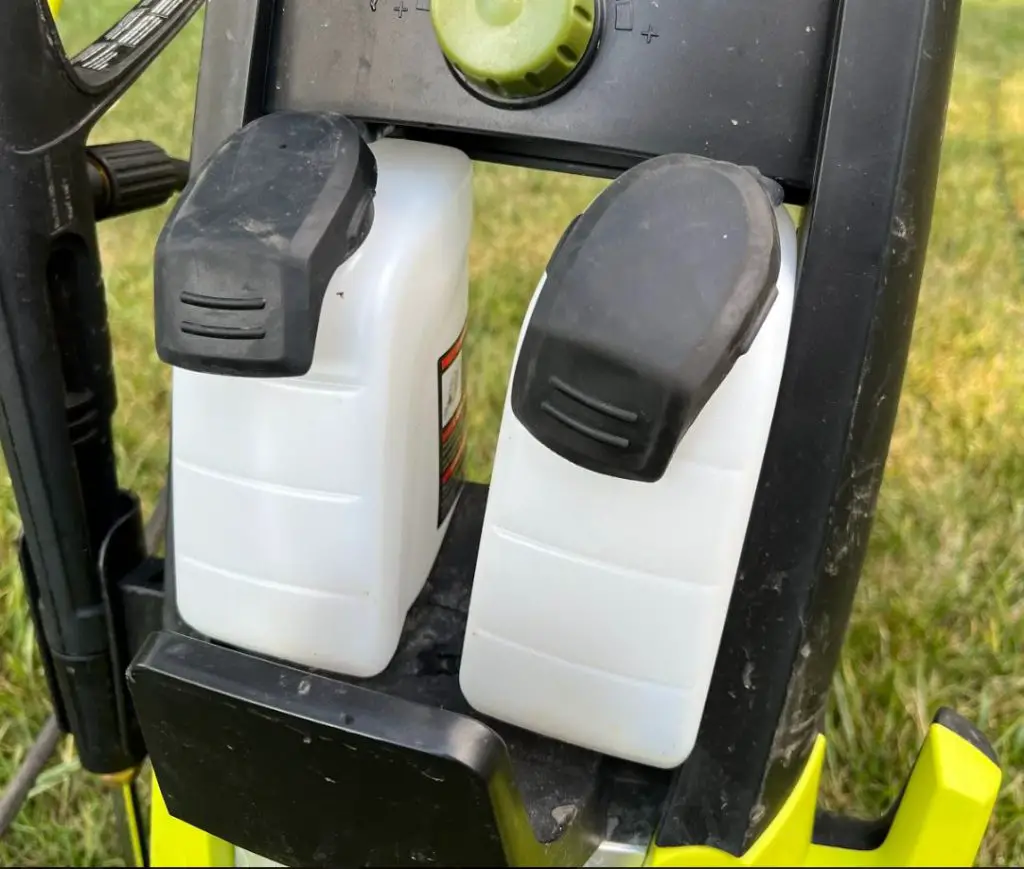 Wheels on pressure washers
Despite these seemingly minor features, they can have a big impact, especially with larger units. No sense in lugging around one of these in your yard and tripping all over the place.
Some pressure washers have a tendency to flip over and be top heavy, so make sure the base is sturdy.
If you're on the job site, keep an eye out for never-flat tires that will protect the wheels in case there are spare nails laying around.
Hose types
There's a big difference between how easy or difficult it is to use a pressure washer based on the kind of hose that comes with it. Stiff, rigid hoses make it extremely difficult to have any maneuverability without messing up the job or knocking over the base.
Length is also important for pressure washer hoses as you can end up in a tight spot, literally, if you don't have enough reach.
GPM and PSI on electric pressure washers
GPM stands for gallons per minute. GPM measures how quickly water is leaving the end of the electric pressure washer. PSI stands for pounds per square inch and is a measure of pressure that is being applied out of the electric pressure washer.
If this is confusing to you, you're not alone. In reality, if you are looking for power, you want both. They work hand-in-hand to deliver water from the machine at a high rate and effective and efficient volume.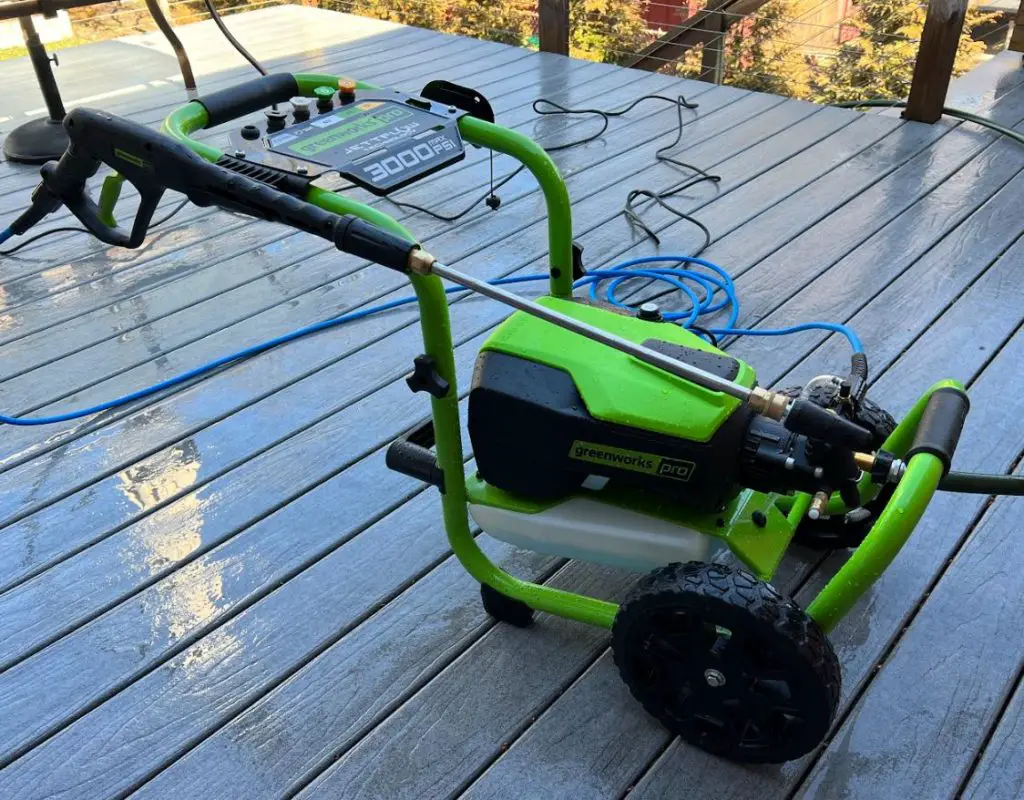 For reference, a pressure washer can have a high PSI but a low GPM, meaning it is able to have a high pressure but generally not over a large area. Having both a high PSI and high GPM means that it's coming out fast and it's producing a more effective stream.
Likewise, you can also have a low PSI and higher GPM. This is a good ratio for cleaning cars because you get a lot of water at a safer pressure.
Looking for something lighter? Check out the Greenworks 24V Power Cleaner.
Testing out the Greenworks 3000 PSI Pressure Washer: Our Experience
We put the electric Greenworks 3000 PSI pressure washer to the test with some serious tools, including a pressure gauge to test all of their claims. The results were….interesting. Check it out.
Power test: GPM and PSI on Greenworks 3000 PSI pressure washer
When we got the Greenworks 3000 PSI pressure washer, we were shocked at its claims. 3000 PSI and 2.0 GPM. That's a killer combination found only on gas pressure washers. But looking at the fine print, we saw this:
Okay. So not really 2.0 GPM at full blast. Not exactly what we thought but not necessarily false advertising. Anyways, we put it to the test.
So most folks (and many people that have commented on our YouTube video) have pointed out that pressure washer PSI is measured at the exit point of the motor, where the hose connects. This is true, but doesn't necessarily tell you how much PSI will actually come out of the pressure washer wand, which is what matters.
So we tested it. 
PSI test: electric pressure washers
The Greenworks pressure washer claims 3000 PSI. This measurement is supposed to be made at the hose connection point, but we tested it at the end of the wand to see how much is actually being delivered.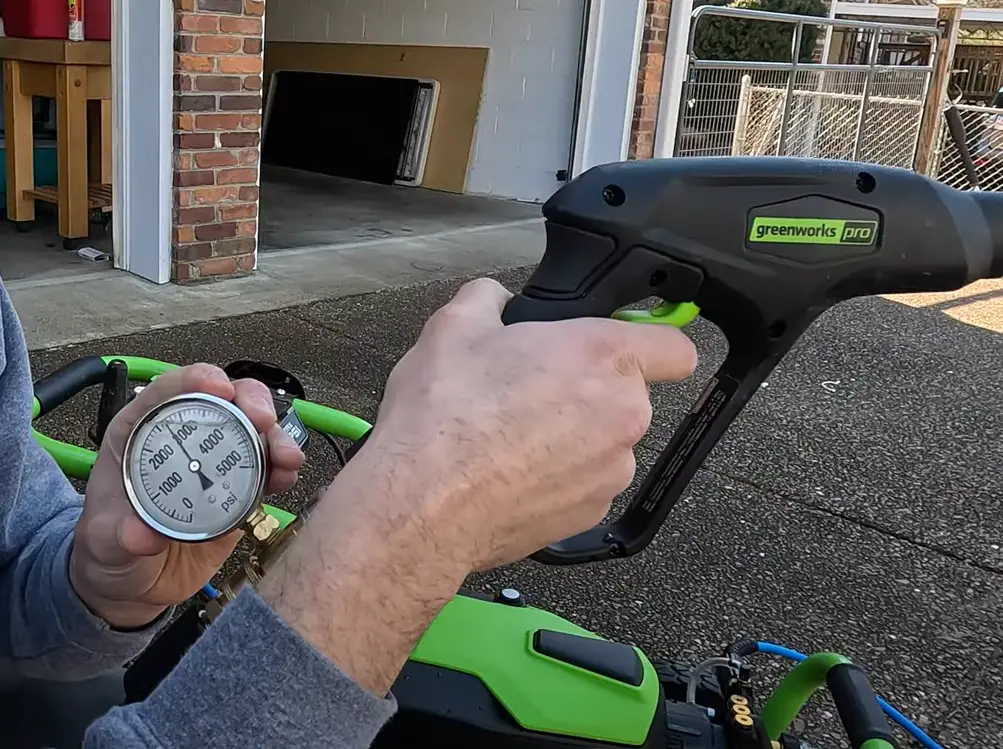 We found it to be somewhere between 2500-2700 PSI, which is surprisingly good. 
GPM test
Greenworks also claimed this electric pressure washer had 2.0 GPM, which is really only true if it's barely running. The real measurement is around 1.1 GPM when it is fully operating. But we had to test that as well. We measured how long it took to fill up a 5 gallon bucket of water.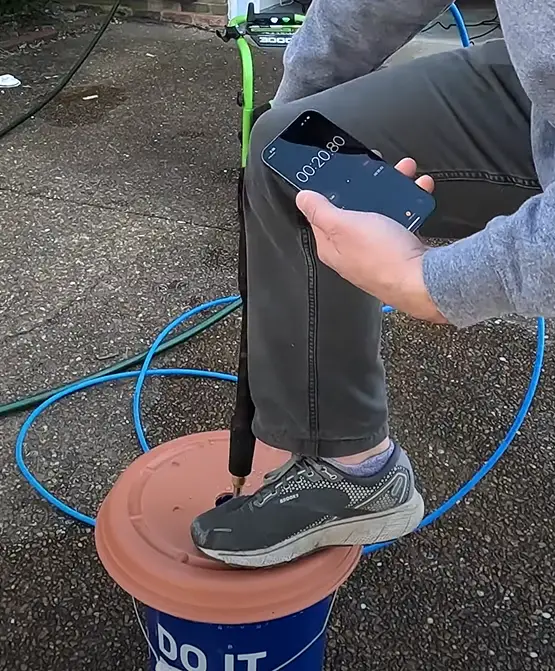 It ended up being right at 5 minutes – equating to 1.0 GPM. Close enough!
Durability of the Greenworks electric pressure washer
One thing we loved about the construction of the Greenworks 3000 PSI electric pressure washer was the steel frame that is super easy to pick up and drag. It also has 10 inch never-flat tires, which make it really easy to lug around a job site (or your yard) without worrying about running over nails or having low air in the tires.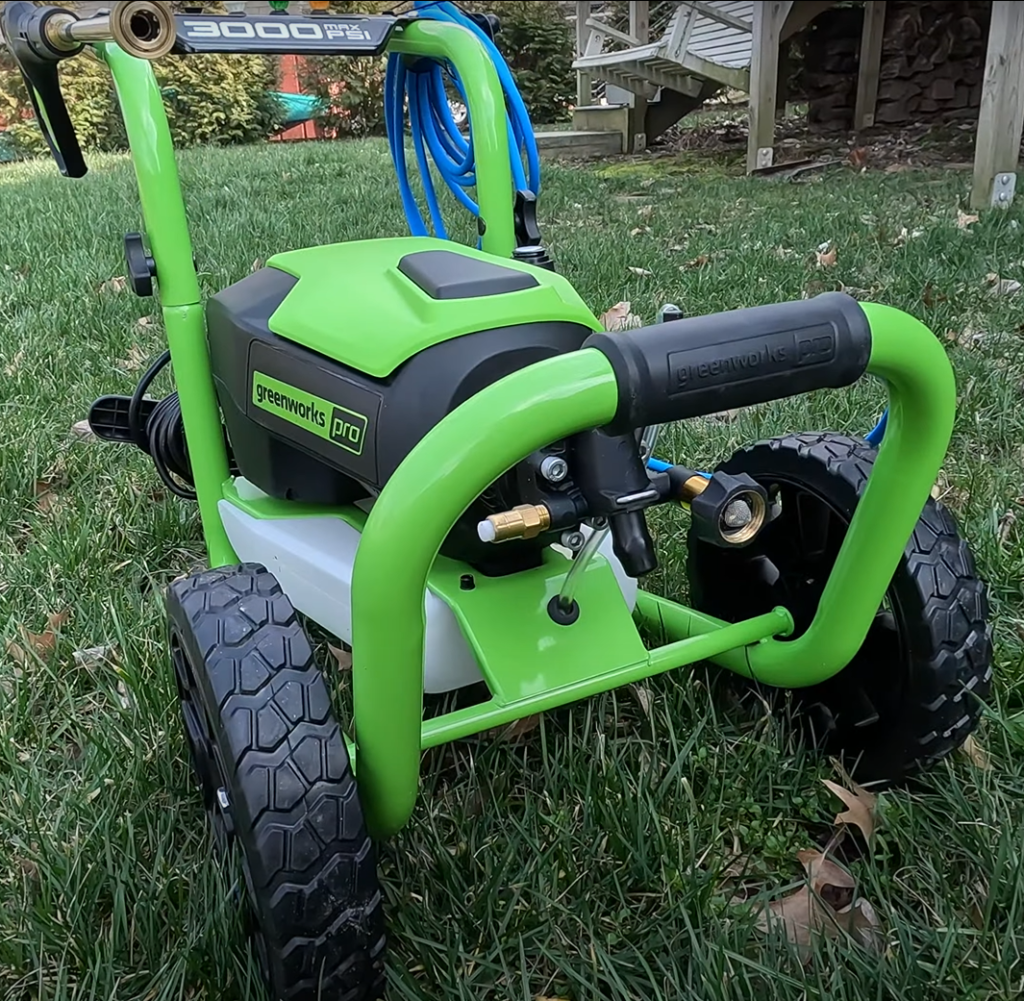 This pressure washer also has a 14 Amp brushless motor. Brushless motors provide more torque, a cooler run time, and overall last a lot longer. The crazy thing about Greenworks is that they backed up this brushless motor with a 10 year warranty! That is insane but also gives me a ton of confidence in this tool lasting a long time.
We love this pressure washer for home use.
Performance and usability: Greenworks 3000 PSI pressure washer
The Greenworks PRO 3000 PSI electric pressure washer comes with a few bells and whistles that make it easier to use than some of its competitors. 
The first is the on-deck nozzle holder that keeps the five nozzles snug on top of the machine. They stay there even when you take the pressure washer vertical for storage. 
Another cool feature of this pressure washer is the inline GFCI box that allows you to plug it in virtually anywhere. Most other heavy duty electric tools have the GFCI as a part of the plug, limiting where you can plug it in. 
It also has a one-gallon soap tank attached to the unit that allows you to use the pressure washer on things like cars, windows, and houses to remove old dirt and grime. Nice!
Performance-wise, this thing really blew us away. It is one of the strongest electric pressure washers on the market, probably the strongest in the residential space. It went toe-to-toe with our Honda pressure washer in regards to PSI.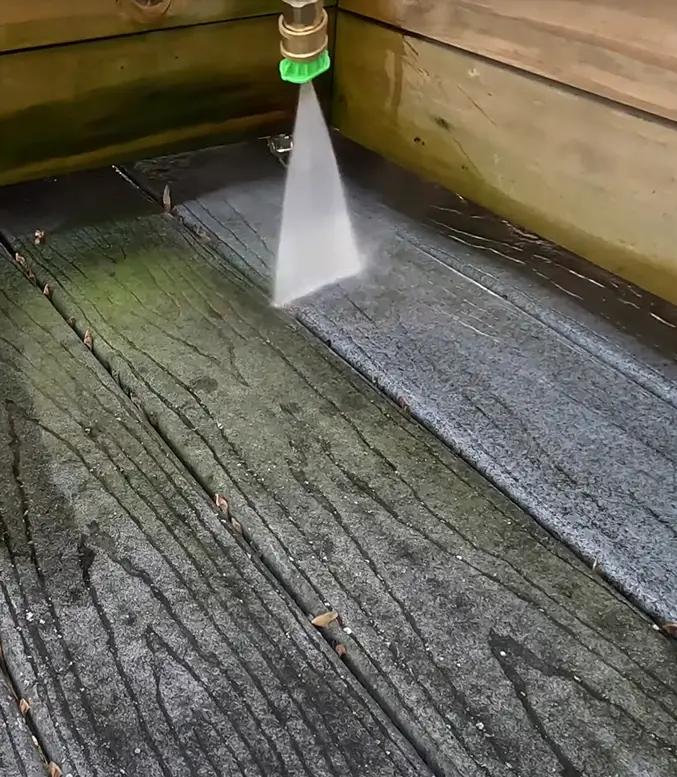 But honestly, we were very shocked with how well this performed. All the confusing claims and issues around PSI and GPM shrunk away after actually using the tool and realizing how powerful it was.
Cost and value
The Greenworks 3000 PSI electric pressure washer is cheaper than others in the space, like the Ryobi 3000 PSI pressure washer.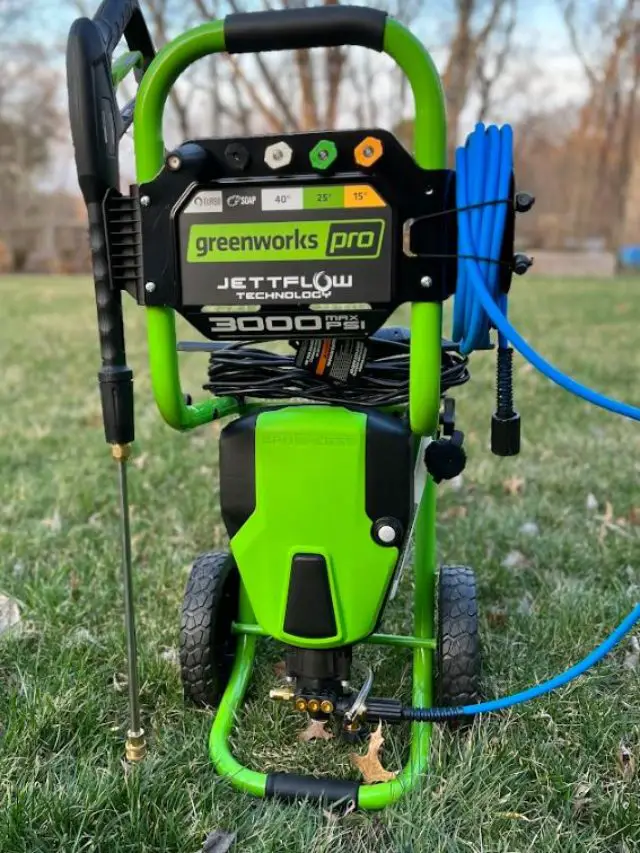 Right now, it is for sale on Greenworks website for just under $400. We think this is a great value because it is in a very affordable range, but also has a 10 year motor warranty. It's actually kind of a steal, especially if you're considering renting a pressure washer.
Official review: Greenworks 3000 PSI electric pressure washer
When we first got this pressure washer and reviewed the claims, we were tempted to slam it and say that the marketing is misleading.
And then we tried it.
And it was pretty dang powerful. So as much as it pains us, we are eating crow on this one. This is probably the best electric pressure washer on the market. There are other really good ones as well, but man – did our minds change after using this pressure washer. 
You can grab it on Amazon where it frequently goes on sale, or from your local Lowe's (maybe even Costco!).