Ryobi pressure washers are extremely popular. And I think we all know why. They are available everywhere – from Home Depot to Amazon and a ton of other online distributors.
And for good reason. Ryobi pressure washers are high quality and have a bunch of models tailored for different types of jobs. You've got your light duty, around-the-house pressure washer all the way to your gas-powered, super-powerful pressure washer. 
All from Ryobi.
So…how do you know which one to get? Well, we've been around the block a few times and laid eyes and hands on dozens of pressure washers. 
Today, let's walk through exactly what to look for in a pressure washer, which one is right for you, and the best Ryobi pressure washer for each type of job,
SPOILER ALERT: 
Why we review lawn tools
The reason we started this website in the first place was because we had so much trouble trying to find reasonable, understandable, honest reviews for lawn equipment. And it's not cheap! After hours and hours of research, trying products and returning them, and messing up our yards – we started this site.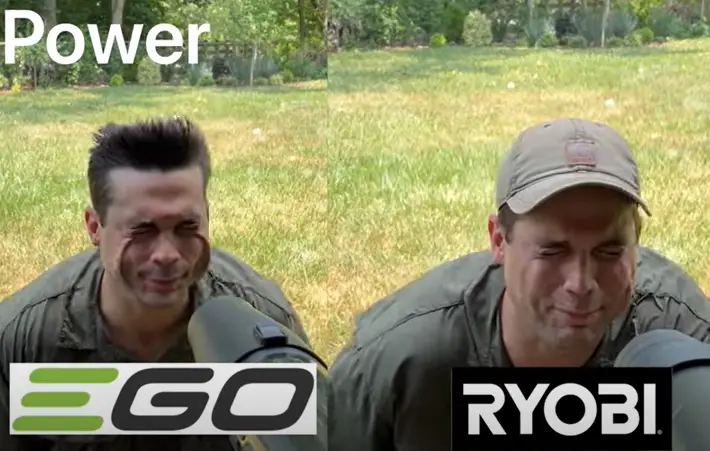 As people who had to learn the hard way, we want you to know exactly what you are signing up for before you purchase a piece of equipment. That's why we are committed to providing honest, easy-to-understand reviews that mean something. 
About Ryobi
I'm sure you already know a ton about Ryobi or at least own a few of their tools. They are HUGE in Home Depot. We love Ryobi products and have written extensively about dozens of their tools. Here are a few of our favorite Ryobi products:
What to look for in a pressure washer
You gotta know what to look for on these pressure washers. Some of these pressure washers look identical, but have small, nuanced differences that you need to keep an eye on.
Nozzles Matter

When choosing a pressure washer, you should pay attention to the nozzles included in the package. Two types of spray nozzles are available, adjustable spray nozzles that can be controlled and quick-connect nozzles with predefined spray patterns.  
The predefined spray patterns typically come in different angles, allowing for you to quickly switch between a broad, lower pressure spray or a narrow, higher pressure stream.
Quick connect nozzles are super convenient, but they're almost like airpods – you can lose them!
Soap tank

Additionally, you may want to consider a soap tank-equipped pressure washer. Some of these pressure washers have "foam cannons" where you can simply add some soap and it will mix it in with the water. Pretty cool.
I recommend a soap tank for cars and windows.
Wheels on pressure washers

Despite these seemingly minor features, they can have a big impact, especially with larger units. No sense in lugging around one of these in your yard and tripping all over the place.
Some pressure washers have a tendency to flip over and be top heavy, so make sure the base is sturdy.
Hose types

There's a big difference between how easy or difficult it is to use a pressure washer based on the kind of hose that comes with it. Stiff, rigid hoses make it extremely difficult to have any maneuverability without messing up the job or knocking over the base.
If you want to upgrade, check out our best pressure washer hose comparison
Portability

Even if this has the drawback of making the unit less powerful, a portable, smaller pressure washer will be a better choice if you have to move around or carry the unit with you. Most of us do this, especially if you are doing the exterior of your house.
Totally depends on the job you are trying to do.
Check out how Ryobi and Greenworks' top pressure washers compare!
Pressure washers: Gas vs. Electric
Gas pressure washers have been around forever and probably aren't going anywhere – but electric pressure washers are on the up and up like all the other lawn tools.
Electricity and water! What can go wrong?
The maintenance and cost of gas pressure washers are greater, including things like air filter changes, spark plugs, and more. Gas pressures are also insanely loud. However, electric washers simply have a power source and a button and are far quieter.
There's a big trade-in for power and convenience with pressure washers, with gas being much more powerful and electric being much more convenient. 
The Best Ryobi Pressure Washers for Every Occasion: Breakdown
Well folks, we now understand what to look for in a pressure washer and the basic answer is: it depends. So let's break down some scenarios where you might want a certain Ryobi Pressure washer and give you the best one for that scenario. Ready? Break.
Most Powerful Ryobi Pressure Washer
Sometimes, you just need some raw freaking power. I'm talking absolutely shredding off some paint on your deck, getting rid of graffiti, or stripping grime from a driveway. 
You need a pressure washer with higher PSI (pounds per square inch). Basically PSI is a measure of water force coming out of the pressure washer. High PSI = more power. You can modify this further by changing the angle at which the water comes out, with 0 degrees being the most powerful.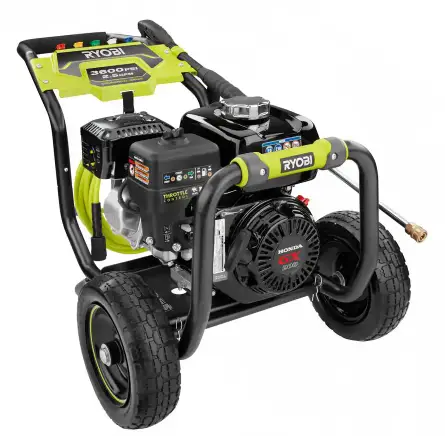 Ryobi has a great solution here. The Ryobi 3600 PSI gas pressure washer with a Honda engine is an absolute unit. As made abundantly clear in the title, it has 3600 PSI, which means it is the highest PSI pressure washer offered by Ryobi. 
Basically any professional job you would do with a pressure washer can be tackled with this thing. It really is great for the true pros who use these day in and day out. Here's what I love about this pressure washer:
Extremely powerful engine
35 foot hose, meaning you can cover a large area without having to move the entire base
Ability to fold down for easy placement in your truck
Flat-free tires. Take comfort on the job site by knowing you've got tires that aren't going to pop and force you to lug this thing around.
Honestly, this thing is made for professionals. It has all the bells and whistles that make it bulletproof and can be used in industrial settings.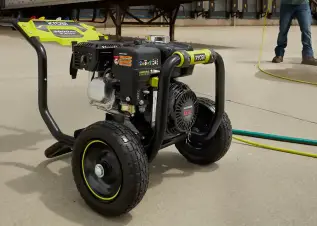 You can grab this thing at any old Home Depot (link will check the price). It will set you back about $750 – an investment that will  make you a return after the first job.
Best Gas Pressure Washer: Ryobi 3200 PSI Pressure Washer
I know what you're thinking – didn't we just cover the most powerful Ryobi pressure washer and it was gas?
Yes, but the 3200 PSI pressure washer is also really good. It's almost as powerful, but is $400 cheaper. So you're getting a less industrial, slightly less powerful pressure washer for a WAY better price.
What really sets this Ryobi pressure washer from the rest of the gas-powered gang is the combination of power and residential usability. Or put more simply, the fact that it was designed for the normal dude.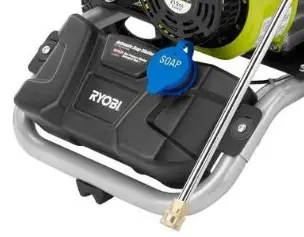 A few things I like about it:
It comes with a three-year warranty.
Soap tank gives you flexibility with lighter-duty jobs
It has accessory storage built into the tool, so no losing pieces
A nice Kohler engine, which is reliable AF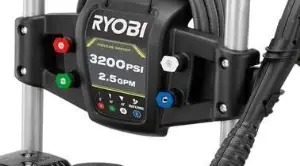 As far as gas pressure washers go, this thing is top notch. For the normal homeowner, this Ryobi 3200 PSI pressure washer will be your best friend. Reliable, powerful, and has all the "extras" that make it really attractive to operate.
This one can be found on Amazon for a great price, but also at Home Depot where they have an exclusive contract..
Best Ryobi Electric Pressure Washer: Ryobi 3000 PSI Electric Pressure Washer
Most folks think that once you go over to the world of electric tools, you end up with dinky, weak tools. And that's partly true. There are some WEAK electric tools out there.
But the Ryobi 3000 PSI pressure washer is NOT one of them. We JUST broke down a really nice, 3200 PSI gas pressure washer. This is right up there with that one in terms of power, just a slight downgrade. But here's what you get in return:
A much quieter running machine
Push-button start
No maintenance
Seems like a decent trade for a 200 PSI difference. This thing is a freak and there's a lot to like about it.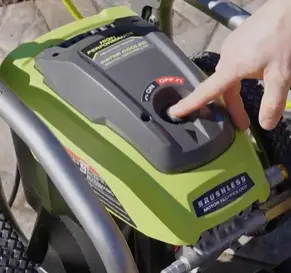 When it comes to electric motors, the most important thing you can have is a brushless motor. And this Ryobi pressure washer has got it. It also comes with an additional "turbo nozzle" which apparently speeds up the cleaning job.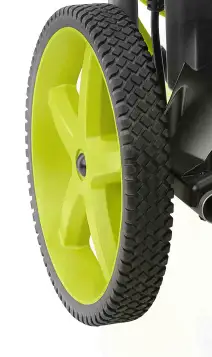 This 3000 PSI Ryobi pressure washer has all the same attributes as the industrial-grade pressure washer we reviewed at the beginning. A 35 foot hose, flat-free wheels, and more. It is quite literally the best electric pressure washer we have reviewed – PERIOD.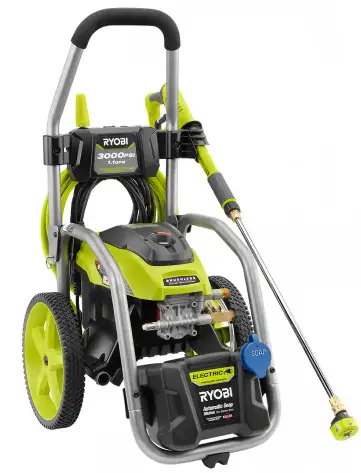 It also comes with a 3 year warranty, which is great for dispelling concerns around the reliability of electric pressure washers. It also has a Brushless Ryobi motor which is amazing.
Oh yeah, this one also is our top OVERALL best electric pressure washer, too.
This one looks like it's exclusively available at Home Depot for right at $400.
Best Light Duty Ryobi Pressure Washer: Ryobi 1800 PSI Electric Pressure Washer
Not everyone needs to pressure wash their entire driveway or remove graffiti or remove deep grease stains from the back of an 18 wheeler. 
Some people just want to wash off their deck, their outdoor patio furniture, or their car. So no reason to shell out $300 on a top-of-the-line pressure washer from Ryobi. 
If you're one of these people, then you need a light-duty pressure washer. The Ryobi 1800 PSI pressure washer is right up your alley. 
These are great pressure washers because they are extremely simple, super portable, and really easy to store. The 1800 PSI pressure washer is a great one because it is about the size of a lunchbox. It comes with a handle. Compare that to the 74 lbs of the most powerful pressure washer listed above.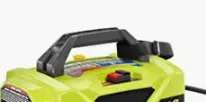 It comes with a soap nozzle, meaning you can strap soap right onto the front and get your car foamy and soapy before a deep wash. It is really the perfect pressure washer for stuff around the house.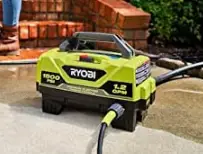 It doesn't come with a brushless motor or any of the other bells and whistles, but it is about ¼ the price of the others. 
This is the pressure washer I would recommend to my mom and dad, who live in a townhome. It's the perfect tool for washing their front door and front porch, their windows, their cars, and their metal fencing. 
This one is on sale for a jaw-dropping price on Amazon.
Best all-around Ryobi pressure washer
I think I did a good job making it obvious that I have a love affair with the 3000 PSI electric pressure washer from Ryobi. It not only has the power and durability of the industrial-grade pressure washers, but it comes with insane reliability. The brushless motor and three year warranty were what took this from a "wow" to a "holy crap".
If you are in the market for a pressure washer and are willing to shell out a little dough, I would definitely go with this one. You can grab it at Home Depot online or maybe in store.